Primary Arms SLx 3x MicroPrism Review: Red Dot Magnified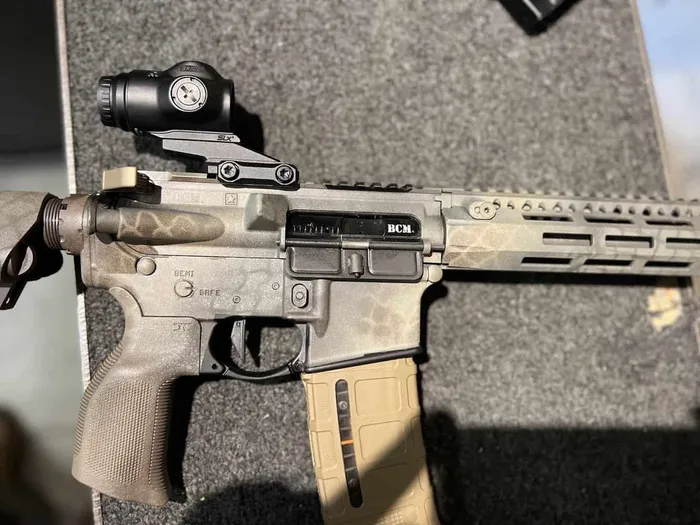 Primary Arms SLx 3x MicroPrism Review: Red Dot Magnified
Introduction
The Primary Arms SLx 3x MicroPrism is an answer to those looking for a lightweight, compact optic that mimics the size of a micro red dot but also wants the capabilities of a 3x magnified optic.
Some of you may be new here, so I'll explain what the 3x is in a second.
I recently got to pump some rounds down range with the SLx 3x and was surprised at how easy it was to use, despite being confused about how it works on a build when I initially received it in the mail.
I was skeptical. I won't lie.
But after getting it mounted and on target, my mind changed. Here is what I found out.
Primary Arms SLx 3x MicroPrism Review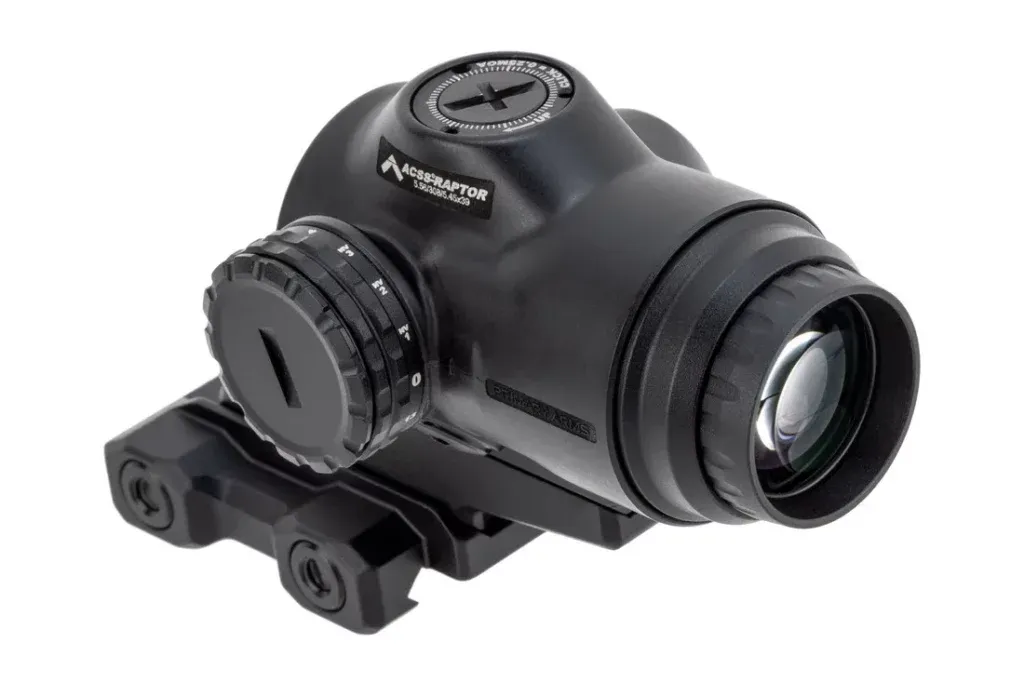 Like I stated above, this optic is meant for those fine shooters out there who are looking for a 3x magnified optic similar to a Trijicon ACOG but want a more compact and lightweight package.
You know, for mid-range shooting and things of that nature.
Of course, with that comes the need for proper eye relief. Which was hard for me to achieve initially until I got it mounted correctly. But once it was found, all went well.
It's meant for mid-range shooting, so I wouldn't suggest this optic. If you're looking for something that has no need for eye relief, I would skip this optic.
If you're looking for an optic that you can have fun with when plinking out on the range from a bit further than a normal red dot, read on.
Specifications
| | |
| --- | --- |
| Magnification | 3x |
| Eye Relief | 2.7″ |
| Weight | 3.7 Lbs |
| Reticle | ACSS Raptor 5.56 Y |
| Reticle Color | Red |
| Brightness Settings | 10 Day and 3 Night Vision |
| Total Elevation Adjustment | 80 MOA |
| Total Windage Adjustment | 80 MOA |
| Click Value | ¼ MOA |
| Battery Type | CR2032 3v Lithium Coin |
Pros & Cons
Pros
Easy to keep on target

Nightvision compatible

You can shoot with both eyes open 

Easy to zero, and it stays zeroed
Cons
Knob to adjust reticle brightness is hard to turn

Eye relief is short (your eye needs to be closer to the optic)

I would prefer a bigger optic for a 3x (personally)
First Impressions & The Range Test
I have to admit, my first impression with this optic wasn't too great.
I couldn't understand where it would fit into a build. Maybe someone who wanted a compact and budget ACOG? I mean, it could work for a mid-range, lightweight build. But I wasn't sure.
I laughed a bit. Why would anyone want a red-dot-sized optic with 3x magnification that needs close eye relief?
You're likely to poke your eye out with the thing. With such close eye relief, those gases will go up your nose like powder at a frat party. I just couldn't figure out why,
And I forgot one of life's most important rules.
"Don't judge a book by the cover"
So, while the rain fell outside; I mounted this thing on top of my BCM Recce MCMR with a 14.5" barrel, freshly painted with a rattle can (I think I did a good job if I may say so myself).
Here, take a look.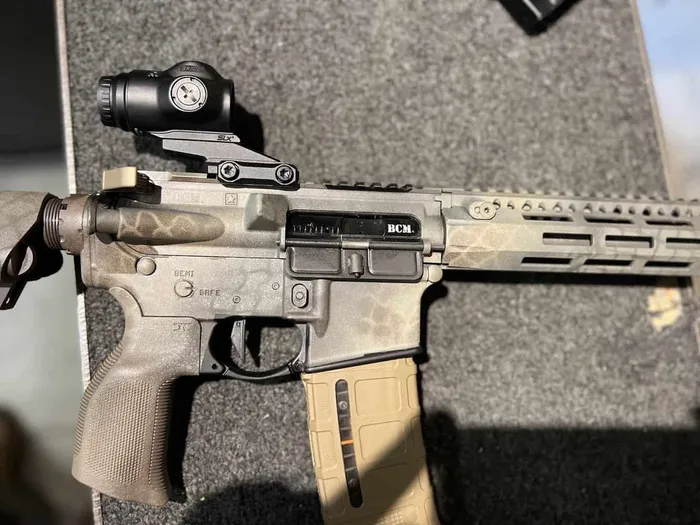 I mounted it a few slots back from where my EOTech usually sits, hence the dark spot in front of the optic. And I had to mount it on the last picatinny slot so I could get the proper eye relief.
I loaded some Hornady Black, pulled the charging handle, aimed the SLx down at my target, and pulled my Geissele trigger straight back.
Boom. Right on target. Dropped to the low ready, up, and boom. Right on target. Again.
Once I found the proper eye relief, finding it while bringing the rifle up became as easy as finding the red dot on an Aimpoint T1 (okay, not that easy, but you get the gist).
After about 100 rounds, I realized that this optic was something. It wasn't hard to find the eye relief at all, and where I aimed the tip of the chevron, I hit—every time.
My groupings were tighter than an antique watch.
Look here.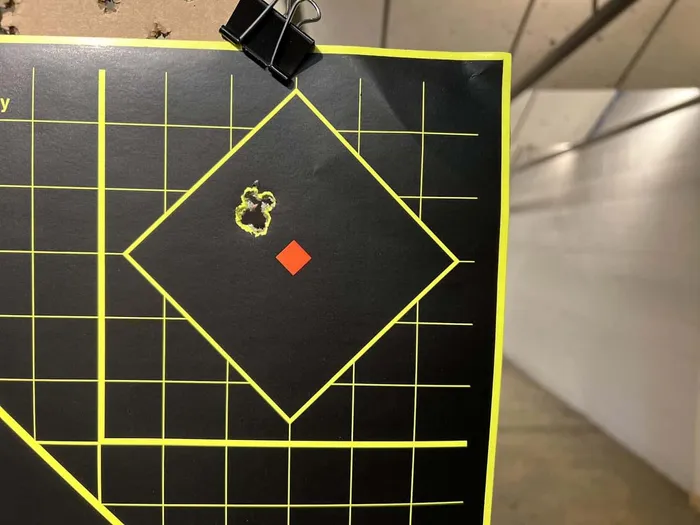 Wait a minute. This little thing is accurate. It keeps the zero. The eye relief is there.
Then I realized I was partially wrong. It's a fine shooter for someone wanting a lightweight and compact optic with some mid-range shooting capabilities.
Now the caveat was that Ronnie Coleman himself would have issues turning the brightness settings knob. And sometimes, when you turn them, you'll spin past a few numbers and land with more brightness than you bargained.
It takes some wearing in. You'll initially have some small indents on your fingers from turning the knob, but you'll get some calluses. So no worries.
Reliability
The eye relief wasn't always perfect, but it did a great job of getting on target.
Accuracy
Where you aim the MicroPrism reticle, it will hit.
Overall Feel
Those knobs were pretty hard to turn. But it was well-built and seemed like it could take a beating.
Features
10 Day 3 Night Vision Brightness Settings
Depending on the time of day and whether or not you have a pair of NV goggles, the SLx MicroPrism has multiple reticle brightness options, so you only have what you need.
I don't have night vision, but if I did, I would probably run an optic that does not need eye relief at all.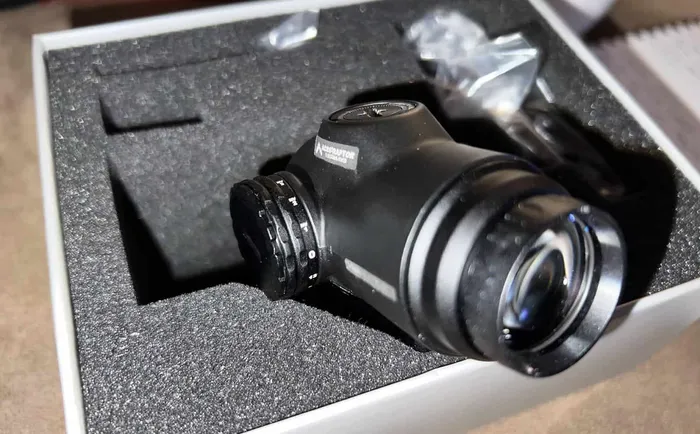 3x Magnification
On most builds these days, you will notice that many fine shooters run a magnifier behind their optic so they can get the 3x magnification for longer distances than their EOTech or Aimpoint could reach (comfortably).
With the SLx MicroPrism, you can have the best of both worlds in a smaller red-dot-sized optic if you're into that kind of thing.
MicroPrism Reticle
The reticle works really well. I zeroed the tip of the chevron for 50 feet (since that was the furthest the range went), and it stayed on zero the whole time I was blasting.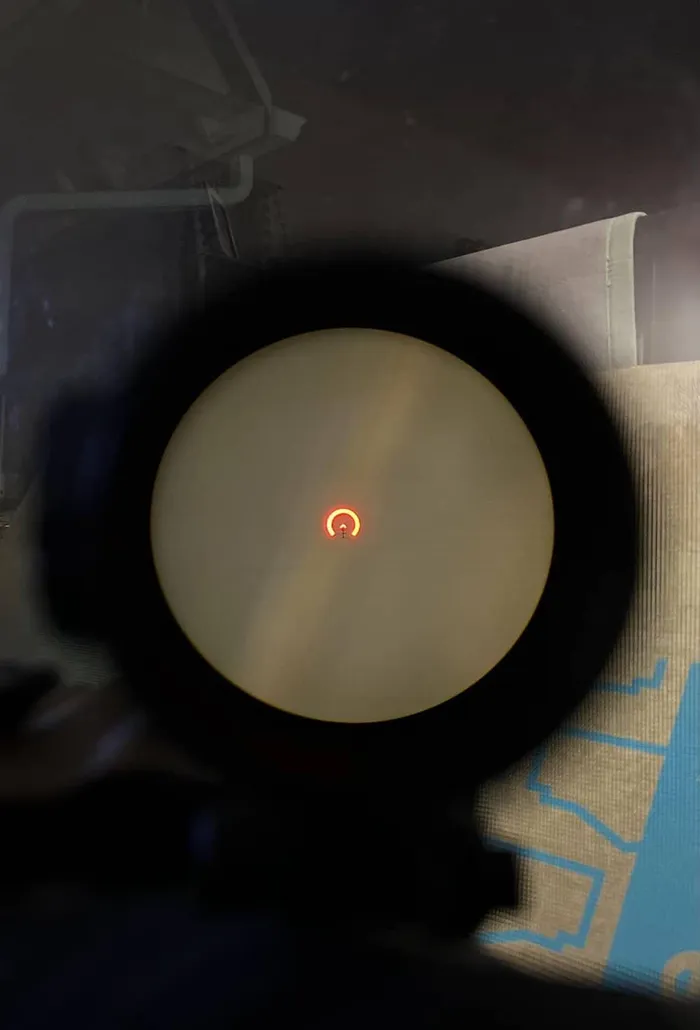 How We Tested
I had to tap into the personal collection for this one.
My personal rifle is a Bravo Company Recce MCMR with a 14.5-inch barrel that I like to call Big Bertha.
Big Bertha has a few mods, including a full Sprinco and VLTOR buffer system from Ape Defense and a Geissele SD-C flat trigger that makes trigger pulls easier than pulling a drunk cougar at a bar.
I took off my EOTech and mounted the SLx Prism, took everything on over to the range, and zeroed in the optic with the help of a bore laser. Then I fine-tuned it. And then we got down to business.
I did a few courses of fire from the ready, with a one-second pause in between to get my sights on target.
Then we tested the zero by loading five Magpul P-Magazines and dumping them as quickly as my little bent finger would pull the trigger.
After all, was said and done, the SLx Prism stood exactly where it was at the beginning of the day.  
Ammo Used
Hornady was kind enough to send us some legendary Hornady Black ammo in .223 with a 62-grain bullet.
I've said it once, and I'll say it again. When we test out optics or firearms, we want to have the comfort of knowing that the ammo we use will be the least of our worries.
Imagine enjoying a new piece on your firearm and having issues with ammo. No thanks. We need consistency, like every healthy relationship.
Not to mention, it's super shiny. I like that.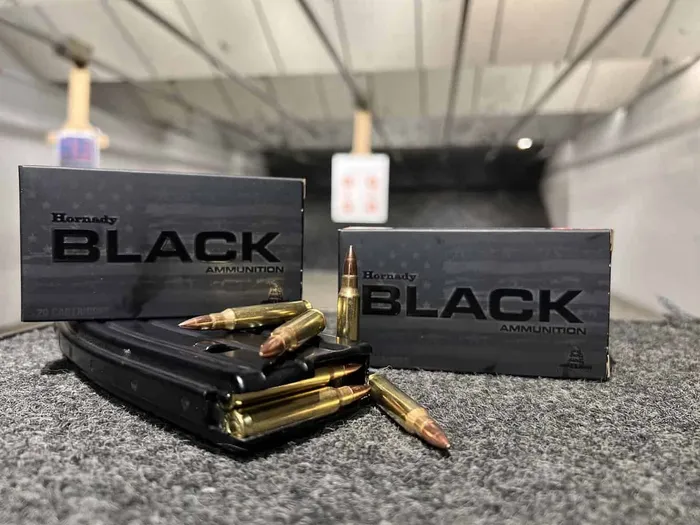 Score Card
Reliability (10/10)  
Even after me blasting a couple of hundred rounds, the SLx Prism stood zeroed and ready to work some more.
Ergonomics (8/10)
It was lightweight and maneuverable. The only reason it doesn't have a 10 is due to how hard the brightness knob is to turn.
Appearance (9/10)
The SLx Prism is an attractive optic and would look pretty good on any rifle you put it on (with some exceptions, of course).
Value (10/10)
The optic is amazing for the price. But I would not run it on any of my own builds.
Alternatives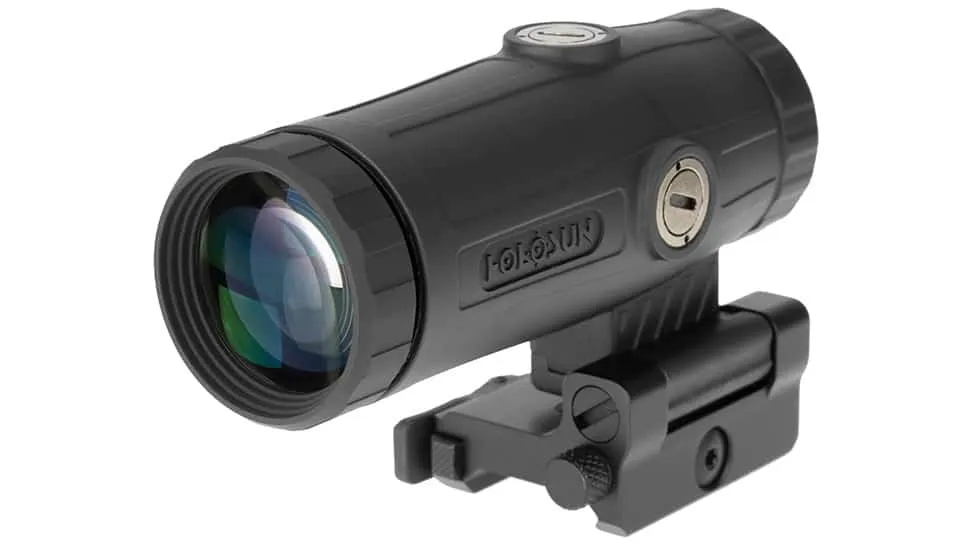 Holosun has been making optics for the working man since before I was born, and they have done a great job at producing reticles that are preferred by many.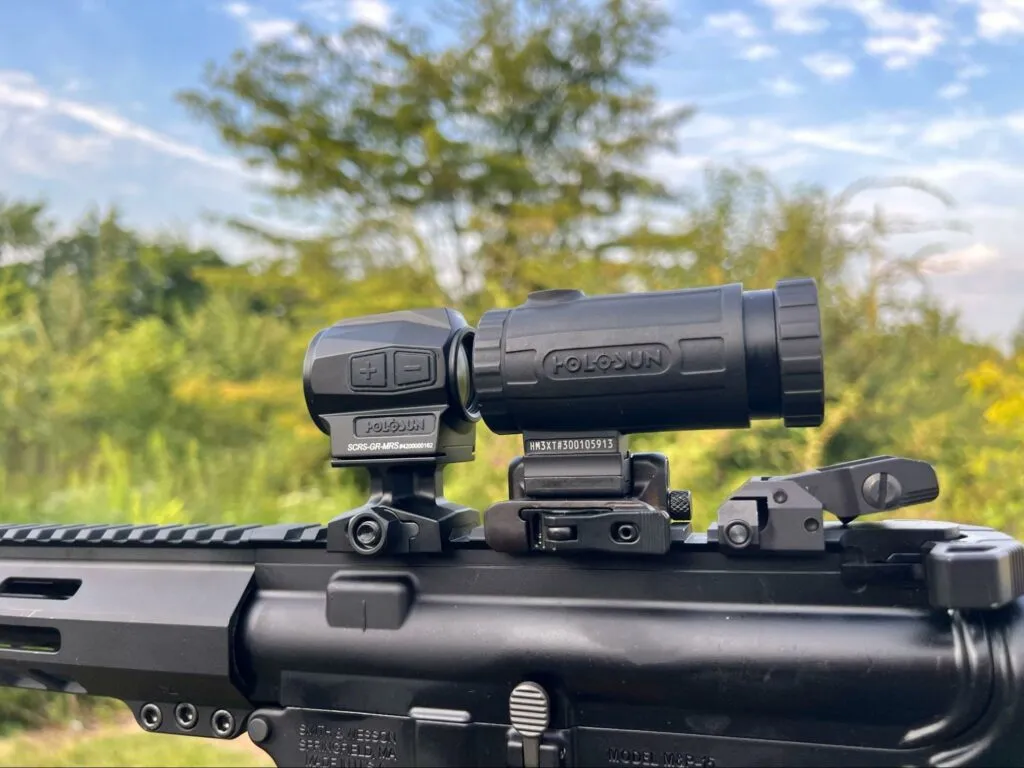 The HM3X is no exception. It's a one-piece 3x magnified red dot sight that will allow you better eye relief than most high-dollar optics on the market. All for less than what you make in a day, fine shooter.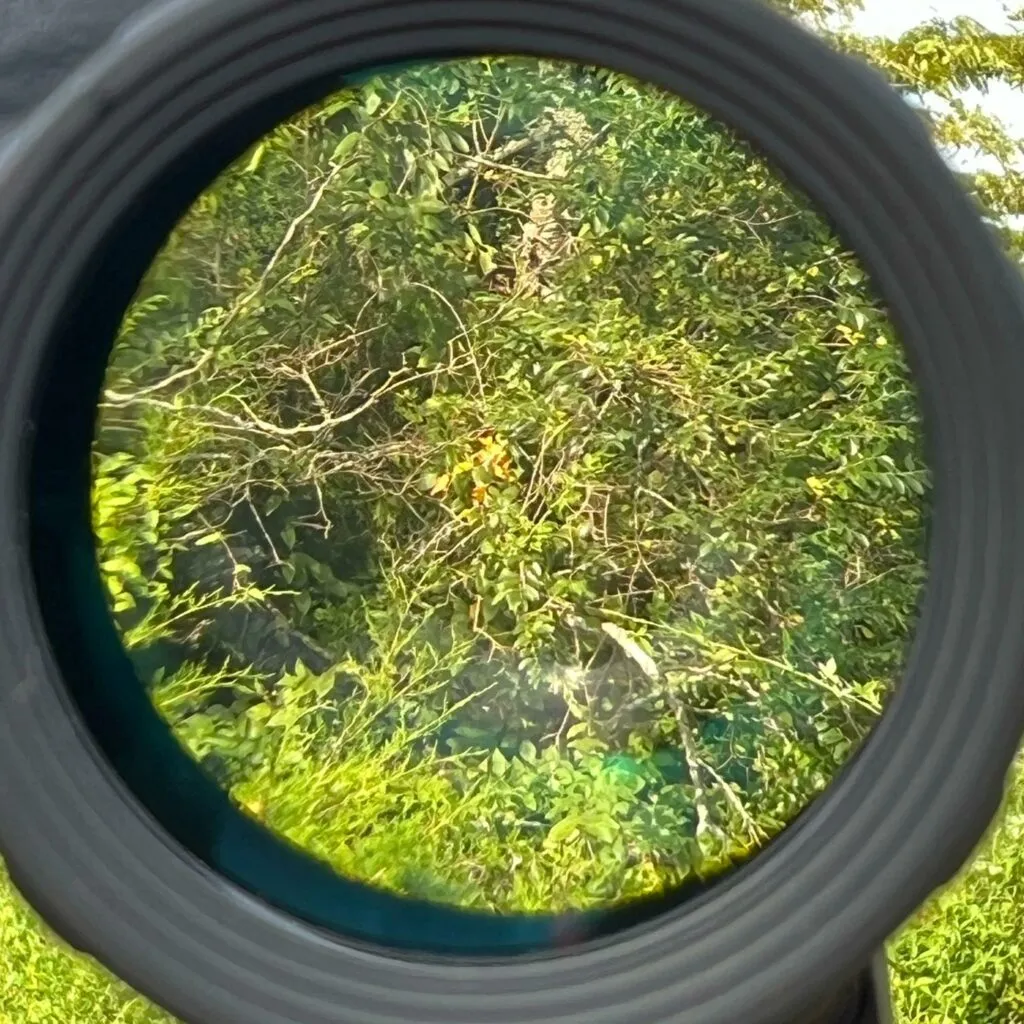 We had the opportunity to get some hands-on testing and review the Holosun HM3XT if you want to get the full scoop!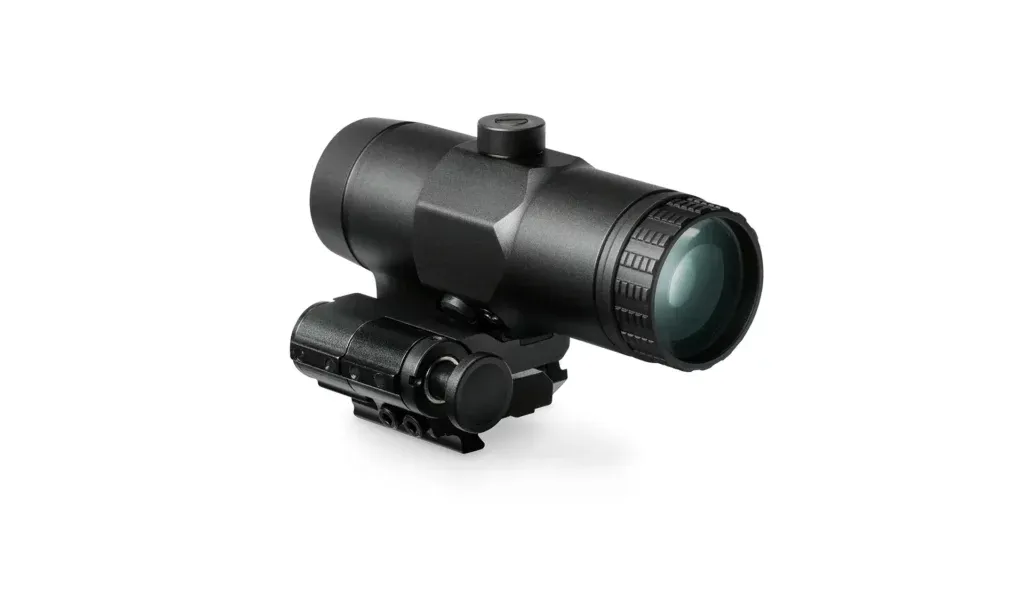 Vortex is another well-known name in the optics industry, and unless you live under a rock, you have heard about their LPVOs and how they are some of the best on the market.
The VMX 3T 3x is a great alternative to the Primary Arms SLx 3x MicroPrism and provides super-clear sight pictures and top-of-the-line durability.
Conclusion
To wrap this up, I think the Primary Arms SLx 3x MicroPrism is a great alternative for those who want a magnifier with yard markings.
If you're in the market for an optic that won't weigh you down and still reach out further than a typical red-dot or holographic sight, then I would look at the MicroPrism.
Maybe you'll laugh like I did when I initially got it. Maybe not. Can you think of a good use for this optic?
Let me know.
See you on the range, fine shooter.
Explore more