Rock Island Armory 1911 Review: A Budget 1911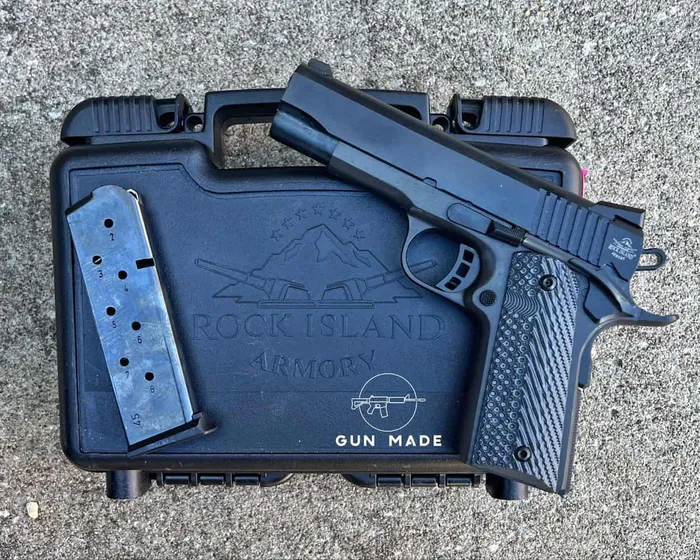 Rock Island Armory 1911 Review: A Budget 1911
I can only speak for myself, but I think it's safe to assume many of you will agree. When I think of Rock Island Armory, I think of budget 1911s. If you search the fancy Google machine for Rock Island Armory, the first dozen or so photos are all 1911s, with one revolver sprinkled in the results.
For me, 1911s have never been a "must-have" category in my collection, so when I was contemplating buying one, I was looking at some of the lower-priced options. The Rock Island M1911 MS was one that I was debating on picking up, so when the opportunity presented itself to test one for this review, I was happy to raise my hand.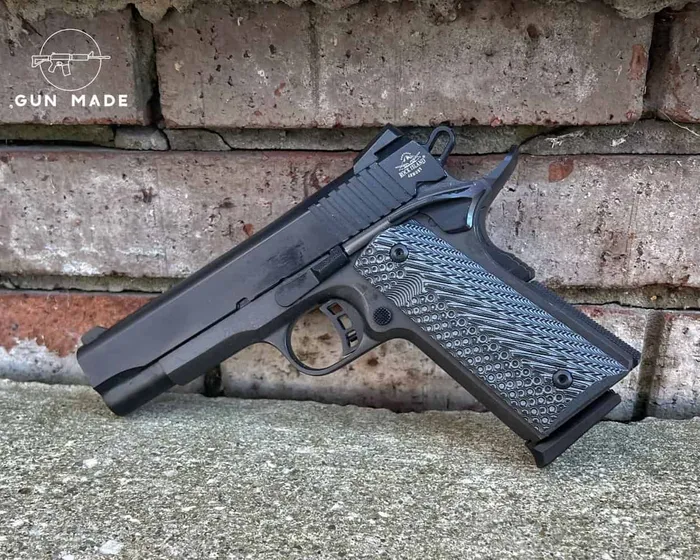 Rock Island Armory M1911 Review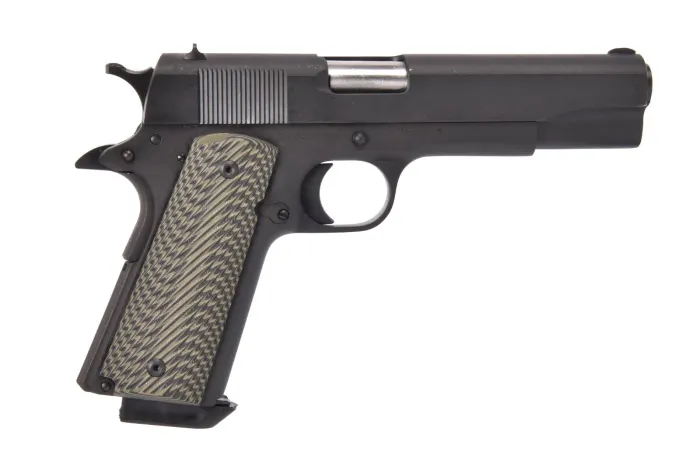 Specifications
| | |
| --- | --- |
| Caliber | .45 ACP |
| Capacity | 8+1 |
| Barrel Length | 4.3 Inches |
| Overall Length | 8.0 Inches |
| Width | 1.3 Inches |
| Height | 5.5 Inches |
| Weight | 2.3 Pounds |
Pros & Cons
When it comes to pros and cons, you have to take into account the price and the type of gun you're reviewing. In the case of .45 ACP 1911s of this size, it's not uncommon for an 8+1 capacity, so it's not necessarily a "con," even though I wish it held more. So if you don't see something like that listed as a pro or con, keep that in mind.
Pros
Affordable – under $500
Ergonomics – comfortable to hold and shoot (minus the sharp trigger edges!)
Easy-to-use controls
Cons
Sharp trigger edges…very sharp
Only comes with one magazine
First Impressions and Range Time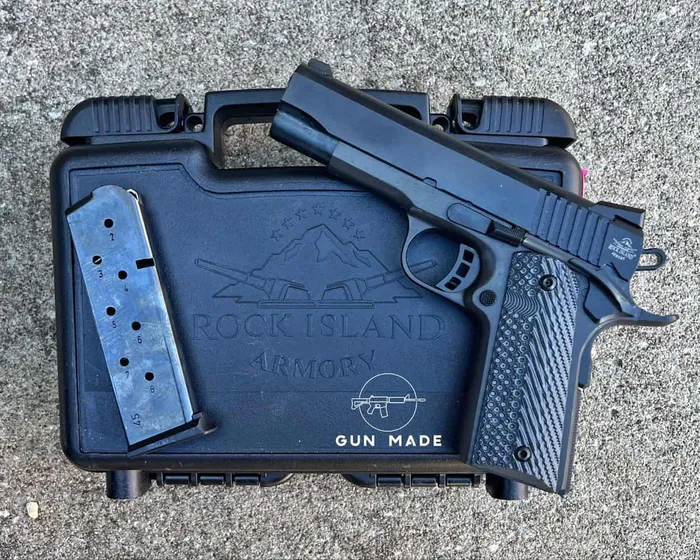 Overall Feel
I love having a full-size grip on a medium-sized gun. The mix of the larger G10 grip and the grip angle makes for a very comfortable feel. The beavertail adds a nice nook to lock your hand into and helps to maximize your comfort while shooting.
Reliability
A lot of folks always talk about their 1911 having this horrible break-in period, where for the first few hundred rounds, they have a ton of malfunctions. While I certainly have witnessed that with certain guns, this was not one of them.
I picked up 150 rounds of 230-grain Blazer Brass FMJ and split it between two range sessions.  I wound up having three malfunctions, which is obviously not ideal, but it is not as bad as many others have reported during their break-in period.
Accuracy
I almost never shoot .45 ACP, but I will not use that as an excuse! After the first couple of magazines, I was able to maintain roughly 3-inch groupings out to 10 yards in some pretty crappy lighting, too I may add.
I was actually pleased with my shooting within 15-20 yards by the end of the 150 rounds. I didn't get the opportunity to try my skills further out, though, due to my local range limitations.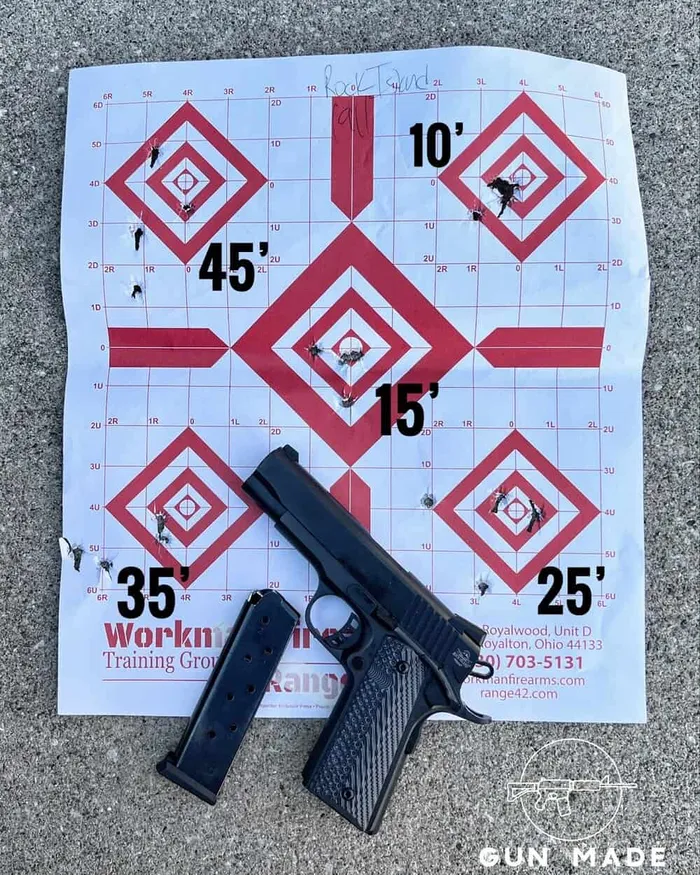 Features
Sights
Thankfully, Rock Island chose to go with a NOVAK style two-dot rear sight, as opposed to the super basic GI type. In the front, you'll find a dovetail-mounted standard sight. While they get the job done in daylight, once you start losing light, they obviously become increasingly more difficult to use.
I would have liked to see some night sights here, but at the same time, I didn't expect them at this price point.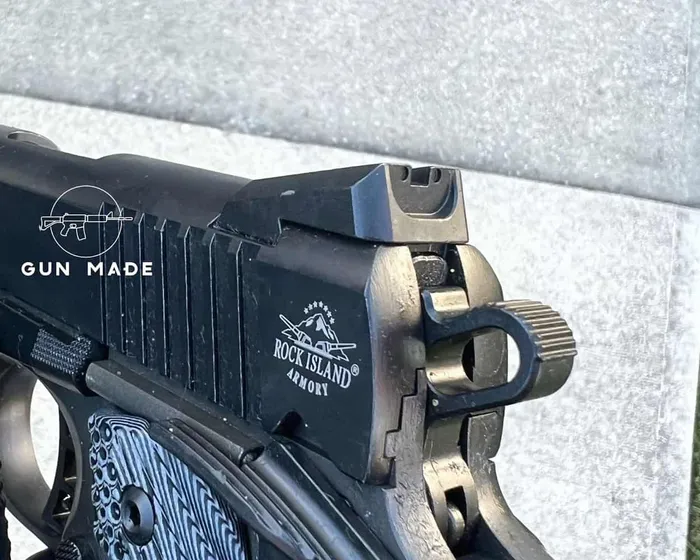 Controls
I actually really like the controls on this 1911.
As you can see from the pictures, this one has ambidextrous safety, a large slide-stop lever, and a nicely textured magazine release. While none of these controls are necessarily fancy or "upgraded," they all function smoothly and are sized appropriately.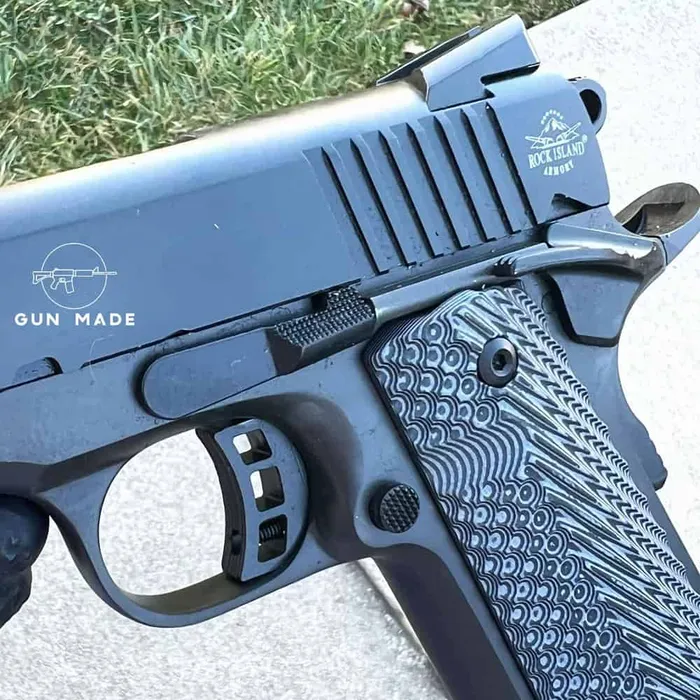 Grip
This is probably an unpopular opinion, but I'm not a fan of wood grips. I love that this specific 1911 comes with black and gray G10 grips. They have a texture that really grips your hand…pun intended, but are also somewhat smooth and very comfortable.
The grip gives you that full-size feel, even though it's on a medium-sized model. To add to the ergonomics, Rock Island added an extra large beavertail that fits the frame well.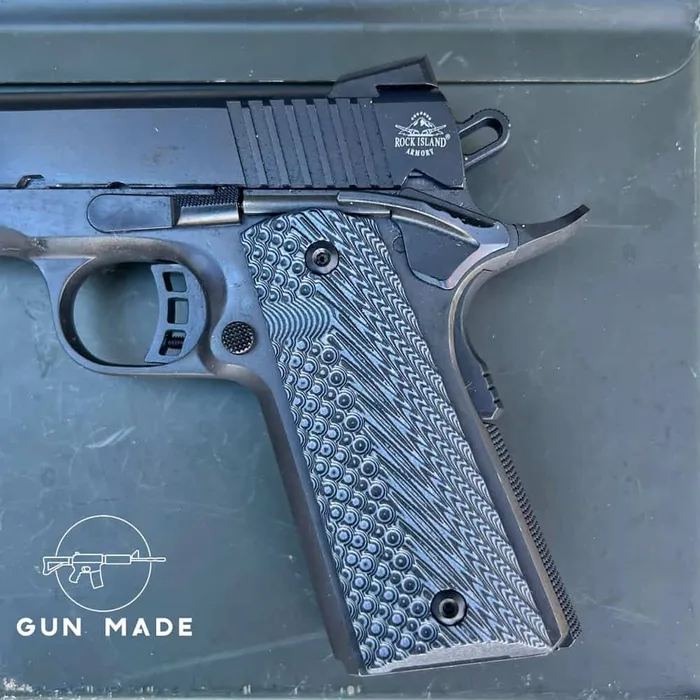 Magazine
Especially with .45s, the 8-round capacity is not a surprise. Of course, I'd like to have more rounds, but the 8+1 magazine is pretty standard, and with it being metal, it's plenty durable. The several witness holes are nice for keeping track of your round count, but there isn't much else to say about the magazines.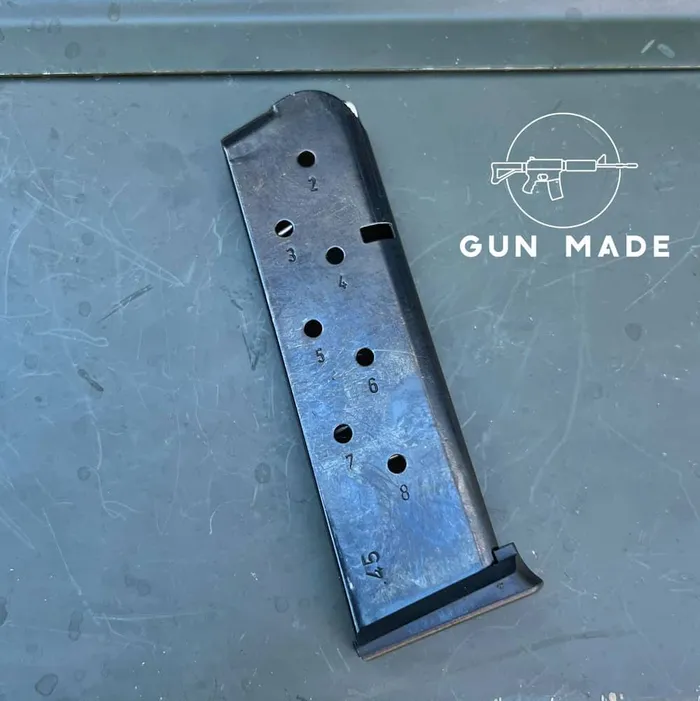 Trigger
I have very mixed feelings about this trigger. I'll start with the good. It is light (just under five pounds), consistent, and very smooth.
However, the trigger has some of the sharpest edges that I've ever felt. If I was keeping this gun, I would have to polish them down for it to be comfortable for any amount of rounds. It's a simple fix, but I'm surprised that it made it out of quality control like that.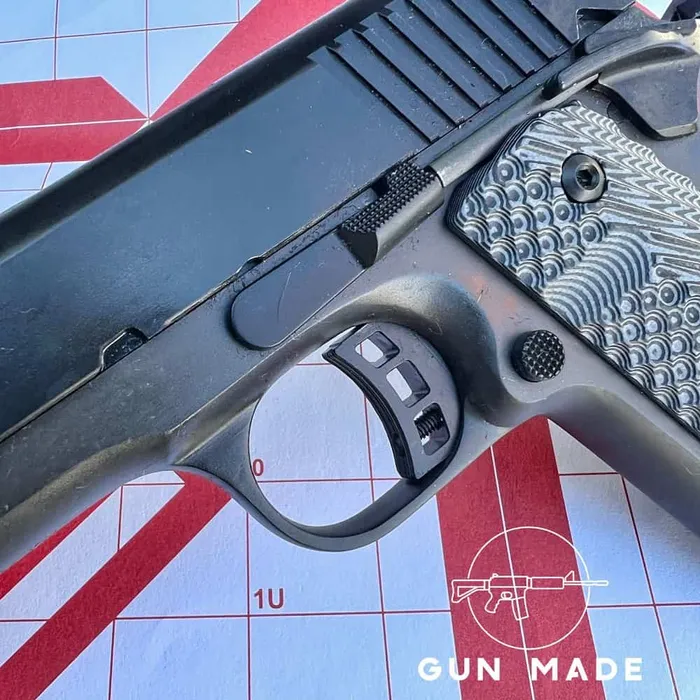 Accessories
You're going to be somewhat limited in the accessories department compared to your Glocks or M&Ps of the world, but you can still buy some extra goodies if you feel like spending your money!
This is one of the easiest solutions to your 1911 not having an accessory rail. This grip and rail system will replace your stock grips, provide you with an accessory rail, and best of all, you won't need any gunsmithing to install it. It's not permanent, so you can always go back to your normal grips, so why not try it out?
You can never have too many magazines. Magazines may not come to mind when you think of traditional accessories, but they are definitely worth stocking up on. I like to have a minimum of four to five magazines for pistols. This reduces reloading time at the range and keeps you prepared if SHTF.
Alternatives
There are so many 1911s out there at every price point; it's hard to pick just a couple to suggest as alternatives. The following, though, will be similar in size and price, in case you aren't leaning toward the Rock Island route.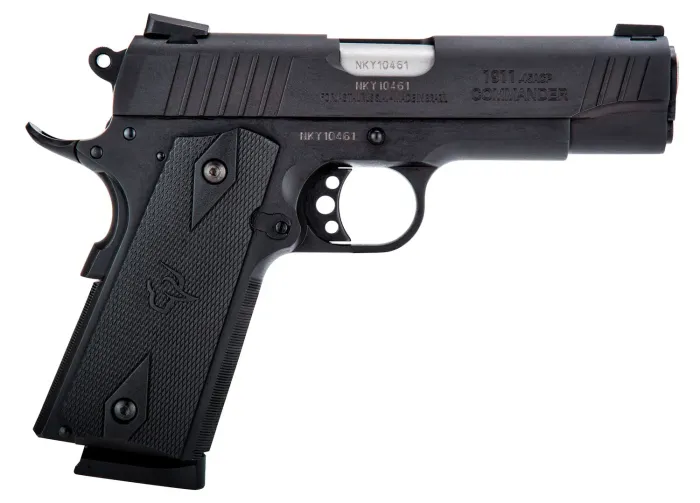 The Taurus 1911 Commander is a couple of hundred dollars more, but still falls in the "budget" category when it comes to 1911s. It features Novak drift adjustable front and rear sights, an extended beavertail and a nice full-size grip. It even has front slide serrations that add to its functionality and aesthetics.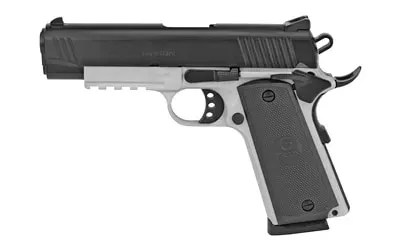 I like more tactical features and accessories on my firearms, so the fact that the MC1911C has an accessory rail is a huge bonus in my opinion. It also has an extended beavertail, Novak style rear sights, and deep front and rear slide serrations. You can find it in an FDE, two-tone, or a blue/black finish.
FAQs
Can you dry fire a Rock Island 1911?
Yes, centerfire 1911s can safely be dry-fired. I always suggest using Snap Caps or a similar product to be safe.  
How to maintain your Rock Island 1911?
It seems like most people either lubricate the crap out of their 1911 all the time or do nothing with it and run it dry. I don't fall in either category, though. I give it a decent lubrication after cleaning, which is usually every other range trip since I don't put a ton of rounds through 1911s in a single session.
What does the FS stand for on a Rock Island 1911?
The FS stands for Full Size, while MS stands for Medium Size, and CS stands for Compact Size.
Conclusion
Would this 1911 be "the one" I would pick if it was going to be my only one? Probably not. However, if you're looking to dip your toe into the 1911 world, the Rock Island Armory M1911 MS is a well-priced pistol to do so with.
It's an ergonomic, flat-shooting, no-frills 1911 at a good price. Keep your eye out at your local range to see if they have one to rent and test one out for yourself!
Explore more