Ruger EC9s Review [2023]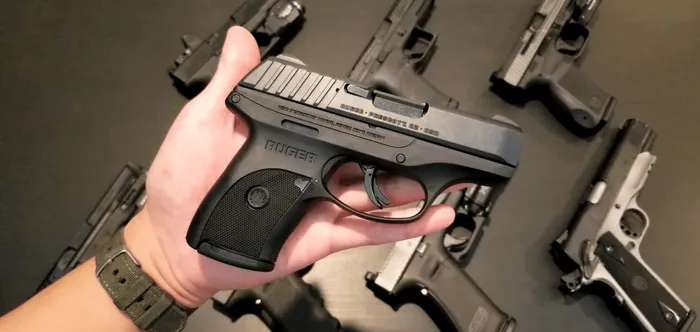 Don't mourn the discontinuation of the Ruger LC9s because it's safe to say that they've effectively replaced it with the Ruger EC9s.
The "E" stands for "Essential," and the EC9s is essentially a more cost-effective 9mm addition to the Ruger handgun family.
That being said, not much has changed from the LC9s. It's still a lightweight single-stack CCW for self-defense with 7+1 rounds to boot.
This time, the sights are fixed in order to cut manufacturing costs, and the DAO trigger is improved with a crisper and shorter pull.
But is it really a worthy replacement to the LC9s?
In today's review, we'll take a deep dive into the EC9s and its characteristics, advantages and disadvantages, and I'll help you decide if it's the right CCW for you.
I'll pair its main features with the Ruger LC9s so you can see the differences. Additionally, I added some cool aftermarket upgrades and alternative handguns in this Ruger EC9s review.
Ruger's Idea Behind the EC9s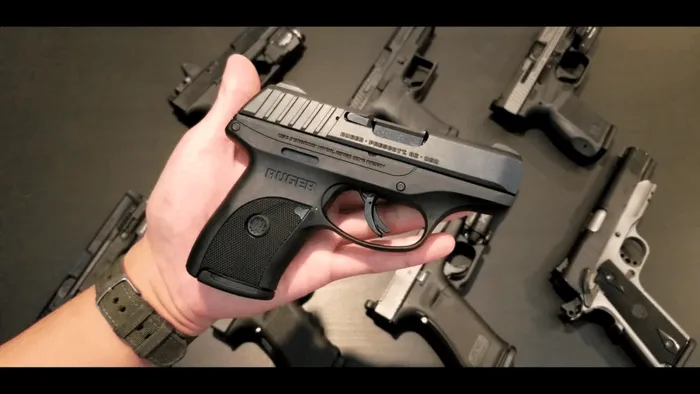 Ruger has been at it in the U.S. since the 50s and has been contributing to the firearms market with their Ruger Precision bolt-action rifles, their .380 LCP, and of course, the LC9.
Sub-compact 9mm pistols have been all the craze these past couple of years, and Ruger's one of the main trendsetters for this ever since the 2011 SHOT show with their LC9.
However, a lot of folks have grown displeased with the hammer-fired LC9 and the .380 ACP's sluggish trigger pull.
That's why, in 2014, Ruger introduced the striker-fired LC9s, and a bit later, the LC9s Pro, both of which were marginal evolutions from the predecessors.
To everyone's surprise, the Ruger EC9s landed in 2018, the happy-go-lucky cousin of the LC9s.
Ruger's main idea was to put the LC9s out of commission and introduce a lower-cost version of the same gun with milled-in fixed sights, black oxide finish, fewer and wider cocking serrations on the slide, and a lighter trigger pull.
As far as I can tell, people really like the EC9s, not because it opens a window of already abundant aftermarket options, but because the overall feel feels like a definite improvement.
It's the same gun, only better.
Overview – Ruger EC9s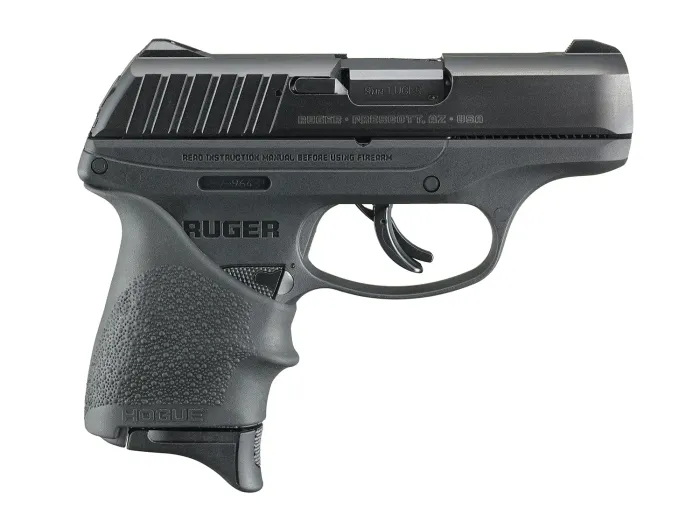 Besides the EC9s, with your purchase, you get a box full of:
Hogue HandALL grip adapter (if you buy said model)
A 7-round magazine
Bicycle lock
Chamber flag
A flat magazine base plate
Fake plastic magazine for easier disassembly
Owner's manual
Pros & Cons of the Ruger EC9s
Pros
Ruger reliability
Crisp and short trigger pull
High-quality construction
Lightweight and compact for a great CCW package
Loads of aftermarket availability
Compatibility with some LC9 parts
Well worth its low price
Cons
Takedown pin can get lost
Customer reports of the guide rod breaking
Magazine disconnect safety might be annoying for some
Not for shooters with long fingers
Specifications
| | |
| --- | --- |
| Manufacturer | Ruger |
| Model | EC9s |
| Caliber | 9mm |
| Type | Centerfire |
| Action | Striker-fired |
| Capacity | 7+1, one magazine included |
| Trigger pull | ~5.5 to 6.5 pounds |
| Safety | Integrated trigger safety; Manual safety; Magazine disconnect; Empty chamber indicator |
| Barrel length | 3.12 inches with six grooves and 1:10-inch RH twist |
| Overall length | 6 inches |
| Overall height | 4.50 inches |
| Overall width | 1.2 inches |
| Weight | 18 ounces |
| Grips | Black, high-performance, glass-filled nylon |
| Sights | Integrated sights |
| Construction | Through-hardened steel alloy |
| Finishes | Black oxide |
Construction, Grips, and Ergonomics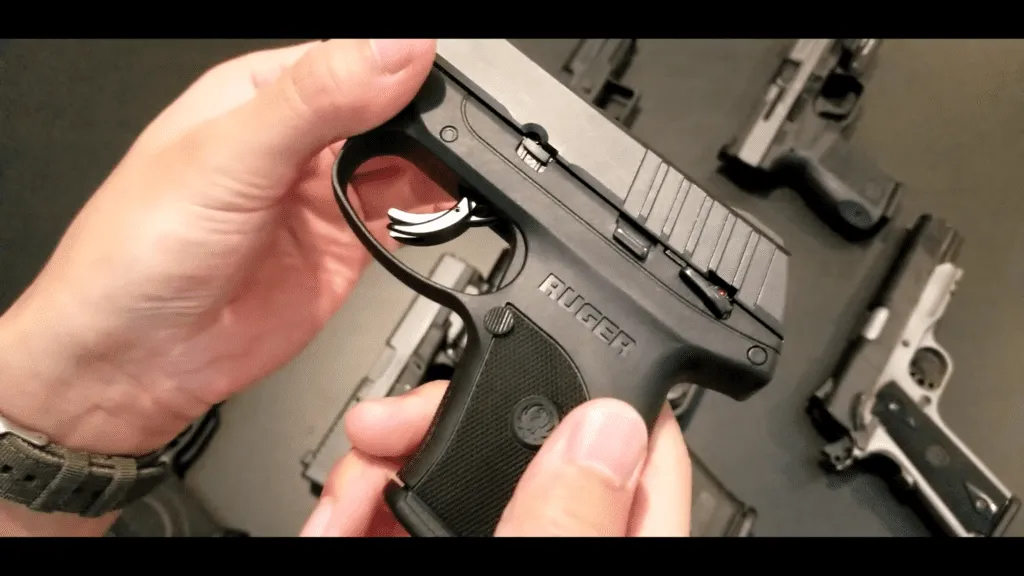 The EC9s has a lightweight and compact design thanks to the hardened alloy steel slide with a black finish. If you've already laid hands on the LC models, you won't need to get used to this one.
I noticed that the EC9s has beveled edges, unlike the LC9s' sharp ones. This further emphasizes the CCW purpose.
If you have larger hands, I recommend the Hogue grip, which can soak up a lot of recoil and provide that much-needed stability.
The pistol's frame is constructed with glass-filled nylon with an aluminum insert; the grip is checkered to provide a solid, non-slip hold. All sides of the grip are checkered in texture, which is rough enough for a stable grip.
You'll notice that the grip swells a bit with a curvature towards the backstrap, giving your middle, ring, and pinky finger room.
As for the finish, Ruger went with a black oxide, which is cheaper than the blued finish found on the LC9.
Shooting and Ammo Recommendation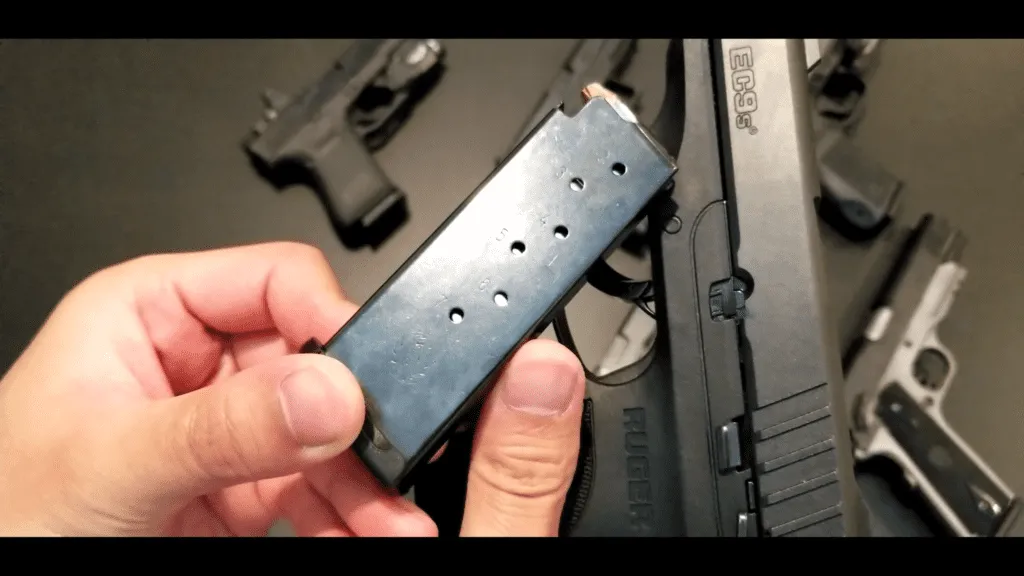 The EC9s is obviously not for competitive shooting. That being said, the 10- to 15-yard range with seven bullets fits it well enough when you happen to find yourself in a self-defense scenario.
Well, I happened to consistently ding my targets from a 12-15 yard range, and I'll be damned if it wasn't smooth and enjoyable. I went through 600 rounds and used a couple of ammo boxes like Hornady Critical Defense 115-grain JHP, Fiocchi Training Dynamics 115-grain FMJ, and a good old American Eagle 115-grain.
My verdict is that all three performed decently, and the Hornady was better than the two by a 1.5-inch difference. As for the recoil, it kicks like a 9mm subcompact should, but it feels good.
Sights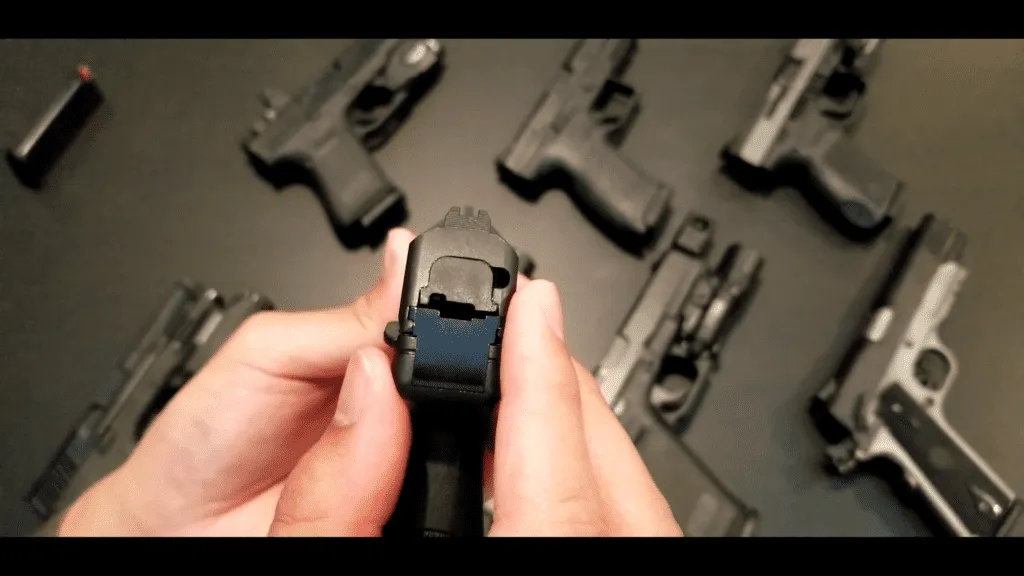 There's not much to say about the fixed front and rear sights. They're machined into the slide, and you can't add new sights if they don't work for you.
However, they're still decent for integrated sights and are pretty intuitive for target acquisition around the 10-yard range. They won't budge out of alignment, that's for sure.
Additionally, note how the space between the serrations on this EC9s is wider than most Rugers—this provides a pleasing aesthetic and easier visibility.
A word of advice: take white nail polish and dot the sights for that white dot experience. Trust me.
The Trigger and Safeties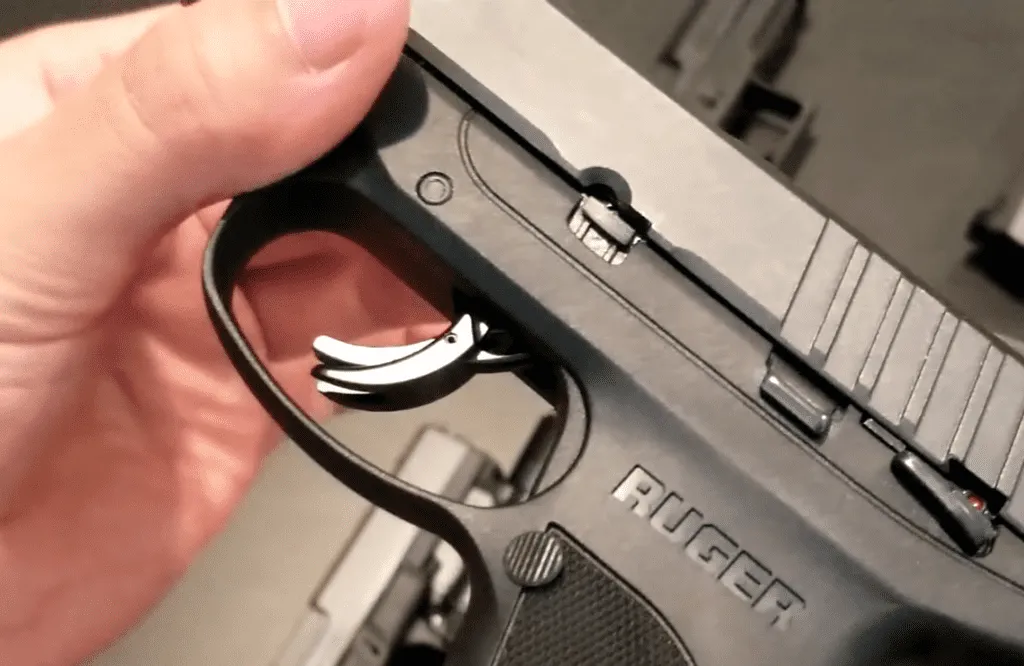 In terms of safety and controls, the EC9s is simple and instinctive enough, much like its predecessor.
It has a double-action-only, striker-fired mechanism, with a short, light, and crisp trigger pull. It's around 5.5 to 6.5 pounds of pressure. There are two stages of pressure with a felt rebound, but you can feel a clicking sound when the trigger resets.
The safeties include an integrated trigger safety, a manual thumb safety, a magazine disconnect, and a loaded chamber indicator. All work well to prevent accidental discharge.
If the safeties are a bit too close for your comfort, I suggest you install some new retention springs.
Typical for a Ruger, the small thumb safety is on the left side of the frame. However, it's super easy to handle and doesn't flinch if you accidentally brush your finger off it. Most might not realize, but this is an A+ in the Ruger report card.
I've noticed that some customers complained about the fragile guide rod, as it breaks after a couple of hundred rounds, but that's not much of a problem.
Aftermarket Options
This is where the EC9s shines.
Because it's pretty much the same LC9s gun, you can find all kinds of internal parts, slides, magazines, and basically anything besides sights. For optics, I recommend you mount the Crimson Trace Laserguard under the barrel.
Those messy, colorful grips and crazy finishes are available with your purchase. You got purple, cerakote, one with the synthetic grips, FDE, Muddy Girl, etc.
Additionally, I recommend the CrossBreed MiniTuck holster, which a lot of folks really like, and for magazines, there are the blued 7-round mags that are really cheap.
Disassembly and Maintenance
Although a carry gun with a removable takedown pin might not be suitable for most (you're pretty much bound to lose it), the EC9S is still easy to strip down.
Additionally, another weird thing is that you need to place the orange magazine-shaped part in the gun to pull the trigger and start the disassembly process. But, whatever.
I can explain the field stripping process easier than in the owner's manual. You'll need pliers and a screwdriver. Let me break it down:
Remove the magazine and check if the gun's empty. Don't point it at anyone or anything.
Cock the striker and insert the orange faux magazine thingy;
Pull down the takedown pin gate and pull the trigger;
Move the slide back until you fully see the takedown pin;
Press the thin screwdriver against the takedown pin and push it out of the gun;
Once it's far enough, snag and hold it with pliers;
Remove the pin and gently pull the slide off from the gun;
Compartmentalize each part for maximum tidiness;
There you have it.
Reassembly is pretty much in reverse, and you have to press the takedown pin all the way in.
If you want to have the cleanest Ruger this side of the Mississippi, I suggest you buy a good gun cleaning kit and clean your EC9s regularly.
FAQs
Is the Ruger EC9s Better Than the LC9s for Self-Defense?
Although the fixed sights don't allow for aftermarket tweaking, the Ruger EC9s is a definite improvement over the LC9s with its accuracy, reliability, and function for all your EDC and CCW needs.
It's bare-boned, but the improved trigger and grips make it a certified replacement for the LC9s.
What's the Difference Between Ruger LC9s & EC9s?
The Ruger EC9s is a lower-cost version of the LC9s with fewer and wider cocking serrations, an aluminum insert, black oxide finish on the slide and barrel, a checkered grip, and fixed rear sights that are built into the construction.
The LC9s has adjustable rear sights, a slightly different grip texture, the slide is blued, and the barrel is steel.
Both models accept magazines and similar external upgrades.
Are the Magazines for the Ruger EC9s and LC9s Interchangeable?
Yes, you can use Ruger LC9s magazines for the EC9s and vice versa. They have the Ruger stamp on each mag, as both guns are roughly the same size.
What Do the Others Have to Say?
Here are some testimonials and review snippets from customers that bought the Ruger EC9s.
Alternatives to the Ruger EC9s
If you feel that the Ruger EC9s just doesn't cut it for you, check out these handguns.
Although the Kahr CM-9 has a 6+1 round capacity, it's a carefully adapted 9mm platform with a trigger-cocking DAO, Browning type recoil lug, and no magazine disconnect that offers smooth shooting.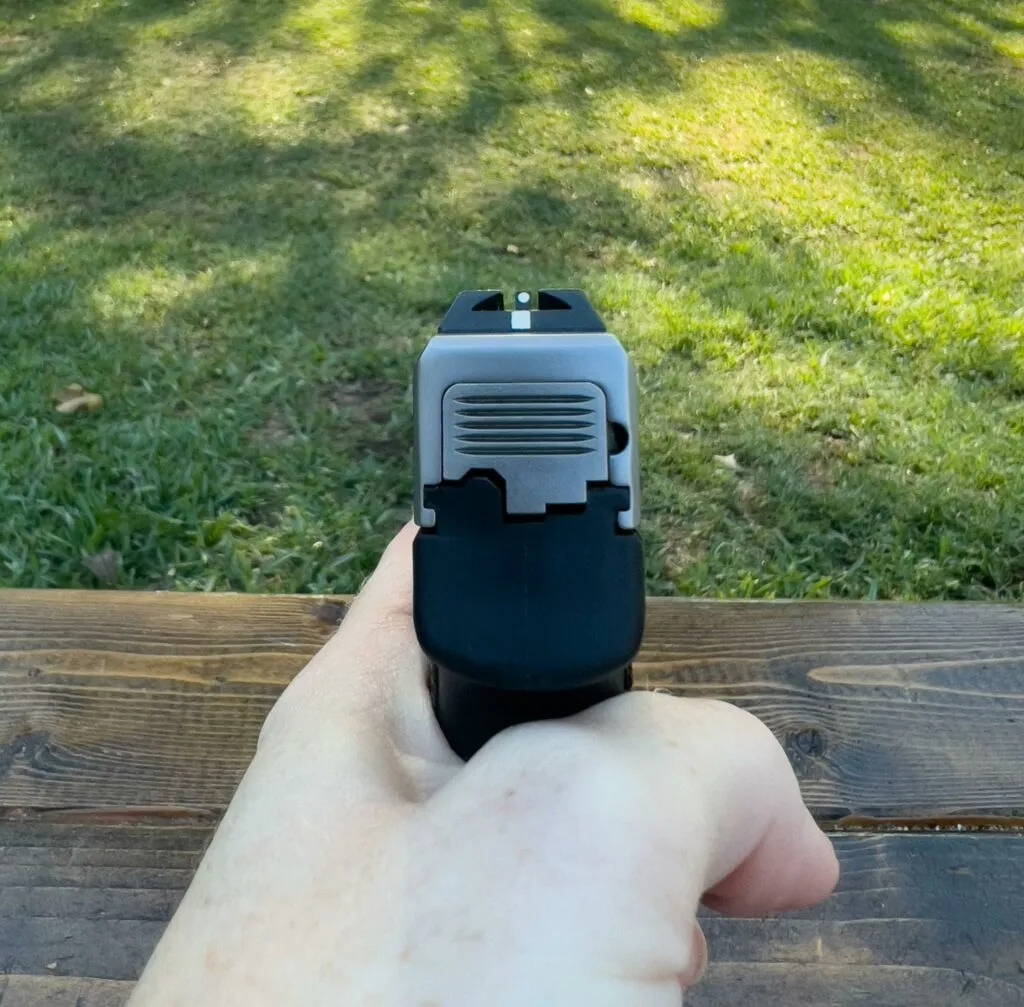 It's similar in build to the EC9s with a 1-inch width, 5.5-inch length, and 14-ounce weight, making it a great CCW alternative. I recommend you snag a high-quality leather Versacarry IWB Holster.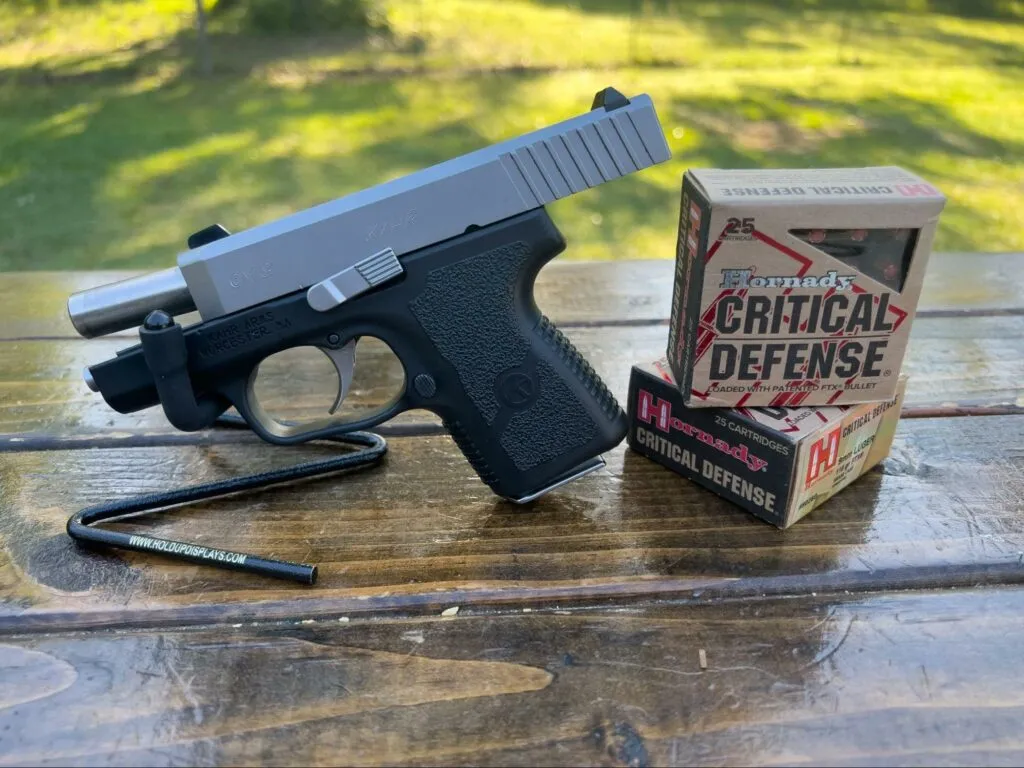 Unlike the EC9s, the Kahr's drift-adjustable, white bar-dot sights really make a difference in accuracy. You can find it for even less and still have the buck to install some cool grips.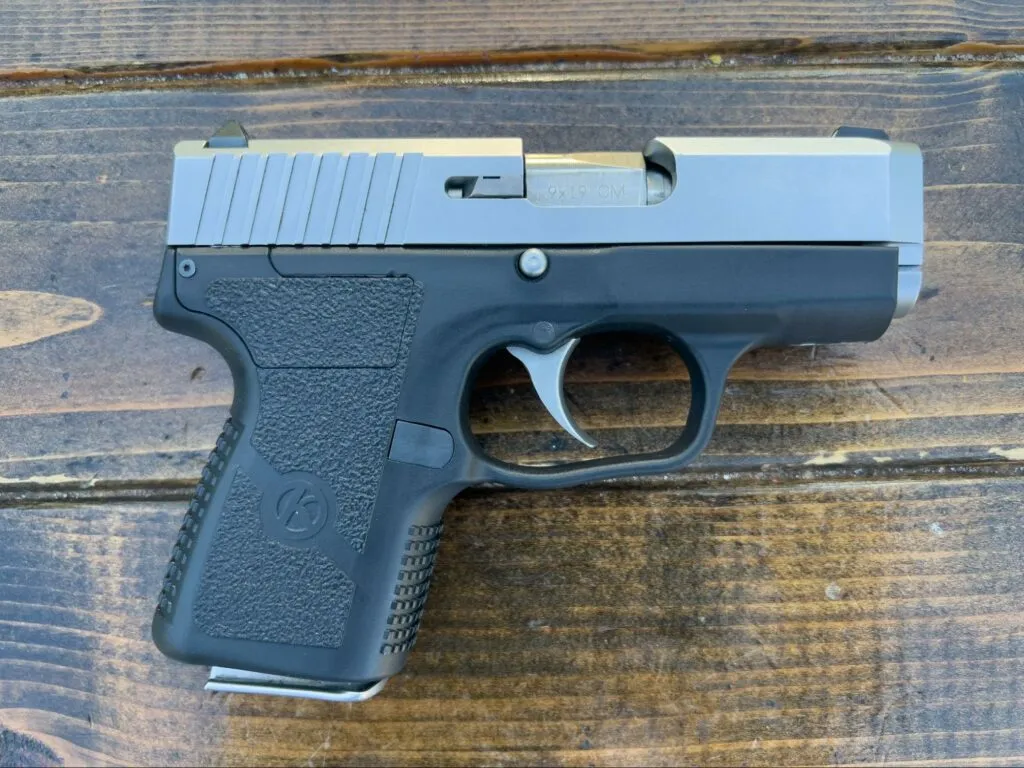 Check out our Kahr CM9 review for additional information.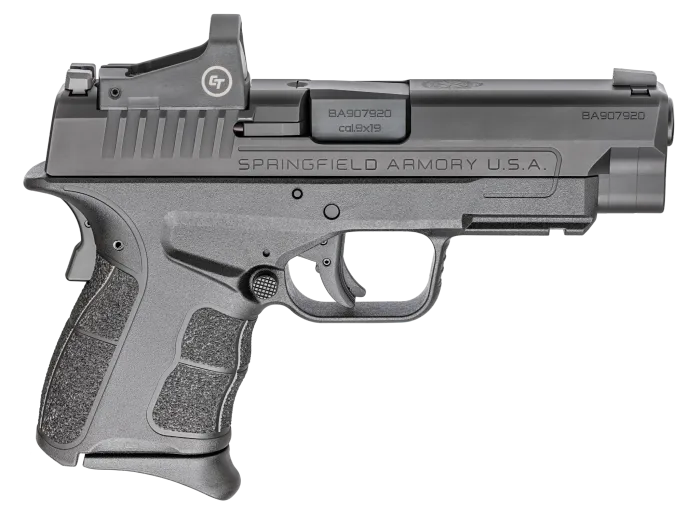 If you really want a CCW platform with an optics edge, there's none greater than an optics-ready Springfield XD-S.
This 9mm has a long 4-inch barrel and quite a bit of heft, but it's still an excellent self-defense option with a 9+1 round capacity and reliability that rivals its own Springfield Armory Hellcat. It also comes with a flush-fit 7-round mag.
What makes it so special, though, is the white-dot front sight that combines well with the low-sitting Crimson Trace Red Dot for that much-needed close- to mid-range accuracy.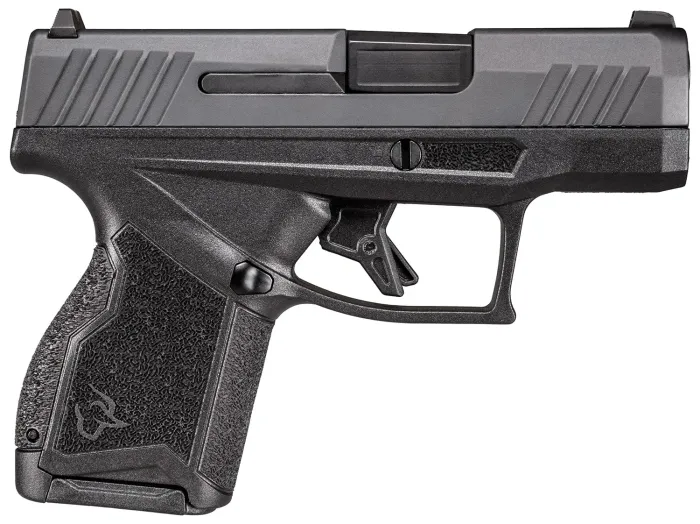 The Taurus GX4 is a micro-compact 9mm with impeccable reliability that holds 11 rounds. How's that possible? Well, it's a stack-and-a-half.
What this means is that it has a magazine with a unique design that holds more ammo yet still conceals similar to an EC9s. It's a well-built 9mm platform that's carefully crafted for CCW. Additionally, it comes with two magazines.
Check out our Taurus GX4 review for more info on aftermarket parts, disassembly, and ammo recommendations.
Conclusion – The Ruger EC9s Is a Worthy Successor to the LC9s
For a handgun this size, function, and price, it's safe to say that you can pair the EC9s with single-stack 9mm champions like SIG Sauer P365, Glock G43, Springfield Hellcat, and the Taurus GX4.
To sum it up, the Ruger EC9s is a new, but promising sharpshooter in the 7-round 9mm single-stack niche.
This specific handgun market has serious contenders like the staggered-stack S&W M&P Shield Plus and the Canik TP9 Elite SC that threaten its pedestal, but it still manages to hang on, even if by a thread.
One thing's for certain – the Ruger EC9s is not for newcomers. I suggest you try some compact and full-size beginner handguns before you get used to the subcompact 9mm recoil.
That being said, if you want a handgun with adjustable and replaceable sights, you should definitely browse other handguns.
Otherwise, don't worry much about the fixed sights. Just paint some DIY white dots on the front sight and call it a day.
Talk about painting the lily.
As always, stay safe and shoot straight.
Explore more