Kahr CM9 Review: A Micro 9mm for the Masses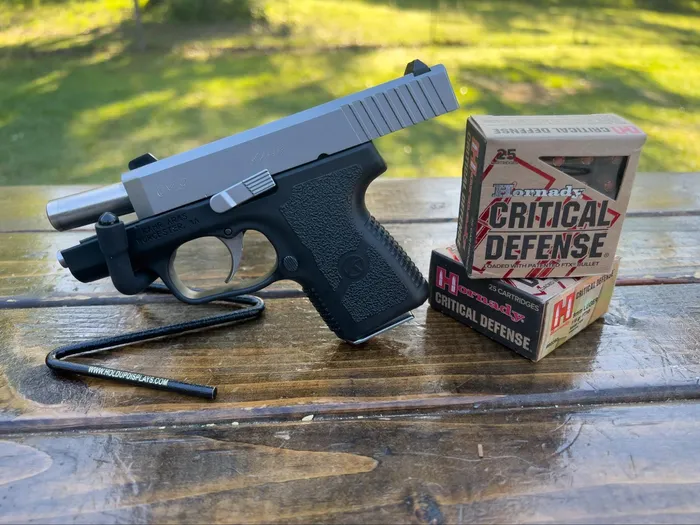 Kahr CM9 Review: A Micro 9mm for the Masses
Introduction
Micro 9mm handguns are an incredibly popular market segment. Kahr, and other companies, have sought to close the size gap between 9mm and .380 pistols by finding ways to shrink the design of 9mm pistols.
The challenge that firearm designers face, however, is how to reduce the size of a 9mm pistol to make it easier and more comfortable to carry, while at the same time maintaining at least a six-round capacity and keeping recoil under control. The K9 was Kahr's attempt at checking all of those boxes.
The K9 was one of the first Micro 9mm pistols on the market. It has an all-steel construction, which wound up making it heavier than what is ideal.
In an effort to lighten the weight, Kahr replaced the steel lower with a polymer one, and the PM9 was born. However, the price was still an issue for those would wanted to pick up a PM9.
In response, to bring the pistol to the masses, Kahr made some changes to the manufacturing process and design that resulted in the Kahr CM9.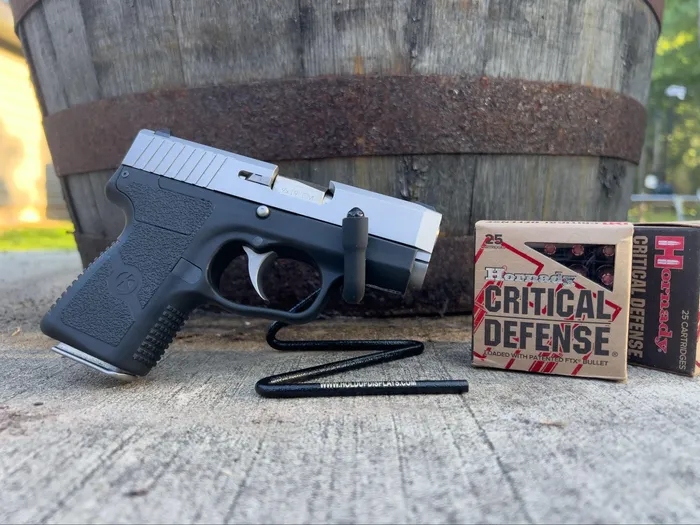 Kahr CM9 Review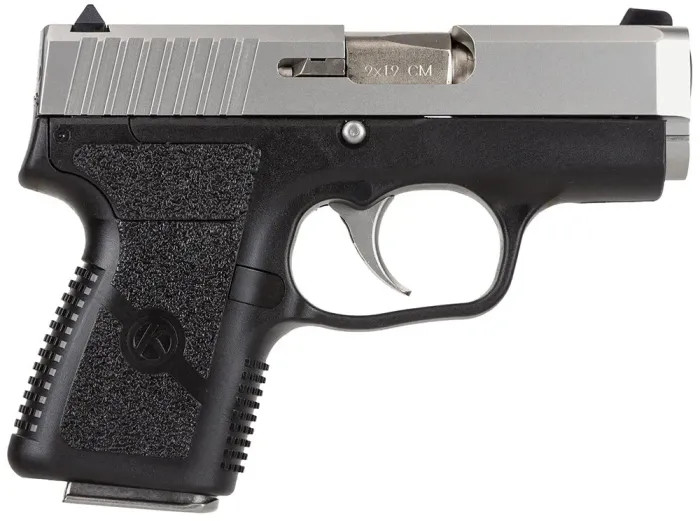 Among the changes that made the CM9 what it is, include but are not limited to, a pinned front sight, a different slide stop lever, and plain aesthetics. All of these changes meant that Kahr was able to bring the price of the CM9 down in relation to the PM9.
The style of the CM9's rifling is different from the PM9's—traditional cut instead of polygonal. Still accurate. Just different.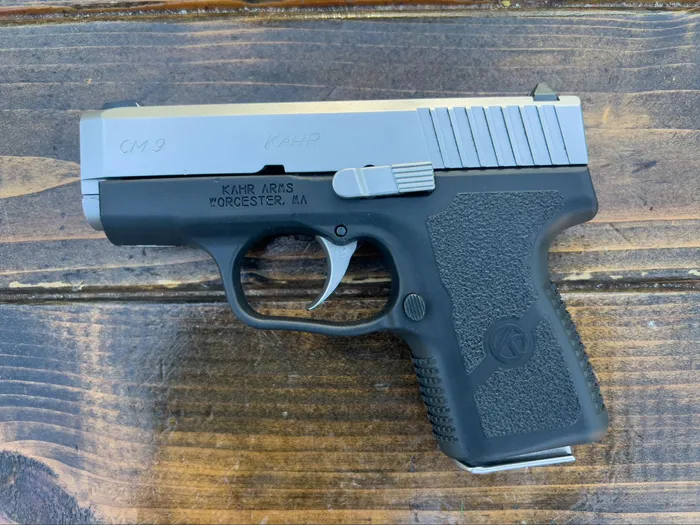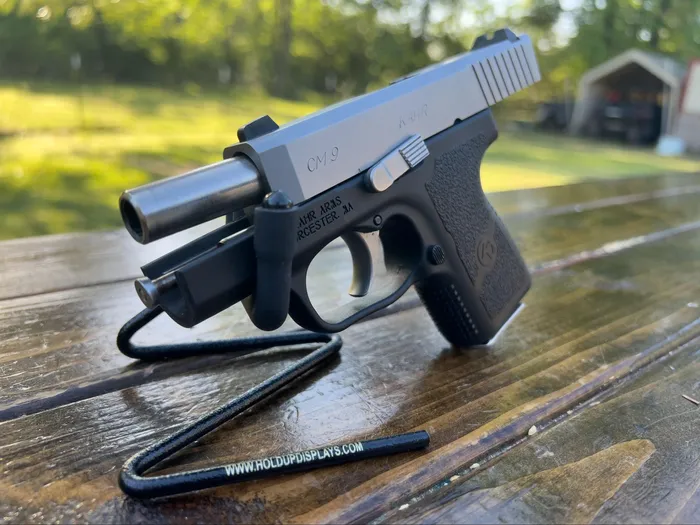 Specifications
| | |
| --- | --- |
| Caliber | 9mm |
| Action | Semi-automatic |
| Capacity | 6+1 |
| Barrel Length | 3 inches |
| Overall Length | 5.42 inches |
| Height | 4 inches |
| Weight | 15.9 ounces |
Pros & Cons
Pros
Lightweight, compact design

Affordable

Accurate

Reliable
Cons
Limited capacity

Less aftermarket support

Lightweight design leads to more felt recoil
Range Report
With the Kahr CM9 being a micro 9mm, the shooting experience differs significantly from shooting a Glock 19, CZ 75, or Springfield XD-M. When shooting a pistol of this size, it is essential to understand what it will and won't do.
The felt recoil of a micro-compact pistol will be greater than one of the pistols listed above, and that is okay. Every gun has a purpose, and you can make an informed decision as long as you understand that.
Reliability
My Kahr CM9 was 100% reliable until a recent range trip, where I had issues with the trigger not resetting. Considering I bought this pistol for my wife in 2014, I am very encouraged that it took this long to have any issues pop up with the pistol. The flip side is, if I was carrying the pistol and needed to use it in a defensive situation, I would have been in trouble.
I searched the internet and found a very small number of people who had experienced a similar issue. The reality is no mechanical item is 100% functional 100% of the time, but this did concern me.
The CM9 is not in my wife's or my carry rotation, and we don't plan for it to be. If we did decide we wanted it to be, I would want to spend some time running it hard at the range to confirm its reliability.
Accuracy
The overall accuracy for the Kahr CM9 is what you would expect from a micro 9mm. This is not a competition pistol and isn't designed to be. The Kahr CM9 needs to be able to poke holes at self-defense distances, and it does that.
Overall Feel
The CM9 fits the hand as well as a pistol of its size can be expected to. My wife, who is petite, likes the size of the CM9 and it was the first firearm she owned. We spent a long while looking at guns at the gun store before she settled on the CM9.
One factor that helped her decide on the CM9 was the slide. Some women struggle to manipulate the slide on many of the popular handguns, but my wife could operate the CM9's slide. The slide didn't necessarily feel easier to manipulate, but the gun fit her hand better and the quality serrations on the back of the slide helped.
Features 
Size
One of the best features of the Kahr CM9 and the most significant selling point of the pistol is its size. The CM9 is excellent for concealed carry. 
Of course, different body sizes carry firearms differently. Smaller framed people usually carry smaller firearms for the practical purpose of being able to actually conceal it. Someone who is 5'3" and weighs 110 pounds might struggle to conceal a Glock 19. The Kahr CM9 on the other hand is much easier to conceal for someone with this body type.
Smaller framed pistols also allow you more options for how to carry. The Kahr CM9 is still small enough that with the right holster and pants you can pocket carry it. I am not sure I could do the same with my Glock 26.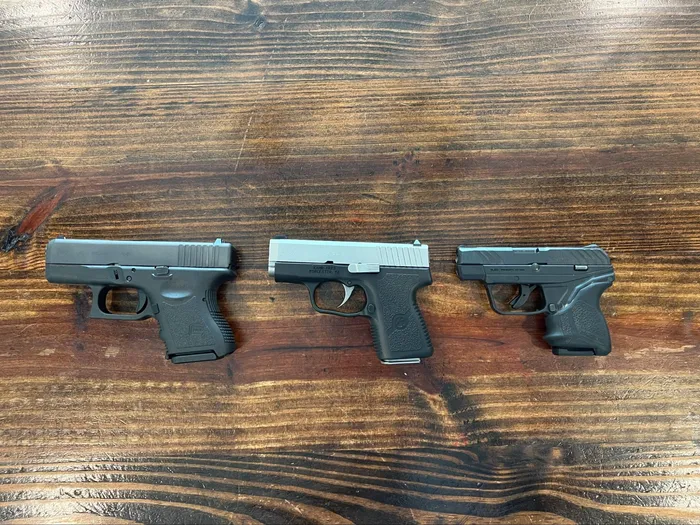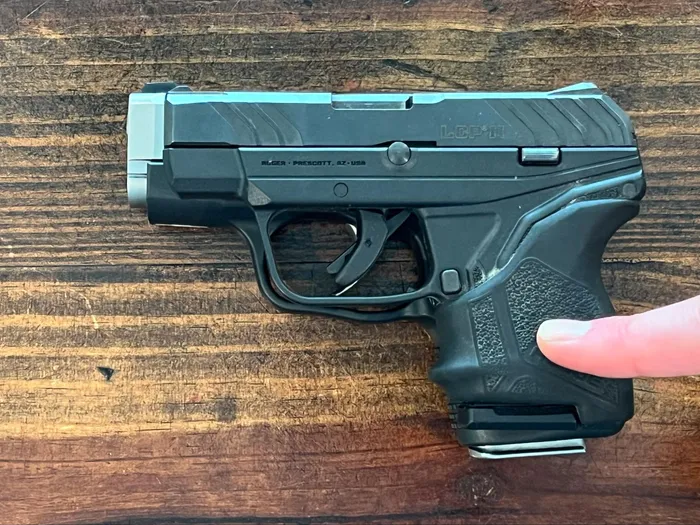 Double-action-only trigger
The Kahr CM9 has a quality, double-action-only trigger and does not come with a trigger or grip safety. A double-action-only trigger is preferred by many people when the firearm does not include a safety. More pull force is required on the trigger before the gun will fire and therefore helps prevent accidental discharges.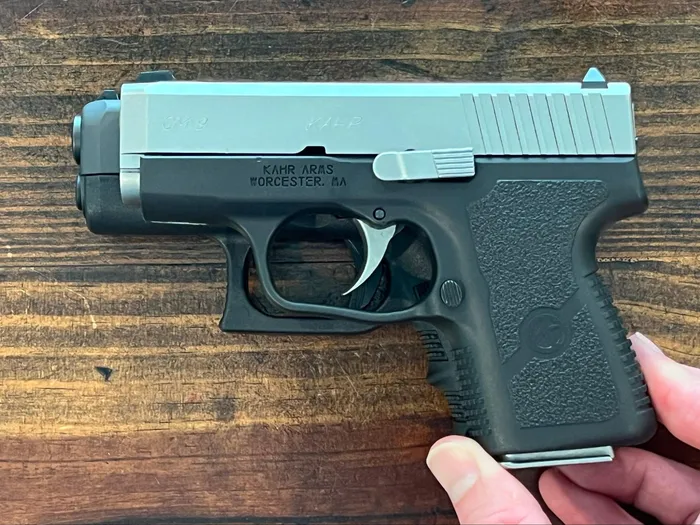 Sights
The sights on the Kahr CM9 are simple white bar-dot combat sights. These sights are perfect for use on a concealed carry pistol. The simple nature of the sights makes it easy to quickly and accurately get your sights on the target.
If you are ever in a situation where you are forced to use your firearm, the adrenaline dump your body will be experiencing will greatly inhibit your brain function. Simple sights that are easy to identify and get on target, in addition to training, will help put you in the best position to defend yourself.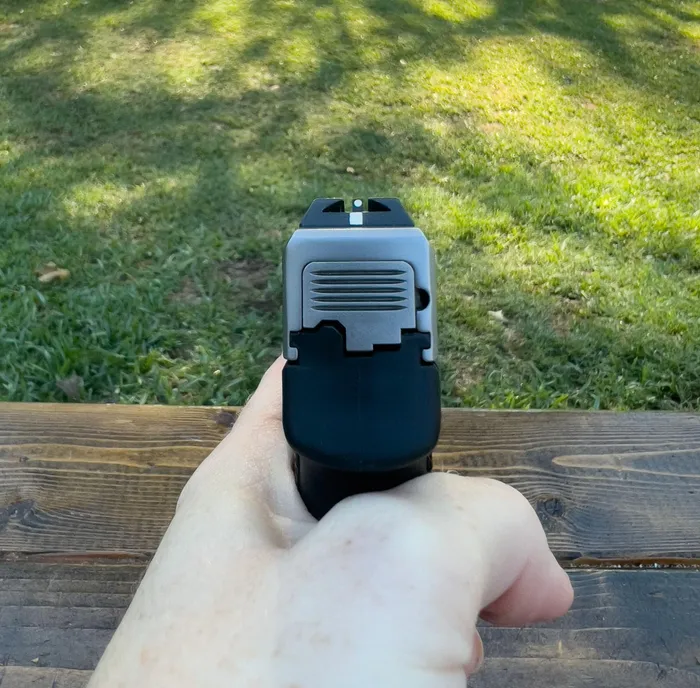 Stainless Steel Slide
The finish on the CM9 is a matte stainless steel. This high-quality finish is easy to maintain, resists corrosion, and looks great. 
Firearms are not cheap throw-away items and keeping them clean and corrosion free is not only practical for the gun's function but also helps them maintain their value. I am part of the group that follows the creed of "never sell, only buy" when it comes to my firearms, but I also realize that unexpected expenses do happen, and you might need to sell one day.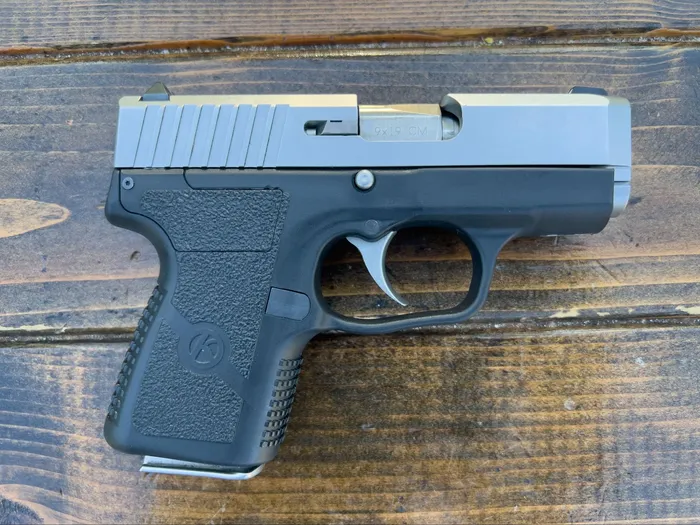 How We Tested
My wife and I have owned the CM9 for many years, and I have taken it to the range many times. I have used it at several different indoor and outdoor ranges. I recently took the Kahr CM9 to my local range and spent time shooting paper and steel targets at various distances.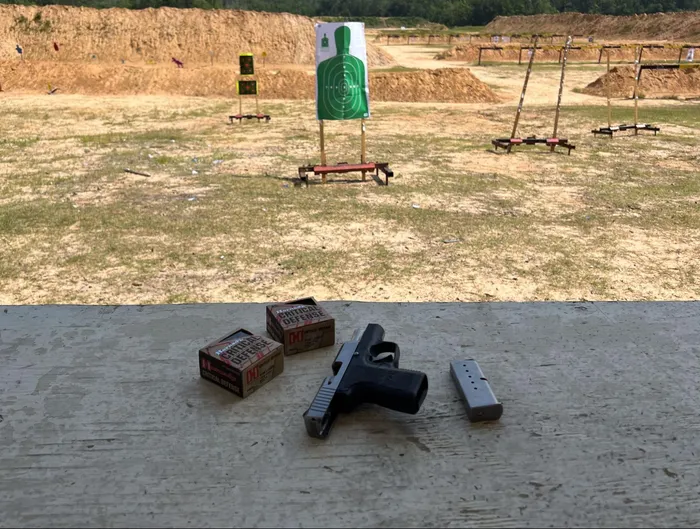 Ammo Used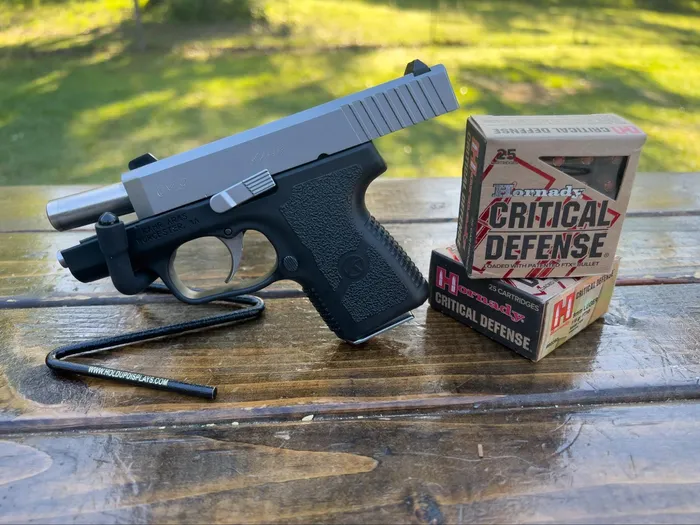 A special thanks to Hornady Ammunition for providing some of its 115-grain Critical Defense ammunition to be used for the review. The Kahr had no issues with the ammo, and it is definitely a load you should check out if you are looking for defense ammunition.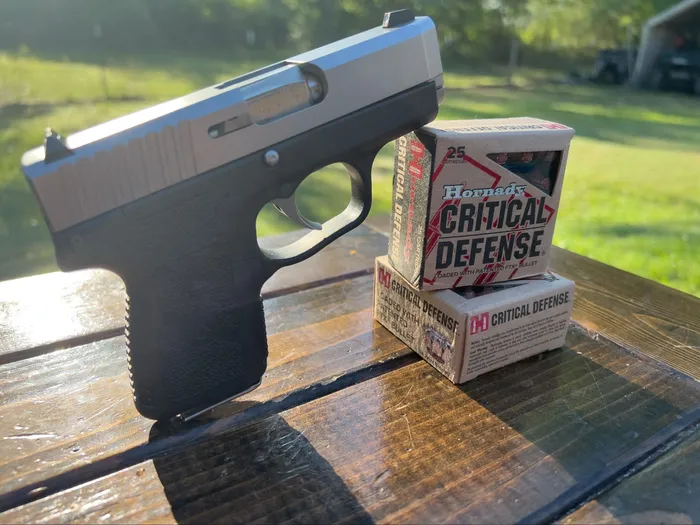 Since first acquiring the CM9, my wife and I have shot many ammunition loads, including 115-grain Winchester White Box, 124-grain Sellier & Bellot FMJ, and 124-grain Federal HST through it.
The pistol handled everything fine. No failures to feed, no failures to extract. The CM9 has just worked.
Score Card
Reliability (4/10)
Until I experienced the issue with the trigger, my rating for the CM9 would have been a 10/10. The whole issue stumped me since I tried to replicate the problem at home, and the pistol functioned fine.
Ergonomics (8/10)
The CM9 is a small pistol and has more felt recoil than a larger pistol. It may not feel ideal in hand if you have large or extra-large hands.
Customization (6/10)
The CM9 does have options available for customization. That being said, it isn't Glock, Ruger, Springfield, or Smith and Wesson in terms of aftermarket support.
Appearance (7/10)
The Kahr CM9 is just another modern 9mm in terms of looks. It is steel and polymer.
Value (7/10)
The Kahr CM9 presents an okay value. They can be found for under $400 and are well-made firearms. As with the reliability rating, the value rating would be higher if I hadn't had that trigger failure.
Accessories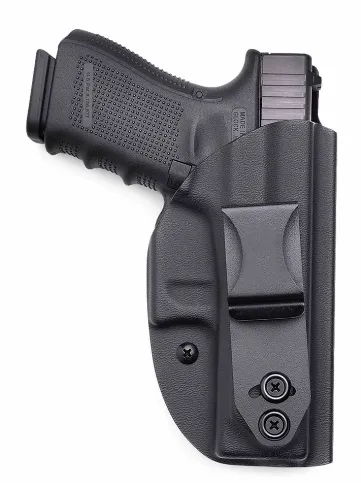 The Kahr CM9 is a pistol made for concealed carry. A quality holster is paramount for being able to carry concealed effectively. Vedder Holsters' LightTuck holster is an excellent option for carrying your CM9. The LightTuck will give you confidence in your ability to conceal and, at the same time, the knowledge that your CM9 will be ready for use if the need arises.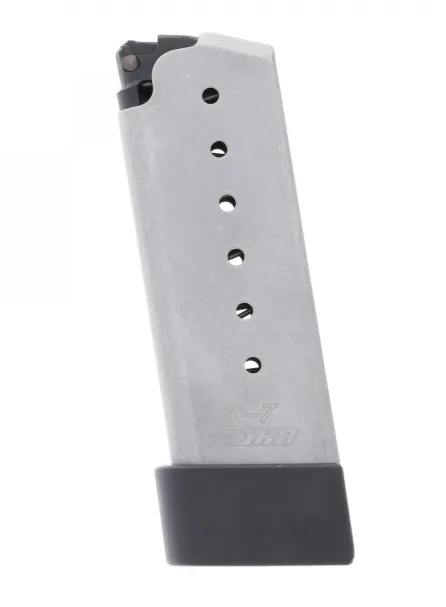 A spare magazine is a must. While the majority of defensive handgun uses are resolved with less than six shots fired, you cannot rely on that to be the case. Grabbing a second magazine, whether it be a six, seven, or eight-round option, is essential to being prepared.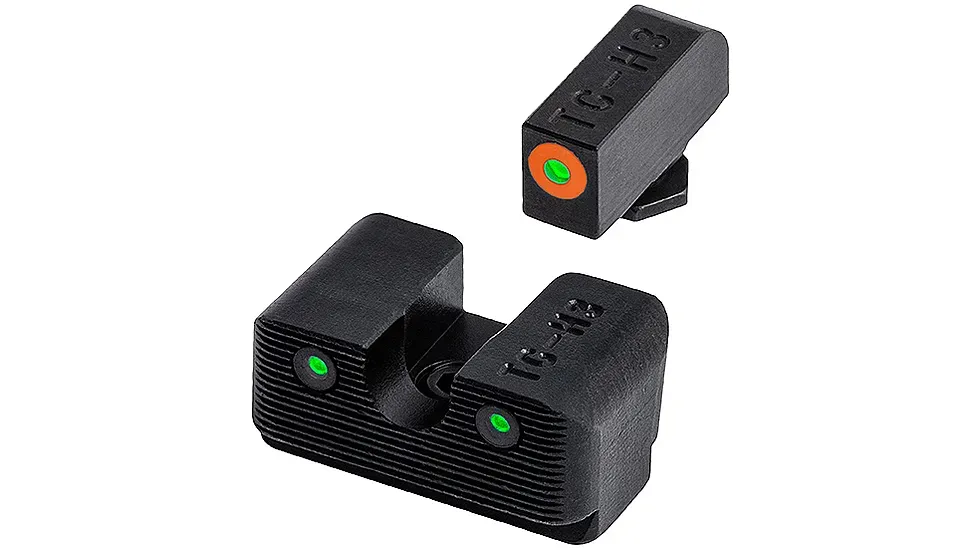 I am a big fan of aftermarket sights on concealed-carry firearms. Anything that helps get your sights on the target as quickly as possible is a must for me. This enables you to protect yourself and those you love, as well as ensure that any rounds fired only strike their intended target. These night sights fit the bill.
Alternatives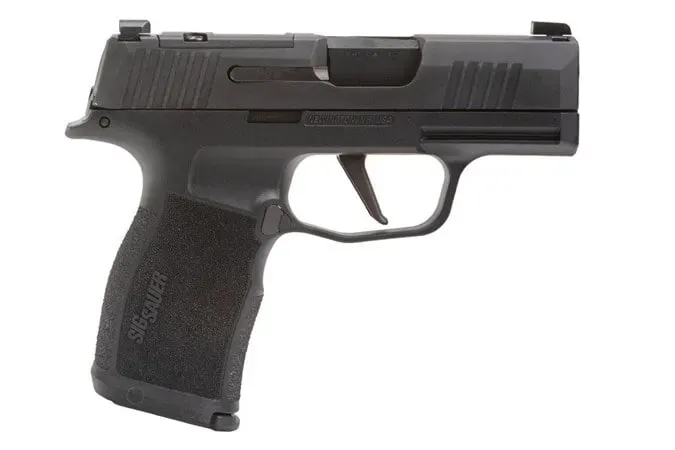 Since its introduction, the Sig Sauer P365 has taken the sub-compact pistol world by storm. The P365 is able to pack a 10+1 or 12+1 magazine capacity into a footprint that had previously been seemingly limited to 6+1 or 7+1.
Combine the increased magazine capacity with a pistol that has quality ergonomics, reliability, and functionality, and you have a winner in the sub-compact pistol market.
One of the most popular concealed carry pistols on the market, the Smith and Wesson M&P Shield is a great option. Slightly larger than the Kahr CM9, the Shield is known for the ease with which it can be concealed, its friendly shooting characteristics for such a small pistol, and its reliability.
The shield is also available in several different models and calibers, making it a very versatile firearm.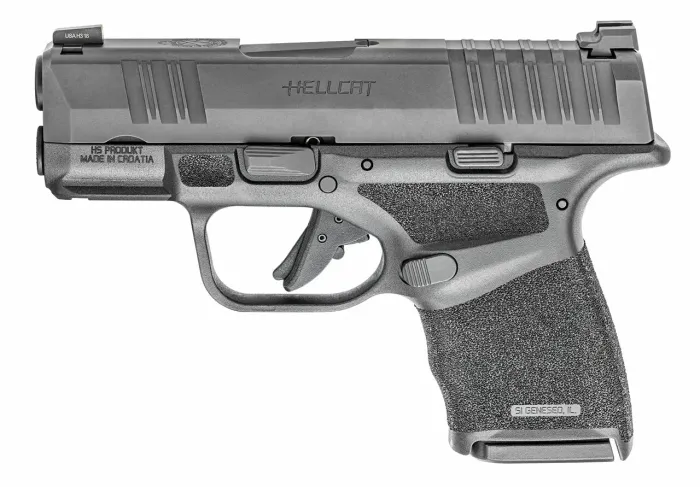 The Springfield Armory Hellcat is another quality micro-compact concealed carry option. The Hellcat, along with the Sig Sauer P365 and the Smith and Wesson Shield Plus, has helped to revolutionize the micro-compact market.
The Hellcat provides reliability, functionality, capacity, and quality ergonomics in a compact package.
Check out our Hellcat review for more information.
Last Words
The Kahr CM9 is a good pistol, but I wouldn't call it a great pistol.
But, not all firearms need to be great to be worth owning. The compact size of the pistol, Kahr's quality manufacturing, and the shootability of the design make it worth checking out.
Whether you want to bring a Kahr CM9 home, though, is going to come down to your personal preference and needs.
Explore more