Ruger Wrangler Review: Affordable .22 Fun For All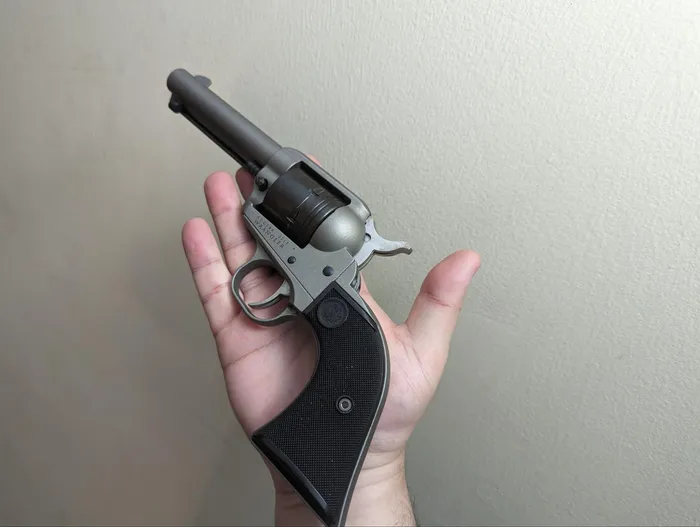 Ruger Wrangler Review: Affordable .22 Fun For All
Introduction
Ruger made some waves recently with its new Wrangler revolver, a six-shot, single-action .22. It's modeled strongly after the classic Cowboy-era guns of old but with some modern touches from one of the best names in wheel guns.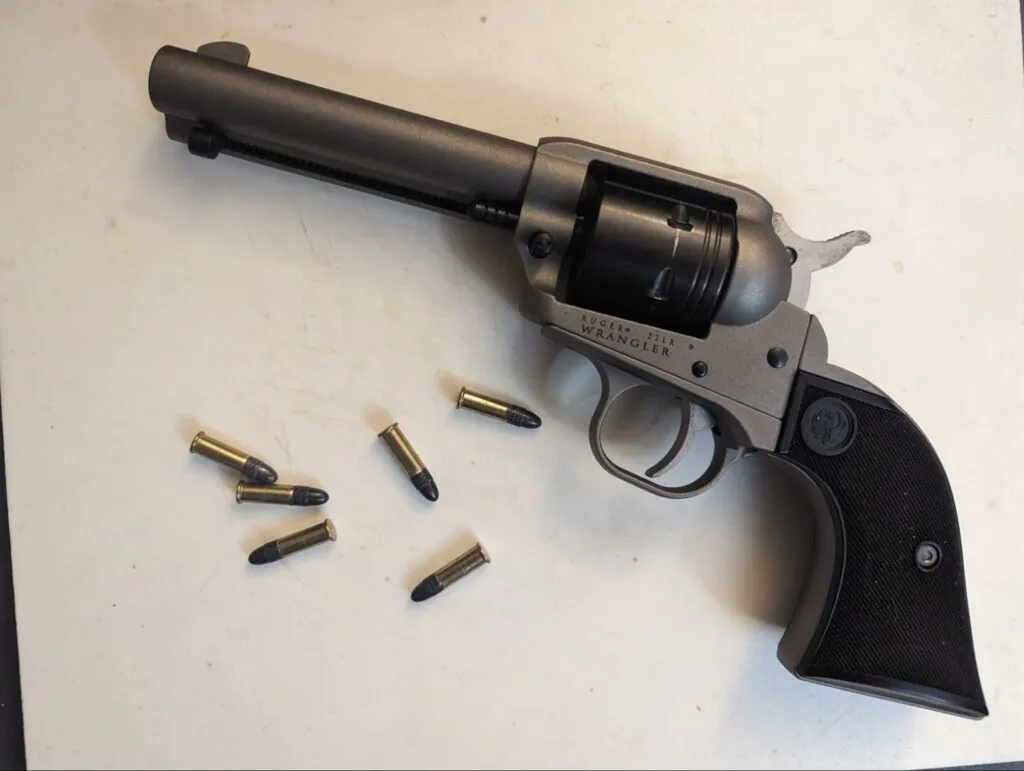 I was excited when the opportunity to do a Ruger Wrangler review came across my desk because, on paper, this is a gun that is very much up my alley. Of course, stats on paper don't always perform in the real world.
I love affordable but effective firearms because I don't think a high-quality gun has to cost an arm and a leg. Let's see if the Ruger Wrangler falls into that category…or falls short of the mark.
Ruger Wrangler Review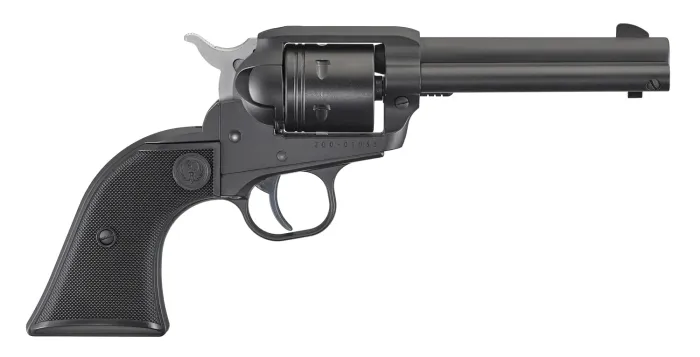 Specifications
| | |
| --- | --- |
| Caliber | .22 LR |
| Capacity | Six rounds |
| Finish | Cerakote (various colors) |
| Action | Single |
| Weight | 30 ounces |
Pros & Cons
Pros
Excellent fit and finish

Crisp single-action trigger

Reliable with a wide variety of ammo

Very affordable

Dozens of finishes available
Cons
Not much upgrade potential beyond grips

Finish on the cylinder could be more durable
First Impressions and Testing
The packaging on the Wrangler is Ruger's classic white box with a red logo and not much else. All you'll find is some foam padding inside, plus a little safety flag that I wouldn't call a chamber flag per se, just something else to throw away when you unbox.
Handling the gun, it feels solid and weighty, and the fit and finish are very nice (especially considering the price). The matte Cerakote on my Wrangler is excellent, and I like it, but there are plenty of other finishes if you want something else.
How We Tested
For testing, we took the Wrangler to a local indoor range and hung up some targets at 7 and 15 yards. Three of us had varying levels of firearms experience, including someone who had only shot a few times before.
This was perfect for the Wrangler because it fits well in that "good first gun" category and is an excellent place for new shooters to start. We put around 200 rounds through it in a relatively long initial shakedown test, plus many more since then.
I'm happy to report no problems whatsoever.
My father and I have also taken this gun with us to the back 40-yard line, and I can confirm that it will lay waste to old cans of, let's say, soda and decimate clay pigeons resting on a berm, too.
Ammo Used
The majority of our shooting was done with some old bulk .22 that I had kicking around in an ammo box. Most of it is Winchester and Remington bulk pack stuff, so nothing special there.
We also shot some nicer CCI stuff and more competition-focused match ammo to see how it would do on the accuracy front. This isn't an Olympic target pistol, but it still performed incredibly well for the price.
Reliability
On the one hand, this is a single-action cartridge revolver, which is a very well-understood design after over a hundred years of being out in the world. That means it should be very reliable.
On the other hand, this gun can frequently be found on sale for $150, so reliability can't be taken for granted.
With that said, I'm happy to report that after almost 1,500 rounds, I've yet to have an issue with the Wrangler that wasn't ammo-related. Dud primers are a fact of life with cheap .22 range ammo from bulk packs. Other than that, the gun has run flawlessly for me.
Accuracy
The sights on the Wrangler are designed to mimic classic single-action Army sights, with a single milled groove and a front post, so it is not exactly a precision affair. Then again, this is a budget-friendly plinker, not a high-end competition gun.
The gun is more than accurate enough for blasting soda cans off a berm and dispatching the occasional varmint. Most of our better ammo has been printing 2-inch groups at 7 yards.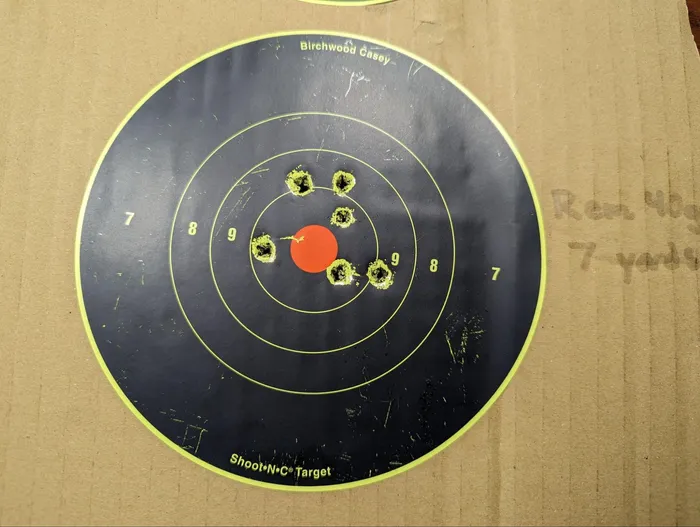 Compared to the Heritage Rough Rider, the Wrangler's nearest competition, I'd give the edge to the Wrangler because the sights are a little cleaner and seem to be machined slightly better. Mechanically, I think the guns are pretty damn close on the accuracy front.
Overall Feel
I know it's an aluminum-frame .22, but this thing definitely doesn't feel cheap. My immediate impression was this felt nearly as heavy as my Vaquero and other .45 Colt single actions. It's eight ounces lighter, but the balance resembles its larger brethren.
I personally don't have a problem with the injection-molded plastic grips, but that's a cheap and easy fix if you do. It's a cost-saving measure; what you get is more than good enough and very grippy.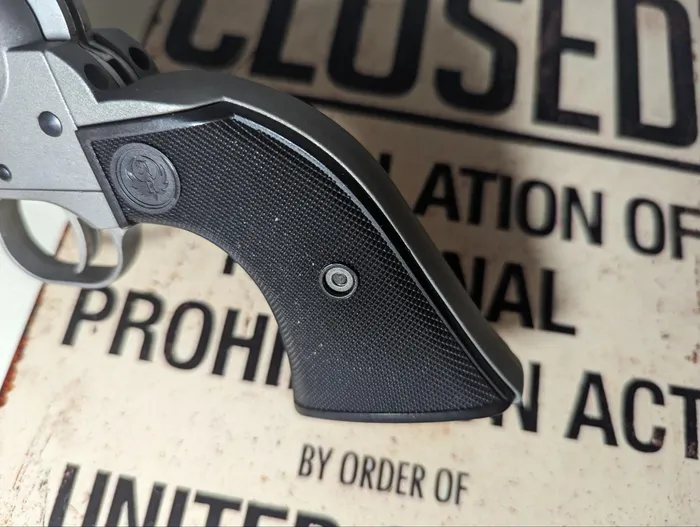 Shooting it, recoil is non-existent as you'd expect, and it feels very natural if you're used to old-school cowboy guns like this. That's all I really wanted out of the Wrangler. I love single-actions, so the Wrangler lets me scratch that itch on the cheap.
That's really where this gun knocks it out of the park for me. If you grew up with John Wayne and Clint Eastwood like I did, this will feel very nostalgic and fun for you.
Features
Cerakote Frame Finish
One of the things that sets the Wrangler apart is the Cerakote frame finish. I went with the silvery-gray option, but there is a color for just about everyone and every occasion available.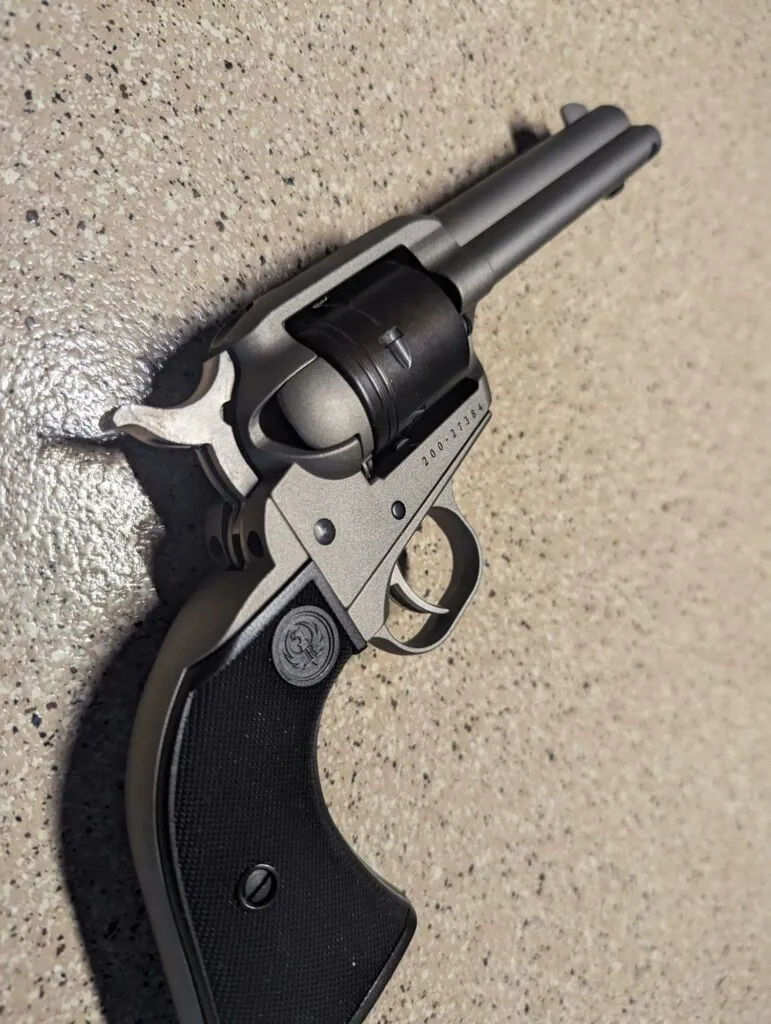 Cerakote is a tried and true finish with a proven reputation for durability, and the application here is perfect. It's especially nice to have this kind of finish on what could easily be a great "beater" or kit gun that lives in a toolbox or even a tackle box.
This may not be the gun for you if you want a fancy and traditional aesthetic. If you want a durable and rugged .22 LR single-action, this is the best option on the market right now.
Crisp Single-Action Trigger
The trigger on the Wrangler is crisp and consistent, as you'd expect, with a single-action revolver from one of the most well-regarded names in the industry. It's not as nice as some of the higher-end Ruger triggers, but Ruger has clearly put some thought into smoothing it out.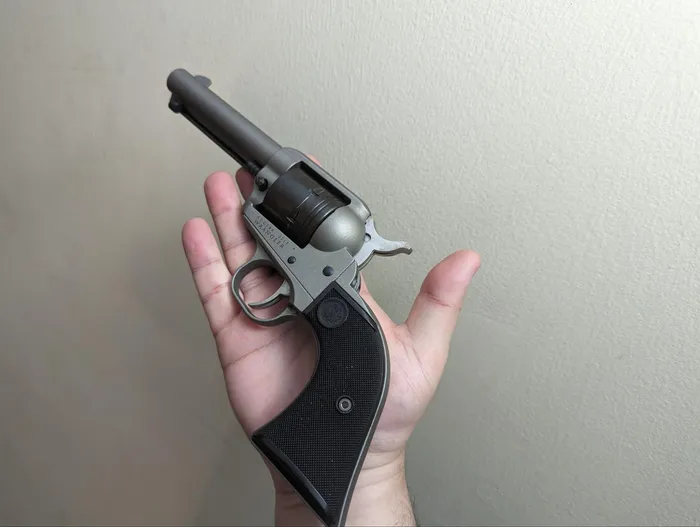 Your opinion may differ, but I find the trigger to be much nicer than either of the two Heritage .22s in my collection.
Transfer Bar Safety
The Wrangler deviates from some other revolvers in this category, like the Heritage Rough Rider, in that it has a flat-faced hammer with the firing pin mounted in the frame.
There is no external safety to disengage; instead, a transfer bar prevents the hammer from striking the firing pin unless the trigger is fully depressed. It's a simple modern touch that does a lot to elevate the Wrangler above some of the competition.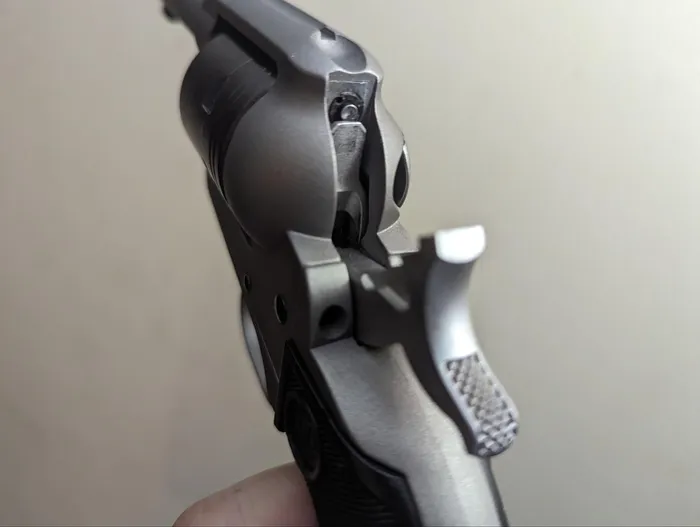 This simple addition makes the gun easier to operate and completely drop/impact safe, as there's no way for the firing pin to be struck by the hammer without the trigger being pulled.
Score Card
Reliability (10/10)  
No real problems to report after roughly 1,500 rounds.
Ergonomics (8/10)
Love it or hate it, these old-school revolvers have a very distinctive feel in the hand. As an example of the genre, the Wrangler is great, and I find it to be ergonomic.
Customization (6/10)
It comes in just about every color under the sun, and you can get a square butt or round butt option. Once it leaves the factory though, you will be limited to just grip swaps.
Appearance (9/10)
It's a sharp-looking gun, and you can choose the finish that suits you the most.
Value (10/10)
Maybe 11/10? 12/10? This is in the "everyone should own one" category based on value alone.
Accessories
Upgrading the grips on any revolver is a great way to customize it and improve ergonomics simultaneously. I particularly like these laser-etched wood grips and think they're a great way to add a touch of class to the Wrangler.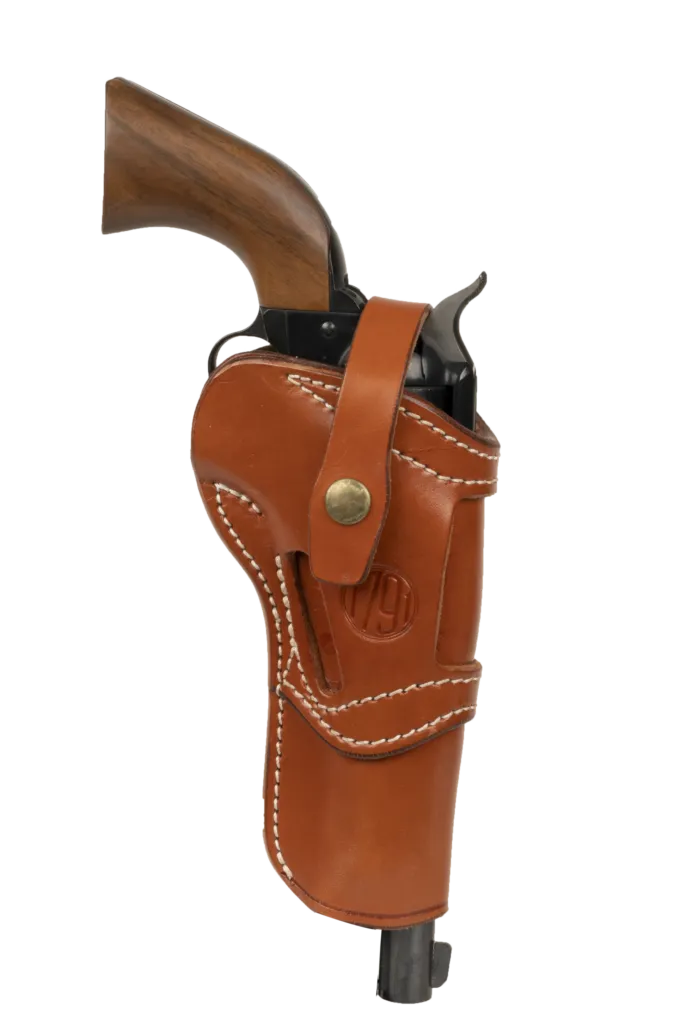 1791 Gunleather makes some great holsters in a very traditional style, which is a fun option for the Wrangler. Yes, it might look more at home in a modern nylon/Cordura holster with its "space revolver" colorful matte finish, but I like this old-school leather Wrangler holster a lot.
This cheap and cheerful clip-on Wrangler holster might be a better option if you want something more in line with the modern aesthetic (not to mention cheaper).
Alternatives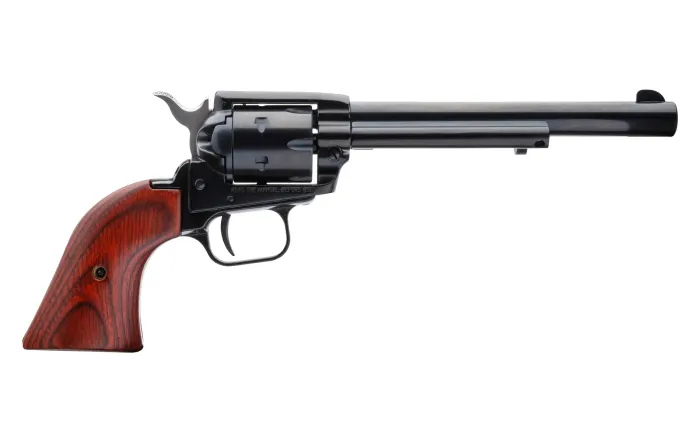 The biggest competitor to the Wrangler is the Heritage Rough Rider. If you want something a little more traditional-looking, check this one out. Its another six-shot single action, this time with a zinc alloy frame.
For me, though, the performance and more durable finish of the Wrangler make it the winner (but only by a hair).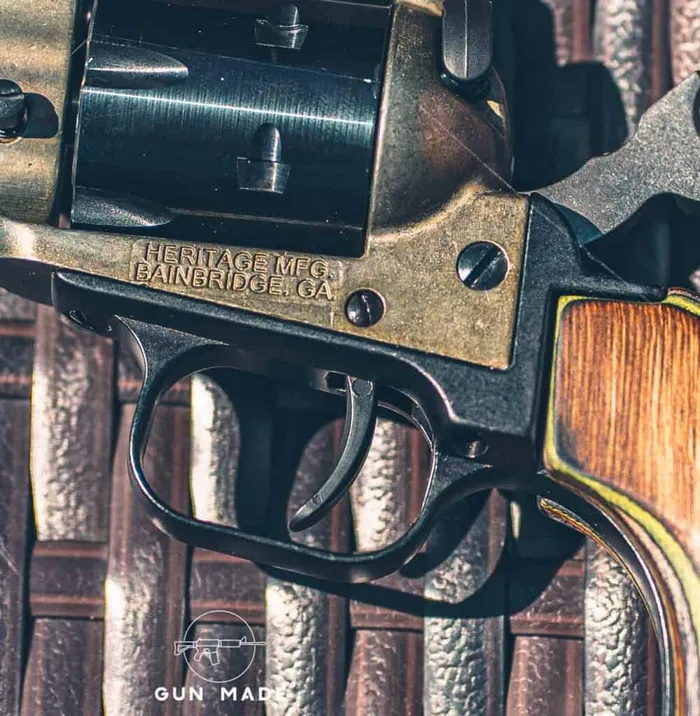 Check out our Heritage Rough Rider review if you want more information on this Wrangler competitor.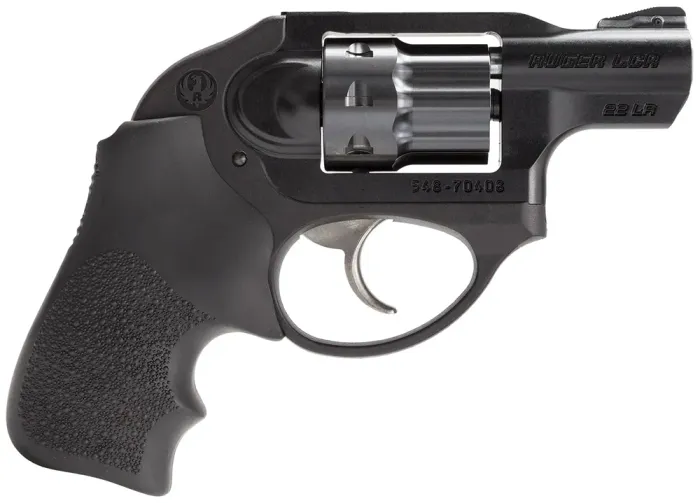 The Ruger LCR is a more defensively-minded .22 LR revolver, making it a great backup option or a self-defense tool for someone who is recoil-sensitive but still wants a way to protect themselves with a firearm. It has the same six-shot capacity, but is more optimized for defensive with a stubby barrel.
Parting Shots
The Ruger Wrangler lives up to the hype and is worth a look for anyone wanting a reliable and affordable .22 for plinking, pest control, or living out any latent Clint Eastwood fantasies.
It's been a pleasure to review something so simple and effective, and I hope more of the industry takes note of the success Ruger has garnered with the Wrangler. I would love to see more excellent, no-frills, meat-and-potatoes guns like this that just work without costing a fortune.
What do you think of the Wrangler? Is it worth picking up for you, or are you not interested in another .22 revolver? Let us know in the comments!
Explore more