Shadow Systems DR920 Review: Solid 9mm Spotlighted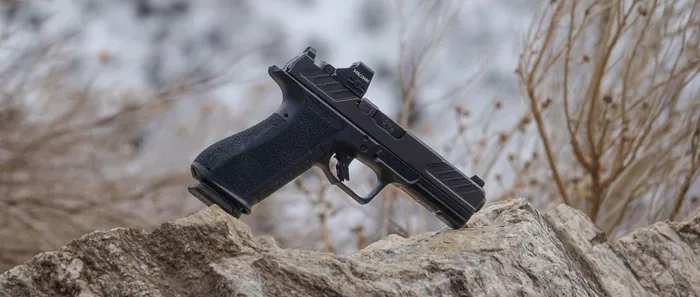 Shadow Systems DR920 Review: Solid 9mm Spotlighted
Introduction
When I first started showing my Shadow Systems DR920 around, lots of folks would respond with, "nice Glock sir, but this is a Wendy's". I know it looks like a Glock, and surely shares a lot with them, but I was determined to see it differently.
In the interests of full disclosure, I'll give some background. I've been a Sig fan-boy for twenty years, and while it would be silly to deny the success of the large family of polymer-designed pistols, I just never really liked them. Friends would get one, I'd handle them at a shop, but I never felt like I needed one bad enough to spend my money on one.
Now to be fair, the Shadow Systems family of pistols (DR920, XR920, MR920) are not just Glopies of the Austrian pistol. Shadow Systems pistols utilize many interchangeable parts but are also their own, the DR model pistol is comparable to the Glock 17.
The DR920 pistol is made with law enforcement in mind and built for duty purposes. The frame features an oversized beaver tail and interchangeable grip backstrap to accommodate different-sized hands.
The grip is textured for additional grip and control while shooting, and the trigger guard is undercut to allow additional purchase for a better grip. The flat-blade trigger has a 4.5-5 lb break and feels pretty clean.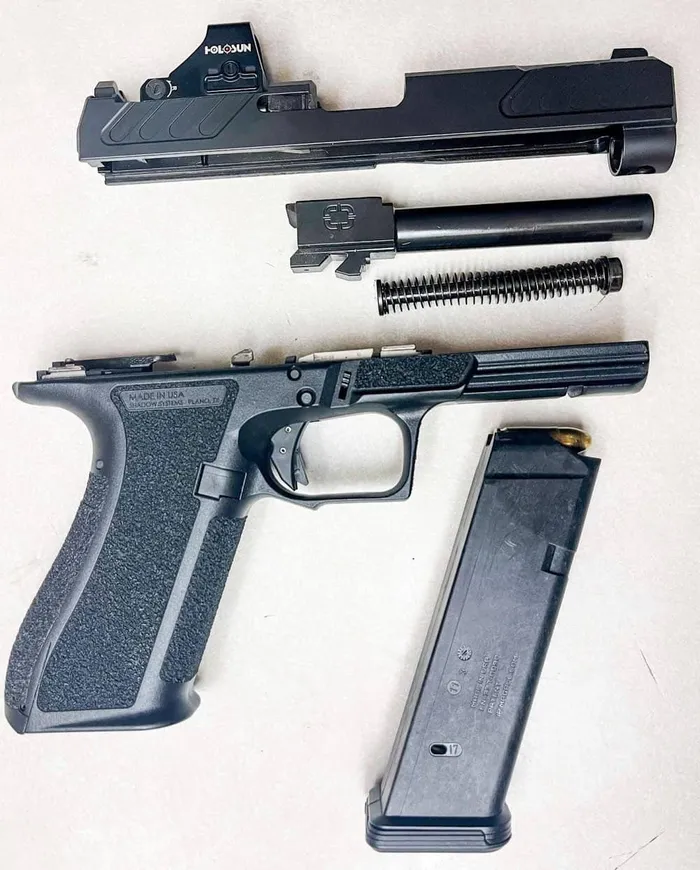 The DR920's slide is aggressively cut to provide additional purchase both at the front and back of the slide. It's also cut for optics, so you can add your favorite red dot. Most red dots can be mounted without the use of adaptor plates like many other pistols use.
After a fairly short time with the DR920, I was quite quickly enamored with it, despite my distaste for pistols of this type. But how far down the marriage aisle would I get with this polymer-framed beauty?
Shadow Systems DR920 Review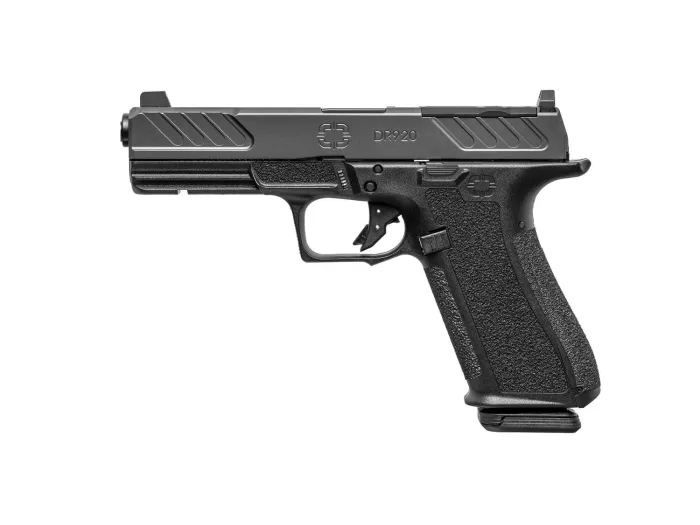 Let me backup a bit; there's more to this story than I'd let on.
A few months prior to this event, I found myself in the freezing desert of Wyoming, shooting an assortment of pistols belonging to my baby brother. Among the many was another Shadow, a different model but close enough. I'd already explained to him that I wasn't big on that particular type, but he was adamant that I try it.
After only a few rounds, I found myself quite surprised at how well I could shoot it, and how good it felt in my hand. So when the opportunity to get my own Shadow, I figured I better pick it up.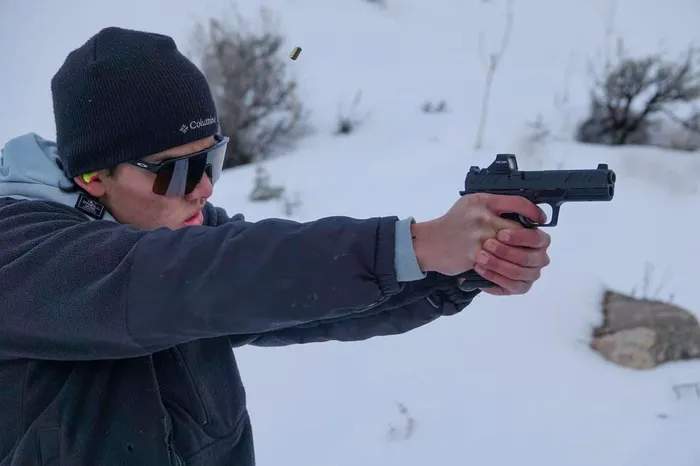 The DR920 promises to bring service-grade reliability with superior quality to a 9mm polymer-framed pistol. They are marketed toward shooters needing a high-grade pistol for durable service in any condition.
While the pistol may share some features with other common pistols, it brings additional qualities which will demand a higher price. Let's see if it's worth it…
Specifications
| | |
| --- | --- |
| Caliber | 9mm |
| Capacity | 17 rounds |
| Action | Striker fired semi-auto |
| Length | 7.75" |
| Height | 5.25" |
| Trigger pull weight | 4.5-5 lbs |
| Weight | 22.4 ounces |
| Sights | Front dot, serrated rear |
| Barrel Twist | 1-10 |
Pros & Cons
Pros
Same size and pattern as the Glock 17

Huge aftermarket support

Optics ready

Adjustable backstrap grip

Match Grade barrel
Cons
I'd like a more pronounced mag release

I wouldn't mind a slicker trigger (less friction)

I'll add a flared magwell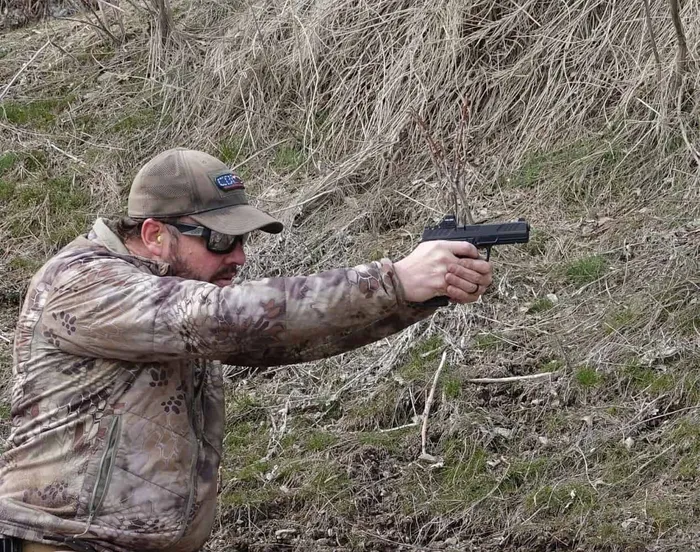 First Impressions
My first trip to the range with the DR920 was a quick one, and it didn't take long to feel it out.
Running seventeen-round Magpul magazines, I stuffed a pile of cartridges in and loaded the pistol.
Cracking the first few rounds, I went slowly just to see how everything felt. To my surprise, the pistol recoiled a little more than I had expected. It wasn't bad or anything, just a touch more than I had anticipated.
I ran through several magazines, running them dry til the gun locked open. I smiled a crooked smile to myself there in the pistol bay, and I thought to myself; I may end up loving this gun.
Those first fifty rounds went way too quickly, so I went to get more.
After several range trips and not as much ammo as I would have loved to shoot through this gun, I have gained a shine for it.
I've shot nearly five-hundred rounds through the pistol so far, and it hasn't hiccuped yet. That should come as no surprise from a pistol with this pedigree. The natural aim of the pistol in my hand lined up very well; every time I presented the pistol, the sights were already on target. This made the pistol quite easy to shoot well, in my opinion.
During a later trip, I installed a Holosun 407K to see how I liked the gun with a red dot. It came as no surprise that I enjoyed it further still, as I prefer shooting pistols with red dots.
Shooting the Shadow was very comfortable and familiar. There are a couple of things I think I might change. I would like a flared magwell, and it looks like Shadow Systems has them for sale on their website, so I might get one on the way.
Not a huge deal, but it would probably help me stab magazines a little faster. And I'm definitely going to get some more magazines for it.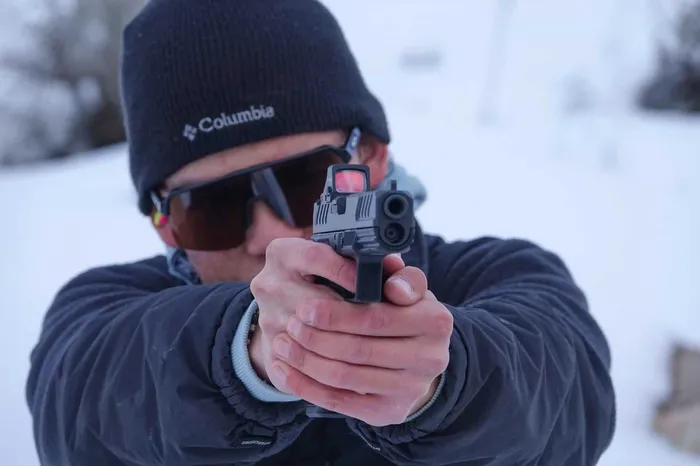 Reliability
The pistol functioned flawlessly for the duration of my testing, with no malfunctions or failures.
Accuracy
The DR920 was perfectly acceptable, in my opinion, as far as accuracy is concerned. Hitting 50% IPSC targets at 25 yards was easy; I don't shoot pistols much further than that in any case.
Overall Feel
The textured grip felt great in my hand, and the grip angle was perfect as well. Trigger and other controls were easily manipulated and comfortable. The adjustable backstrap made it easy to fit the hand.
Features
Flat-blade Trigger
The flat-blade trigger was smooth and clean to break. It's a service pistol, so I wasn't expecting it to be super light or short. I suppose I wouldn't mind if it was a little lighter or less friction.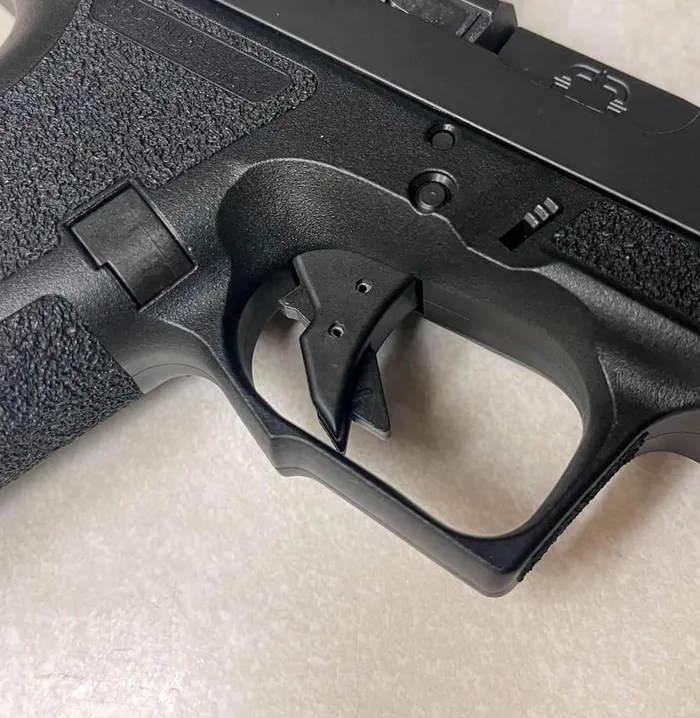 Optics Mount
The Shadow slides come pre-cut for optics. With threaded holes for various optical mounting patterns.
The idea is to be able to mount a red dot without needing a mounting plate. Instead, Shadow Systems includes a set of small polymer spacers that can be used to place in front of or behind the optic to fill any voids. I had no problem mounting red dots to it.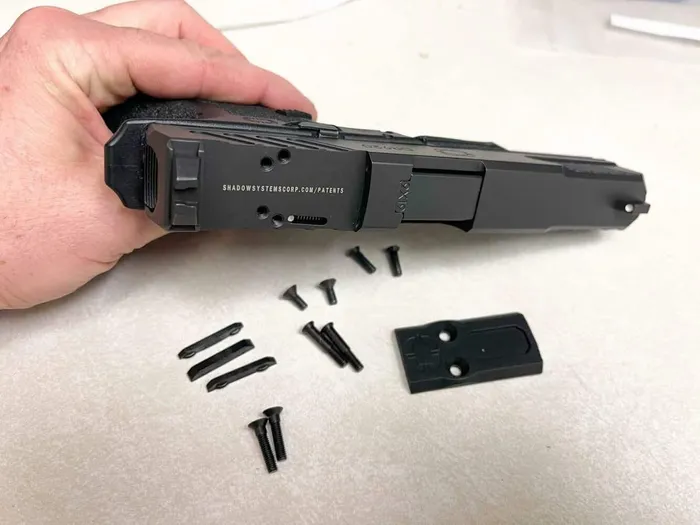 Sights
When I first opened the box, I almost thought the gun came with suppressor sights, but they are just slightly taller sights than normal.
I actually quite like them as they always lined up with my target upon presentation. And once the red dot was added, they all co-witnessed, which I believe is a requirement for many LE agencies.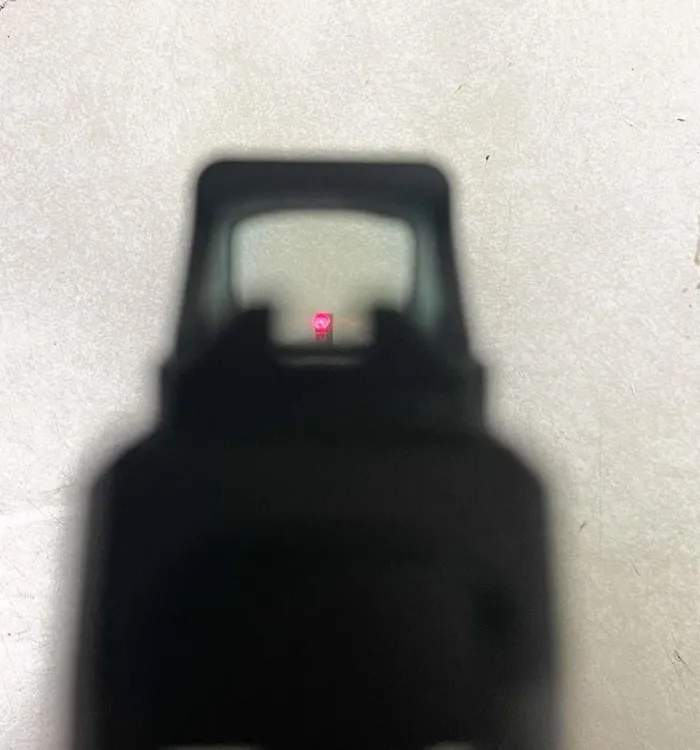 Adjustable backstrap
The DR920 came with a baggie of different backstraps that are easily swapped out by simply pushing a pin out with their provided tool. The backstrap then slides down and off the frame. Then you reverse the process to install the backstrap of your choice.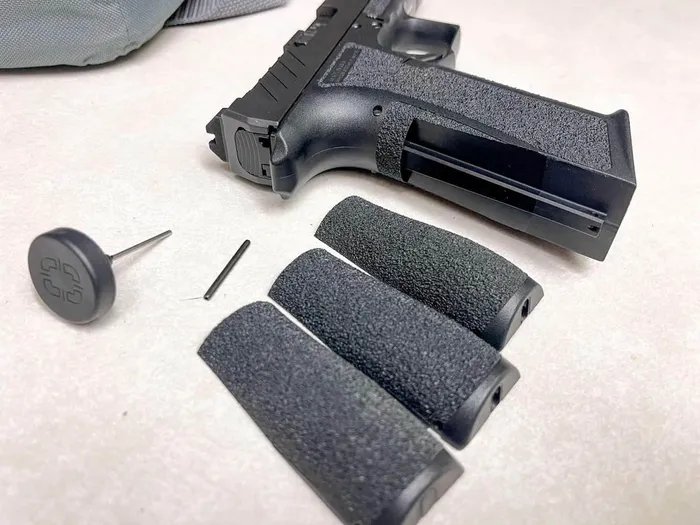 Textured Mag Release
The textured mag release works fine, but I wouldn't mind a slightly taller version. It seemed just a touch more out of the way for my thumb than I would have liked.
Accessory Rail
The pistol also features a typical accessory rail under the front of the pistol, perfect for mounting a weapon light. I installed my Surefire X300 with no problem; it's pretty hard to mess this up.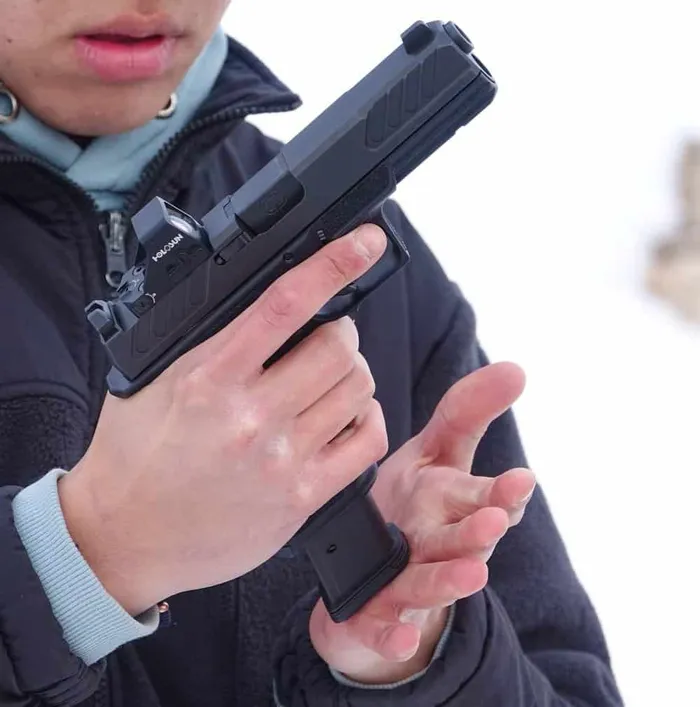 Conclusion
As I mentioned at the beginning, I have never been a big fan of Glock-styled pistols.
But after spending some time shooting and carrying this Shadow Systems DR920, I think I may have been convinced of its virtues. So much in fact I'm planning on investing some serious additional cash in outfitting the pistol properly.
Things like the flared magwell, its own weapon light, and a good retention holster are all on their way. As well as some additional magazines and extensions.
This is the kind of gun I'd build a whole 'nother gun belt for, just so I can get more proficient with it. Much like those the pistol was built for, I look forward to shooting it for years to come. Undoubtedly, it will serve me well through whatever course of fire I take it to.
I think it is superior to what we would consider "standard" pistols and definitely a valuable upgrade from such a gun. To all the folks telling me it's just an expensive Glock, I say; it's not that expensive, and in my opinion, it's well worth it.
Explore more