Shadow Systems XR920 Review: The Foundation Series Crossover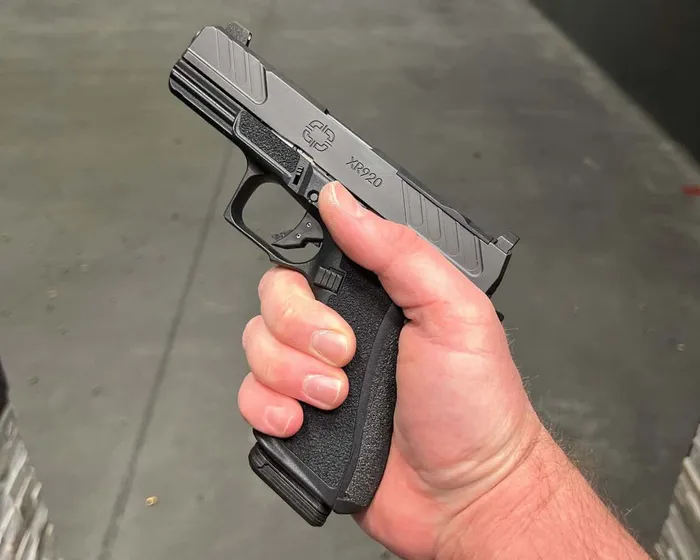 Shadow Systems XR920 Review: The Foundation Series Crossover
Introduction
Shadow Systems has been around for several years now, after making a splash in the firearms and accessory space back in 2016, and today we're going to review the Shadow Systems XR920.
It feels like I've been hearing about it more than ever over the last several months. Most of the Shadow Systems builds that pop up on my Instagram feed, though, are decked out from the front sight to the rear sight.
"Gucci" builds are fun to shoot and look at but are tough to base a review on since many of the parts are sourced from various aftermarket manufacturers.
We figured the Foundation Series line would be a great place to start our Shadow Systems reviews to get a baseline of what one could expect from its most affordable offerings.
With an obvious influence from Glock, we'll take a closer look to see what sets the XR920 FS apart from other Glock "clones."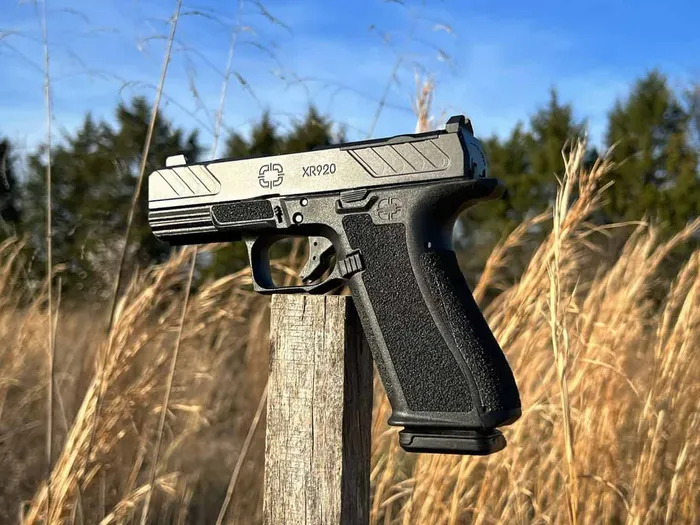 Shadow Systems XR920 Review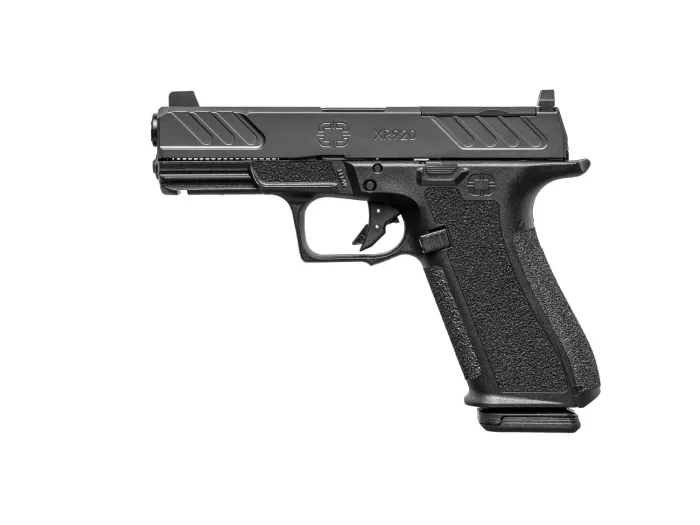 Specifications
| | |
| --- | --- |
| Caliber | 9mm |
| Capacity | 17+1 |
| Barrel Length | 4 Inches |
| Overall Length | 7.38 Inches |
| Height | 5.25 Inches |
| Weight | 22.4 Ounces |
| Trigger Pull | 4.5-5.0 Pounds |
| Sights | White Dot Front, Black Serrated Rear |
Pros & Cons
Pros
Optics-ready slide

Match grade barrel

Ample texturing around grip and finger ledge

"Upgraded" sights – slightly taller and blacked out serrated rear

Lots of aftermarket support
Cons
Lack of ambidextrous controls

Break-in period

A little pricey
First Impressions and Range Results
Reliability
Shadow Systems discloses up front that there is roughly a 200 round break-in period, so I wouldn't say I was surprised to see malfunctions.
However, I was surprised at the amount of malfunctions, especially since I was seeing them with high-quality ammo too. I did notice more issues while using the included PMAGs, but I still saw some with others too.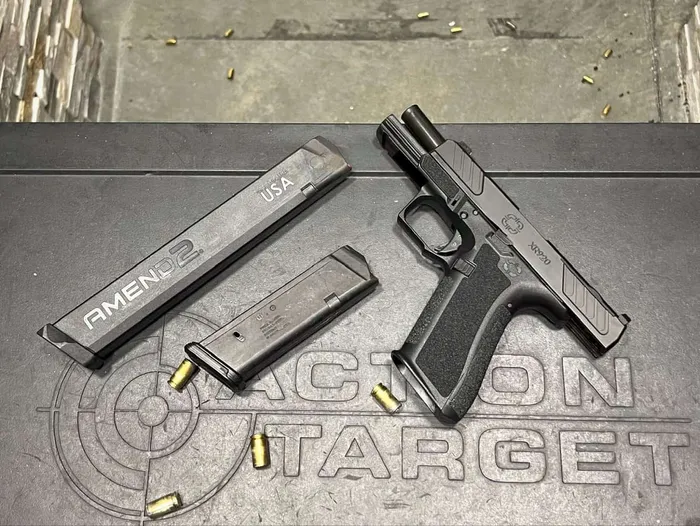 Failures to feed and failures to eject were all too common through the first 75 to 100 rounds, I would say, but they did start lightening up afterward.
Since I only put 175 rounds through the gun so far, I can't speak to how it will perform after the "break-in period," so I'll have to try and provide an update down the road.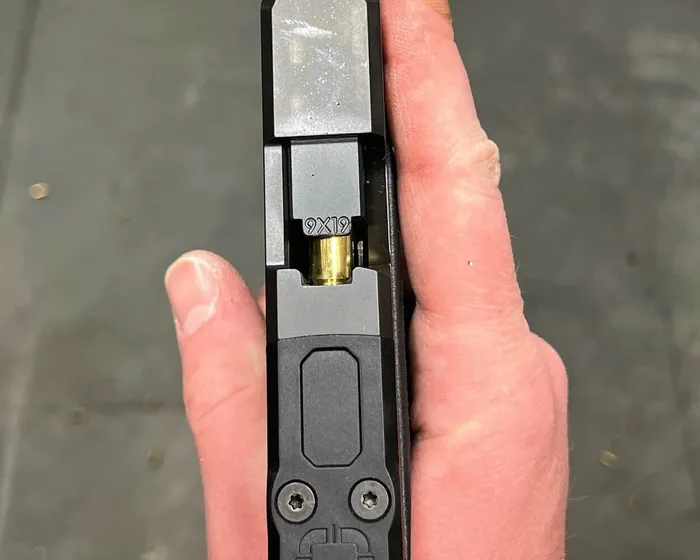 Accuracy
I didn't mount any optics during testing, because I wanted to focus on exactly how the pistol came.
The sights, which I'll touch on in a little bit in another section, are definitely a step above your typical Glock sights, which made for an easy time getting acquainted.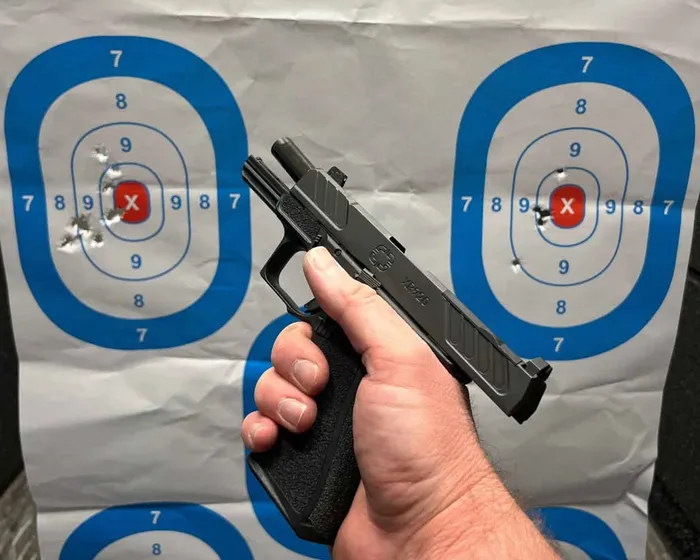 Typically, I train within 15 yards or so since 25+ yards is not really a "defensive distance." So, most of my shooting with the XR920 was no different. After several magazines, I was able to maintain fist-sized groupings out to 15 yards with no problem
Overall Feel
It's well-balanced and feels nice in hand.
Despite having the full-size frame paired with a compact slide, the weight distribution works out well. With the grip texture not being overly aggressive, you shouldn't have any problem with extended-range sessions.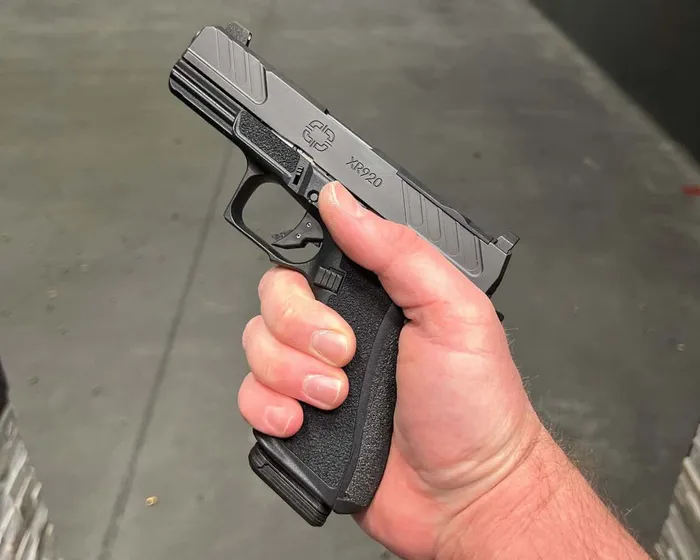 Features
Optics-ready Slide
The slide is really the star of the show on this model. Shadow Systems has a patented multi-footprint optic cut, which allows for direct mounting of many of the popular optic brands.
If you want to see how several of the most popular optics (Vortex, Trijicon, Holosun etc.) look on the gun, you can view them on Shadow System's website.
The included sights allow for a lower ⅓ co-witness with most optics, and I love the blacked-out serrated rear sight. I do wish the front sight was tritium though, for better low-light and night acquisition.
I also really like the serrations that Shadow Systems went with. Both the front and rear serrations are pocket-cut and just aggressive enough to get a quick grasp when racking or press-checking.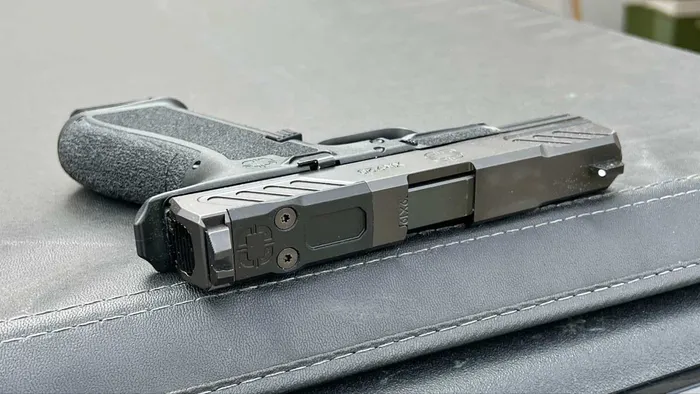 Great Grip – No Need For Stippling
While the grip isn't fancy, it's functional and comfortable.
I think it would appeal to the majority of folks, too, as the texturing is not too aggressive but still enough to maintain a strong hold on the gun. The texturing also wraps all the way around the grip, providing ample grip surface area for all-sized hands.
It even has some finger shelves with texturing down the frame in front of the trigger for some additional control while shooting.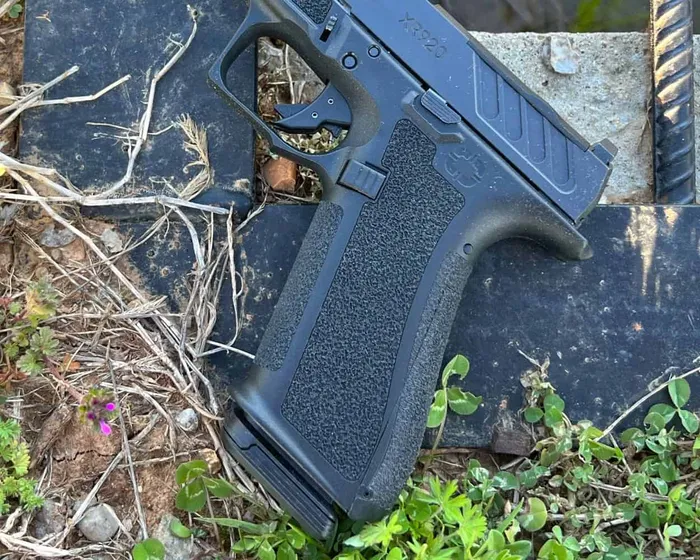 The XR920 also comes with interchangeable backstraps that will allow you to get more of a custom feel in the grip. The backstraps will change the grip angle and size without having to mess with the beavertail.
Then you have the beavertail I just mentioned. While they serve a nice purpose of keeping your hands safe from good old slide bite, I'm not a huge fan of them. With that being said, this one isn't too enlarged, so it's not really a big deal.
Overall, I wouldn't even think of stippling this grip, not that I do most anyways. It's good, just how it is.
Not Your Typical Trigger
Quite a few other comparable handguns in this price point have triggers that leave a lot to be desired. The XR920s trigger, though, was a pleasant surprise from the start.
It's not a true flat-face trigger, but it is smooth and easily repeatable. The trigger pull is marketed to be between 4.5 and 5 pounds, which I would say feels just about right. It's very consistent too.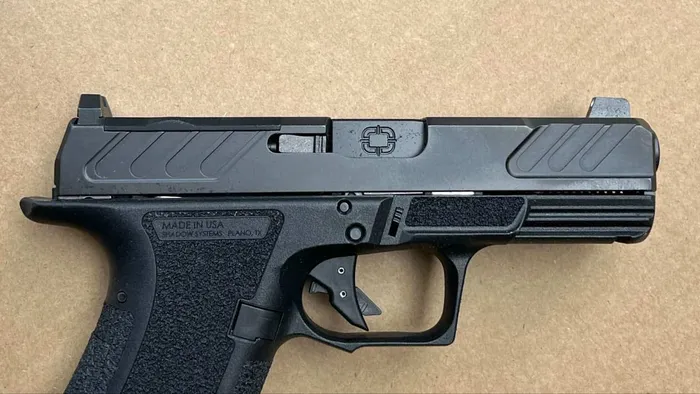 You get a nice crisp break and tactile reset with an average amount of pre-travel. It's nice enough overall to where I wouldn't see myself changing it out for an aftermarket one.
Blah Controls
Thankfully, components such as slide stops and mag releases are easy to swap out because the controls are one of the areas that I feel the XR920 is sub-par.
Aside from the truly entry-level and budget guns, all should have ambidextrous/reversible controls in my opinion.
The slide stop on this one is left-side only and is rather hard to manipulate. It's very low-profile, but too much in my opinion. The lip around it also makes it even harder to manipulate in a hurry.
The mag release is at least reversible and was easy enough to hit in a hurry, but the mags didn't drop as easily as I would have liked. A little flick of the wrist fixed that, though.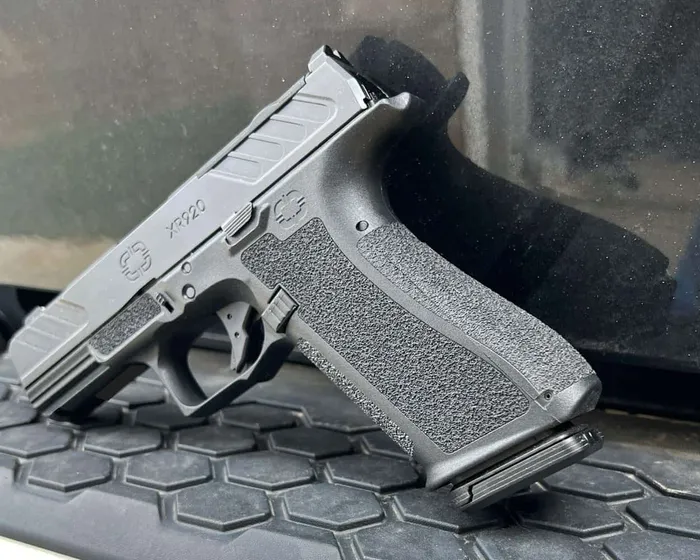 How We Tested
I mean, I think it's pretty obvious how we tested the XR920…we shot the damn thing!
With the less-than-ideal weather conditions lately, I've been basically stuck at indoor ranges. I took the XR920 to my local indoor range, which features a 15 and 25-yard range, and let the bullets fly.
Ammo Used
In order to make sure the gun wasn't picky with ammo, I made sure to run a variety of rounds through it that included:
I did wind up seeing more failures from the Blazer Brass, but that easily could have been because I shot more of it than the Hornady.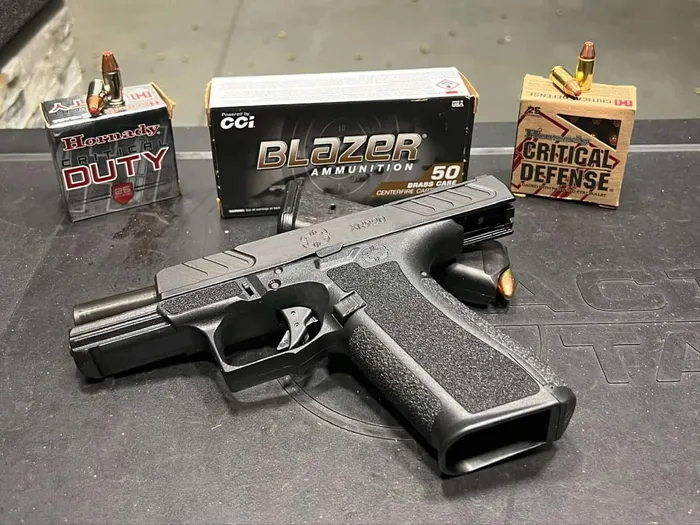 Score Card
Reliability (7/10)  
Had several failures to feed and failures to eject to start, and it sounds like I'm not alone. Will try to update after a couple hundred more rounds. Since there was that break-in period heads up, I won't score it lower.
Ergonomics (8.5/10)
Feels nice in hand and is comfortable to shoot.
Customization (9/10)
There are accessories and aftermarket internals galore.
Appearance (8/10)
Looks are slightly better than "others" but still rather basic.
Value (7.5/10)
I rarely see this gun drop below $615.
Accessories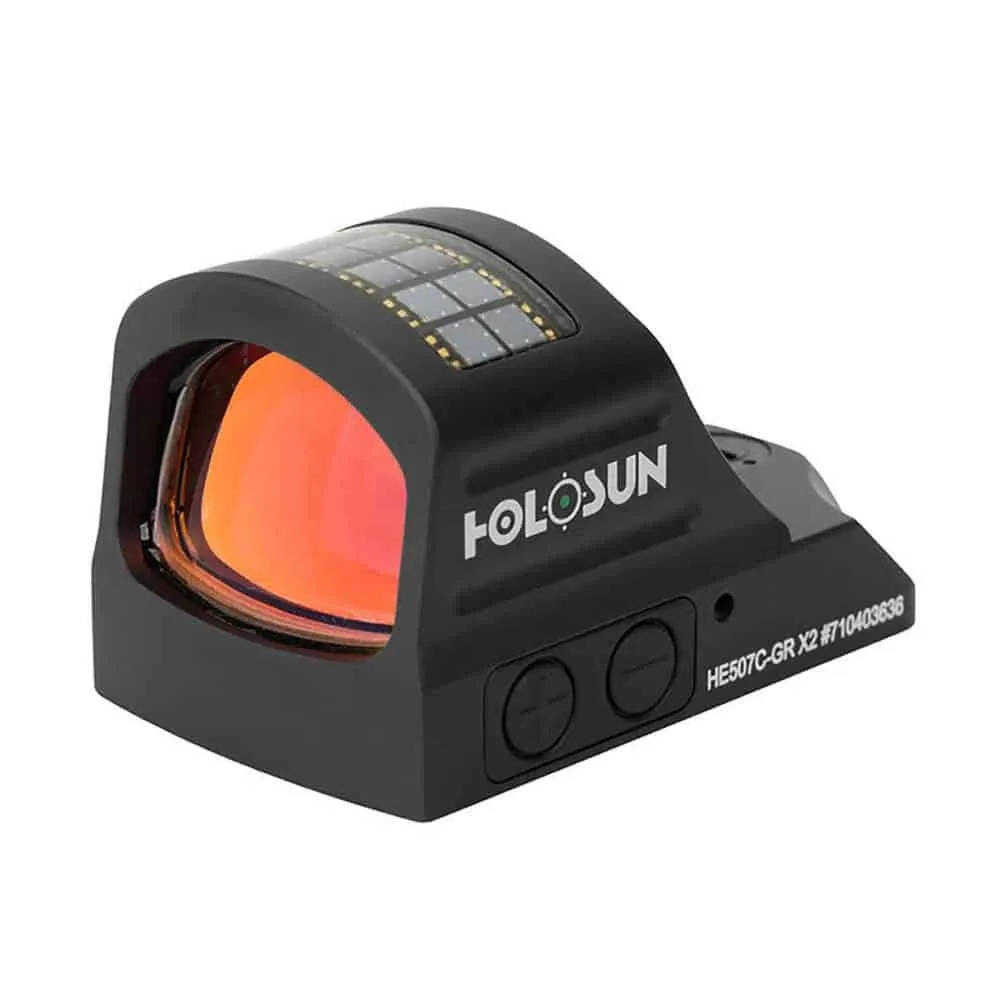 The 507C-GR X2 features a green 2 MOA dot and a 32 MOA circle reticle, 12 brightness settings (two of which are night vision compatible) and up to a 50,000 hour battery life.
The best part about it is, Holosun's Solar Failsafe technology will essentially keep your optic running forever, under the correct conditions.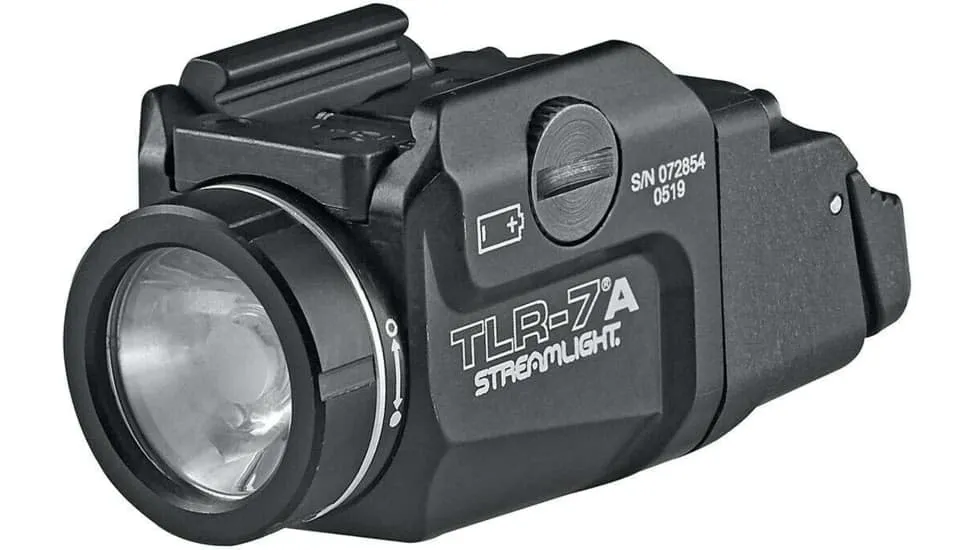 Compact, reliable and durable, the TLR-7A is one of my favorite lights for this size of a pistol. It puts out 500 lumens for an hour and a half on a single CR123A battery and features a safe-off feature to prevent accidental activation.
You won't break the bank either, as you can typically find them for just under $125.
Alternatives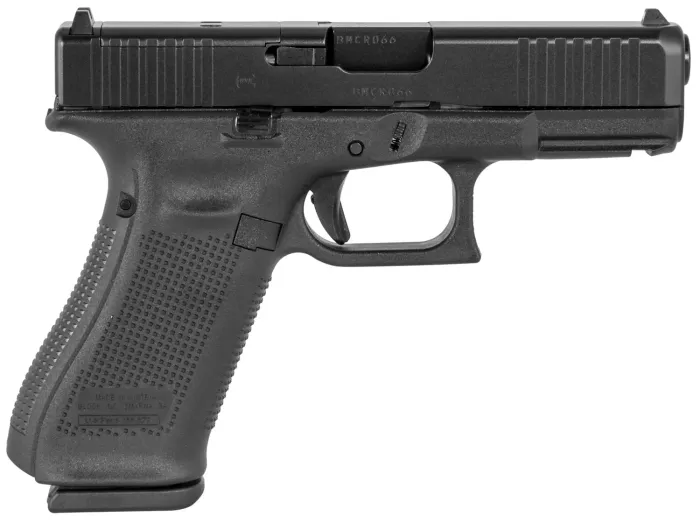 The G45 is a compact crossover pistol that combines a full-size frame with a compact slide. It's one of my favorite Glocks out there.
The MOS (Modular Optic System) version comes with an optics-ready slide, front slide serrations and a much improved grip without finger grooves. Best of all, you get that Glock reliability.
I even wrote up a Glock 45 MOS review if you want to check it out.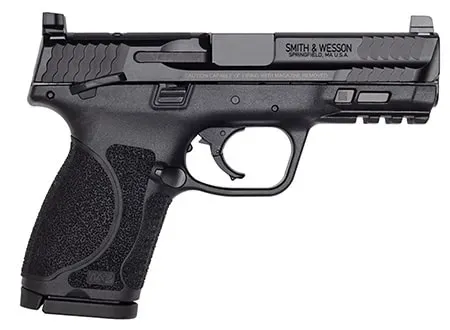 One of my personal favorite compact 9mms, the M2.0 Compact OR (Optics-ready), has all the upgrades that the M2.0 line has rolled out. You'll get an optics-ready slide and a flat-face trigger, leaving you very little to change out of the box.
With a 15+1 capacity, or the option to use the 17-rounders from the full-size M2.0, you'll be good to go for carrying, home defense, or duty.
Conclusion
I'll keep it real with you all, I'm not 100% sold on the Shadow Systems XR920. Before I really make up my mind, though, I'd like to put way more rounds through it. Until then, I'll say there are more affordable comparables out there, that you don't have to worry about a break-in period with.
Is the gun accurate? Sure. Does it have some nice features? Yes. Will I be rushing out to buy several based on my experience with this particular one? Probably not.
I will say, I'm looking forward to testing some of the "higher-end" Shadow Systems offerings, though, to see if they'll change my first impression.
At the end of the day, I would suggest that you try one for yourself to see how your experience is. If it's better than mine, great. If not, there are other fish in the sea.
Explore more