Sig Sauer P320 M18 Review: 3,000 Rounds With The M18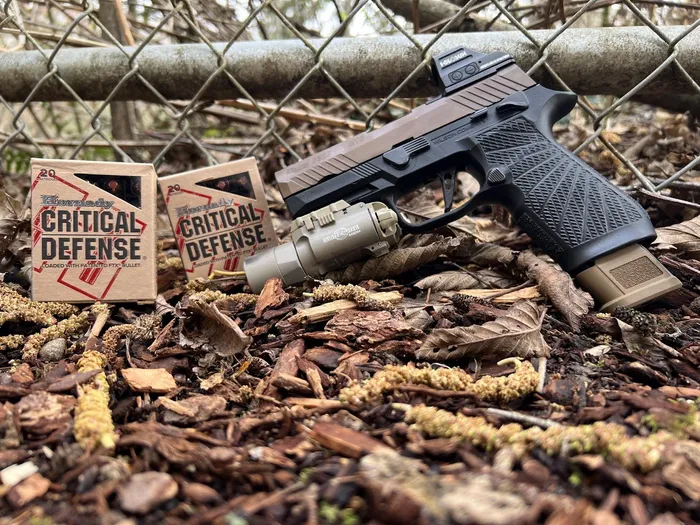 Sig Sauer P320 M18 Review: 3,000 Rounds With The M18
Introduction
Are you looking for a new addition to the safe that isn't a Glock? Well, I'm gonna tell you why you should consider a Sig in this Sig Sauer P320 M18 review.
If there's one thing that anyone who has spent time in the military knows is how long it takes the military to adopt new weapon platforms and equipment.
And if you think I'm lying, the Army submitted the proposal in 2015 and didn't select a winner until 2017. Before that, the beloved (by some) Beretta M9 was in service. And it entered service when Prince made Purple Rain.
Hint: A long ass time ago.
But why did the U.S. Military pick the Sig Sauer P320 M18 as their service firearm over the Glock 19x or the FN 509? That's a controversial topic, but we'll talk about that in a minute.
Here's what I think.
Before We Get Started: I own a Sig Sauer P320 M18, and I carry it every day. I bought it with my own money, and Sig Sauer did not pay me to say any nice things about this pistol. Hell, they don't even know who I am. I just wanted to disclose this to you beforehand. I love you.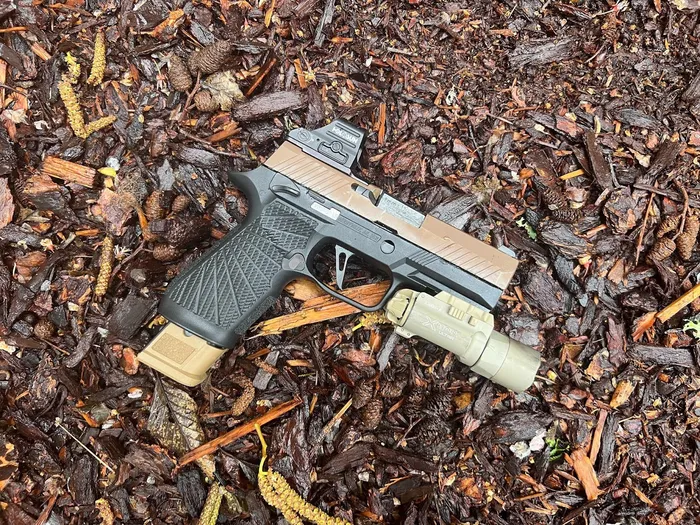 Sig Sauer P320 M18 Review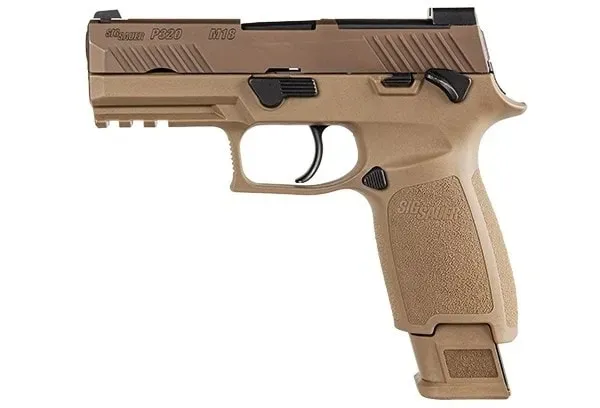 If you're looking for a pistol that will save you thousands of dollars in the long run or a fan of military firearms, then you will love the Sig Sauer P320 M18.
Why is that, Brian? What do you know?
I know that the modularity of the P320 platform (M17, M18, etc) is the best in the pistol game. Yes, even better than Glock. That's why I say you'll save tons of money in the long term.
Once you buy any P320 variant from Sig Sauer, you can own any P320 on the market. Since the Fire Control Unit (trigger group) is the only part that is serialized, it can be easily removed from one pistol to another. No need for another background check.
Name another pistol that is capable of doing that. I'll wait.
Specifications
| | |
| --- | --- |
| Caliber | 9x19mm |
| Capacity |  (1) 17 and (2) 21 Round Magazines |
| Optics Ready? | Yes, DPP Footprint |
| Pistol Size | Carry |
| Barrel Length | 3.9 Inches |
| Overall Length | 7.2 Inches |
| Height | 5.5 Inches |
| Trigger Action | Striker Fire |
| Slide Material | Carbon Steel |
| Grip Module | Polymer |
Pros & Cons
Pros
Most Modular Pistol on the Market

Used by U.S. Military (spare parts are plentiful)

Feels like it's meant for your hand

Comes with (2) 21-round magazines

Never jammed, and never had an issue with any ammo
Cons
The coating on the slide fades quickly (with constant in/out of holster) 

Expensive 

Rear iron sights are too bulky (red-dot recommended)

Underwhelming trigger
First Impressions/On-The-Range Testing
The first time I got to shoot my M18 is when I realized that a red dot is paramount for this pistol. Seriously. I know I'm not the best shot, but those rear irons suck more than a five-dollar wh..
Never mind, I can't finish that sentence. But you get where I'm coming from.
You're probably a better shot than me, fine shooter, so you may disagree, but I would recommend a red dot for anyone looking into this pistol.
Anyway, aside from the terrible rear irons.
The Sig Sauer P320 M18 is a neat little pistol. Very accurate, consistent, and the ergonomics make it feel as if the pistol was molded into your hand.
I've shot about 3,000 rounds through my M18. Everything from Sellier and Bellot and Fiocchi through Winchester 124grain NATO rounds. Never once have I suffered a failure, stoppage, or anything that interrupted my rhythm.
But the factory trigger was too mushy for my taste. It was almost as if the pistol was asking me, "Are you sure?" before pulling the trigger.
It's an underwhelming feeling. Like taking a bite from your favorite meal and the chef forgetting to add seasoning. Or a shell in your scrambled eggs.
I threw in an Apex trigger kit, which relieved much of the dread at the trigger pull. Still, on a $700 dollar pistol, I don't want to spend another $150 on a trigger.
I'm a trigger snob fine shooter. You probably won't feel the same way that I do about the trigger. All of my shooting buddies said the trigger was fine, and I probably just needed to eat something.
All in all, the Sig Sauer P320 M18 is one hell of a pistol. Surprisingly accurate for the size and runs flawlessly with any ammo.
It has my approval.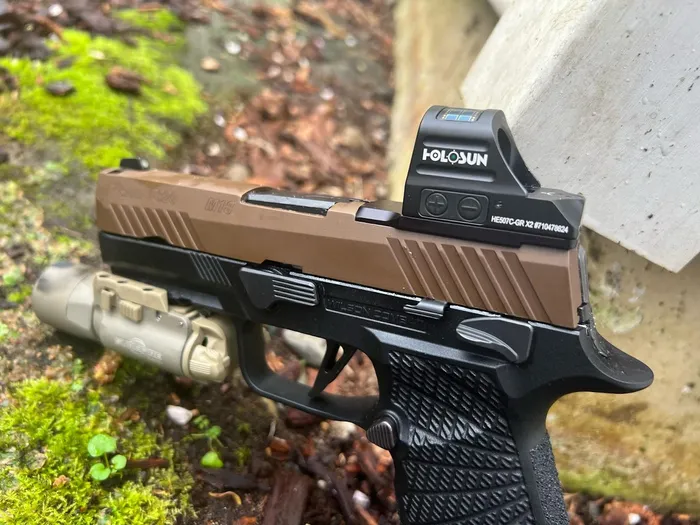 Reliability
As I said before, I've put about 3,000 rounds through my M18. The list goes on: Sellier and Belliot, Fiocchi, Hornady, Winchester White Box.
I never had an issue with stoppages or failures. Then again, everything works better with lube. And I'm not just talking about firearms. I keep my M18 well-lubed. So that may attribute to the lack of issues I'm having.
I have to give reliability a 10/10.
Accuracy
It's only as accurate as the person behind it. Before adding a red dot and using irons, I had the same luck holding a grouping as I did holding a girlfriend for over a year.
Hint: my current record is 9 months.
Once I added the Sig Sauer Romeo 1 Pro, I easily hit a dueling tree at 50 yards. But a red dot is a cheat code, so that isn't saying too much about my skill. It does say a lot about the M18, though.
Overall Feel
Okay, so I may have changed the grip module on my M18 for a Wilson Combat grip module, but that was due to boredom and Sig Sauer's dual-tone FDE color scheme.
The factory grip module welcomes shooters with larger hands. My smaller-handed friends say it feels too big in the hand, and others say it's just fine. Personally, I have big mitts, and I love it.
But I gotta say that the Wilson Combat grip module takes it from an 8 to a 10. The tungsten weights make it feel as if it were a well-balanced katana.
Putting lipstick on an 8 definitely helps.  
Features
21 Round Magazines
I'm not gonna lie, fine shooter; one of the main reasons I got the M18 was due to the 21-round magazines it came with.
While reloading my magazines brings me back to being a kid and putting fresh batteries into the remote like I'm loading 5.56, 17 rounds aren't enough for me. I'd rather have 21-round magazines. Who wouldn't want the extra capacity?
Yes, I'm one of those guys who conceals with a 21-round magazine.
Optics Cut
The Sig M18 comes cut with a Leupold Deltapoint Pro footprint that will accept a myriad of different red dots on the market. No need to get your slide milled out.
But, if you want to run something like a Trijicon, Holosun, or Aimpoint, you're gonna need an adapter plate. I have a Holosun 507c on my M18, and I used a Springer Precision adapter plate to make it happen.
Red dots are the future, and an optic cut was mandatory for the MHS trials. After all, why would you want to level out irons when you can put a red dot on a target and pull the trigger? Seconds count.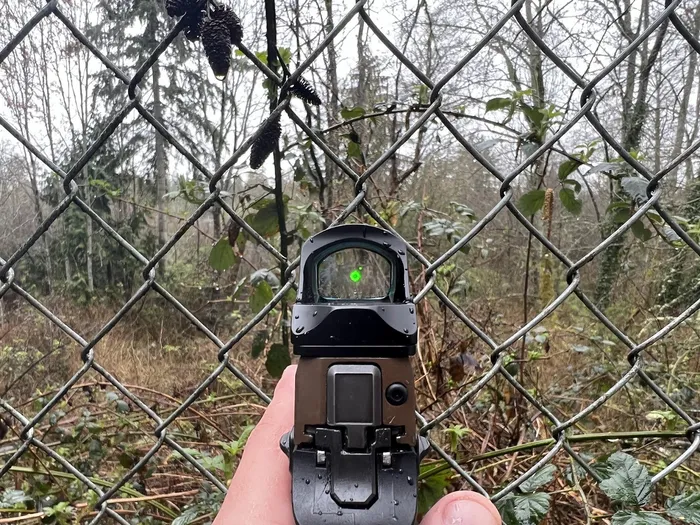 Serialized Fire Control Unit
Another part of why I pulled the trigger (pun intended) on the Sig M18 was how easy it is to turn your pistol into a different beast by just swapping out the fire control unit, or FCU.
For example, if you want to change your M18 into a full-size M17 or XFive Legion, you can just remove the FCU and install it on a grip module of your choice.
Yeah, you'll need a slide and recoil spring, given that you're changing the size of the pistol, but you don't have to wait for a background check or have to take a trip down to your FFL.
One pistol gives you many options, even if the caliber is different.  
All P320s have this option, by the way.
How We Tested
If I were testing this pistol, this would be one hell of a long test. I've owned my Sig Sauer P320 M18 for about a year and a half now, and I've fired thousands of rounds through it over the course of that time.
It's my carry pistol, so most of the "testing" is revolved around Mozambique drills and strong hand, support hand drills.
Over a year and a half, a must have run those drills a couple hundred times.
Perfect practice makes perfect.
I like to have fun when I'm out shooting, and not everything has to be all business. So you can bet that there have been plenty of mag dumps to ensure there won't be any stoppages or failures when and if the time comes.  
Ammo Used
Hornady, Winchester, Fiocchi, Sig Sauer, Magtech, and Sellier and Bellot, just to name a few.
I've got my best results from Fiocchi and Sellier & Belliot. Not that any of the other ammo brands have caused any issues, but those two in particular, have given me the most consistent results and shot groupings.
But since I've had experience with all of these different brands, I can wholeheartedly recommend Fiocchi and S&B if you're picking up an M18.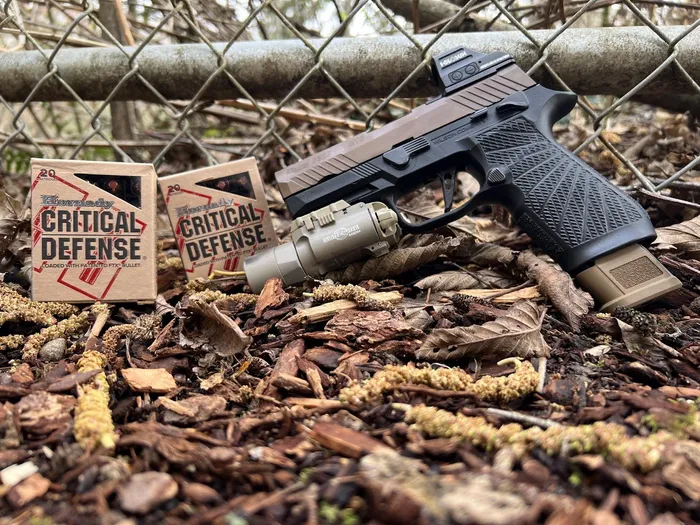 Score Card
Reliability (10/10)  
3000 rounds with not one failure or stoppage.
Ergonomics (8/10)
The factory grip module is fine; aftermarket grip modules take the cake.
Customization (10/10)
The most modular pistol on the market.
Appearance (7/10)
It's meant to do the job. The color helps, but you won't be turning any heads.
Value (10/10)
Reliable, huge aftermarket support, and modularity that wins contracts.
Accessories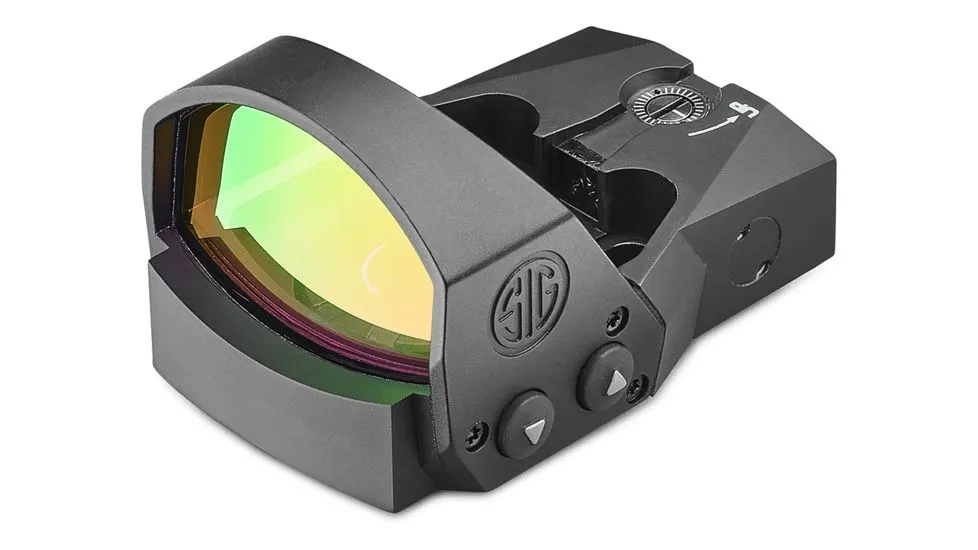 As I said before, the M18 comes cut with a Deltapoint Pro footprint, allowing for the Sig Sauer Romeo 1 Pro. Before I mounted the Holosun 507c, the Romeo 1 Pro found its home atop of my M18.
The window is wide enough to easily find the red dot, but it may be too big for some who may want to conceal carry their M18. Still, it's a great optic.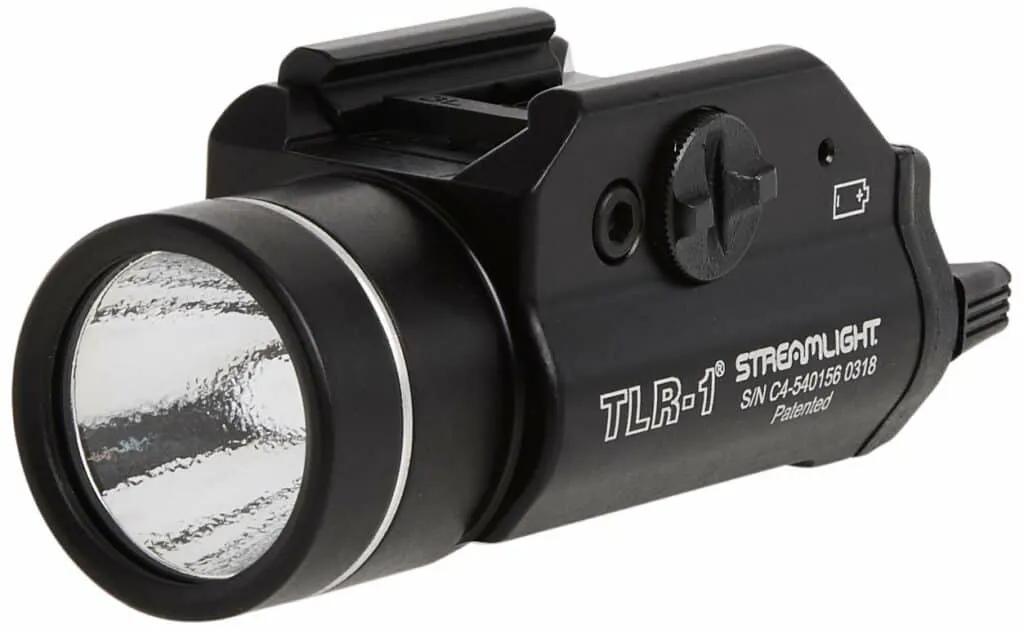 I always recommend a good light on any pistol. Positive identification can never be overstated, and you can deter a threat with a flash of light.
Trust me, I've done it. I want to say that if I didn't have a light on my pistol, we would be having a different conversation.
The TLR-1 is a great light that won't break the bank. It's not the brightest light in the bunch, but you can worry about that later.
Alternatives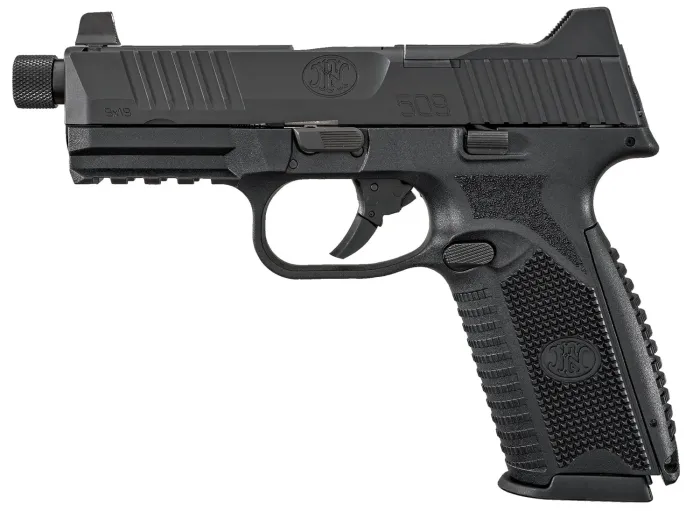 I must admit, I sometimes wish I got the 509 Tactical over the M18. One of the main reasons is the 24-round magazine capacity that FN offers. It also comes with suppressor height sights and a threaded barrel.
The other reason is how smooth it shoots like butter. I'm jonesing for one.
Those suppressor height sights are from Trijicon. And much like the M18, you lose the rear sight when you mount a red dot.
The FN509 is pricier than the M18, but it's worth it when you think about all of the extras that you get.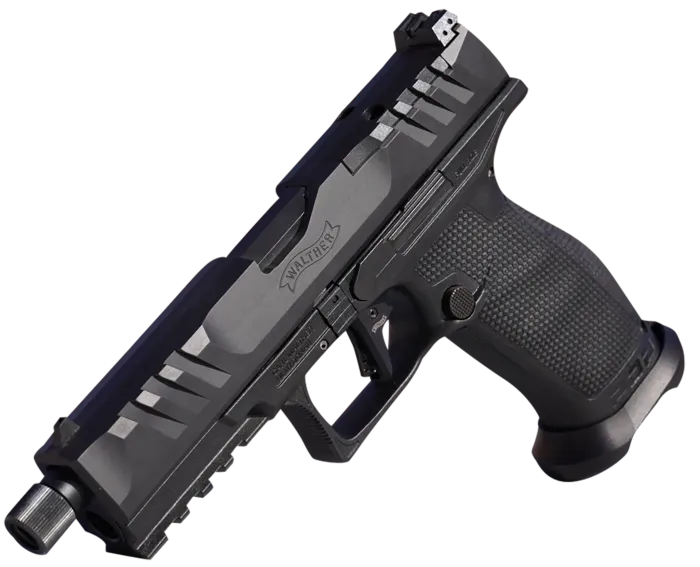 Winner of the 2021 Pistol of the Year award from Guns and Ammo and ICA, the Walther PDP checks all of the boxes that one would want from a pistol.
Now the Pro SD takes things up a notch and makes this pistol the one for anyone who wants the ultimate duty pistol, even if your duty consists of bathroom ops.
Like the 509, the Pro SD has a threaded barrel. But the Pro SD allows you to keep your read iron sight when you install a red dot. Walther will even give you a free adapter plate for whatever footprint you choose.
The slide serrations make press checks a breeze, while the flared magwell help with loading even when the tensions are high.
Conclusion
While the Sig Sauer P320 M18 leaves some room for improvement, it is still one hell of an accurate pistol. With the amount of aftermarket support and modularity, if you ever get tired of it, just take out the FCU and boom. You can change your M18 into any pistol you want.
I would consider the alternatives and make sure none of them pique your interest before sealing the deal so you don't end up drooling over the FN509 or PDP SD Pro as I do.
What do you think? Let me know in the comments. Also, feel free to check out the other P320 variants we've reviewed, like the P320 RXP X-Compact or the P320 Compact.
See you on the range, fine shooter.
Explore more