Sig Sauer P320 RXP X-Compact Review: Everything You Need In A Concealed Carry Pistol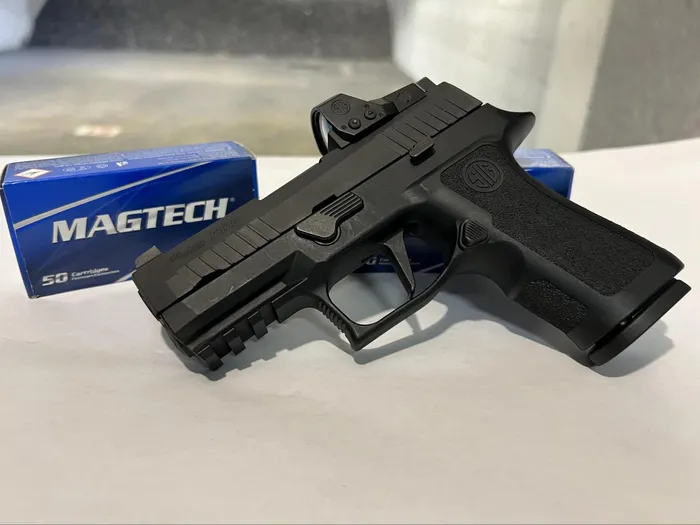 Sig Sauer P320 RXP X-Compact Review: Everything You Need In A Concealed Carry Pistol
Introduction
The Sig Sauer X-Compact (specifically the RXP variant) is a new contender in the concealed carry gun space. If you have heard of the X-Compact, you aren't too far off.
The RXP version of the X-Compact sports a few welcome upgrades that we'll talk about in a minute.
But man (or woman), let me tell you: the RXP X-Compact is a beast.
I got my hands on the RXP X-Compact at a Sig Sauer demo day a few months ago. I also saw the Blackout and a few other innovations from Sig that tickled my fancy.
And then, I held the RXP and realized why they said good things come in small packages.
I'm talking about guns here.
Let's get into this Sig Sauer RXP X-Compact review before I bore you to death.
Sig Sauer RXP X-Compact Review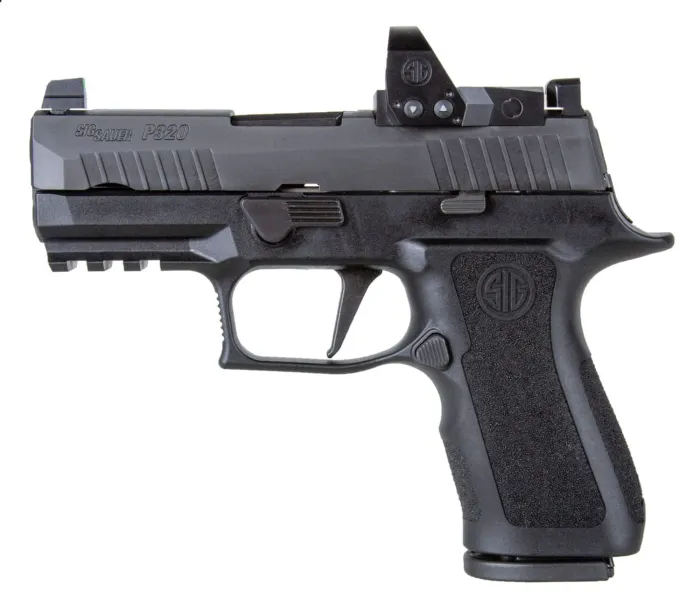 The RXP X-Compact is perfect for anyone who wants a carry gun that is ready to go out of the box (as long as you load it first.)
It's easy to conceal but not so hard that your pinky is hanging off the bottom of the grip. It fits like a glove.
It comes with the Sig Sauer Romeo 1 Pro and suppressor height sights for those of you who like to have the sights in line with the red dot for co-witnessing purposes. And with that setup, being accurate is easier than your normal iron sights.
For some of us, anyway.
If you're one who likes a manual safety on their firearm, then I may suggest you look in another place. There is no manual safety on the RXP X-Compact, but that may not necessarily be bad.
It also falls on the pricier side of the carry-gun realm, so that is something to consider if you're on a budget.
As my buddy Roberson says: "f**k it, we ball."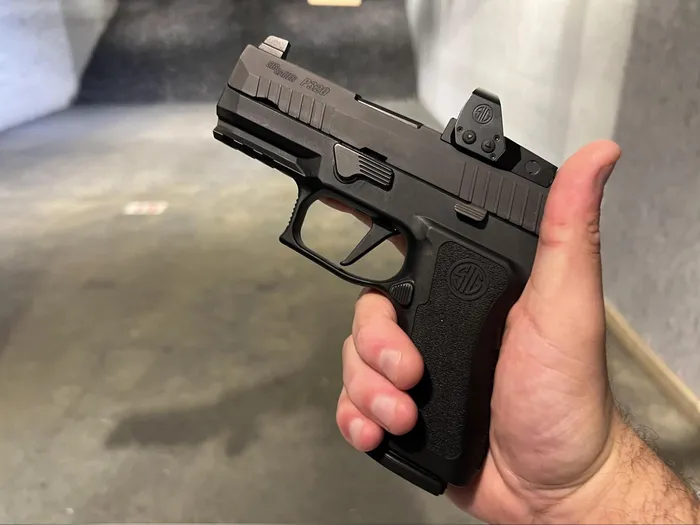 Specifications
| | |
| --- | --- |
| Caliber | 9mm |
| Capacity | 15 rounds |
| Overall Length | 7 Inches |
| Barrel Length | 3.6 Inches |
| Weight | 1.6 Pounds |
| Action | Double |
| Sights | Supressor Height/Red-Dot |
| Safety | None |
| Ambidextrous | Slide Release |
Pros & Cons
Pros
Comes with a red dot 

Suppressor height sights for co-witnessing

15 Round Magazine

Fits 21/17 Round P320 Magazines

Fits the hand like a glove

Ambidextrous slide release

Flat faced trigger
Cons
No manual safety

On the pricier side

It's a bit heavy, which may be uncomfortable for some shooters
On The Range With The Sig Sauer RXP X-Compact
The RXP X-Com was the last of three different firearms that I tested in one day, so I was exhausted when I got around to it. But the look and feel of the RXP X-Com made me feel all warm and fuzzy inside, so those feelings of exhaustion went quickly.
The magazine capacity for the firearm was great, and I had 15 rounds to play with between reloading the magazine. Luckily, I had some of my M18 magazines on me, which are 17 and 21 rounds, respectively.
And I used them to my advantage but wanted to use the magazine it came with so I could get the real deal, Holyfield. I was not disappointed.
I used the other magazines for dumping. Just making sure I didn't experience any issues with malfunctions when slamming the gavel on the target.
Since this is a concealed carry pistol, I wanted to run through drills useful on the street.
Mozambique drills. Which is your two-to-the-chest and one-to-the-head groups that work in self-defense and with other individuals that didn't get the memo with the first two shots. It's a simple and effective drill.
I had 250 rounds of ammo to burn through. And I took my time. Feeling the recoil, where the red dot landed after the muzzle flipped, where my shot landed in correlation to where I was aiming, and how good the trigger felt at the break along with the reset.
I enjoyed how well the RXP X-Compact fit in the hand. I have some fairly large mitts, and carry guns are a hit or miss for me. I don't know; they just don't feel like I'd want to deploy them in a bad situation.
The recoil was smooth for the size and not at all too snappy. The RXP X-Com went through each magazine without a hiccup and invited me back for more.
The RXP X-Com performed well. And I might just have to ball out on one when I get back east.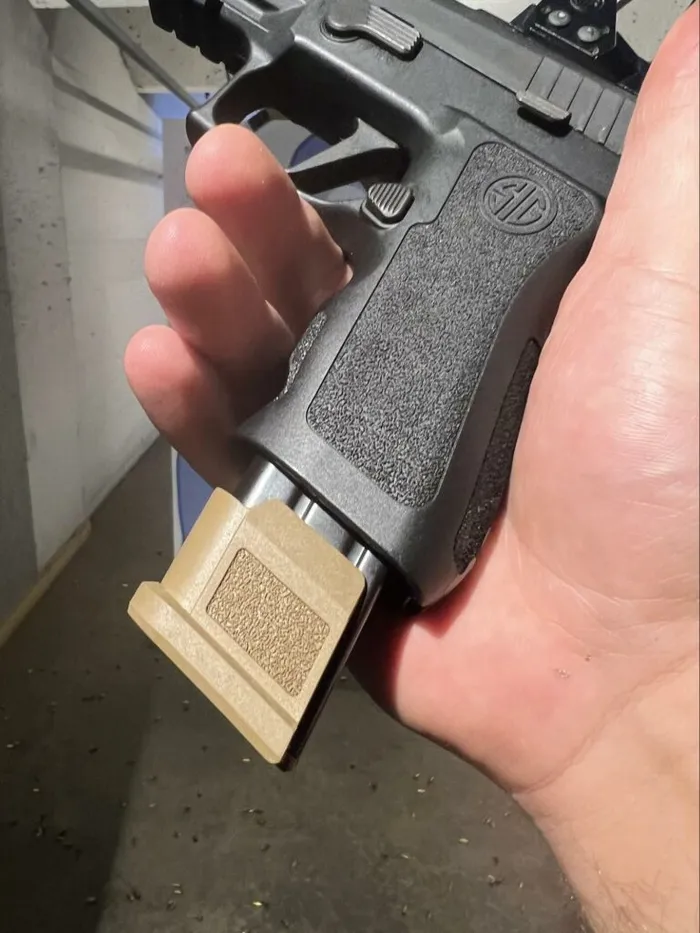 Reliability
250 rounds, with at least 100 of those being mag dumps from 21-round magazines, could choke up even the best pistols. But the RXP X-Com performed amazing. Perfect, actually, with the only issue being that I didn't have more ammo.
Accuracy
Accuracy is a tricky thing. Every firearm is more accurate than you or me, and that's doubly true when you have a pistol with a red dot and suppressor height sights.
Acquiring those sights and getting rounds on target was pretty easy. Even though I'm not a fan of co-witnessing, I had no issues (still talking about guns here).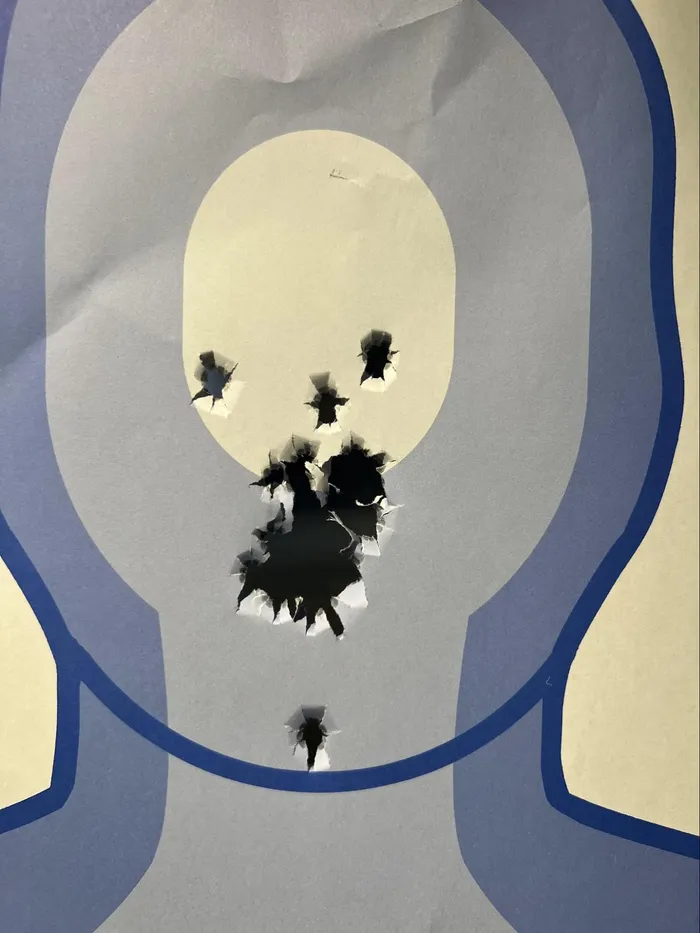 Overall Feel
The grip module on the RXP X-Compact fits in my hand like a glove, almost as if it were molded into my hand. The flat-faced trigger and relatively low bore axis make this pistol an ergonomic masterpiece.
Features
Red Dot Sight
The RXP X-Compact comes with a Romeo1Pro already installed and zeroed by Sig Sauer at the factory. I would recommend checking the zero before deploying this pistol in a self-defense roll, though.
The sight window is perfect on the Romeo1Pro but doesn't get as much love as other optics. But I own a Romeo1Pro, and it sits atop my Sig Sauer M18. It's always there, and it's always right on the money. I love it.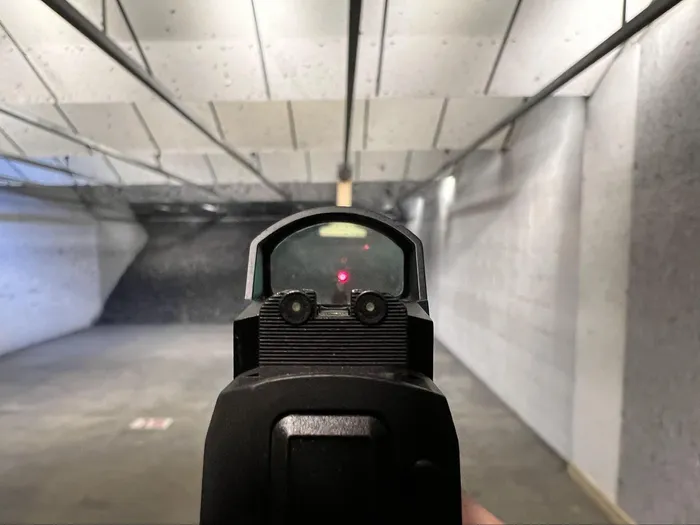 Suppressor Height Sights
Suppressor height sights are useful for those who want to add a can to their pistol. They also come in handy when trying to "co-witness" their red dot.
And before you ask, co-witnessing is having your sights as a backup in case your red dot goes down for some reason or another. Some believe that they have to be in line, but that's not necessarily the case.
The sights on the RXP X-Compact were in line. I don't prefer that, but it didn't hinder accuracy.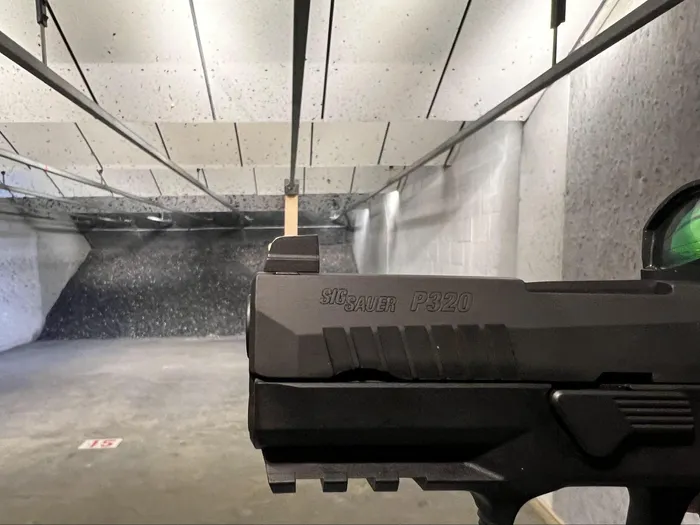 Flat-Faced Trigger
The RXP X-Compact doesn't come with the normal curved trigger that you see on other P320 models. The trigger you get with this pistol is pretty flat.
It's flat. Let's just say that. And the flat nature of the 90-degree break makes it easy to have a smooth trigger pull and clean break.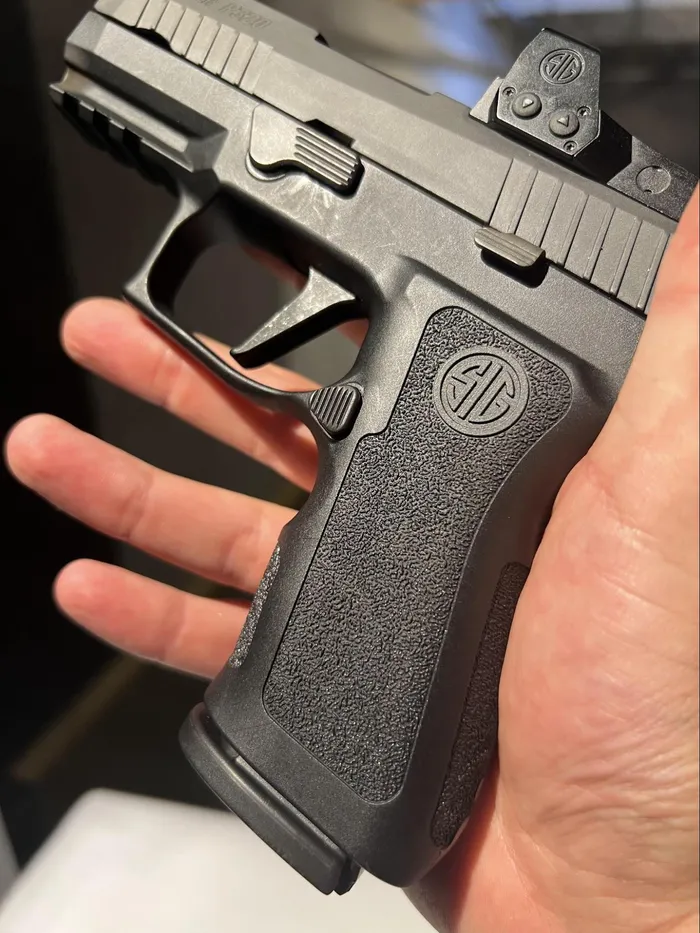 How We Tested
This test was done in an enclosed flat range. With ATF targets (don't worry, I shot the letters out first) at a distance of about 10 to 15 yards. Fueled by one Celsius energy drink because I was tired as all hell from shooting the Glock 48 and Ruger PC9 that was also reviewed on this day.
I ran multiple Mozambique drills and some normal slow fires to get a feel for the RXP X-Compact in a self-defense scenario (sans the high stress and trouble with the law) since that's what this pistol is intended for.
I did my best to keep the range relatively short between myself and the target to simulate the average range for a self-defense scenario and see how well the firearm performed under those conditions (quick movements, faster firing rate.)
Ammo Used
For this review, I used some Magtech 115-grain FMJ sent to me by the fine folks at Natchez Sporting and Outdoors. They sent me a bunch, and I haven't had any issues with Magtech ammo in all my years behind the gun.
It's consistent, accurate, and a little dirty. Just like I like them.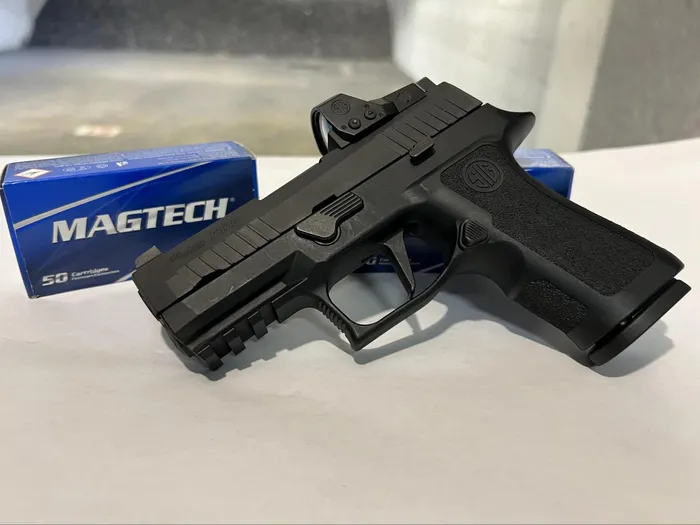 Score Card
Reliability (10/10)  
The RXP X-Compact performed well without any issues.
Ergonomics (10/10)
I loved how well this pistol felt in my hands.
Customization (10/10)
The fire control unit for the P320s is the most modular on the market.
Appearance (8/10)
It's an attractive pistol, but it isn't a Spectre Comp Blackout.
Value (6/10)
For north of $1,000, I can definitely build a better carry gun.
Accessories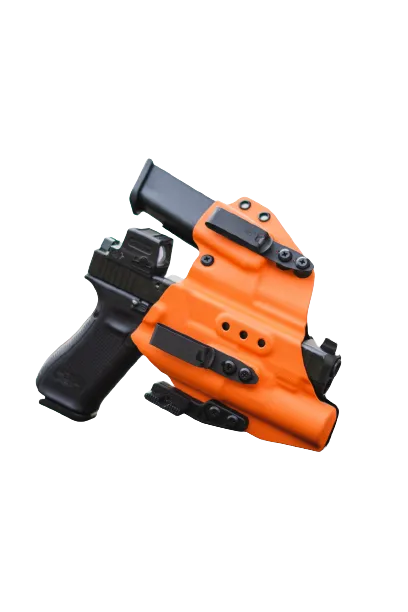 Perhaps one of the best concealed carry holsters on the market. Hands down. With the built-in magazine holder and two built from two pieces of Kydex that contour to your body, this IWB holster lets you forget that you're carrying in the first place.
Well, not really, but it's super comfortable.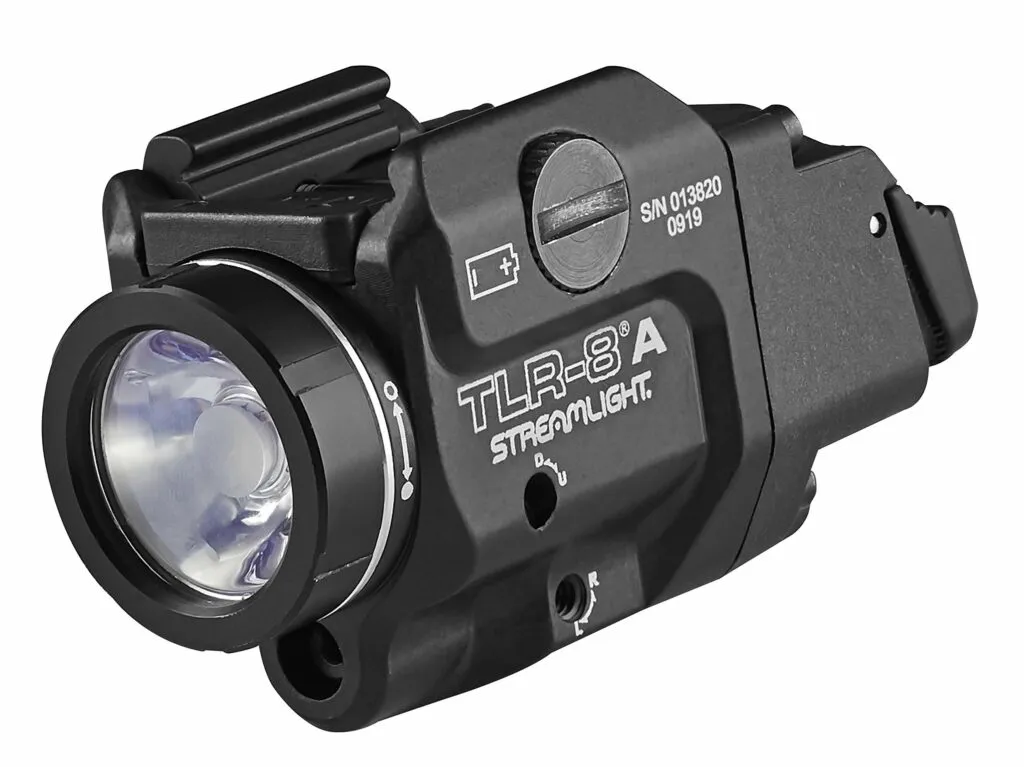 Every pistol needs a light, especially if you plan on carrying the pistol.
The TLR-8A features a laser and light combination for those who like to point a laser and let the trigger loose. Or if you don't have time to get the sights on, just put that laser center mass and let it fly.
The light helps you make sure you got the light on the right person, which is important too.
Alternatives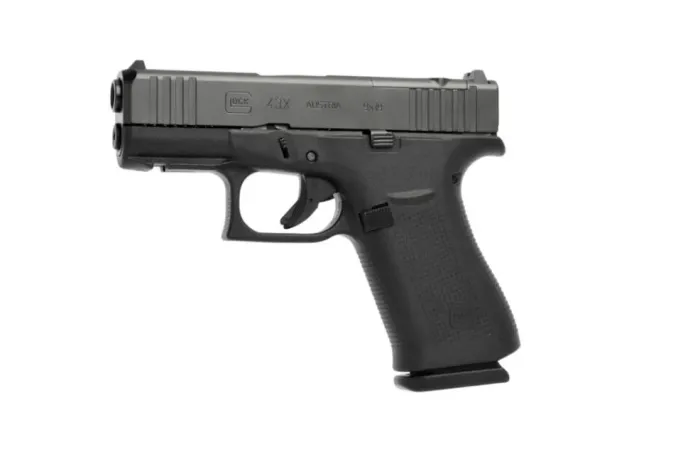 The Glock 43X MOS is a sub-compact version of a Glock 43 slide and Glock 48 grip module. Making for a pistol that is easy to conceal while still having enough room for your paws. And an optic cut if you want to throw a red dot on there.
There are many aftermarket manufacturers that make parts for the Glock 43X as well, like Shield Arms and their double-stack magazine that gives you 15 instead of the standard 10 rounds. Don't worry; there are base plates to up the number.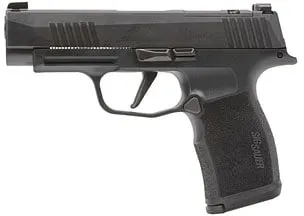 Perhaps the one pistol that changed the way we see concealed carry? Check. The P365XL is a beast.
I'm not too much of a fan of the P365 since my pinky hangs off of the bottom, but the P365XL makes everything a bit bigger while still leaving enough space to make it easy to conceal. It leaves room for an optic and a 12-round magazine.
There are aftermarket options for the magazine count. No sweat.
Conclusion
If you're looking for a solid concealed carry gun and don't mind spending a bit extra, then I would definitely suggest you look into the Sig Sauer P320 RXP X-Compact. It's not perfect, but it leaves little room for wanting more besides a light or something.
But while I was behind the RXP X-Compact, it shot well, it was consistent, and the goodies made me feel all bubbly inside. It's also pretty to look at, which is important.
What do you think about the Sig Sauer P320 RXP X-Compact? Do you think it deserves a spot in your concealed carry rotation, or did Sig miss the mark? Talk to me in the comments.
See you on the range, fine shooter.
Explore more