Sig Sauer P365XL Review: Hands-On + Photos [2023]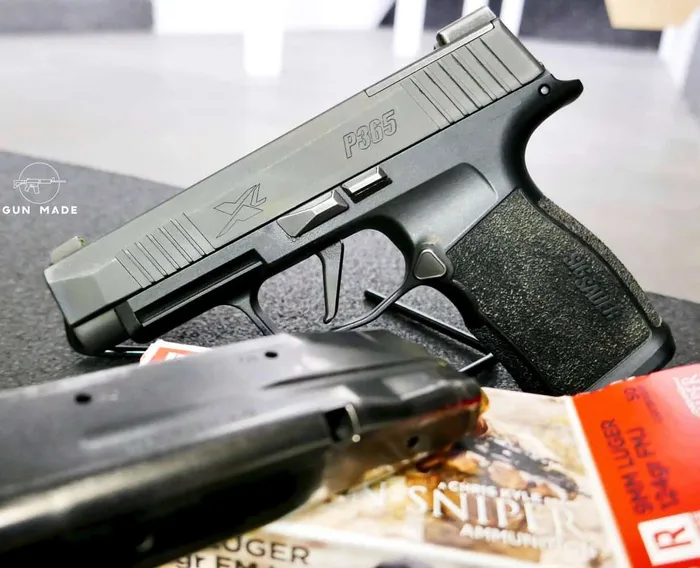 Sig Sauer P365XL Review: Hands-On + Photos [2023]
In 2018 Sig rocked the concealed carry world with the introduction of its wildly popular P365. The P365 offered the capacity of a double-stack 9mm in a sub-compact platform.
With a 10+1 magazine capacity, the P365 offered a lot of firepower in a very concealable package.
As the popularity of the new polymer Sig grew, so did the competition. Other firearms manufacturers such as Springfield Armory and Glock quickly jumped on the bandwagon to offer their interpretations of high-capacity, sub-compact carry guns.
In 2020, Sig upped the ante with the introduction of the P365XL. The XL came standard with 12-round, flush-fit magazines, and an optional 15-round extended magazine! In addition, optics-ready slides became standard for the P365XL. The slide comes ready to mount with the Sig Sauer RomeoZero or the RMSc reflex optics. Of course, with the use of adapter plates, red dot sights from Holosun, Vortex, Leupold, and others can be easily mounted.
We also put together a comparison guide on the P365 vs. P365XL if you want to look at the nitty-gritty details. But let's get back to our P365XL review.
Sig Sauer P365XL Review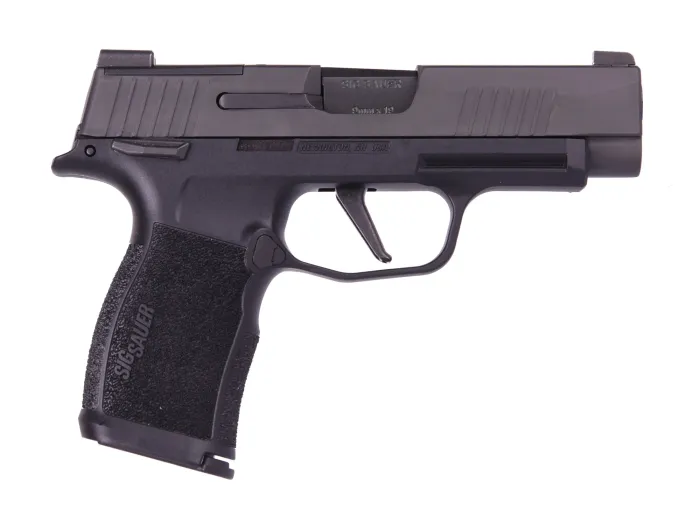 Specifications
Let's start off by looking at the factory specs for the P365XL:
| | |
| --- | --- |
| Caliber | 9mm Luger |
| Magazine Capacity | (2) 12rd Steel Mag |
| Sights | Optic Ready with X-RAY3 Day/Night Sights |
| Threaded Barrel | No |
| Firearm Size | Micro-Compact |
| Overall Length: | 6.6 in [168 mm] |
| Overall Width | 1.1 in [28 mm] |
| Overall Height | 4.8 in (122 mm) |
| Barrel Length | 3.7 in (94 mm) |
| Total Weight | 20.7 oz (588 g) |
| Sight Radius | 5.6 in (142 mm) |
| Accessory Rail | SIG Rail |
| Operation | Striker |
| Trigger | X-Series Straight |
| Grip Type | Polymer |
| Color | Black |
| Barrel Material | Carbon Steel |
| Frame Material | Stainless Steel  |
| Slide Material | Stainless Steel |
| Optics Ready | Yes |
Safety
For a carry gun, I prefer no manual safety on striker-fired guns. Manual safeties are just one more thing to have to train and continually practice with in order to become and remain proficient. 
Sig does offer a manual safety variant for those who prefer a safety on their guns.
While the above info gives you a place to start, hands-on observations give you solid information when making the choice to purchase a particular handgun for self-defense. Let's dive a bit further.
Trigger
The P365XL has Sig's X-Series Straight Trigger. The trigger pull averaged 5 pounds 5 ounces on my Lyman Digital Trigger Scale. I found the trigger pull to be a bit "mushy". The break was fine, but the take-up felt a bit soft and had no definite wall. 
The trigger does break at 90 degrees, so the trigger is vertical when the shot breaks. The reset is very short and can be felt, so fast follow-up shots are fairly easy.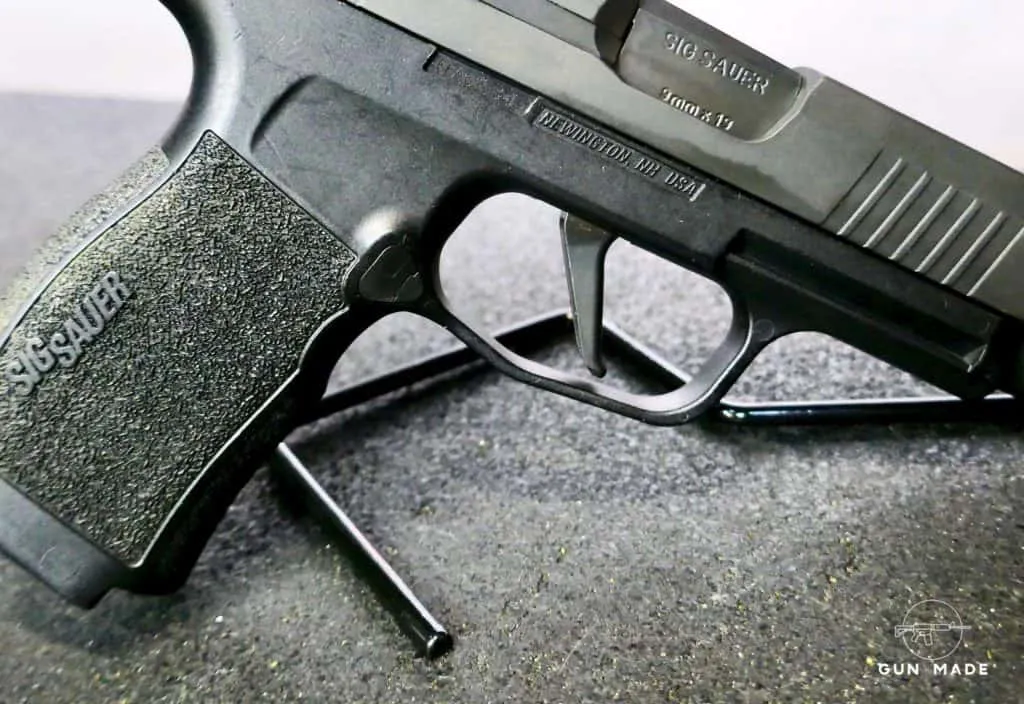 Depending on where your finger hits the flat trigger, you will experience a different feel to the trigger pull. If your finger sits up in the middle to upper portion of the trigger, the pull feels a little harder because of the trigger shape. 
Conversely, if you tend to place your finger toward the bottom of the trigger, you have a little more leverage, and the pull feels lighter but a little longer.
Grip
The grip on the P365XL is very comfortable and should allow most shooters to get a full grip on the handgun easily. I tend to favor guns with a full grip that fills my hand, and the XL allowed me to quickly establish my grip and control the gun.
The grip is stippled on both side panels and the front and back strap. While allowing a good grip, it is not so aggressive as to tear up your hands after a long-range session or hang up on clothing while carrying the gun.
The grip under the trigger guard is undercut to allow a higher grip on the gun. It is very comfortable and lets the shooter control the recoil and muzzle rise, especially when shooting fast.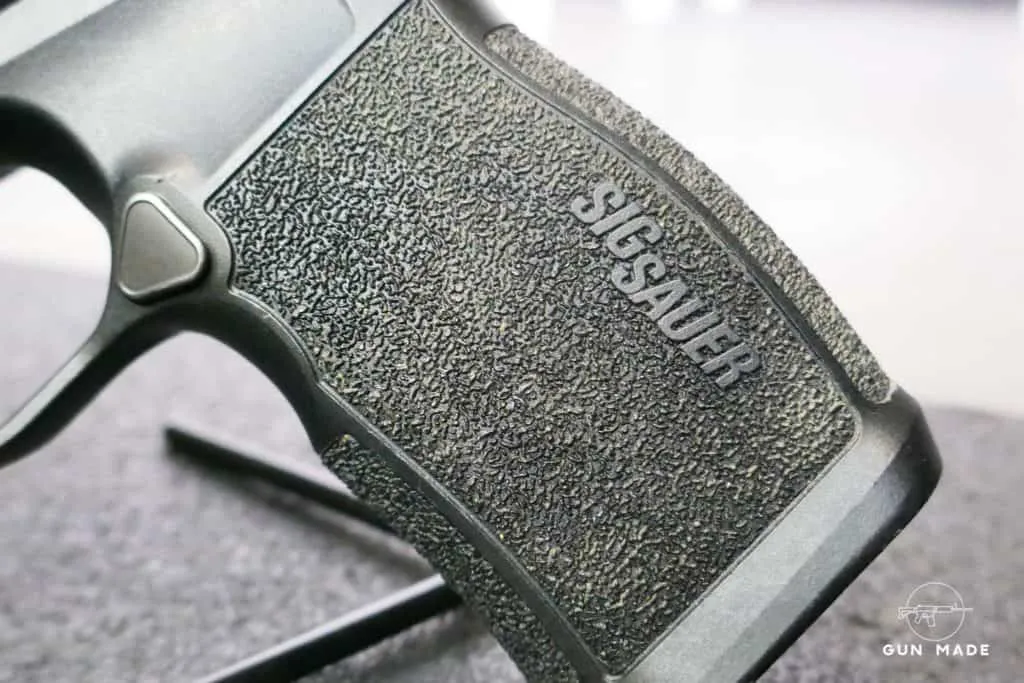 Sights
The P365XL is a concealed carry and defensive handgun. As such it comes with Sig's X-Ray3 Day and Night Sights. The X-Ray3 Sights are configured in a typical 3-dot setup. Since many defensive encounters occur in low light or no light, having iron sights that are easily seen is critical.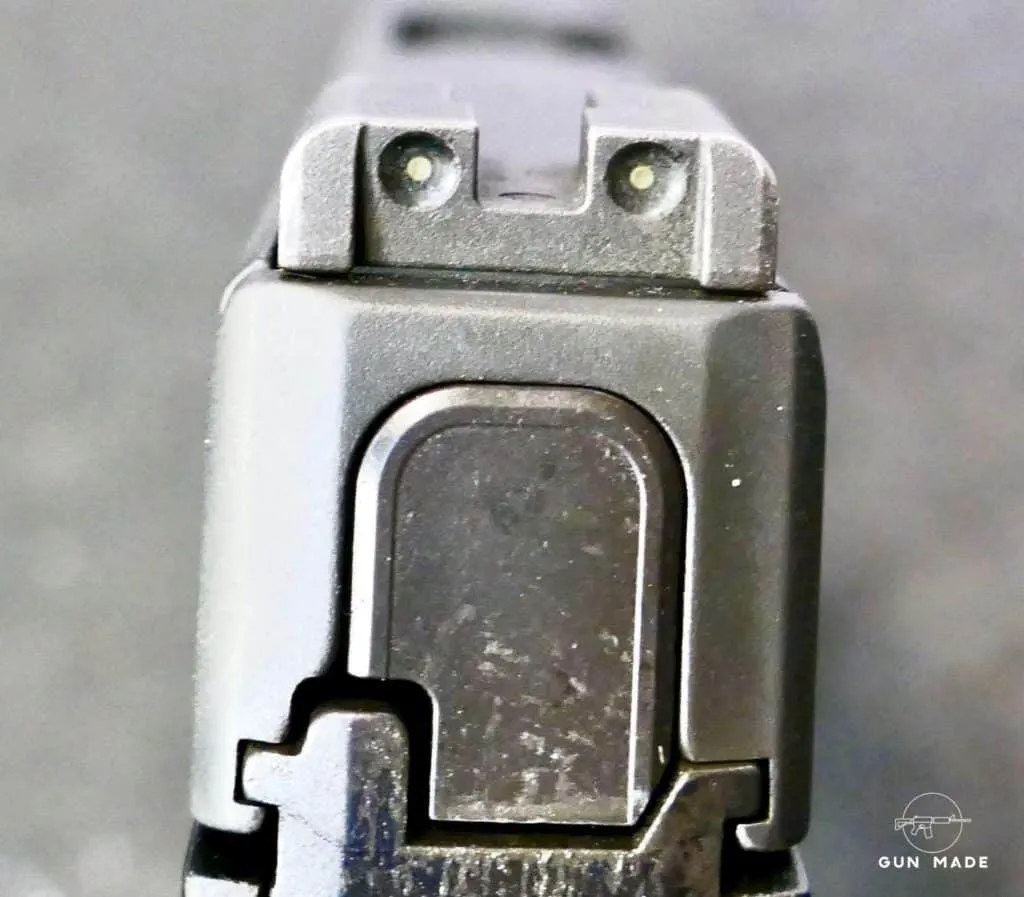 The rear sight is a standard square-notch with a tritium lamp on each side. The tritium is highly visible in low light and remains white for visibility on the range and during daylight hours. I did find the rear sights were not as bright in the daylight as I like, but still easy to align with the front sight and get a quick picture.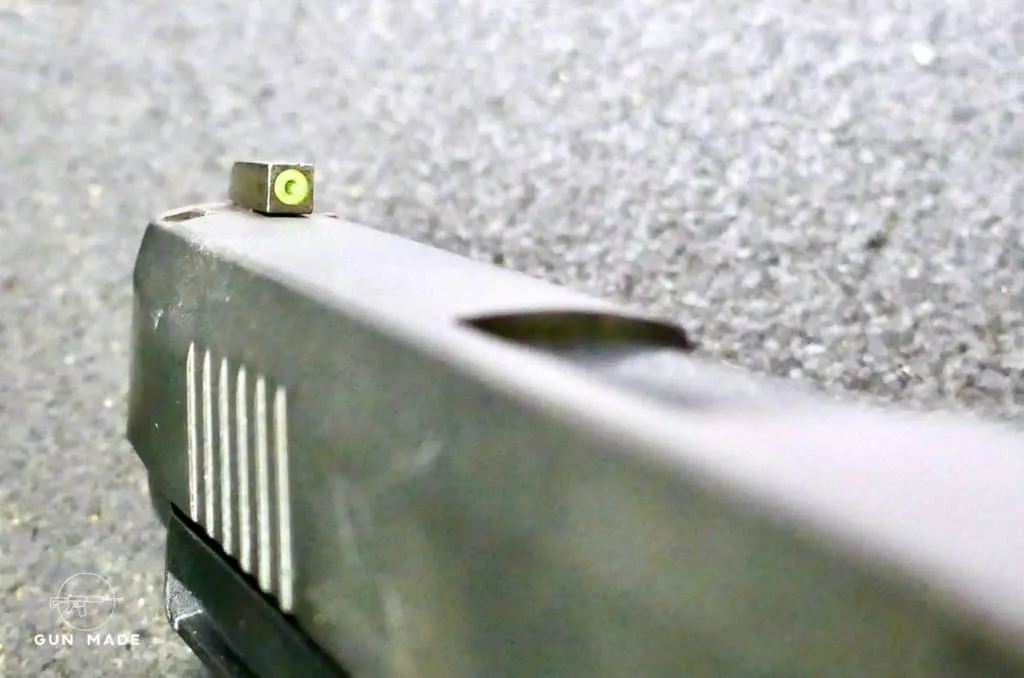 The front sight is a larger dot consisting of a bright green circle which was very visible on the range and easy to pick up quickly.
Though I did not shoot this gun in low light, I can attest to the brightness and ease of use of these sights since I have them mounted on several classic-line Sigs and they are great when the lights go down.
Magazines
The Sig P365XL ships standard with 2-12 round steel magazines. Options for 10-round magazines are available for those that live in states that don't believe in freedom.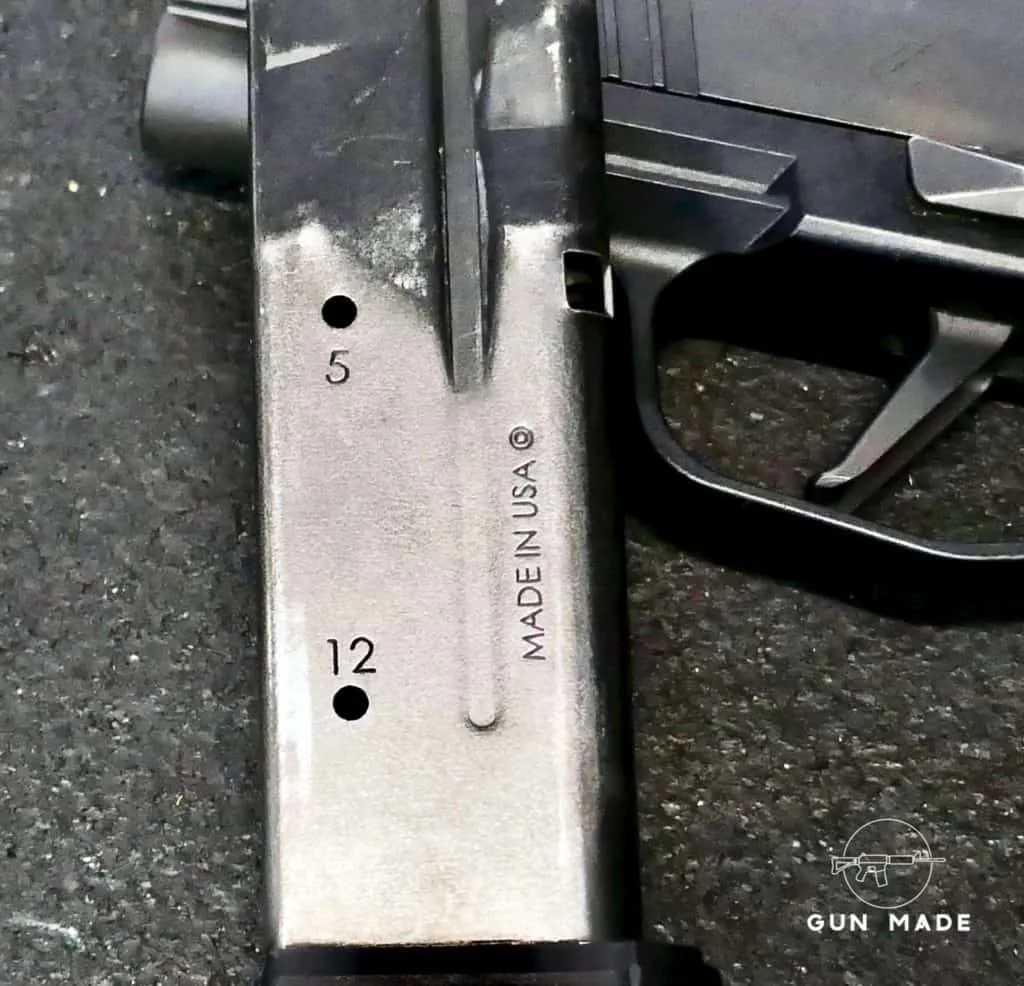 The 12-round magazines are easy to load and fit flush with the bottom of the grip. The 12+1 capacity offers a lot of firepower in a very concealable package.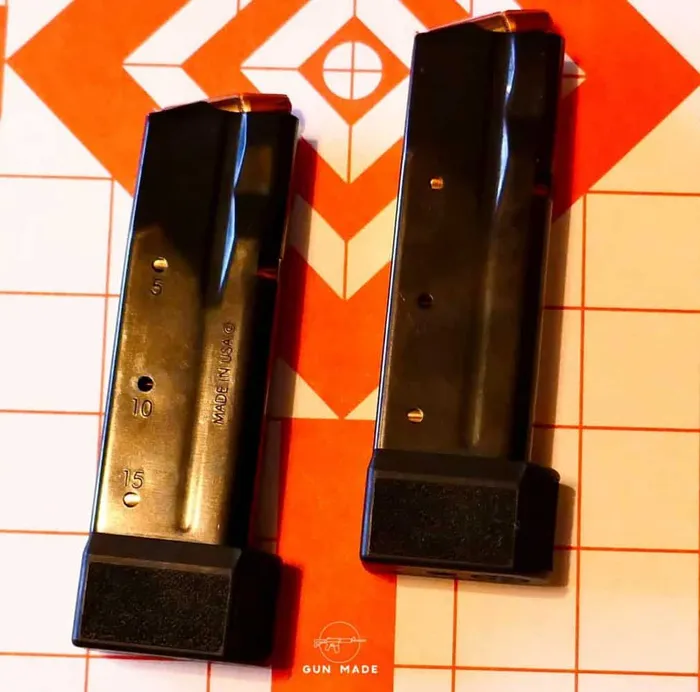 For those who favor full-size gun capacity, extended magazines holding 15 rounds are available as an option. While adding a bit to the length of the grip, the gun is still very concealable and gives you the same capacity as a Glock 19.
The magazine release button sits on the left side of the gun just below and behind the trigger guard. Its triangular shape blends nicely with the lines of the grip and undercut trigger guard. It's also easy to hit to release the magazines. All of the magazines I tried dropped freely either from slide lock or with the slide-in battery, and the magazine still had several rounds loaded.
Slide
The P365XL's slide is stainless steel and Nitron finished in a flat black.
Both the rear and the front of the slide have serrations. This helps aid in gripping the gun while chambering a round or doing a press-check. The serrations are angled slightly back, and there are six grooves front and back to provide plenty of purchase on the gun.
The ejection port is flared to the rear to aid in fully ejecting the empty cases after the external extractor yanks them from the chamber.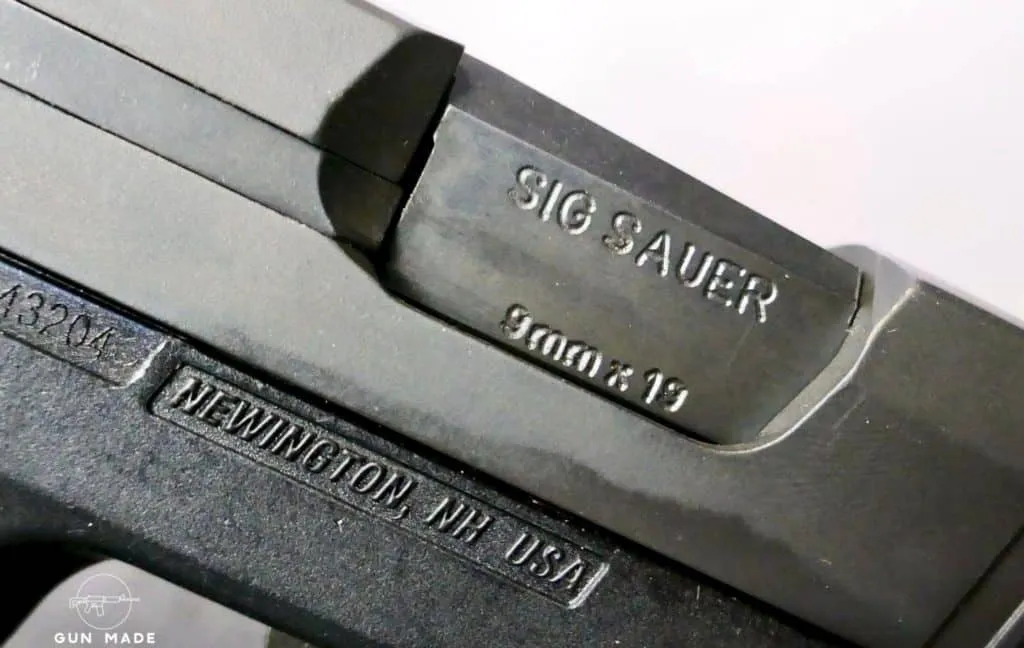 As mentioned earlier, the slide is cut for a red-dot optic and has a plate with the rear sight installed for use with the excellent X-Ray3 sights that come standard on the gun.
On The Range
While I'm no Bullseye shooter, I can generally hold my own with iron-sighted handguns. The limitation, of course, is how well do your eyes allow you to see the sights and maintain an acceptable sight picture? As I age, my ability to see the front sight with absolute focus is getting worse. Still, shooting accurately at defensive distances is possible with a proper grip and good trigger discipline.
I tend to start each shooting session at 3 yards – just like I encourage students in my Basic Handgun course to do. This allows for initial success and can also point out flaws in technique, especially trigger press and follow-through.
The first rounds downrange landed four shots in one hole and a couple of shots a bit higher.
At 5 yards, seven shots are still fairly well grouped but opened up a bit. I also picked up the pace to where I was shooting at about one shot per second. Not USPSA-fast, but not shooting like a Bullseye competition either.
At 7 yards, the gun shot similar to the 5-yard distance. Not all in one hole, but still, plenty effective grouping for defensive purposes.
10 yards out, I ran two 5-round groups and was plenty pleased with my efforts. The group was about 4", so again, plenty accurate for self-defense.
Then I moved the target out to the 25-yard marker. Again, two 5-round groups just to see what I could with the small gun. I pulled my shots consistently left with a bit of vertical stringing. However, all those shots with one exception would be A-zone hits on a USPSA silhouette target. I am good with that.
Finally, I pulled the target back to 5 yards and ran five more rounds at a pretty rapid pace. I shot a little low, but again a perfectly acceptable group at that range.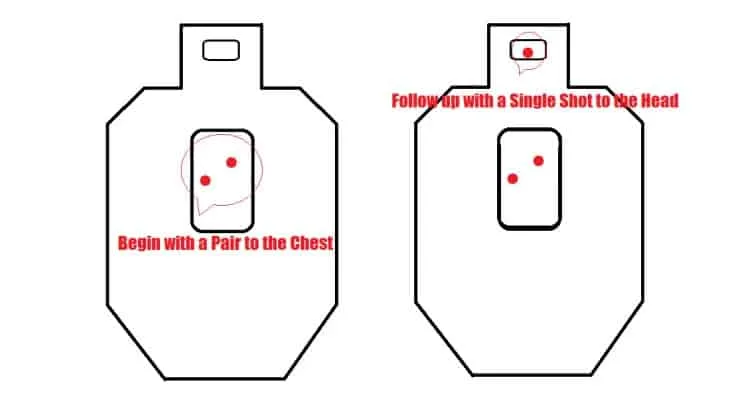 To finish my shooting session, I hung a USPSA cardboard target and ran four Failure to Stop (Mozambique) Drills at 5 yards. For those unfamiliar, the Failure to Stop drill is two rounds to center mass (A-Zone) and then 1 round to the head box. The drill was done from high, compressed ready. All shots were A-zone hits, and I made all the headshots as well. 
This is a drill generally shot in about two to two and half seconds, and I had no trouble driving the gun at that speed to make those shots.
During my short time with the gun, I had no failures of any kind. The gun I was shooting is part of the rental fleet at The Range LLC and one of the most rented guns on the range. As such, it probably has over 10,000 rounds through it at this time and is still running like a top.
Sig P365XL Pros and Cons
Pros
Optics Ready Proprietary Rail
Tritium Night Sights Magazine Price
Available 15-Round Magazines
Accurate
Reliable
Affordable
Cons
Proprietary Sig Rail – Not all accessories will fit without an adapter
Only ships with 2 magazines
Accessories 
After acquiring a new gun, many of us want to add our personal touch to make it work better for us. As such, there are many accessories worth considering when you get your new Sig P365XL home.
Optics 
Red dot sights are becoming standard accessories on defensive handguns.  The P365XL slide is ready to mount the Sig Sauer Romeo Zero or the RMSc.  A red dot allows you to pick up the sight very quickly and is offers a big advantage in low-light scenarios.
Lights
Having a weapon-mounted light can also come in handy. The P365XL has a proprietary rail, so options are somewhat limited.  The weapon lights listed below will all fit with no modifications.
Holsters
Comfortable carrying your gun can be a challenge.  Finding the right holster that provides all-day comfort, as well as accessibility and concealability, is crucial.  The holsters below are a good place to start your quest.
Alternatives
As good as the Sig P365XL is, maybe you are looking for something just a little different.  Now is a great time to be a shooting sports enthusiast because there have never been more great options to choose from.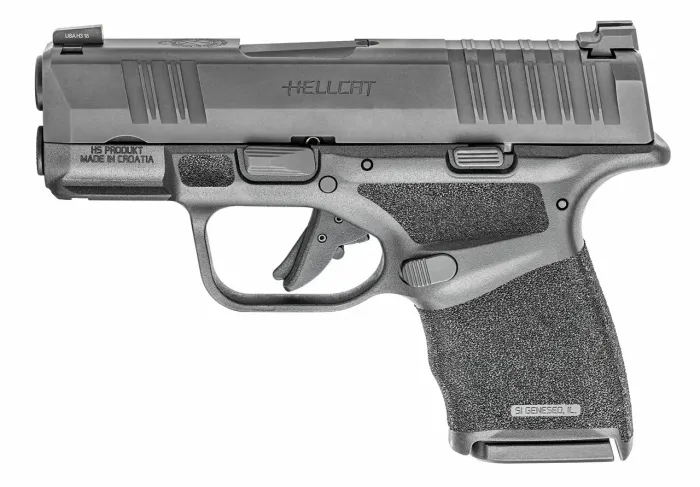 The Hellcat hit the market soon after the Sig P365 and still offers a top-contender spot for a sub-compact pistol with higher than normal magazine capacity.
For more information, check out our Springfield Hellcat review.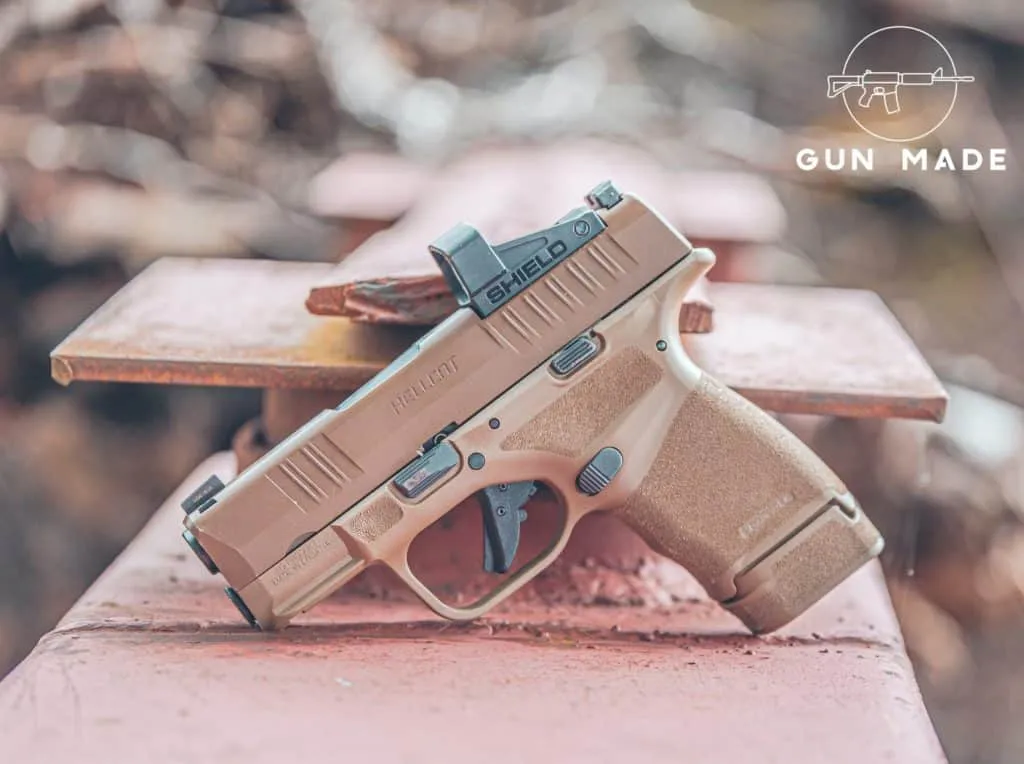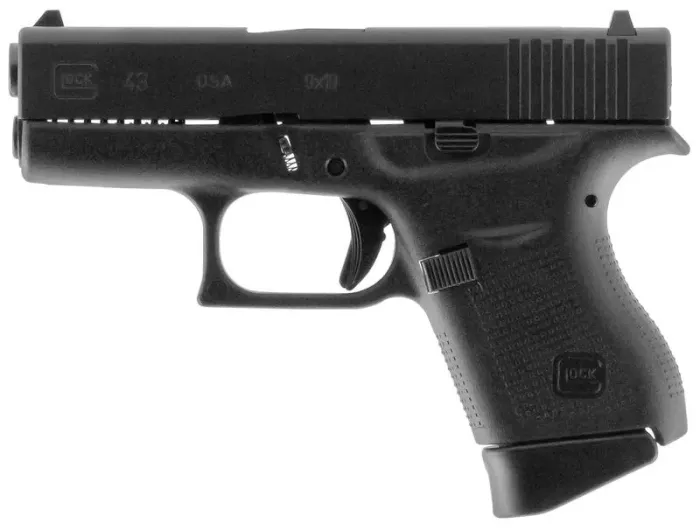 The Glock 43 is a great gun that comes standard with 10-round magazines and offers Glock reliability and simplicity to those already familiar with the platform.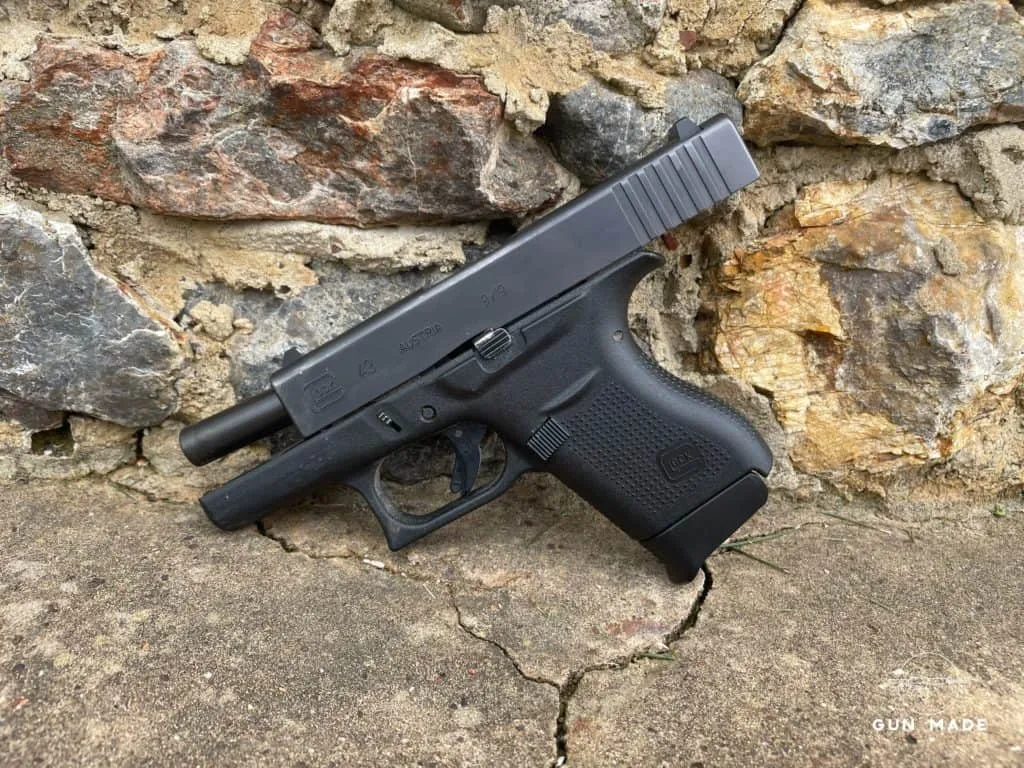 Check out our Glock 43 review here.
Final Thoughts
The Sig P365XL offers a lot of gun in a compact, concealable package.  With the Sig's legendary reliability and accuracy, the armed citizen will be well served for many years with this gun.
While it is not built for competition or longer ranges, it is very capable as an EDC gun and would be right at home running stages at an IDPA match.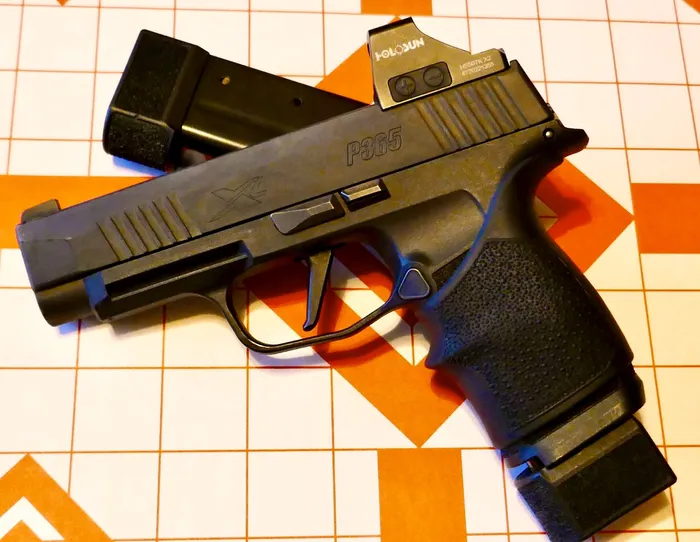 My wife has been carrying a P365XL daily for over a year and gets range time just about every week with the little gun.  She has had no issues with function and occasionally will run the gun in our local indoor USPSA-style matches just to keep boys running race guns on their toes.  The gun I tested is a rental fleet gun at our range and has had 1000's of rounds fired through it with no problems.  To say the guns are reliable is an understatement.
If you're in the market for an accurate and reliable carry gun, consider trying the Sig P365XL.
Explore more