SIG P365 vs. Springfield Armory Hellcat: Compact 9mm Battle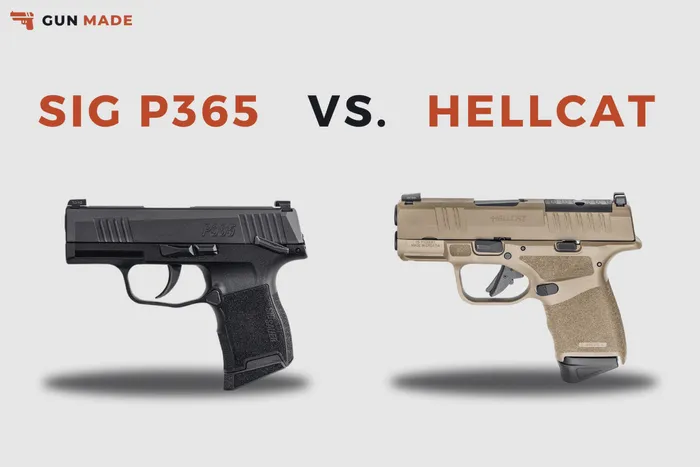 SIG P365 vs. Springfield Armory Hellcat: Compact 9mm Battle
Introduction
Are you in the market for a compact 9mm? If so, you've probably heard of both the SIG Sauer P365 and the Springfield Hellcat. But which one is better? In this article, we'll take a deep dive into both guns, comparing their specs, pros, cons, and more.
We had the pleasure of testing out both the SIG P365 and the Springfield Hellcat, putting them through their paces and seeing which one reigns supreme.
SIG P365 vs. Springfield Hellcat; which one is right for you? Let's find out in our detailed comparisons below.
Overview of the Sig P365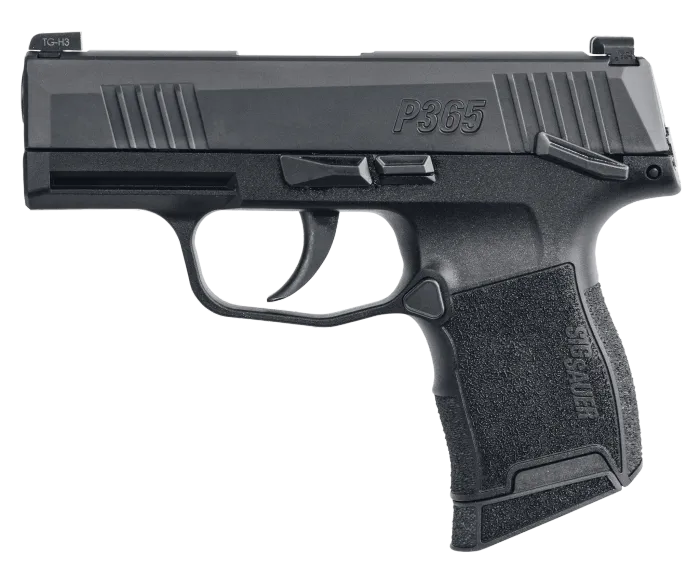 SIG P365 Information
To begin our comparison of the SIG P365 vs. Hellcat, we'll start with Sig Sauer and discuss its key attributes. The SIG P365 is a compact, lightweight 9mm pistol that packs a punch. It's highly regarded by experts and gun owners alike for its superior ergonomics, advanced features, and reliable performance.
Thanks to the frame's ergonomic design, it is comfortable to hold in hand, while the ambidextrous magazine release allows for easy reloading.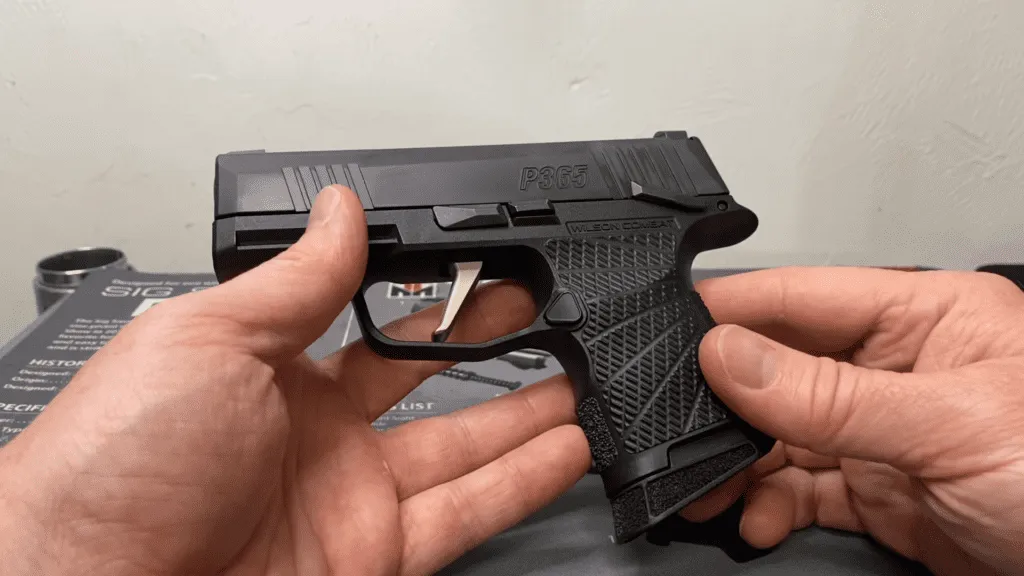 The addition of XRAY3 day/night sights is another big plus, as they ensure an accurate line of your target in low-light conditions.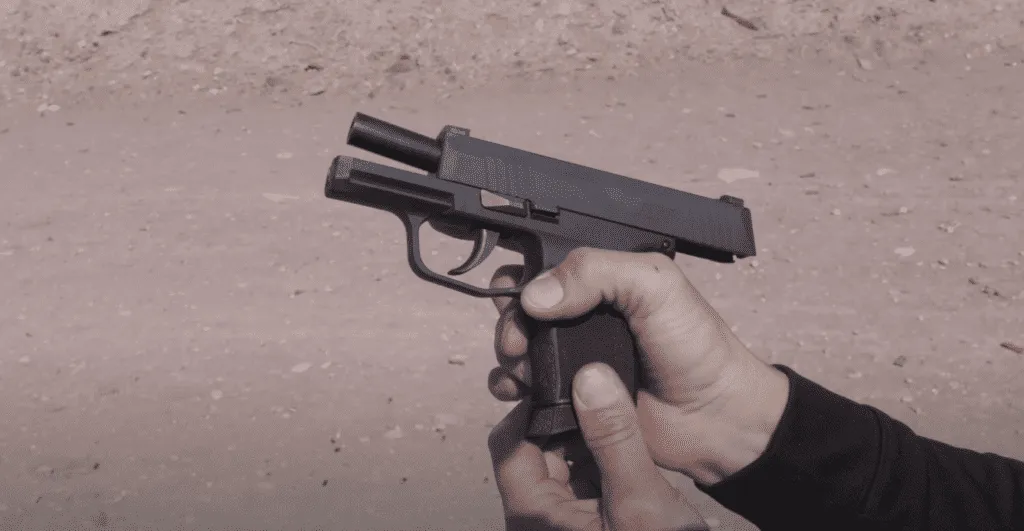 Sig Sauer also makes a P365XL model, which has a longer slide and barrel, making it better suited for competition shooting. This variant is also equipped with a larger grip and magazine (12+1). If you're looking for a higher round count, the P365XL also offers an extended mag of 15+1.
Check out our Sig Sauer P365XL review for more info.
There's even a version of the P365 that boasts 17+1 rounds—the X-Macro. So whether you're looking for an EDC (everyday carry) gun or something that you can use in a competition setting, Sig Sauer has you covered with its P365 line of pistols. We put together a Sig Sauer P365 X-Macro review as well.
Overview of the Springfield Hellcat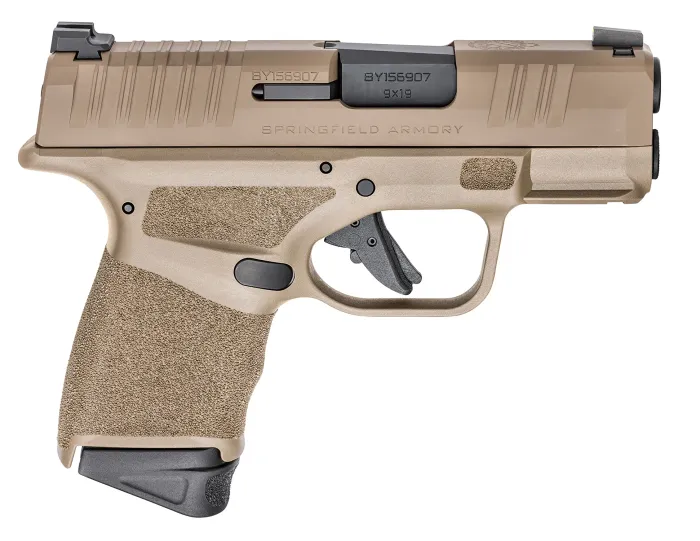 Hellcat Information
Springfield's Hellcat is another compact 9mm pistol that has gained a lot of popularity in recent years. It features an impressive 11+1 round capacity and adaptive grip texture, which helps keep the gun securely in your hand.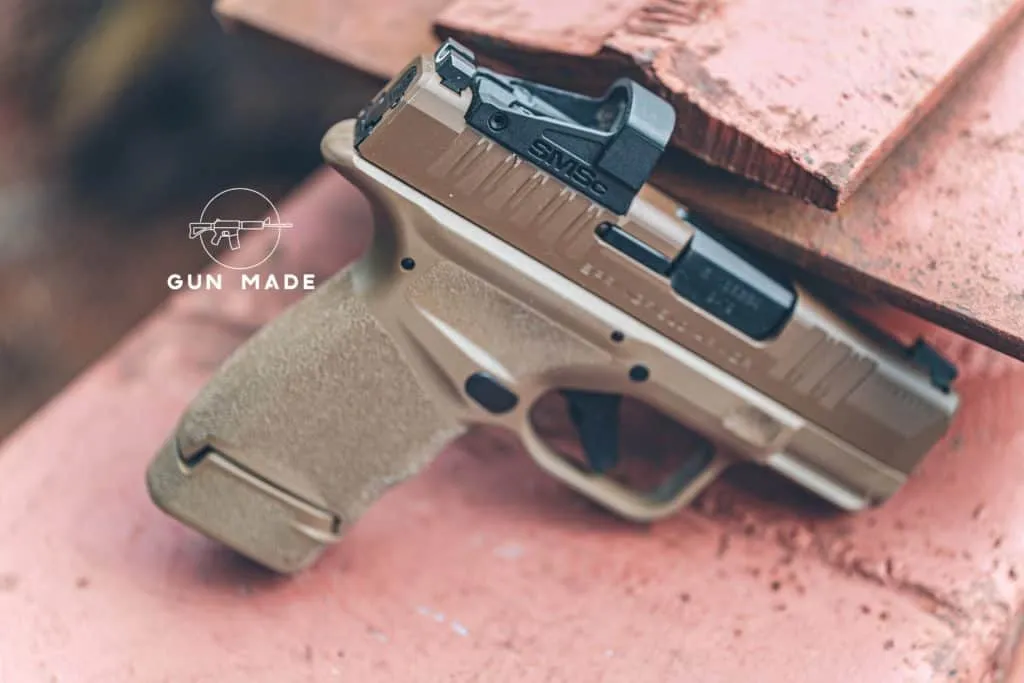 The Hellcat also features a high-visibility fiber optic front sight and a U-shaped rear sight notch. Both sights are designed to help you acquire your target quickly and accurately.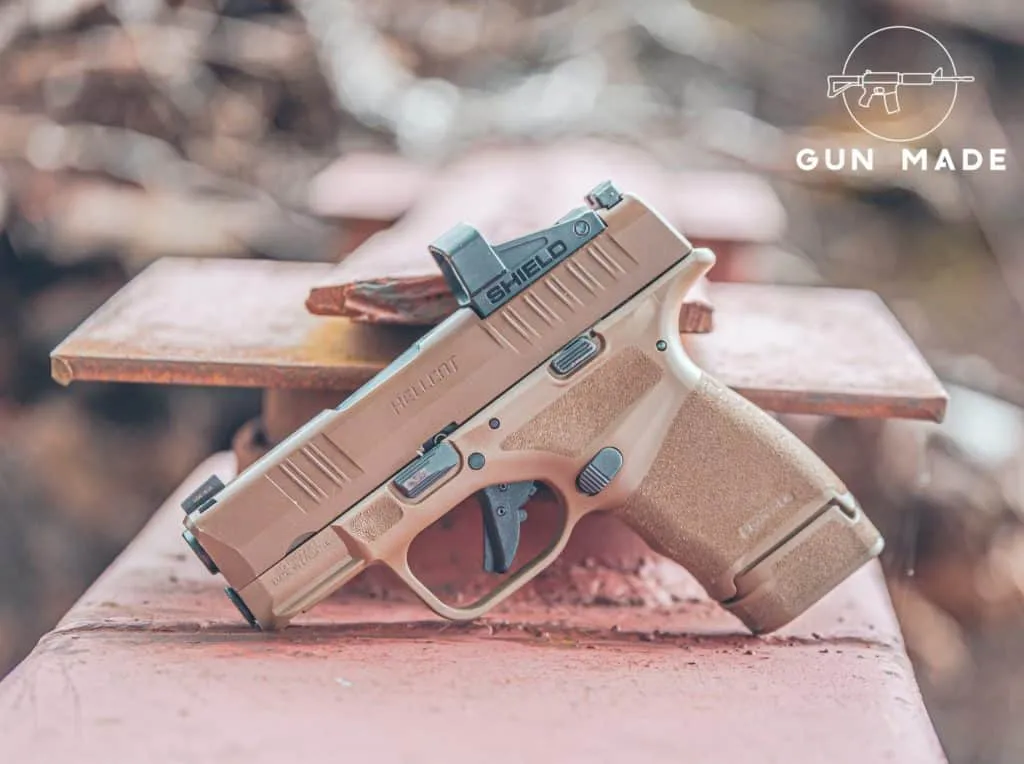 When it comes to performance, the Hellcat's reliability is top-notch, making it a great choice for home defense and concealed carry. Users are sure to appreciate its smooth and snag-free operation.
Springfield manufactures a variant of the Hellcat called the Hellcat Pro, which is equipped with an extended mag well and a 15+1 round capacity. It's a slightly larger pistol but still incredibly compact for its class.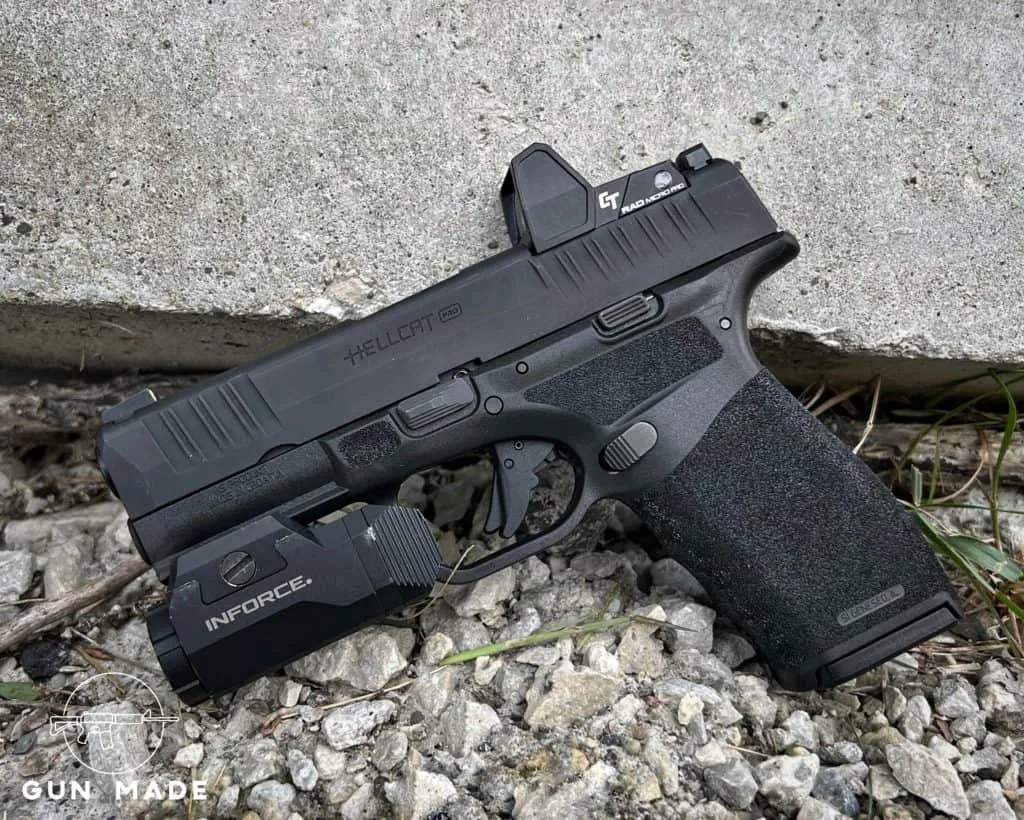 Both the Hellcat and the Hellcat Pro offer shooters excellent balance, ergonomics, and accuracy in a compact package.
We put together two separate reviews of the Hellcat and Hellcat Pro if you want more info on either.
Specification Chart for SIG P365 and Hellcat
| | | |
| --- | --- | --- |
| Specifications/Model | SIG P365 | Hellcat |
| Capacity | 10+1 (12+1) | 11+1 (13+1) |
| Weight | 17.8 ounces | 18.3 ounces |
| Height | 4.3 inches | 4.12 inches |
| Length | 5.8 inches | 6 inches |
| Width | 1 inch | 1 inch |
| Barrel | 3.1 inches | 3 inches |
Key Differences Between SIG P365 and Hellcat
You want to make sure you're investing in the most suitable gun for your needs, and so do we. To help you better determine the right fit, let's pit the SIG P365 vs. Hellcat against one another to see their key differences.
Weight
If you're looking for a solid, heavier gun, then the Hellcat is your ideal choice.
Weighing in at 18.3 ounces, it's just slightly more than the SIG P365, which comes in at 17.8 ounces. The weight difference may be minimal, but it makes all the difference when it comes to selecting a firearm that can handle some extra ruggedness and strength.
Height
Those seeking a larger grip and more of an impactful shooting experience will find that the SIG P365 is the better option, towering over its competition at 4.3 inches tall compared to the Hellcat's measly 4.12-inch stature.
Length
The SIG P365 is 5.8 inches in length, and the Hellcat 6 inches, giving the latter a longer slide. This may prove more pleasant to handle while shooting for some users.
That said, the SIG P365 appeals to many shooters thanks to its smaller size and overall easier-to-deploy shooting experience.
Width
Both guns are roughly the same width (1 inch), so this isn't something that sets them apart. Technically, the Hellcat measures .88 inches, while the P365 is ever so slightly over 1 inch at 1.02 inches.
This difference does little to affect the overall feel of either gun, but it is worth noting for comparison's sake. We like how the SIG P365 feels in your hand despite its small size.
And yet, we're also quite fond of the robust nature and thicker grip of the Hellcat. Based on your hand size and preference, you should be able to determine which one is the better fit for you.
Barrel
The SIG P365 has a 3.1-inch barrel, while the Hellcat has a 3-inch barrel. As such, the guns have slightly different shooting characteristics and muzzle velocities, but both are still accurate and highly capable firearms.
Capacity
One of the most significant differences between the SIG P365 and the Springfield Hellcat is their capacity.
The SIG P365 has a capacity of 10+1 (or 12+1 with an extended magazine), while the Springfield Hellcat has a capacity of 11+1 (or 13+1 with an extended magazine). While the difference may seem small, it can make a big difference in a self-defense situation.
Ergonomics
Another key difference between the two guns is their ergonomics. The SIG P365 has a slightly larger grip, which some people may find more comfortable to hold. The Springfield Hellcat, on the other hand, has a slightly smaller grip, which some people may find easier to conceal.
Sights
The sights on the two guns are also slightly different. The SIG P365 has a standard three-dot sight, while the Springfield Hellcat has a U-shaped rear sight that makes it easier to acquire your target quickly.
Trigger
The trigger on the SIG P365 is a smooth, short-reset striker-fired trigger that provides a pleasant and consistent pull every time. The Hellcat, on the other hand, has more of a "gritty" trigger feel and requires slightly more effort to break the shot.
Both triggers are suitable for defensive purposes, but the SIG P365 undoubtedly has the edge in terms of accuracy and consistency.
Price
The price is another key difference between the two guns. The SIG P365 is generally more expensive than the Springfield Hellcat, although the price difference may vary depending on where you're buying them from.
Moreover, the price difference is negligible, so you shouldn't have to worry about paying significantly more for the P365.
It's clear that both the SIG P365 and the Hellcat have their own unique advantages. Whether you're looking for a smaller frame with fewer rounds or a heavier firearm with more firepower, there's a gun for you. Ultimately, the choice is yours—so make sure you select what suits your needs and preferences best.
SIG P365 Pros & Cons
Pros
Superior accuracy for on-target shooting

Comfortable but precise trigger pull

Compact and easy to handle
Cons
Some users may find it too small

Limited capacity compared to other guns
Hellcat Pros & Cons
Pros
Lightweight and compact design

Accurate and easy to shoot

High capacity for its size
Cons
May be too small for some people

No grip safety present
Other Alternatives to Consider
If you're looking for other compact 9mm pistols to consider, there are a few other options on the market that are worth considering.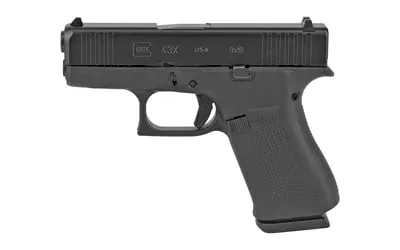 The Glock 43X is a discreet and dependable 9mm pistol that is perfect for concealed carry. It boasts an impressive 10+1 capacity with unparalleled accuracy, making it one of the most reliable small pistols on the market today.
We're fans of the Glock 43X's sleek, slim design and its lightweight—coming in at just 16.5 ounces. Glock's signature "safe action system" also does a great job of minimizing the chances of an accidental discharge.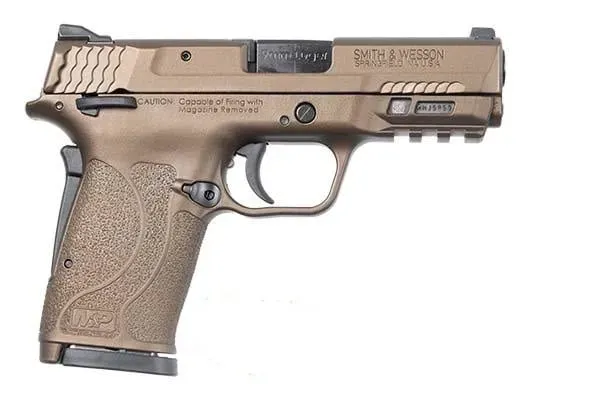 Smith & Wesson's Shield is another popular contender in the compact 9mm arena. With a 7+1 capacity and a weight of 19 ounces, the Shield is a great choice for those looking for an all-around lightweight package with plenty of firepower.
The Shield also has an easy-to-use thumb safety, as well as a crisp trigger pull with minimal travel. This makes for a smooth and accurate shooting experience.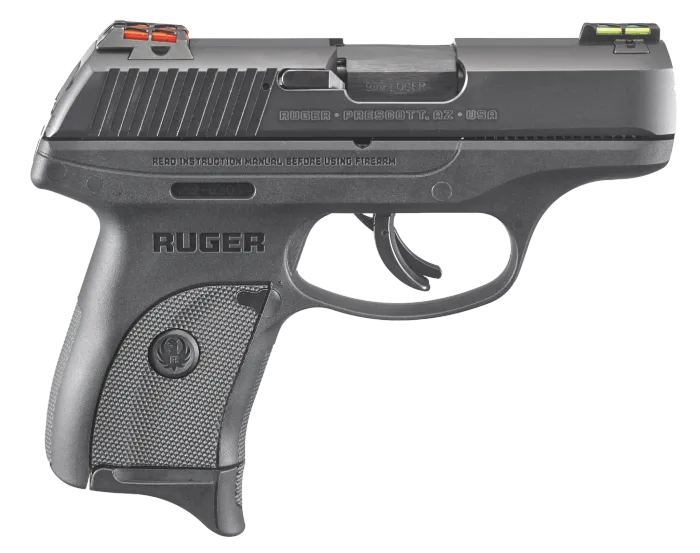 The Ruger LC9s is a phenomenal 9mm pistol designed especially for concealed carry. It's renowned for its precision and dependability, plus it can hold up to 7+1 rounds of ammunition. If you're looking for a reliable weapon that packs the firepower needed in close-quarters situations, this is definitely one to consider.
Ultimately, the decision on which compact 9mm pistol to choose will depend on your personal preferences and needs. Be sure to try out a few different guns before making your final decision.
Tips for Choosing the Right Pistol
No matter which gun you decide on, make sure to do your research and handling test before committing to a purchase. It's also important to get a feel for the gun's recoil and accuracy, especially if you plan on using it in competition or defensive scenarios.
If possible, it's always advisable to test-fire a few models to get a better idea of which one is best suited for your needs and preferences.
You never know how you're going to react to a particular gun until you actually shoot it, so don't rush the process.
In general, it's best to go with a gun that you're comfortable with and offers optimal performance. Just because a firearm looks cool or is popular doesn't mean it's the right gun for you.
The key is to find a gun that you can trust, as well as one that fits your budget and lifestyle. Don't settle for the first gun you come across or read about. Diligently put in the time and effort to make an informed decision.
By utilizing our comparison of the SIG P365 vs Hellcat, you should now have a better idea of which compact 9mm pistol reigns supreme. Whichever one you choose, make sure to do your research and practice regularly for optimal performance.
FAQs
Can you dry fire a Hellcat?
Yes, you can safely dry-fire the Hellcat. This is a great way to practice your trigger pull and accuracy without wasting ammunition.
Just keep in mind that continual dry-firing can wear down your firing pin, so be sure to take breaks.
Do police use the Sig P365?
Yes, the Sig P365 is popularly used by law enforcement and militaries around the world. It's reliable, accurate, and concealable, making it an ideal choice for those who need to carry a firearm on duty.
Is P365 fun to shoot?
Definitely! The Sig P365 is a great gun for target shooting, as well as defensive purposes. It has a smooth trigger pull and minimal recoil, making it a pleasure to shoot. Plus, its lightweight frame makes for comfortable shooting all day long.
Conclusion
Both the SIG P365 and the Springfield Hellcat have their own advantages and disadvantages. The SIG P365 is the clear winner in terms of trigger, accuracy, and capacity, while the Hellcat offers a larger frame and more rounds.
So shooters who prefer a more reliable handgun with greater accuracy should opt for the SIG P365, while those who need more firepower and a larger frame will likely prefer the Hellcat.
No matter which one you invest in, either pistol is sure to provide you with a reliable and accurate shooting experience.
Explore more