Smith And Wesson CSX Review: Micro Compact Trick Up The Sleeve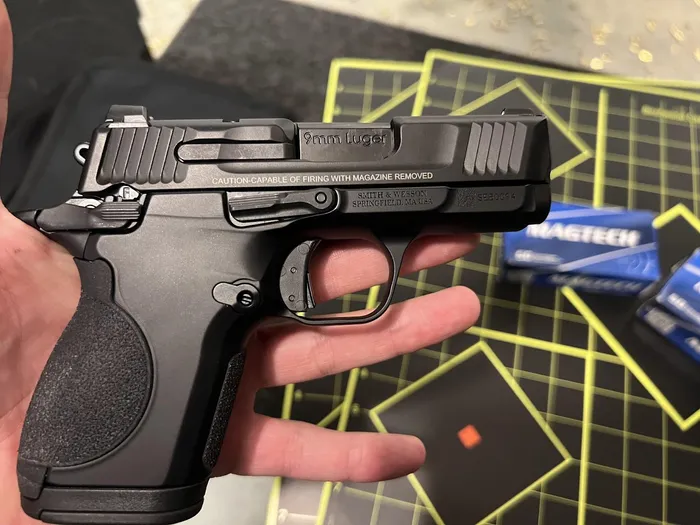 Smith And Wesson CSX Review: Micro Compact Trick Up The Sleeve
Introduction
I ran to the range to do this Smith and Wesson CSX review earlier today, and while I was on my way, I have to admit that I was not all that excited. I'll explain why.
To be honest with you, I can't stand micro-compact pistols in any fashion. I don't believe in sacrificing size and shootability for concealability and comfort. That's just me. Those of you with larger hands may understand where I'm coming from.
I got to the range, rented the CSX from behind the counter, and made my way to the lanes. Luckily, it wasn't packed. I almost had the whole place to myself.
I took the CSX out from the nylon carrying case and took a fine look.
Aluminum alloy frame, that's nice. Ambidextrous controls? Oh, okay, I like what I'm seeing.
I loaded 11 rounds of Magtech 115 grain and got to work.
I gotta say, I'm surprised.
Let's get into it.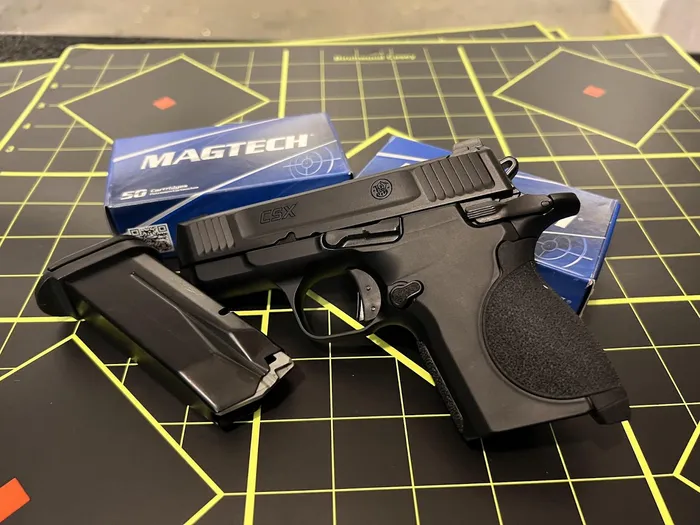 Smith and Wesson CSX Review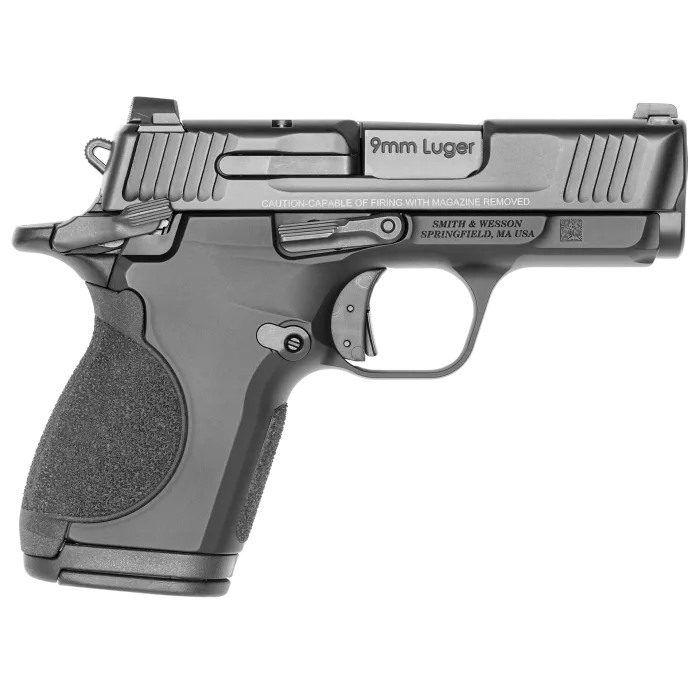 The Smith and Wesson CSX is a new addition to the micro-compact world. For those of you with smaller hands or just want something to carry that won't dig into your no-no square.
It's a single-action, double-stack, hammer-fired little thing that holds 12 in the magazine plus one in the chamber. Pretty neat for a pistol of its size. It also features an ambidextrous slide release and safety.
An extra slide release comes in the box, so you can add that and make it fully ambidextrous. The one I fired came with a left-side magazine release.
As I said before, the CSX is catered to shooters who need a concealed carry that won't tell the world, "Hey, I got a gun!" but still want something that holds a fair amount of ammo for its size. And if you like hammer-fired pistols, this one is for you.
If you're a fan of the 1911, you may feel right at home with the CSX as well.
But if you want something optics-ready or with a rail for a light or laser, then you may want to pass on this pistol. With the CSX, all you get is the standard three-dot sights that Smith and Wesson are known for.
Not to worry, it's accurate. Well, as accurate as you are.
If those things turn you off, then you should consider a Sig Sauer P365 that's optics-ready and about the same size as the CSX.
Specifications
| | |
| --- | --- |
| Caliber | 9mm |
| Magazine Capacity | 10 and 12 Round Magazines (included) |
| Overall Length | 6.1 Inches |
| Barrel Length | 3.1 Inches |
| Weight | 1.2 Pounds |
| Action | Single |
| Sights | White Dot |
| Safety | Thumb and Trigger |
| Ambidextrous | Safety and Slide Release |
Pros & Cons
Pros
Ambidextrous features

Ears on the slide for easy racking (like Shield EZ)

Great magazine capacity 

Surprisingly accurate

Chamber window (see brass = loaded, no brass = not loaded)
Cons
Magazines are hard to seat

Magazine release is a bit rough

Snappy 

No optic cut

No picatinny rail

Trigger reset is confusing

Moving sleeve on 12-round magazine
On The Range Testing
As I mentioned before, I don't like micro compacts. I know that a firearm is a tool, and it is all up to the shooter, but it's just not my cup of tea.
So, my expectations were low. And what I mean by that is that I didn't expect to perform too well with this firearm. I couldn't hit a semi-truck from 20 yards with the Hellcat, and the CSX shares the same size dimensions as the Hellcat.
You know what happens when you assume, though.
Not only did I do pretty well, but I was able to get a full and comfortable grip on the CSX without the stinky pinky (pinky hanging off the grip.)
The magazine in the CSX I used for this test had the 12-round magazine in it. And loading up the magazines was a breeze, but I could have gone my whole shooting career without that sleeve that comes on the 12-round magazine.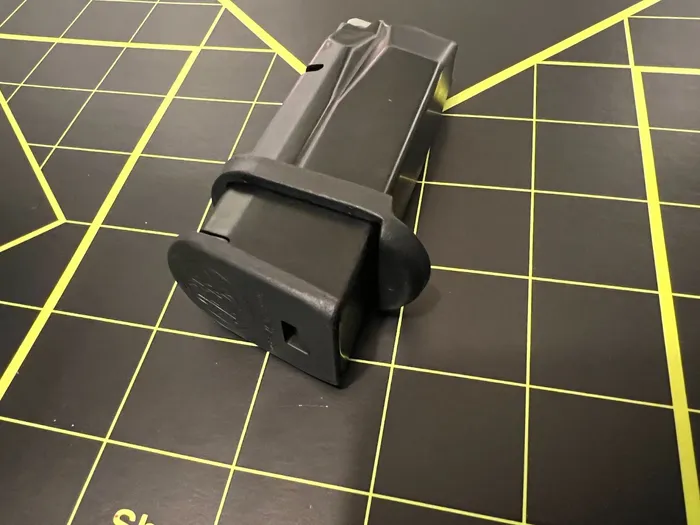 The sleeve on the magazine gives you a more flushed magazine and more surface area to get a grip. In my opinion, the sleeve should not be sliding up and down the magazine. It could easily fall off and get lost.
And the magazines are hard to seat when fully loaded with the slide forward, but they slide right in as if there's a slab of KY jelly on it when the slide is back. Not a big deal, but it makes me question if I'm going to cause any damage when slapping a mag in.
So I started blasting, you know, and I did way better than I expected. Being that the barrel on the CSX sits at 3.1 inches, this little thing is a bit snappy. But that's usually how all micro compacts are, so it wasn't a big deal.
The trigger is worth mentioning, and not in a good way. It's unpredictable. You know how you hear a click when the trigger resets? Well, you get that on the trigger of the CSX as well, but it won't let you pull it back unless you release it all the way.
Sometimes.
Other times, you can get it to fire. But that unpredictability changed my opinion on the CSX all too much.
Shooting a good grouping wasn't the hardest thing in the world, but I still wouldn't want to use this thing in a self-defense scenario where shot placement is paramount.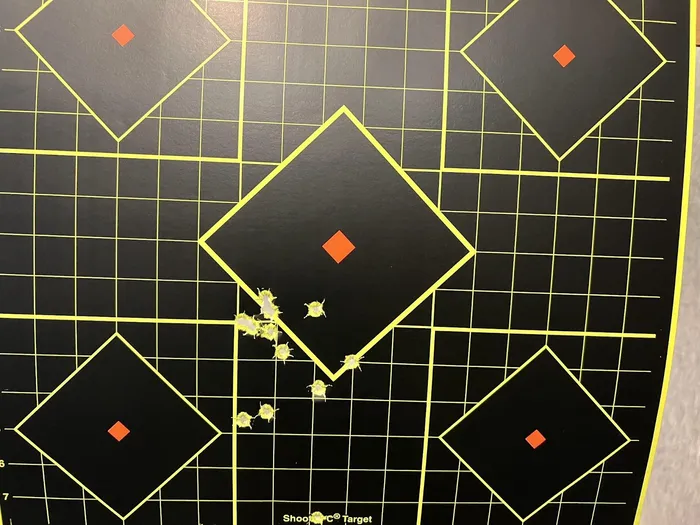 This was my initial grouping from my first magazine at 20 yards. I like to include these pictures instead of the later ones to show you how I did right out of the gate, kinda like a cold start. As you can see, I did terribly, but that's more my fault than the fault of the CSX.
All in all, I can't say I would recommend the CSX. The unpredictable trigger can be the difference between life and death in a self-defense scenario, and the lack of an optics cut does not tell me that this pistol is meant for self-defense.
Smith and Wesson is onto something with the CSX, so let's see what they roll out later on.
Reliability
I didn't have any issues with jamming in the 300 rounds that I put through the CSX, but the unpredictability of the trigger is what makes this pistol an expensive paperweight to me.
Sure, it'll go bang, but you never want to guess about the trigger. It should be smooth and reliable every single time. Maybe if S&W puts out an aftermarket trigger or upgrades it like Sig Sauer did with the P320, then we may have something.
Accuracy
Talking about accuracy is a tricky thing because every firearm on the market is accurate in the hands of the right shooter. When you put the CSX in the hands of someone as legendary as Hickok45, you see what I mean.
In my hands, not so much. So the CSX is just as accurate as the person shooting it.
Overall Feel
The CSX feels great in hand.
Usually, micro-compact pistols leave us, larger-handed individuals, with what I call a stinky pinky. When the grip is short, you can't get your pinky on it, which sucks, because you want to have as much skin on that gun as possible.
With the CSX, I was able to get my pinky on there with no issue. I would say that's due to the 12-round magazine, I didn't get to try the 10-round mag, but I'm sure that would be fine as well.
Features
Ambidextrous Mag Release and Safety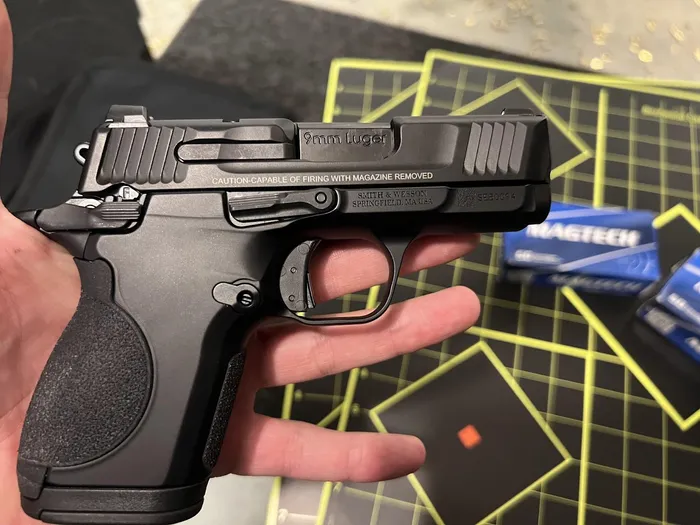 The CSX has two ambidextrous features out of the box. The slide release and the safety. And if you want to get extra frisky, there is an extra magazine release button, so you can also make that ambidextrous as well.
That's a W for the CSX in my book.
Chamber Window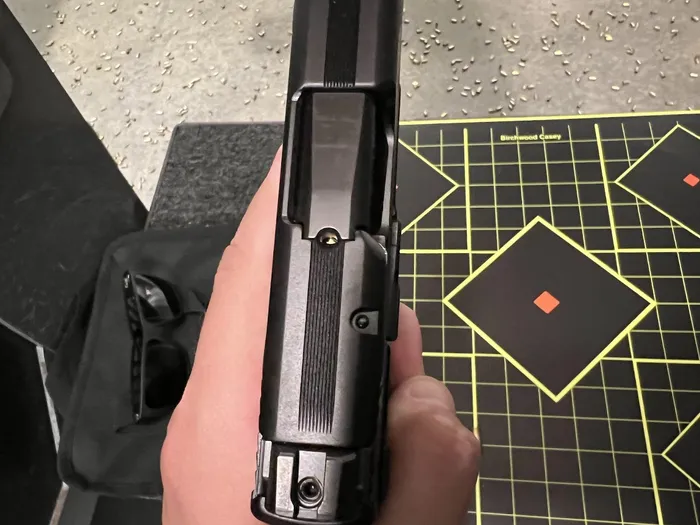 If you don't feel like using the front serrations that come on the CSX for press checks, you can always use the window on the slide that shows the inside of the chamber. It's Smith and Wesson's version of the loaded chamber indicator like you see on other pistols.
If it's dark, then you might have an issue. The slide is smooth, so doing press checks is actually fun. Made me feel tacticool.
Brass=Loaded, No Brass=Unloaded. Just make sure you double-check to be sure.
Three-Dot White Sights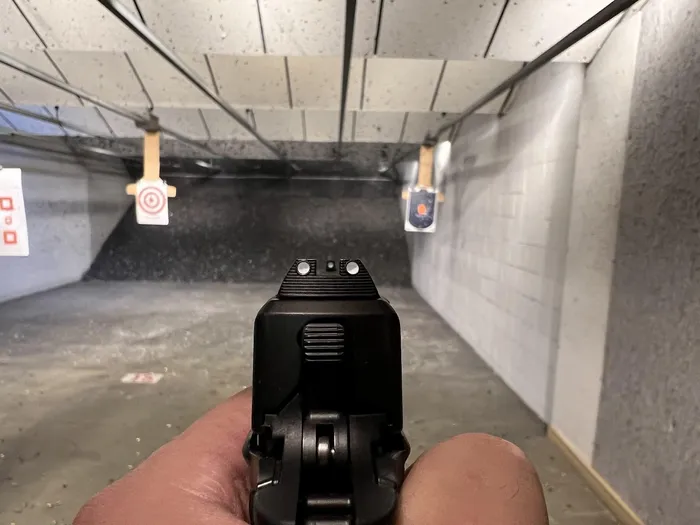 Even though I prefer a red dot on my firearms to mitigate any aiming issues on my part, I have to say that I do love the sights that come on the CSX. I was able to do some pretty good work with them.
Then again, I also loved the sights on the XD-40 that I reviewed a while back. Which also has the white dot sights.
How We Tested
I was fortunate enough to find this pistol for rent at my local gun store. So I strolled on over and got this pistol out on the range after a few minutes of filling out some liability paperwork and talking to the guy behind the counter about his thoughts on the CSX.
Yes, this is the same store I get most of my advice from. I love those guys. They gave the middle finger to the AG of Washington and took the heat for it in the name of freedom and the Second Amendment. Avid shooters and enthusiasts that know everything about the way of the gun.
After about an hour of talk, I took the pistol to lane two. And got to work with some normal self-defense drills (since that is what this pistol is intended for.)
Ammo Used
For this review, I used Magtech 115 grain FMJ that was sent to me by the good folks over at Natchez Shooting & Outdoors. They are supporters of the page and, overall, just a great group of individuals that love supplying the best goods for the task at hand.
I went through 300 rounds for this review, and I love the consistency of Magtech rounds. They use in-house components and have been serving the gun space for over 50 years, and are the biggest suppliers for NATO across the globe.
And it does just fine in my nines.
Score Card
Reliability (5/10)  
The gun will go boom when the hammer falls with no issue, but the trigger is unpredictable and can't be trusted.
Ergonomics (8/10)
The CSX feels wonderful in hand and leaves room for many touch points, especially for a micro-compact.
Customization (2/10)
No Picatinny rail or optics cut leaves very little for the CSX. But there are some grip options available.
Appearance (9/10)
In my opinion, I think the CSX is a very handsome piece. But it could be better.
Value (6/10)
For the price, I think there are many improvements that can be made. A better trigger and an optics cut, for starters.
Accessories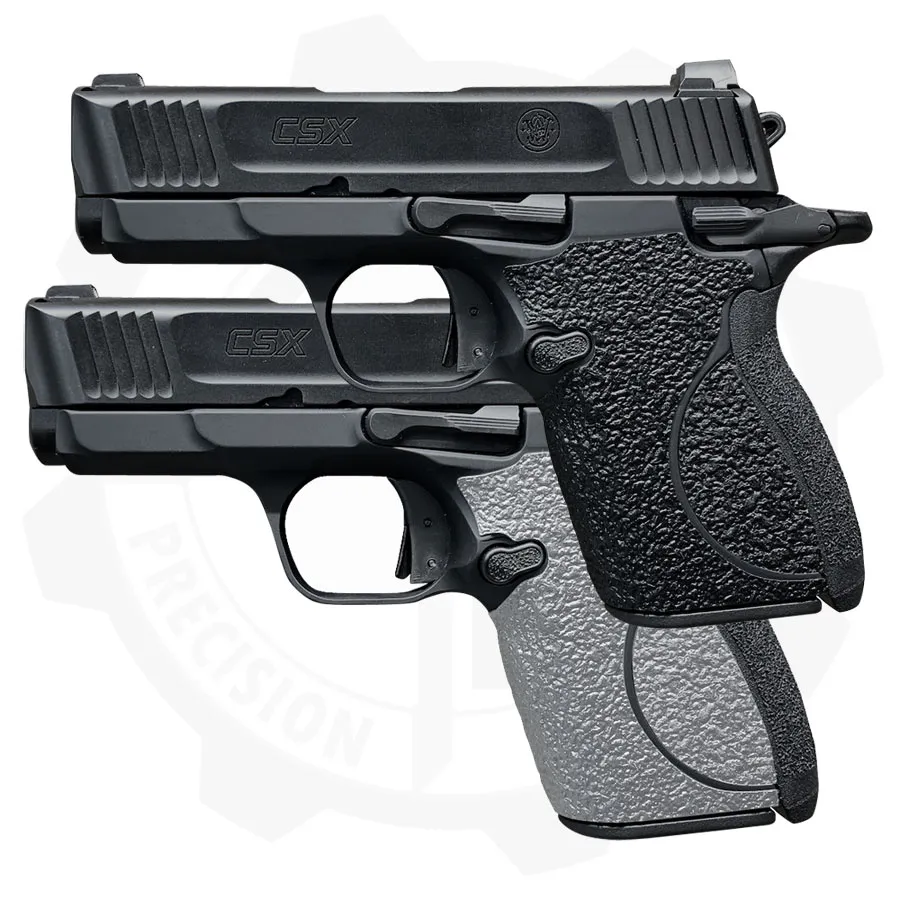 The CSX has small amounts of traction on the grip, and no one ever complained about having more grip on their gun. The Galloway Precision Traction Grip Overlays give you a full gripping surface which allows for better control over the firearm period.
And they offer free shipping on their overlays. Win-Win.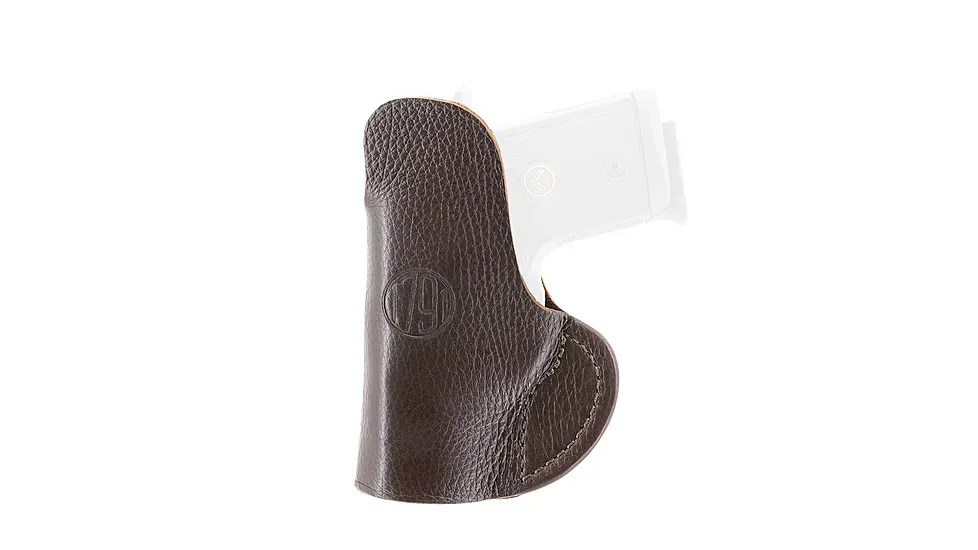 The CSX has a nostalgic look to it, kind of like a 1911 with ED. And the Deer Hide holster from 1791 completes the old-school look with a leather holster that will probably last longer than this firearm in your concealed carry rotation.
Who does love leather? Come on, seriously.
Alternatives
The P365 from Sig Sauer is one that you should consider if you want a micro-compact. It's optics ready, with a Picatinny rail, and has huge aftermarket support in case you find something you want to change.
As it stands, the P365 is the favorite micro-compact in the USA. It's highly reliable and gives you everything you would want in a carry pistol.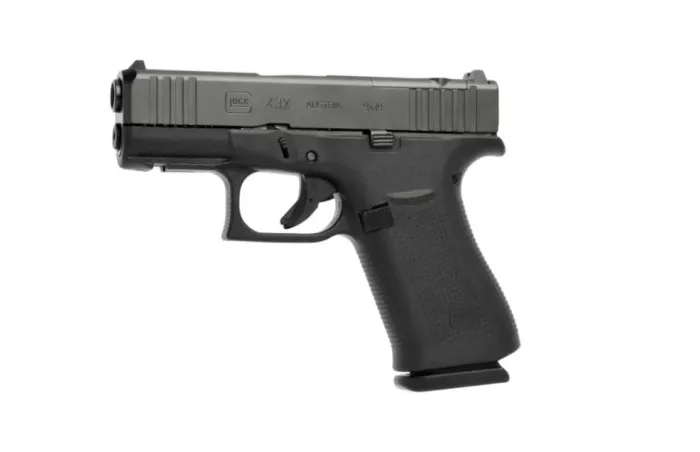 The Glock 43X MOS. The concealability of the Glock 43 with a Glock 19 grip module. What more can you ask for? It's a Glock; almost every beginner starts on a Glock.
The aftermarket support is larger than that of a 1996 Honda Civic and is just as reliable. I know some may say that the 10-round magazine capacity is too little for their liking, but as I said a second ago, the aftermarket support is huge.
And Shield Arms makes a 15-round magazine for the 43X, so all your fancies are tickled just fine.
And it's optics cut.
Check out our Glock 43X MOS review for more info.
Conclusion
Overall, the Smith & Wesson CSX is pretty promising, but I feel like Smith and Wesson has some work to do on this firearm before I can wholeheartedly recommend it to you for concealed carry. On the range, it does well, but in the streets, when dealing with multiple attackers, not so much.
I would recommend either a Glock 43X or Sig Sauer P365 Optics Ready in its place until S&W can work out the kinks and present it at the next SHOT Show. Hopefully.
What do you think? Anything I missed? Let me know in the comments. I will reply, I promise. Just be nice because I'm sensitive.
See you on the range, fine shooter.
Explore more