Springfield Armory SA-35 Review: A Modern Improvement to the Classic Hi-Power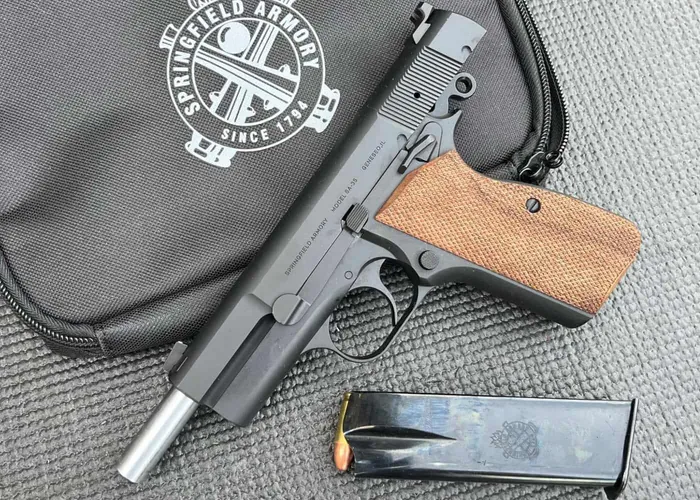 Springfield Armory SA-35 Review: A Modern Improvement to the Classic Hi-Power
Introduction
I'll be honest, I'm not one of those guys that collects or even really likes classic and historic firearms.
I appreciate their aesthetics, and how they paved the way for today's firearms, I enjoy shooting them occasionally, but I don't typically have the urge to pick any up for myself.
However, I've had a few shooting buddies obsessed with the old Browning Hi-Power, so when the Springfield Armory SA-35 came out, it was all I heard about for a while.
I was intrigued after hearing the positive feedback, to say the least. Taking that feedback into account and being a huge fan of the aesthetics of the SA-35, I was excited to get my hands on one.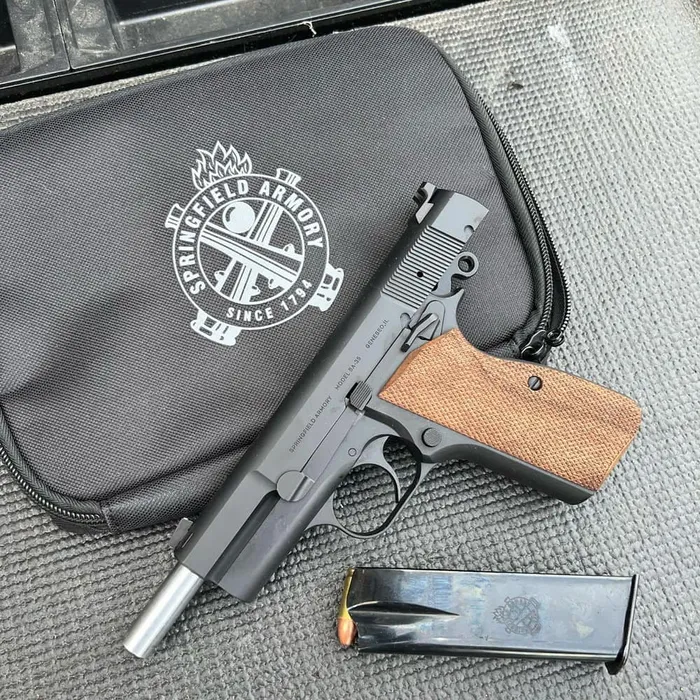 Springfield SA-35 Review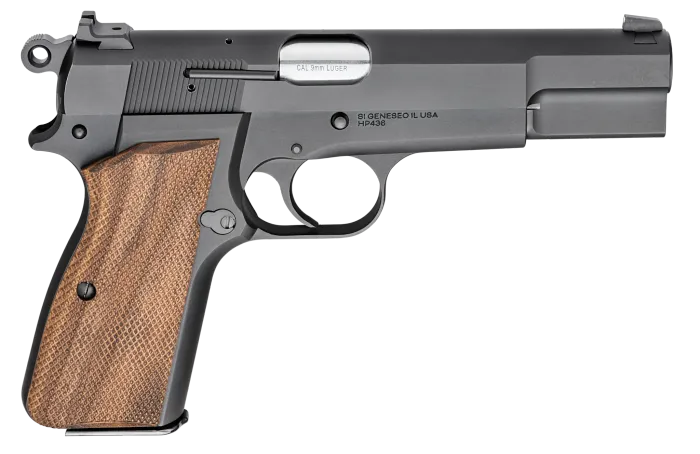 Specifications
| | |
| --- | --- |
| Caliber | 9mm |
| Capacity | 15+1 |
| Barrel | 4.7 Inch Cold Hammer Forged |
| Overall Length | 7.8 Inches |
| Height | 4.8 Inches |
| Weight | 31.5 Ounces |
| Sights | White Dot Front, Serrated Tactical Rear |
| Frame and Slide | Forged Carbon Steel, Blued |
Pros & Cons
Pros
Reliable and accurate

Great price point (often found between $700 and $800)

Improved controls

Made in the U.S.A.
Cons
Only comes with one magazine

Not optic-ready
Range Report
Accuracy
Let's just say I like it…I like it a lot!
The U-notch sights allow for easy target acquisition, and the consistent trigger pull allows for quick follow-up shots.
By the time I finished my first range session, which only consisted of about 100 rounds, I was easily maintaining couple-inch groupings out to 20 yards.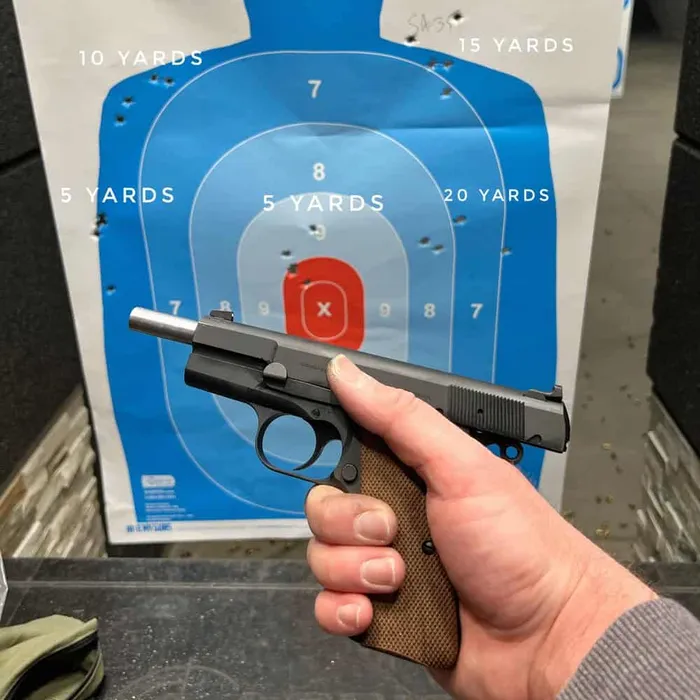 Reliability
Right off the bat, I had a couple of failures to eject and failures to feed.
It was strange, though, because they were only happening on the last couple of rounds per magazine. I wound up figuring out that the magazine follower was actually jammed sideways.
Once I flipped it upright, I had zero issues moving forward. So, given that the magazine seemed to be the culprit and not the gun, I'll still call the SA-35 very reliable!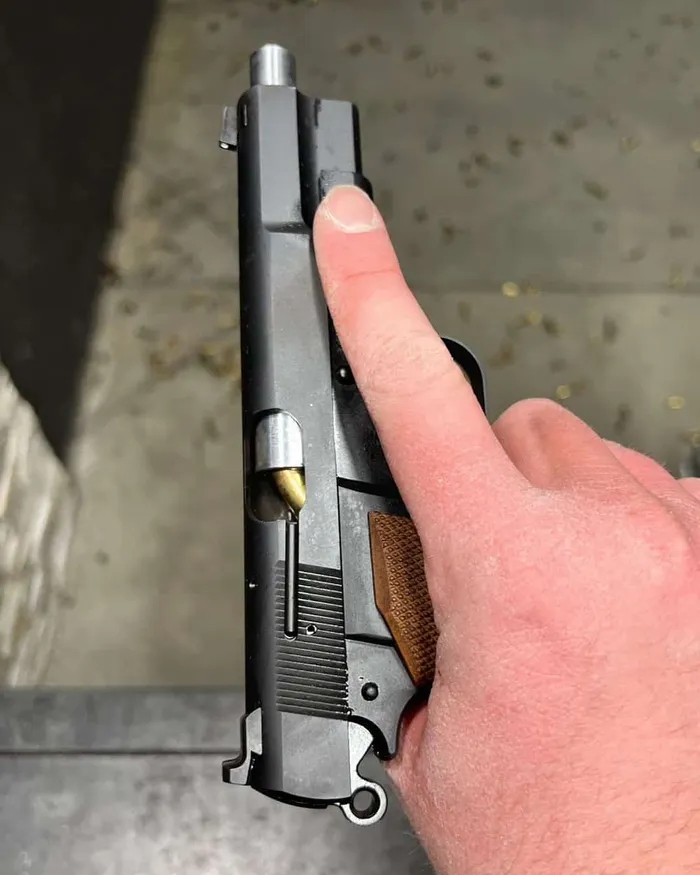 Overall Feel
The combination of the thin wood grips and the steel frame provides a great balance of textures. It's tough and sturdy, but the walnut grips give it a smooth feel and an eye-catching aesthetic.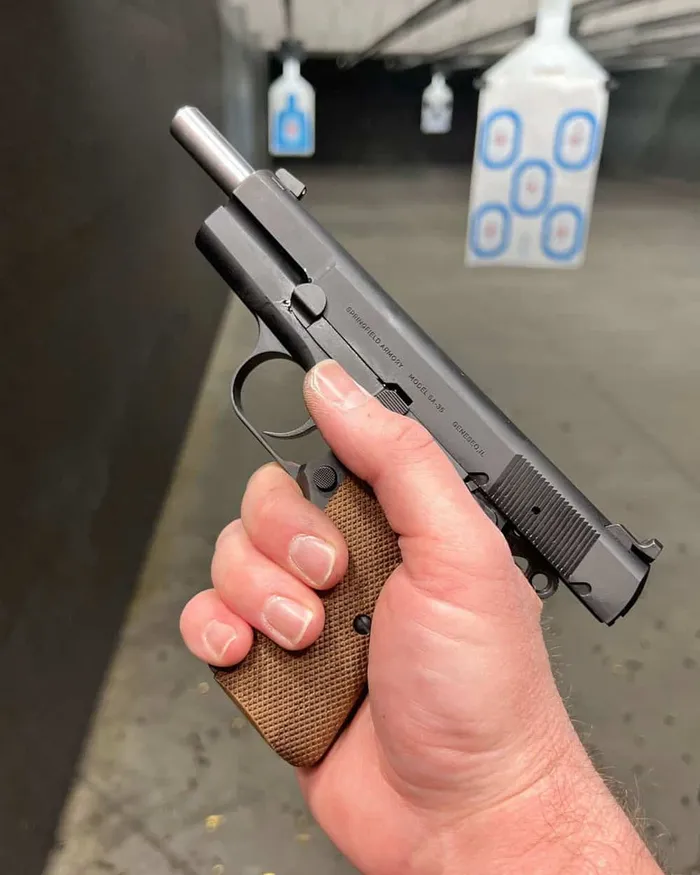 Features
Grip
I absolutely love the checkered walnut grips. They are rather thin but do not feel wimpy at all.
The checkered texturing does enhance the grip, but it's smooth and comfortable at the same time. I wouldn't actually go for these grips on most other guns, but on the SA-35, it simply works…and it works well!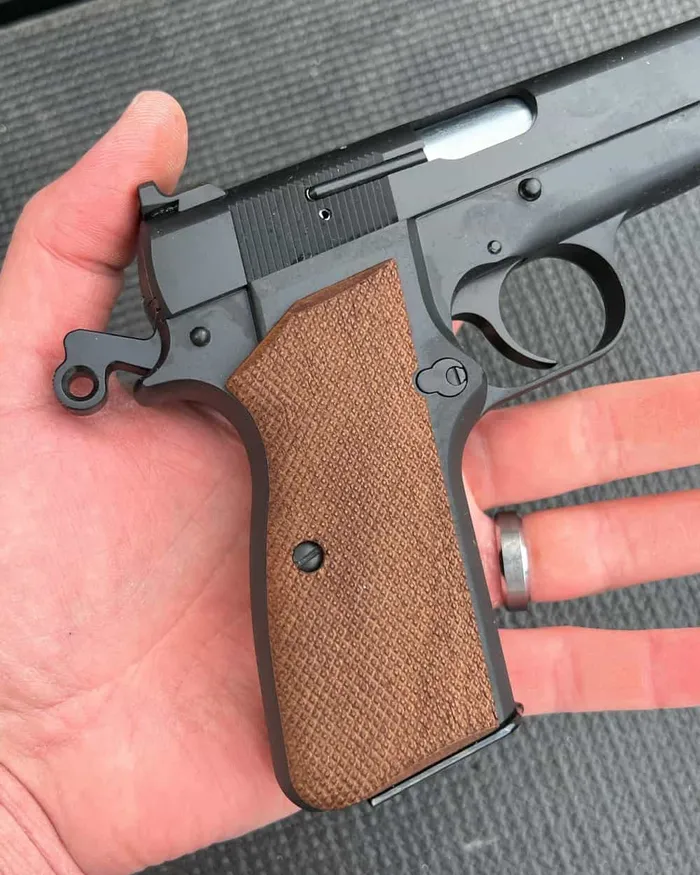 Sights
You typically will find very thin and minimalistic sights on Hi-Power type pistols, but Springfield made sure to correct that.
The SA-35 comes with a blacked-out and serrated U-notch rear sight paired with a standard white dot front sight. The rear sight is Springfield's "Tactical Rack" sight, which allows the shooter to rack the slide on a hard surface if necessary, thanks to the front of the sight being flat.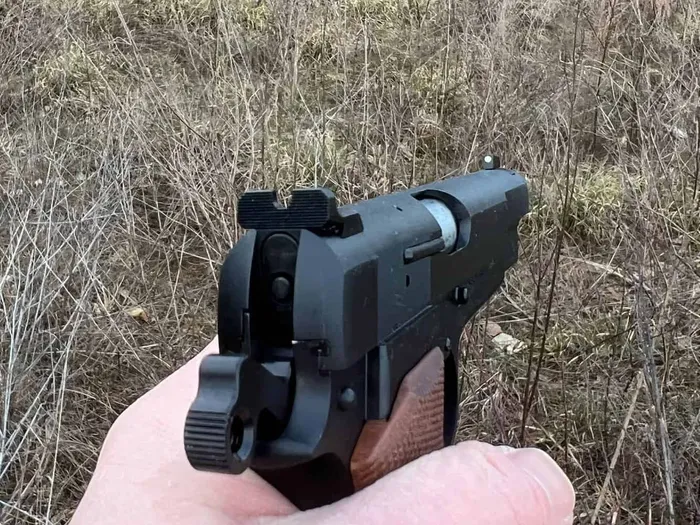 Controls
No hammer bite will be had with the SA-35.
Addressing one of the complaints from the old Hi-Power days, Springfield made sure to go with a re-contoured and improved ring hammer to avoid those annoying pinches. I haven't had that happen to me in the past, but I'm sure glad it likely won't happen moving forward, either!
Sometimes the "oversized" controls get a bit out of hand, but not on the SA-35.
The safety has a wide, serrated ledge that is very easy to engage and disengage. Instead of the slide stop being obnoxiously large and in the way, it's more of a standard size with a subtle contour to it.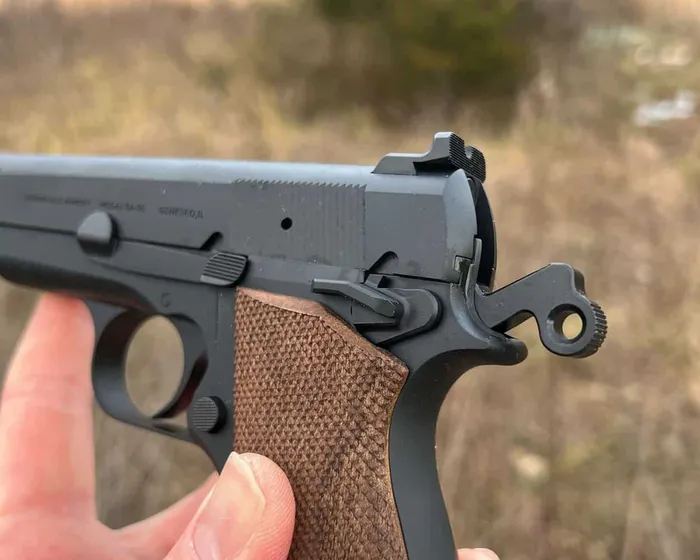 Trigger
After the first several magazines, the trigger seemed to smooth out even a bit more than at first. However, that's not to say it wasn't smooth to begin with.
Since it doesn't have a magazine disconnect like some of the older Hi Power pistols, you don't feel any of the potential grittiness or interference with the trigger pull.
It has a short take-up and pull, with a clean break. I read that the trigger pull weight clocks in right around an average of 5 pounds, and I would say that feels right on par with my experience.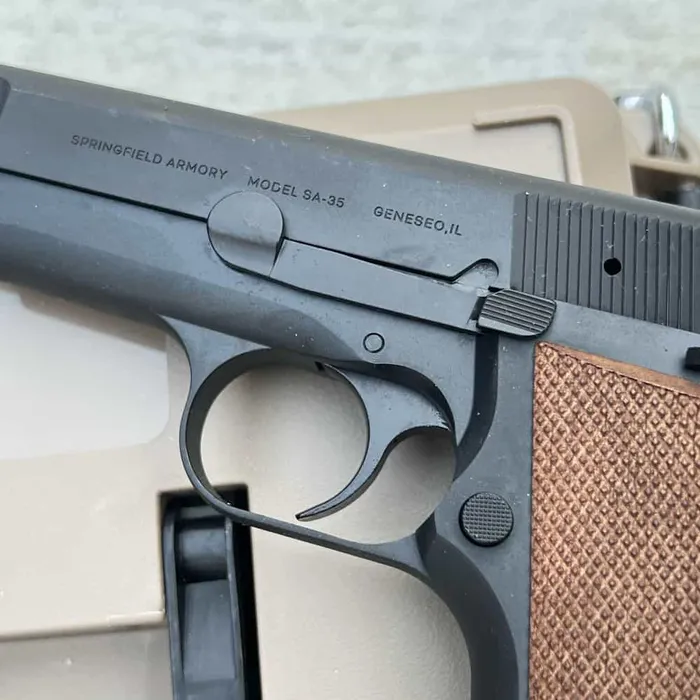 Magazine
Since this was the only magazine I tested with the SA-35, it's hard to make a generalized conclusion about them.
This one did wind up having the follower turn sideways, causing a few failures to feed and failures to eject, but after fixing that, I had zero issues with it moving forward.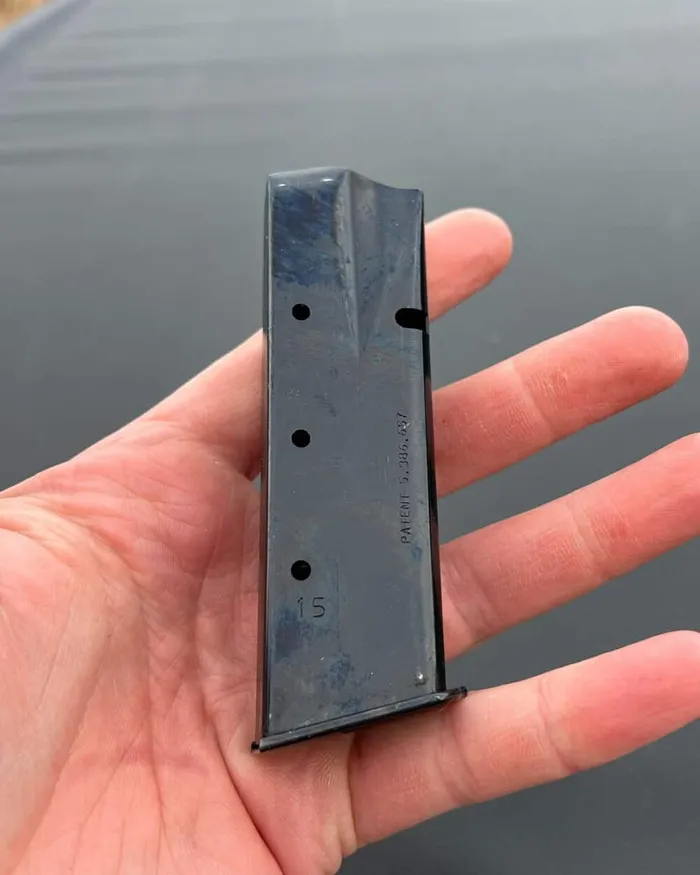 How We Tested
Due to inclement weather, I had to stick to indoor range time with the SA-35.
I wound up putting an even 200 rounds through it throughout three range trips. I shot it between five and 25 yards, ran a dot torture drill, and dumped a few quick mags.
I was very impressed with how the SA-35 shot overall and really wish I had some spare mags to run some reload drills.
Ammo Used
I wound up tossing a huge variety of ammo at the SA-35, since I was running out of a bunch and wanted to use it all up. Ammo that I ran through it included:
115-grain LAX Ammo FMJ
124-grain LAX Ammo FMJ
The SA-35 seemed to have no problems with any of it.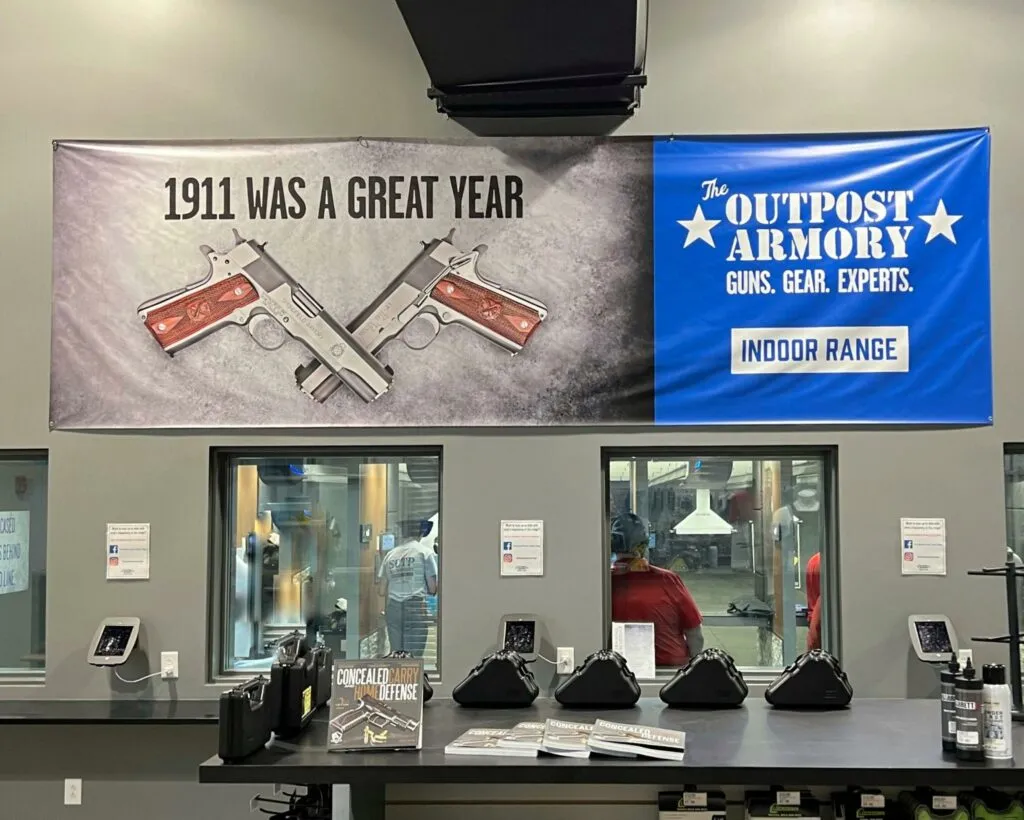 Score Card
Reliability (9/10)  
I had a few magazine-related hiccups at the beginning, but I can't guarantee they were 100% mag related.
Ergonomics (9/10)
Feels great in hand and shoots comfortably.
Appearance (10/10)
Yes. Simply, yes.
Value (9/10)
At the sub-$800, it's a good value. At the sub-$700, it's a great value.
Accessories
Even though night sights aren't necessary, I'm still a fan.
TruGlo makes some tritium sights specifically for the SA-35 that feature green front and rear sights, with the front surrounded by a white circle to help with focus.
The rear sight edge also allows for one-handed racking, just like the stock SA-35 sights do.
Many people would probably go with a leather holster for this gun, but I almost always stick with Kydex.
The Slim Tuk by Desantis is a minimalistic IWB holster with adjustable tension and right height. In addition, it's ambidextrous for you left-handed shooters. It comes in under $50, so you don't have to break the bank either.
Alternatives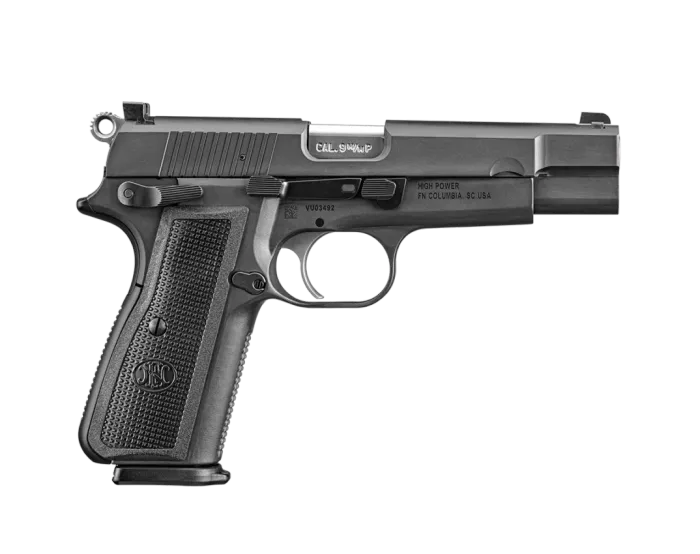 Even though it's twice the price, I have to list the FN High Power as an alternative.
A higher 17-round capacity and ambidextrous controls contribute to the uptick in price. I haven't shot one before to speak to the granular differences from that perspective, but I've read and heard many good things about it.
I would definitely suggest renting one or borrowing one from a friend though, to help decide if it's worth the hefty price tag.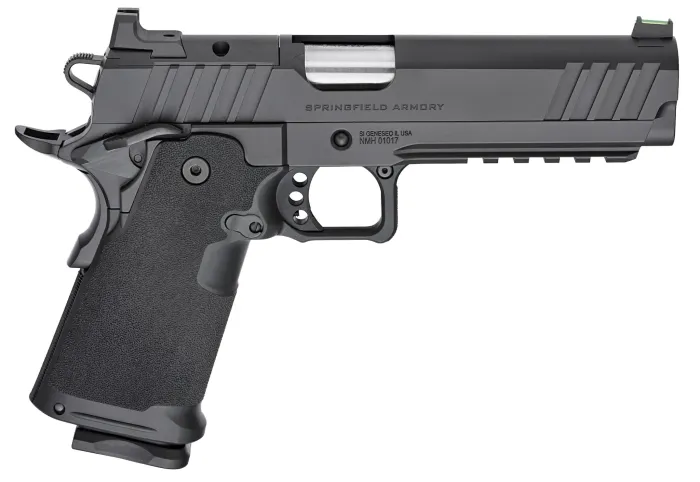 A bit different than the "Hi-Powers," the Prodigy is a modern and performance-driven 1911.
It's a double-stack 1911 that features a 20+1 capacity, comes optic-ready, and has ambidextrous controls.
Add on the fact it has a Picatinny rail for accessories; you have one versatile pistol on your hands.
We did a complete Prodigy 1911 review if you want to check it out.
Conclusion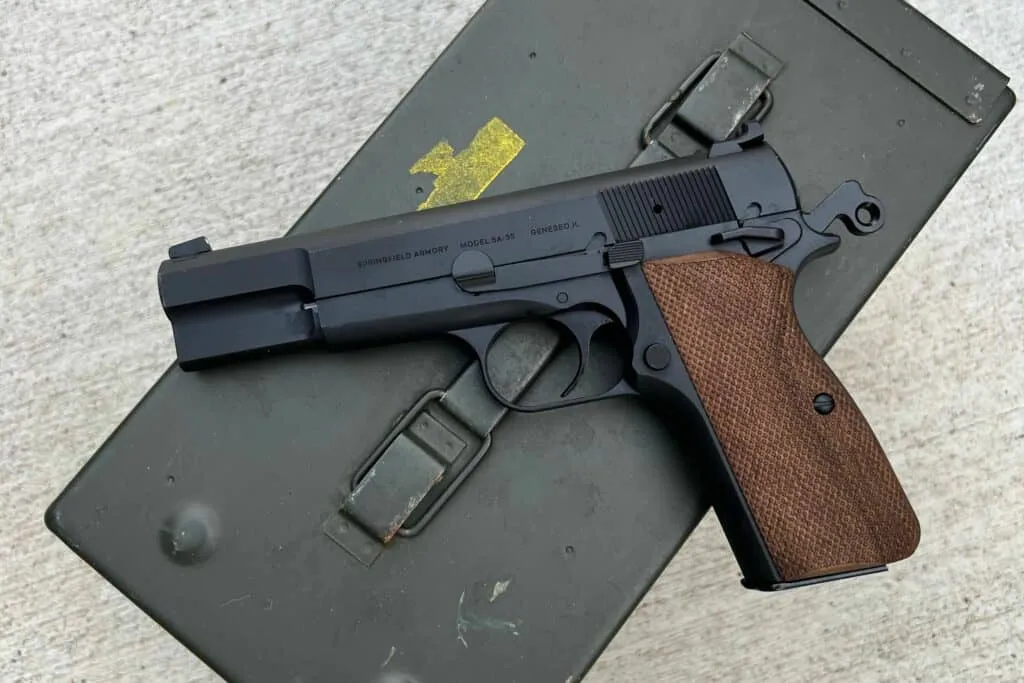 I think it would be hard for anyone not to appreciate the simple beauty of the Springfield Armory SA-35.
It enhances one of the most popular pistols in history to the degree it does while still maintaining that original vibe and feel.
It's not going to replace your everyday carry gun, but I bet you'll find yourself shooting it just as much when at the range. If you're in the market for a modernized classic at a good price, I suggest you check out the SA-35.
Have you ever shot the SA-35 or an old Browning Hi-Power? If so, let us know which you'd choose if they were both in new and perfect condition.
Explore more