Staccato P 2011 Review: A Stunning Service Pistol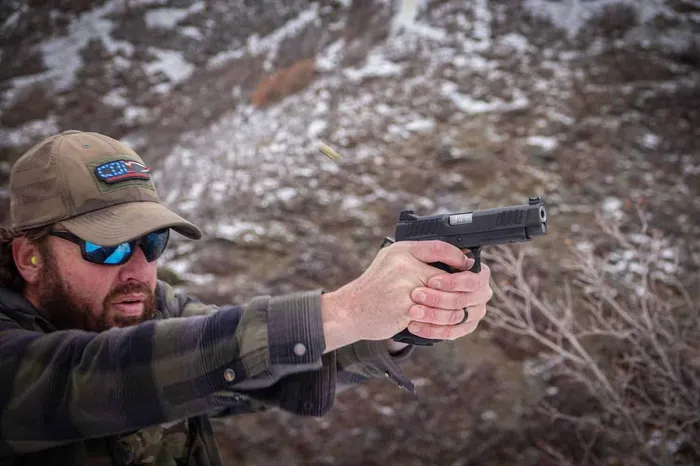 Staccato P 2011 Review: A Stunning Service Pistol
Introduction
The Staccato P pistol is a 2011 pistol built specifically for use as a service pistol for law enforcement, but the general shooting public has very well received it. The high quality and performance of the pistol have made it highly sought after by pistol aficionados in and out of the LE community.
The Staccato P is a 2011 model pistol. The 2011 design is a modern version of the 1911 design. Incorporating double stack magazines and chambered in 9mm has brought incredible versatility to the pistol. It comes in a custom soft case with three magazines.
STI was famous for making these pistols. They have since rebranded to the Staccato name and lead the way in the 2011 pistol market.
Being new to both 1911/2011 designs and the Staccato P, I was very excited to get familiarized with this pistol and see what all the hype was about and if it was well founded.
Staccato P Review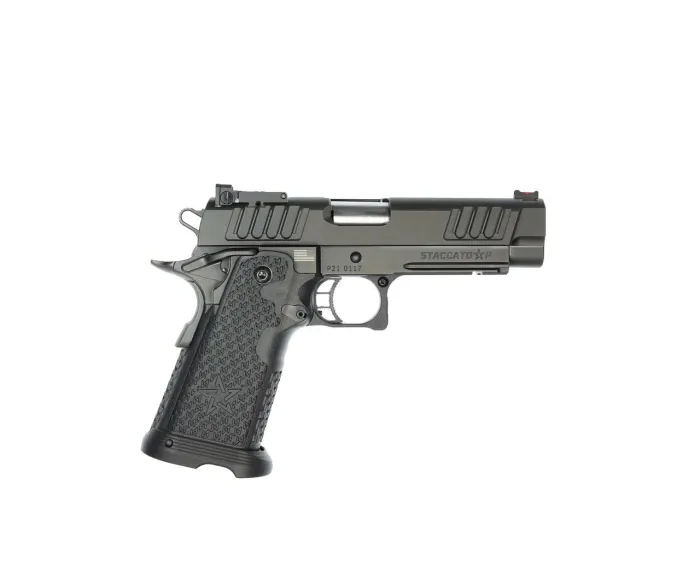 The Staccato P is a pistol designed for duty and anyone else who could use the features of the pistol. The manufacturer has gone to great lengths to get the pistol approved for LE service by at least 650 agencies, including the Texas Rangers.
With an MSRP of $2199.00, it is certainly not an entry-level pistol; however, to be fair to Staccato, it boasts professional-grade features to justify that price. The Staccato P has all the great benefits of the extremely popular and common 1911 design but also adds new technology and features to enhance the historical design with modern expectations. Pistol shooters who want exceptional quality and extremely smooth operation will be happy to feel the sticky Staccato stippling in their hands.
Much like buying a sports car, this pistol is not something you'd compare to the average 9mm pistol on the shelf at your local gun shop. And much like the sports car, you may want to get it purchased before the wedding and not after.
Specifications
| | |
| --- | --- |
| Caliber | 9mm |
| Capacity | 17 rounds |
| Barrel length | 4.4 Inches |
| Trigger | 4-4.5 lb adjustable |
| Dimensions | Length 8.0 X Grip Width 1.3 X Height 5.5 – Width At Safeties 1.49 |
| Weight | 33 ounces (empty) |
Pros & Cons
Pros
Outstanding SA trigger – adjustable and crisp
Optics ready – to add your favorite red dot
Ambidextrous safety- in case you're wrong handed
Picatinny accessory rail- to mount accessories
Flared magwell- for enhanced mag changes
Heavy bull barrel- for enhanced accuracy
Dawson custom sights – fiber optic for better sight picture
Cons
Short slide release – hard to reach with my thumb
I need another one
On The Range Testing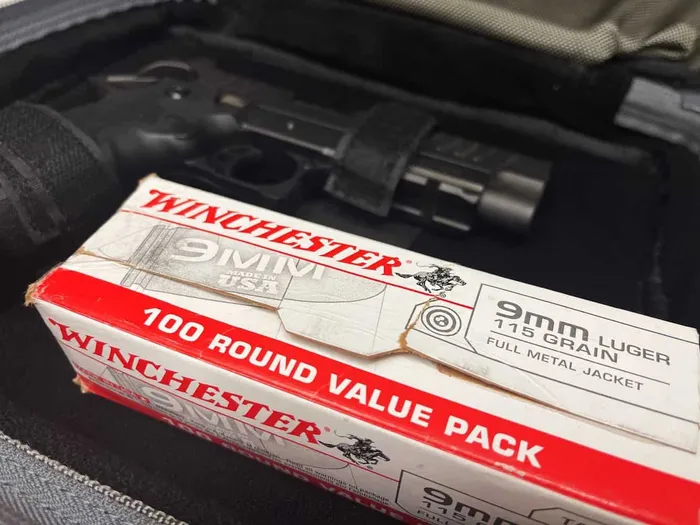 I was understandably excited to get the Staccato P to the range, I had already worn in the pistol quite a bit playing with it in my office. But with a few boxes of ammunition and a few targets, I headed to my shooting spot.
After loading a few mags, I loaded the pistol and made it ready to shoot. The feeling of the slide riding forward and chambering a round is addictive, smooth as glass, and locks up tight. I'm not a big manual safety guy, but the 2011 safety is so easy to use that it immediately became second nature. It is almost automatic that as the pistol comes up, your thumb moves it from safe to fire, and back to safe as you return the pistol to the holster.
The trigger was everything I'd hoped to be, clean and crisp. The short reset seemed to allow for incredibly rapid follow-up shots, allowing a massive amount of lead to be put downrange very quickly. And the clean break of the trigger allowed for accurate shooting on targets, and the hits just kept coming.
I found the large grip of the pistol to be very comfortable in my hand. The rough texturing and the full palm gave a great deal of purchase on the grip. And being a bit heavier than your average 9mm pistol, the recoil was very easy to control with this better and bigger grip area.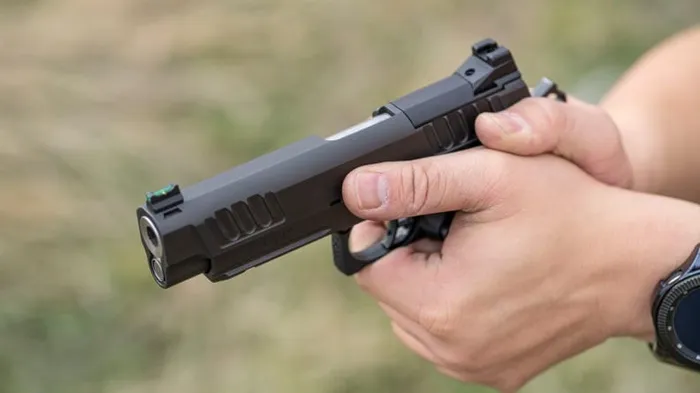 The bright fiber-optic front sight was quick to find and easily aligned with the rear sight. I would love this pistol even more with a red dot mounted to it, perhaps next time.
As I plowed through the ammo, I quite enjoyed doing reloads. The Staccato P features a flared magwell to aid in rapidly seating new magazines. I found myself loading two or three rounds per mag just to get more reloads in.
The frictionless slide of the magazines against the polymer grip module made seating the magazine effortless, and empty mags drop free and clear with an appropriate press of the release.
I was quickly becoming a fan of everything this pistol was, and deciding if I could justify keeping it.
Reliability
The reliability of the Staccato P was immaculate. During the course of firing several hundred rounds, I experienced no malfunctions. That may not sound like much, but the way it just chewed through everything smoothly and without so much of a hiccup made it feel even more reliable.
Slow shooting cadences and rapid mag dumps all resulted in the same way, a locked open slide waiting for the next magazine to be loaded.
The cycling of the slide and the chambering of cartridges all worked so flawlessly that it felt like a well-oiled machine churning away in the palm of your hand.
Accuracy
I am not what I consider a big pistol accuracy fanatic, nor do I consider myself exceptionally talented in accurately shooting pistols. As far as I am concerned, if I can hit what I aim at within the distance I typically shoot, then it's good enough for my purposes.
The Staccato was certainly better than I was, as I found it easy to hit everything I aimed at. I did find that the sights aligned pretty naturally with my generic pistol pointing, which may have helped my shooting significantly. I think I might have shot even better had I installed a red dot on the back of the pistol, but that's for another time I guess.
Overall Feel
The overall feel of the Staccato P is outstanding. The perfectly filled hand with the perfect fit controls and trigger was missing only one thing for me. The slide release was a bit too far forward for me to reach with my thumb, making it necessary to break my shooting grip in order to do so.
I don't know if they make an extended version, but if they do, I would certainly buy it, as it is the only thing I could complain about this pistol.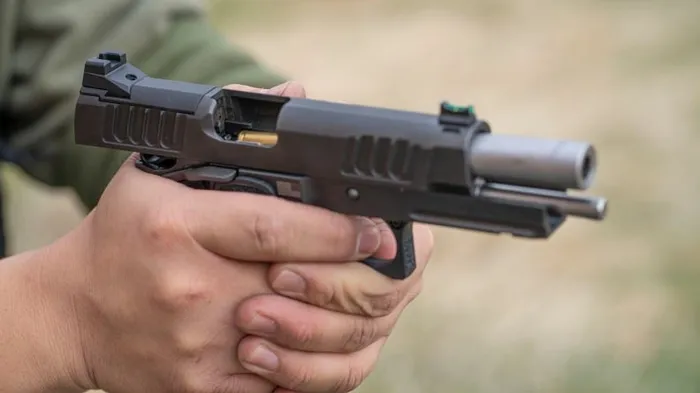 Features
Hybrid Frame
The hybrid frame of the Staccato P uses either steel or aluminum for the upper portion of the frame to mate with the slide assembly, and the grip area of the frame consists of a polymer portion.
I actually really like this feature; it gives you the robust metallurgy you want to properly carry the slide assembly while still giving the versatile properties of polymer magwell and grip.
Bull Barrel
The Staccato barrel is quite heavy, or thick might be a better word to describe it. This extra barrel material likely makes it stiffer and a better shooter; it also adds weight to the overall firearm, which I don't mind though others may.
Dawson Precision Tool-less Guide-rod
The tool-less guide-rod has a spring-loaded lever built into it, which allows the guide-rod and barrel to be removed from the slide without any tools. You simply push the guide rod forward out the front of the slide, then depress the lever, which locks the spring in its compressed state.
You can then remove it from the slide, followed by the barrel. It's a very slick system to use and goes a long way at adding value to the pistol.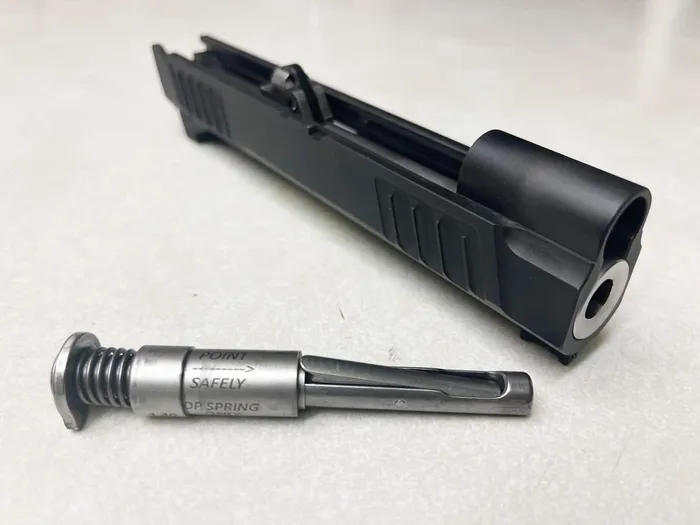 Picatinny Accessory Rail
Under the front of the frame, you will find a Picatinny accessory rail. It's perfect for mounting your desired weapon light. I installed my Surefire X300, and it fits perfectly.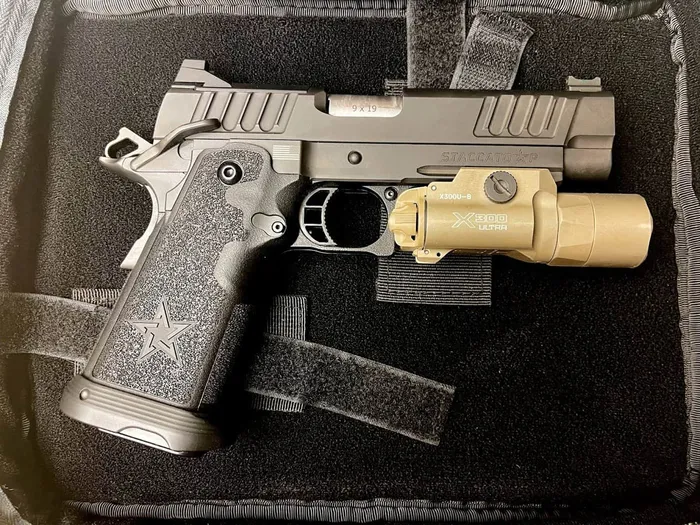 Optics Ready
The Staccato P can quickly be converted to shoot with a red dot sight by removing the rear sight mounting plate. It can be replaced with a Dawson Precision RDS mounting plate. These can be ordered on Staccato's website for various optic configurations.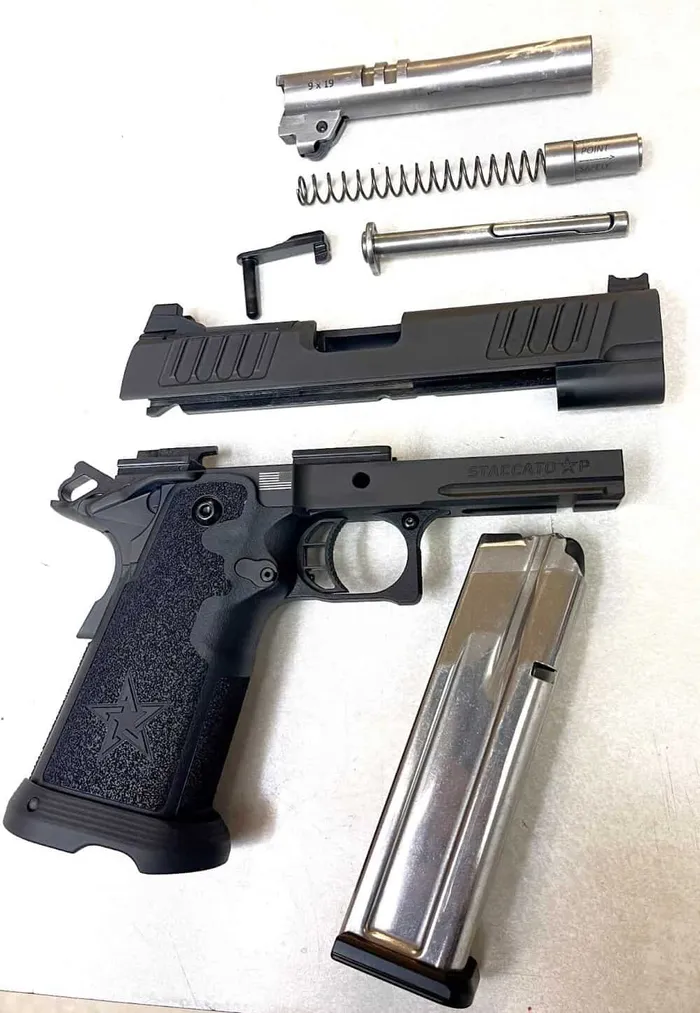 How We Tested
I shot the Staccato P throughout several range trips. I also carried it as my main CCW for about a month. I fired several hundred rounds through the pistol, using repetition to see if my poor 1911 skills would cause issues to surface.
Shooting steel targets at ranges from fifteen to thirty yards was very enjoyable with this pistol. Maneuvering it from shot to shot and forcing repetitive mag changes made me like it more.
I also let other friends shoot it to see if it was simply my skirt being easily blown. But as I found with everyone who picked up the Staccato, they too were quite impressed with more than just its looks.
Ammo Used
I used two different types of Winchester ammunition during testing. Both were from Winchester, one was a 124-grain load, and the other was a 115-grain load. Both of them shot flawlessly and with comparable accuracy.
I perhaps might give the 115-grain load the nod because it seemed faster to get from target to target.
Accessories
This gun deserves a good illuminator, and the Surefire X300 I put on it is a great match. There are several other good weapon lights that can attach in the same fashion, with differing light strategies and laser sighting features. Pick one that best fits your needs.
I would absolutely spring for a good holster for this pistol. I would highly recommend the Safariland Model 6360RDS for it. It provides an excellent fit and retention. It also will accept the Surefire weapon light as well.
I would for sure get the mounting plate from Staccato and mount up a good red dot sight like the Delta Point Pro. The Staccato is a professional-grade pistol, and getting the best quality sight for it should be the minimum.
Alternatives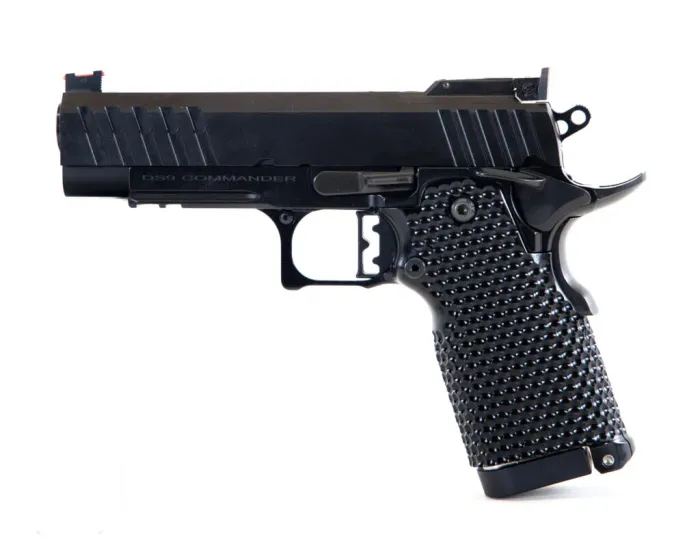 Yes, this is a significant step up in price, so be prepared for custom shop pricing and competition-ready features. This is truly an IDPA race gun, with a lighter trigger pull and the wait typically involved for custom guns.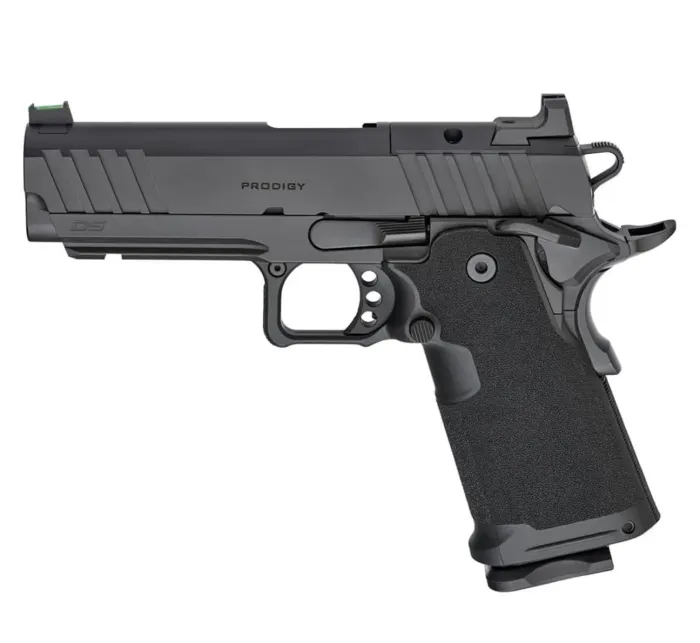 Well obviously I was going to put the Prodigy in there. It is very comparable to the Staccato P as it looks almost like its twin. The Prodigy is more of a production-grade pistol, and it will come with a more affordable price and features.
FAQs
Can a Staccato P shoot 9 major?
The Staccato P is not recommended for 9 Major ammunition, but it will shoot +P ammunition.
What does DPO stand for in Staccato?
DPO stands for Dawson Precision Optics mounting system for mounting red dot optical sights.
Is +P 9mm better?
+P is ammunition loaded to a higher pressure for more velocity.
Is 38 Super +P stronger than 9mm?
38 Super is a slightly longer case; this allows it to shoot similar velocities at lower pressure. Or higher velocities at similar pressures as the 9mm Luger.
What is the difference between Staccato C2 and P?
The Staccato C2 is a concealed carry version of the pistol. It features a shorter barrel and grip module and uses the aluminum upper frame to save weight.
Is the Staccato P polymer?
The grip module portion of the frame is polymer.
Which Staccato did John Wick use?
In the John Wick film, he used a Taran Tactical Combat Master version of the Staccato pistol.
Conclusion
After spending more than a month with the Staccato P, I have been able to develop a pretty good understanding of the gun. I believe the modern 2011 design brings all the best features of the original 1911 and so much more. It also allows modern technologies, materials, and practices to be applied to the time-tested pistol design.
If the only improvement was the double-stack 9mm cartridge capability, that would be a significant improvement by itself. But the added improvements and composite frame that come incorporated in the Staccato pistols bring so much more, and they do it with sex appeal and class.
I truly enjoyed the time with this pistol. Only days after I picked it up, I decided I needed to find a way to keep it. It crosses all the T's and dot's all the i's for me as far as a pistol can. It feels well built and smooth as it could be.
The trigger is outstanding, as are the other controls but for the short slide release. The heavy barrel and quality sights make it easy to shoot well, the positive grip lets you know you've got something fantastic in your hands, and if you know what's good for you, you'll keep holding onto it.
Explore more