Stag Arms SPCTRM Review: 50 Shades of Precision and Power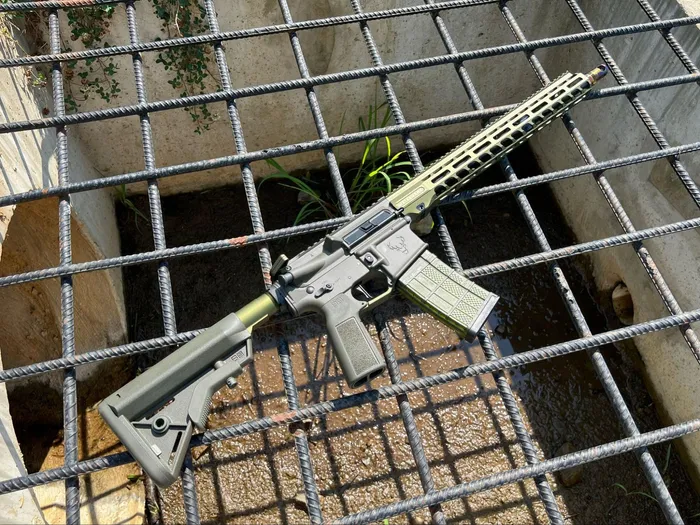 Stag Arms SPCTRM Review: 50 Shades of Precision and Power
Introduction
Are you team FDE (flat dark earth) or ODG (Olive Drab Green)? That's a question I've often been asked, and my answer has changed several times over the years. If you were to ask me that today…it would be a resounding ODG!
It seems like someone over at Stag Arms headquarters couldn't decide which team they were on but knew they were sick of the plain old black ARs that flood the market. The Stag Project SPCTRM (Special Tactical Rifle Makeup) rifles combine performance and aesthetics in three colors. You can find them offered in FDE, ODG, and GRY.
With impressive features such as upgraded triggers, ambidextrous controls, and muzzle devices, the aesthetics are definitely not the only star of the show.
While I went with the ODG SPCTRM, the other colors are similarly upgraded, so you'll have a great idea of what to expect from any of them after reading this article.
Let's take a closer look at the SPCTRM and see if it gets you hot and bothered, like watching 50 Shades of Grey.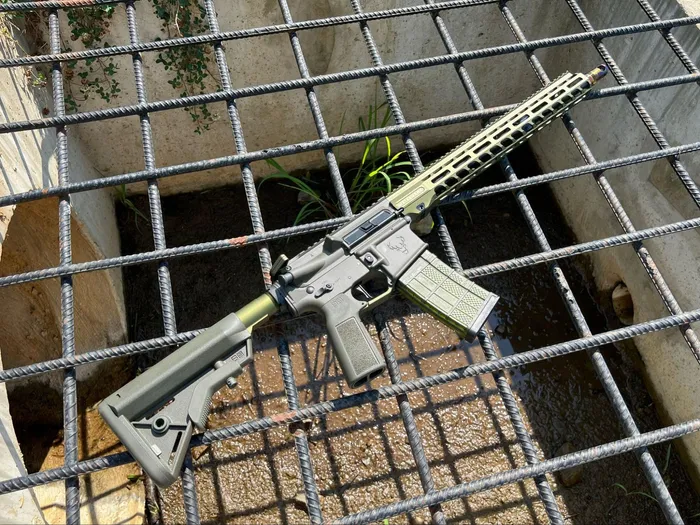 Stag Arms SPCTRM Review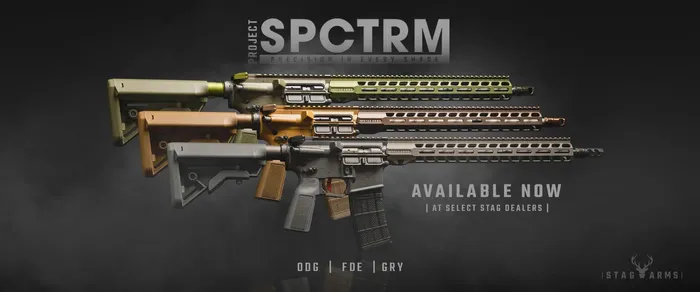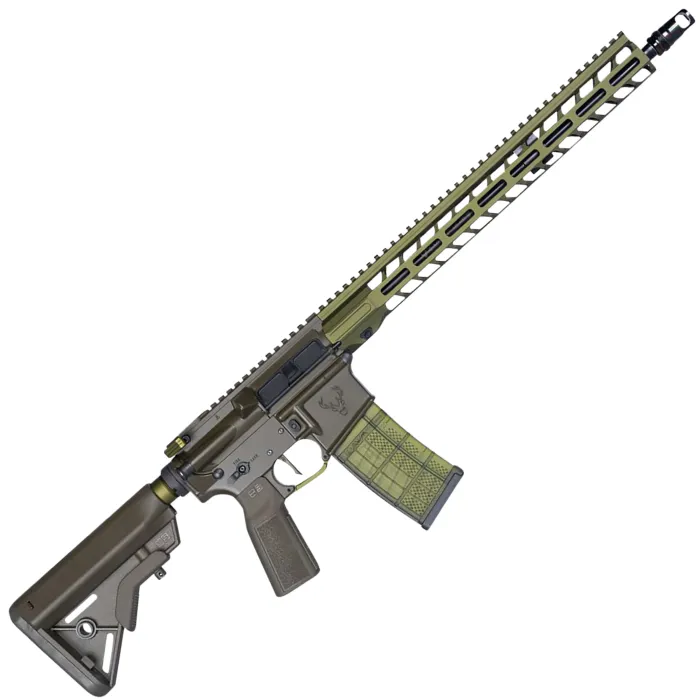 Specifications
| | |
| --- | --- |
| Caliber | .223 Wylde – accepts 5.56x45mm NATO and .223 Remington |
| Capacity | 30+1 |
| Barrel Length | 16 inches |
| Twist Rate | 1:7 |
| Overall Length | 36.25 inches (extended) |
| Weight | 6.3 pounds |
| Receiver Material | 7075-T6 Aluminum Forged |
Pros & Cons
Pros
.223 Wylde/5.56x45mm NATO/.223 Remington compatible

Upgraded ATC (American Trigger Corporation) trigger

Available in right and left-hand ejection

Ambidextrous controls including Aero Precision BREACH charging handle

Upgraded B5 Systems furniture

Ballistic Advantage Hanson barrel
Cons
Color-matching accessories will be difficult

Doesn't come with any backup iron sights
First Impressions & Range Report
An explosion of OD Green hits you in the face upon opening the SPCTRM's cardboard box. From the furniture to the magazine, its shades of green are everywhere. I love it.
Overall Feel
With the slim, full-length handguard, B5 systems grip and stock combo, and the Rearden MFG muzzle brake mitigating the felt recoil, the SPCTRM feels really good in hand and while shooting.
The ambidextrous controls were easy to manipulate, leaving nothing to complain about from a first-feel perspective.
How We Tested
Through a few range trips, a few different optics, and a few hundred rounds, we made sure to put the SPCTRM through its paces.
We have some more in-depth testing coming soon, but we wanted to get our feet wet with it and throw some mag dumps, reload drills, and rapid firing at it to see how it handled everything.
We still have plenty of rounds to put through it, so stay tuned for our full YouTube review coming soon!
Reliability
Since it just came out, I can't give you a 10,000-round reliability report, but I can give you a 270-round report. This probably won't come as a surprise, but it was not picky with its ammo.
I saw exactly zero malfunctions. I'm confident that when we put our next few hundred rounds through it, we'll see very similar, if not the same results.
Ammo Used
I ran a solid variety of ammunition that included:
I'm not a fan of cheap steel case ammo, but I wanted to ensure the SPCTRM didn't skip a beat, regardless of the ammo I put through it.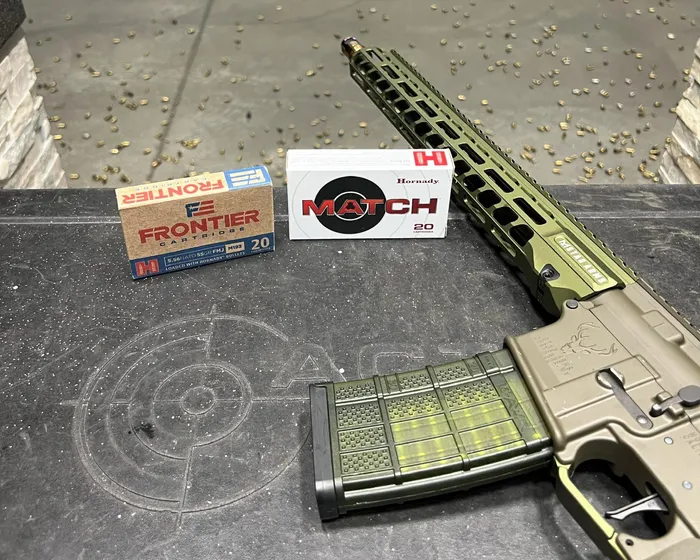 Accuracy
With the .223 Wylde Ballistic Advantage Hanson barrel and the ATC trigger, it would be hard not to be accurate with this rifle. Of course, you need a solid optic up top, but you're set up for accuracy from the start.
I was running a prism scope and a couple of different red dots, and I had no issues hitting my mark(s) within 100 yards. You should be able to do the same a few hundred yards further with the proper scope.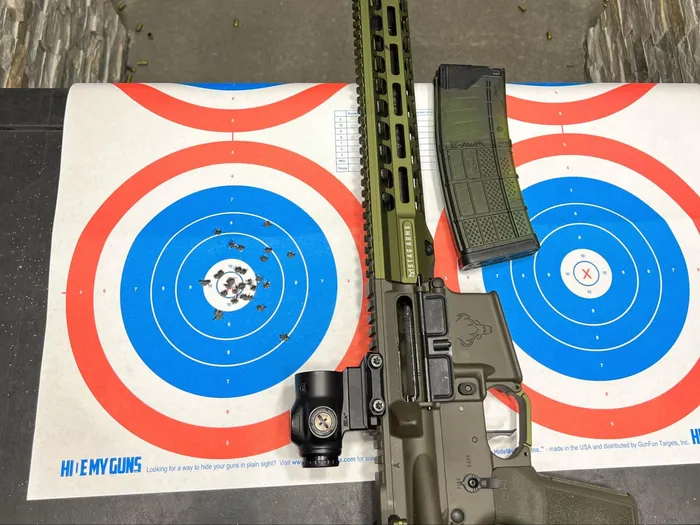 Features
American Trigger Corporation (ATC) Trigger
I haven't used an ATC trigger before, but I don't think it'll be my last time after shooting the SPCTRM.
The flat trigger has a 3.5 pound pull weight, with one of the crispiest breaks and shortest resets I've felt in a while. So much so ATC even makes the claim it has the shortest reset and cleanest break on the market.
If you weren't lucky enough to have your rifle come with one of these, it's an easy installation since it is a drop-in module trigger.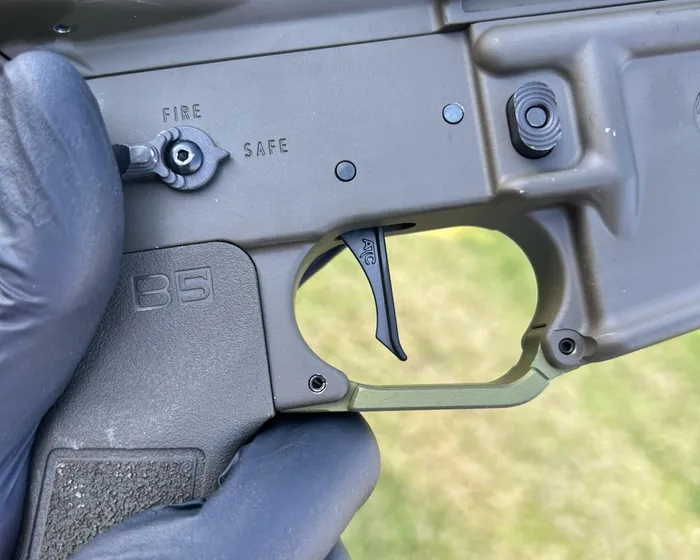 Slim M-LOK Handguard
I used to be a quad-rail type of guy…then I came to my senses.
The 15" full-length handguard has a Picatinny rail up top that runs the length of it and has more M-LOK slots than you'll know what to do with. The edges are smooth, it's not too heavy, and the finish is on point.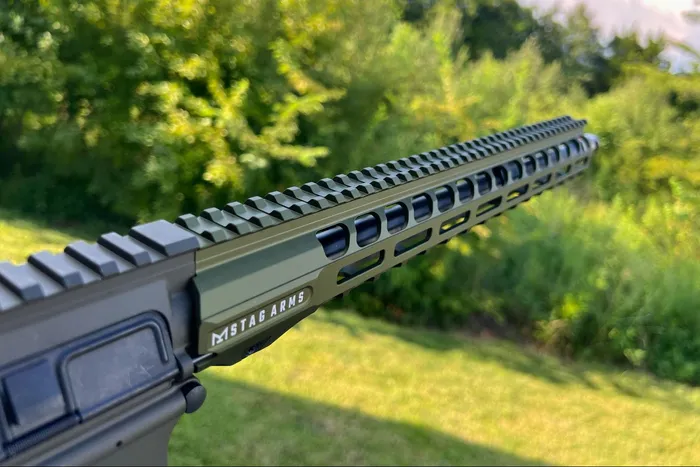 Ambidextrous Controls
Every build should be ambidextrous, in my opinion. You never know when you may need to switch it up and use your weak side.
The SPCTRM has an ambidextrous safety selector and charging handle, making it left and right-hand friendly.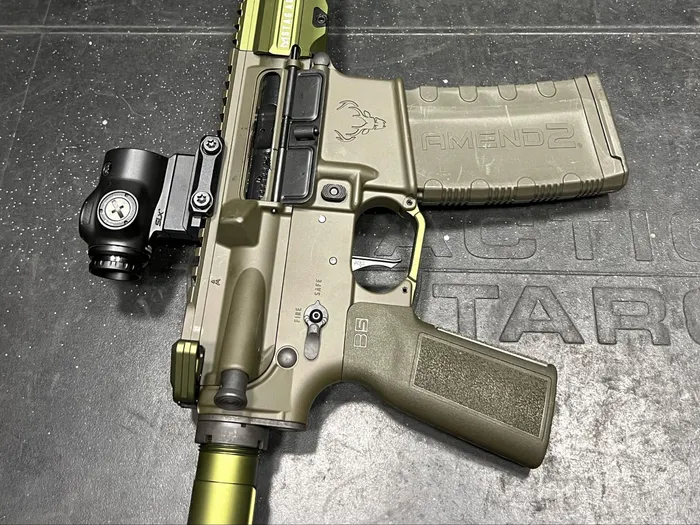 Aero Precision's BREACH ambidextrous charging handle is an excellent option for any build. It's constructed from 7075 aluminum, with colored anodizing on the levers, and features a gas deflection shelf to redirect gas from your face. No one likes gas in their face!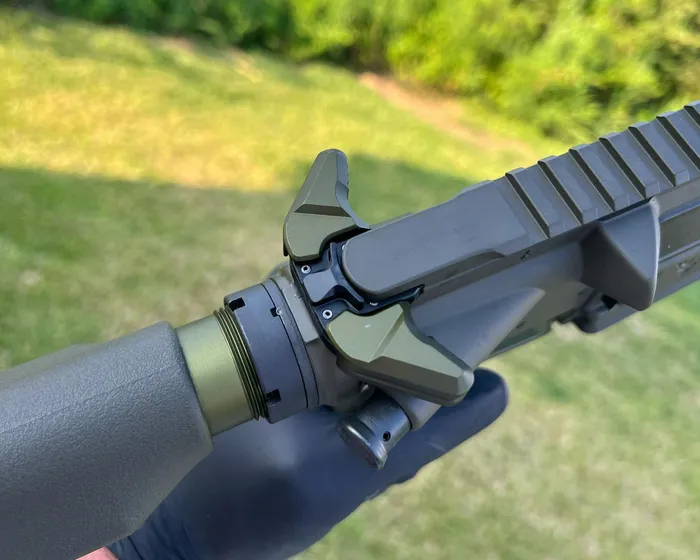 Rearden SPB Muzzle Brake
If you have a threaded barrel, you might as well have some sort of "device" on the end of your rifle.
The SPCTRM comes with a Rearden SPB Muzzle Break with a rainbow black PVD (Physical Vapor Deposition) finish. This type of finish is one of the most durable available.
The muzzle brake helps reduce felt recoil by diverting the gases exiting the barrel. While I cannot say by how much in this case, I can attest to the felt recoil being extremely low.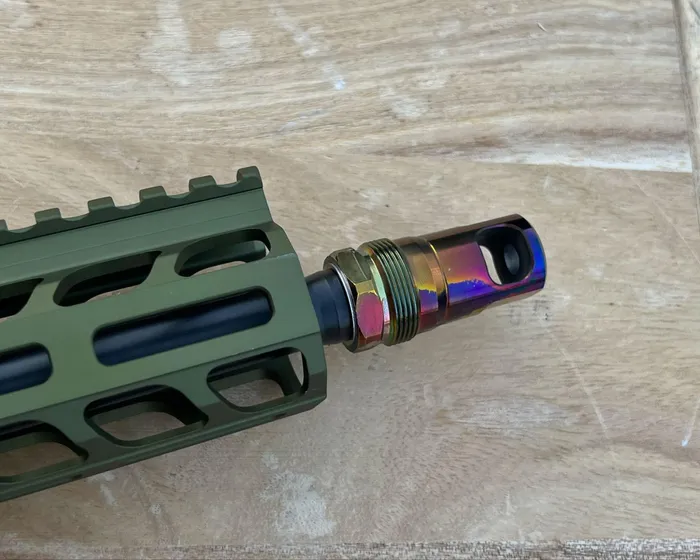 Upgraded B5 Systems Furniture
I've been noticing more and more manufacturers including B5 Systems furniture straight from the factory, and I'm not complaining! The Bravo stock and Type 22 P-Grip are welcomed upgrades from the standard mil-spec adjustable stock and A2 style pistol grip.
On the adjustable Bravo stock, you'll find a no-slip buttpad, an ergonomic cheek weld, QD sling mounts, and fixed sling mounts. It's also available in several colors if OD Green isn't your first choice.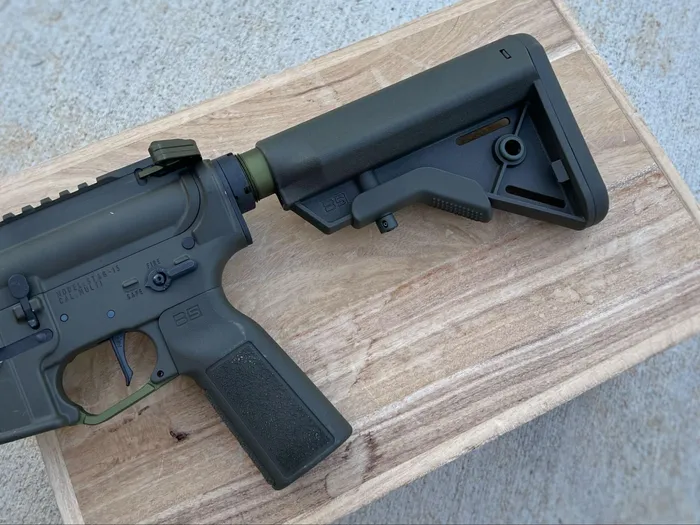 L5AWM Lancer Magazine
Polymer vs. steel mags have been debated for as long as I can remember. Some argue that steel is more reliable and durable but complain about the weight.
Lancer decided to blend the two with its hybrid L5AWM magazine. With a polymer body and a steel feed lip assembly, you wind up with a lightweight and reliable option that makes most people happy.
I'm not a big fan of translucent mags, but this OD Green variant does look great paired with the SPCTRM.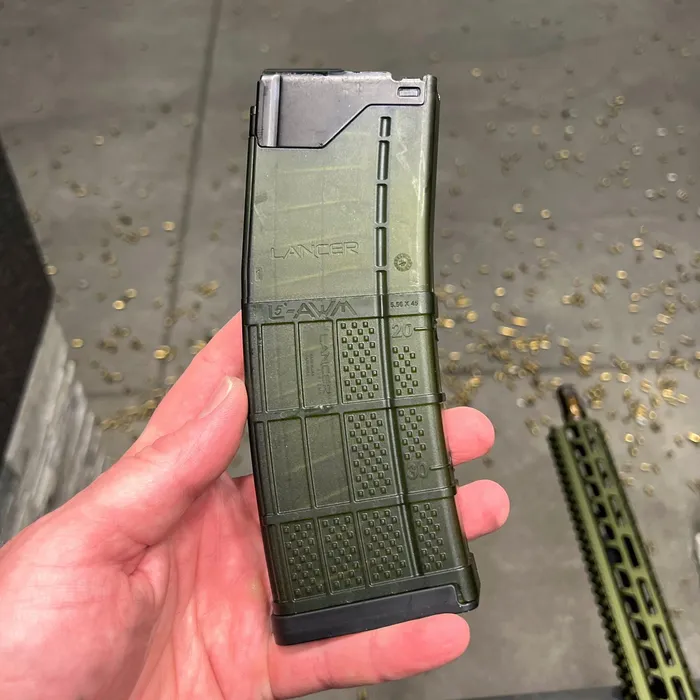 Score Card
Reliability (10/10)
A few hundred rounds of various ammo went through the SPCTRM without a single malfunction.
Ergonomics (10/10)
It's an AR-15 with upgraded furniture, well-placed controls, and a full-length handguard.
Customization (10/10)
This rifle screams customization…I mean, look at it!
Appearance (9/10)
Love it. However, my nitpicky wish would be a more subtle green on the handguard since it's not quite OD Green. I'd also lose the rainbow finish on the muzzle brake.
Value (9/10)
Since each color variant has limited quantities, the price may be slightly inflated from specific retailers, but you won't have to spend much extra once you find one.
Accessories
I usually wouldn't be suggesting so many fancy-colored accessories, but why not continue the ODG trend, right?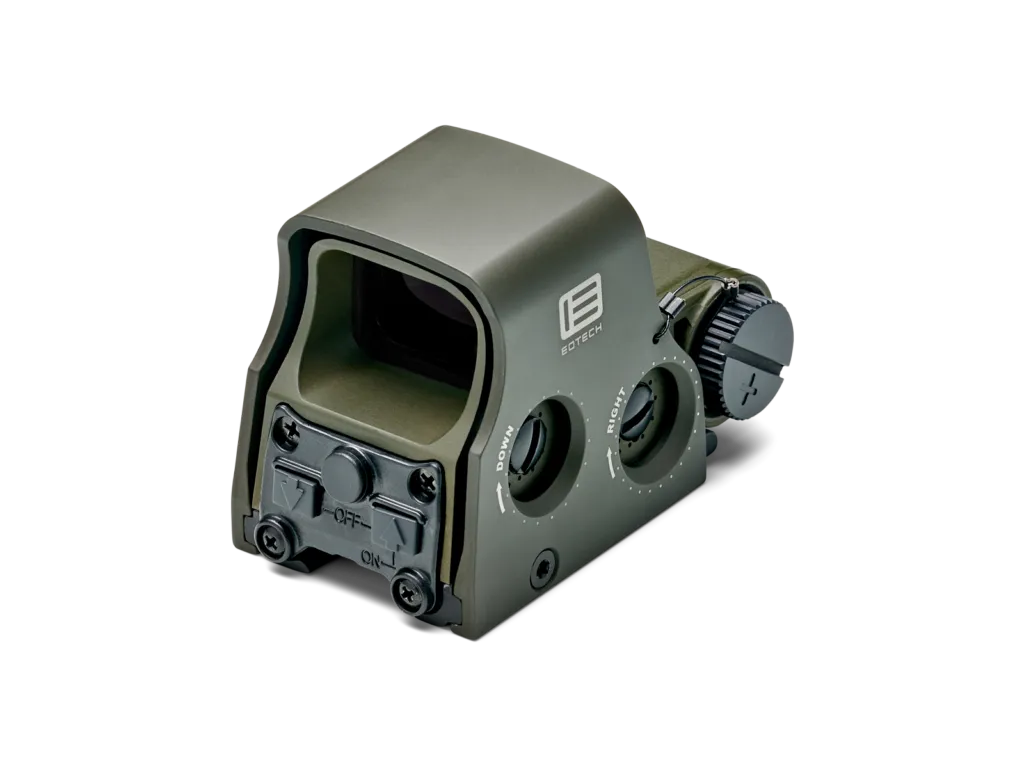 With one of the main selling points of the SPCTRM being its fancy finish and beautiful looks, you might as well finish it off with a matching holographic sight. To be more specific, the EOTECH XPS2 in ODG.
This optic is a fantastic option unless you are planning to run night vision. It has 20 daylight settings, a 1,000-hour battery life, and is made to withstand some of the harshest conditions.
The 60 MOA ring and 1 MOD dot give you an incredibly versatile reticle. It's not only great for close quarters and quick target acquisition, but you can also use it for range estimation.
Even if the color match wasn't a factor, it's still a great optic option for the SPCTRM.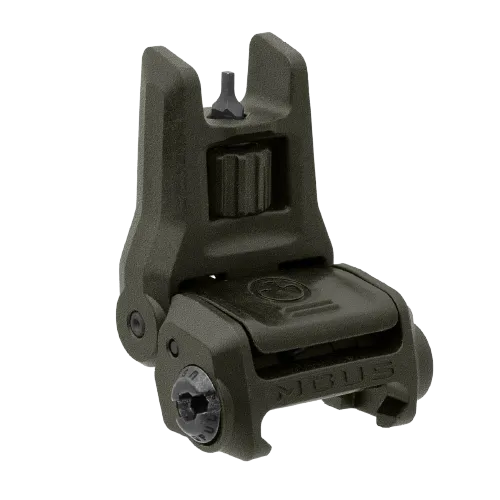 Optics fail. Every rifle should have backup sights.
The Magpul MBUS line has been a staple for many shooter's builds over the years. The MBUS 3 set is lightweight (constructed of polymer), low-profile (spring-loaded folding system), and easy to adjust without any tools.
Oh yeah, and they happen to come in ODG if you'd like.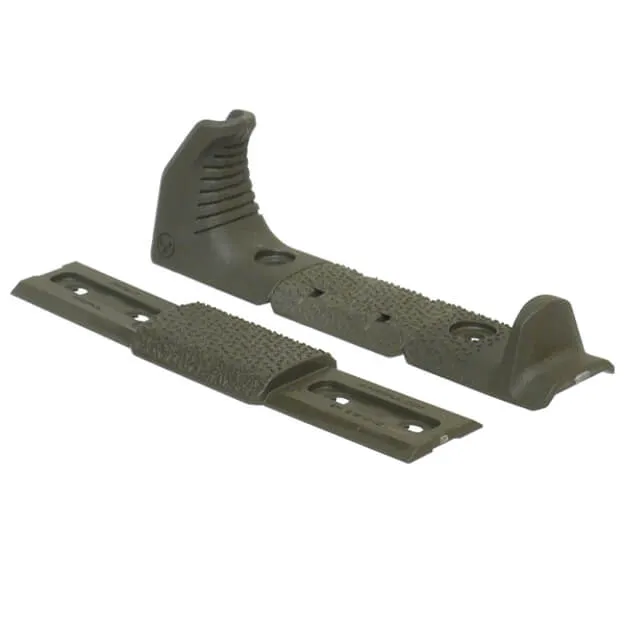 What the heck, let's add one more ODG accessory.
The hand stop kit from Magpul gives you a lightweight and low-profile index point that not only stops your hand from reaching too far down the handguard and improves your control of the weapon.
It comes with the actual hand stop, an index panel, and a rail cover you can configure to your comfort. And, of course, it's offered in ODG.
Alternatives

Springfield's Saint Victor has been out for quite a while, but Springfield recently released an OD Green version which sports OD Green Magpul furniture. I figured it would fit the OD Green theme from the Stag above.
It is missing ambidextrous controls but nothing else. Notable features include a nickel boron coated flat trigger, a Springifled muzzle brake, and a 15-inch free float handguard, to name a few. It even comes with Springfield's spring-loaded flip-up iron sights, so you're ready to go out of the box.

The M400 TREAD Snakebite SE is another AR-15 that looks like a custom build, with its many upgrades and FDE Cerakote finished receivers and barrel.
Its most notable upgraded features include a two-stage Matchlite trigger, a 13-inch free-floating handguard, and a hybrid compensator/flash hider. It also has a 1:7 twist rate, ambidextrous controls, and upgraded furniture.
The only thing you'll need to worry about immediately is getting some backup iron sights or an optic.
Check out our Sig Sauer M400 Tread review for more information on the standard factory edition.
Conclusion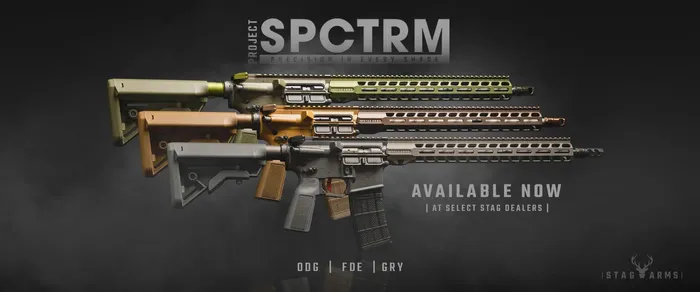 The SPCTRM line delivers more than its charming good looks. If you're looking for an AR-15 that looks and feels like a custom build but doesn't have the extremely high price associated with a genuine custom build, check out one of the SPCTRMs for yourself.
Make sure to keep an eye out for our YouTube video coming soon once we finish our next round of testing and evaluation!
Which color variant of the SPCTRM would you go with?
Explore more