Sig Sauer M400 Tread Review: Is This The Best AR-15 Under $1000?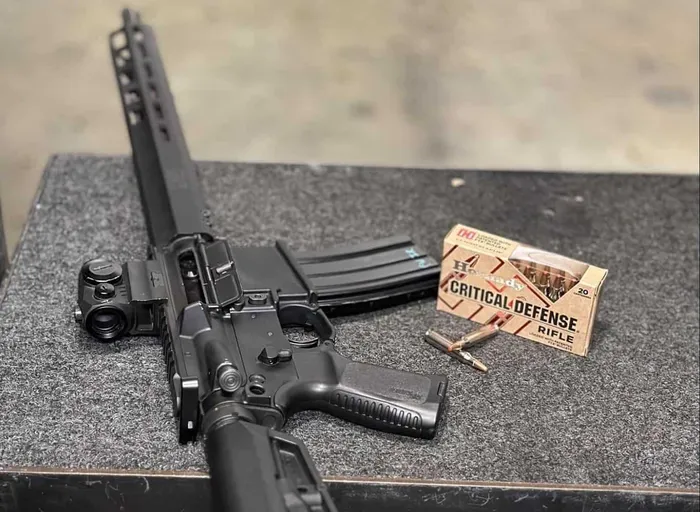 Sig Sauer M400 Tread Review: Is This The Best AR-15 Under $1000?
Introduction
The Sig Sauer M400 Tread is Sig's answer to the need for a quality rifle under $1000.
After about 500 rounds and zero stoppages, I ran to my computer as fast as possible to write this Sig Sauer M400 Tread review. Admittingly, I was surprised at how good this rifle was. Is this the best AR-15 under $1000 on the market?
That's what we're here to find out.
Disclaimer: Sig Sauer does not know that I exist. As a matter of fact, I called them the other day and was told to "get lost, loser" (no, not really). So this review is 100% my own opinion, and no one is offering me any payment to say cute things about this rifle.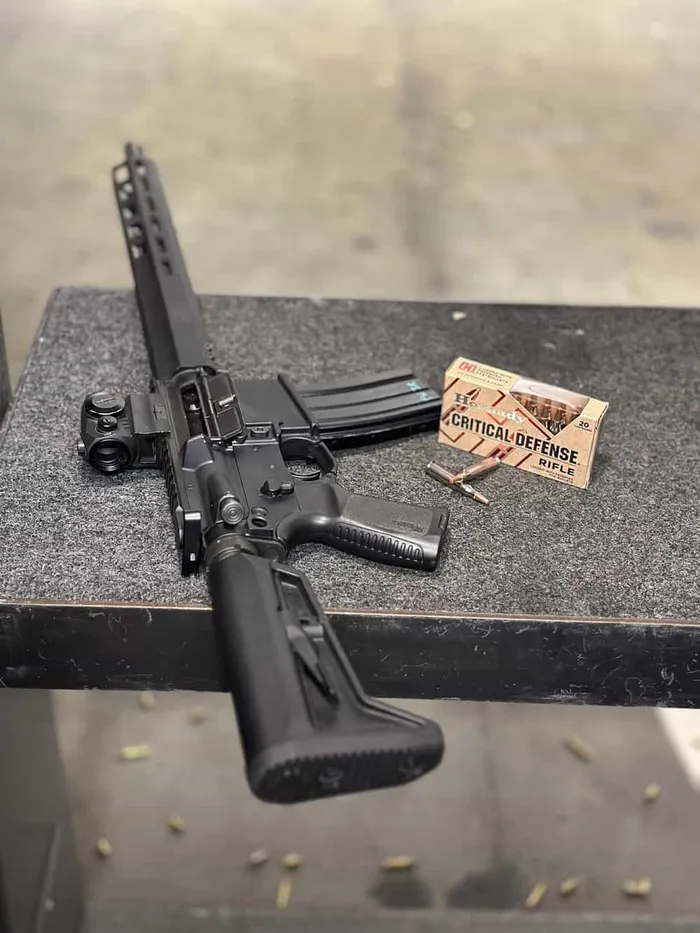 Sig Sauer M400 Tread Review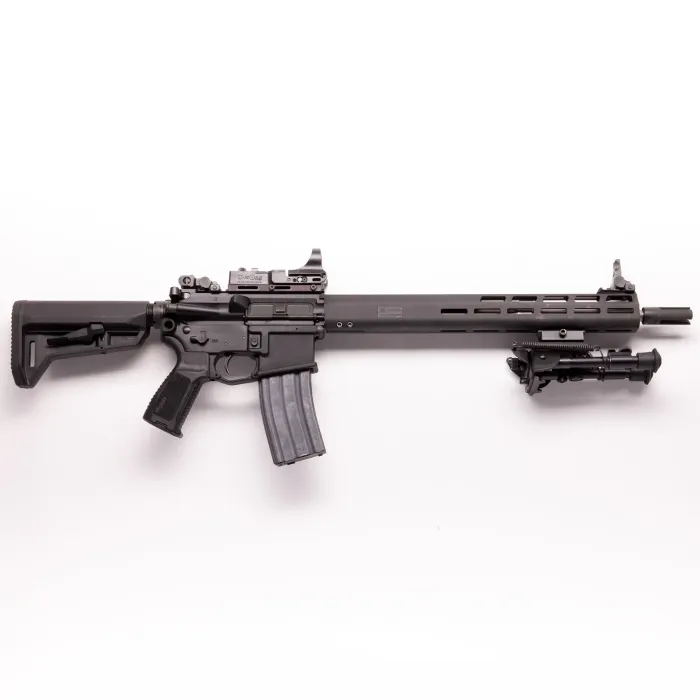 The Sig Sauer M400 Tread was quite surprising for an "economy" rifle.  Economy rifles are those that sit under $1000, which seems to have some sort of weight behind it.
Almost as if all the gun manufacturers came together in one room and said, "Under $1000, here, over $1000, there." like a middle school dance.
I mean, seriously. Look how much the cost of AR-15s changed from economy to premium.
Anyhow, the M400 Tread is an excellent answer for those who are looking for their first rifle. The features you get with the Tread definitely do not speak to budget rifle standards. With that said, consider the Tread if you're looking for a premium-quality rifle on a budget.
Now for you fine shooters out there who run their guns hard, I would not suggest this rifle. It gets way too hot around the handguard; I'm talking about uncomfortably hot, especially under rapid fire. And this specific handguard option on the Tread lacks the space for some attachments. It's not necessarily "lightweight," either.
Home-defense, range, and plinking worthy? Sure.
Military, Law Enforcement, and other jobs that require more modularity and durability from their firearms? No.
Specifications
| | |
| --- | --- |
| Caliber | 5.56/.223 |
| Capacity | 30+1 |
| Twist Rate | 1:8 |
| Overall Length | 30.8 in |
| Weight | 7 lbs |
| Upper and Lower Materials | 7075-T6 Aluminum w/ Hard Coat Anodized Finish |
| Barrel Materials | Stainless Steel |
| Bolt Carrier Group Materials | Carpenter 158 Steel |
| Operating System | Direct Impingement |
| Gas Block | Sig-Sauer Micro |
Pros & Cons
Pros
Ambidextrous bolt and mag release

Stainless steel barrel

Free-floating
Cons
Mil-spec parts, and you can tell

Gassier than gas station tacos

Very little space for attachments
Shooting the Sig Sauer M400 Tread
Admittingly, I didn't think too much of the Tread when I was on my way to shoot it.
"Another mil-spec rifle, how good can it be?" I thought to myself.
That opinion lasted until I got my hands on the rifle, took it down to look at parts, and loaded some Hornady ammo into the magazine.
Stainless steel barrels on a rifle in the sub $1000 range? Okay, Sig. This attributes to the accuracy of the Tread. I mean, I was shooting at a distance of about 60 feet, and since this gun was a rental, I was limited as to how far I could stretch it out when shooting it for this review.
But it does handle itself well in close quarters and will send a dot through whatever you shoot with it.
I did have the assistance of the Romeo5 red dot from Sig Sauer as well, so accuracy was no issue. The groupings were consistent, and all my rounds landed precisely where I was aiming. There's a picture further below in the article.
Again, I was shooting at a distance of about 60 feet. But, the Sig Sauer M400 Tread is definitely in the sub 1.5 MOA range (about as accurate as most AR-15s in the mid-tier level).
The trigger on the Tread could have been better. It is a high-quality trigger, and if you're a fan of single-stage triggers, you may like it too. But the trigger pull was still a bit heavy, in my opinion.
The handguard is relatively slim, much like those you see on BCM Recce rifles, so it did get hot when I was dumping the magazine. That's not a big deal, though, but the lack of space on the handrail did leave me wanting more. It's very minimal, and some shooters may not care about that.
Personally, I just like having the ability to move things around.
The ambidextrous magazine release with the ambidextrous safety was exciting to see on a rifle of this price range. My BCM Recce doesn't come with anything ambidextrous, and I consider it to be one of the best rifles in the game.
As I stated above, the M400 Tread is gassy. And if you look at the charging handle, there is a space that allows gases to seep through and hit you in the eyes like pepper spray. I had tears in my eyes like I was watching Band of Brothers, and yes, I did have my ballistic glasses on.
I would recommend getting a charging handle that is used for shooting suppressed. The lip on the top of the charging handle will sit flush with the upper, allowing you to keep the gasses away from your precious eyes.
But, the gassiness does help the Tread run even when conditions aren't optimal. You can expect the rifle to be a bit of a dirty bird. There will be more cleaning involved, but she does run like a dream if the dream consists of waking up at 3:00 AM with Taco Bell flatulence.
Do I think the Sig Sauer M400 Tread is the best in its category? Yes. I do. If you picked this gun up and sent 100 rounds through it, you would never guess that you could find it on the market for under $900.
Sig Sauer wanted to bridge the gap and build a high-quality rifle in the sub $1000 range.
They hit their mark and then some with the Tread.
Reliability
I spent about 500 rounds of ammo on the Tread and had no failures. I mag-dumped 150 rounds and still could not get her to jam. This makes sense when you look at the premium quality internals that one gets with the Tread.
I mean, it's mil-spec, but Sig went over the top with the Tread and made the internals as best as possible while still keeping the "economy" AR-15 price range.
No reliability issues with the Tread.
Accuracy
Again, this was at an indoor range. So you can obviously expect the accuracy to be pretty dead on and the groupings tighter than a man-bun. From a close-quarters standpoint, the Tread is easy to keep on target and can put a round exactly where you aim it.
The stainless steel barrel on the M400 Tread definitely lends itself to accuracy, and the Tread as a whole (in my opinion) is meant for a more accuracy-based shooting style rather than anything else; since stainless steel barrels are known for accompanying the most accurate rifles on the market.
I would even dare to say that it is the best rifle for mid to long-range AR-15 in its tax bracket.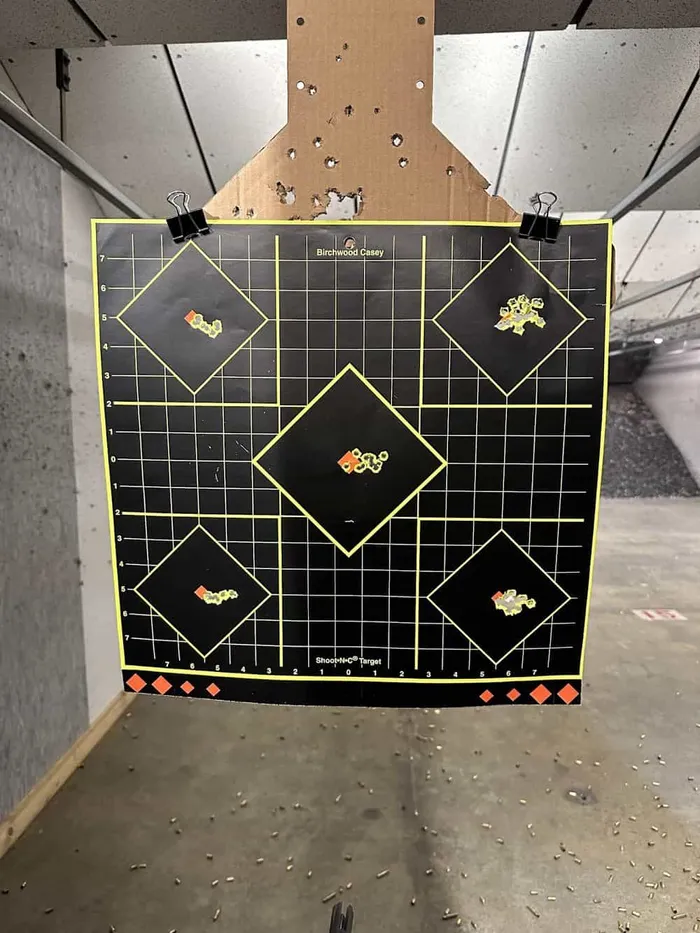 Overall Feel
You know that song "Feeling Hot Hot Hot" by The Merrymen?
Yeah, that is an excellent way to describe the M400 Tread.
This thing gets hot. I'm talking Death Valley in the summer hot. And it stays hot for a while. After some more shooting, I want to say it gets hotter than the BCM Recce line of rifles.
Needless to say, shooting it under rapid fire is not going to be comfortable by your third or fourth magazine. And for you GWOT and Law Enforcement guys out there, you know how quickly you can get through magazines when trying to break contact.
But for my modest shooters who may put only 5,000 rounds in the life of the rifle, you won't have to worry about this. Just be a bit more lackadaisical when shooting.
The Tread does feel like a very sturdy rifle. You don't get that much rattle since Sig put in one of those God-forsaken accu-wedges in there that make removing the rear takedown pin almost impossible. This tightens things up and eliminates some rattling.
I am not the biggest fan of the buttstock. It's a Magpul SL-K six-position stock. Now that thing rattles a bunch. And it almost feels like it doesn't belong on the rifle. Maybe it's just me, I am admittingly spoiled by B5, and I feel like the Tread should have had a buttstock with a bit more meat behind it.
The pistol grip angle leans more towards the A2 grip of the old M16s. It's not as bad, but it doesn't feel the best.
Still, for an "economy" gun, I have not found anything that compares to the quality feel of the Sig Sauer M400 Tread.
Features
Ambidextrous Safety and Magazine Release
Something you don't see too often on budget rifles are ambidextrous features. I mean, some "high-end" rifles don't come with ambidextrous features.
This is something I really appreciated with the M400 Tread. Not just one ambidextrous feature but TWO of them. You usually have to spend more money if you're looking to bat with your left.
Now, some shooters may not like having ambidextrous features due to the safety selector on the left of the rifle getting in the way and hitting their trigger finger. And yes, that is an issue with the M400 Tread. It did hit my finger.
But not enough for me to care. I just thought I'd mention it in case you have issues with that.
The magazine release is ambidextrous as well. This is pretty neat, considering that they also gated it. For those of you who don't know what "gated" means, it is basically a raised surface on the lower receiver that stops unwanted magazine rejections.
And, to top it off, the magazine release on the left side of the rifle is made to allow for easily locking the bolt back to the rear.
Stainless Steel Barrel
In the name of all things accuracy, the M400 Tread comes with a stainless steel barrel. And not only is it stainless, but it's free-floated!
Okay, now let me explain.
Stainless steel barrels err more on the side of accuracy than rigidity. If you're trying to build a rifle for accuracy, it only makes sense to go stainless. But, if you shoot more than the average gun owner, don't go thinking that you can send 30,000 rounds through a stainless barrel. They start to lose their spark after around 9,000 rounds.
Good for accuracy and not corroding but bad for shooters who need a long life from their barrel.
Free-floating handguard
So, there's this thing called "barrel harmonics."
And it has to do with the barrel flexing when a round is fired. Or the lack thereof when a barrel has something holding it in place. Like a handguard.
I know it may not sound like much, but barrels flex a little when a round is fired. Albeit minimally, if you're going to send a round over a distance, anything can throw off a shot.
The free-floating handguard on the M400 Tread allows the barrel to breathe freely and doesn't hold it from doing what it wants to do. It's a completely open relationship.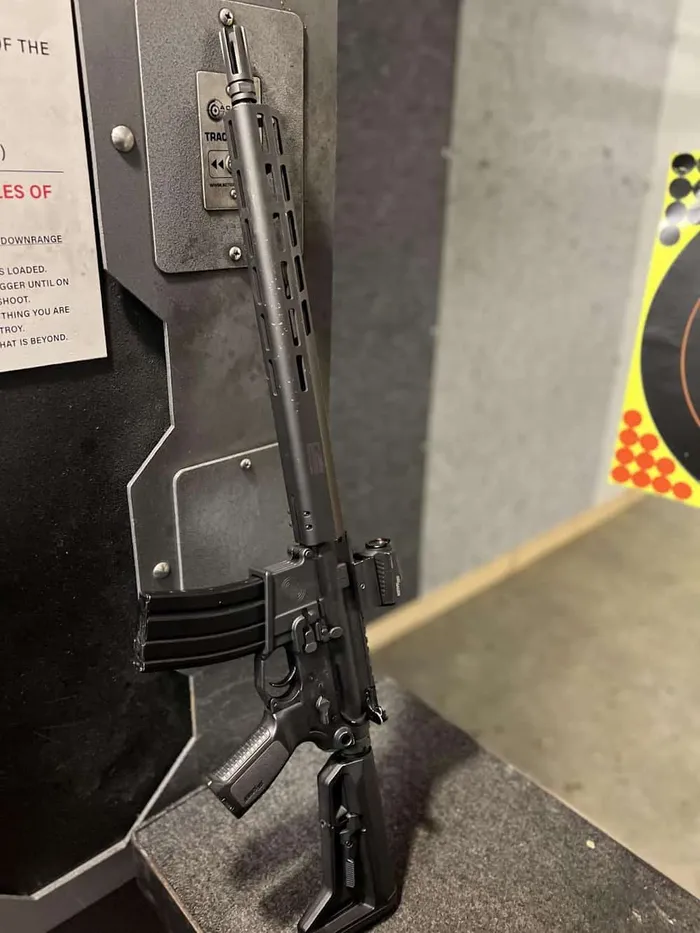 How We Tested
I had the pleasure of shooting the M400 Tread at my local gun range. It was indoors, so I didn't get to utilize that fine stainless steel barrel at a distance. I did have the advantage of a Romeo5 red dot which was mounted and zeroed by the guys at the range.
I did have the target as far as I could to show what the accuracy and consistency look like at close quarters. In case you're here in search of a home defense rifle. And we didn't want to have issues with ammo, but more about that below.
Ammo Used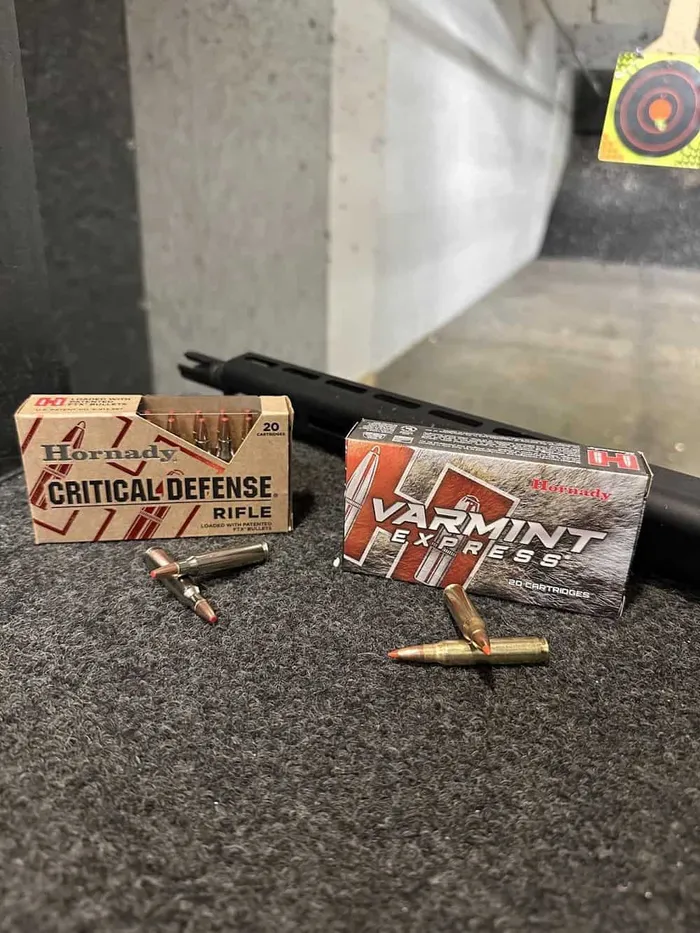 When we give you reviews, we don't want to worry about lousy ammo. And since we wanted to relieve ourselves of all the headaches of trying to find out if there's an issue with the rifle or with the ammo, we chose 55-grain Hornady Varmint and Critical Defense rounds for this review.
Not only are the boxes prettier than my ex-wife, but the ammo also shoots better than…
Hold on. I can't say that. Kids may be reading.
The ammo is consistent, it shot clean, and I did not have to worry about faulty rounds.
Score Card
Reliability (10/10)  
No failures to report. Gassiness helped.
Ergonomics (7/10)
The pistol grip was a bit too close to the A2 for my taste. But the M400 Tread still felt great.
Customization (5/10)
I need more mounting surface areas, personally. There are other M400 models with more space, though. Just not this one.
Appearance (7/10)
She is purdy, but the handguard takes away from the overall appeal.
Value (10/10)
You probably won't find another budget rifle that offers as much as the M400 Tread.
Accessories
As you can see from the pictures, the Tread that I shot was fitted with a Romeo5 red dot. It definitely did the rifle justice in close quarters and can definitely aid you in pushing the rifle out to 100 yards.
And it's not going to cost an arm and leg. And it's made for the Tread, as the name suggests.
Not pictured on the rifle, but I think it would make an excellent addition to aiding you in keeping the rifle right in the shoulder pocket.
Especially when you have a 16-inch barrel and don't want that barrel to droop down and not have that buttstock in the right spot. That could hurt.
Alternatives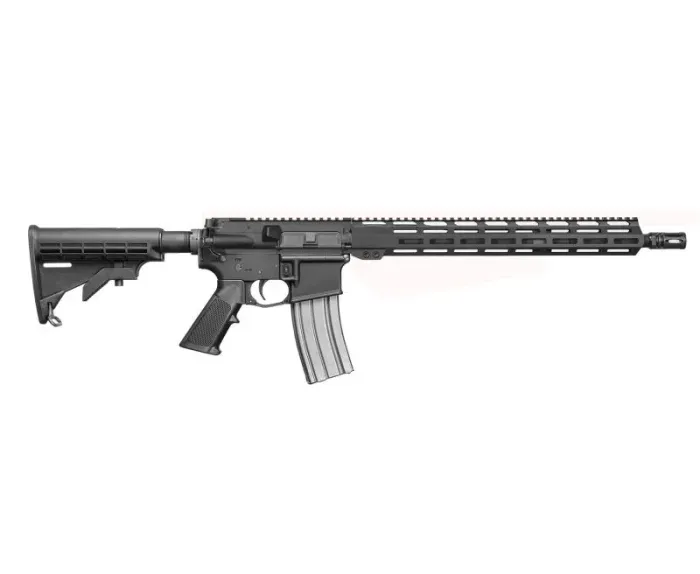 If the lack of space for attachments turns you away from the M400 Tread, I present you with a budget rifle that has all the space you need. Even if you want to mount a chainsaw like I see on Reddit all the time. As a Gears of War fan, I agree.
Anyhow, the Del-Ton Sierra 316L is not a rifle you often hear about in drunken debates between friends about the best budget rifle, and that's a shame because the rifle is impressive. Sure, it doesn't have those ambidextrous of the M400 Tread, but the money you'll save when picking the Sierra over the Tread will allow you to afford all of those extras.

As for a rifle you've probably heard of a million times, the Saint has taken the budget AR-15 market by storm. And for great reason. It bridges the gap between an AR-15 you would take into a battlefield but won't drain your pockets.
Sure, it's more expensive. But the Saint is a great rifle. And it will give you more than other budget rifles on the market, like a single-stage nickel boron flat trigger that ensures smooth pulls and a free-floating handguard that doesn't hinder the barrel from doing its thing.
There's more, but I don't want to overshadow the Tread. All I'm saying is, the Saint Victor is a perfect alternative if you don't mind spending a bit more.
Conclusion
The Sig Sauer M400 Tread is a great economy rifle or beginner rifle for anyone getting into the AR-15 game. While you may have a limit on what you can do, it is perfect for home defense, plinking, and having fun at the range.
Remember, the rifle is always better than the shooter. It doesn't matter if you have a Knights Armament SR-15 or a Palmetto State Armory AR-15; if you don't train, none of that matters.
What do you think about the Sig Sauer M400 Tread? Do you have any experience with it? Let us know what you think.
See you at the range.
Explore more