Smith & Wesson Equalizer Review: Hands-On + Photos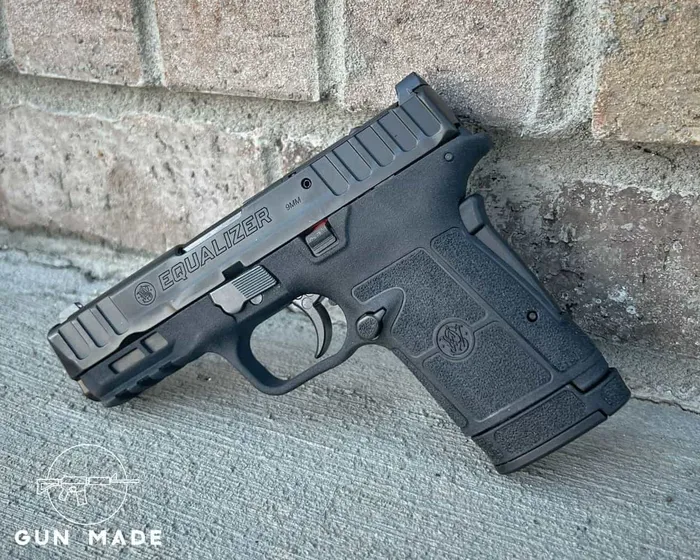 Smith & Wesson Equalizer Review: Hands-On + Photos
Introduction
The S&W Equalizer takes some of the better features of the Shield EZ and Bodyguard, puts them together, and then adds a few more to top it off. After going to the range for a S&W Equalizer review, I realized this pistol would not be for everyone, but I don't think S&W intended it to be. For those who need a gun that is easier to rack and load, the Equalizer delivers just that, plus gives you some extra features to allow you to make the gun your own.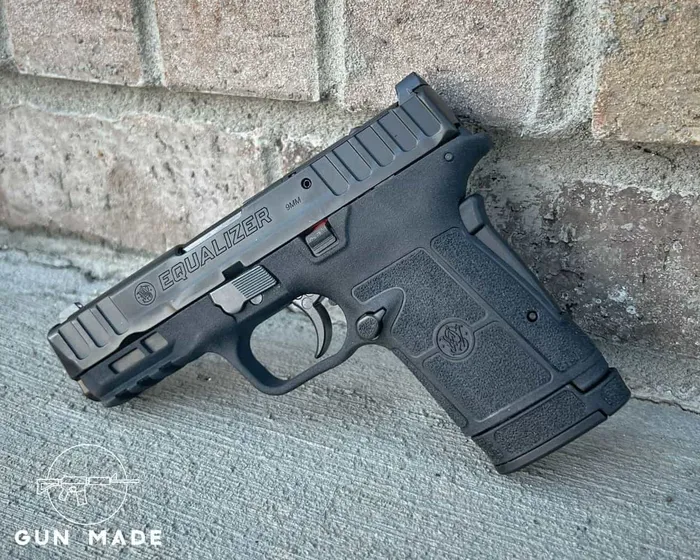 Since the Equalizer was just released, I haven't had it long enough to put a ton of rounds through it, but I have managed to get 320 down range with it. Let's just say, it's exactly what I expected…which is not a bad thing.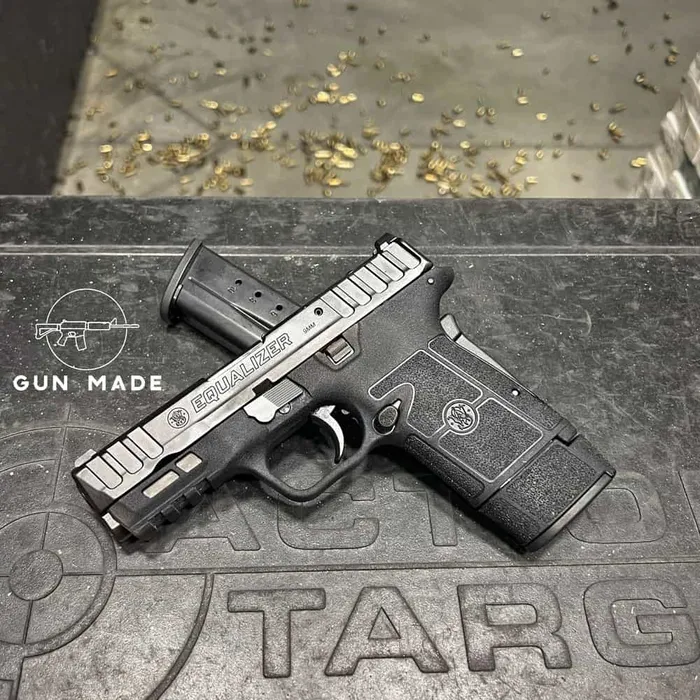 S&W Equalizer Review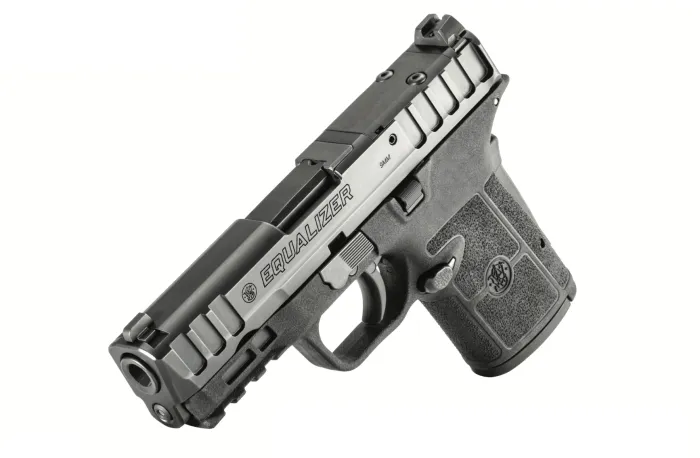 Specifications
| | |
| --- | --- |
| Caliber | 9mm Luger |
| Capacity | 10+1, 13+1 and 15+1 |
| Frame Size | Micro-compact |
| Overall Length | 6.75 Inches |
| Barrel Length | 3.68 Inches |
| Width | 1.04 Inches |
| Height | 5.25 Inches w/ 15-round Magazine |
| Weight | 22.9 Ounces w/ 13-round Magazine |
| Sights | White Dot |
| Grip Frame | Polymer |
| Slide Material | Stainless Steel with Armornite Finish |
Pros & Cons
When you essentially blend two guns together into one, the end result should be that there are more pros than cons. I believe S&W put enough research and development into the Equalizer to make sure that was the case.
Pros
15+1 capacity in a micro-compact 9mm
Reliable and accurate
Easy-to-rack and optic cut slide
Cons
No flat face trigger
Grip safety
Range Report: Accurate and Reliable
Reliability
I've been making my way through a case of 115-grain Blazer Brass FMJ that GunMag Warehouse was nice enough to send out and put 300 rounds of it through the Equalizer. I didn't have many defensive rounds left, but I always like to put at least some through every gun.
I wound up only putting one box of 124-grain Federal Punch JHP down range but had zero issues with it. Out of the 320 rounds, I had no failures.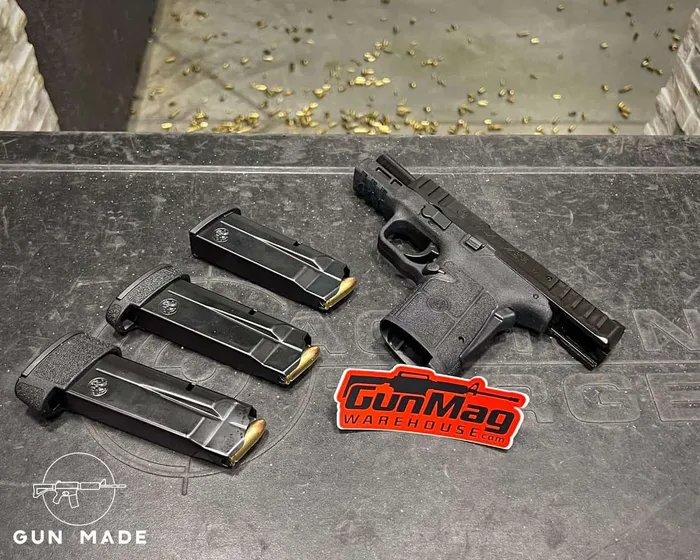 Accuracy
I was extremely surprised by the accuracy that I had right out of the box with this gun. I shot it just as well as I have some of the full-size pistols I've tested lately. I'm used to flat triggers, so this one did feel a bit strange, but it wound up shooting wonderfully.
Even within the first couple of magazines and without an optic mounted, I was able to maintain fist-size groupings or tighter out to 15 yards. After a couple of hundred rounds, 25 yards started to look similar.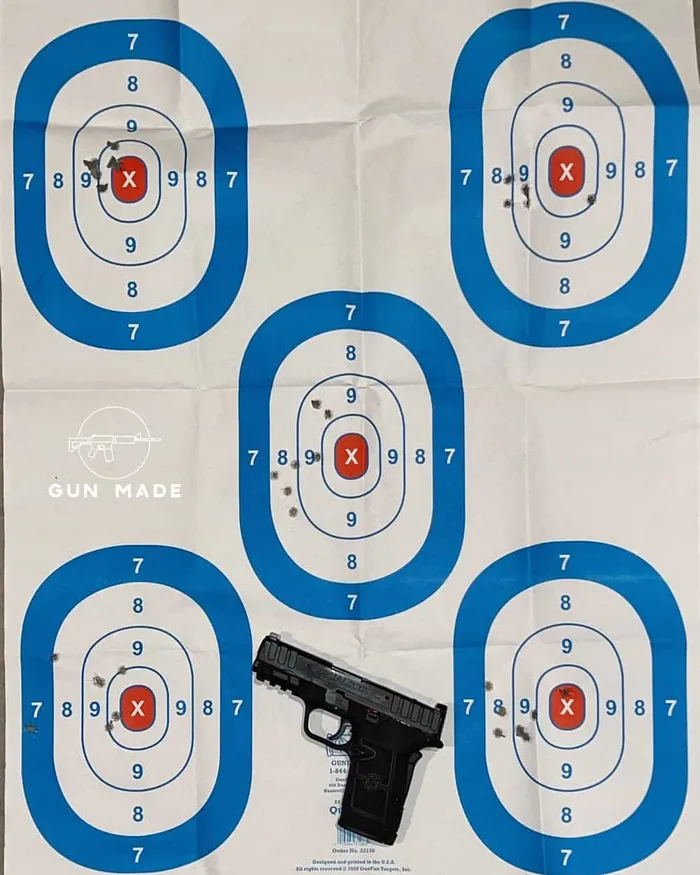 Features
Slide and Rail
A huge part of the appeal of this gun is that it's "EZ" to rack. As you can see in the photos, the slide serrations are very aggressive and make it easy to grab and pull the slide back. It's not only easier to grab than many others, the force it takes to actually pull the slide back feels significantly less too. Then, right up top, S&W made sure to deliver the Equalizer with the slide cut and ready for optics.
The accessory rail is a Picatinny style that will give you a ton of options for accessories. Whether you want to mount a light or laser or maybe even a bayonet, you should be set! Well, maybe not the bayonet.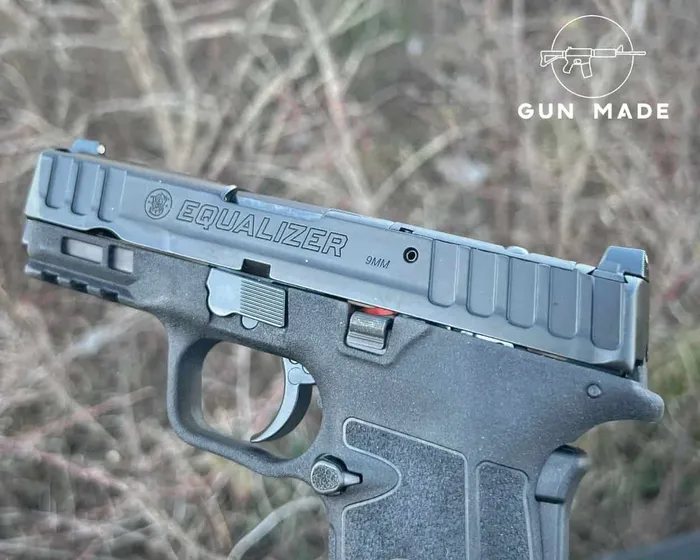 Sights
There isn't much to say about the sights. They are your standard three-white dot setup, but they get the job done. I'll probably wind up switching them out with night sights eventually, with no rush, though.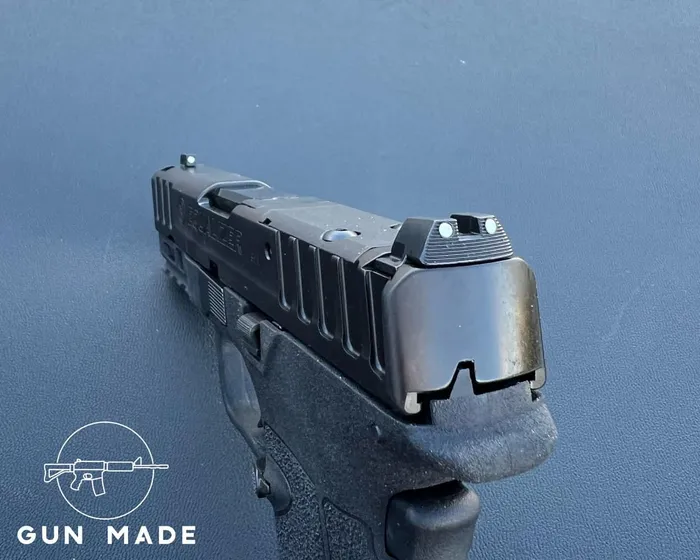 Grip and Controls
Ah, what a grip. I have mixed feelings about it. It features an 18-degree angle and has nice texturing, but then there is the grip safety. The grip safety seems like overkill, but I do understand that the demographic for this gun would likely appreciate it.
It doesn't get in the way necessarily, but I would love to have it removed or the option to purchase an Equalizer without it.
When it comes to the controls, you'll get a reversible mag release and a standard slide stop lever. Just like with Smith & Wesson's other offerings, you'll also get the nice take-down lever that allows you to disassemble the gun without having to pull the trigger.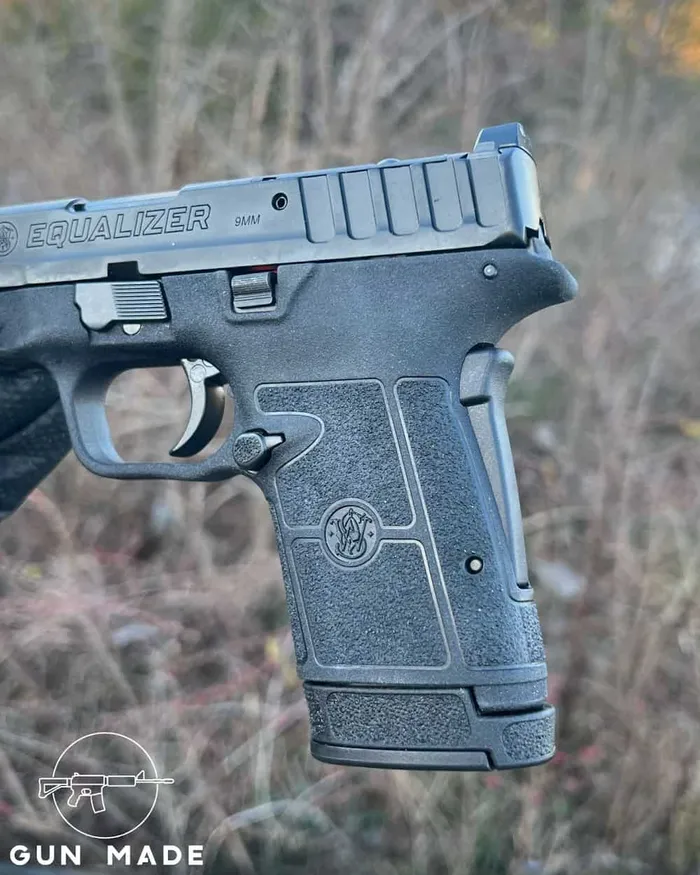 Magazines
Three different magazines come with the Equalizer, ranging from 10 to 15 rounds. 15 is still pretty impressive for a gun of this size, and the various capacities are convenient if you need to go ultra-concealable.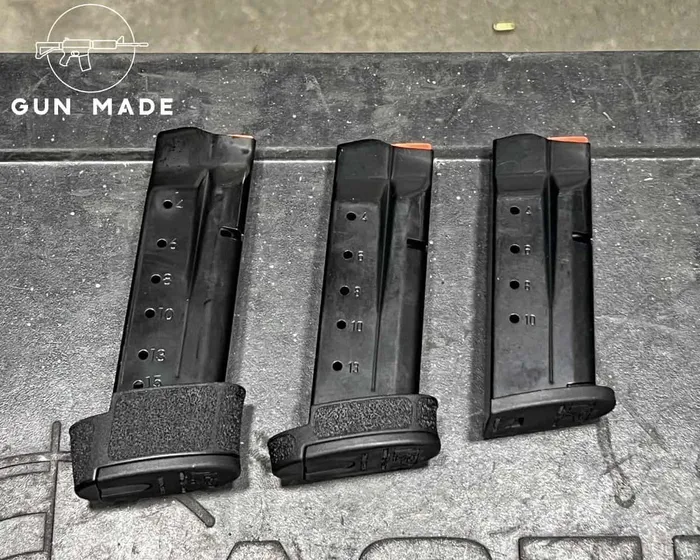 Trigger
I wish the trigger was flat, but it still shoots great. I was shocked at how well I shot with it. It's a crisp single-action trigger with a clean break and reset. I shot rather quickly at times and had no issues with my follow-up shots staying on target.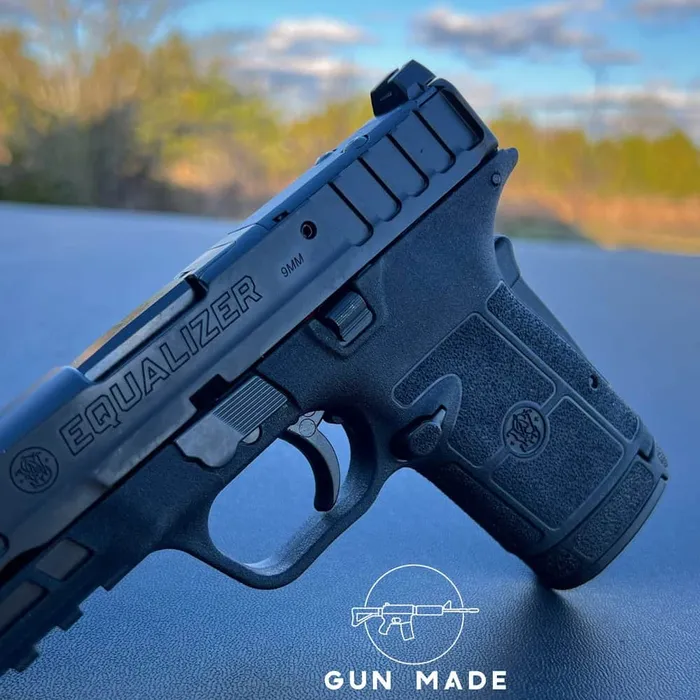 Accessories
I was lucky enough to receive one of S&W's promotional Equalizer packages, which included a Holosun EPS Carry and a Crossbreed holster. I do think a holster is one of the first crucial pieces of gear you need for your new gun, so the fact that they included one was a very nice touch.
It's not the typical holster I would have chosen, but I will recommend one in the next section that I'll likely be ordering.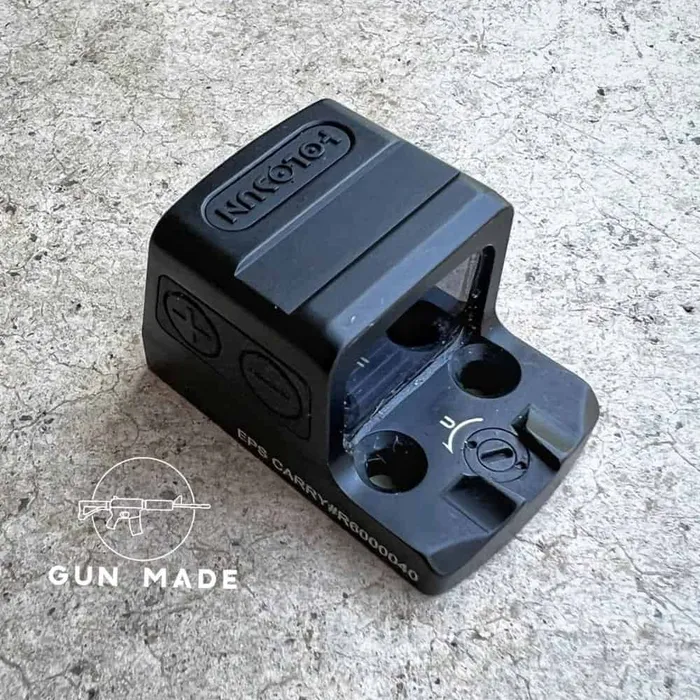 The EPS Carry is one of the newest offerings from Holosun, and it has been a huge hit in the market so far. You can order it in various reticle colors and sizes and with or without the Solar Failsafe feature that Holosun is so well known for. I've been running an EPS Carry on one of my M&P Shields for a few months now with no complaints at all.
In full transparency, there are several holster companies I use. The one that I go with for each gun really winds up coming down to who offers the configuration I'm looking for or the current turnaround time of the company. With the Equalizer being so new, not every company has offerings for it. I've had great experiences with C&G Holsters from a quality and turnaround perspective, and they have options for the Equalizer already.
Alternatives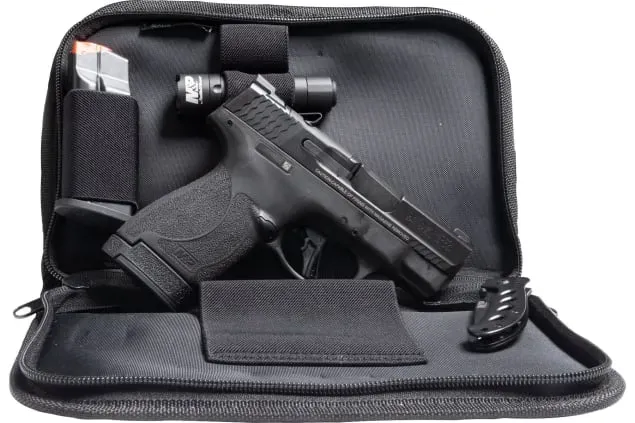 If you like the compact size and reliability the Equalizer brings to the table, but don't like the grip safety, check out the Shield Plus.
It doesn't have an accessory rail, but it is optic-ready and has a really nice flat face trigger. It's one of my go to carry guns, and I've had no issues with it to note.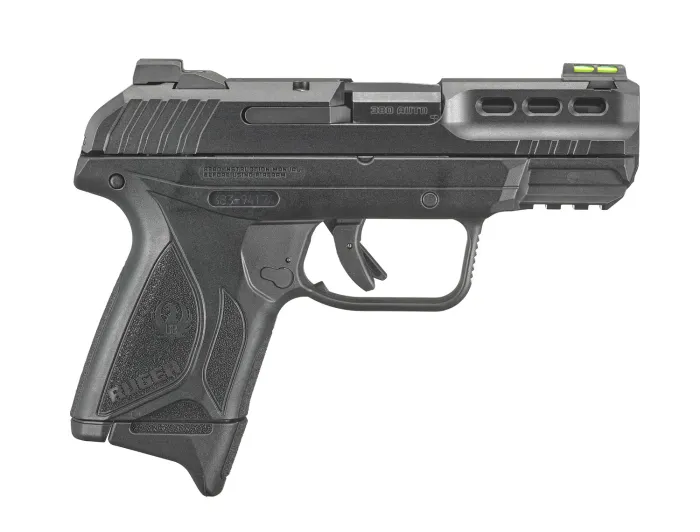 I don't usually recommend 380s, but if your main concern is the gun being easy to rack, this is another new option coming to the market specifically designed for that. It's also lightweight at only 19.7 ounces and has a 15+1 capacity.
I believe the suggested retail will only be $369, but that definitely can change in time.
FAQs
How much does the S&W Equalizer cost?
The S&W Equalizer has an MSRP of $599.00, but you can find it floating around the $499.00 price point.
When was the S&W Equalizer released?
The Equalizer was released just over a month ago, in early November.
Is the S&W Equalizer a good concealed carry gun?
It's hard to definitively answer this, but from a capacity and customizable perspective, I would say yes. I need some more time with it before I carry it myself, but I don't see any true reservations arising.
Score Card
Reliability (10/10)  
I can't promise it will always be 100% reliable. However, out of the 320 rounds I have put through it so far, I have had zero malfunctions.
Ergonomics (8/10)
The grip is angled at a comfortable 18-degrees, but I don't like the grip safety. It's not uncomfortable by any means, but simply taking off that grip safety would make a huge difference.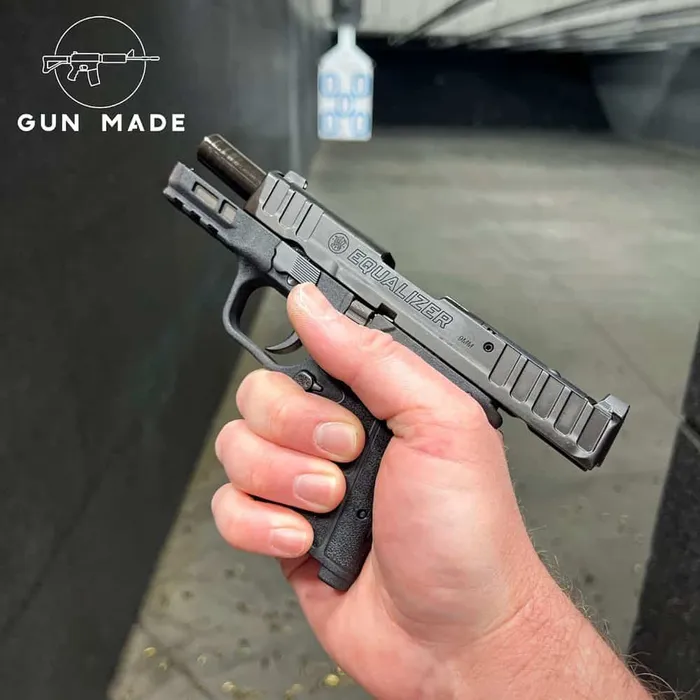 Customization (10/10)
Since it has an accessory rail and comes with a slide cut for optics, the sky's the limit with accessories.
Appearance (8/10)
The large bold EQUALIZER on the slide needs to go. Aside from that, it has a nice aggressive look thanks to the deep slide serrations.
Value (9/10)
It's reliable, comes with some extras, and is backed by S&Ws lifetime service. All for only about $500, depending on where you find it.
Conclusion
The S&W Equalizer is a great option for a niche gun. There aren't a TON of pistols out there specifically designed to be extremely easy to rack. I think S&W priced it well for today's current market and was smart to include magazines with varying capacities.
If you're looking for a gun that is easier to rack than the average, not too hard to load, and gives you plenty of customization options, I would recommend at least testing out an Equalizer to see if it's for you.
Ryan
Thu, 22 Jun 2023 02:47:38
Hey Wayne – while I've shot the EZ, I don't have one to necessarily post a comparison. However, I personally would lean towards the Equalizer for the capacity aspect alone.
Reply
Explore more