Smith & Wesson M&P FPC Review: The Folding Pistol Caliber Carbine I've Been Waiting For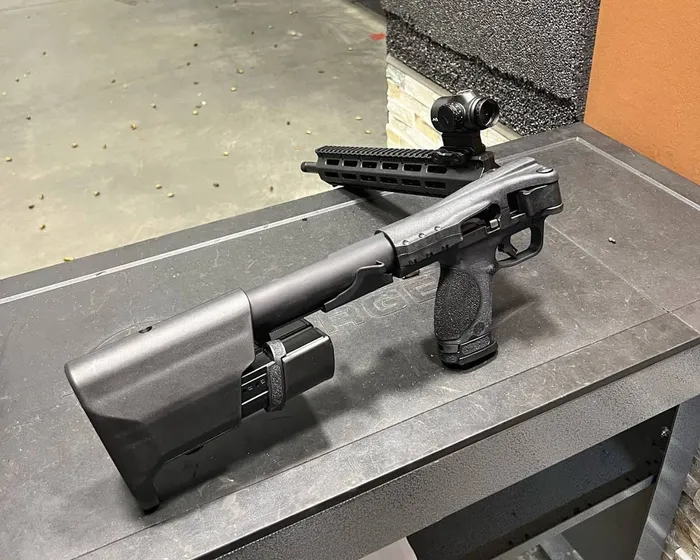 Smith & Wesson M&P FPC Review: The Folding Pistol Caliber Carbine I've Been Waiting For
Introduction
Notice in the title of the article, I called the S&W FPC (folding pistol carbine) the PCC (pistol caliber carbine) that I've been waiting for.
For someone like myself, who already is invested in the M&P platform, the ability to share magazines between your pistol(s) and the FPC is amazing. I'm all about versatility and maximizing the functionality of the gear you have.
"It's just a knockoff KelTec Sub2000". That's a statement I've seen being made over and over again within the interwebs and on social media. I disagree.
The FPC folds horizontally, allowing you to keep your optic on, zeroed, and ready to go. The lack of that feature alone disqualifies the Sub2000 from my wishlist (it folds vertically).
Even if you don't have any other M&Ps though, the appeal of the FPC should not be diminished. It's compact, affordable, and easily customizable.
But is it reliable and accurate? Let's take a closer look at the FPC and you can decide for yourself if your safe will be the new home to one soon.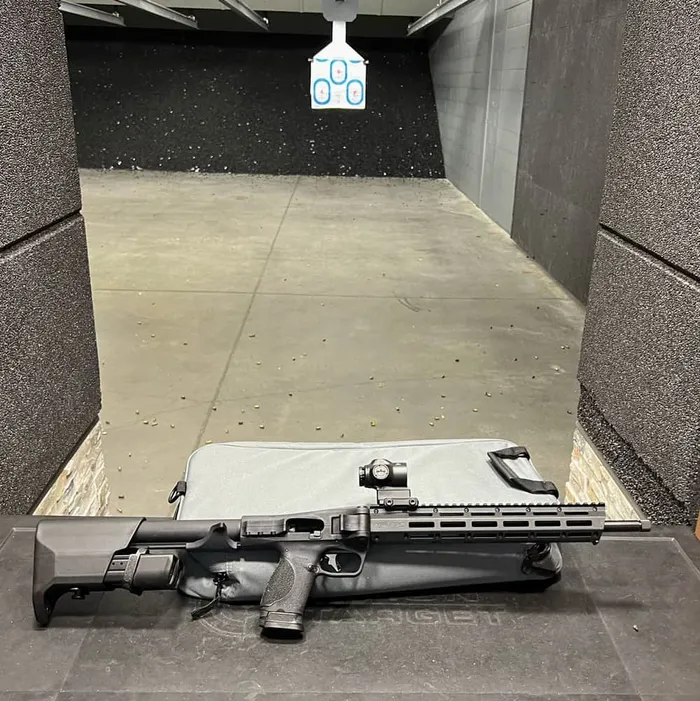 M&P FPC Review

Specifications
| | |
| --- | --- |
| Caliber | 9mm |
| Action | Blowback, Semi-auto |
| Capacity | 23+1 |
| Barrel Length | 16.25 Inches |
| Barrel Material | 4140 Steel |
| Overall Length | 16.38 Inches (folded), 30.38 Inches (unfolded) |
| Width | 2.5 Inches |
| Height | 8 Inches |
| Weight (unloaded) | 5.03 Pounds |
| Threaded Muzzle | ½-28 |
Pros & Cons
I typically try to avoid obvious statements here, but I can't help the first pro…
Pros
Ultra-compact thanks to folding

Reliable and accurate

Ability to keep optic mounted and zeroed even with folding 

Spare magazines and carrying case come standard

In-stock magazine storage

Threaded barrel and M-Lok handguard
Cons
No backup sights

Controls were very stiff to start

Gassy like a night after Taco Tuesday

Charging handle needs two hands
Range Report
Reliability
I've had some iffy experience with some PCCs, where they haven't been the most reliable and were picky with ammo. The FPC is definitely not one of them.  I didn't have any issues out of the 250 rounds that I put through the FPC.
Accuracy
Without having any backup iron sights, the optic you choose to run will play a large factor in the accuracy of the gun.
The FPC proved to be just as accurate as any of the other PCCs I've shot in the past. I'm confident that within 100 yards, you should have no problem hitting your targets.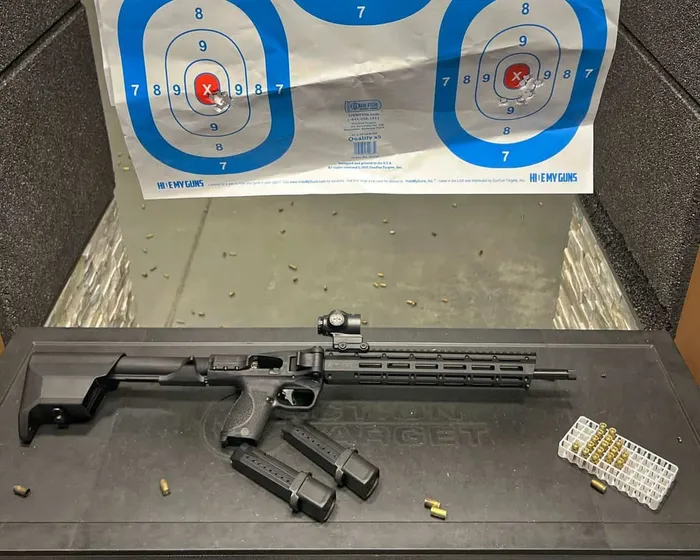 Overall Feel
Despite being lightweight, the FPC has a very solid feel to it. You would think that the pivot point would have some play to it, but there is virtually none.
With the rounded edges and smooth handguard, it's a very comfortable gun to hold and shoot.
Features
Horizontal Folding Design
Who wants to have to remove their optic before folding the carbine? I know I sure don't! Thankfully, with the FPC folding to the side instead of up or down, you can keep your optic mounted and zeroed.
I somewhat assumed the pivot point would have some "play" to it and wiggle room, but the locking latch keeps it surprisingly tight and secure.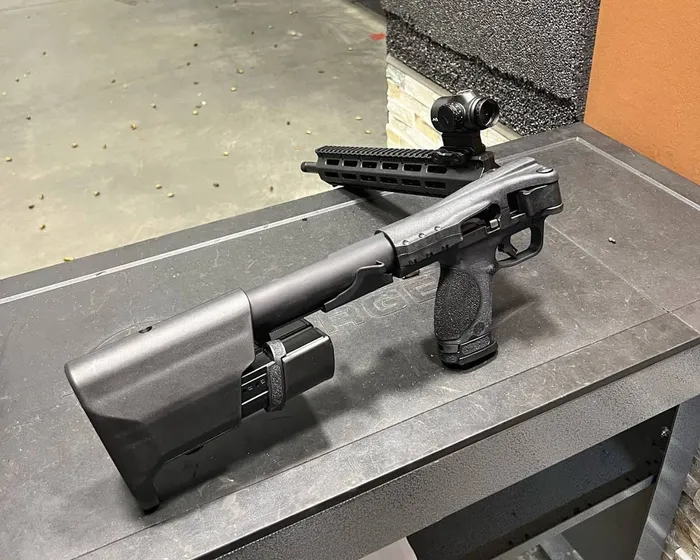 M-Lok Handguard
Once I made the switch over to M-Lok handguards from quad-rail style handguards, I never looked back. Don't get me wrong, both serve essentially the same purpose and do it well, but to say that I'm invested into M-Lok accessories would be an understatement.
The FPC has M-Lok attachment points wrapped completely around the handguard, except for on the top, where a Picatinny-style rail is found.
I used a Primary Arms prism scope for testing, and it was mounted and zeroed within a few minutes.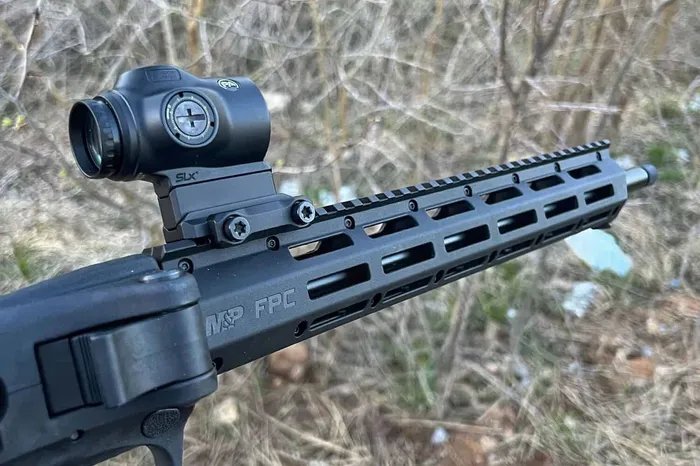 Flat-Face Trigger
Just like the new M&P M2.0 pistols, the FPC features a flat-face trigger.
It does feel a little bit heavier than some of the triggers on my pistols, but it is still smooth with a clean break and quick reset. I was able to rapid fire and stay on target without a problem.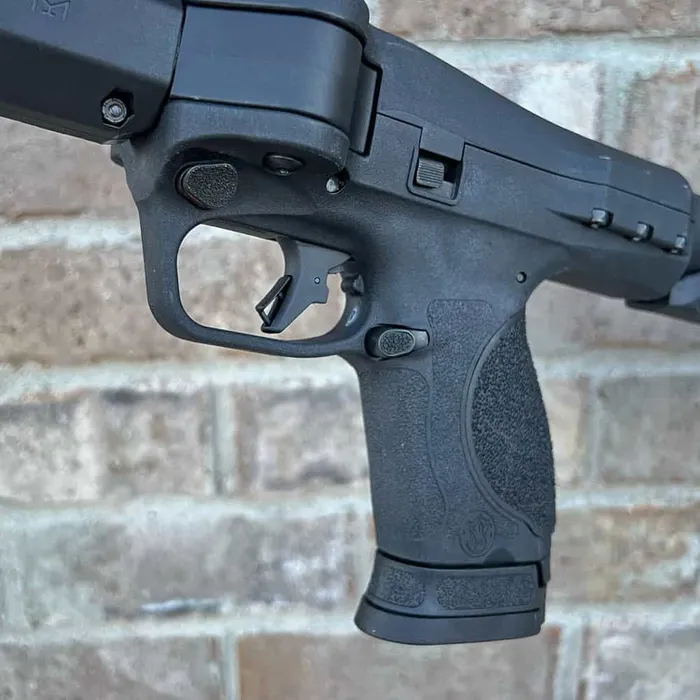 In-Stock Magazine Storage
Thanks to the in-stock magazine storage and included magazines, you can carry a total of 64 rounds without the need for any additional accessories like mag pouches or a plate carrier.
The mags are released by simply pressing the opposite side of the spring-loaded lock on the bottom; otherwise they are nice and secure.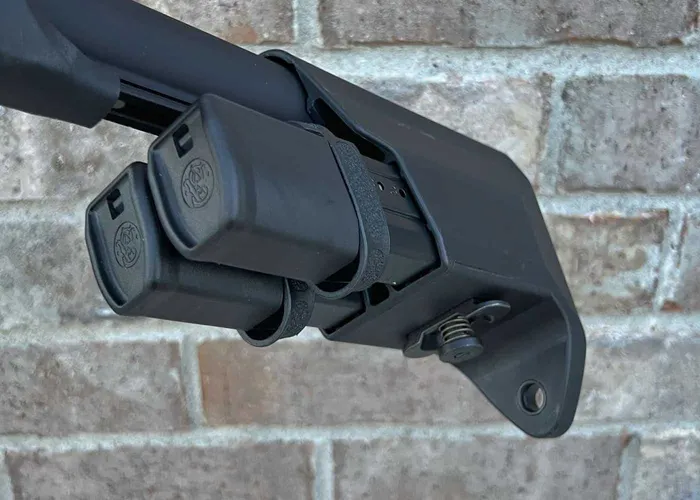 How We Tested
I brought the FPC to the range three times, putting roughly 80 rounds or so through it each time. I made sure to run a variety of ammo that I'll detail below. Reloading from the stock isn't necessarily "quick," but I'm hopeful over time, it will be.
Ammo Used
The majority of the ammo I put through the FPC consisted of 124-grain Remington UMC FMJs.
Then, to test some defensive ammo, I chose to run 115-grain Hornady Critical Defense FTXs, which feature Hornady's patented "flex tips." These are designed to reduce or eliminate the clogging that is often associated with hollow-point bullets.
I had literally zero issues with either ammo.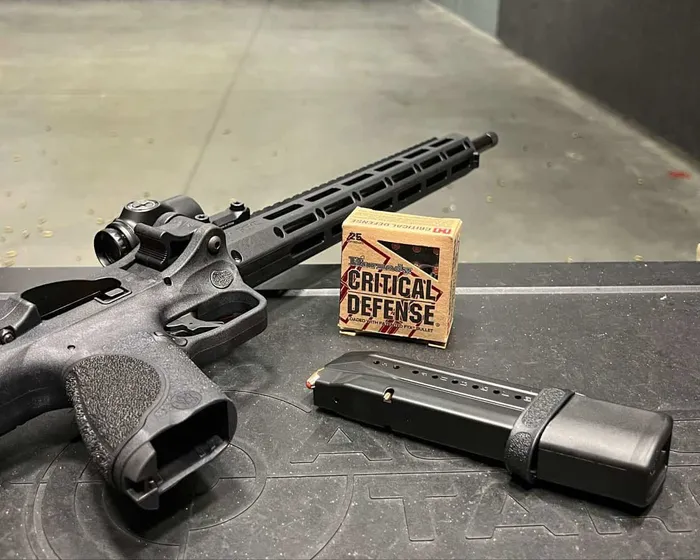 Score Card
Reliability (10/10)  
Sometimes PCCs can be picky with ammo…this one is not!
Ergonomics (9/10)
Lightweight, nice grip and smooth handguard.
Customization (8/10)
The M-Lok handguard with Picatinny rail up top gives you plenty of customization options.
Appearance (8/10)
It looks more "budget" friendly than it should in my opinion.
Value (9/10)
With an MSRP of $659 and the reliability and accessories that come with it, I would say the bang for the buck is evident. You can even find it for around $575 at the moment if you search enough.
Accessories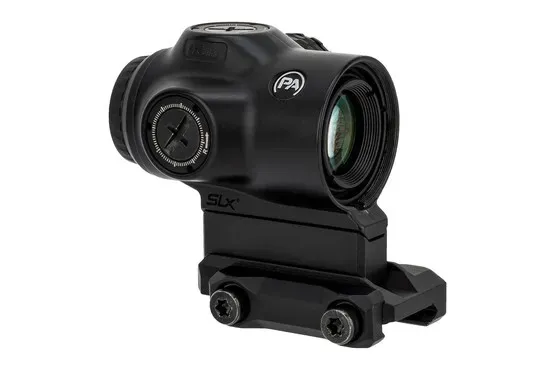 The SLx 1x MicroPrism Scope from Primary Arms is a feature-packed but compact prism scope, great for closer distances.
It features 13 illumination settings (three of which are night vision compatible), motion-sensing on/off technology, and a 29,000-hour battery life at medium setting. It also won't break the bank with an MSRP of $269.99.
Check out our Primary Arms SLx 1x MicroPrism scope review for more info.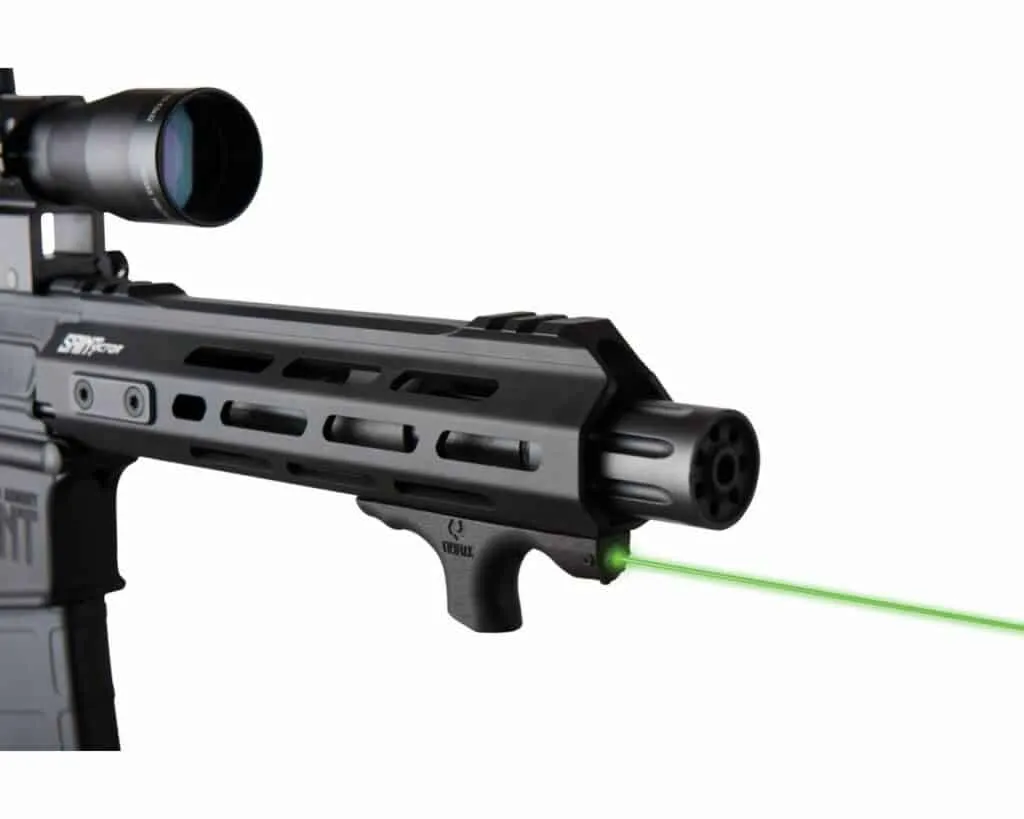 To go along with the compact design of the FPC, the Viridian HS1 Hand Stop is very minimalistic.
It features an integrated laser sighting device that is easily pressure activated and has a range of 100 yards in daylight or two miles at night. It runs for an hour and a half on a single 1/3n battery and comes with a seven-year warranty.
Alternatives

You'll likely see many people comparing the FPC to the KelTec Sub2000.
The Sub2000 is also a folding carbine chambered in 9mm (or .40), but it actually folds vertically. It features a 16.25" barrel and weighs only 4.25 pounds. It's definitely not going to win any beauty pageants, but the MSRP starts at $578, so you'll have some extra cash to make it look better.

I would categorize the Pivot as a rotating rifle, not a folding rifle.
It's 20.9" when folded, while still featuring a full 16" barrel. It runs Glock mags, has a threaded barrel, and extra magazine storage in the stock. I haven't shot this one myself, so I can't say if it's worth the steep price tag, but it is definitely interesting.
Conclusion
If you're looking for a backpack gun, truck gun, or even just a fun range toy, the S&W M&P FPC can easily satisfy the need.
The fact that you can find it for around $575 with all of the extras, such as the carrying case and high capacity mags, makes it a great value.
Now that we tested it and took a closer look, I'll reiterate my point from the beginning of the article…regardless of if you currently own any other M&Ps, I think it's still worth checking out if you're in the market for an ultra-compact PCC.
Explore more