Smith & Wesson M&P15-22 Sport Review: Hands-on With Photos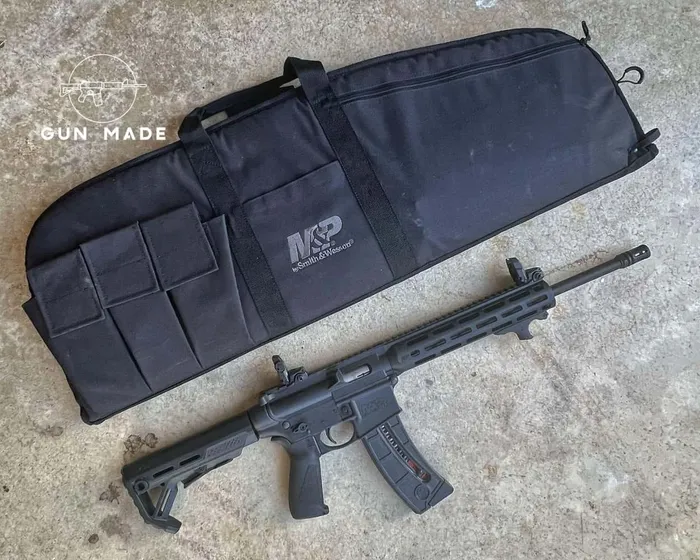 Smith & Wesson M&P15-22 Sport Review: Hands-on With Photos
It may be hard to believe, but the M&P15-22 Sport sees the most range time out of any of the rifles I own. Anytime I go shooting outdoors, it comes with. Reason being, I also own a M&P15 that shares a very similar control layout, so the 15-22 Sport makes for a great training tool. It also allows me to shoot all day for a fraction of the price since .22LR ammo is so affordable. Oh yeah, and it's just plain old fun!
After shooting close to 2,000 rounds through it, I think it's safe to say I have a good idea of what to expect and how it functions. I'll share my personal experience with it from an accuracy and reliability perspective, and we'll take a deep dive into the features, specifications, and more. 
M&P15-22 Sport Review

Specifications
| | |
| --- | --- |
| Caliber | 22 LR |
| Capacity | 25 Rounds |
| Action | Semi-Auto Blow Back |
| Length | 33.8 Inches |
| Barrel Length | 16.5 Inches |
| Barrel Twist | 1 in 15 Inches |
| Weight | 76.8 Ounces |
| Sights | Folding Magpul MBUS |
| Handguard | 10 Inch w/ M-LOK |
Features
As you can see from the photos, I have changed several parts of the rifle to better suit my preferences, but there was nothing necessarily wrong with the stock parts. As I talk about the features, I'll be referring to the stock ones. Let's take a look at what you'll get out of the box with the 15-22 Sport.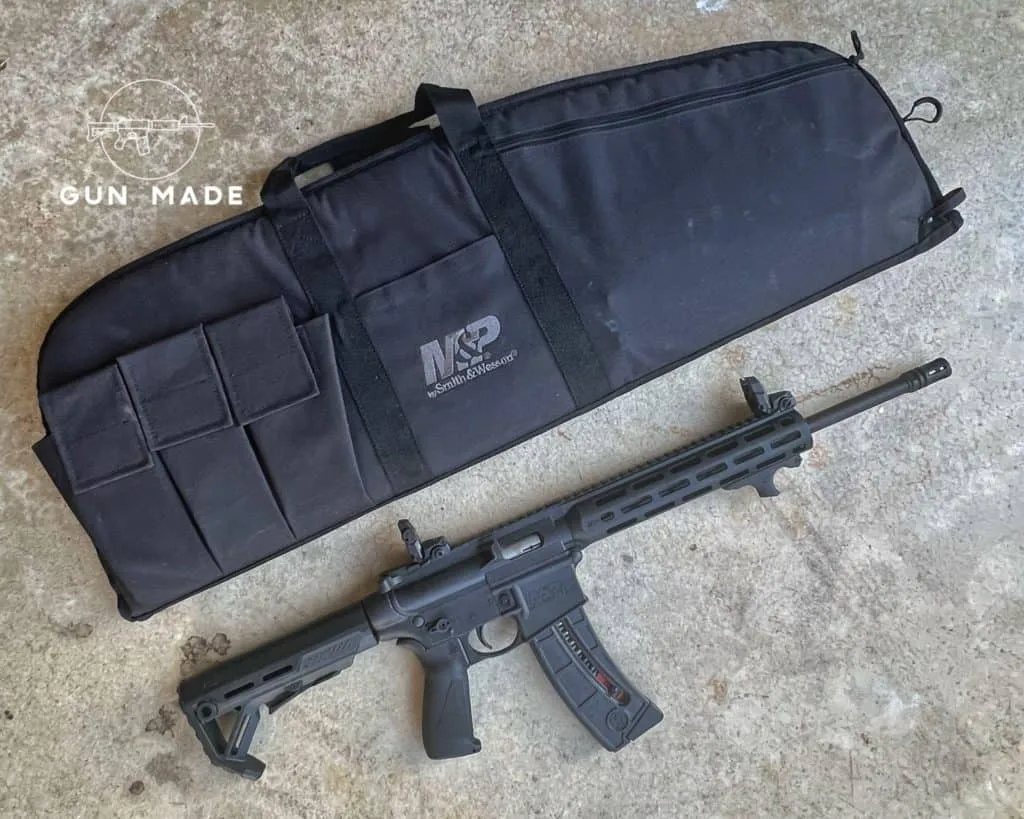 Handguard
The handguard is one of my favorite features of this rifle. It's a 10" slim handguard with Magpul M-Lok slots. The popular M-Lok design allows you to attach a wide variety of accessories, quickly and easily. The handguard is also made out of polymer, so it's very lightweight and smooth on the hands. Accessories you'll often find attached to it are lights, foregrips or hand stops, to name a few.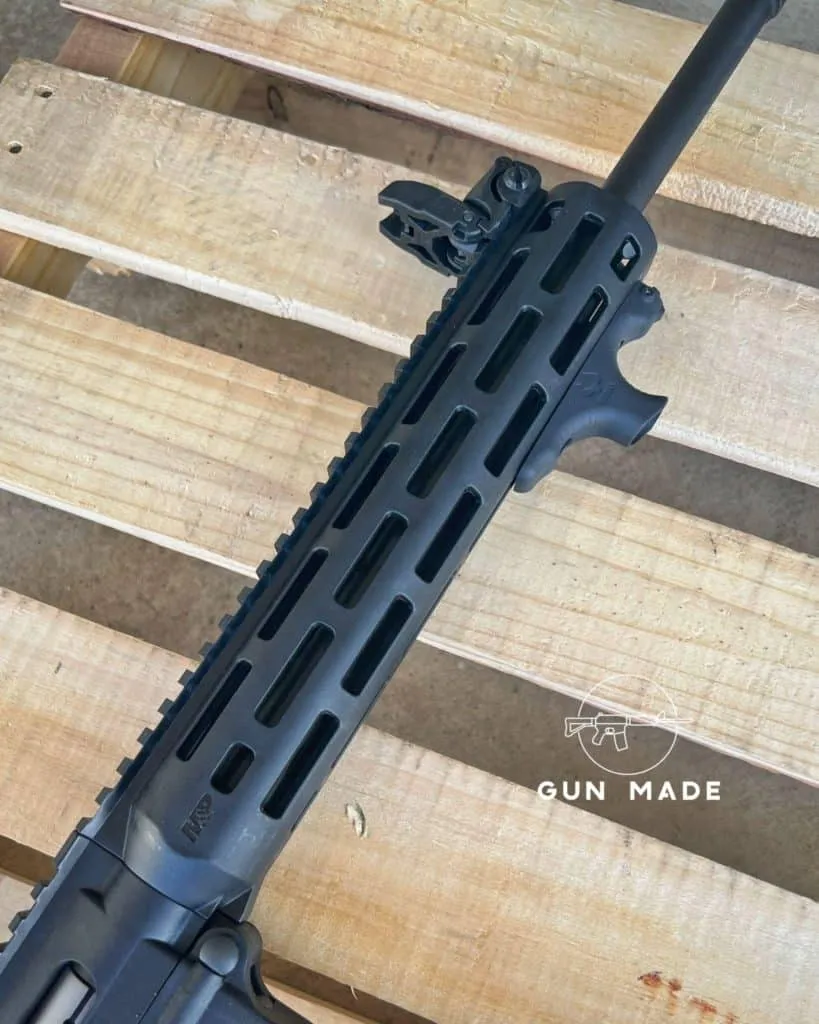 A picatinny-style rail essentially extends the gun's length from the charging handle to the end of the handguard. This gives shooters plenty of room for optic or scope mounting. A simple Google search for a picatinny rail scope or red dot will reveal tons of options.
Sights
It could be the fact that I'm used to them from having them on several of my other guns, but the folding Magpul MBUS are some of my favorite "iron sights", and luckily the 15-22 Sport comes standard with them. They are polymer spring-loaded flip-up sights that are easily activated by pressing the top or sides. I've never had them lose their zero once I've set it, break or fall off.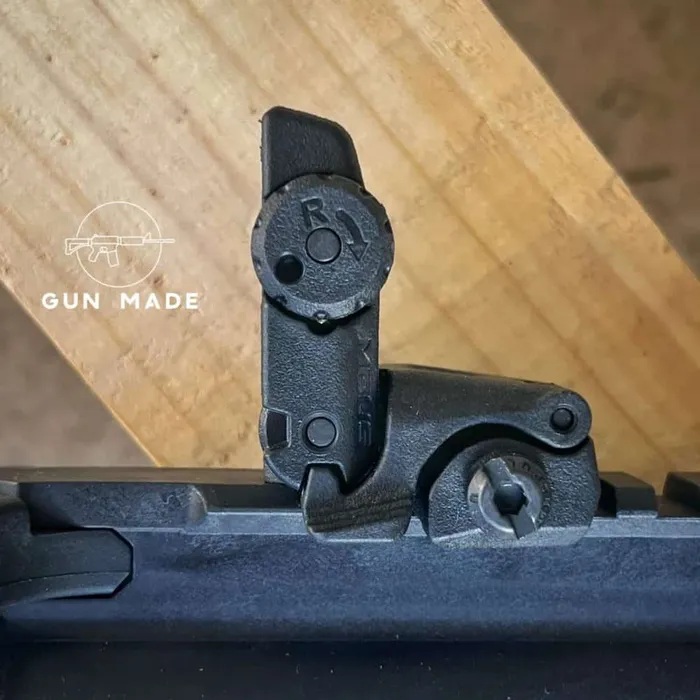 They can be extremely accurate too. For example, I can shoot fist-sized groupings out to 25 yards with ease, and I'm able to hit 10" steel targets consistently at 100 yards with them. I plan to keep these sights on as long as I have the gun, as you can choose to keep them folded and put an optic on whenever you please.
Stock
The 6-position CAR stock is very basic and offers little recoil mitigation. But, with this being a .22LR rifle, you don't have to worry about the recoil, making that a non-issue. Stocks like these are often found on lower-priced or entry-level rifles, so it's not surprising to see them included on an affordable rimfire AR. It is nice, however, that S&W went with an adjustable stock as opposed to a fixed stock.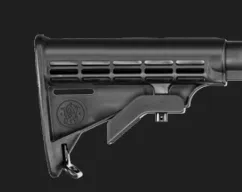 Grip
The A2 pistol grip is the standard mil-spec grip that you'll find on many AR-15 style guns. It's lightweight and functional but does leave a lot to be desired when compared to some of the more innovative and fancy grips available in the market. Luckily, it's one of the easiest parts to swap out with a simple removal of one screw.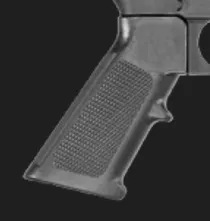 Magazine
The package that I purchased came with three 25-round magazines. I really appreciate that the magazines feature a load assist button because when you're shooting a few hundred rounds in a range session, it's very nice to have that extra help when loading to save your fingers. Aside from saving you from finger pain, the load assist button helps you get those last couple rounds in to make a full magazine.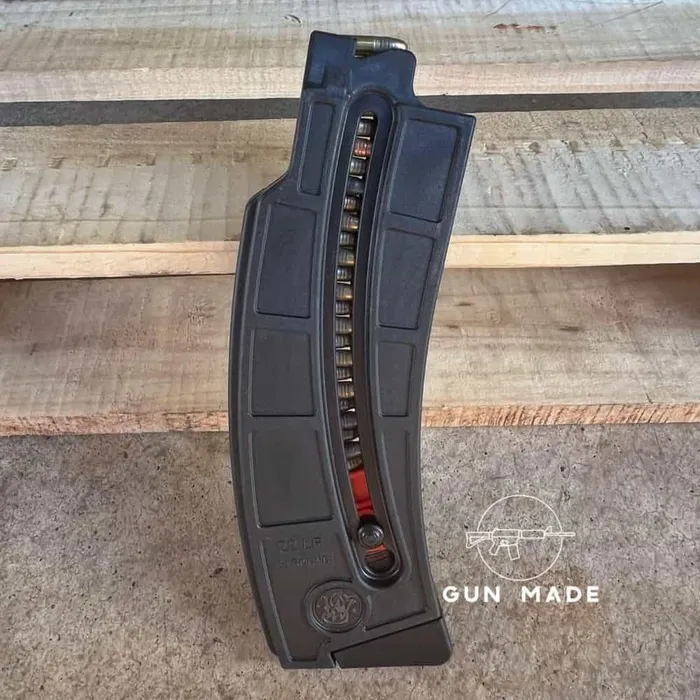 One issue I did uncover with the magazines is that they do not like CCI Standard Velocity ammunition. I have never been able to run more than five rounds of it at a time without a round getting stuck in the feed lips. All other ammo I've tested has run just fine through them, though. 
Trigger
You'll find a basic curved mil-spec trigger on the 15-22 Sport. Just like on an AR-15, you can easily switch the trigger out if you'd like, with plenty of drop-in options. I've never bothered to replace the trigger, though, as I've found it consistent and smooth. Sure, the trigger pull could be lighter, but I've also never thought it was heavy to begin with. Sometimes I like to stick with the motto of "If it ain't broke, don't fix it".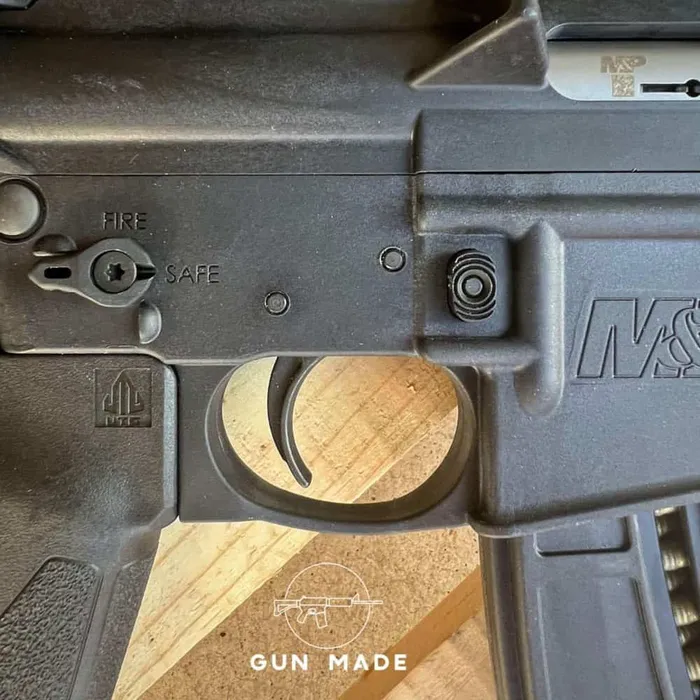 Controls
If you have an AR-15, the controls on the 15-22 Sport should be extremely familiar. I like the fact that the charging handle is fully functional, which isn't always the case on these AR-22s. It makes it much easier to train if the control layouts are more similar. The magazine release, safety, and charging handle are all easy to manipulate and engage when shooting. 
The controls aren't ambidextrous as I would prefer, but I wouldn't have expected them to be at this price point. However, I would have liked to at least see an ambidextrous safety on this gun.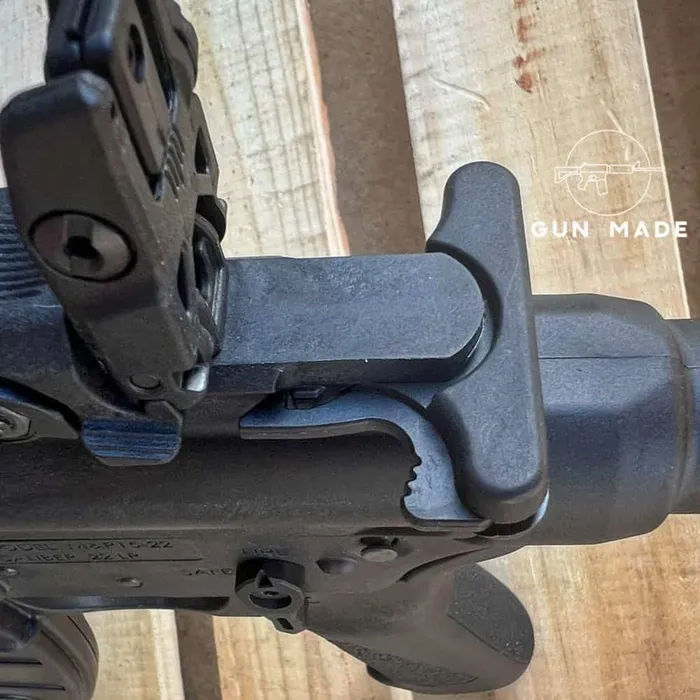 Disassembly and Field Stripping
Just like a standard AR, disassembly is easy as pushing in the take-down pins, pivoting the lower receiver, pulling the charging handle to the rear, and removing the bolt assembly. I personally try to clean the gun every couple hundred rounds to keep it running smoothly. I've waited over 500 rounds before, but it wound up causing additional failure to ejects. 
Accuracy and Reliability
Once I adjusted the flip-up sights to be on point out to 25 yards, I've been able to shoot all the way out to 100 yards without adjusting them and simply aiming higher than center mass. With the stock sights and within a 25 yard range, I'm ringing 4" steel gongs with ease, and out to 100 yards I can hit 10" gongs. Once I add a scope, I can push some of the larger targets out to 200 yards without an issue. I don't have access to a range that is farther out than 200 yards, but I would love to fire off some shots even further to see how far this gun can really shoot!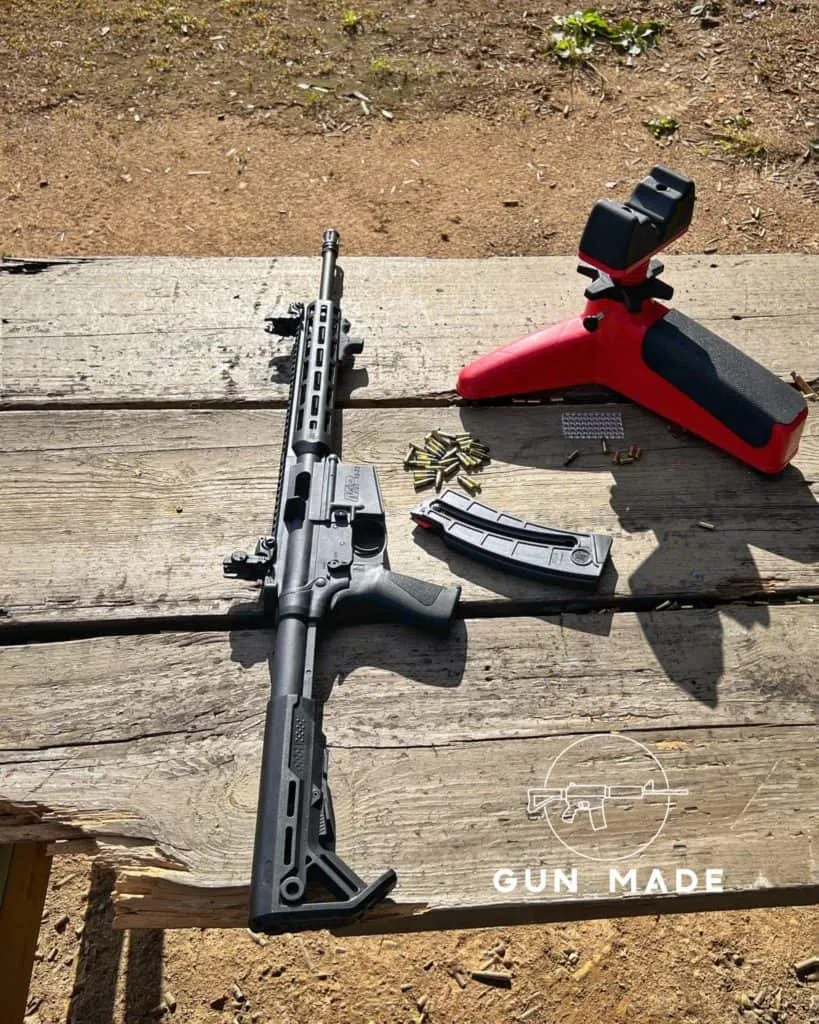 As far as reliability is concerned, it's a .22LR, so I've had my expected fair share of failures. That said, they've been a less common occurrence than other .22 AR's I've shot. With ammo other than CCI Standard Velocity and without keeping track of every failure, I would estimate that I've experienced two to three failures out of every 100 rounds. So, I'll say 2.5% failure rate on average, making this a fairly reliable .22LR. 
Overall, I'm happy with the reliability and accuracy of the 15-22 Sport. While I haven't shot every other AR-22 out there, I find it hard to believe that many others are significantly better in these departments. If the only issues I continue to have are primarily with one specific type of ammo, that's OK in my book. 
Pros and Cons
Pros
Realistic and Similar Controls to AR-15
Highly Customizable
Affordable
Lightweight
Cons
No Ambidextrous Controls
Stock Magazines Can be Picky
Accessories
One of the highlights of this gun is its ability to accept many of the same accessories that your typical AR-15 would. I've wound up adding quite a few over the years that I've owned the 15-22 Sport, but I'm constantly finding new ones to try. Here are a few that I either currently use or have in the past and would recommend. However, you should still check out options for yourself and see what suits you best. 
Stocks
Even though the buffer tube on the 15-22 Sport is a faux one, it still accepts standard stocks just like a real one would. Two of my favorite stocks are the Hogue OverMolded collapsible stock and the Strike Industries Mod1 Stock. Both are adjustable, have QD mounting points, and come in a variety of colors.
If you're looking for a lightweight and streamlined option, I would suggest the Mod1. If you want a more robust stock with a larger cheek rest for added comfort, I would go with the OverMolded.
Optics/Sights
The flip-up Magpul front and rear sight make a  great combo on their own, but red dots, scopes and low-powered variable optics (LPVO) can definitely improve your range and accuracy all the more. They each have their purpose, but I have found myself typically running either a red dot or LPVO on my 15-22 Sport. 
If you're looking for a red dot, a couple middle of the road from a cost perspective to check out would be the Vortex Spark II or the Trijicon MRO. Similarly, for LPVOs, I suggest looking at the EOTech Vudu or the Vortex Strike Eagle.
Foregrips/Hand Stops
Whether you opt for a full-size foregrip or a smaller hand stop, they can help you with your accuracy by providing additional control. I currently run a Viridian HS1 with green laser hand stop and enjoy it. The laser is extremely bright and features a laser range of 100 yards in daylight or a supposed two miles at night. I do wish the laser was less sensitive to engage, but if you're looking for a laser, I'd definitely recommend checking this one out.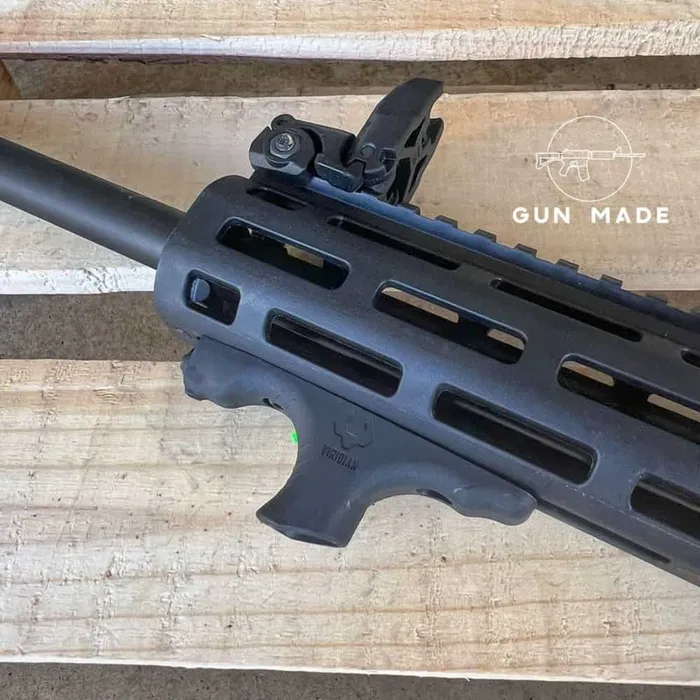 When it comes to foregrips, I prefer angled over vertical, but both work great to increase control. One of my favorite angled foregrips is the Leapers UTG Pro. It's lightweight, comfortable, and comes in several colors to fit your build design. 
Alternatives
Walther Colt M4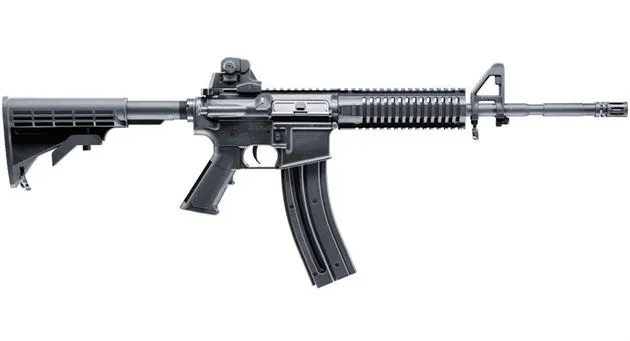 The Colt M4 is probably one of the other most popular AR-22s. It's essentially a replica of the military M-16, so for firearms enthusiasts it has a ton of appeal. If you're looking for your .22LR AR to operate closely to an AR-15, this is another great option.
It features a removable carry handle and an all-metal A2 front sight. The dust cover, charging handle, and other controls mimic an AR-15, while giving new shooters less recoil to manage. One of the more interesting features is that you can adjust the bolt velocity. This can help reduce failures during your range time, when you're trying to shoot various loads from high-velocity rounds to subsonic ammo.

If you're looking to save some money not just on ammunition but the rifles themselves, the Mossberg 715T will help you achieve that. However, you lose the AR-15 type functionality at the lower price point. It essentially is Mossberg's Plinkster, with an AR-style shell over the body. If you're a shooter that's not attempting to use it as an AR-15 training tool, it's an extra-affordable option with a "cool" aesthetic that's decently reliable.
It comes with a quad-rail as opposed to an M-LOK handguard like the 15-22 Sport, but there are plenty of other accessories that can be easily attached. It does, unfortunately, only come with one magazine, though. I think all guns should come with at least two magazines, but with the money you save, you can always buy extra magazines or more ammunition!
Final Thoughts
For the money, it's hard to beat the 15-22 Sport. It's one of those firearms that is ready to shoot out of the box and shoots well at that. Whether you plan to use it for training or plain old plinking fun, I suggest you consider the M&P15-22 Sport. 
Explore more