Taurus Defender 856 T.O.R.O Review: A .38 Special Delivery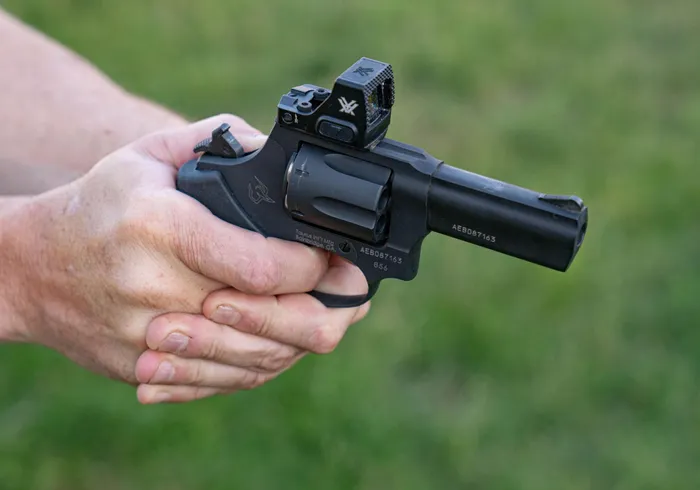 Taurus Defender 856 T.O.R.O Review: A .38 Special Delivery
Introduction
The Taurus Model 856 is an easy-to-conceal, small-frame revolver that has been around for a few years now. It's constructed from stainless steel and finished in a nice matte black coating. Recently, we got our hands on the newest version of the pistol.
According to the manufacturer, the Defender 856 T.O.R.O. (Taurus Optic Ready Option) is the first optics-ready revolver to come to market. It takes its popular .38 Special revolver and adds an optics mounting plate, allowing users to easily install a red dot sight that has the Holosun K footprint.
With an MSRP of only $445.99, the Defender offers a significant upgrade for aiming options while retaining the benefits and economy of other Taurus revolvers.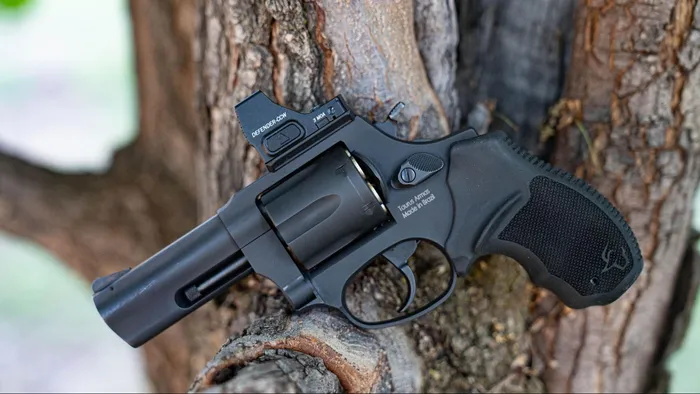 Taurus Defender 856 T.O.R.O. Review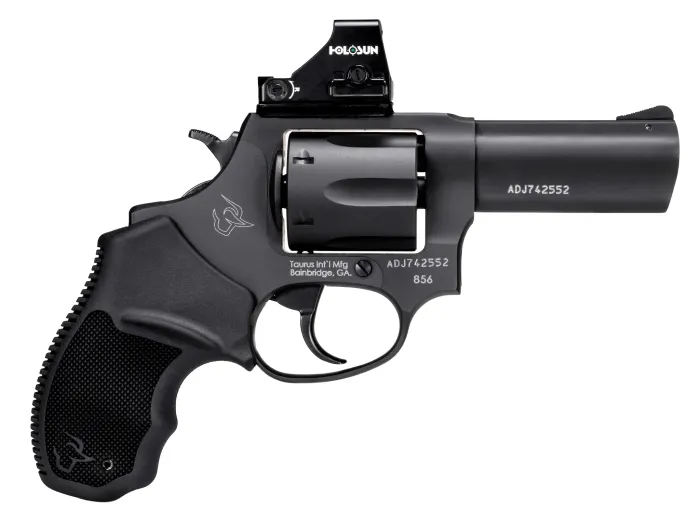 Specifications
| | |
| --- | --- |
| Caliber | .38 Special (+p rated) |
| Capacity | Six rounds |
| Barrel length | 3 inches |
| Action type | DA/SA |
| Length | 7.5 inches |
| Height | 4.8 inches |
| Width | 1.4 inches |
| Barrel twist | 1-16.5 RH |
| Weight | 23.5 ounces (unloaded) |
| Construction | Stainless Steel |
Pros & Cons
Pros
A handsome and nicely finished piece

Stainless construction

+P rated

Compact size is easily concealable if needed

Optics ready (the first of its kind) and uses a common mounting pattern (Holosun K)
Cons
Small grip is challenging for big hands

Trigger could be cleaner
First Impressions
As I plucked the petite pistol from its box, I was hit with the typical giddiness of a gun nut. I was not expecting to see it in black, as the models I saw at SHOT Show were all stainless-finished. I must admit the handsome matte black finish was a better look, in my opinion.
The concentrated weight of the revolver immediately suggests something of value. As I rolled the pistol around in my hand, I could see significant evidence of a well-made firearm.
The cylinder was tight and secure, rolling like it rode on greased bearings. All the lines and edges of the gun were smooth and fit nicely together, and the engraving and labeling of the pistol gave the whole thing a very professional look.
The single and double actions of the pistol felt like they should. The trigger break could have been cleaner, but it was also brand new, so I decided to wait until it had been broken in a bit to make a judgment.
I was also expecting the gun to have been chambered in .357, which was simply ignorance of the product on my part. But being chambered in .38 Special was just fine, as I had intended to mainly shoot .38s through it anyway. It's also rated for +P rounds, so shooting hot loads would still be an option. With the ammunition situation figured out, all that was left was to mount an optic.
The 856 T.O.R.O.'s optics plate is compatible with Holosun's very popular K pattern, and I just happened to have a Holosun 407K that would fit, so in a flash of screw-tightening, I had it all mounted up.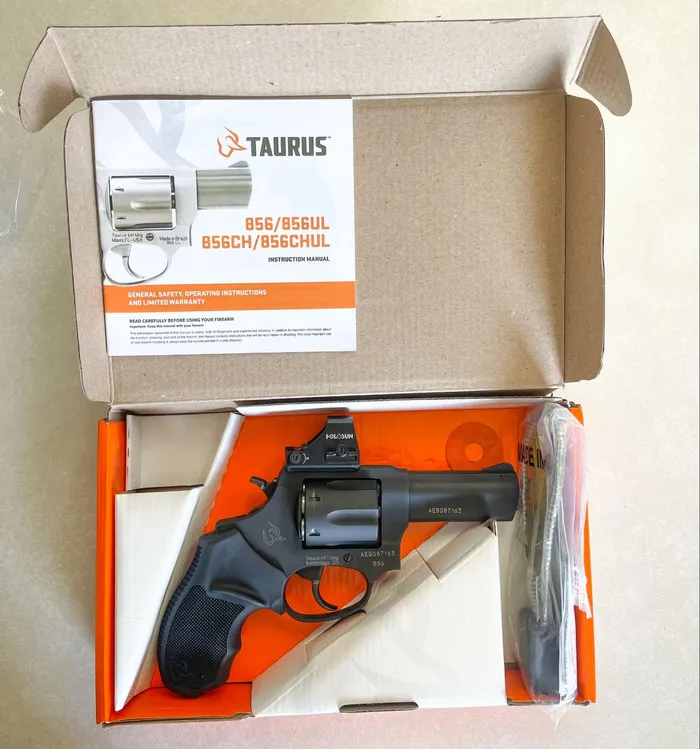 Overall Feel
The 856 T.O.R.O. feels excellent in hand, though smaller hands than mine might find it better still. The soft grip feels good and helps keep a good handle on the pistol, while the smooth trigger and other surfaces help you operate the pistol.
The good-looking finish and fit of the pistol also give the appearance that Taurus is working hard at improving its product lines.
On The Range Testing
Shooting the Defender 856 T.O.R.O. was at the top of my to-do list that day, so I left to go shooting.
I had a hefty stash of .38 Special ammo, so I brought it along to give the T.O.R.O. a good run. Filling up the small cylinder of the pistol had a bit of a Western feel; it made me think of my Great Grandfather, who likely shot a great many .38 Specials himself on the cattle ranch in southern Utah a hundred years ago.
How We Tested
To get a good feel for the 856 T.O.R.O., we took it into the hills above my house with a stack of ammo. As a CCW-themed pistol, I focused mainly on defensive distances between five and 15 yards.
I fired several courses of ammo, shooting both single-action and double-action to get a feel for the T.O.R.O.. Shooting the pistol from a low ready in both single and double-action showed obviously different results. Both scenarios proved to be accurate enough for defensive shooting within those distances.
I'm not a professional pistol shooter by any means, and revolvers aren't exactly my preference. So reloading the Defender was less than stellar as far as time is concerned, but the mild .38 Special loads we were shooting were easy to dump to make room for the next cylinder.
The three-inch barrel gave a nice little bark, resulting in some muzzle climb. If it had been chambered in .357, I imagine it would be a little more of a challenge to control. But again, considering the purpose of this little pistol, I think it is perfectly acceptable.
Rapidly emptying the cylinder proved a little more challenging to keep on target. I am sure this is more about my skills as a revolver shooter than anything else. A slightly larger grip would have helped keep it on target better.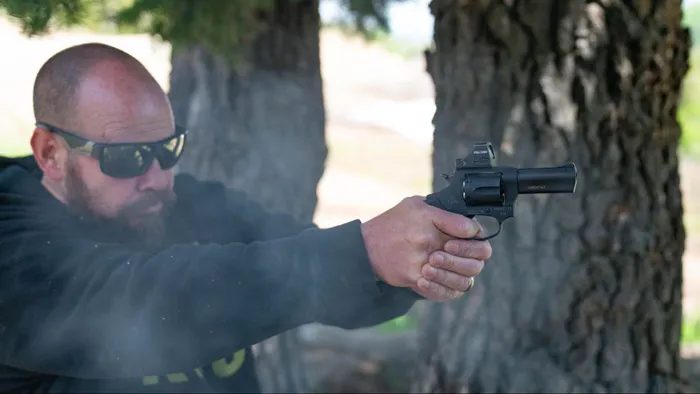 Reliability
One of the significant advantages of revolvers is their reliability. Unless the gun breaks or defective ammo is used, you can pretty much count on it going bang every time. The T.O.R.O. was certainly reliable during my testing. We experienced a total of zero issues.
The inner workings of the revolver flawlessly operated the cylinder and kept the barrel fed. The knurled control surfaces made them easy to find and operate the pistol for both shooting and reloading.
The shell ejector worked great, but I suppose if you had a particularly spicy load, you might need extra effort to expel them.
Ammo Used
In addition to the pile of 158-grain reloads we shot, I also tried some American Eagle 130-gr FMJ ammo in the Defender. Both loads I shot were not particularly fast, but they shot well and hit where I aimed. I would have liked to have tried some +P .38 Special loads, which would surely be the 1st choice for a CCW pistol.
Accuracy
The short 3-inch barrel had no trouble keeping shots on target. The crisp trigger turned out to be just fine, and I had zero issues hitting reasonable-sized targets. The iron sights were easy to use, which came as no surprise. They've stood the test of time for a good reason.
After adding a red dot to the T.O.R.O., aiming at small points on the target seemed even easier. The adjustability of using a red dot allows the shooter to customize the point of aim for the best results.
Features
T.O.R.O. Optics Mounting System
This is the title feature of the 856 T.O.R.O., so it's up first. I was surprised at how easy adding a red dot to the pistol was. The simple yet robust attachment made me wonder why no one had done it before.
Two screws go through the optics mounting plate into the top of the receiver. In addition to the screws, a recoil lug sits against a counter-face on the top strap. With a drop of Loctite, the plate is easily secured.
The mounting screws sit in a recess to avoid interference with mounting the red dot itself. Two studs protrude from the mounting surface, and there are threaded holes in the studs to accept the red dot mounting screws.
As I set the Holosun 407K onto the plate, I had to press ever so slightly to get it seated. Then I snugged down the screws with a drop of blue Loctite. I also took the liberty of mounting up one of the new Vortex Defender red dots, which was also a perfect fit. Coincidence? Not likely.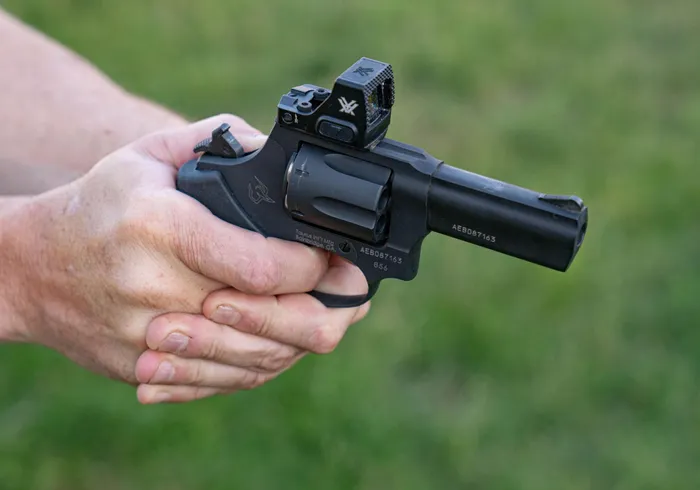 Six-Round Cylinder
The six-round cylinder of the 856 is rated for +p .38 special rounds. The stainless construction and robust design ensure you can run some potent ammunition through this little gun. The cylinder rolls exceptionally smoothly, and the ejector also feels incredibly smooth, making all revolving operations pleasant and predictable.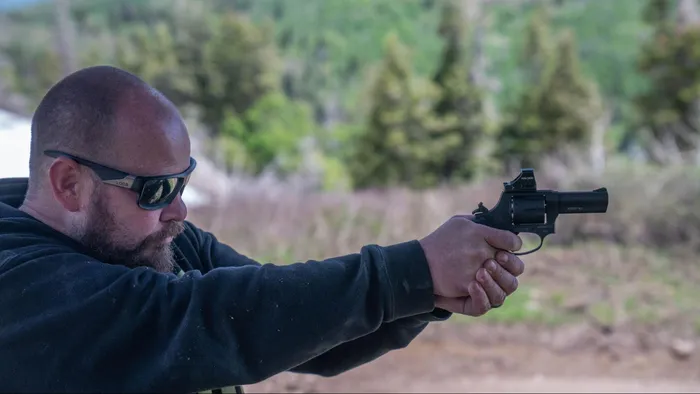 Target Style Trigger
The target style trigger of the 856 T.O.R.O. is clean enough to predictably feel every break of the trigger, giving the user the ability to shoot accurately. The double and single-action functions are more than adequate for a good CCW pistol.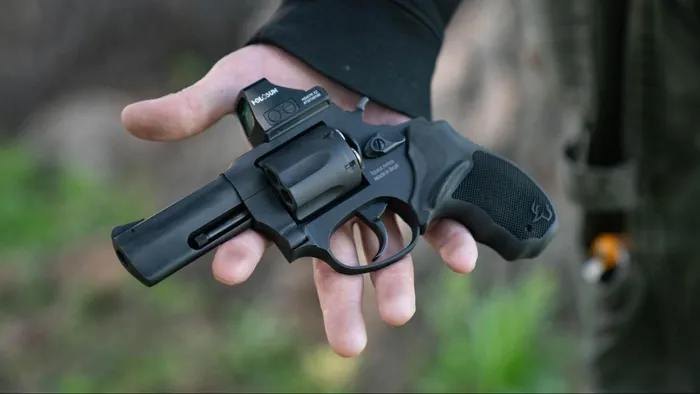 Score Card
Reliability (10/10)  
The 856 T.O.R.O. performed without a hiccup during our shooting.
Ergonomics (8/10)
I've said several times I would have preferred a larger grip. That is subjective, of course, as your hands might be smaller than mine. Regardless, I think the Defender is an excellent fit for a CCW revolver. Easy to reach controls, smooth operation, and quite controllable.
Customization (8/10)
With the T.O.R.O. system to add your preferred red dot, you'll have a variety of sighting options. Besides that, I'm not sure what else you would customize on it.
Appearance (9/10)
I found the little Defender to be quite sharp. The fit and finish are great, and everything right down to the engraving looks well done.
Value (9.5/10)
Other .38 Special revolvers similar to the Defender 856 are easily 150 to 200 dollars more, making this one a great value.
Accessories
This optics-ready revolver needs a red dot; otherwise, you may as well buy a different model. I used both the Holosun 407K and the Vortex Defender red dots. Both of them were perfectly suited and fit well on the Defender 856.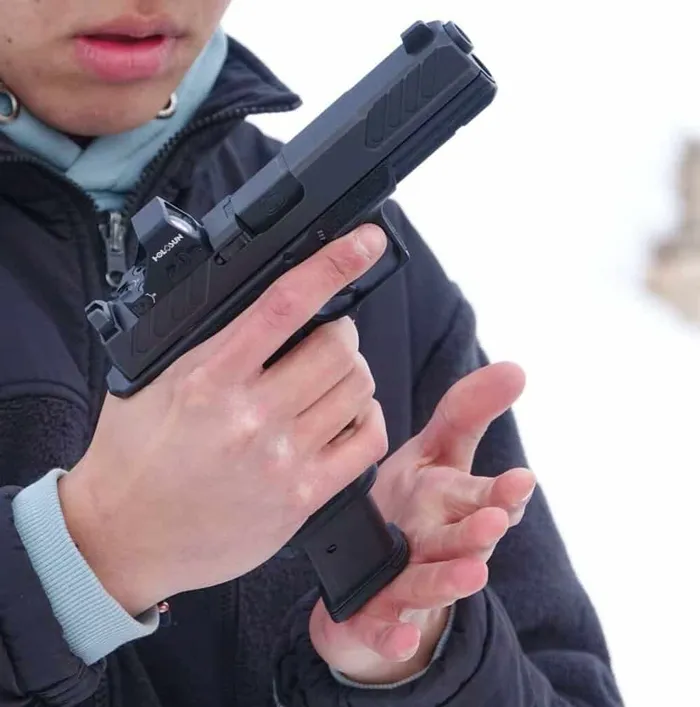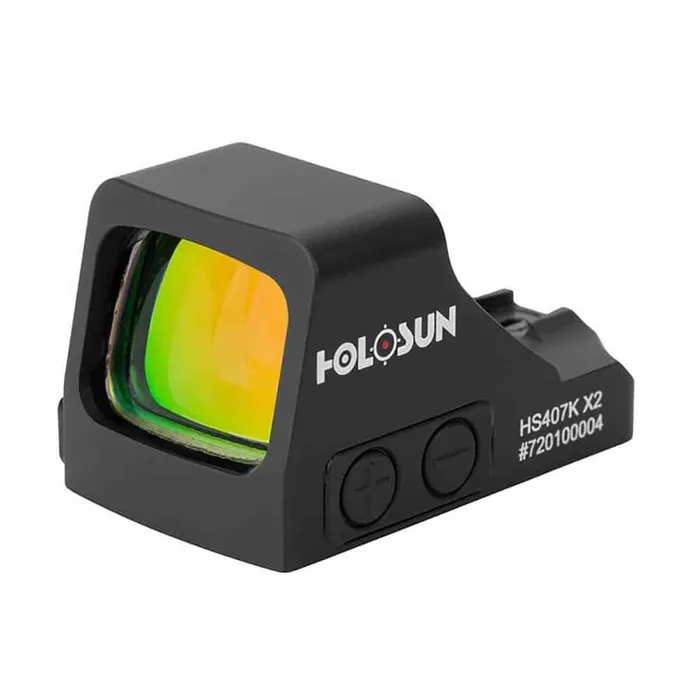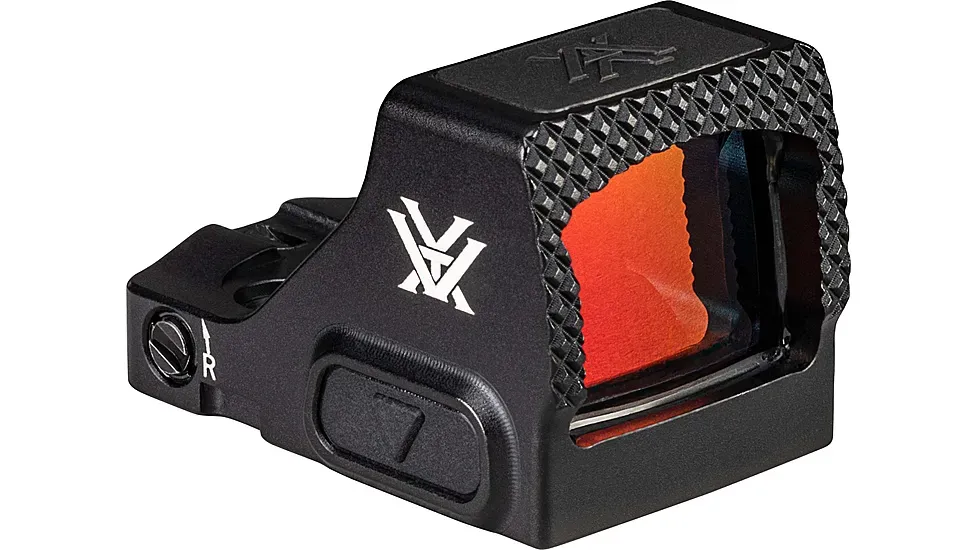 The Vortex Defender has a couple of features, such as auto-off and shake-awake, over the Holosun 407K model I had, but you can also get the 407K with different reticle options.
A good holster for the little Defender is a must. I would try one like the 1791 Gunleather Paddle Holster for a good fit and comfortable carry. The paddle allows for easy installation, and the soft leather exterior won't scratch you or the furniture around you.
Alternatives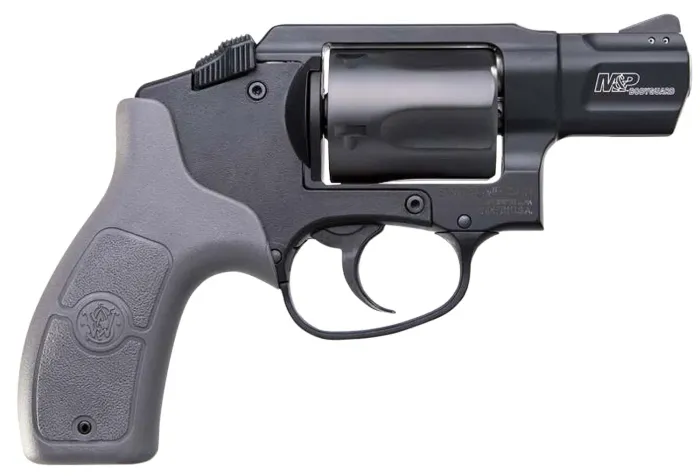 The M&P Bodyguard 38 is a bit more expensive than the Defender, but it comes with perhaps a little more prestigious name if that matters to you. It is also compliant for some of those commie states where you can't exercise your rights freely.
The Bodyguard features an ambidextrous cylinder release for those left-hand shooters out there. It can also be purchased with a Crimson Trace laser for enhanced accuracy.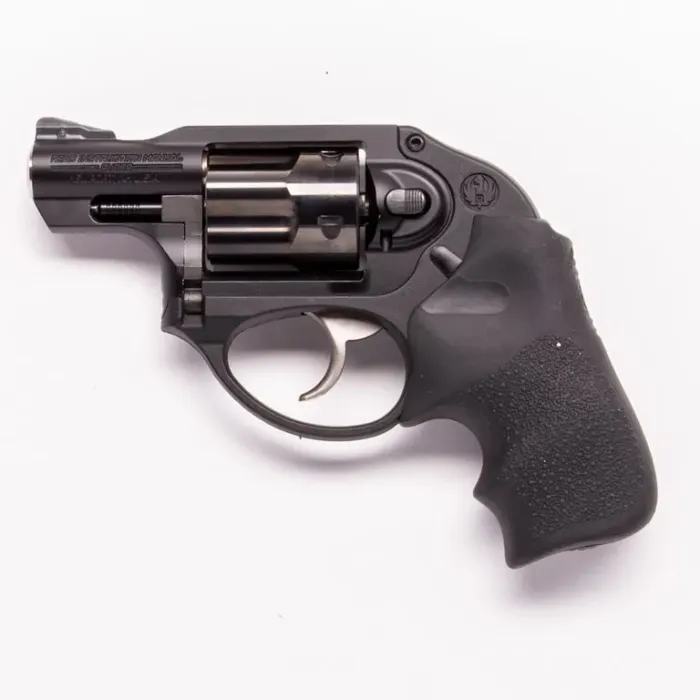 The Ruger LCR is another multi-state compliance revolver that's a solid option. It features a five round capacity and also comes with a Hogue grip. The LCR's light weight makes it another excellent choice for a CCW weapon, and it, too, is made right here in America.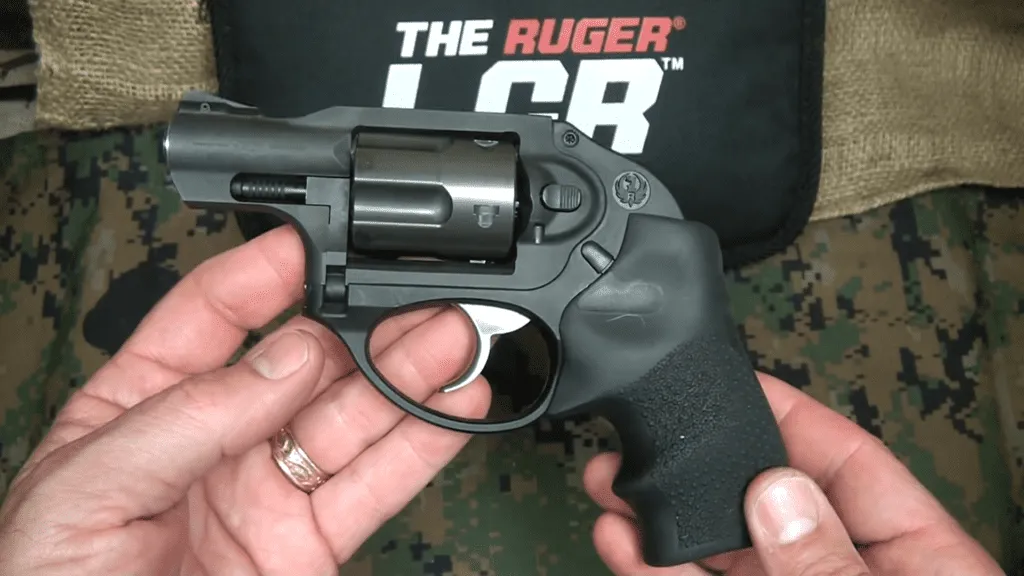 Conclusion
I was pleasantly surprised with how much I enjoyed shooting the Taurus Defender 856 T.O.R.O.. It has renewed my desire to shoot Taurus firearms. Not only does it shoot well, but it also brings some fantastic features many of us weren't expecting.
It's a high-functioning handgun with cutting-edge options, like using your favorite red dot at a price that is hard to haggle about. It would make an excellent choice for those looking for simple and reliable firepower with the added flair of a red dot sight.
I'm looking forward to seeing what they do next down at the Taurus plant in Georgia. Let us know what you think of the Taurus Defender 856 T.O.R.O. in the comments below!
Additional Resources
In case you need some extra information, here are some helpful links from Taurus about the Defender 856 T.O.R.O.
Finding the Best Price for the Taurus Defender 856 T.O.R.O.
Gun Made's gun deal search engine is an invaluable tool when looking for the most affordable prices for the Defender 856 T.O.R.O. online.
It scours the internet, collating information from various sellers to help you find the most competitive prices. By simply entering your desired product, in this case, the Defender 856 T.O.R.O., the search engine quickly presents a list of options from various retailers. This allows you to compare prices and find the best deal for your budget.
Using Gun Made's gun deal search engine saves you money and time by bringing all the best deals into one easy-to-navigate platform.
Explore more