Taurus G3 Review: Great & Affordable 9mm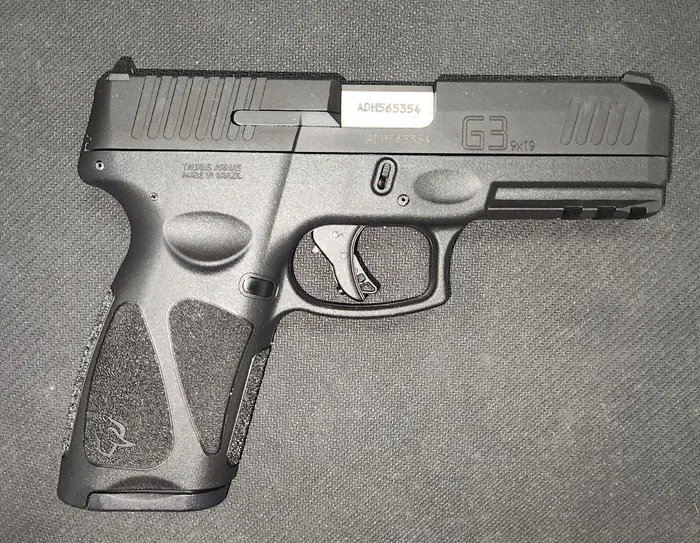 Taurus G3 Review: Great & Affordable 9mm
Introduction To The Taurus G3
The Taurus G3 is a popular semi-automatic pistol that has gained a reputation for its reliability, accuracy, and affordability.
Designed as an improvement over its predecessor, the Taurus G2C, the G3 features a larger capacity magazine, improved ergonomics, and enhanced slide serrations. With a durable polymer frame, a steel slide, and a variety of safety features, the Taurus G3 is a solid choice for those in the market for a reliable and cost-effective handgun.
In this review, I'll talk about the Taurus G3's features and how well it performed.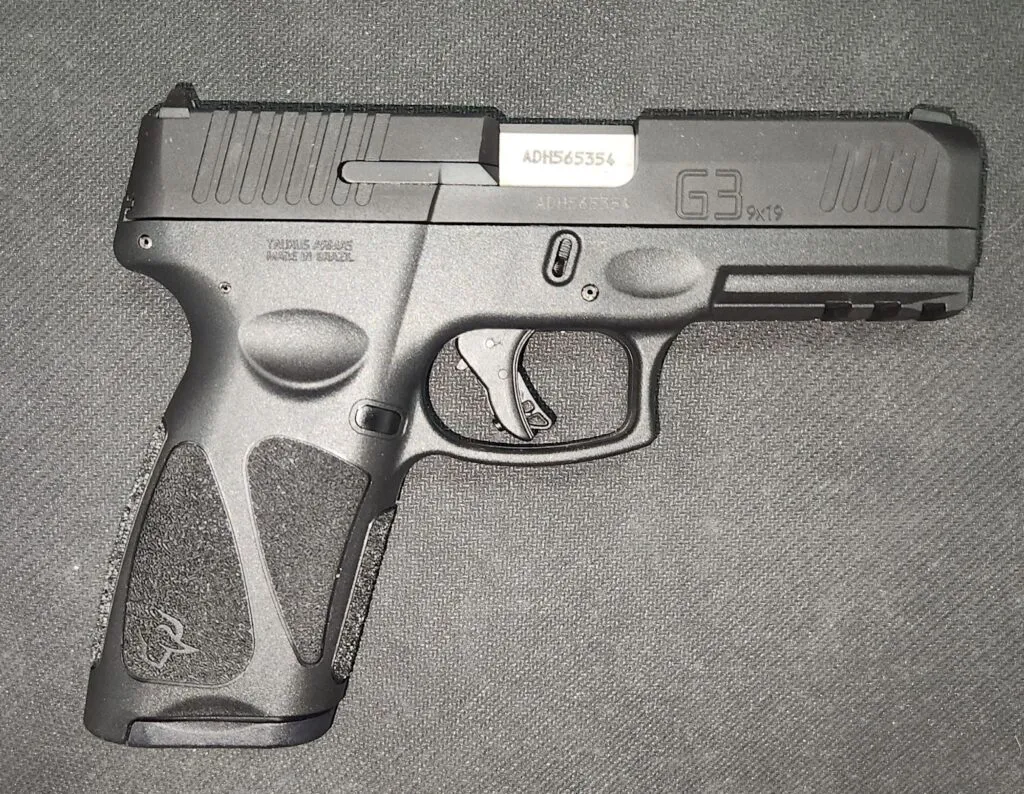 Taurus G3 Review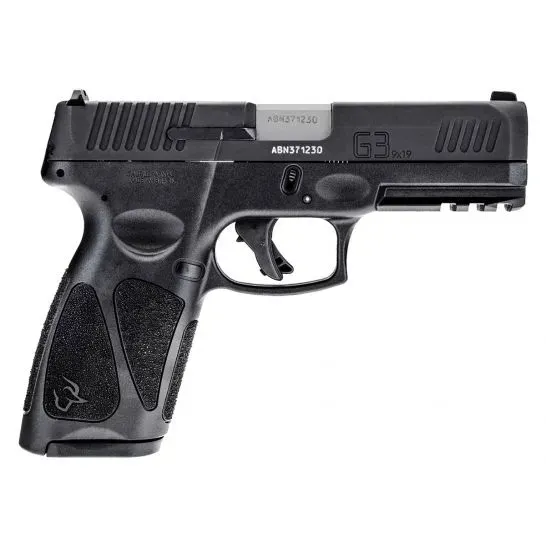 Let's take a look at what the Taurus G3 offers and see how it performs on the range. This review will provide an in-depth look at the features and performance of the Taurus G3, including its accuracy, handling, and durability.
Specifications
| | |
| --- | --- |
| Manufacturer | Taurus |
| Model | G3   |
| Caliber | 9mm |
| Capacity | 10-, 15- or 17-round |
| Type | Semi-Auto Pistol |
| Action | Striker Single Action w/Restrike |
| Trigger Pull Weight | 6 lbs |
| Overall Height | 5.20 |
| Barrel Length | 4.00  1:10 – in RH twist |
| Barrel Material | Stainless steel with a 1:10 – in RH twist |
| Overall Length | 7.28 |
| Overall Width                             | 1.20 |
| Weight | 24.83 ounces (Unloaded) |
| Safety | Manual and Trigger Safety, Striker Block, and a Loaded Chamber Indicator |
| Frame | Polymer |
| Slide | Alloy Steel |
| Slide Finish | Tenifer Matte Black |
| Front Sight | Fixed (white dot) |
| Rear Sight | Black with a center slot |
| Accessories | Two magazines and a magazine loader |
Pros & Cons
Pros
Affordable

10-round, 15-round, or 17-round magazines available

Two magazines included

Multiple safety features
Cons
Limited aftermarket performance enhancement upgrades

Long trigger pull before the break
First Impressions & On the Range Testing
The Taurus G3 has a sleek, modern design that is sure to turn heads. It features a polymer frame with textured grips and a long, three-slot Picatinny rail for mounting accessories.
The slide features aggressive serrations on the front and back, which are helpful in a handgun for self-defense. This pistol also features a reversible magazine release, a loaded chamber indicator, and metal sights.
The Taurus G3 is solid and well-built. The slide has a Tenifer matte black finish, and the frame has controls that are easy to get to. The only thing I did not like about this gun was that the trigger had a lot of travel before the break.
The G3 proved to be a very accurate pistol. I found it easy to shoot tight groups at the range. Since it has a larger frame, it has less recoil than the G3C, making it easier to transition from one target to the next and get back on target quickly.
Features
Restrike Capability
They designed the Taurus G3 with a restrike capability, which means that if a round fails to fire, the shooter can just pull the trigger again to strike the same primer and attempt to fire it again.
In other words, the Taurus G3 allows the shooter to make a second attempt to fire the same round without having to rack the slide or clear the chamber.
The restrike capability is achieved through a feature known as the "double-action trigger." That allows the hammer to be recocked and released by pulling the trigger again after a misfire. This feature can be helpful for those who may not have the strength or skill to rack the slide to clear a misfire.
Textured Grip and Lightweight Polymer Full-Size Frame
The G3 features a lightweight and durable polymer frame that is comfortable to carry and easy to handle.
Its textured grip provides a secure hold in any shooting situation. The texturing helps to prevent slipping and improve control, especially when shooting in wet or slippery conditions.
Personally, I'm not too fond of a grip that feels like sandpaper. Still, at the same time, I want something that will allow me to maintain control under different conditions. This grip falls right into the perfect spot.
The grip also has an index area for your finger, so you can keep a more consistent hold on the gun. It has a larger frame than its predecessor, the G3C, so it is a gun well-suited for larger hands.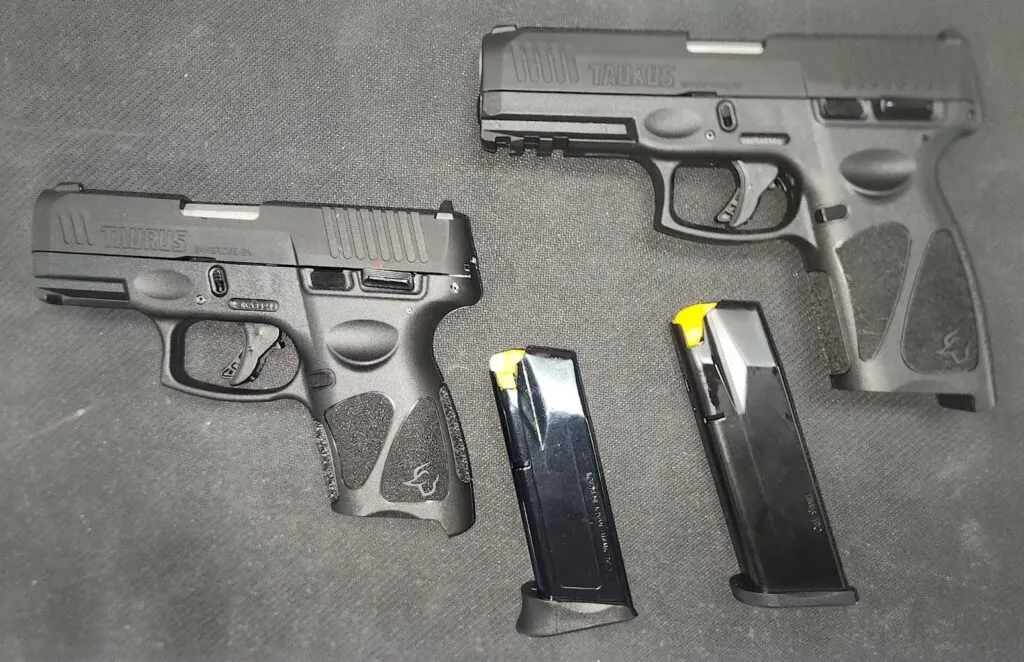 Picatinny Rail
The standard Picatinny rail on the Taurus G3 makes it easy for shooters to add lights or lasers to the handgun. It has three slots long enough to mount a broader range of accessories.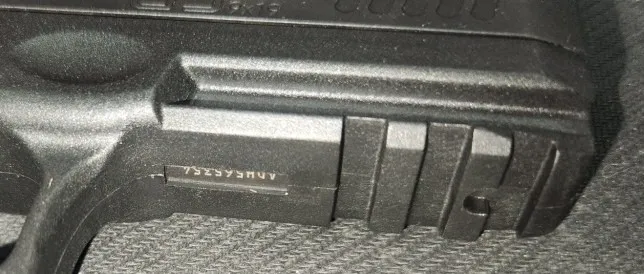 Sights
The Taurus G3 has an adequate slotted back sight and white front dot, but they would not be my first choice for fast target acquisition. They are made of metal and will withstand some abuse.
Multiple Safety Features
They equipped the Taurus G3 with multiple safety features to help prevent accidental discharges and ensure safe handling. These features include the following.
Trigger Safety
The trigger safety is a lever integrated into the trigger that you must depress to pull the trigger. This helps prevent accidental discharges if the pistol gets dropped or bumped.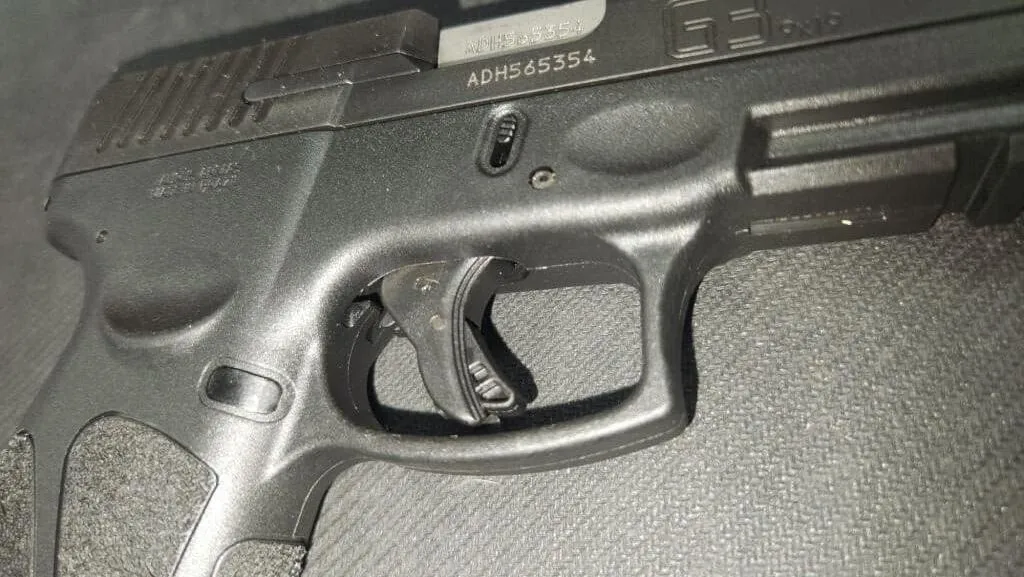 Striker Block Safety
This safety mechanism prevents the striker from being released unless the trigger is pulled. This type of safety feature will help prevent a gun from going off if you drop it on a hard surface.
Manual Safety
The Taurus G3 has an optional manual thumb safety that allows the user to lock the trigger and prevent it from firing. Unlike the magazine release, you cannot swap it for left-handed use.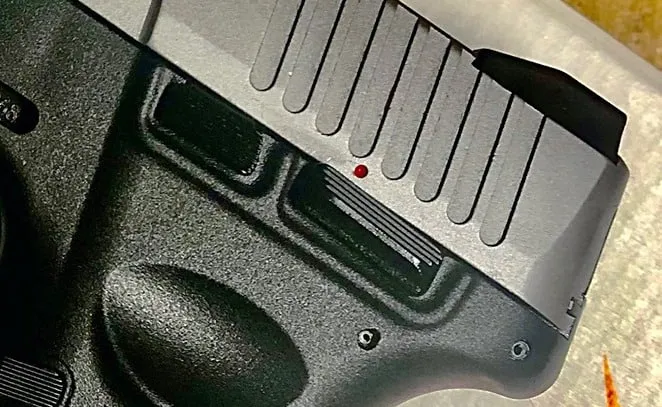 Loaded Chamber Indicator
A loaded chamber indicator is on the slide and allows the user to visually see if there is a round in the chamber.
These safety features help make it a good choice for personal defense and concealed carry.
Reversible Magazine Release
The Taurus G3 comes with a reversible magazine release that allows it to be used by both left-handed and right-handed shooters.
Unfortunately, as I said above, the safety is not reversible, so you cannot turn it into a truly ambidextrous pistol.
Magazine
The G3 can be bought with 10-round, 15-round, or 17-round magazines. If you live in a state that does not allow a higher-capacity magazine, you are in luck with the 10-round option.
How I Tested and What Type of Ammo I Used
I tested the Taurus G3 at the range using various ammunition.
I found the pistol very reliable and easy to shoot. The trigger was smooth and consistent, making it easy to shoot accurately. Since this is a gun that you could use for self-defense, I shot my test out to about 10 yards. I used 124-grain remanufactured Freedom Munitions ammunition and 115-grain FMJ Blazer. The groupings were all tight and would be effective in any self-defense situation.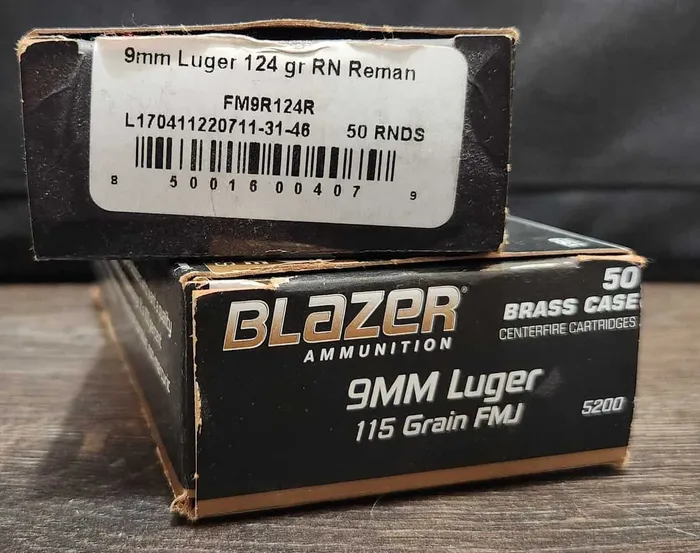 Scorecard
Reliability (9/10)
The model I tested was a range gun, which had seen a decent amount of usage and was still going strong.
Ergonomics (9/10)
The gun felt comfortable for its size, and I liked how much texturing the grip had.
Customization (6/10)
The gun has limited customization options, so you cannot get too carried away with upgrades like an improved trigger.
Value (10/10)
It is definitely at the top of the list of value for your money for what you get at this price point. It is hard to beat the gun's included two magazines and multiple safety features at this price range.
Accessories
The Taurus G3 has Glock-style metal sights and a Picatinny rail for a weapon-mounted light or a laser.
Some people like a weapon-mounted light or laser on their personal defense handgun, and there are plenty to choose from. Some of the top choices are Holosun, Crimson Trace, and Streamlight.
The length of the Picatinny rail provides enough room for various accessories, like the Streamlight TLR-7A tactical light.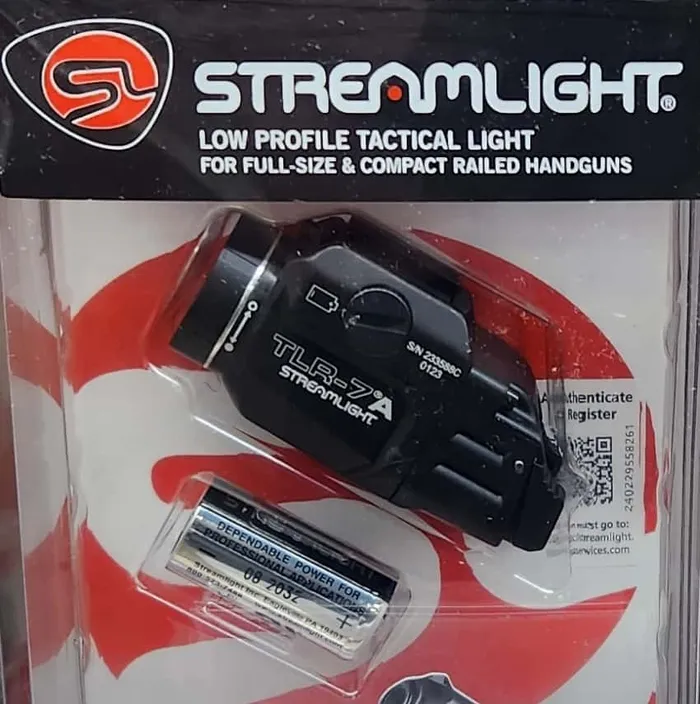 Most gunfights occur in less-than-ideal lighting situations, and you can't hit your target if you can't see your sights. An upgraded set of sights is the perfect upgrade for an everyday carry.
XS Sights out of Texas have 3-dot tritium sights that are ideal for low-light use.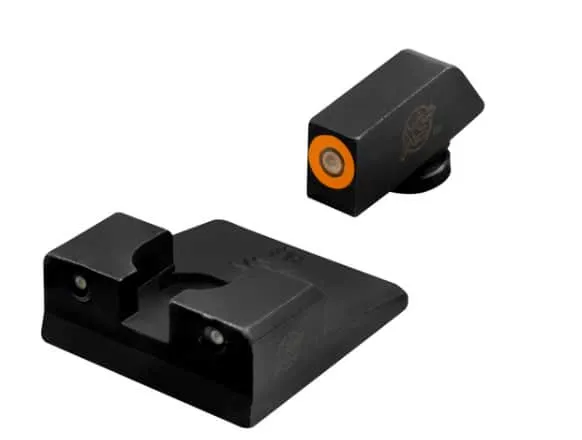 Alternatives
If you're looking for alternatives to the Taurus G3 pistol, here are some other popular models you might consider: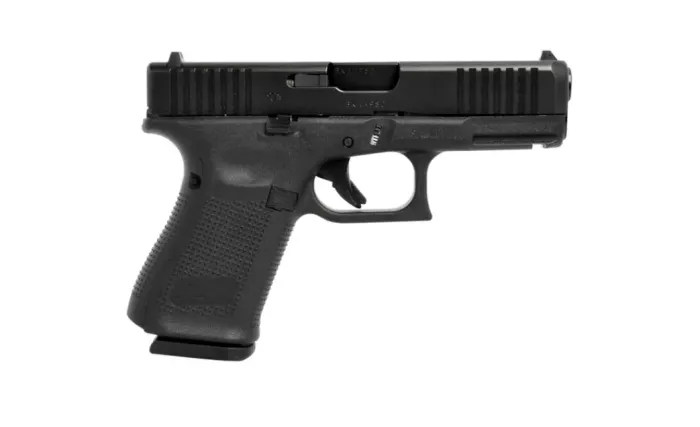 The G19 is a compact, polymer-frame striker-fired pistol with a 15+1 capacity. It has a reversible magazine release and a Picatinny rail for accessories but lacks a manual safety.
In terms of size, the G19 is more compact than the G3 and is more suitable for concealed carry. The Glock 19 also has interchangeable backstraps, whereas the Taurus G3 does not.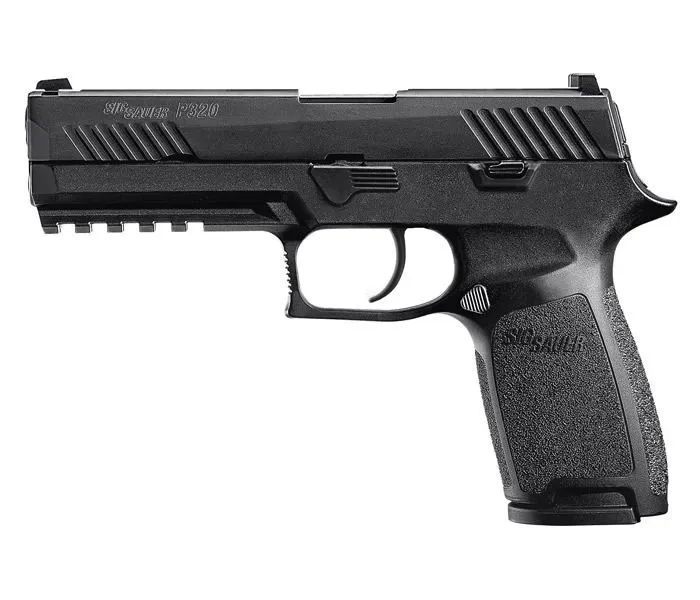 The Sig Sauer P320 is a modular, striker-fired pistol also chambered in 9mm. Nonetheless, calibers such as .40 S&W are available.
It has a 15+1 magazine capacity, an ambidextrous slide catch, a reversible magazine release, and a frame-mounted Picatinny rail. The P320 also has a unique modular design that allows users to switch between different grip sizes easily.
Both pistols are reliable and accurate, but the P320's modularity and the fact that it is ambidextrous give it a slight edge over the Taurus G3.
These are just a couple of alternatives to the Taurus G3 pistol. The best choice for you will depend on your specific needs and preferences. It's always a good idea to handle and shoot different models before deciding, so you can make sure you find the one that feels the best and meets your needs.
Check out our review on the Sig Sauer P320 M18 for more info.
Conclusion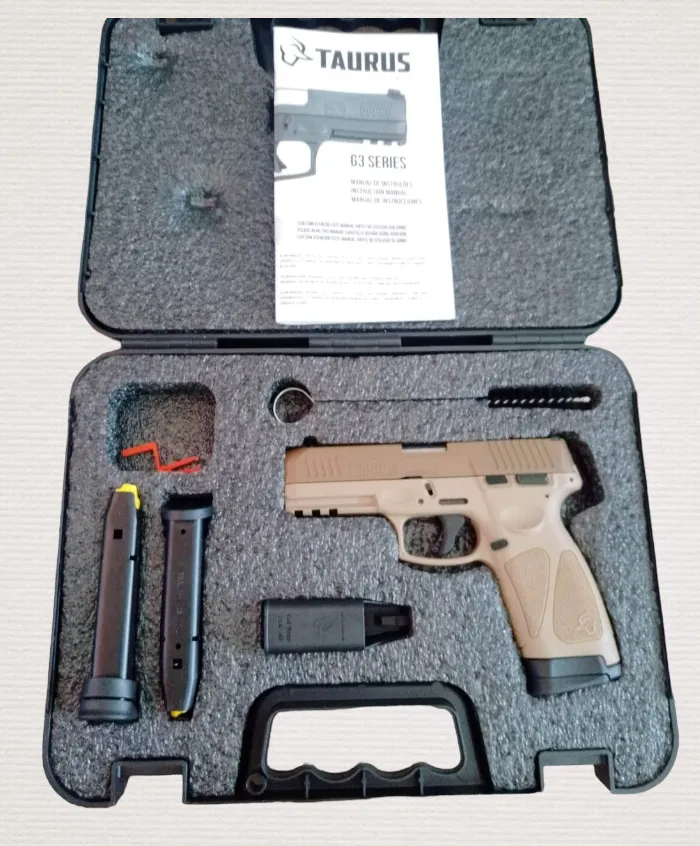 Gun fans are becoming increasingly interested in the Taurus G3, a reliable and affordable handgun.
Overall, I liked the Taurus G3, especially since you can get it for about $300. It is an accurate, reliable, and easy-to-shoot semi-automatic pistol that makes an excellent choice for both recreational shooting and self-defense.
Explore more