Taurus TH9 Review & Buyer's Guide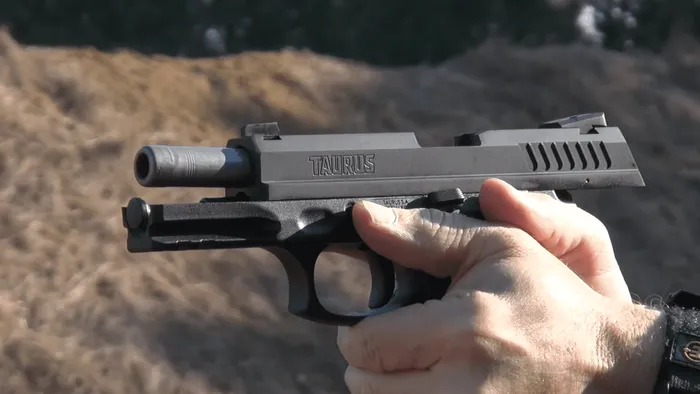 Taurus TH9 Review & Buyer's Guide
When looking for a good CCW, you might have noticed that budget self-defense pistols often pile up around a certain price point.
We're talking Taurus models, and they're definitely more noticeable than the rest with their attractive price tag, like the Taurus G2C, for example.
These "low hanging fruit" handguns can sometimes surprise with their features and characteristics—one such model is the Taurus TH9.
I'm not much of a fan, but I've had the chance to coordinate a Taurus TH9 review, and I can say that it has all the essential features of a full-size 9mm, while maintaining a polite price tag.
In today's review, I'll talk about the Taurus TH9 9mm handgun, its main features, pros & cons, some Taurus TH9 upgrades and ammo recommendations, and I'll also compare some similar models for your convenience.
Taurus handguns are well-known for their cheap pistols with somewhat high-end features, but is the TH9 good enough to trust your life with it?
Let's check it out.
Taurus' Idea Behind the TH9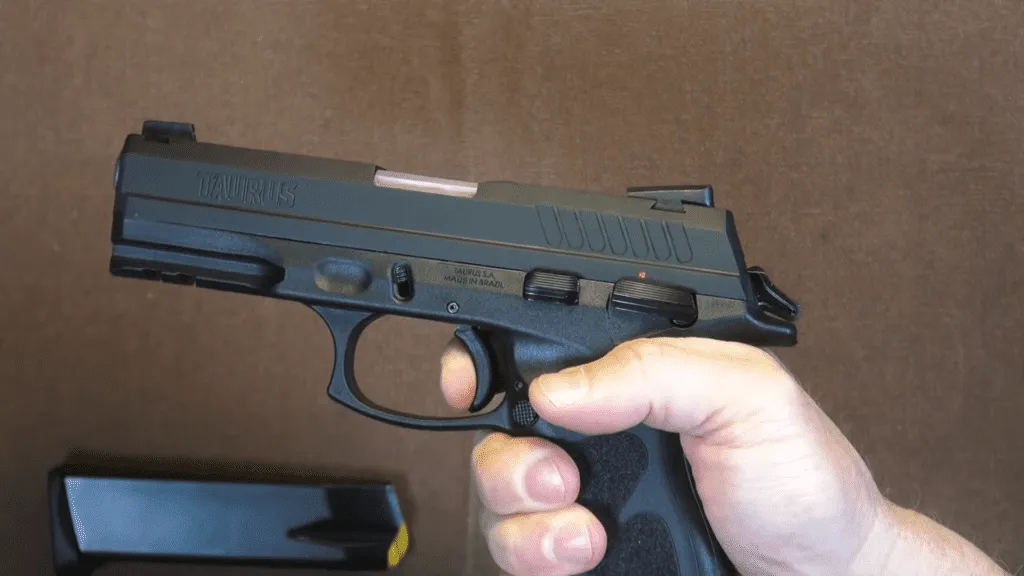 Forjas Taurus (bull's forge in Brazilian) initially began selling Colt, S&W, and Beretta clones before they went with their own firearm exports and have been producing handguns on a wide market for decades now.
I bet you've heard about some of the bad rep of their products and their customer service. Sometimes their products don't deliver what's advertised, but, for better or worse, that's part of their brand by now. Personally, I think that their Taurus GX4 is a fantastic EDC handgun for a great price.
They established their name as a "budget handgun" giant, and some folks don't seem to understand that you get what you pay for. That's what the Taurus warranty is for.
That being said, the atrocious customer service is due to the fact that this Brazilian manufacturer handles all kinds of transactions. Not defending anyone here, but I do believe that could be quite a handful for their tech support at times.
Now, the TH9 is the Taurus' newest 9mm DA/SA addition to their arsenal of budget handguns.
It's an upgraded, more aesthetically pleasing handgun that Taurus hopes will replace its predecessor, the strikingly similar Taurus PT-809.
I'm a firm believer in the "don't knock it till you try it" policy, and the enhanced features of the TH9 can be felt within a couple of rounds in.
Let's see how it works.
Taurus TH9 Review
Specifications
| | |
| --- | --- |
| Manufacturer | Taurus |
| Model | TH9 |
| Caliber | 9mm luger, .40 S&W |
| Action | Semi-automatic; Hammer-fired DA/SA |
| Capacity | 17+1 |
| Trigger pull | 12 rounds single-action / 6.5 pounds double-action |
| Safety | Manual |
| Barrel length | 4.47 inches |
| Overall length | 7.72 inches |
| Overall height | 6 inches |
| Overall width | 1.3 inches |
| Unloaded weight | 28.2 ounces |
| Grips | Polymer |
| Front Sight | Adjustable Novak Drift |
| Rear Sight | Adjustable Novak Drift |
| Slide | Carbon steel |
| Accessories | Picatinny rail (Mil-STD 1913); Interchangeable backstraps; 2 17-round magazines; Lockable plastic case |
| Finish | Matte black |
Design, Grips, and Ergonomics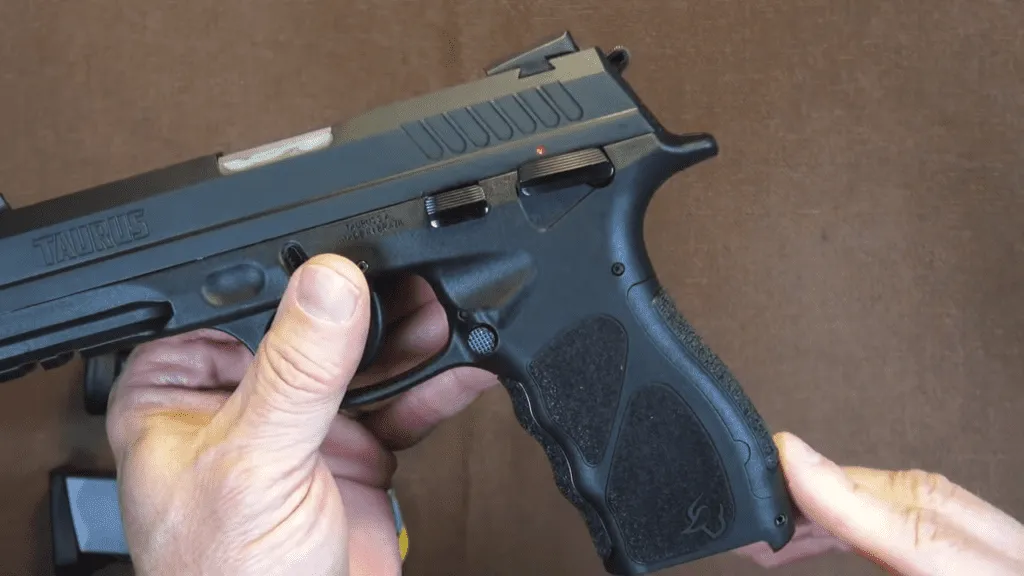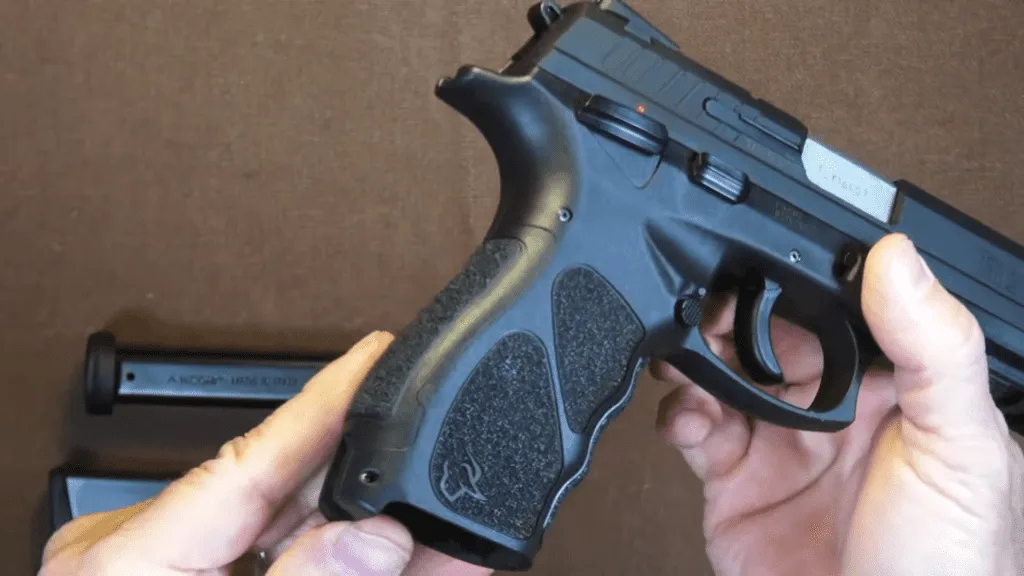 As you can see by the Taurus TH9 specs, the Taurus TH9 is a polymer handgun with a 4.2-inch carbon steel barrel. It comes in either the 9mm Luger, or the .40 S&W caliber.
There are multiple color options like black, gray, cyan/black, and FDE. Additionally, the Taurus TH9c with a 13-round capacity is a compact version that's lower in round capacity, but much easier to conceal, carefully designed for CCW.
At 1.3 inches, the TH9 is a bit wide for concealed carry, but the double-stack magazine has 17 rounds for you to shoot. The Taurus TH40, in the .40 S&W caliber, has an 11-round magazine.
The overall design is awfully similar to the hammer-fired Taurus PT-809, the same one that was blueprinted on. The TH9 has a slightly grooved grip for your fingers, so it's designed to fit medium to larger hands, and the slide is pretty easy to rack.
In comparison to most full-sized 9mm handguns, it's a bit of a Goldilocks. For example, the Glock G17 has a 4.5-inch barrel and a 28-ounce weight for recoil soaking, so the TH9 could also be a great pistol for beginners.
As for the grip texture, it's not as aggressive and textured as the checkered grips on the 809, so it could be pleasant for most. The grips are customizable, and with your purchase, you get additional interchangeable backstraps (for the full-size purchase only) for added comfort.
One more thing about internal parts: the guiding rod is plastic, so I recommend you replace it with a stainless steel guide rod by Lakeline LLC if you want smoother recoil.
Trigger, Accuracy, and Ammo Recommendation
The TH9 is a solid choice if you're a beginner wanting to try out a hammer-fired 9mm. The DA/SA trigger pull is around 12 pounds when single-action and 6.5 pounds double-action.
Hammer-fired pistols typically feel a bit crisper, with a cleaner break than, for example, 1911 handguns.
Since Taurus knows that the budget guns they manufacture are prone to misfires, they designed this DA/SA mechanism on most of their budget series so that if it doesn't fire the first time, it would fire the second round.
Taurus made it so that it would feed via the slide's spring pressure, cycle, and lock the slide open once it's empty. It's a hold-open on the last shot, and I'm sure most would appreciate it.
I ran some Fiocchi JHP 115-grain rounds and Hornady American Gunner +P XTP-HP 124-grain rounds through it just to see the three-round slide locking mechanism.
I was hoping to see some misfires to justify the bad rep, but after 50 rounds, I couldn't push my luck. In my opinion, even if it does misfire, one wouldn't know if it's the gun or the ammo box.
Though it can eat lots of 9mm types, the trigger might make your accuracy sloppy. Keep in mind, it's still a budget-friendly option.
Sights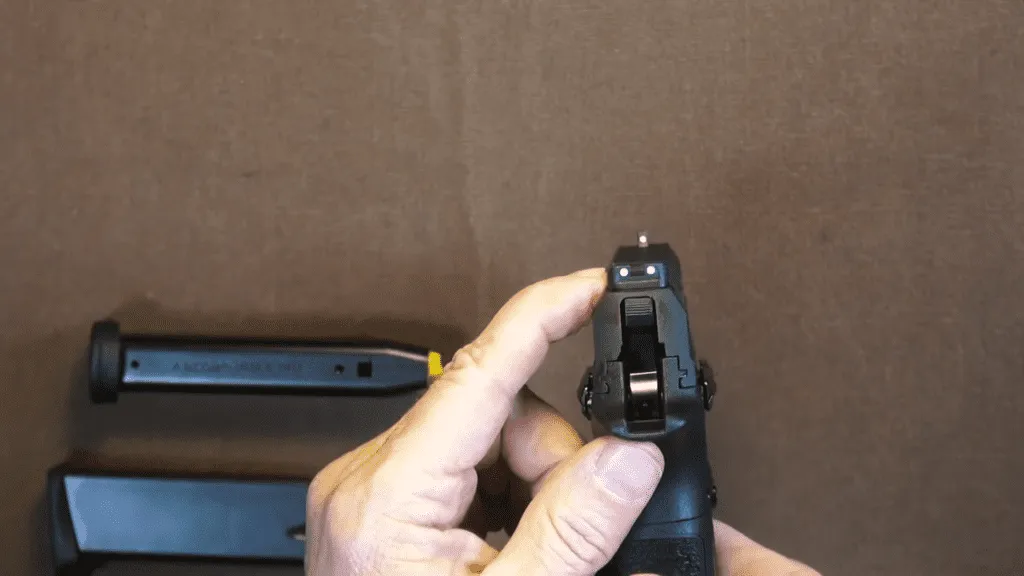 Novak drift adjustable front and rear sights adorn the Taurus TH9. These three-dot, low-profile Novak sights are alright and can be easily tailored to your needs, but with the Picatinny rail, I'm pretty sure you could go with better options if you're looking for something more bright.
Although these sights are compatible with 1911 pistols, I would recommend some new and affordable Novak sights like the Night Fision 1911 sights because they actually fit.
Safeties
The TH9 comes with a manual safety, hammer decocker, firing pin block, and loaded chamber indicator for extra safety.
The firing pin prevents accidental discharge, the manual safety prevents the trigger from being pulled, and the lever decocks the hammer.
Apart from the second strike mechanism that I've mentioned before, the hammer-fired TH9 is generally safer for CCW.
You can carry the pistol loaded with the hammer drawn back and the manual safety on. Simply flick the safety lever, and you're ready to fire.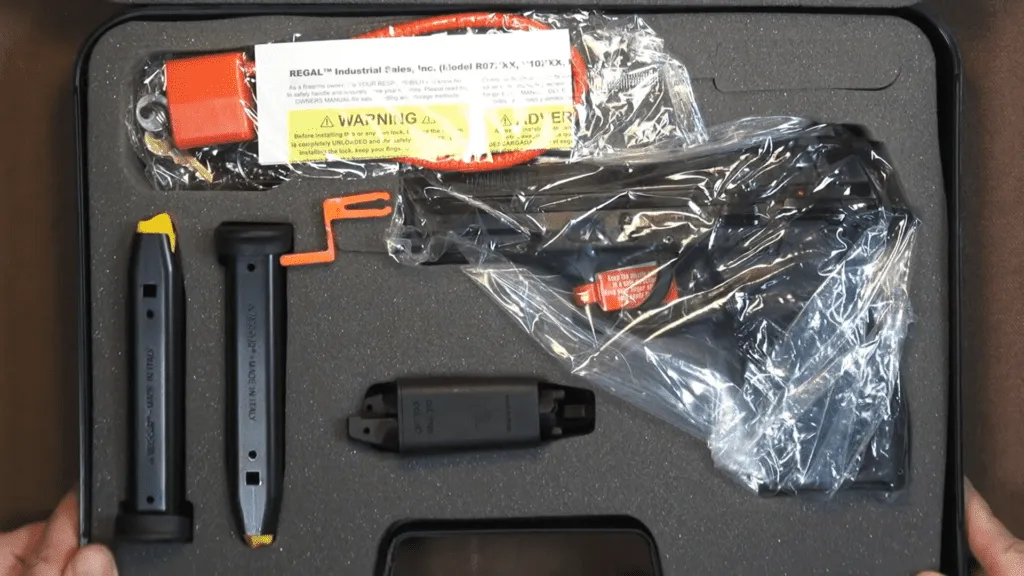 Aftermarket Options and Ammo Recommendations
Here are some interesting Taurus TH9 accessories if you intend on seriously using your Taurus TH9 for self-defense.
The Crimson Trace 208 light offers illumination for those low-light situations at a very affordable price. It's not a laser, but you might need it.
Speaking of lasers, the Trinity Compact Red Dot Sight is a definite enhancement if you're looking for fast target acquisition and aiming assistance.
For ammo, I would recommend any 115-grain ammo boxes like the Fiocchi Shooting Dynamics, Federal American Eagle, PMC Bronze, Hornady Critical Defense FTX,  Aguila FMJ, or a 124-grain box like the Hornady American Gunner +P XTP.
If you're looking for a good CCW holster for your TH9, the Concealment Express might be your best bet, though it's always your choice and preference.
Disassembly and Maintenance
Disassembling the TH9 is simple as long as you promise not to point the gun at anyone or anything.
Remove the magazine, pull back the slide, inspect the chamber and the magazine and make sure it's empty.
Pull the slide back, lower the slide disassembly latch and move the slide forward. Afterwards, release the slide latch and pull the trigger and remove the slide from the frame.
For a squeaky clean gun, make sure you have the proper cleaning kit for it.
And as always, consult your Taurus TH9ser's manual for additional info.
Pros & Cons of the Taurus TH9
Pros
Great value for a 9mm budget handgun
Reliable DA/SA trigger
Versatile enough for EDC, self-defense, and shooting gallery fun
Will gladly eat any 9mm ammo grain or type
Ergonomic for larger hands
Compatible parts with Taurus PT-809
Aftermarket abundance
Cons
Some might say that it feels cheap
Plastic guide rod
Safety lever can be a bit stubborn
FAQs
Here are some frequently asked questions about the Taurus TH9.
Is the Taurus TH9 a Good Self-Defense Handgun?
I wouldn't exactly recommend the Taurus TH9 for self-defense because it's a budget option that's prone to occasional misfires.
Taurus designed a mechanism that would thwart this at a second shot, but nobody should rely solely on this because when life and death scenarios occur; I'd stick to the reliability of Glocks.
The TH9 isn't exactly the best pistol for self-defense or home defense, but I'll be damned if it isn't a fun shooter for the ranges and for beginners who are looking to save money.
What's the Best Ammo for the Taurus TH9?
What Are the Best Laser Sights for the Taurus TH9?
Are the Magazines Interchangeable with Taurus PT-809?
Yes, the TH9's magazine is interchangeable with the Taurus PT-809. Taurus states that it's not fully compatible, but when I racked a PT-809 magazine into the TH9 it fit perfectly.
Is the Taurus TH9 Single or Double-Action?
The Taurus TH9 is a DA/SA pistol that uses both single-and double-action mechanisms. The SA trigger pull is around 12 pounds, while the double-action is 6.5 pounds.
Is the Taurus TH9 Similar to the Taurus G3?
The main difference is that the TH9 is a hammer-fired pistol while the Taurus G3 is a striker-fired pistol. 
Hammer-fired pistols are generally regarded as safer than striker-fired ones when holstered.
What Do the Others Have to Say About the Taurus TH9?
Here are some interesting testimonials and review snippets from customers that bought the Taurus TH9.
Alternatives to the Taurus TH9
If you feel that the Taurus TH9 isn't your type of thing, check out these alternative handguns.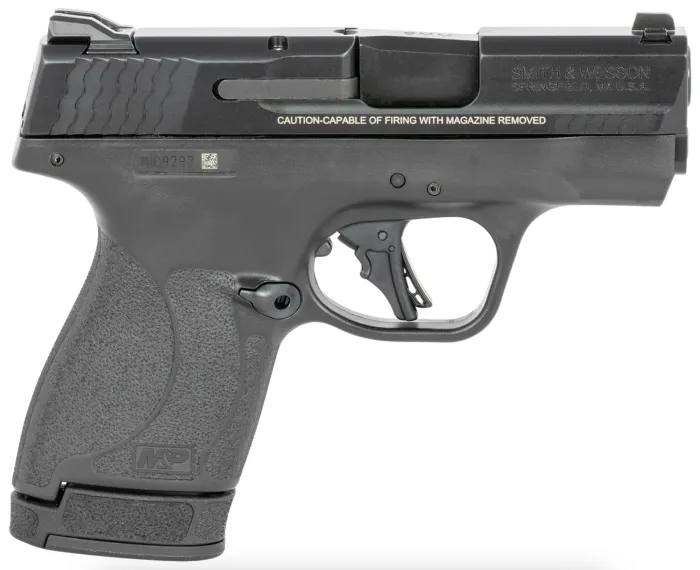 I don't want to sound boring and just recommend you a very obvious S&W M&P9 2.0 9mm alternative like everyone else, so I give you the Smith & Wesson Shield Plus.
It's the new craze that's sweeping the handgun market, and it offers a 13-round high capacity shooting, but it's a concealed carry micro compact pistol.
How's that possible? Well, the secret is in the staggered-stack design of the magazine, unlike the single-stack of the M&P9 Shield.
S&W outdid themselves and improved the Shield. The flat-face trigger is smoother, the grip texture is enhanced, and, simply put, it offers a full-size 9mm experience with a small and lightweight stature for concealed carry.
Here's a striker-fired, single-action alternative. The Turkish Canik TP9 Elite SC is a single-stack, subcompact pistol that might be a bit tanky for some, but best believe it shoots like the wind.
There's a 12-round and a 15-round capacity model that's just two bullets short of the Taurus TH9, but the internal components are high-quality and offer Glock-like durability.
Not only is the value for the price well-balanced, The TP9 Elite SC basically acts as a competition shooter with the perfect blend of features and machinery.
I suggest you snag one of these Wonder Nines ASAP because they're selling like hot cakes.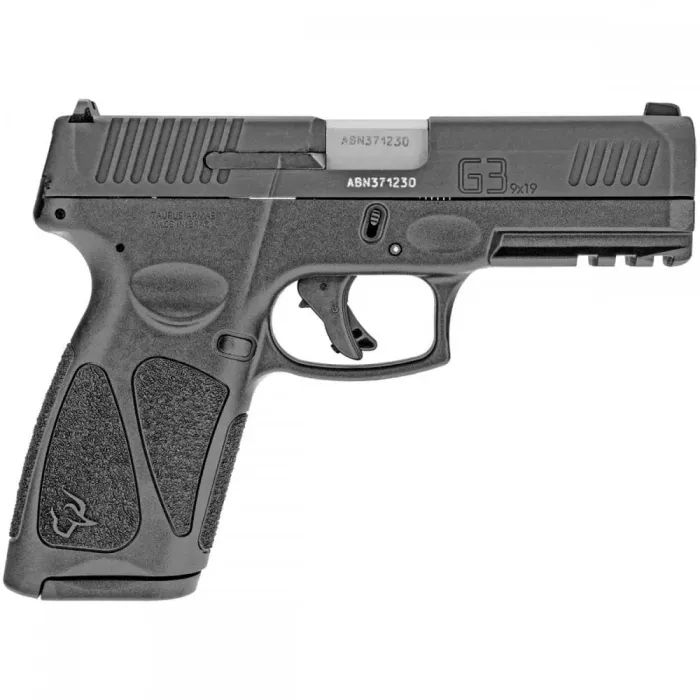 Here's a very similar Taurus handgun, only lighter and a bit smaller. The Taurus G3 is actually a single-action pistol with a restrike capability that works similarly to the TH9's double strike mechanism. If it works, don't fix it, am I right?
The sights are a front fixed 3-dot sight with a drift adjustable rear sight, 25 ounces weight that's 3 ounces heavier than the TH9, but you get lesser recoil that way.
The G3's full-frame configuration has different grip patterns, which some of you might like, but the highlight is the side-frame Memory Pads ergonomic palm swell for extra hand positioning.
The 6-pound trigger pull has a smooth take-up, a crisp and clean break, and a short reset which is practically made for extra fast follow-up shots.
Conclusion – Another Well-Designed Budget Handgun to the Taurus Arsenal
Let's get real.
Personally, I wouldn't go with a budget handgun as my choice for self-defense, but the Taurus TH9 really has great features for a great price when it comes to full-size 9mm shooting.
If you're a beginner who's looking to practice with a hammer-fired pistol, this is the perfect choice. At that price, you get a great DA/SA handgun with two 17-round magazines and interchangeable backstraps. Moreover, you'll also have the extra cash for all kinds of aftermarket parts.
Additionally, you can find Taurus TH9 upgrades on the market as they're abundant, especially from LakeLine. They offer all kinds of highly affordable internal parts, in case something breaks or stops working.
The TH9 is far from the ultimate self-defense handgun, but it offers very generous value. It's reliable enough for a budget option when you compare it to other models around the same price range.
Stay safe, shoot straight.
Explore more