Tristar Viper G2 PRO Review: Exceeding Expectations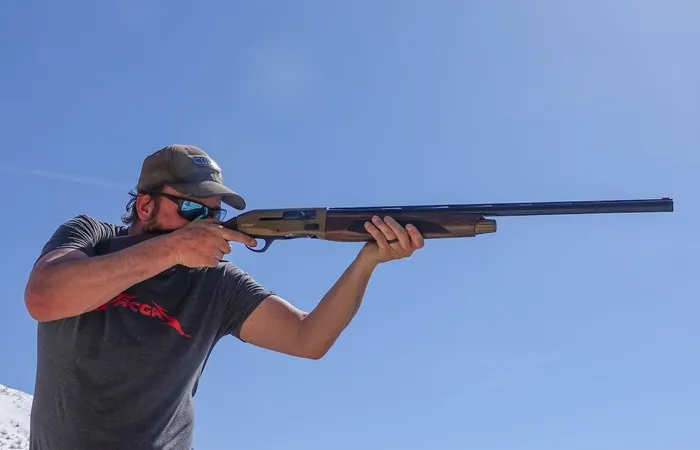 Tristar Viper G2 PRO Review: Exceeding Expectations
Introduction
Tristar is a manufacturer and importer of firearms. Their moniker of being the value experts suggests that their products offer a significant value over the competition.
I am more of a rifle junkie than a shotgun devotee, but like any true gun enthusiast, I do enjoy shooting them. Today I will be taking on the Tristar Viper G2 PRO, a 12 gauge semi-automatic shotgun designed for sporting and hunting purposes.
It seems over the last few decades, there has been a large influx of Turkish-made shotguns brought to the market. Being a rifle addict, as I mentioned, I have been mostly unaffected by this trend.
But I am happy to take on almost any firearm, and those brought in from the Turkish market definitely seem to bring value.
After just a few minutes handling the Viper, I expected I was going to like it.
The Viper G2 PRO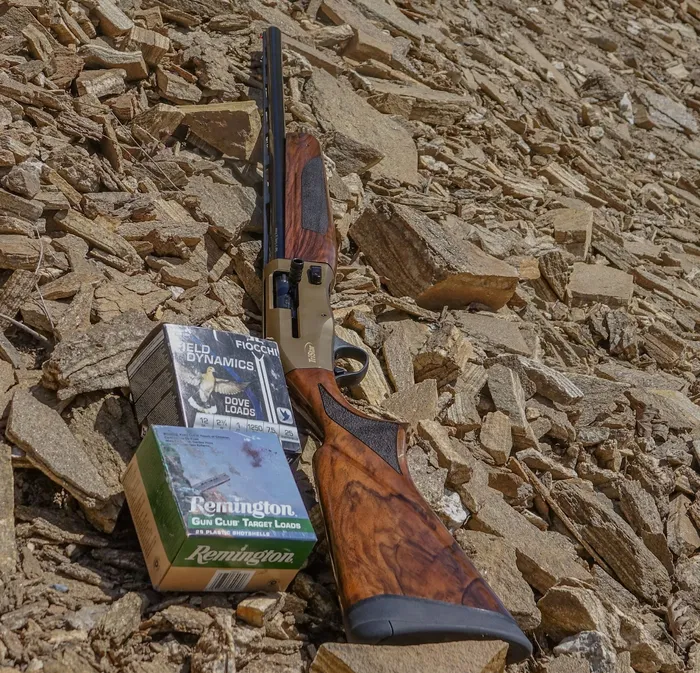 The Viper G2 PRO features a twenty-eight inch barrel and is operated by a gas piston to cycle the action. Like most every other semi-auto shotgun, it uses a tubular magazine to carry up to four rounds plus one in the chamber.
The Viper utilizes a handsome blend of beautiful wood for the stock and a bronze color finished receiver mated to a blued barrel.
A push/push safety in the trigger guard will be very familiar to shotgunners, as are the rest of the controls. The bolt release is on the right side of the receiver, just under the bolt charging handle.
I was impressed with the presentation of the Viper, it is a handsome-looking shotgun, and it was time to see what it could do.
Viper G2 PRO Review

Tristar presents itself as a value option in shotguns. I wanted to see if that meant it was worth the money or if that just meant it was cheaply made. There are plenty of cheaply made options out there, and I have no interest in them.
After handling the Viper I think it was safe to assume it wasn't slapped together by unskilled hands, the fit and finish of the shotgun looked very comparable to the competitive price.
The MSRP for the model tested is $990.00, but in a cursive search of the market, various configurations of the Viper can be had for as little as $460 to near the MSRP price. The majority of the ones I found were around the $600 mark, which isn't bad for a good shotgun in my estimation.
To be fair, a guy like me would probably do well with the Viper. If you aren't one of those haughty shotgunners looking down their nose through a strange shade of amber shooting glasses at non-Italian shotguns, you could also benefit from the Viper G2.
With a price like this, it could definitely be a winner for those looking to scatter shot on a budget.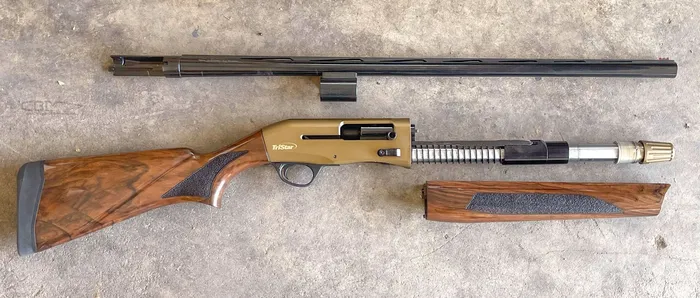 The Tristar Viper G2 is available in a bunch of different setups, colors, and even a left-handed version. This is great for those looking, as it gives you more options at a decent price. Make sure you look at all of the models, as there may be one better suited for you than this model. Whether you are dusting clays on a range or seriously seeking turkeys, you have got some great options.
Specifications
| | |
| --- | --- |
| Caliber | 12 gauge three-inch chamber |
| Capacity | 5 rounds max |
| Barrel length | 28 inch |
| Caliber options | 12g, 16g, 20g, 28g, .410 |
| Color options | Bronze, Silver, Black, and three different camo patterns. |
| Models available | Right and left-handed |
| Weight | 6.8 pounds |
| Length of pull | 14.25 inches |
| Choke system | Beretta®/Benell® Mobil |
| Chokes included | Improved cylinder, Modified, Full |
Pros & Cons
Pros
Very handsome shotgun

Reasonably priced

Functions excellent

Compatible choke system

Includes choke set

Feels very light

Cycled every kind of ammunition I tried
Cons
Not made in America (if that matters to you)

It bit my finger (obviously my fault)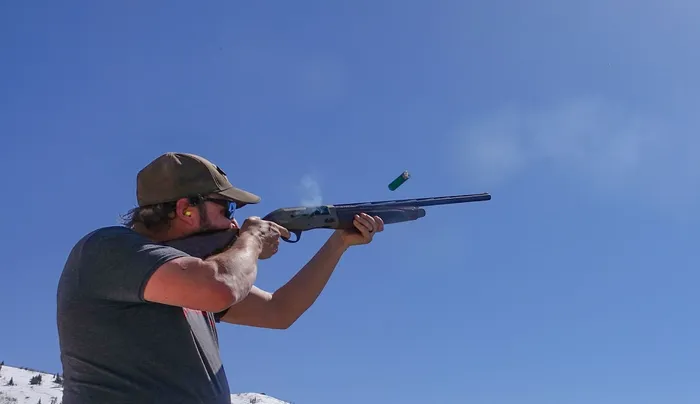 Field Testing
Enough chit chat about numbers and prices, it was time to get the Viper into action and heat it up.
For this, my brother and I ventured into the springtime Rocky Mountains, which are currently still stuck in February mode. But with a gorgeous day before us and several boxes of shells and clays, I knew we were going to have a good time.
Hand-thrown clays add an extra layer of fun to shooting shotguns, unless you bring my nephew, in which case it becomes a very hazardous two-way range. We took turns throwing targets for each other, running an assortment of shells from Remington and Fiocchi.  
Reliability
I had accidentally glanced at the manual that came with the Viper, and in doing so, I noticed that they recommend a break-in process using magnum loads. I was a bit concerned thinking there may be a reliability issue since my inventory was currently barren of any three-inch shells.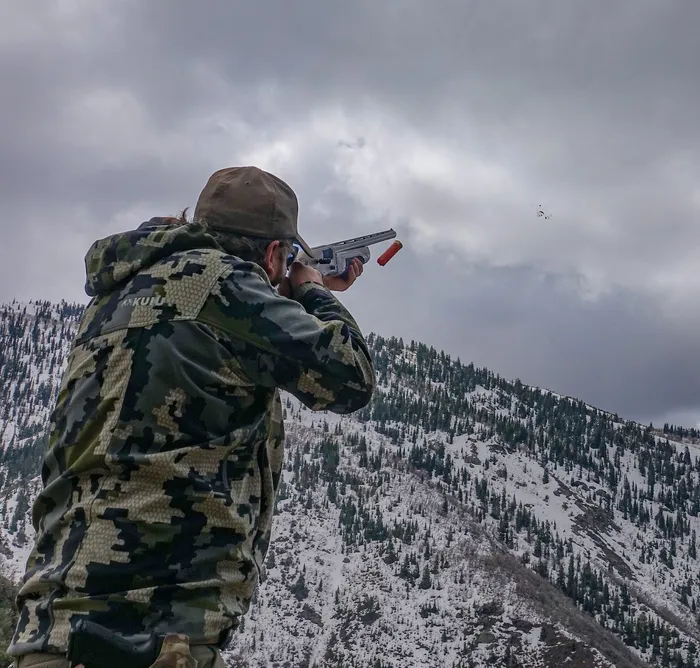 With that in mind, I approached the first few shots paying close attention to the cycling of the action. Whether it be good luck or simply the sunshine, the Viper ran like a typewriter despite my complete disregard for the break-in.
We cranked through several different boxes of ammunition to see how the Viper handled them. There were some light-weight 1oz. Sporting loads as well as some 1⅛ oz. loads, everything we shot was either 7.5 or 8 shot size.
During all of our shooting, we had zero malfunctions. The gun functioned perfectly and locked back every time.
Accuracy
I usually don't have much trouble hitting what I'm aiming at with shotguns. But it did take me a minute to get the flow right with the Viper, and once we did, we really hammered everything.
The fiber-optic front bead made it easy to see, and every time we lined it upright with the flight of the targets, we would be rewarded with a dark cloud of dust.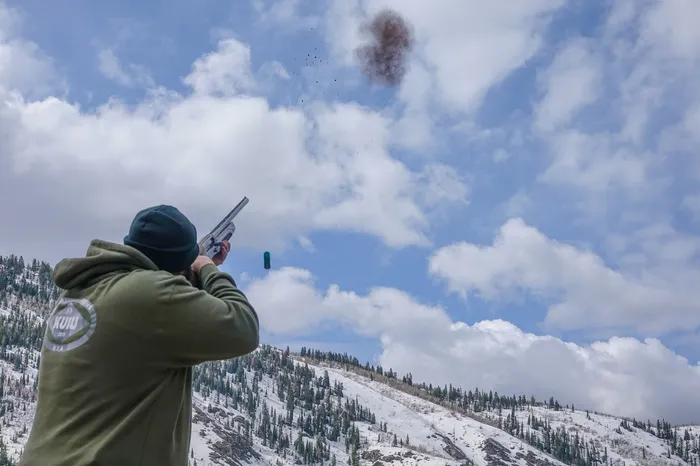 Overall Feel
The Viper G2 felt excellent in my hands. Its lightweight made it quick to point and easy to keep on target. I say lightweight mainly because I am used to rifles; compared to those, the Viper is very light.
But it is lighter than some of its competitors, like the Beretta A300 or the Stoeger M3500.
I mentioned before that the fit and finish of the gun was great. It looks better than I expected it to, knowing that it was a "value" branded shotgun.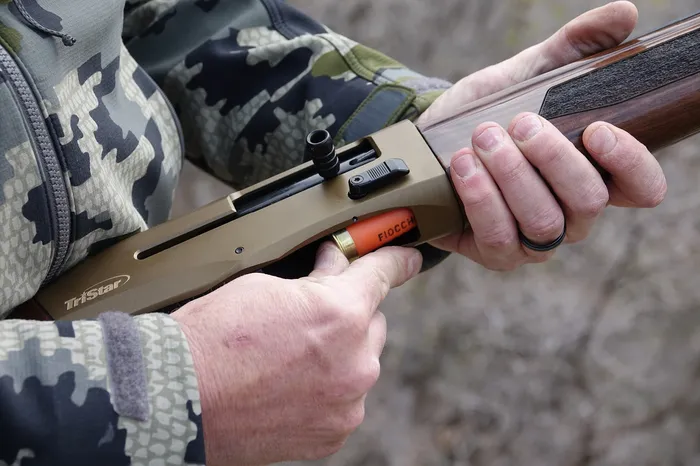 The trigger and other controls were perfectly familiar and easy to operate. Almost too easy as I managed to get my finger bit by the bolt when I got too close to the bolt release.
The gun goes together easy enough, though I did have a bit of an issue getting the barrel seated properly. This was likely more my struggling than anything.  
Features
Mobil Choke System
The Mobil choke system used by both Benelli and Beretta is extremely popular, which makes it an easy choice for most folks to use. This will allow you to upgrade to aftermarket choke tubes if you're into that kind of thing.
Fiber optic sight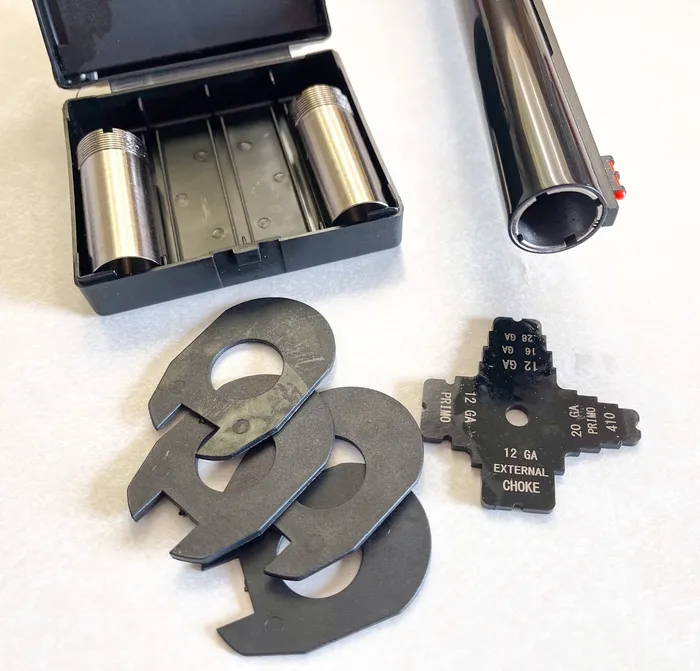 The orange fiber-optic bead at the end of the vented rib gives an excellent point of aim while wing-shooting.
Recoil Pad
The soft rubber recoil pad made the Viper feel great on the shoulder. We didn't shoot any particularly heavy loads, but I am sure the recoil would have been soaked up by the Viper's action and recoil pad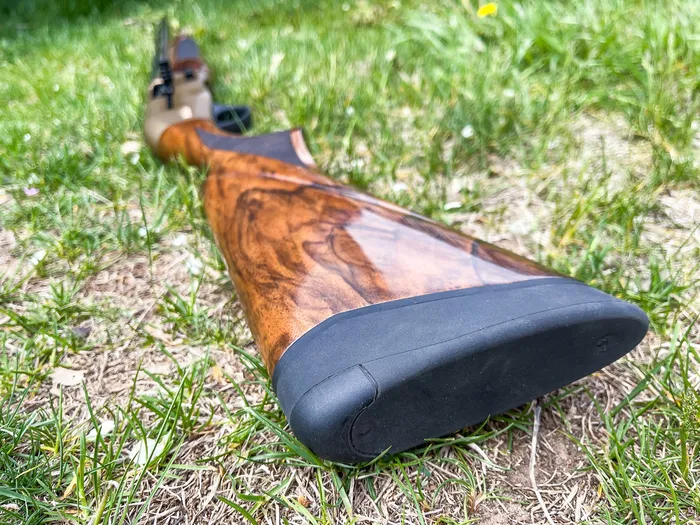 Walnut Stock
The beautiful Turkish walnut shows through the glossy finish on the Viper. The checkering gives great purchase for both hands to keep a good grip on the Viper.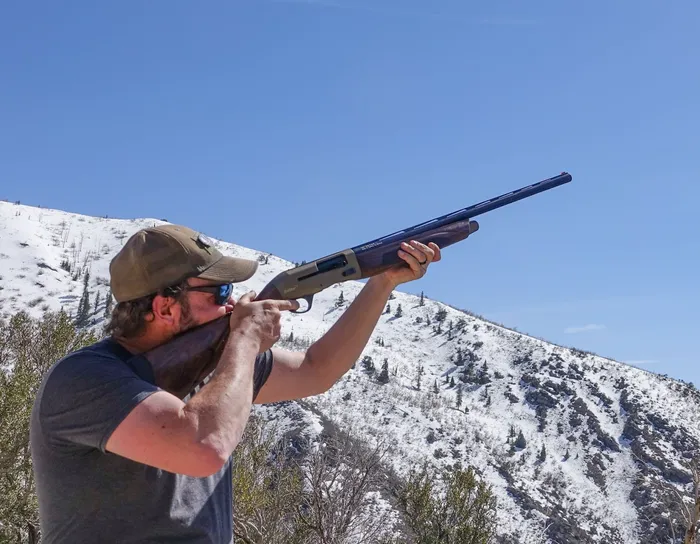 How We Tested
For several hours, we ran the Viper through rounds of clays.
To make it fun, we changed position frequently, as well as the direction of targets. Switching back and forth between throwing and shooting made for great practice. Swapping chokes did seem to help somewhat for the different target presentations and distances. But it's also likely that it was simply my perception that made it seem that way.  
We shot three different types of ammunition during all this shooting, and for the most part, we didn't notice any difference in operation or the ability to hit targets.
Ammo Used
In addition to the Remington Gun Club target loads and the Fiocchi dove loads, we also shot some Fiocchi Shooting Dynamics target loads.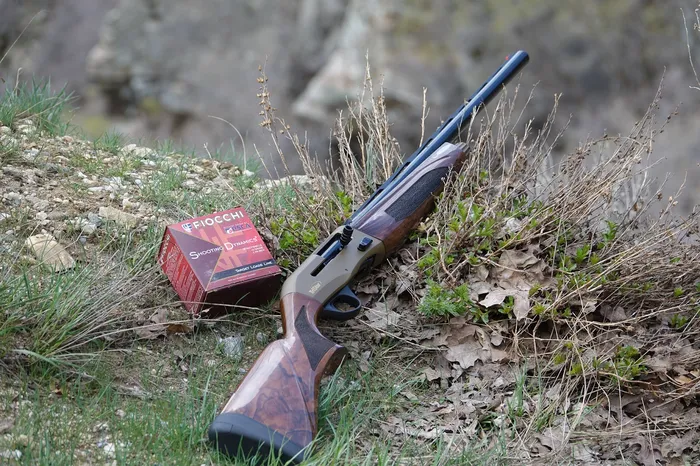 Score Card
Reliability (10/10)  
I experienced no malfunctions during testing of the Viper G2
Ergonomics (9/10)
As far as shotguns can be comfortable, this one certainly was. The only way I would improve it is perhaps with an adjustable cheek-riser.
Customization (8/10)
Other than the included shims for the stock, and the Mobil choke system, I'm not sure what you would customize on this gun. Perhaps additional beads or something, but it's fine as is.
Appearance (8/10)
I found the Tristar Viper G2 to be quite handsome. The contrast of the Cerkoted receiver and the blued-barrel matching the glossy finished walnut made a very handsome gun.
Value (8.5/10)
I think the Viper is a good buy for many of the prices I saw during my internet search. The less expensive models appear to be an outstanding value.
Accessories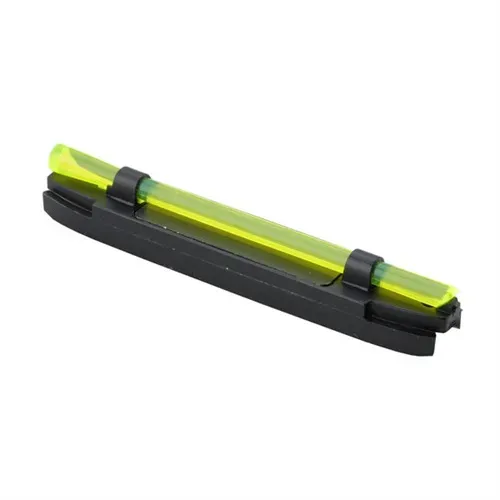 Adding a larger fiber-optic bead can improve your target acquisition, the standard bead isn't bad at all, but if you want to really see your bead you can get a Hiviz fiber-optics shotgun bead.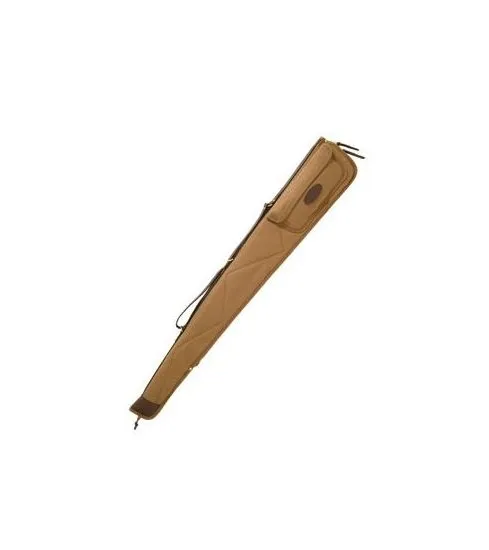 Shotguns as handsome as this need to be protected during transport, a good soft case like this one from Boyt will keep your Viper looking new.
Alternatives
The Stoeger M3500 is very comparable in price and comes from a similar economic brand.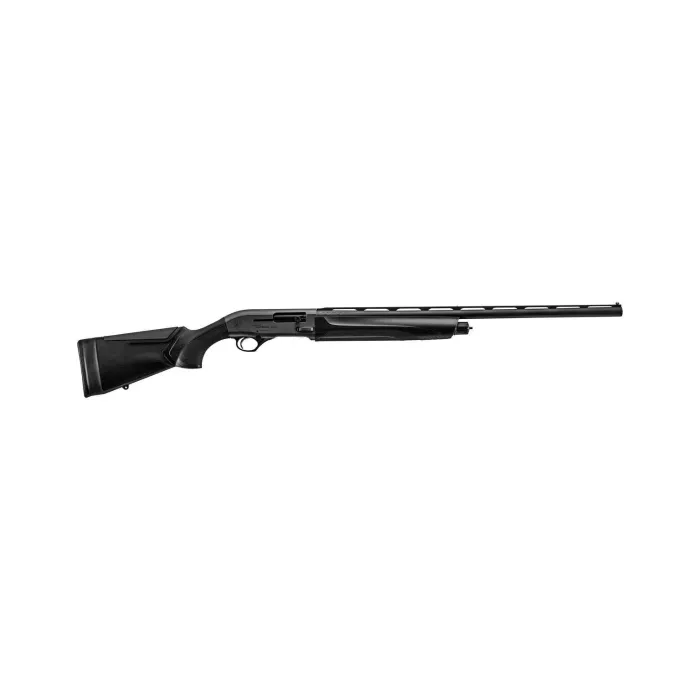 The Beretta A300 Ultima is a little step up in price, but it also comes with the name and history.
Conclusion
The Tristar Viper G2 PRO actually surprised me. I was expecting something a little more economical. Something cheaper I guess, is a good way to describe it.
But it turns out I quite liked the shotgun, and at no time did I ever really feel like it was a cheap alternative to something nice. Keep in mind I am no shotgun aficionado; that would be my father.
And as such, I have been exposed to plenty of ostentatious and extravagant shotguns, I'm not suggesting that the Viper can stand alongside them but I think it is still a perfectly suitable alternative.
Fine shotguns seem to last a very long time. That is the only thing missing from this review.
A year or two of hard use or a couple of seasons in a duck blind would certainly give a better indication as to the Viper's long-term durability. I wish I had a time machine to do exactly that, but for now, you'll have to just gauge the Viper off what we know and have shared here today.
That said, I would happily take the Viper G2 into the field again; it's grown on me.
Explore more