Aero Precision EPC Review: An Awesome 9mm AR Style Rifle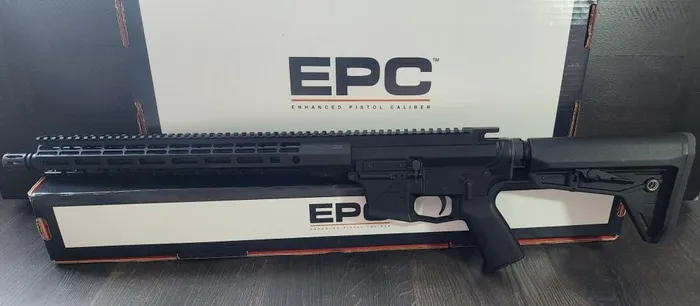 Aero Precision EPC Review: An Awesome 9mm AR Style Rifle
Introduction
I recently got my hands on an Aero Precision 9mm EPC (Enhanced Pistol Caliber) carbine in 9mm with a 16″ barrel. A pistol caliber carbine (PCC) is a great range toy or defensive weapon.
The EPC-9 uses a direct blowback system, which pushes the bolt carrier group (BCG) back and cycles it using the energy created when you fire the cartridge. Unlike a traditional AR, this design does not require a gas block or tube, which simplifies the design.
First, What's a PCC (Pistol-Caliber Carbine)?
A pistol caliber carbine (PCC) is a type of firearm that is similar in appearance and function to a traditional rifle but fires pistol ammunition rather than rifle ammunition.
This allows for a compact and lightweight design and the ability to use the same ammunition as a handgun for convenience and cost savings.
PCCs are often used for personal defense, competition shooting, and hunting small game. They are typically chambered in common pistol calibers such as 9mm, .40 S&W, and .45 ACP.
History of Aero Precision
Aero Precision did not start as a firearms manufacturer. They are actually a spinoff of an aerospace business and are now based in Lakewood, Wash. Aero Precision is best known for their AR-15 style rifles and has expanded into 9mm and 40 S&W pistol calibers. They call it their EPC-9 lineup or "enhanced pistol caliber."
Overview
Even though the rifle I received from Aero was completely assembled, I am one of those people who want to do more than just shoot my gun. Before it was over, I had a couple of AR-15s, along with the EPC-9, spread out all over the floor, and I was comparing parts.
Aero Precision has everything you need to assemble your own AR-9-type gun. You can build this into a rifle, which I did, make it into an SBR, or a pistol in 9mm, or a 40-caliber carbine.
Breaking Down the EPC Upper
Most AR-15 barrel nut and handguard combinations with mil-spec upper receivers will work with the EPC-9. The Aero Taper Lock Attachment System (ATLAS) R-ONE handguard has M-LOK style attachment slots along the sides and a Picatinny rail that runs the full length of the top.

Barrel
You can select from Aero's four different barrel lengths for your build. They come in 5.5 inches, 8.3 inches, 11 inches, or 16 inches. The barrel for this review is a 16-inch one with a 1:10 twist. Remember the ATF rules, regulations, and restrictions because you may end up with a short-barreled rifle (SBR) and need to file the proper paperwork.
Bolt Carrier Group (BCG)
They designed the bolt carrier group on the Aero EPC for 9mm. It is not interchangeable with a different caliber, like a 5.56 or a 22 LR.
As you can see from the picture, the outside dimensions are the same, but because of the casing diameter, all AR calibers require different BCGs. The BCG that Aero sells is black nitride with a titanium firing pin.
The one I used from Aero is frequently on backorder, so you might have to look for one from a different manufacturer.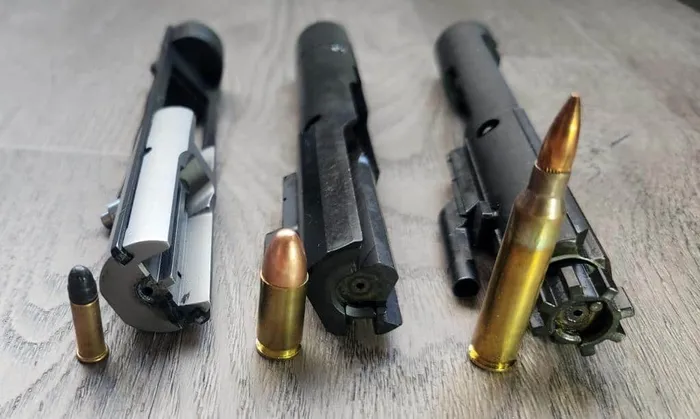 When looking at the firing pin end, it is apparent why the bolts can not be interchangeable.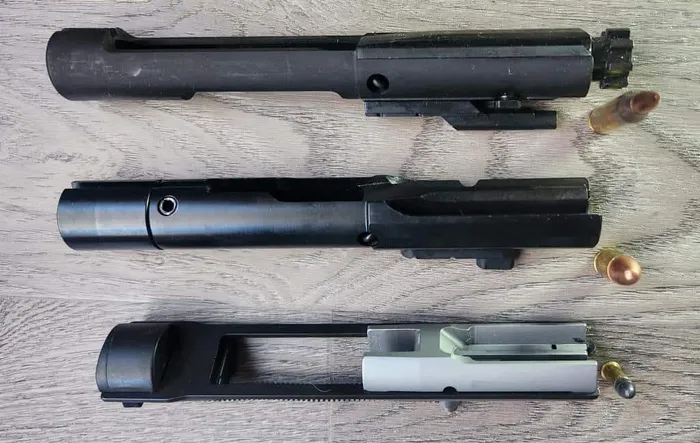 The bottom bolt is from a 22 LR, and the middle is from the Aero 9mm. Both of them use a direct blowback system as opposed to the gas blowback of the top BCG for a traditional 5.56 / .223 AR-15.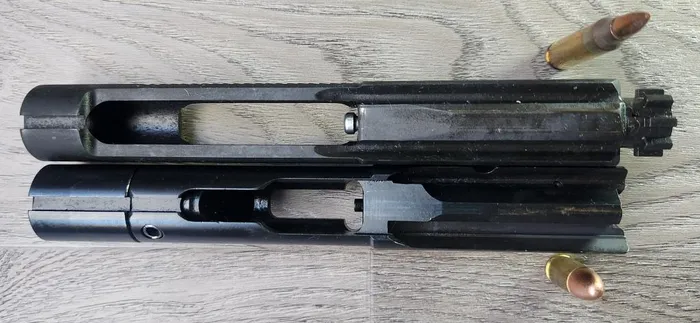 There is also a considerable design difference in the internal area of the top gas operated compared to the lower 9mm direct blowback.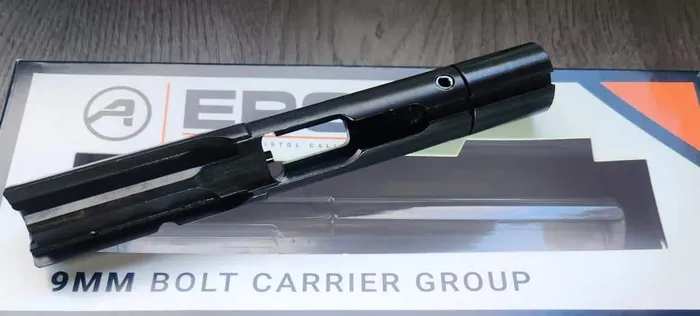 Breaking Down the EPC Lower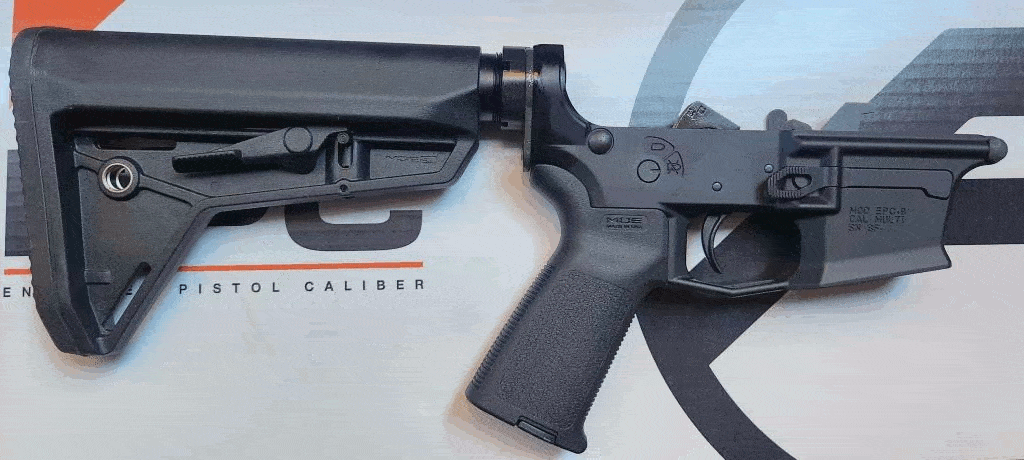 The lower is an FFL item, so it will need to ship to your local gun store, but the rest ships directly to you from Aero. The Aero website gives you options to get whatever combination you want.


Here is an internal picture to show the lower parts along with the trigger, and you can see the similarities to a traditional AR-15.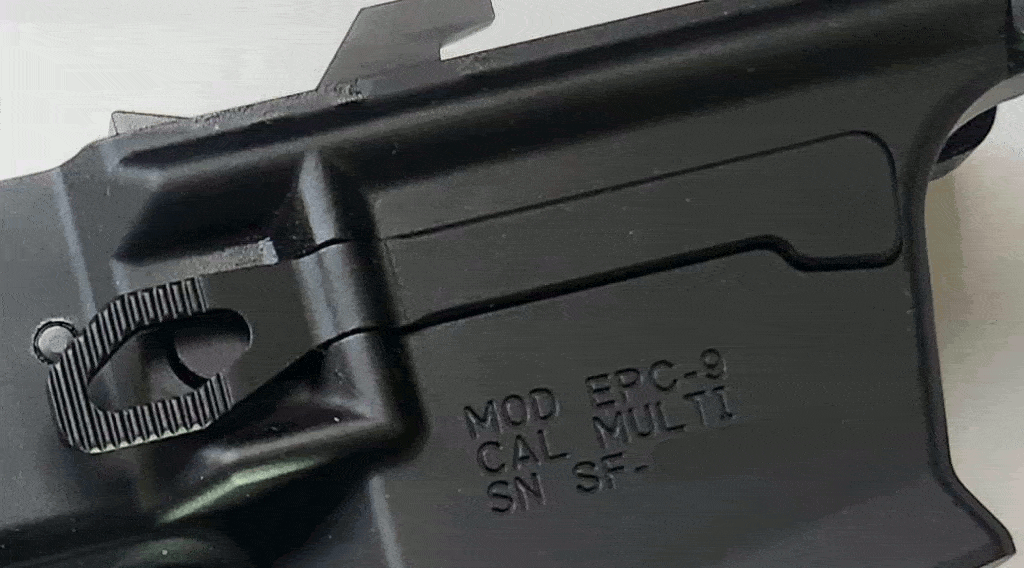 The magazine release comes pre-installed from the factory, and it is not interchangeable with a MIL-Spec AR. The button is oversize and very easy to manipulate.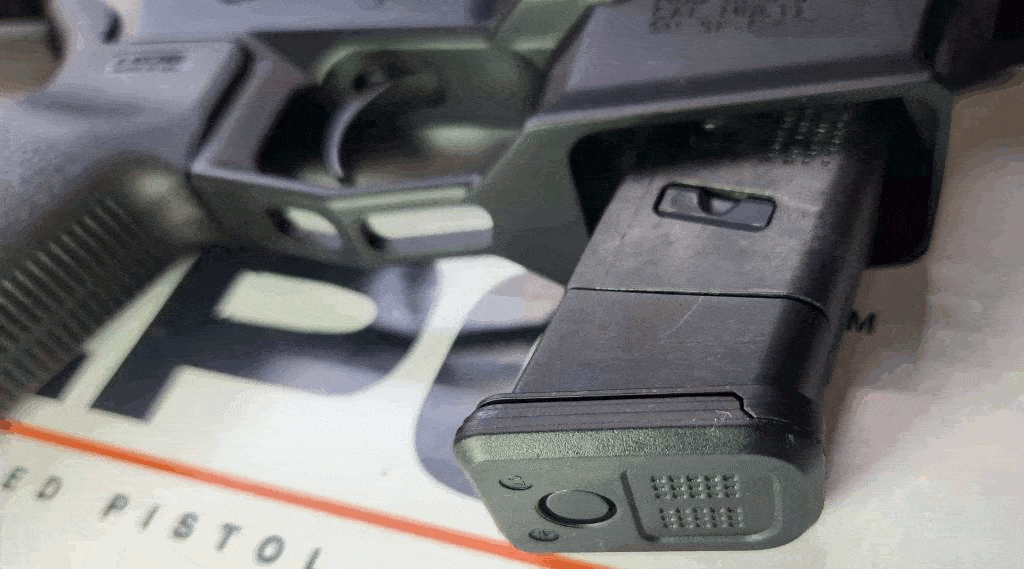 The EPC's lower receiver uses a Glock-compatible magazine. It has an enlarged, flared magwell to help make a fast magazine change.
Grip and Stock
A Magpul MOE grip and Magpul MOE SL carbine stock came pre-installed on the lower.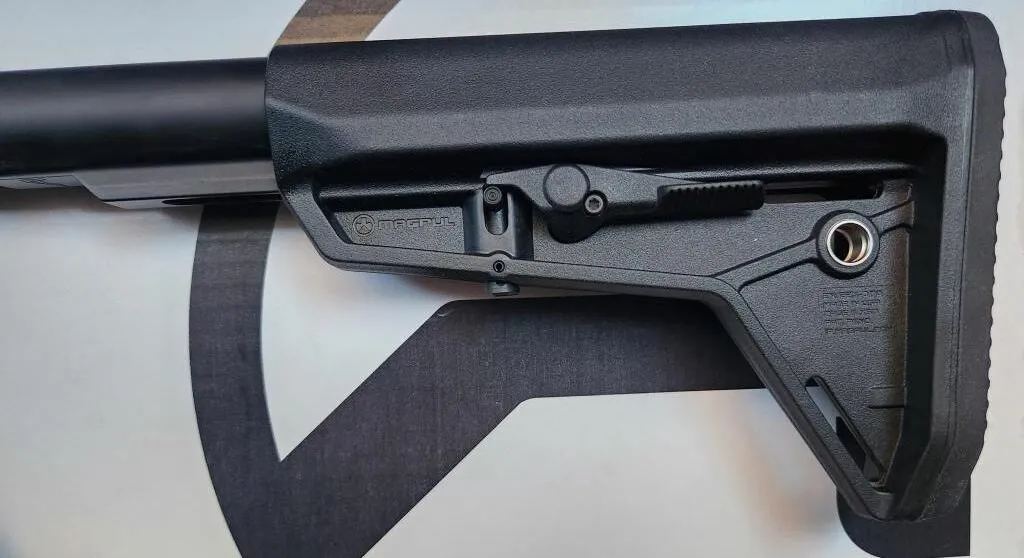 The grip handle has a small compartment that is perfect for holding a couple of small spare parts, like springs or a battery for your optics.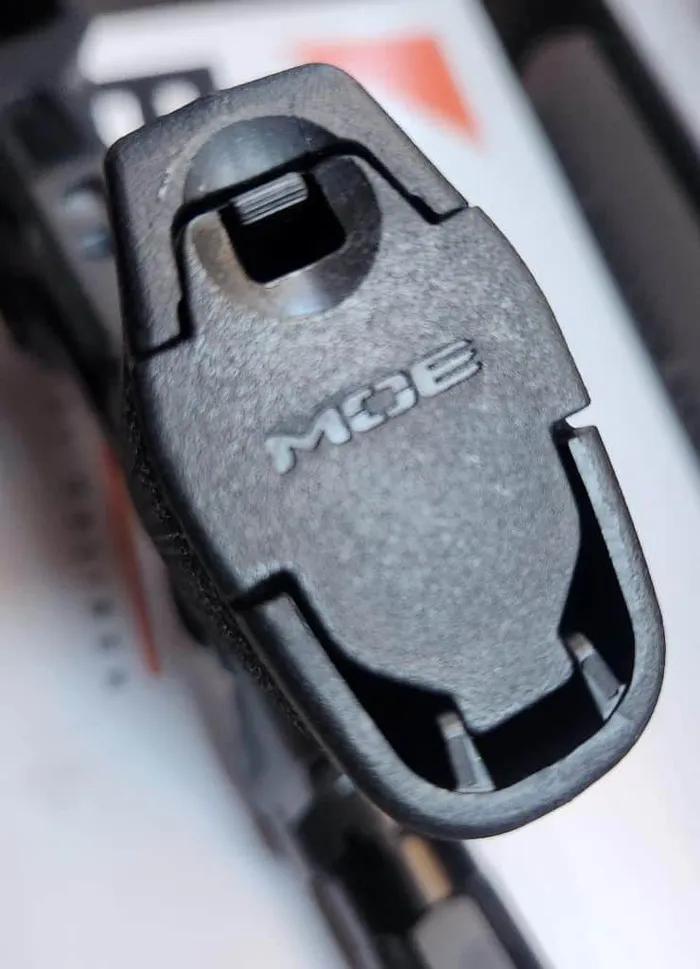 Buffer Assembly
You would think that since it is a smaller round, the buffer might be smaller too, but because it is direct blowback and not a gas blowback, the buffer is heavier. The lower requires a heavier 7.7-ounce buffer rather than a regular AR buffer that runs between 3 ounces and 5 ounces.
Aero Precision's EPC buffer is also longer than a typical AR buffer. In a gas blowback design, the gas generated when the round is fired goes through a tube. It runs along the bottom of the barrel back to the upper assembly, and that causes the BCG to cycle.
On a direct blowback, the energy generated by the fired round pushes the BCG, much like the slide in a typical semi-automatic pistol.
Charging Handle
Because this is a standard-style AR, the charging handle can be as basic or as fancy as you want.
You can select the charging handle that best suits your needs, and there are enough of them out there that it would take an article of its own to go through them all. For this build, I used a dual-lever one from Aero.
It is machined from 7075-T6 aluminum and given an anodized coating. The Aero Precision Breach Charging Handle is sturdy and reliable. Unlike other lower-end versions, it was solid and did not flex. Each of the two large levers on the Breach's ambidextrous charging handle is fitted with its own independent spring.
By using a gas deflection shelf, Aero Precision created a charging handle that redirects gas away from your face while you shoot.

As you can see below, the charging handle is compatible with all standard AR-15 uppers. The two lower ones have a release on only one side.
In contrast, the Breach has the added functionality of being able to be used with either hand, should the need arise.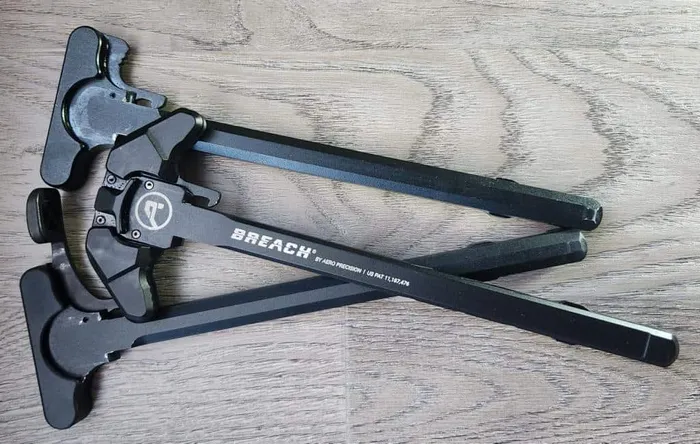 Muzzle Device
The device that came with this rifle was the Aero Precision 9mm A2 Birdcage Flash Hider. All Aero Precision 9mm barrels use ½ x 28 threads.
| | |
| --- | --- |
| Barrel Length | 16 inches |
| Weight | Around 6.5 lbs depending on what you install |
| Caliber | 9mm (It is also available in 40 S&W) |
| Type | Semi-Auto Rifle |
| Action | Blowback semi-auto |
| Trigger Pull Weight | 8 lbs. |
| Barrel | 9mm 16" (Also available in 5.5″, 8.3″,11″) |
| Upper Construction | Machined From 7075 T-6 Aluminum |
| Lower Construction | Machined From 7075 T-6 Aluminum |
| Finish | Anodized Black |
| Magazine | Any Glock Style Magazine |
| Handguard | 16-inch AR-15 ATLAS R-ONE M-Lok |
Pros & Cons
Pros
Simple and reliable 

It comes in 9mm and 40 so you can get the one that matches your self-defense handgun

Well built and solid
Cons
I can not come up with a single con except you will have to put some thought into what combination of parts you want to use.
Range Testing
Reliability
I shot approximately 400 rounds through it with no issues, but I do not personally feel that is a good test for long-term reliability. I researched what others have said and could not find any complaints or specific issues that would affect long-term performance.
Accuracy
This gun was highly accurate, even with all the ammunition I ran through it. Right out of the box, the sights had me a little low and to the right. It only took a few shots, and the groupings were dead on with very little spread at 25 yards.
Overall Feel
With the Magpul furniture, it feels like your typical AR-style rifle. Let's face it, Magpul makes a reliable and functional grip and stock. The stock was solid, with no play.
How We Tested
Ammo Used
I tossed anything I could think of at it, and it ran flawlessly. I used steel, lead-free, hollow point, and even a round with a flat nose, as seen in the photo. I tried to get it to malfunction, and the darn thing just continued to shoot with no complaints.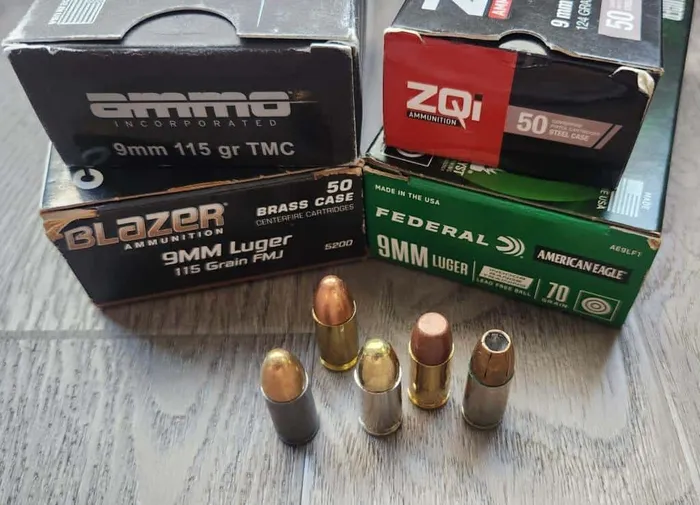 What you need for a complete EPC depends on your skill set and how much work you want to put into it. The challenge is ensuring you have all the correct parts to build a pistol-caliber carbine (PCC).
You will need an AR-9 lower receiver, a compatible upper receiver, and a bolt carrier group designed for 9mm or 40 S&W calibers. I chose the 9mm because my everyday carry is a 9mm, and I always have plenty of ammunition in that caliber.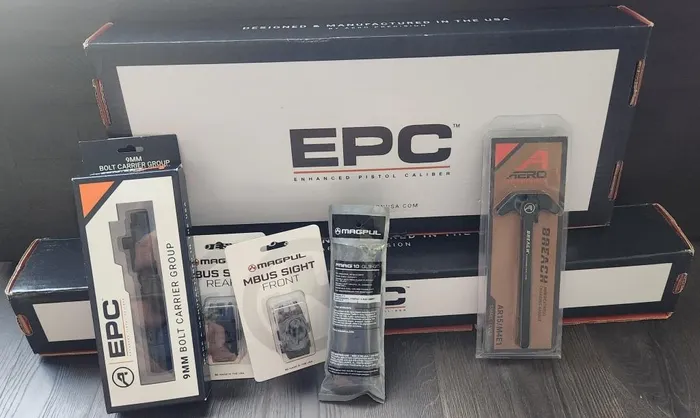 Any Issues with the EPC?
I had absolutely no complaints with this build except the issues with a factory Glock magazine. It did not want to hold the bolt open on the last shot. In all fairness, I only had one factory Glock magazine with me, so it's possible there was something wrong with that mag.
I have not read anyone else who has had an issue with the types of magazines they have used.
Conclusion
I would without a doubt recommend the Aero Precision EPC9, and if you are looking for a rifle in 9mm for self-defense and because your carry gun is also a 9mm, this is the perfect match. Check out Aero Precision's website to buy or some other buying options here.
Better yet, if you are a Glock person, you can cut down on the magazines you need to carry. It was a solid, reliable rifle I will probably take out regularly.
Explore more