5 Best 10mm Carbines [2023]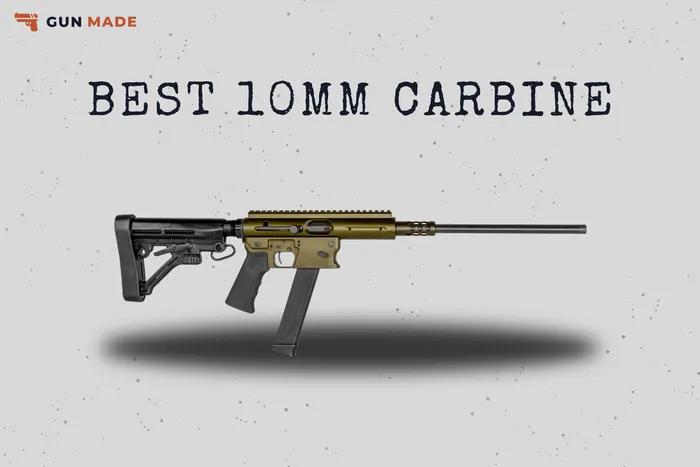 5 Best 10mm Carbines [2023]
Once in a while, a miracle happens.
I still can't wrap my head around how the market saw sales spike for pistol-caliber carbines.
I know this includes the bulk sales of PCC firearms in multiple calibers like the 9mm, 10mm, .40 S&W, and others, but it's still impressive how popular they have become as of late.
What's more insane is the pistol-caliber carbines in the 10mm cartridge took off. The 10mm carbines were pretty niche compared to the much cheaper and abundant 9mm ammo.
Known as the "Perfect 10," they're a fantastic self-defense and competition shooting round. Put that 10mm cartridge in a pistol-caliber carbine, and you'll have a great time at the shooting ranges.
In this round-up, we'll discuss the best 10mm carbines and see if some pistol-caliber rifles work for you.
I added all the most viable and cost-efficient 10mm PCCs I could think of, some of which I had the chance to shoot and some I've heard nothing but high praise about.
Let's start with the best pistol-caliber carbine in the 10mm caliber.
Best 10mm Carbines
Pros
Compatible with Glock mags
Highly versatile rifle
Accepts a variety of calibers
Direct blowback action
15-round magazines
Cons
Former models are picky about 10mm ammo
Uncomfortable rail ridges
This might as well be the David Bowie space rock opera of firearms. This PCC is a pure oddity, but it's able to impress anyone with its smooth cycling, accuracy, and flexibility.
The 10mm carbine needs a little bit of practice, and that's exactly what the TNW Aero Survival Rifle offers. It allows you to fully commit to handling and shooting a 10mm PCC.
It's a survival rifle made to be taken down without the use of tools, hence the name.
The quick-change 16-inch barrel and AR-collapsible stock can fold into a backpack for your backcountry adventures. You'll barely notice the 5.5 pounds.
What makes the Aero Survival Rifle a highly versatile 10mm carbine is the quick-change barrel that's compatible with all kinds of calibers like the .22LR, 9mm, .40 S&W, .45 ACP, and the rare .357 SIG, not just the 10mm. Additionally, it can take Glock mags.
The hardcoat anodized aluminum receiver, a 1:16-inch twist rate, and direct blowback action make it sing. The sliding safety and integrated trigger lock are intuitive.
Some users have reported feeding issues, so I recommend sticking to Federal Trophy Bonded Bear Claw 180gr 10mm soft points.
The Aero Survival Rifle is a versatile 10mm platform with a very reasonable price tag compared to other 10mm carbines. What you get is a survival package that shoots, folds, and takes Glock mags.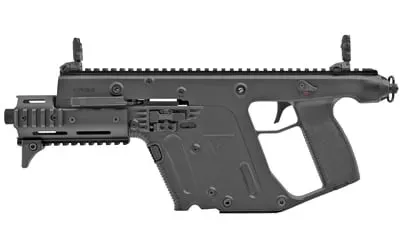 Pros
High-end engineering
Very low recoil
Superb control and accuracy
Excellent reliability
Ambidextrous
6-position stock
Wanna own a space gun? Sure you do.
Definitely an unorthodox choice, the Kriss Vector CRB is perhaps one of the most advanced pistol-caliber carbine platforms you can find on the market.
Behind the over-the-top design lies high-end machinery with a low bore axis and a unique recoil-mitigation system called "Super V."
This effortlessly redirects energy that manages recoil and muzzle rise, which allows fast follow-up shots. The nonlinear bolt blowback mechanism and the 6-position stock define it as a high-end sporting rifle.
It has intuitive, ambidextrous safeties, and you operate the bolt and mag release with your offhand while your strong hand shoots. It's compatible with Glock magazines, just like the Aero Survival.
While the Kriss Vector CRB might be too heavy or modern for some, it really paves the way for new designs to be tested, and we have yet to witness some cool ideas.
No doubt, the Kriss Vector CRB might sit well with regular gun folk, but if you want to dip your toes in sporting rifles, best believe this is one of the most reliable 10mm options on the market. 
It's available in both 15 and 17-round capacity, and there's a 9mm model too.
To infinity and reload.
For more info, check out our Kriss Vector review in 9mm.

Pros
Surprisingly good reliability and cycling
Great value
Picatinny rail and skeletonized stock for aftermarket tweaking
Multiple calibers available
Accurate as the day is long
Cons
Ugly as the night is dark
The Hi-Point Carbine has a knack for offending everyone's eyes at the ranges, but this isn't exactly a beauty contest. What this 10mm Hi-Point lacks in aesthetics makes up for value and performance.
Hi-Point arms are known for their highly affordable firearms, and this pistol-caliber carbine has a +P-rated blowback action with an internal recoil buffer that calms the bolt for a reliable, low-recoil operation.
The fixed polymer skeletonized stock, slings, swivels, scope base, and Weaver rails open up a window of aftermarket sights, grips, and mags.
The raised rubber cheekpiece is pretty convenient, and it gets even more convenient with the fully adjustable iron sights and bolt locks that flip open on the last round.
Besides 10mm, the Hi-Point comes in various calibers like the 9mm, 40 S&W, 45 ACP, and even a .380 ACP.
Personally, I find it amusing how a lot of folks just bash the Hi-Point 1095 just for sheer looks and quickly fall silent after seeing how it effortlessly shoots groups.
If you're a first-time buyer who would settle for a decent 10mm carbine with a decent aftermarket window, I seriously recommend it.
The Hi-Point is a cost-efficient 10mm carbine, and though it's not aesthetically pleasing, at least you won't feel bad if you dent it.
Pros
Superb performance
Lightweight and compact
Lowest recoil on this list
Available in multiple calibers
Smooth and crisp trigger
30-round capacity
Competition-grade accuracy
Cons
High-end price tag
Difficult to find
It's a high-end option, but the CMMG Banshee is a force to be reckoned with.
The CMMG line has all kinds of models, calibers, rifles, and pistol types that are worthy of mentioning. But I'll stick to the Banshee. It's a screamer.
At a glance, the CMMG Banshee is a clear sports shooter with a ton of features and calibers available in 9mm, .45 ACP, .10mm, and even the 5.7x28mm cartridge.
What the Banshee boasts is its one-of-a-kind radial delayed system which practically makes the recoil almost non-existent, and it's one of the most fascinating firearm engineering feats I've seen. It throws out the necessity for bolts, buffers, or recoil springs out the window.
The Banshee is short and super lightweight with a 5-pound weight with an AR-type build. It eats through 180-grain bullets and practically spits fire. Expect smooth control and rapid follow-up shots with impeccable target acquisition.
Much like the Kriss and the Aero Survival, it chomps on Glock mags.
There's a staggeringly high price to pay for a pistol-caliber rifle like this. Even if you finally convince yourself to snag one, it will be difficult to find one in stock.

Pros
Excellent reliability with a classic feel
Multiple calibers available
Customizable bolt-action rifle
Picatinny rail
High-quality mechanism and cycling
Cons
Heavy trigger pull
7-round capacity
While this isn't a 10mm or a pistol-caliber rifle, you're looking at the grandpappy of the PCC.
Henry lever-action rifles are the ultimate Western choice, and this Henry Big Boy X is stylized to be a PCC in a .357 Magnum, which offers extra power and a unique shooting experience.
The Henry X series is the gentleman's approach in plinking, competition shooting, and home defense. Although the 7-round magazine capacity isn't up to the PCC standard, it has impeccable reliability and operation. I've never seen cycling issues with a bolt-action rifle.
Thanks to the Picatinny rail, you can install all kinds of tactical features to turn this old-school classic into a sharpshooter.
The Henry Big Boy X offers fantastic durability and a lightweight feel with its furniture and barrel, but the star of the show is the side-loading gate that makes it easy to top off your lever gun as you shoot. This offers quick follow-up shots, despite the lever action.
Although it's a very odd choice with a heavy trigger pull, Henry presents us with the X series, a tactical approach to an undying legacy.
Let's be honest; it's one of the coolest .357 Mag. rifles you can own.
We also reviewed the Henry Big Boy Steel Carbine in .357 mag if you want to check out another similar model!
10mm Pistol-Caliber Carbines – A Definite Buyer's Guide
The 10mm pistol-caliber carbine, or PCC, is fun to shoot as a sports rifle, defends your home, and it's great for hunting deer and varmints as well.
However, there are a couple of things we need to clear up before you seriously consider this unique platform in an already scarce 10mm round.
Size and Ergonomics
The PCC platform is famous for its low recoil and unique control. Stick pistol caliber rounds in a hefty platform, and you have a very manageable and fun-to-shoot rifle.
However, you need to make sure if you really want a bulky pistol-caliber carbine in the first place.
Like the Aero Survival, some that I've mentioned above are bulky but can be taken down and used as a forest gun. The Kriss rifle has a 6-position folding stock that allows you to turn it into a small platform.
Make sure you stick to the 16-inch barrel and 30-inch overall length. Sure, the recoil is alright, but everything needs to feel just right for your preference, including how you hold it, and how much it kicks against your shoulder or cheek.
You have some great AR-9 pistols that offer an even more compact platform.
Magazine Capacity
Unlike AR-15 platforms that use the .223/5.56 caliber, the PCC is designed to take pistol ammo like 9mm, .380 ACP, and 10mm, which gives you the freedom of fast follow-up shots and pin-point precise shot placement. Think tactical.
That being said, you need to know what you'll use it for. If my guess is correct, home defense round capacity could be similar to the 10-rounds you see on concealed carry weapons, and you can safely stick to 10-round PCC.
If you want a 10mm carbine that feels like a sporting rifle, go for 15-round magazines. Or, if you're looking for concealed carry, the 10mm handgun is a solid choice.
What's great about this is you can stick all kinds of mags and rounds, and you won't have to worry too much about expensive ammo.
Additionally, there are great options like the Kriss rifle that allow you to switch between interchangeable mags with different calibers.
Still, give it some thought before you spend more money on more capacity.
Caliber Preference
The 10mm round is a great pistol caliber. It offers more power around the 100-yard mark, but you have more rifle options for the 9mm caliber.
Before considering the 10mm carbine, you can check out other 9mm rifles and PCCs that shoot straight.
Additionally, the .380 ACP rifles can also be a viable option, and if you plan on going full cowboy mode, you'd be surprised what lever guns can do in the .357 Magnum cartridge.
For target practice, I'd recommend the .38 Special or the +P. Don't worry about Magnum ammo. It's a PCC, so expect smooth recoil and more power.
I'm not too sure there's a reason to recommend the .40 S&W or the .45 ACP other than more power, but even so, I can't seem to find any tangible difference other than price. So, I suggest you steer clear.
I strongly recommend you stick to your preferred handgun caliber. If you have an S&W Shield in the 9mm cartridge, why bother going for a 10mm carbine?
Feel free to check out our list of best .40 caliber pistols while we're here.
FAQs
How Does a 10mm Carbine Compare to a 10mm Pistol?
Unlike a pistol, a pistol-caliber carbine has a larger barrel that offers more velocity and power.
Upgrade them with cheek welds, stocks, and recoil pads, and you can turn it into a very portable defense firearm.
The stout 10mm bullet, combined with the PPC platform, gives you a low-recoil shooting experience with stability, as well as very fast follow-up shots and target acquisition.
Handguns reach around the 20-yard range, but a PPC reaches farther ranges like 50 to 100 yards.
As for ammo, though not as cheap as the 9mm, the "Perfect 10" is still a viable and flexible round.
Would a 10mm Carbine Be Good for Home Defense?
From a defensive standpoint, the 10mm carbine is practically made for home defense. But, it still needs a little bit of practice and shooting drills.
They are lighter than shotguns or AR-15s and have much less recoil with more mobility options.
The 10mm round isn't as powerful as a rifle round, but it has nice stopping power, and a suppressor can turn subsonic ammo into a defensive package.
What Is the Best 10mm Carbine Pistol for Money?
The Hi-Point is one of the best 10mm PPC you can find on the market.
What's the Difference Between a Pistol-Caliber Carbine and a Pistol-Caliber Rifle?
They're interchangeable. Simply put, a pistol caliber carbine is a rifle that shoots pistol ammo.
Conclusion
While 9mm pistol-caliber carbines like the Ruger PC or the mighty CZ Scorpion EVO are the more popular bunch, these special 10mm pistol-caliber carbines really shine in their own way. 
The 9mm round carbines are more abundant, but the 10mm round is a much more serious method of attaining high-end competition, range shooting, and self-defense standards.
You got the highly versatile TNW Aero Survival Rifle or the Hi-Point 1095TS, both of which are great for newcomers and veterans.
What these guns offer is a very cost-effective and reliable shooting, as well as opening up a road into the underrated world of PCCs. What's more, you got lots of aftermarket modding on the market that can transform them into a very personalized firearm.
Somebody joked that sticking 10mm rounds in a pistol-caliber carbine is like tanking up a Harley with jet fuel. It's still a relatively scarce, niche platform.
The good news is that manufacturers are greasing their elbows with solid 10mm carbine designs that shoot well instead of copycat pistol-caliber ARs that nobody anticipates.
Who knows? We might see a bolt-action Henry Big Boy in a 10mm one day.
Stay safe, shoot straight.
Explore more