Best Pistol Caliber Carbines & 9mm Rifles [2023]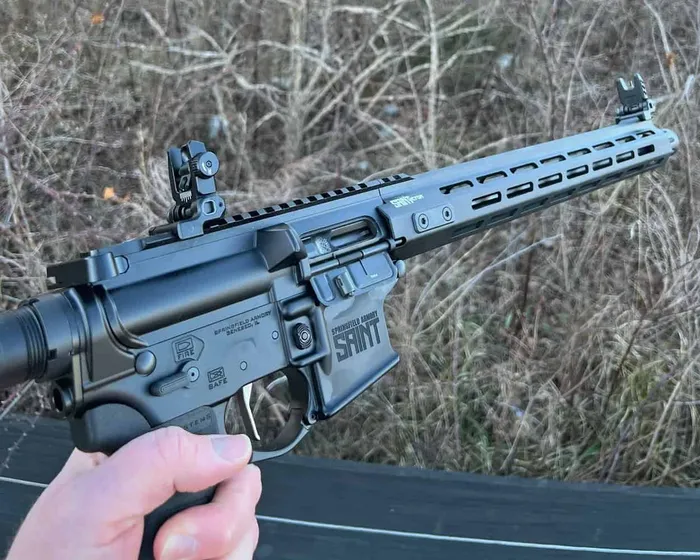 Best Pistol Caliber Carbines & 9mm Rifles [2023]
Handgun, meet shoulder stock.
For all of you who like to spice it up at the shooting ranges, finding the best pistol caliber carbine (PCC) should be enough to satisfy your need for fun.
Sure, the 9mm is most commonly known as a handgun round, but there are lots of manufacturers that produce 9mm pistol-caliber carbines.
The 9mm rifle—or more commonly 'pistol-caliber carbine (PCC)'—is a versatile piece of weaponry that often raises brows more than it raises muzzles. It may sound crazy, but shooting 9mm rifles actually makes sense.
In this nifty buyer's guide, we'll take a look at some very interesting 9mm rifles, what makes them tick, talk about their strengths and weaknesses, and hopefully convince you to try them out.
Why Go For a Pistol-Caliber Carbine?
You're probably thinking, "I'll just stick to my trusty AR-15 and keep it simple", and yes, you could do that.
However, a 9mm PCC is lighter, more mobile, and has a wider utilization and viability than standard semi-automatic rifles, not to mention the low-cost ammo.
Whether it's plinking, target practice, self-defense, or even hunting, it makes total sense to invest in a rifle that can fill lots of roles and act as a jack-of-all-trades firearm, and besides, it really complements your arsenal's diversity.
Let's check out the specific advantages.
The Ammo Argument
Let's face it. The biggest reason why 9mm rifles are considered as a uniquely viable firearm option is because of the low-cost cartridge that's available at any time, any place.
Almost every 9mm rifle owner uses them for target practice on a regular basis, and this requires a lot of ammo; the only other cartridge that's cheaper than the 9mm is the .22LR, but it's becoming difficult to find.
To give you an idea of how expensive standard semi-automatic rifle cartridges can be, a .223/5.56mm Winchester white box costs around $15 dollars. It takes around 5 seconds to unload a full 30-round magazine. You do the math.
Great For Home Defense
Depending on how compact the model is, pistol-caliber carbines offer much more mobility and ease of use in comparison to semi-automatic rifles and shotguns.
In the event of burglary or breaking and entering, having a viable home defense option like a compact 9mm rifle is better than blowing holes in your walls with a 12-gauge Mossberg.
The low-recoil 9mm cartridge and the shorter frame of the PCC enable you to act fast and maneuver better around your home.
Additionally, the stock offers better handling and accuracy at short and long ranges while allowing you to maintain your form while shooting bursts and follow-up shots. It makes a world of difference in contrast to concealed carry handguns.
A Viable Option for Hunting Coyote
The 9mm can be loaded with 147 grain bullets that can reach 1100 ft/s, and thanks to the long 16-inch barrel, shot placement and accuracy won't be a problem at a mid-range.
To put things into perspective, handguns have 3- to 5-inch barrels, while semi-automatic rifles are commonly associated with 16-inch barrels. Depending on the cartridge, longer barrels boost bullet velocity, energy, and accuracy.
Nevertheless, if you're looking for an outdoor/survival rifle, a well-placed shot within a range of 25 to 50 yards is enough to kill a deer, but you should stick to the .30-06 Springfield or the .270 Winchester if you're going for ethical kills. As for coyotes and other varmints, a 9mm rifle really does the trick.
At the end of the day, I would not recommend the 9mm PCC as a hunting option. However, it's a decent survival option because the 9mm has enough stopping power for a medium-sized bear, for instance.
Check out our list of best deer rifles for 2021 if you're looking for some interesting buck hunting options.
Quieter Than Other Rifles and Handguns
Using an AR-15 at the ranges can do a number on your ears, and believe me, tinnitus is no joke. This is where 9mm rifles come in.
Because of the 9mm cartridge and longer barrel, you can bet that the PCC is a lot less noisy than other rifles. With the added low recoil (with the exception of the .22LR), 9mm rifles offer a very smooth and peaceful target practice at the ranges.
If you take the .223/556 NATO, for instance, the 9mm bullet is definitely quieter.
A quick disclaimer: always, and I mean ALWAYS wear your ear protection muffs and plugs, despite shooting quieter calibers.
Think of All the Aftermarket Options
Despite being a somewhat less popular rifle type, the 9mm PCC enjoys an abundance of aftermarket options and customization parts you can find on the market today.
Depending on the model and version, there are not many handgun aftermarket parts besides flashlights, sights, and magazines (essential parts don't count here).
The vastly different frame and construction offers you so many customizations that can transform your 9mm rifle into a uniquely suited firearm.
Many 9mm firearms have lots of rails and attachment points and you can add scopes, sights, magazines, and new stocks to turn your weapon into a great recreational shooting piece for all ranges and situations.
Additionally, 9mm rifles can share magazines with other 9mm handguns, depending on the model and compatibility. This takes away the hassle of purchasing different magazine calibers, which are often more costly. This way you can have two different types of firearms that use a single type of caliber. Think of all the savings you can accumulate.
Convinced? Let's now take a look at some of the best 9mm rifles.
Best Pistol-Caliber Carbines

Pros
Reliable and accurate
Upgraded internals and furniture
Great training tool – especially if you have a Saint Victor in 5.56
Longer barrel helps avoid any "pistol" regulations
Cons
Not fully ambidextrous (charging handle)
Only comes with one mag – wouldn't be a con if it accepted Glock mags!
The 9mm Victor has proven to be a reliable firearm, with only a few failures out of nearly 700 rounds from our own testing and has performed well with a variety of ammo. The gun's reliability stands out compared to other AR-9s, which have experienced more issues with ammo-related failures.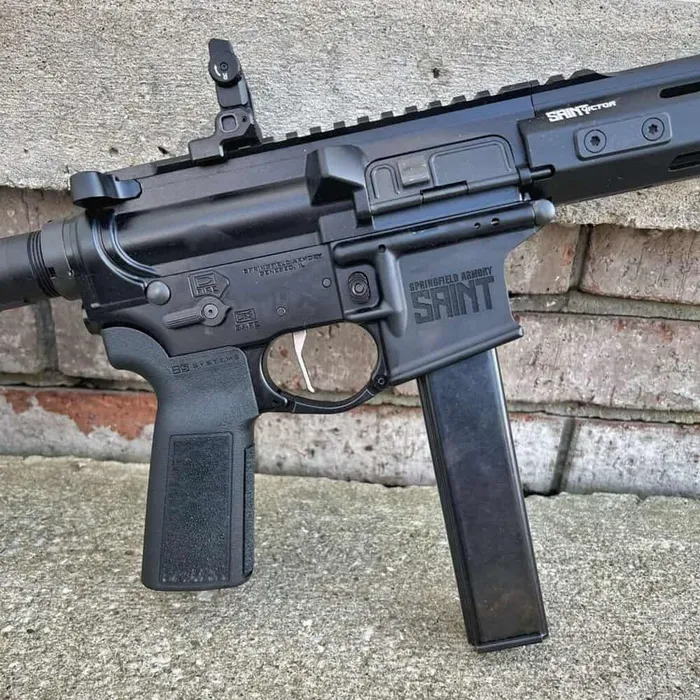 The 9mm Victor's accuracy is impressive right out of the box, with consistent 1.5″ to 2″ groupings at varying distances, even when using iron sights. The gun's performance improves further with the addition of an optic. The Victor has a well-balanced feel and a comfortable weight, making it easy to handle during longer shooting sessions. The aluminum full-length handguard adds to the gun's sturdy feel.
The Springfield flip-up sights are highly favored for their low profile, spring-loaded design, and aircraft-grade aluminum construction, offering a sturdier feel compared to polymer Magpul sights. The trigger on the 9mm Victor is praised for its flat face, light pull, and quick reset, allowing for easy follow-up shots. However, the controls could be improved with the inclusion of ambidextrous safety selector and charging handle, which are absent even at the $1,000 price point.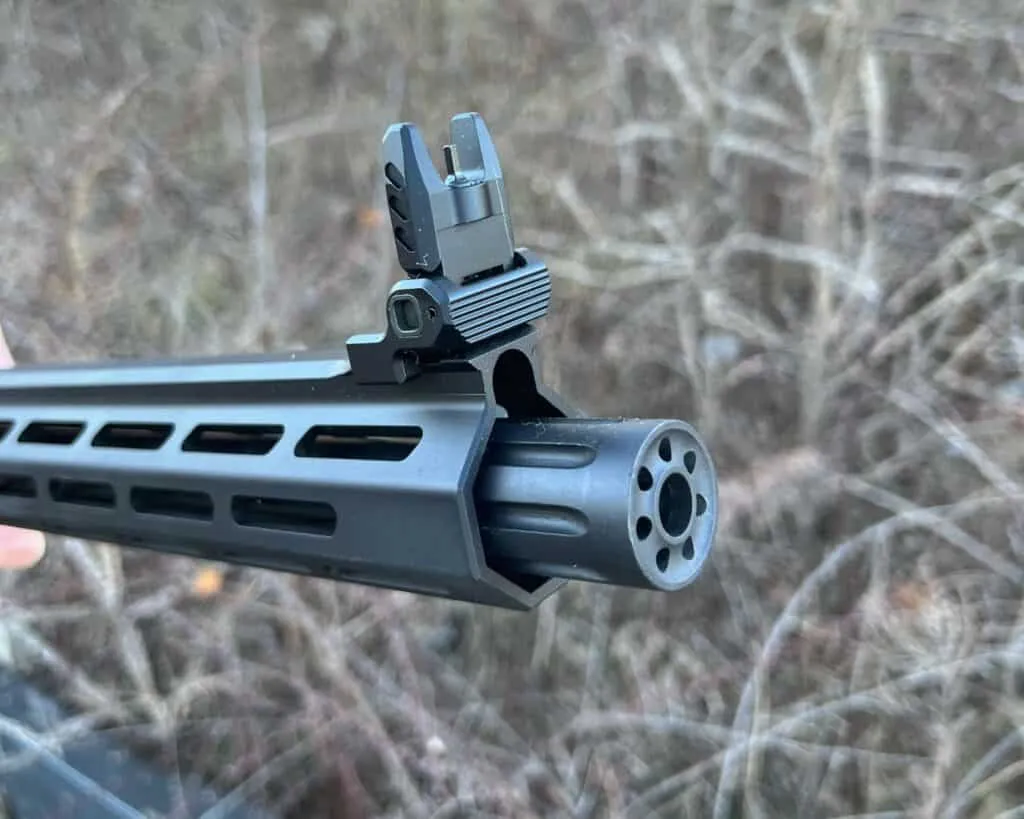 The 9mm Victor features B5 Systems components for its buttstock, grip, and trigger guard, offering a comfortable and textured grip. The gun uses reliable, durable steel Colt-pattern magazines instead of Glock mags. A blast diverter is incorporated under the handguard to direct sound and debris forward and away from the shooter. The full-length free float aluminum handguard with M-Lok slots offers versatility for accessory options and enhances comfort for those who prefer a thumb-over grip.
Overall, the 9mm Victor offers a reliable and enjoyable shooting experience.

Pros
Easy to take down
Excellent reliability and accuracy
Can withstand harsh conditions
Great value
Can be fitted with different magazines
Cons
Heavy
Unlike most models, it's not ambidextrous
Not much accessories available
The Ruger PC Carbine is a well-balanced, 17+1-round, versatile 9mm rifle that's perfect for target shooting, competition shooting, home defense, and even hunting. But, what makes it our top choice is its great value for what it offers. The Ruger manufacturer is a leader in rifles, handguns, and modern sporting pistols, and best believe they know what they're doing with the PC Carbine 9mm rifle.
Originally designed for law enforcement use as an alternative to police officer's sidearms, its design pays a modest homage to the standard carbine with a push-button safety that's just behind the trigger guard.
The threaded and fluted barrel and adjustable Magpul shoulder stock offer comfortable shooting. The mag release is on the magazine well, the stock is fixed and has a hardcoat anodized finish, while the cocking handle is conveniently placed near the bolt, making the gun that much easier to use.
It's perfect for both new shooters and veterans, and the 3.3 lbs trigger pull feels just right. Additionally, there's also a California-compliant 10-round model too!
The downsides are that—despite the low recoil—it's still pretty heavy, weighing 7 pounds. It's also not ambidextrous like many other PCC models; most of the controls are for the right-handed, but the bolt release is somehow on the left side of the receiver which is weird.
However, the interesting takedown design of the PC Carbine is what takes the cake. It's so easy to take down and put away in small confinements, while its unique compact design also makes the rifle a great survival item.
Overall, it's a great 9mm rifle that anyone can use in any situation, not to mention the interchangeable magazine wells that accept different magazines, like the Glock magazine, for example.
We even reviewed the PC Carbine if you want to read more about it!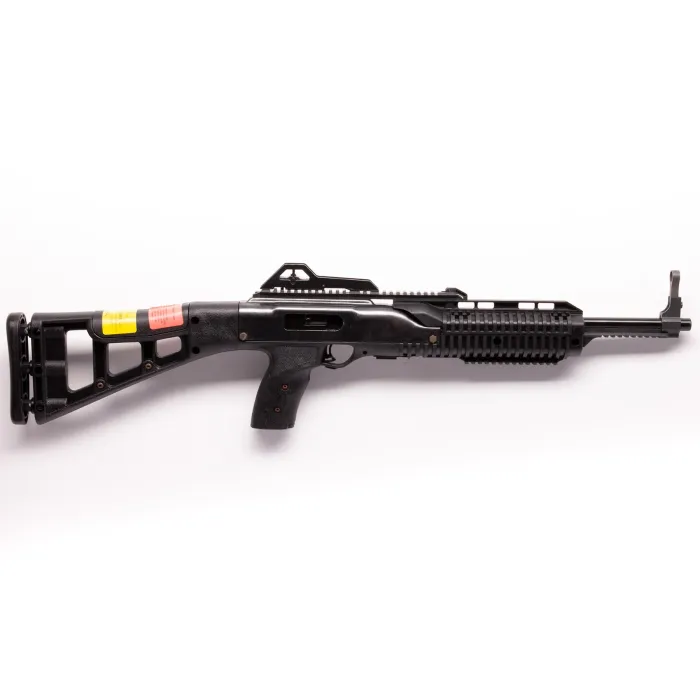 Pros
One of the most cost-effective options on this list
Surprisingly exceptional accuracy and reliability
Hi-Point warranty includes repairs and replacements
20-round capacity
Cons
Has a problem with most 9mm magazines
Off-putting aesthetics
Don't laugh, but the Hi-Point 995TS is big; fairly heavy. On a serious note, this gun is the underdog of the PCC world that's secretly a champion in accuracy.
Somehow, Hi-Point is notorious for producing terrible quality handguns at a moderate price, but this little 9mm PCC is a completely different story. It's definitely one of the cheapest options you can find if you're going for a 9mm rifle.
Hi-Point managed to step up their game and created a hybrid carbine/AR-15 Frankenstein's monster. It's totally capable of blasting 100-yard bullseyes, has a 16.5-inch blued steel barrel, and polymer skeleton design that's available in several different colors and camo options.
The 995TS performs well with its simple blowback operation, not to mention the really low 9mm recoil coming from a 6.25-pound rifle. It has an internal recoil buffer, Weaver-style rails for accessorizing, sling swivels, and a scope base.
The downside to this PCC is that it's ugly and it doesn't accept most 9mm magazines. If you can't find spare magazines on the market this may be a huge problem.
On the other hand, Hi-Point offers warranty policies with repairs and replacements which is super cool.
Overall, it's a great choice if you're going for something truly cheap and you're planning to completely customize this sharpshooting abomination. You can grab some optics, foregrips, and even folding stocks if you feel that it stabs your clavicle.

Pros
17+1 rounds
Lightweight
Loads of other models with different calibers
Portable, easy to clean, and can fit in a backpack
Accepts most 9mm magazines
Very low recoil in comparison to the other rifles
This weird-looking gun is probably the very definition of a portable 9mm rifle. The Kel-Tec SUB2000 carbine looks like an elongated pistol with a barrel and stock, but it comes in many different Glock mags like the Glock 17, 19, 22, 23, the .40 S&W variants, and Beretta, among others.
It has a 16.25-inch barrel, it's light, weighing only 4.25 pounds, and it's pretty accurate for a 9mm carbine.
It's short, lightweight, and dependable, but what I most like about this one is that it's focused entirely on utility.
The Kel-Tec SUB2000 rifle offers an edge in camping and survival, and you can fold it down and put it into a backpack for storage. Simply rotate the barrel upwards and back, and you can turn it into a metal heap that's 16 inches long and 7 inches high. Once you secure the rifle with a built-in lock and key system, it stays folded.
It has a Picatinny accessory rail above and below the barrel for aftermarket customization.
The reason why it's in such high demand is its reliability and accuracy, all thanks to the 16.25-inch barrel length. The minimalist and odd appearance may fool someone, but best believe that it works just the way that the manufacturer intended.

Pros
Great for short-range applications
Highly versatile
Ambidextrous thumb safety
Adjustable trigger system
Adjustable sights
Compact, adjustable stock
M-Lok rail system for aftermarket customization options
Here's the CZ Scorpion EVO3 S1 Carbine. That's a mouthful, ain't it?
The Czech wonderboy of 9mm rifles—the CZ Scorpion EVO3—has a predecessor, the Vz. 61 Skorpion machine pistol that had a different role in shooting. It was designed for Czechoslovakian and Yugoslavian military units as a compact, fire-breathing sidearm for last-resort situations.
Inspired by the now discontinued Scorpion submachine gun of the same name, the CZ Scorpion EVO3 S1 Carbine got the PCC treatment.
It's a small and compact PCC that's chambered in 9mm Luger, with a whopping 20+1-round capacity, a 6.1-pound weight, and a black polymer folding and adjustable stock, as well as a forend with M-LOK attachment points if you run into any handling issues.
The M-LOK-compatible handguard for accessories works great with all kinds of lights and lasers if that's your thing.
It feels great and it shoots great, and I'm convinced this may be one of the best home defense options because it's pretty small, lightweight, and shoots straight.
The double stack polymer magazine is easy to handle and reload, and the polymer grips feel alright. It's also lefty-friendly with its ambidextrous thumb safety.
The cold hammer-forged barrel is 16.2 inches and you also get a compensating muzzle brake or a faux suppressor with your purchase, but if you want to buy one yourself, the ½-28 threads allow you to add a new muzzle brake, compensator, or suppressor.

Pros
Top-quality PCC
Very reliable and durable
Adjustable 16-inch barrel length
Well-balanced with low muzzle flip
Ambidextrous
Cons
Very expensive and hard-to-find magazines
Huge for a PCC
Really, really expensive
If you're looking for a top-shelf 9mm, the Sig Sauer MPX will impress you.
This is a 30-round behemoth, capable of blasting targets at a 200-yard range with no problems.
Surprisingly enough, it shoots pretty accurately for an automatic, even when you unload the whole mag in one go. It feels like a relentless AR-15, only it shoots 9mm cartridges.
It has a full-length key MOD handguard and Picatinny rail that lets you customize it with sights and attachments without affecting handling and operation. With its ambidextrous controls, charging handle, bolt release, mag release, and selector switch, it's pretty much left-hand friendly.
This rifle is designed to withstand harsh weather, has a corrosion and rust-resistant finish, can take a lot of beating, and retains heat even though it's a 30-rounder.
Sig Sauer thought of everything and wanted to really make a high-quality 9mm rifle that can truly stand the test of time.
If it wasn't for the insane MSRP, I would have moved the Sig Sauer a little higher on this list.
Pros
Ultra-compact folding design
Reliable and accurate performance
Optic can stay mounted and zeroed
Spare magazines and carrying case included
Threaded barrel and M-Lok handguard
Cons
No backup sights
Stiff controls initially
Gassy operation
Two-handed charging handle
Limited to 9mm caliber
The M&P FPC is praised as one of the best 9mm pistol caliber carbines due to several standout features.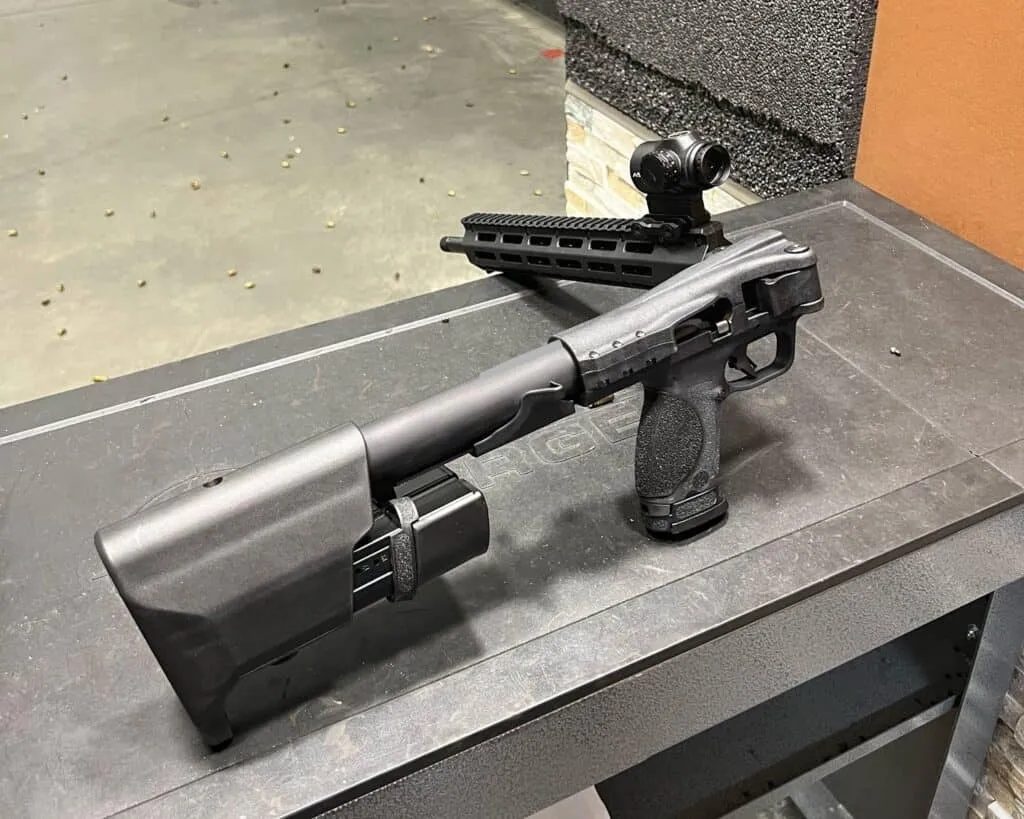 Firstly, its ultra-compact design with folding capability makes it highly portable. It retains the ability to keep an optic mounted and zeroed even when folded, which is a convenient feature. The carbine is also commended for its reliability and accuracy, with no issues reported after firing 250 rounds.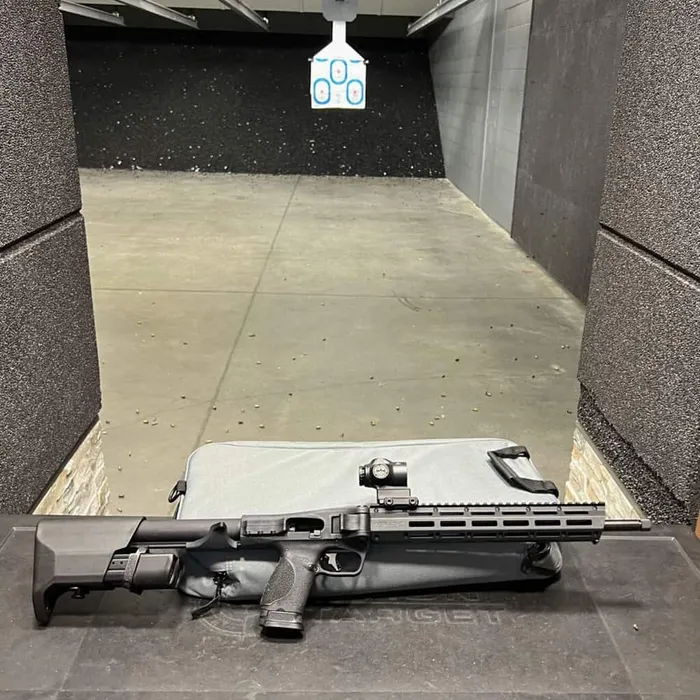 Although lacking backup sights, the gun is highly accurate within a range of 100 yards.
The FPC has a solid feel, comfortable grip, and features a horizontal folding design that allows you to keep your optic mounted. The M-Lok handguard provides ample attachment points for accessories, and the flat-face trigger ensures a smooth and rapid firing experience.
Additionally, the in-stock magazine storage allows for carrying up to 64 rounds without the need for additional accessories.
Check out the full review here.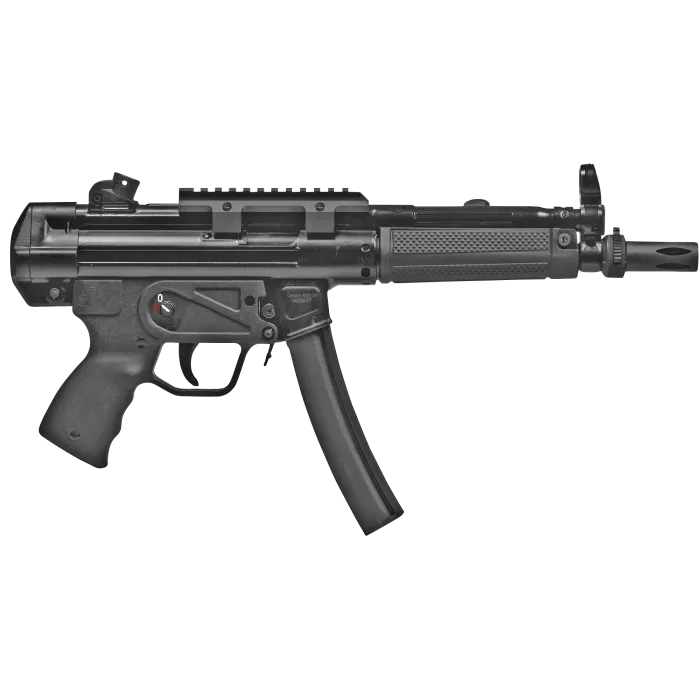 Pros
Manufactured using genuine H&K tooling.
Excellent price-to-value ratio.
Highly reliable performance.
Iconic design with modern upgrades.
Availability of cheap surplus and aftermarket parts.
Cons
Older design may feel dated to some.
Non-ambidextrous charging handle.
Stiff button magazine release.
Safety selector is functional but basic.
Limited customization options with original parts.
The Century Arms AP5, a product of Turkey's MKE after acquiring the tooling from H&K, offers enthusiasts an opportunity to own something as close to an MP5 as possible without resorting to German manufacturing lines.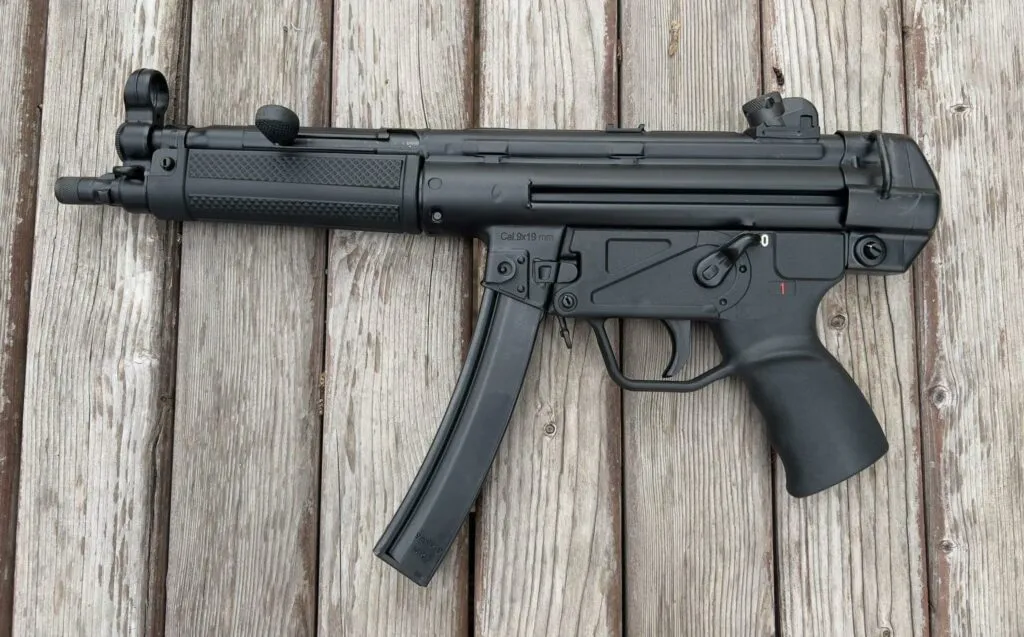 With three distinct variations under Century Arms – the full-size AP5, the AP5-P (a version of the MP5K with a tri-lug and muzzle device), and the most compact version, the AP5-M – the AP5 series caters to a broad audience. Manufactured using the same machinery that made the original MP5, these variants offer the real deal and maintain the quality and authenticity inherent in the classic.
The AP5 boasts traditional MP5 adjustable drum rear sight and front post with a ring, a textured handguard for an enhanced grip, a roller-delayed blowback action, and a charging handle. It also features both a paddle magazine release and a button magazine release, albeit the former is more user-friendly due to the stiffness of the button release.
The safety selector, while functional, is one of the aspects where aftermarket support for the AP5 can be most beneficial, offering a myriad of options for upgrades and improvements.
The AP5 is an accurate and reliable firearm, proven through extensive testing and range reports. It follows the roller-delayed blowback action design, which significantly helps with recoil management, enhancing the overall shooting experience. Despite some critiques about it being an older design, its inherent reliability and the availability of cheap surplus and aftermarket parts make the AP5 an excellent choice for those seeking the classic MP5 experience.
Ultimately, the limitations of this 9mm pistol caliber carbine are more to do with the skill of the shooter rather than the performance of the weapon itself.
Check out our Century Arms AP5 review here.
Buyer's Guide
If you've decided to grab yourself a 9mm carbine, there are a couple of ways you can decide the best 9mm rifle for you.
It all boils down to how you'd like to use the 9mm cartridge on a rifle to your liking, whether it's competition shooting, home defense, or just for good old fun.
Check out these important factors.
Construction, Size, and Weight
Whether or not you're going for fun plinking, competition shooting, or self-defense, it's very important to ask yourself what you'll need this unique piece for.
If you're looking for a home defense option, it's best that you go for something more compact like a Hi-Point 995TS rifle that offers better mobility.
You should also keep in mind that the heavier rifles have lower recoil and vice versa. I strongly recommend you go for more compact versions for home defense.
But, if you're looking for an all-purpose plinker, defender, and competition shooter, you can consider longer barrels and comfortable stocks.
Round Capacity & Magazines
Usually, you can find 9mm pistol-caliber carbines with a 10- to 30-round capacity.
For home defense options, you might only need the California-compliant 10-round pistol-caliber rifles, but if you're going for competition shooting, I strongly recommend the 15+1 or 30+1 rifles.
The more capacity a rifle offers, the more it's costly, and I personally wouldn't consider going for anything over 15 rounds, to be completely frank.
Choosing Other Pistol-Calibers
What's great about the pistol-caliber rifles is that they have so many models and brands that offer various calibers, not just the 9mm.
The common types can shoot .40 Smith & Wesson cartridges, .45 ACP, and even some .357 SIG Sauer cartridges but that's pretty rare.
You can check out our guide on where to find the best ammo deals if you're interested.
You can choose your very own handgun caliber and shoot it from a rifle, keep in mind that the 9mm is one of the rounds that offer low recoil and muzzle rise, so this should also be considered.
Conclusion
By now you've probably realized that these rifles are practical because they use the same cartridge as your 9mm concealed carry handgun which really makes things easier.
The pistol caliber carbines (PCCs) offer stability, low recoil, great suppression, and are unmatched in practicality and economy with the 9mm ammo. They are well-balanced firearms for home defense, target practice, competition shooting, and sometimes even hunting if you attach a good scope and fire a well-placed shot.
The 9mm pistol-caliber carbine debate is still hot to this day, and I bet you'll ignite a bar fight with this issue. You'd be surprised how much the 9mm rifle is shunned by people who haven't even tried it, and you know how things go – don't knock it till you try it.
Before you consider anything, I strongly suggest you try it before you buy it. You'll see that the feel of shooting a 9mm pistol-caliber carbine and shooting semi-automatic rifles is nothing alike.
Explore more