The Best .22 Magnum Pistols [2023]: From Varmint To Home Defense And Everything In Between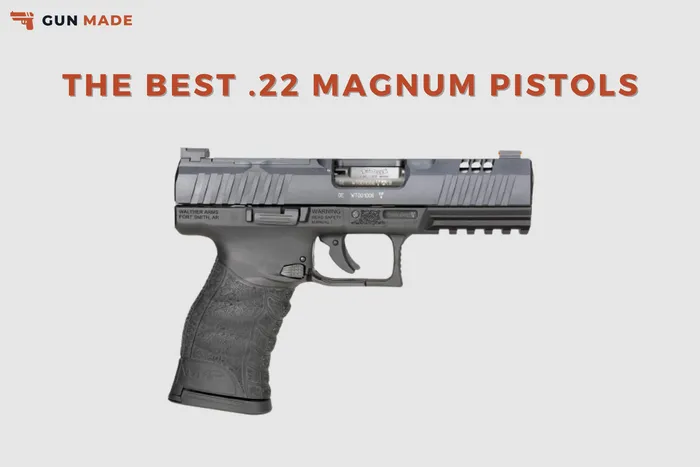 The Best .22 Magnum Pistols [2023]: From Varmint To Home Defense And Everything In Between
Introduction
The best .22 Magnum pistol… hold on, don't drift off to sleep just yet. I know the little rimfire cartridge doesn't get much love around here, especially in the defense sector, but don't count it out just yet.
.22 is still one of the most versatile cartridges around.
If you've been looking for the best .22 Magnum, a.k.a. .22 WMR (Winchester Magnum Rimfire) pistol, to add to your collection, I have a tin can shooter list just for you. We'll talk about everything from the pistols themselves to keeping varmints and intruders at bay.
If you think it can't hold its own, then let us enlighten you. It can.
Well, without further ado.
Best .22 Magnum Pistols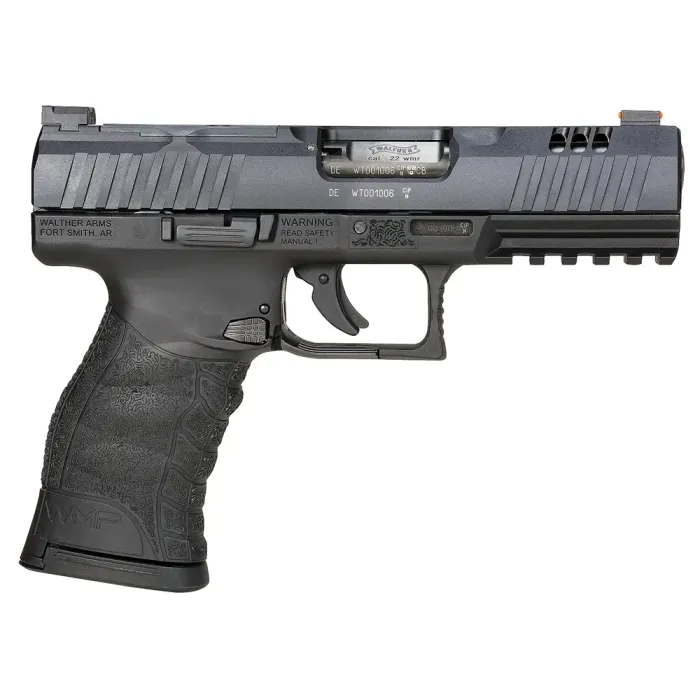 Specifications
| | |
| --- | --- |
| Caliber | .22 WMR (.22 Mag) |
| Capacity | 15+1 Rounds |
| Weight | 4.5 Pounds |
| Overall Length | 8.2 Inches |
| Barrel Length | 4.5 Inches |
| Action | Double |
Pros & Cons
Pros
Optic cut to accept red dots

16+1 capacity 

Front slide serrations for press checks 

Porting on the front of the slide for heat dissipation 

Four magazine releases
First, let's give a round of applause to Walther for being one of the only big-name gun manufacturers to make a semi-automatic in .22 Magnum. And for making one of the best plinking guns on the market. They went over the top with the WMP and brought some life to .22 WMR.
To start, the WMP features an optics cut slide and ambidextrous controls, which are always welcome. It comes with a proprietary adapter and an RMR adapter plate too. So you have options to run a red dot of your choice. It will add some weight to the slide, so test it before relying on it.
One thing that caught my eye is the four mag releases on the WMP. You have your normal push-button ambidextrous releases and European paddle releases. Walther calls it the "Quad Release." My fingers aren't long enough for the paddles, so I'll stick with the push button.
While I don't recommend .22 WMR for carry purposes, the WMP would fill the role nicely if needed. It's always better to be with than without.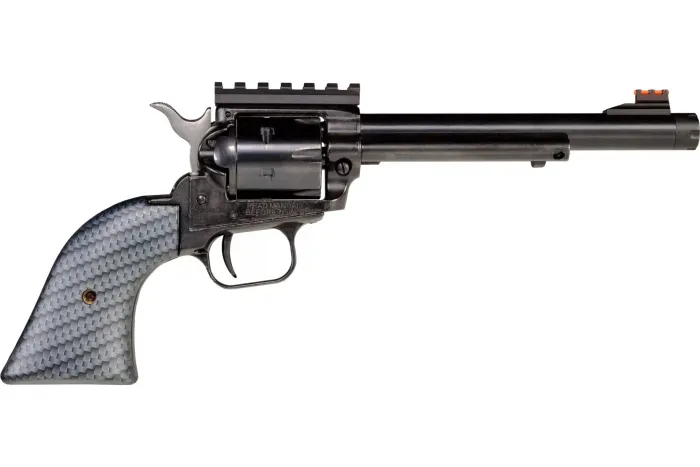 Specifications
| | |
| --- | --- |
| Caliber | .22 WMR |
| Capacity | 6 Rounds |
| Weight | 2 Pounds |
| Overall Length | 11.8 Inches |
| Barrel Length | 6.5 Inches |
| Action | Single Action Only |
Pros & Cons
Pros
Works with both .22 LR and .22 WMR

Threaded barrel 

Multiple grip options are available 

Fiber-optic front sight
If Wyatt Earp were a sheriff in 2023, he'd probably run a Heritage Rough Rider Tactical Cowboy. If you appreciate guns from the old west and don't want to break the bank, you may run it too.
The Tactical Cowboy takes the design from the gun that won the West and adds two modern twists: a threaded barrel and a full Picatinny rail on the top for any optic your heart desires.
It's a six-shooter, so you only have six shots before you have to reload, but you can still nail a few unwelcomed guests before having to reload. Although, I hope it doesn't take you six shots to do the job. Especially when you have an excellent red dot zeroed on top.
You may have to learn about working six-shooters like the Colt Single Action when buying the Tac-Cowboy since it works like a Single Action. You know, hammer half-cocked back to free up the cylinder, only carrying five in the cylinder, and so forth.
But Heritage put a manual safety on the Tactical Cowboy.
Some shooters may not like the manual safety that comes on the Tactical Cowboy, and it was never part of the design on the Colt Single Action Army, so it's a bit weird to see it on here. I'm not complaining because I'm an advocate for safety; it just takes some getting used to.
If you are interested in learning more, check out our Heritage Rough Rider review.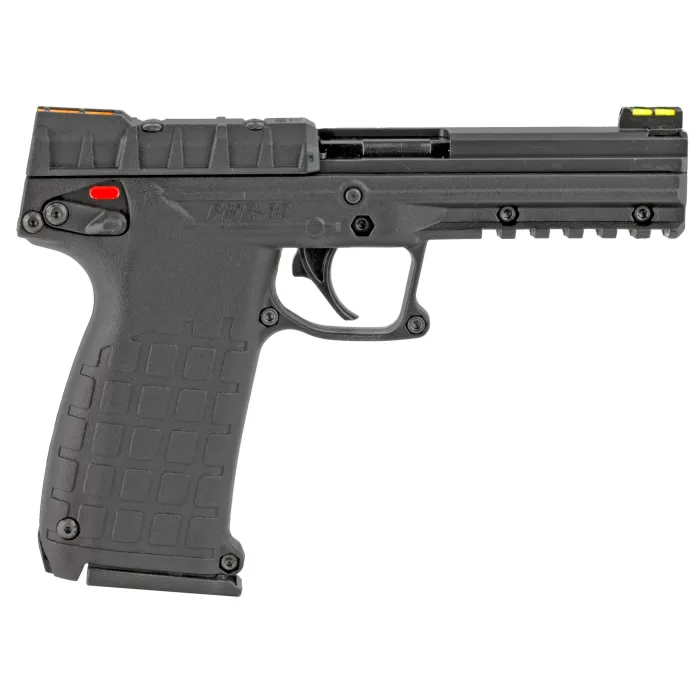 Specifications
| | |
| --- | --- |
| Caliber | .22 WMR |
| Capacity | 30+1 Rounds |
| Weight | 0.8 Pounds |
| Overall Length | 7.9 Inches |
| Barrel Length | 4.3 Inches |
| Action | Double |
Pros & Cons
Pros
30-round magazine capacity

Oddly Lightweight

Optics cut 

Fiber optic front and rear sight
Cons
Feels like a toy

Grip is bulky
Kel-Tec is a company that walks to the beat of its own drum. Truthfully, it has come out with some of the wildest designs the gun community has ever seen. And it pulled them off successfully.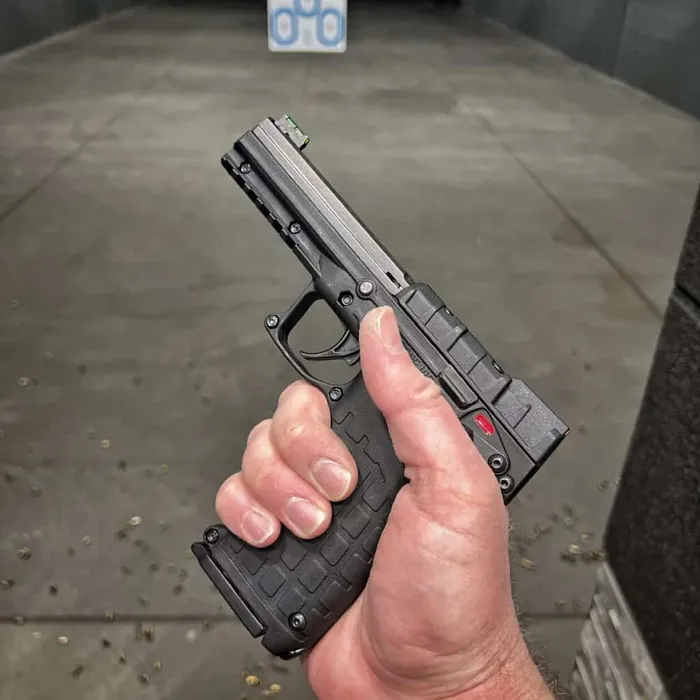 The PMR-30 is a testament to that.
I recently learned that the PMR-30 is the first semi-automatic .22 WMR pistol ever created. As for when it was created, that was back in 2010. So it's been around for a while now.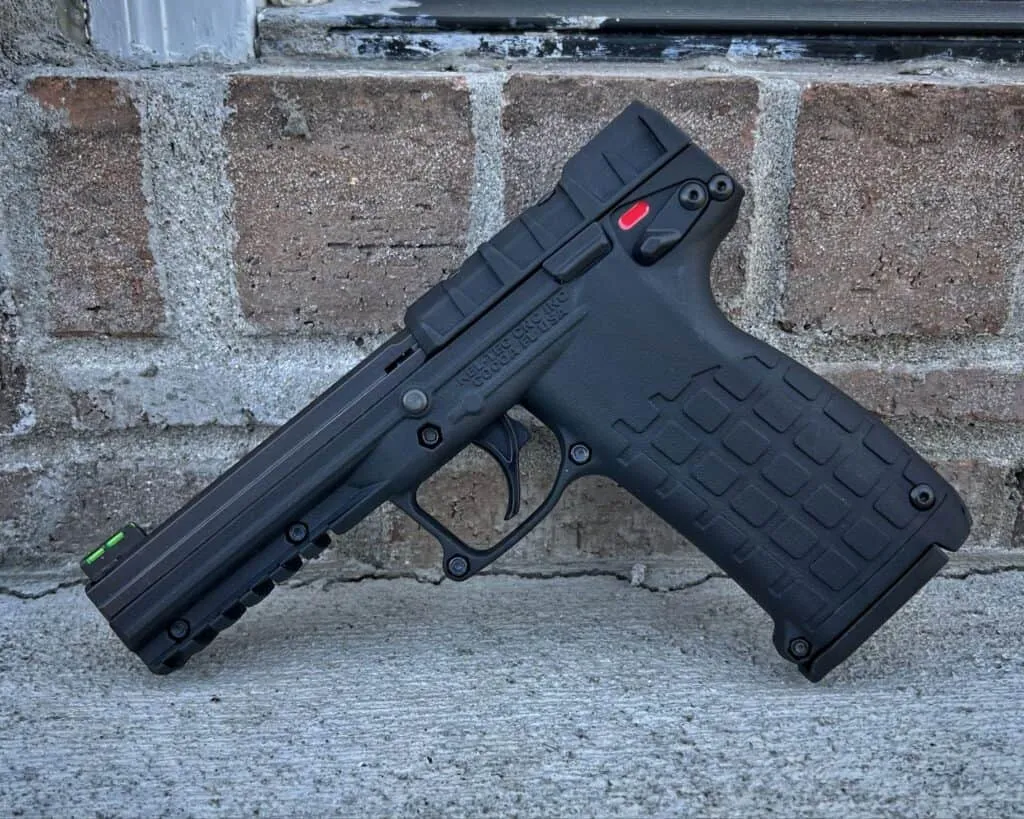 Oddly enough, this thing is extremely lightweight. Coming in at 0.8 pounds when it's unloaded, you feel like you're holding air.
People either love it or hate it, but the PMR-30 is a real tack driver. I fall on the side that really enjoys this piece. Recoil-sensitive shooters also love it, and it's a great training tool if you're new to shooting.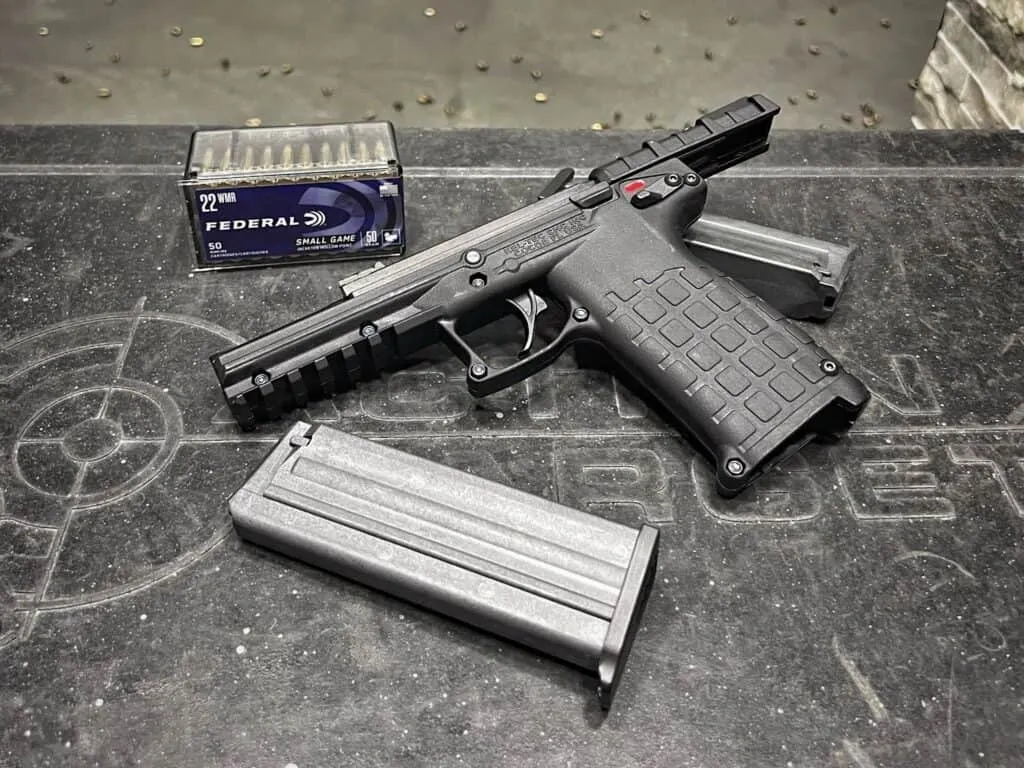 My only issue with the PMR-30 is the feel of the pistol itself. Like many Kel-Tec firearms, it feels cheap and like it will fall apart in your hand.
Don't worry; it won't.
Our experience with the KelTec PMR-30 was quite engaging (see Keltec PMR-30 review here). Its innovative design, especially the impressive 30-round capacity, makes it an appealing firearm. Despite its lightweight build, the large and comfortable grip offered excellent handling. We found the .22WMR caliber to be a robust choice, packing more power than the common .22LR and adding to the gun's distinctive charm.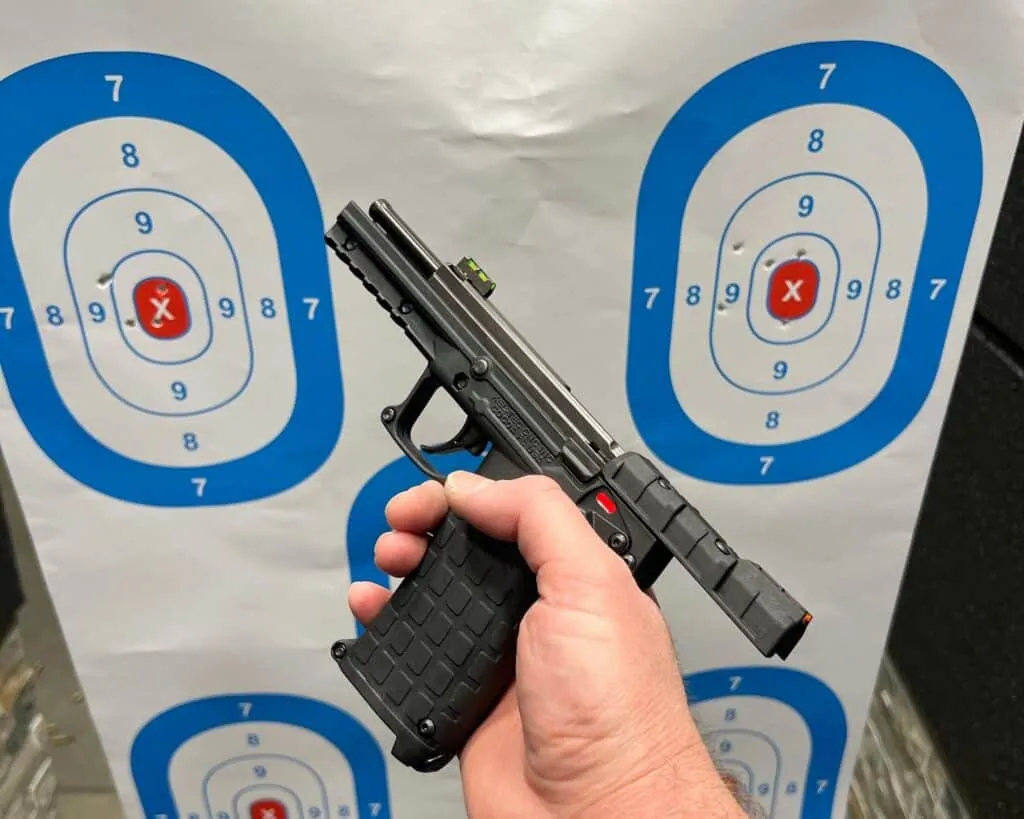 The PMR-30's accuracy was commendable. We tested the gun with both 50-grain Federal JHPs and 40-grain Winchester Super-X FMJs, and regardless of the ammunition used, the rounds were consistently on target, even at a range of 20 yards. This precise accuracy, paired with the efficient target acquisition provided by the Hi-Viz fiber-optic sights, added to our positive shooting experience.
However, the pistol did present a few challenges. The magazine release's unusual placement required some adjustment as it differs from more standard pistols. Nevertheless, considering the PMR-30's unique features, impressive capacity, and excellent accuracy, we still see it as a superior choice in .22WMR options for self-defense.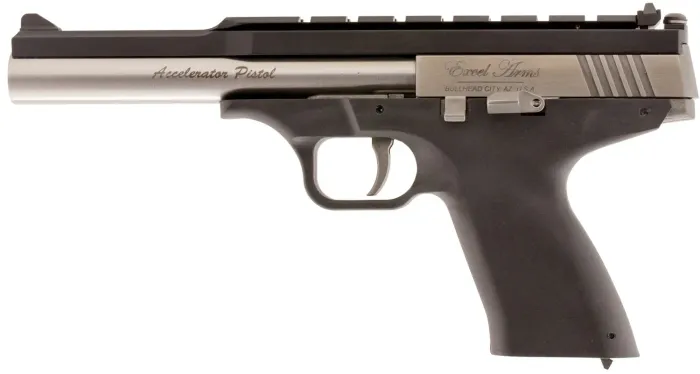 Specifications
| | |
| --- | --- |
| Caliber | .22 WMR |
| Capacity | 9 Rounds |
| Weight | 3.5 Pounds |
| Overall Length | 12.87 Inches |
| Barrel Length | 8.5 Inches |
| Action | Double |
Pros & Cons
Pros
Heavy stainless steel barrel

Full Picatinny rail for optics 

Light trigger pull
I would make a California gun law joke, where the Excel Accelerator comes from, but California holds a special place in this East Coast heart. Even if the gun laws suck.
Hailing from Ontario, California, the Excel Accelerator is breathing more life into a not-so-loved round like the .22 WMR. Like the Kel-Tec PMR-30, it's semi-automatic. However, it only has nine rounds in the magazine and not 30.
Bummer.
But why did I choose it as my best .22 Magnum pistol for varmint? It starts at the heaviest point of the pistol–the barrel. The 8.5-inch 17-4 stainless steel barrel sends 40-grain .22 WMR like a laser beam at 1,667 feet per second.
On top of the pistol lives a full Picatinny rail that sits ready for a red dot or any other optic that you want to throw on.
By now, I hope you realize how much potential the Accelerator has as a small game hunting pistol. The longer and heavier barrel limits flexing while getting closer to the length of barrel sweet spot for .22 WMR.
Not close, but closer than other pistols on this list.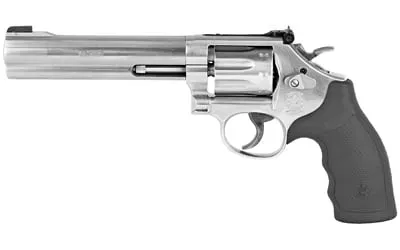 Specifications
| | |
| --- | --- |
| Caliber | .22 WMR |
| Capacity | 8 Rounds |
| Weight | 2.91 Pounds |
| Overall Length | 11.13 Inches |
| Barrel Length | 6 Inches |
| Action | Single/Double |
Pros & Cons
Pros
Ribbing on the top to reduce glare

The sights are right on

Has single and double action capability
K-frame wheel guns like the Smith and Wesson 648 are usually what you across when shooting a round like the .22 WMR. The 648 just might be the most handsome revolver in its class.
There's a reason I say that, and you may disagree.
But all of the other pistols on this list somewhat look like toys. Take a look at the Kel-Tec PMR-30 and tell me I'm wrong. It looks like one of those guns your mom got you at K-Mart as a kid.
I still love it; I'm just saying.
The 648 looks like a proper firearm. And it feels like one as well. It's made out of stainless steel and helps keep that .22 WMR flat by limiting muzzle rise.
I mean, it helps mitigate the already minimal recoil.
I've seen many revolvers come with the front sights a bit off from the factory.
Since they are usually fixed, you must make adjustments on the fly. The front iron sight on the 648 I got to shoot was dead-on.
And the rear sights were adjustable as well. It made for great fun.
Lastly, the 648 can be shot in both double/single action just in case you want a more accurate shot and less trigger pull, but it also works well with a nice heavy pull in double action.
How We Chose Our Top Picks
Choosing the top picks for the best .22 Magnum pistol was not that hard. If you know enough about .22 WMR, then you know how little the big manufacturers care about this tiny hitter. So the options were pretty slim.
Trust me; I tried looking all day. Everything is chambered in .22 LR instead.
Even after talking with the guys at the gun store, we found ourselves limited with options. But, we had played with some pistols chambered in .22 WMR a while back and recalled those experiences. And that is how we conjured up this list you have here.
.22 Magnum Pistol Buyer's Guide
You may have questions about pistols chambered in .22 WMR, and I may have some answers for you! Let's talk about them.
What Is .22 WMR?
WMR stands for Winchester Magnum Rimfire. I said that in the introduction, but you've been reading a lot, and we forget things sometimes.
It's alright. I get it.
Just think of it like this, .22 WMR is .22LR on steroids, just like all of the other Magnum rounds gracing the firearms community. They fly faster and hit harder than the standard round (think .338 Lapua vs. .338 Lapua Magnum).
.22 WMR and .22 LR aren't interchangeable, as some may believe.
The .22 WMR is considerably larger in all aspects and was created in 1959 to enhance the capabilities of the .22 LR. Like every company that enhances the boom of a cartridge at the time, they put "Magnum" at the end of the name.
They wanted to make it better for hunting and defense, and they wanted it to travel further and do more damage on impact. So they beefed up the cartridge, and boom, .22 WMR was born.
I'm not saying the .22 LR is less capable of the .22 WMR, though. I'm simply saying that the .22 WMR does what it's intended to–hit harder and cover more distance.
What Is .22 WMR Good For?
.22 WMR is versatile. It can do everything from keeping you safe against unwanted visitors to putting food on the table.
It's good for teaching new shooters how to handle recoil and get used to mini-explosions going off in their hands.
It's good for shooting cans off a fallen tree log with your kids and teaching them the importance of firearms and safety at a young age.
It's good for getting rid of those pesky raccoons that were causing a stir on your roof for a month straight until you finally had enough.
It's good for keeping unwanted predators away from your livestock. Just as long as that livestock is relatively close.
It's good for just having fun.
But is it good for concealed carry? It wouldn't be my first choice, but well-placed shots are easy to achieve when the recoil is as low as .22 WMR.
Is .22 WMR Good For Self Defense?
What's the first rule of a gunfight?
Have a gun. If you don't have a gun, you are going out into this wild world, assuming you won't be killed by someone who got the jump on you. I mean, you see how crazy this world is, right?
Now I'll ask you, would you rather have no gun in a gunfight or a gun that fires .22 WMR?
Exactly. Now unless you're a smart aleck, you likely answered in favor of having a pistol chambered in .22 WMR, right?
If you train with your pistol like you should, you could do some damage. Are you picking up what I'm putting down?
It's suitable for self-defense.
Would it be my first pick if I had other choices, such as 9mm, .45, or .357 Sig? Not at all, but a wise man named Playboi Carti once said, "I'd rather get caught with it than without it."
What Animals Can Be Hunted With .22 WMR?
Any game that is 20 pounds and under. You know, groundhogs, squirrels, prairie dogs, and raccoons. Those varmints that make living in the countryside a little more challenging.
They would also work on New York subway rats, but take it from someone who knows… New York rats are a bit heavier than 20 pounds. You might just piss it off.
Essentially, it's best for small game up to a fox. It'll keep the unwanted critters at bay.
FAQs
Will .22 Magnum Stop An Attacker?
A well-placed shot will always stop an attacker. Putting down an attacker with .22 WMR is difficult, but it can get the job done.
Is .22 WMR Good For Coyotes?
.22 WMR can do some damage to coyotes, but it's not the optimal choice for putting them down.
How Hard Does .22 WMR Hit?  
It depends on the weight of the bullet, but with 40-grain .22 WMR flying at 1,900 feet per second, you can get 325-foot pounds of energy.
Conclusion
So you see, finding the best .22 Magnum pistol isn't so hard after all.
Not many manufacturers make pistols in .22 WMR. No one like Glock or Sig anyway. Thanks again, Walther.
For anything you need a pistol for in .22 WMR, you can count on the Walther WMP. The optics cut, ambidextrous features and 15-round magazine wrapped into a handsome pistol will compliment the space in your safe more than my grandmother compliments me.
What do you think about this list of .22 Magnum pistols? Did I cover it all? If you have any recommendations, leave a comment and spread the knowledge.
If you want to check out the best .22 Magnum rifles, we've got a list for that as well!
See you on the range, fine shooter.
Explore more