The Best Revolvers On the Market [2023]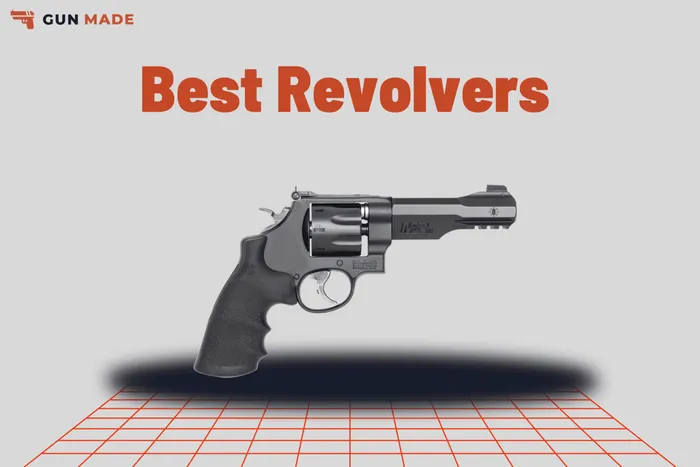 The Best Revolvers On the Market [2023]
Introduction
There are entire armories full of some of the best revolvers on the planet, and if you're browsing the web now, thinking, "I have no idea which gun to get.", we might be able to help.
The S&W M&P R8, the Taurus Judge, the Colt King Cobra Carry DAO, the Colt Single Action Army 7.5-inch Revolver, and the S&W Model 69 are some of the best revolvers in the world in their respective categories.
In this article, we'll break down the exact purpose of each revolver and hope you'll buy one that suits you just right.
Best Revolvers & Recommendations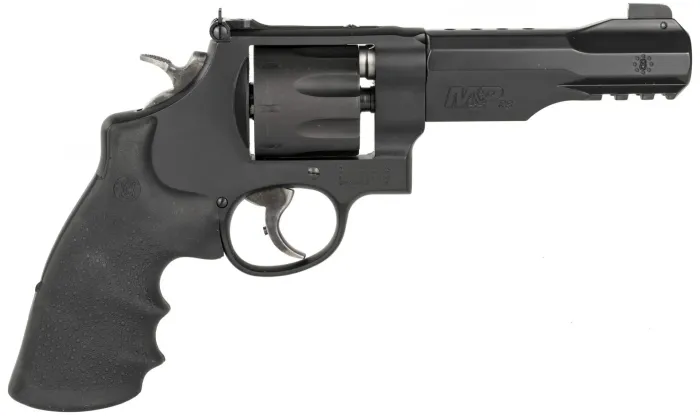 Specifications
| | |
| --- | --- |
| Caliber | .357 Magnum |
| Capacity | 8 Rounds |
| Weight | 35.8 ounces |
| Length | 10.5 inches |
| Barrel Material | Stainless Steel |
| Barrel Length | 5 inches |
Pros & Cons
Pros
Bottom flashlight rail

Optional top rail for optics

Eight-round drum

Long-lasting stainless steel

Powerful and reliable
Cons
fairly heavy in comparison to other handguns

too large for concealed carrying

Expensive in comparison to other revolvers
This revolver is what I'd choose if I had the option to choose any single revolver in the world. I consider it one of the best revolvers in the world, if not the best, and here's why.
First, the cylinder can hold up to eight rounds at a time. This is an improvement from the traditional six-round cylinder, and those two rounds might just give you an advantage when firing at a target.
Secondly, this gun is reliable, and there's no fear of jamming or misfiring. Its stainless steel construction is a guarantee of longevity, and on top of that, it's immensely powerful.
The R8 shoots .357 Magnum rounds, basically guaranteeing incapacitation if you hit the target.
The modifications you can make to this gun are amazing and deserve mention. You can add both a flashlight and optics (preferably a red-dot sight) at the same time.
All of this makes this gun a great choice for self-defense and hunting. However, it's not without its faults.
The most obvious one is the price point – at the time of writing, it's the most expensive gun on this list.
Another problem deserving of mention is the size of this gun. This isn't a concealed carry gun; even more importantly, it's heavy. It may not feel like that initially, but if you're ever in a scenario where you have to hold this gun in the air for a few minutes, you'll quickly realize just how heavy it is.
If you can afford it and you're not planning on concealed carrying, this gun is a definite buy.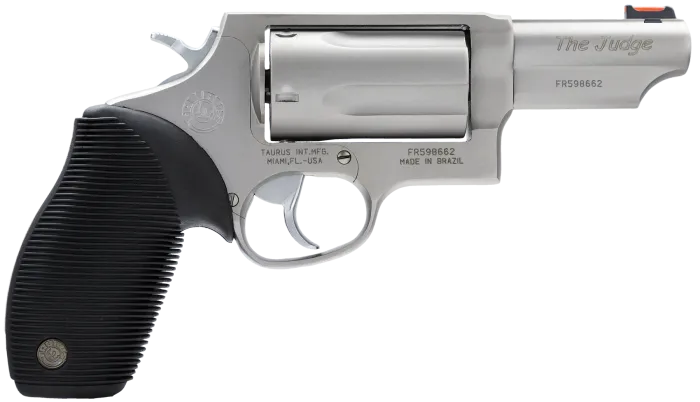 Specifications
| | |
| --- | --- |
| Caliber | .45 Colt or .410 Bore |
| Capacity | 5 Rounds |
| Weight | 29 ounces |
| Length | 9.5 inches |
| Barrel Material | Alloy Steel |
| Barrel Length | 3 inches |
Pros & Cons
Pros
Light, short, and easy to maneuver

Great value for money

Rubber grip

Caliber versatility

High firepower
Cons
Doesn't allow modifications

Only five rounds

Slower rate of fire
The Judge was marketed as the ultimate self-defense tool, and the marketing department at Taurus wasn't wrong about that.
This revolver should be your top choice if you're on a budget but still want one of the best revolvers a tight budget can buy – it can fire both .45 Colt and .410 Bore rounds with immense power, ensuring penetration if you hit the target.
It's also light and short, armed with a rubber grip to ensure the gun doesn't start trembling in your arms. This makes the gun ideal for close-quarters combat, and it won't wear you down physically, either.
To make it compact, light, and easy to handle, the designers at Taurus made the cylinder a bit smaller than usual and restricted its capacity to five rounds. This is, admittedly, a big handicap compared to other revolvers (and no – the lack of rounds can't be compensated for with firepower).
Another aspect in which the Judge is overshadowed by some other revolvers is the modding option – there is no modding. I understand that you can't add optics to the gun, but it'd be nice if you could fit a small flashlight on it.
However, considering the price, the lack of modification options, and one round less aren't terrible drawbacks. You're still getting a versatile, powerful, light, long-lasting gun for relatively little money when compared to other revolvers of similar specifications.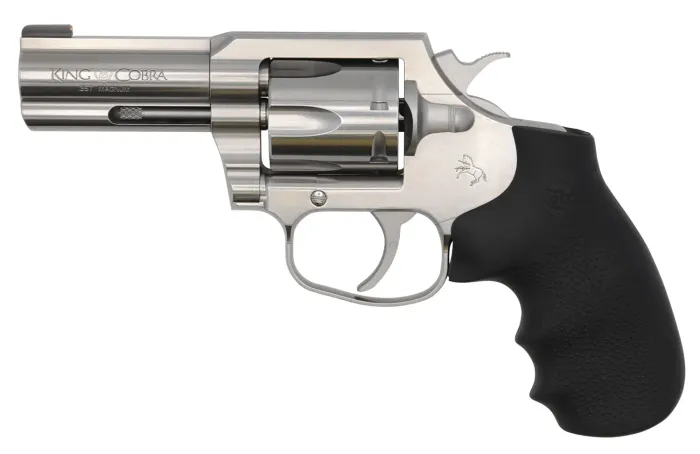 Specifications
| | |
| --- | --- |
| Caliber | .357 Magnum and .38 Special |
| Capacity | 6 Rounds |
| Weight | 28 ounces |
| Length | 8 inches |
| Barrel Material | Stainless Steel |
| Barrel Length | 3 inches |
Pros & Cons
Pros
Light, short, and easy to maneuver

Double Action Only – no need to turn the cylinder

Long-lasting stainless steel

Inconspicuous
Cons
Short, 3-inch barrel, makes medium-range aiming difficult

Small grip
There are two things I'm personally concerned about with small handguns. Firstly, the barrel on this gun is very short (only 3 inches), and as we all know, a shorter barrel means that aiming is more difficult.
A 3-inch barrel is no less effective than a 5-inch barrel if you're shooting at a target close to you, but I wouldn't rely on it past 100 feet.
Secondly, this gun packs quite a punch and uses powerful ammo, but the handle is short, and I wouldn't be surprised if it launched itself out of your arms if you don't grip it properly. This is an especially common problem with inexperienced gun handlers.
On the positive side, we can take another look at what I said before – this gun packs one hell of a punch, and it doesn't take much room in the glove compartment, a purse, or on the hip.
Don't forget that it uses the DAO design, ensuring quick, successive fire without turning the cylinder – even if you miss your first shot, you can immediately retake the shot with the remaining five rounds.
If you live in a bad neighborhood and you're looking for something basic to ensure your safety when getting groceries – this gun is definitely one of the best revolvers for the job.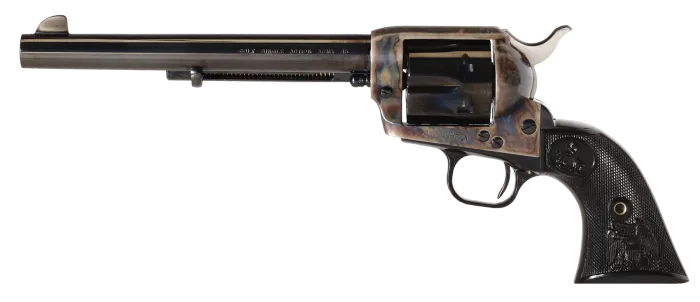 Specifications
| | |
| --- | --- |
| Caliber | .357 Magnum and .38 Special |
| Capacity | 6 Rounds |
| Weight | 37 ounces |
| Length | 13 inches |
| Barrel Material | Steel |
| Barrel Length | 7.5 inches |
Pros & Cons
Pros
Very high shooting power

Caliber versatility

Long barrel accurate up to 160 feet
Let's face it – the Colt is a synonym with the Wild West for a very good reason. The Peacemaker is an iconic gun, considered one of the best revolvers in the world, and anyone would be lucky to have it (about 150 to 200 years ago).
Right off the bat, this revolver is incredibly powerful, and it will take down anything the round comes into contact with. It's a fun weapon to fire at the range, even at medium-range distances.
However, this gun isn't practical for anything other than recreational shooting. It utilizes the single action design, meaning you'll have to rotate the cylinder after each shot. Because of this, your rate of fire will be abysmal, making this weapon a bag choice for hunting and self-defense (as both scenarios require fast shooting).
Additionally, the gun isn't cheap (it's a collector's item, after all), and it's heavy.
If you want to start a Wild West collection of guns or just have fun impersonating Clint Eastwood – this is definitely the first gun I'd recommend.
However, if you need a gun for practical reasons, I'd recommend you take a look at the other models in the article.
Note: several models of this revolver are available; .44 Special Round, .44-40, .45 Colt (the classic), .45 ACP, .357 Magnum, 9mm, and .38-40 chamber-sized revolvers. Out of all those models, only the .357 Magnum model can fire different cartridges (.356 Magnum, .38 Special, .38 Special +P).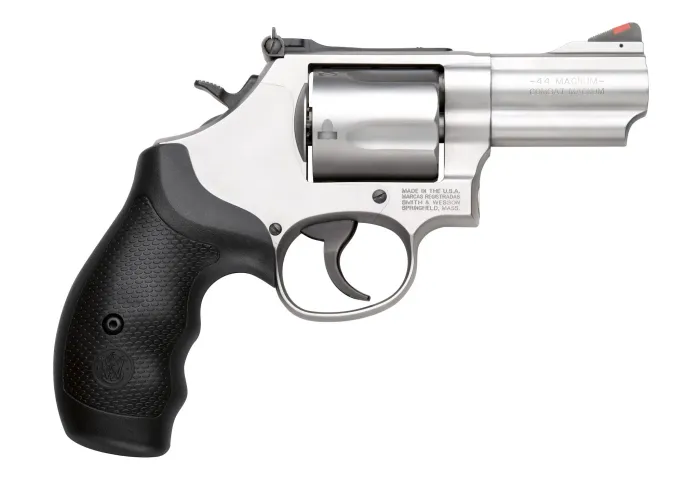 Specifications
| | |
| --- | --- |
| Caliber | .44 Magnum |
| Capacity | 5 Rounds |
| Weight | 34.4 ounces |
| Length | 7.8 inches |
| Barrel Material | Stainless Steel |
| Barrel Length | 2.75 inches |
Pros & Cons
Pros
Immensely powerful caliber

Ensured longevity

Small enough for concealed carrying
Cons
Very short and light for a .44 Magnum caliber

5-round cylinder

Extremely strong recoil
Just like all .44 Magnum revolvers – this gun is powerful. It will blow a massive hole in the target and penetrate deeply.
However, it has a major drawback as well – it's small and light (in comparison to other .44 Mag guns).
There's a reason why .44 Magnum guns are heavy – that caliber causes such a strong kickback that a light, small gun could come flying out of your hands.
In comparison, S&W's Model 29 weighs 43.8 ounces – almost 10 ounces more. The recoil is definitely more manageable with that model.
Another drawback is the smaller cylinder capacity – the .44 Magnum round is a large cartridge, and the gun would be too bulky if it fit six rounds in the cylinder.
This gun was designed to pack the punch of the aforementioned Model 29, but in a compact, smaller model. The 69 is also great value for the money, as the L-frame and stainless steel used are durable, and the gun won't be worn down after constant usage.
If you're an experienced shot and you can manage the recoil, I'd definitely recommend this gun for self-defense and recreational shooting as it's still one of the best revolvers in the category.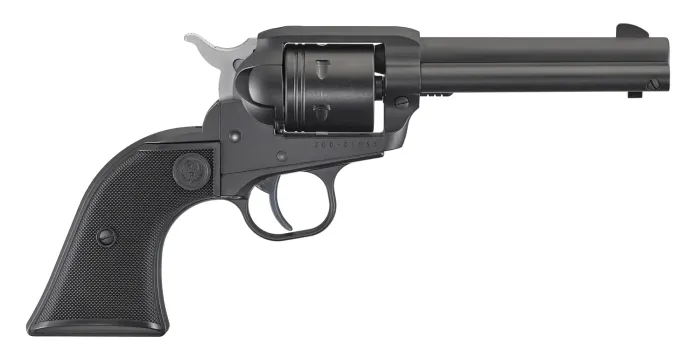 Specifications
| | |
| --- | --- |
| Caliber | .22 LR |
| Capacity | 6 Rounds |
| Weight | 30 ounces |
| Length | 10.25 inches |
| Barrel Material | Aluminum Alloy |
| Barrel Length | 4.62 inches |
Pros & Cons
Pros
Manageable recoil

Cheap

Accidental discharge security

Great gun for beginners

Very accurate
Cons
Questionable durability

Slow rate of fire (Single Action)

Very small caliber
The Ruger Wrangler has swiftly become one of our favorite revolvers on the market, striking a rare balance between affordability and quality. The charm of its classic cowboy-era design, coupled with modern touches, lends it a unique appeal.
Our hands-on experience revealed a robust, well-finished firearm that didn't disappoint, proving that high-quality doesn't always come with a high price tag.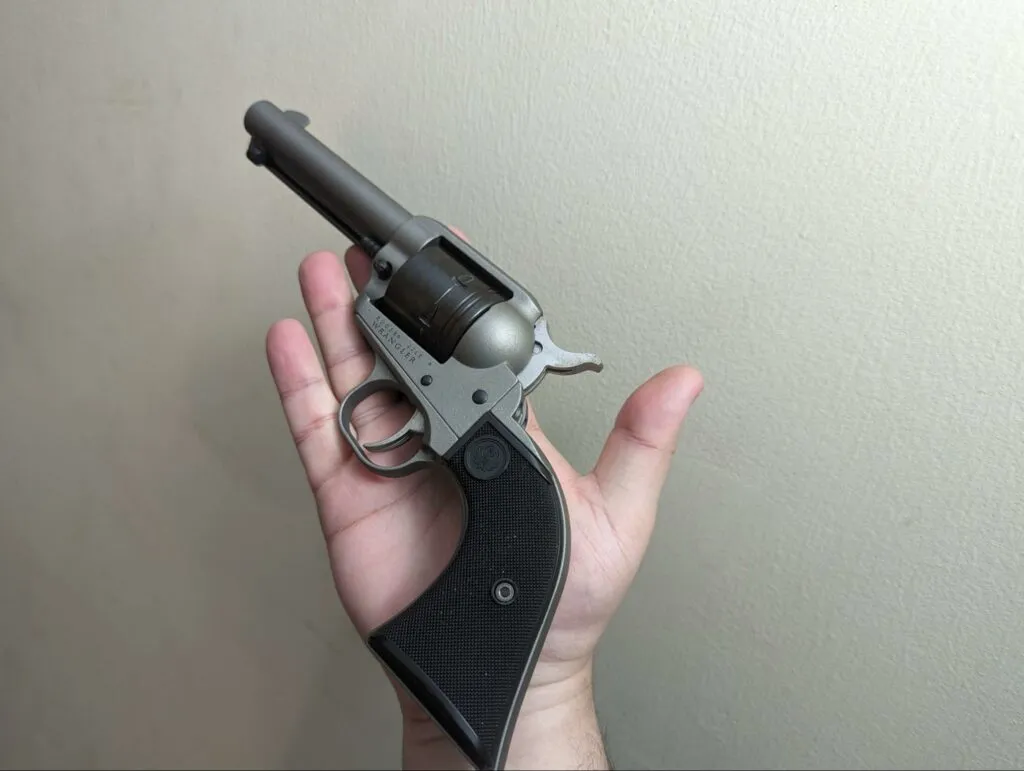 The testing phase was an eye-opener; the Wrangler showcased remarkable reliability and decent accuracy, making it a great fit for both new and seasoned shooters. Its performance across various types of ammo, even during a rigorous initial shakedown test, affirmed its standing as a dependable revolver.
The ease of operation and satisfactory accuracy, especially at its price point, contributed significantly to why it ranks high on our list.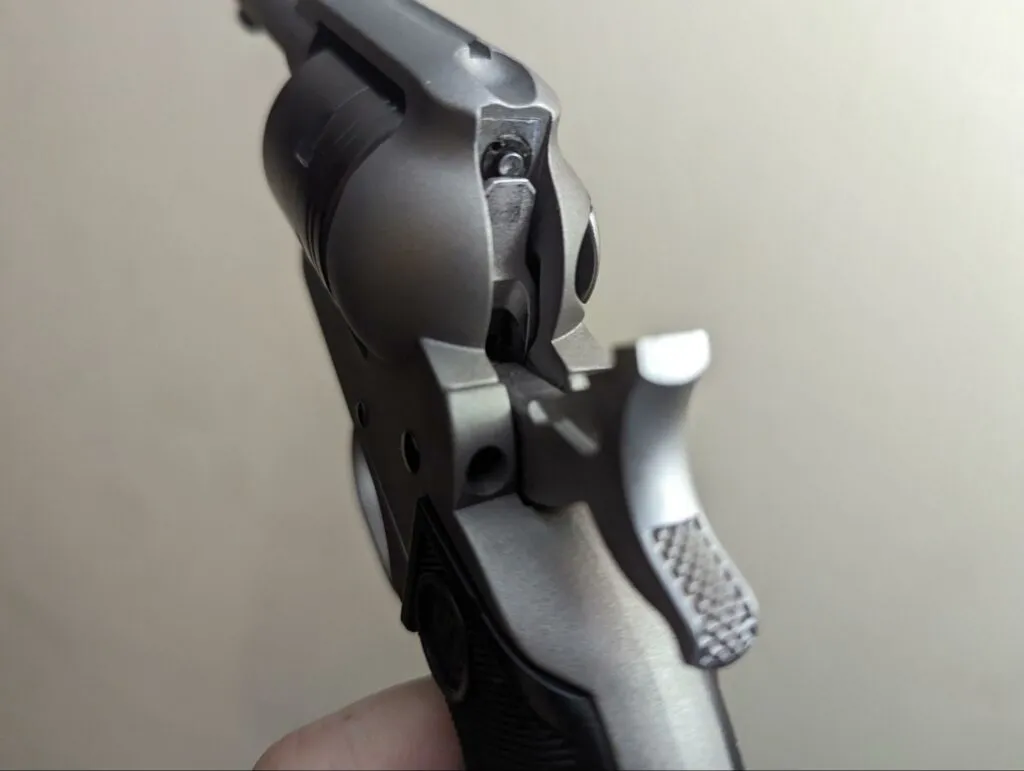 The Wrangler's feature set, including the Cerakote frame finish and crisp single-action trigger, adds a modern touch to its traditional aesthetic, enhancing its value further.
The addition of a transfer bar safety was a thoughtful modern touch that elevated its operational safety, distinguishing it from some competitors. It's not just the features, but the overall reliable and enjoyable shooting experience that the Wrangler provides, which solidifies its position as one of our favored revolvers in the market, making it an excellent choice for those seeking affordable yet reliable firearms.
We had a chance to put together a full review of the Ruger Wrangler if you want to learn more!
Best Revolver for Self Defense – S&W Model 640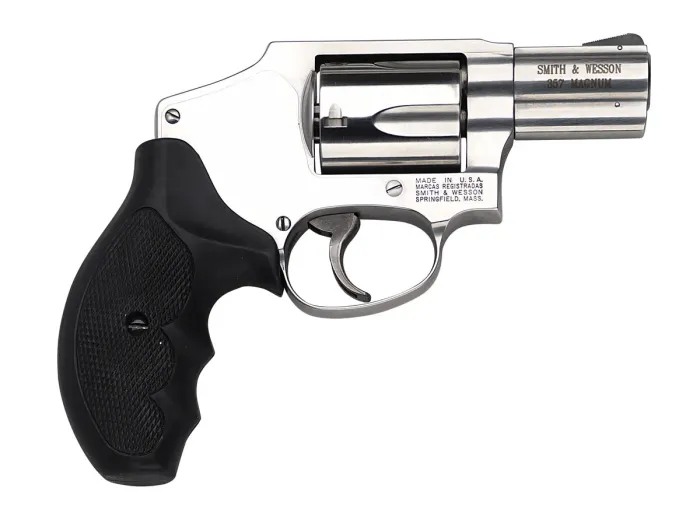 Specifications
| | |
| --- | --- |
| Caliber | .357 Magnum or .38 S&W Special +P |
| Capacity | 5 Rounds |
| Weight | 22 ounces |
| Length | 6.6 inches |
| Barrel Material | Stainless Steel |
| Barrel Length | 2.125 |
Pros & Cons
Pros
Powerful weapon

Small and inconspicuous (concealed carry)

Long-lasting

Light

Weak recoil

Accurate in short range shooting
Right off the bat – this gun is amazing! Let's start off with the only negative thing that sticks out – there are only five rounds in the gun. Unfortunately, this can be a really important aspect if you ever actually have to use the gun (which we hope you won't).
However, when you compare it to the Model 66, which carries six .357 rounds – this gun is 11 ounces lighter. Another alternative is the Model 43C, which carries 8 rounds…of the 22. LR caliber. I don't know about you, but I'd personally rather have five powerful rounds than eight rounds of incomparable shot power, respectfully.
Now, moving on to the positive – this gun is light, easy to carry, and easy to handle. It's a Double Action Only revolver, meaning it's semi-automatic, no manual cocking in-between shots.
It's made from stainless steel, ensuring longevity, and the recoil isn't too bad.
Some people worry about accuracy since the barrel is only 2.125 inches long. In a real-life self-defense situation, you most likely won't be firing at someone standing 100 feet away (although this gun would most likely hit a target that far away).
The length of the barrel won't affect your aiming at short distances.
To sum it up – overall a great gun, with the only real negative point being the five-round limit.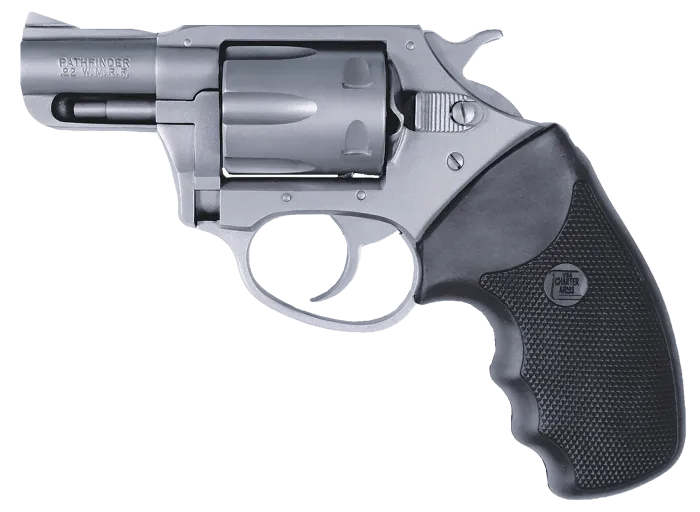 Specifications 
| | |
| --- | --- |
| Caliber | .22 LR or .22 Magnum |
| Capacity | 8 Rounds |
| Weight | 19 or 24 ounces |
| Length | 6.8 or 9 inches |
| Barrel Material | Stainless Steel |
| Barrel Length | 2 or 4.2 inches |
Pros & Cons
Pros
Eight rounds

Light

Recoil easy to control

Long-lasting (stainless steel)
Cons
Relatively low firepower due to caliber
Don't think that we hate .22 LR or .22 Magnum calibers based on the comments in this article – it's just that they're not very powerful rounds. Practically, if you had to defend yourself, a .357 or a .44 would be much better.
Aside from that, though, this gun doesn't have any glaring faults. There are two models – the .22 LR and the .22 Mag model, with the latter being heavier and longer.
The gun is covered with a stainless steel finish, making it a long-term investment, and it has an impressive eight-round cylinder. So, even if the caliber is a little weak, at least you have eight rounds at your disposal.
Two other things that need to be considered are the price of the ammo (which is low in comparison to bigger calibers) and the almost non-existent recoil.
Lastly, it utilizes both a DAO and an SA design, so you can practice slow shooting or turn it up for a higher rate of fire.
When you add and divide all of these things, while I wouldn't recommend it for self-defense, it's all around a great gun in other aspects, especially for target practice.
Note that this revolver is a revamp of the older version, which was in dire need of an upgrade. Users of the older version of this model might have a lot of negative comments (the model used to have only six rounds, which was inaccurate), but remember that it isn't the same design.
How We Chose our Top Picks
The first thing we look at when choosing the best revolvers is longevity – we don't want you to waste money. This vastly depends on the type of material used in making the weapon (stainless or alloy steel is generally used for the best revolvers).
Large calibers often wear down the gun more quickly than smaller calibers, but all of the guns in this list are dependable and have a long life ahead of them as they're high-quality weapons.
Then, we have to take barrel length and shot power (mostly dependent on caliber) regarding your accuracy. Long-barreled revolvers are more accurate than short-barrel (snub-nose) revolvers. Shot power greatly affects recoil and more recoil results in lower accuracy.
Cylinder capacity and action system (double or single) affect your fire rate and shooting capabilities, so that has to be taken into account – personally, I think the best revolvers have a DAO system.
Buyer's Guide – How to Choose the Best Revolvers
Even if you fell in love with any of the revolvers analyzed in this article, I still don't recommend purchasing them before doing your own research…
To avoid classic mistakes, follow this guide – it will ensure that you not only buy the best revolvers but that you buy the best revolvers for your needs!
Determine The Revolver's Purpose
Before buying the revolver, know what you're buying. You wouldn't buy a Ferrari to drive it around the ranch, so why would you buy a Colt Single Action Army revolver for self-defense?
Every revolver in this article has its purpose.
The S&W M&P R8 is an amazing all-around gun for self-defense or blowing off steam down the range. It isn't a concealed carry weapon, though, and I'd recommend you avoid it if you're looking for such a weapon.
In that same regard, the Peacemaker above is a great collectible gun, and it's very fun to fire it down the range. However, it's not good for much else. On a hunting trip or in a real-life self-defense scenario, its slow rate of fire would be a massive handicap.
Think about the purpose of the weapon before you buy it – big and small, fast and slow, heavy and light weapons can all serve a great purpose if you use them right.
Ease of Handling
If you're a beginner and you're buying your first gun, first of all – congratulations! Before you buy, though, make sure you're not buying a weapon that'll be a pain to handle and maintain.
All .44 Magnum revolvers are powerful guns, but that's not what you should be looking for as a beginner. The recoil will tire your arms quickly, and your shots will be off by a wide margin.
Instead, choose something lighter with a smaller caliber and a longer barrel (it makes all the difference in sharpshooting when you're just starting).
Some guns are also easier to clean than others, which can save you hours upon hours of work down the line.
Reliability
It's immensely important that your gun shoots whenever you want it to. Let's be honest – jams happen even with perfectly clean guns. But some revolvers are simply more prone to jamming.
The best revolvers in the world earned that title by being reliable – they won't fail you when you need them to step up.
Reputable manufacturers spend countless hours designing and testing their weapons to ensure minimal jams and malfunctions. Low-end firearm manufacturers are, with all due respect, called low-end for a reason. If your budget allows it, buy from reputable manufacturers instead.
Caliber
The final thing to take into account is the caliber – if you're just looking to fire your gun down the range, a small caliber round is no worse for wear than a large caliber round.
This changes if the main purpose of your revolver is self-defense – if you have to shoot someone, you want the bullet to incapacitate the target, and larger calibers have a better shot of doing this.
Smaller caliber rounds don't wear the gun down as much as big calibers, though, and they're often cheaper – something to keep in mind.
Test Your Gun
Many gun shops have ranges where you can test the weapon before you purchase it – this is possibly the most important tip I can give you. There's nothing worse than buying a gun that doesn't fit you and being unable to return it.
Aside from just testing out the gun, gun shops will guide you through the legal process of acquiring the weapon, not to mention that the experts have a plethora of information on the weapons you're interested in.
Additionally, take a look at this video!
FAQs
Is a Longer Barrel Better on a Revolver?
A longer barrel is more accurate than a shorter barrel on any weapon. If you're looking for accuracy, a longer barrel is much better than a shorter barrel. On the other hand, longer barrels are heavier and more difficult to maneuver.
Is a Revolver Enough for Self-Defense?
Yes, a revolver can often be enough for self-defense. A lot of revolvers still pack a mean punch, even if they have a lower capacity and longer reload time than semi-automatic handguns.
Why Are Revolvers Not Used Anymore?
Semi-automatic handguns are a massive upgrade on revolvers – they have a higher rate of fire, reload more quickly, and the magazine has a greater capacity. Revolvers are still awesome weapons, but semi-automatic handguns are simply better.
Conclusion
There you have it, folks. In our humble opinion, some of the best revolvers on the market right now. Each one has its specific purpose, some are more expensive than others, and some require more experience than others.
Overall, the S&W M&P R8 is the best revolver, but if you're looking for more subtle options, a traditional revolver that John Wayne would carry around, or the best .44 Magnum revolver with amazing power behind it – we have that too.
Before you buy, research the weapon you're interested in and make sure it will suit its purpose, won't be too much for you to handle, and won't become a buy you regret.
If you're unsure about a revolver or semi-automatic handgun, check out our list of the best overall handguns on the market to help you narrow it down,
Explore more