5 Best .300 Blackout Rifles [2023]: For All Budgets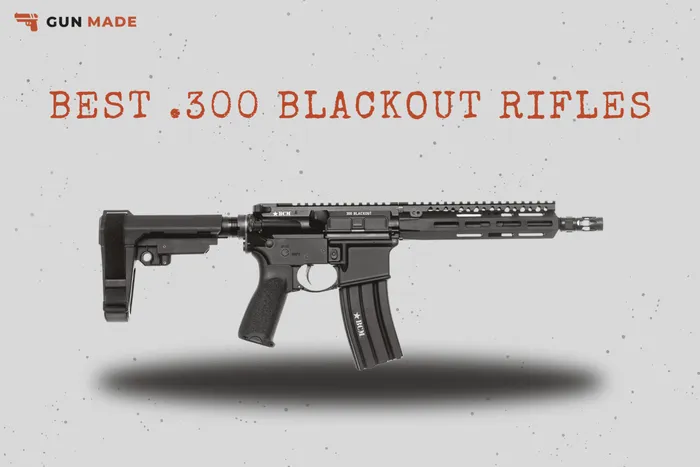 5 Best .300 Blackout Rifles [2023]: For All Budgets
If you want to save time reading this article, here is a short list of the best .300 Blackout rifles. I know you're busy, not to worry.
Introduction
Here's a story: The other day, I went to my local gun store to speak about shooting suppressed with the store owner. Before I could finish my sentence, he immediately pointed at the corkboard wall where his .300 Blackout rifles were displayed.
"You ain't shooting suppressed correctly if you ain't shooting .300 Blackout with sub-sonic rounds and a can." He tells me.
Of course, I love to learn new things. Having shot .300 Blackout myself from a few different rifles, I was thoroughly intrigued in learning the "Why" with .300BLK.
"The round is designed to burn power quicker, which makes shooting with a shorter barrel easier than, say, a 5.56."
Now that's cool. You can still get all the great effects of shooting a .300 Blackout, even if the barrel is shorter than 14 inches.
Let's just say that conversation went on until he was closing the gates, and we were walking to our cars. Oh, and I left with a .300BLK Upper from Bravo Company.
Anyhow, after following the guys at the gun store for hours and even shooting a few .300 Blackout rifles, here are the ones that we found to be the best.
Best .300 Blackout Rifles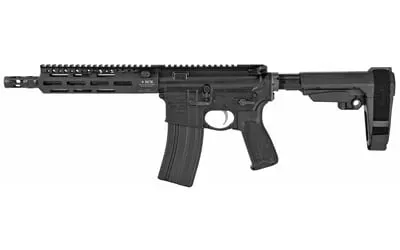 Specifications
| | |
| --- | --- |
| Caliber | .300 Blackout |
| Capacity | 20 or 30 rounds |
| Weight | 4.9 lbs |
| Length | 25 in |
| Twist Rate | 1:7 |
Pros & Cons
Pros
Upgraded pieces from previous generation uppers
Lightweight but durable
Recoil was pretty minimal considering the round
Cons
Buffer needs changing when shooting suppressed
Lower grade ammo types may cause issues
Usually only comes with the upper
I'm gonna say it.
Bravo Company Manufacturing is the Porsche of the firearm industry.
Why do I say that? Much like a Porsche, it doesn't seem like it's all high-end and doesn't really turn any heads when you say you have one. But, it will perform better than rifles three times the price.
And much like the Porsche, you don't have to be a brain surgeon to have one in your safe.
BCM's new MK2 line of rifles is proprietary (made in-house) and offers a few more goods when compared to the standard line. One of those features is increased rigidity in the barrel for better accuracy and consistency from barrel deflection.
With less flexing of the barrel comes better reliability and lessening premature wear on the bolt lugs (A thing that helps the rifle go boom).
The Bolt Carrier Group (the piece inside of the rifle that cycles rounds into the chamber, among other things) has also been machined with vents to keep gases from blowing back into your face.
Because we all LOVE when dinner tastes like gas and carbon. Not really. And when you're shooting suppressed, things tend to get a bit gassy. Like Taco Bell breakfast. If you know, you know.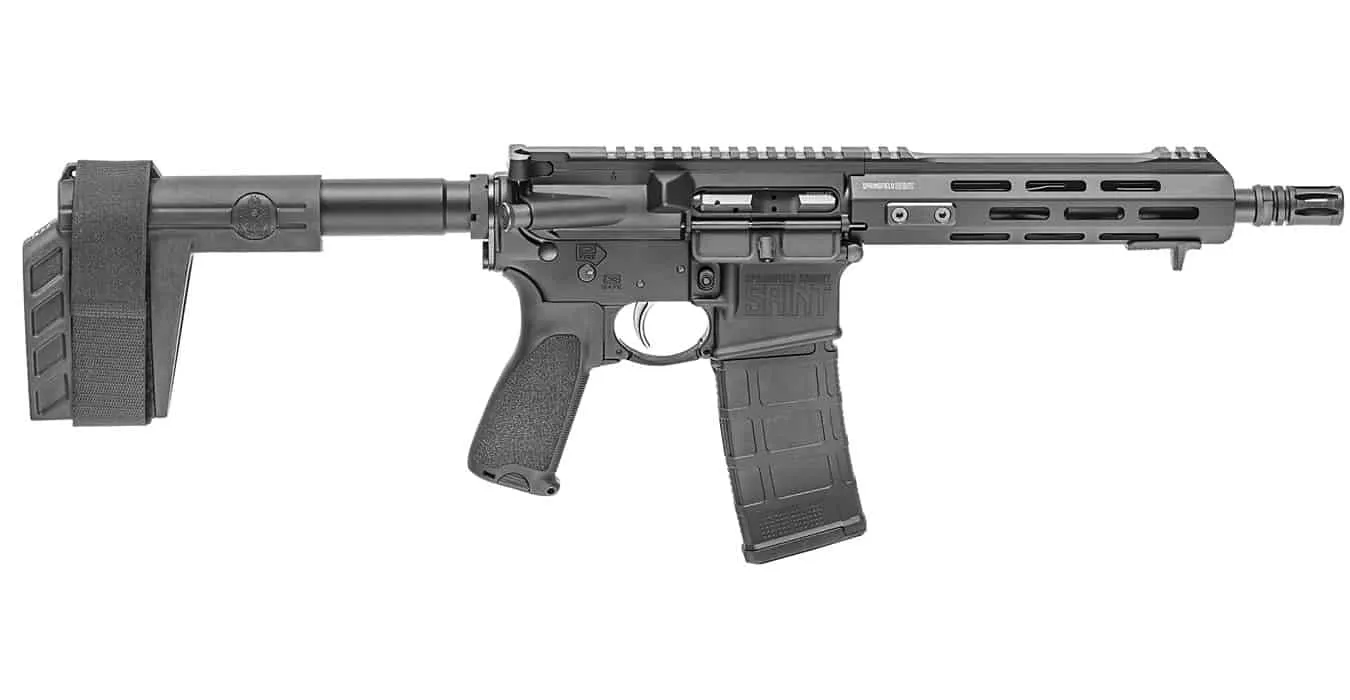 Specifications
| | |
| --- | --- |
| Caliber | .300 Blackout |
| Capacity | 30+1 |
| Weight | 5.9 pounds |
| Length | 27 inches |
| Twist Rate | 1:7 |
Pros & Cons
Pros
You get way more than what you pay for
Bravo Company furniture
Melonite coated barrel (inside and out)
Cons
May have to pay an SBR tax stamp (new pistol brace "law")
Picatinny rail on top is not fully extended
Not a big fan of A2 flash hiders.
Shooting .300 Blackout can get very expensive, super quick. Most people get into it so they can shoot suppressed, which comes with expenses that can sometimes exceed the cost of the rifle.
Why not have something that will give you all the good stuff while not breaking the thousand-dollar barrier?
You'll need it for later, trust me.
Enter the Springfield Saint. With the great success of their 5.56 variant, Springfield has decided to enter the airspace of .300 Blackout rifles, and with great success.
The Springfield Saint chambered in .300 Blackout offers some pretty sweet parts and pieces that are usually reserved for the other side of the thousand-dollar barrier.
Things like a Melonite coated barrel that gives you better accuracy and is designed to be just as durable as a chrome-lined barrel. A single-stage nickel boron-coated trigger and a pinned multi-mode gas block ensure reliability whether you're shooting suppressed or unsuppressed.
Hell, you won't even find some of this stuff on higher-end rifles chambered in .300 Blackout,
And this is why I say that the Springfield Saint is the best value .300 Blackout rifle on the market. You get more than what you pay for.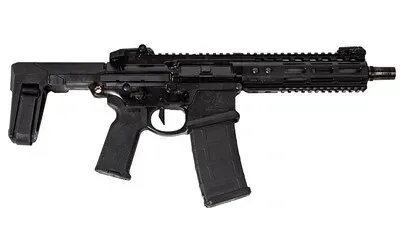 Specifications
| | |
| --- | --- |
| Caliber | .300 Blackout |
| Capacity | 30+1 |
| Weight | 6.5 pounds |
| Length | 27 inches |
| Twist Rate | 1:7 |
Pros & Cons
Pros
Quality control is unmatched.
Full ambidextrous controls
Suppressor ready
Cons
A little front end heavy
Would have liked to see a Geissele trigger instead
If you're a tinkerer, this isn't for you
Big baller alert. For those who don't mind paying for the best of the best.
The Noveske Gen 4 Shorty Rifle with the 10.5-inch barrel is what George Washington would have used if he was blasting at the red coats with a .300 Blackout.
As soon as you pick up the Shorty, you seem to forget everything you knew about high-quality rifles. It's almost hypnotizing.
Personally, I thought, "Wow, so this is what you get when you buy a gun instead of a car?"
Which I'm all for, by the way. No wonder I walk so much.
The Shorty rifle takes all the best parts from the best names in the game and puts them all in one package. From the Geissele Super Badass charging handle, Dead Air Keymount flash hider (without the ping you get from most flash hiders), and Magpul MOE furniture.
With that, you have a stainless steel barrel which we all know aids in accuracy and heat dispersion. But it does make it a bit front-end-heavy. Now is that a bad thing? No. Unless you're kicking down doors all day long. Still, it's not enough to slow you down.
Wrapping around the stainless steel barrel is an NSR handguard in M-Lok, which is held in by six screws. No need to worry about losing your zero if you mount an ATPIAL or MAWL. Like every self-respecting man says when he ratchets something down with ratchet straps, "that ain't going anywhere"
I am a big believer that you get what you pay for (unless we're talking about the Springfield Saint mentioned above), and the Noveske Gen 4 Shorty Rifle is a testament to that statement.
Not to mention they make some pretty badass YouTube videos.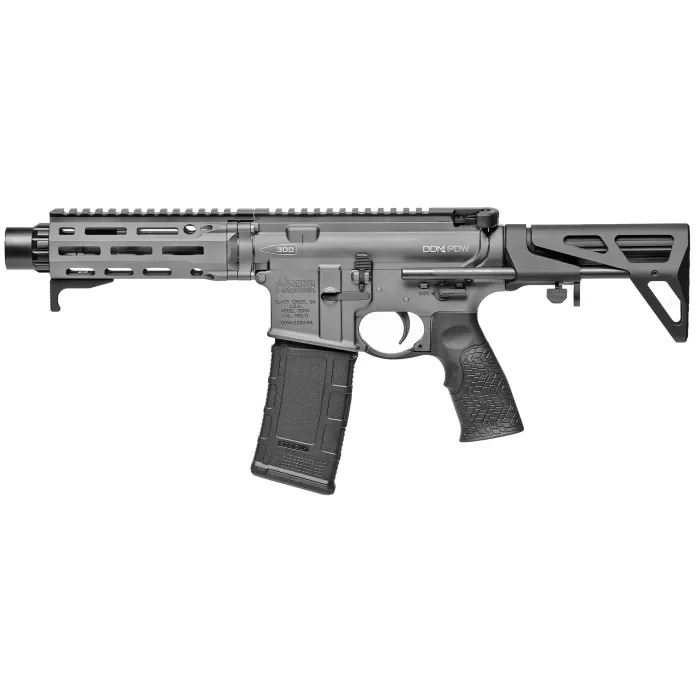 Specifications
| | |
| --- | --- |
| Caliber | .300 Blackout |
| Capacity | 30+1 |
| Weight | 5.7 pounds |
| Length | 20 inches (collapsed) |
| Twist Rate | 1:7 |
Pros & Cons
Pros
Perfect backpack gun
Comes with a hand stop
QD mounts in the handguard
Cons
Not recommended for shooting further than 50 yards (accurately)
Collapsed stock may inhibit safety selector manipulation
Mil-spec parts
What would an article about ARs be without at least one rifle from Daniel Defense?
The Daniel Defense PDW is a short-barreled personal defense weapon that can fit into almost any bookbag you have. Including my nephew's mickey mouse bookbag; I just had to try it, you know.
While this 7-inch barrel does not necessarily give you too much in terms of long-distance performance, this little pistol can be deployed in an instant if you're in a pinch.
A huge plus for those of you out there who want to complete the bug-out bag. Or any other prepper out there.
The PDW is an impressive little weapon at close range, though. More than enough (if that's possible) for a car or truck gun. Although there are many mil-spec parts, Daniel Defense prides its firearms on reliability. You won't have an issue there.
Or anywhere else, for that matter.
After speaking to a few fine shooters who own the PDW, they have recommended Gorilla ammunition. After shooting the PDW with Gorilla ammo, I can attest to these claims.
The only downside I could really find was the trigger. It was a bit too heavy for my liking. I suggest switching it out for a Geissele of your choice.
We also have an article about some of the other best .300 Blackout pistols.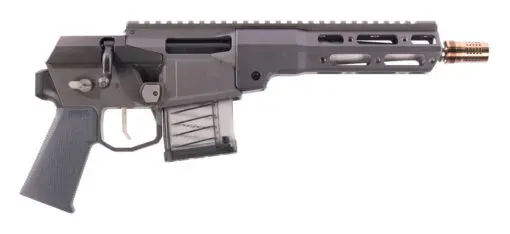 Specifications
| | |
| --- | --- |
| Caliber | .300 Blackout |
| Capacity | 20+1 or 30+1 (AR P-Magazines) |
| Weight | 4.7 pounds |
| Length | 28 inches (fully open) |
| Twist Rate | 1:5 |
Pros & Cons
Pros
Probably the quietest rifle on planet earth
45-degree short throw bolt handle
Accepts AR-style magazines
Cons
Some may not like the bolt action design
It is a bit pricey
May need to register with the unelected bureaucrats
Many of us may know Q from the notable Honey Badger, and their great sense of humor.
Just visit their website or look at their packaging for their suppressors. You won't want to throw it away.
But do you know what else is a great example of the creativity from Q?
The backpack bolt action short-barreled rifle is named the Mini Fix. For when you really want to whisper in .300 Blackout.
This thing is insanely light at 4.7 pounds and will probably satisfy all of our inner James Bond. It may take over as the coolest gun in your collection.
Everything about the Mini Fix says "Customized Rifle." From the smooth short throw bolt handle to the tapered cherry bomb muzzle brake in the front that allows for quick attachment of Q's Thunder Chicken and Trash Panda suppressors. And everything in between.
The two-stage flat-faced trigger gives you that connection to the rifle. Almost as if you're shooting from the soul. Makes it easier to get that smooth pull that will keep you on target.
But, as you know, you aren't going for super-long distances when shooting .300 Blackout. So you can expect to get around two to three MOA from about 100 yards. Depending on your ammo.
But you've never had fun shooting 100 yards until you did it with the Mini Fix. That's all I'm saying.
How We Chose our Top Picks
Now, how did we choose our top picks?
Well, I asked a lot of people who have been around the block with a .300 Blackout rifle. They maybe even danced a bit with the .30 caliber round, and then I got to take a look at these picks and a few others.
I made my decision with the ones that not only looked the coolest (looking cool is 93 percent of the battle) but also with the ones that gave you the most bang for your buck. Pun intended.
In the end, these were the best rifles chambered in .300 Blackout that I could find.
The .300 Blackout Buyer's Guide
What is .300 Blackout?
.300 Blackout is quite an interesting round. It was created back in 2010 by Advanced Armament Company, or AAC, as a response to various Special Operations groups that were in need of a round that packed more punch at close range than their 9mm sub-machine guns.  
It had to be able to be suppressed well due to the nature of the assignments of said gentlemen. You know, the stuff that we see on television that makes us want to run around clearing our houses.
And very versatile. With dozens of options for ammo. I mean, I've never seen so many different types of ammo until I looked into a .300 Blackout build.
Anyhow, as for the round itself, the .300 Blackout is a .30 caliber round (like the .308), with the parent case being of the .221 Fireball and .223 Remington. They are not interchangeable, however, so you obviously cannot fire them from the same rifle.
If you needed me to state the obvious. I'm sure you already knew that though fine shooter.
The 5.56 and .300 Blackout share the same SAAMI standard pressures, and we wrote an article comparing the differences between 5.56 and 300 Blackout. 
It was meant to shoot through shorter barrels with suppressors, function reliably, and work with the AR platform. It also had to work with AR magazines. That's why you see the picks on this list with short barrels.
The powder is designed to burn quicker, allowing for minimal flash and great reliability. As well as knockdown power. But once you look at the round, you know it will put down almost anything you put in front of it.
It does really well as a hog gun, as you can see from this video here.
It isn't the best for shooting at longer distances. So it would not be an ideal hunting round. But it does pack a huge punch for anyone who lives with enough land to use as a home defense weapon. Or to protect your livestock. Or both, your choice.
For home defense, we recommend subsonic rounds with a suppressor since you can get away with not using ear protection. Yes, that is quiet.
.300 Blackout Popularity
The .300 Blackout cartridge is famous for its ability to stay quiet and function well when suppressed, as well as being the ultimate close-quarters round due to the stopping power and the design of the round.
For one, the powder burns more quickly. So you don't have to worry as much about running a shorter barrel since all of the powder will have burned off before the round exits the barrel. No one wants to be shooting at night and get the big ol' fire cloud. Even though it is pretty cool sometimes.
Just not under night vision.
Whereas most suppressed rifles are not as reliable when shooting subsonic rounds, which is necessary if you want to be as quiet as possible, shooting a rifle chambered in .300 Blackout will afford you better reliability when trying to keep things hush.
I one time tried shooting an AR-15 with sub-sonic ammo. Suppressed. That was the first time I've ever had to treat a semi-automatic rifle like a bolt-action rifle. I wouldn't recommend it.
But .300 Blackout seems to be the round of choice due to the stopping power and decibel range when shooting suppressed.
The fact of the matter is, if you want a rifle that does well at close to mid-range and won't give you away when you need to stay unseen and unheard, the .300 Blackout is your best bet.
If you're looking for the best magazines for .300 Blackout, we got you.
.300 Blackout Barrel Length
As we stated above, rifles chambered in .300 Blackout don't need a long barrel to function. That was the main premise of the design. Ultimate stopping power with a short-barreled rifle.
But what exactly is the best barrel length for a rifle chambered in .300 Blackout?
I recently went back to the gun store (just yesterday, actually) and asked around to see if the guys ever tried finding the answer to our question. Luckily for me, they did.
While most of this depends on the grain you are using, the guys and I found that a 9-inch barrel is the minimum length you need to get all of the goodies that come from the .300 Blackout.
Other than that, you will obviously have better performance from longer barrels due to obvious reasons, but we're talking about close quarters here.
FAQs
What is the effective range for .300 Blackout?
The maximum effective range for the .300 Blackout is 460 meters or 503 yards.
Can you shoot 7.62×39 from a rifle chambered in .300 Blackout?
No, you can not shoot 7.62×39 with a 300 blackout rifle. Not only will the round not sit properly, but you could damage your rifle. Don't go doing anything foolish.
Which is more powerful, 7.62×39 or .300 Blackout?
7.62×39 is a bit more powerful than .300 Blackout. But that changes when you go sub-sonic with .300 Blackout. Then, the 7.62×39 is drastically more powerful. But all of this depends on loads.
Conclusion
All in all, if you're looking for a rifle that does well with sub-sonic rounds and functions reliably when suppressed, or want something that packs more of a punch than 5.56 and thrives in a shorter barrel, then the .300 Blackout may be your best bet.
My top pick is the Bravo Company 9" MCMR MK2.
Do you own a rifle chambered in .300 Blackout already? If so, what do you have?
I must say that I will be saving up my pennies to get that Mini Fix unless Brady can get it to me for a review. Now that would be sweet, won't it? Hint hint.
Anyhow, I'll see you at the range. Fine shooter.
Explore more