Best .44 Magnum Revolvers In 2023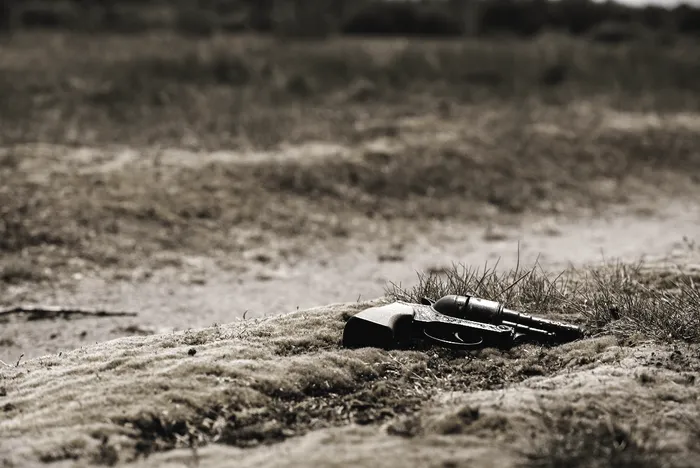 Best .44 Magnum Revolvers In 2023
A .44 mag revolver holds a special place among true gun aficionados. It has been the symbol of intimidation, power, and hard-boiled action since the seventies. Anyone who has seen Taxi Driver or Dirty Harry knows what I'm talking about.
And if you want to follow the footsteps of action legends like Clint Eastwood, there's no better gun to strap on your belt.
So, buckle up. Today we'll dive into the world of this near-mythical handgun and try to find the best .44 magnum revolver on the market.
Standing the Test of Time: A Brief History of .44 Mag
"This is the .44 magnum, the most powerful handgun in the world and it can blow your head clean off. So, you got to ask yourself one question – Do you feel lucky? Well, do ya, punk?"
Nothing describes the sheer awesomeness of the revolver quite like this immortal line from Dirty Harry.
Believe me, I've held some much more powerful six-shooters, including the .454 Casull. There's nothing that threw me into the "action hero" mode quite like this one.
The .44 magnum handgun hasn't made its mark in the Civil War or the Wild West. In fact, it's still a relatively new revolver by today's standards, first appearing in 1955.
Elmer Keith, the famous cowboy and writer of the time, developed the first revolver. It didn't take long for Remington to develop and release the first .44 Remington Magnum and others to follow.
However, despite being the go-to gun of numerous big-screen protagonists, it never found its place in law enforcement. But it gained popularity in hunting and as the most reliable self-defense weapon. It managed to maintain its reputation over decades as well.
The emergence of the more convenient semi-automatic pistols and even more powerful revolvers didn't overshadow the .44 mag. Many experts I talked to would still choose it over some newer models.
Through all of that, this revolver has achieved a symbolic status. When you think of a revolver, you picture the .44. If a shooter video game allows you to carry a revolver, it will probably be this one.
So, what else makes it so unique? Let's find out.
The Benefits of the .44 Magnum
Do you know what the greatest upside of a revolver is? A first-timer can learn to use it in a minute.
You won't see a cowboy de-cocking their six-shooter and pulling the safety lever. Instead, you can just lift it up and pull the trigger.
What's better – you can load your gun and keep it for years without damaging the recoil springs or magazine.
Moreover, it's easy to holster or conceal and easy to carry around your belt at all times. It makes for a perfect self-defense weapon against both four-legged and two-legged beasts. Especially since it has quite the explosive power.
Still not sure about its capability? Maybe you'll change your mind when I tell you that one guy took down a 12-foot polar bear using only this gun in 1965. Don't believe me? Look it up!
What About the Downsides?
I can understand those who move away from six-shooters. First of all, you have a small capacity there. Although five or six rounds could be enough, you may still feel a lot safer with a fully loaded Glock.
Another thing that bugs the gun-friendly people is the reload time. Even with innovative speed loaders, it's still an extensive process. You have to open the cylinder to drop the empty shells before you insert the live rounds again.
But that's not all. Handling a mag can be quite an unpleasant experience for some. It's a sturdy gun with a heavy recoil such that it requires a tight grip. I've witnessed people busting their teeth at the drawback of the mag.
And lastly, there's that controversial revolver muzzle flash that's dividing firearm proponents across the globe. While some enjoy "seeing what they fire," some claim that they "may get an epileptic seizure" if they fire two rounds in a row.
Who Should Use The .44 Mag?
This is a tricky question.
Is it powerful? Yes, but not the most powerful.
Is it a good concealed-carry gun? It's doable, but still not the lightest.
But there's still something about it that makes it unique and extremely popular.
Throughout the years, I've realized that this gun may be the best for the following:
Hunting game animals of all sizes: Honestly, a good shot can take out a wild boar with a .44 mag
Target practicing at 100 yards, but the 44 mag can definitely go further!
Safely carrying around a revolver that you can draw quickly
Going all Travis Bickle in case your life's in danger
Pricing
The top three revolver manufacturers (Taurus, Ruger, Smith & Wesson) have cut back on production in recent years. On the flip side, the demand has risen. This means you can expect a several-month waiting list to get one directly from the manufacturer.
There are plenty of people who are put off by the price of a magnum. You can't really blame them; a brand new S&W 69 may cost north of $800. However, you can find Taurus models for $600 or less too.
The real issue lies in the prices of the side equipment. Practice ammo costs $25 for a pack of 25 rounds and the serious stuff can go up to $40 (box of 20). On top of that, there's also maintenance and additional equipment (e.g. speed loader) to consider.
But you need to remember that you're not buying just a gun. You're buying a myth. An artifact that shows its teeth to the zeitgeist.
It's something that you buy because you love everything it represents. And if you're one of those people, no price can stop you.
Best .44 Magnum Revolvers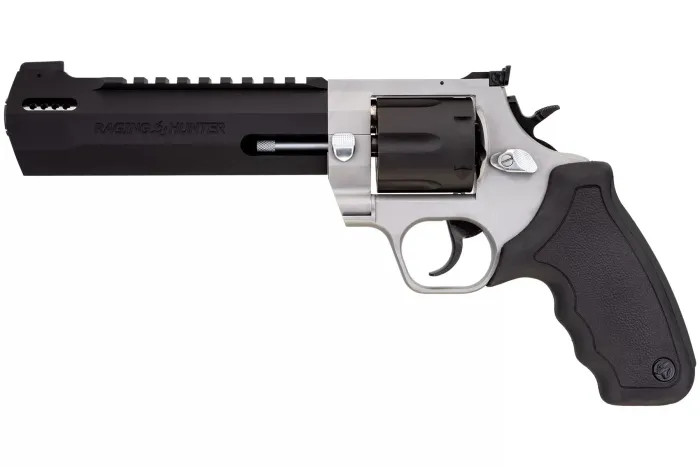 I wasn't surprised when I heard that this gun won the 2019 American Hunter Handgun of the Year award. If someone deserved the Golden Bullseye, it's them.
The Raging Hunter has a large frame with an above-average barrel of 8.37". This makes it one of the longest revolvers in its class and therefore, the hardest to conceal.
However, I expected it to be much heavier than it is. In fact, I believe it's one of the lightest pistols. That's due to the aluminum alloy shroud and angular barrel design. According to Taurus, they first thread the barrel onto the frame and then they coat the cover over it.
This handgun is a next-generation revolver. First, it breaks the traditional ties as it features a seven-shot cylinder instead of the usual six. It's mostly a double-action revolver, but you can use it as a single-action as well.
The power and accuracy are also top-notch. It's ideal for anything from home defense to the recreational shooting of tin cans from over 100 yards out.
In the end, the price may put some people off, but there probably isn't a better mag six-shooter around.
Pros
Next-generation design
Feature-rich
Light-weight yet powerful
Perfect precision
Cons
The longest and hardest to conceal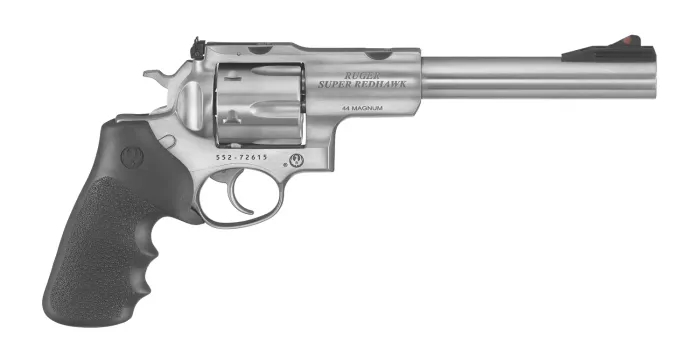 This Ruger model is common among big-game hunters for two reasons.
For one, it contains devastating explosive power, but it also comes with the best possible scope-mounting system among revolvers. Every hunter wants a clean and quick kill that spares the game unnecessary suffering and this gun makes it possible.
The first thing that impressed me with the Super Redhawk is its smooth black rubber grip. Despite having a heavy recoil, this grip allows you to hold tight and avoid any accidents.
The small air pouch between the grip and your hand softens the drawback so even new firearm users can steady the shot. It's simply one of the more accurate handguns around.
This six-shooter comes in two models: Super Redhawk and Super Redhawk Alaskan.
The former has a bunch of additional features like a hammer-forged barrel and an extended frame for a scope machine. It comes in both 7.5" and 9.5" barrels.
On the other hand, the Alaskan is a smaller model without the extensions. However, it's popular among those who want to walk around with more confidence. It's small, convenient, and easy to conceal.
Although it may fall in the best .44 magnum revolver category, this revolver may be expensive for what it brings to the table. 
Pros
Capable of taking out the biggest game
Available in bigger and smaller models
Extended frame model comes with a mountable scope
Rubber grip to control accuracy and drawback
The Raging Bull is one of the bigger handguns around. However, a seasoned hunter will know that you can determine the gun by the way it "sits" in your hand, and this shooter is impeccable when it comes to fit and feel.
The award-winning design consists of a 6.5" barrel length with an elegant matte stainless-steel finish. A soft black grip keeps the gun steady in your hand and enhances accuracy. But you can fire it in double-action to increase precision even more.
Two things about this gun got to my attention.
First, it comes at a much affordable price than most of its counterparts. And you get a big-game handgun in return.
But above all, I appreciate Taurus' safety mechanism; all the company's guns have a security system that allows you to lock/unlock the revolver with a unique key. If you don't have the key, you can't fire or cock the gun at all.
On the other hand, the only downside is the monumental size of this revolver. If you prefer carrying it around with you, you'll have some trouble concealing it. In short, it can defend you from the sharp-toothed beast, but it may prove inconvenient for defending your home (or your life).
Pros
Fits in your hand perfectly
Great accuracy
Affordable
Essential security mechanism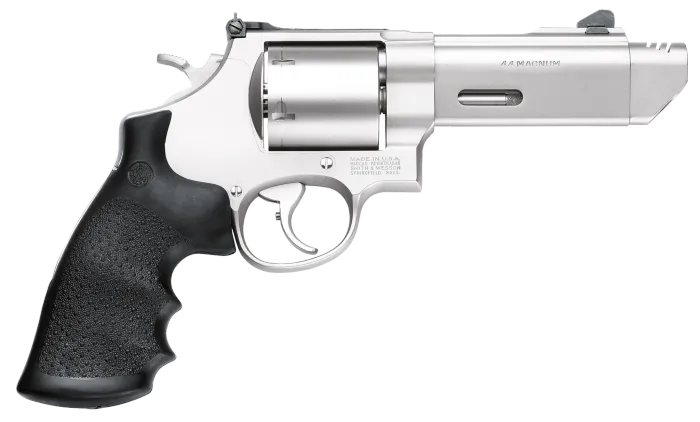 The Smith & Wesson is a smaller and more versatile model of the .44 mag. It may not be the best .44 magnum revolver for big game, but it's definitely one you can conceal.
It has a 4" barrel with stainless steel construction and a shiny chrome finishing that looks beautiful. Although the grip has a captivating design, I found it a bit slippery during my test runs. I'd recommend being extra careful during the recoil.
On the other hand, I found that this small six-shooter can really pack a punch. It combines the power and accuracy of a lighter gun. Although I haven't tested it on game animals, I think it's a perfect choice for self-defense. Especially since it's easy to tote around.
Overall, it's a cool-looking gun from one of the most trusted revolver manufacturers.
Pros
Small and easy to carry
Looks real cool
Combination of power and accuracy
Cons
The slippery grip could be an accident in waiting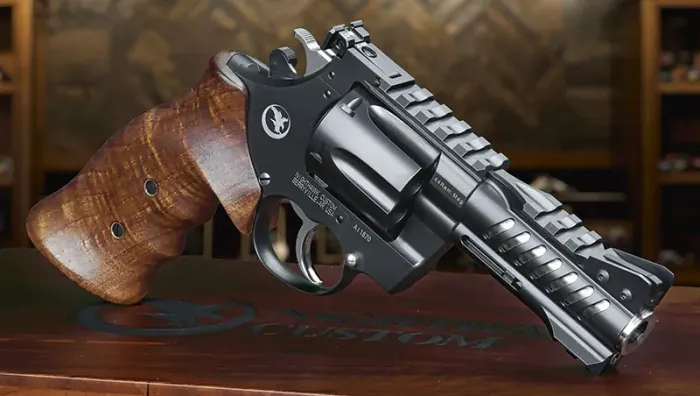 This revolver powerhouse is a co-development project of two companies: Korth and Nighthawk Custom. And boy, did they deliver …
When I got my hand on this monster, I thought I was dreaming. The design, the fitting, and the overall feeling were out of this world. A fantastic DLC finish makes the shooter always look brand new, while the Turkish walnut grip adds a sophisticated touch.
I immediately noticed the recoil-reducing and balancing weight under the 6-inch barrel, which is great for beginners. You can remove it, but it adds fine detail to the overall design if you leave it alone.
One thing this revolver is notable for is its smooth double-action performance. Furthermore, it has a fast-changeable front sight along with a removable rear sight, too.
But here's the bad part … It costs a boat load! Is it worth it? It depends on how badly you want it. It's probably the best .44 mag revolver, but would you pay a used car's price to own one? I probably would in this case. Guess I better buy a bus pass. 
Pros
Stunning design
Smooth double-action performance
Recoil-taming features
One of the best magnum revolvers
The Colt Anaconda is a legendary double-action revolver, renowned for its power and precision, manufactured by the prestigious Colt's Manufacturing Company. Introduced in 1990, the Anaconda was designed to compete with other high-caliber revolvers in the market, such as the Smith & Wesson Model 29 and Ruger Redhawk. As a result, the Colt Anaconda has earned a significant place in the history of firearms and remains a sought-after collectible item for gun enthusiasts worldwide.
Chambered for the powerful .44 Magnum cartridge, the Colt Anaconda is built on a robust stainless-steel frame, offering increased durability and corrosion resistance. The Anaconda features a full-lug barrel with a ventilated rib and adjustable sights, making it suitable for hunting, target shooting, and self-defense applications. Available in barrel lengths of 4, 6, and 8 inches, the revolver can be customized to fit the needs of various users.
The Colt Anaconda has been recognized for its exceptional accuracy and reliability, leading to its use in several shooting competitions. It has gained particular acclaim in the field of metallic silhouette shooting, where competitors aim to knock down steel targets at various distances. The revolver's inherent accuracy and stopping power make it an excellent choice for such events.
Conclusion 
All things considered; the Taurus 44 Raging Hunter is probably the best and most affordable .44 magnum revolver on the market. It's an award-winning, next-gen revolver that's equally suitable for entry-level users and big-game hunters.
Of course, I don't mean to take anything away from the other guns. As I hold this type of six-shooter close to my heart, I'd tell you that you can't go wrong with any. However, if we're talking about the price-to-quality ratio, the Raging Hunter would be my choice as best for the money.
Brady Kirkpatrick
Mon, 28 Nov 2022 14:18:08
You're absolutely right! We'll have to add it to the list.
Reply
Explore more