Diamondback DBX57 Review: Is This 5.7x28mm Pistol a Top PDW?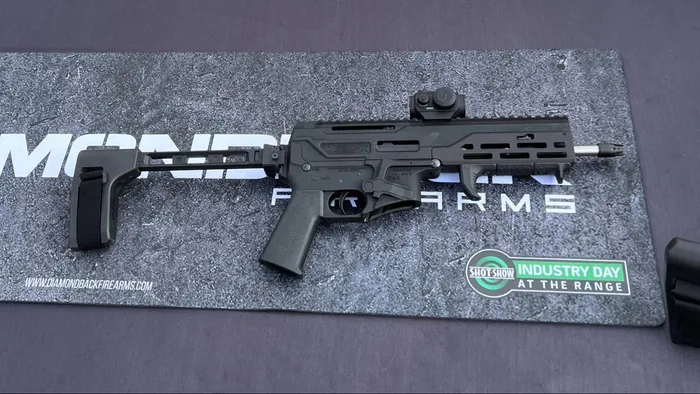 Diamondback DBX57 Review: Is This 5.7x28mm Pistol a Top PDW?
Introduction
I'll be honest, I was completely sleeping on the 5.7x28mm round for way too long. It wasn't until just several months ago that something in me clicked, and I decided to actually give it a real chance.
Before heading to SHOT Show earlier this year, I made a list of all the 5.7 guns I wanted to check out in person.
The Diamondback DBX57 was quickly added to that list. I spent a good amount of time with the Diamondback team at Industry Day at the Range and became more familiar with the DBX57.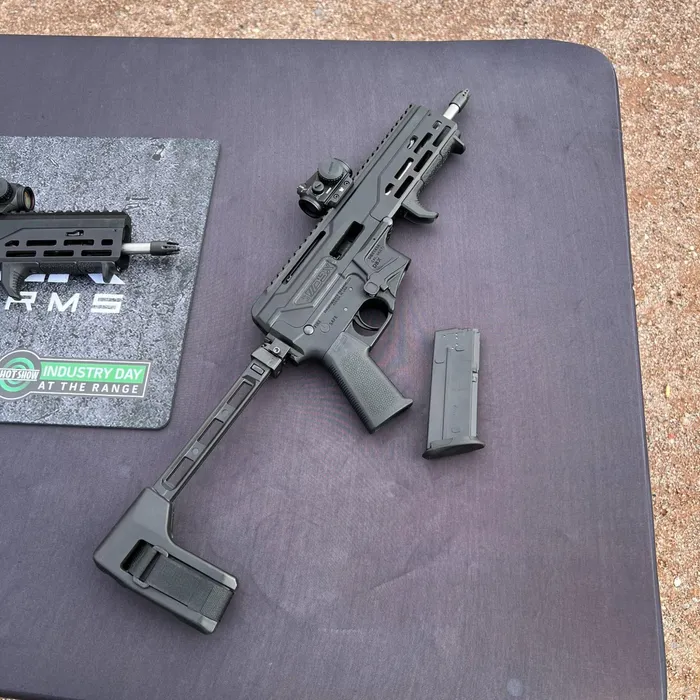 With unlimited ammo being supplied, you can bet your bottom dollar I made sure to shoot more than just a couple of rounds. 5.7 ammo is not cheap!
Disclaimer: It's sad that I even feel the need to include this, but make sure to read up on any current laws/regulations surrounding braces and stocks before buying any. The firearms tested for this review in January of 2023 were all property of Diamondback Firearms, not my own.
With that out of the way, let's get to the review and see if the DBX57 would be a great option for your next PDW (Personal Defense Weapon).
Diamondback DBX57 Review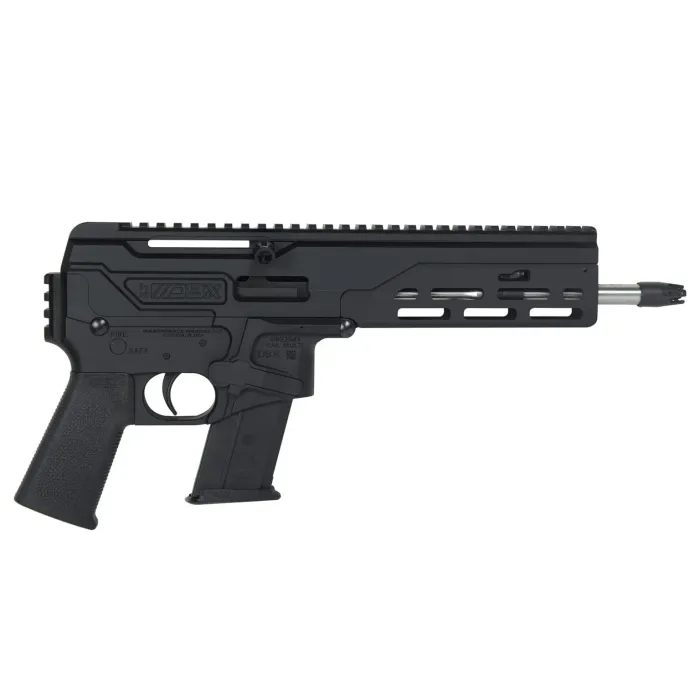 Specifications (w/out a brace or stock)
| | |
| --- | --- |
| Caliber | 5.7x28mm |
| Operating SYstem | Locked Breech, Dual Gas Piston |
| Capacity | 20 Rounds |
| Barrel Length | 8 Inches |
| Twist | 1:9 RH |
| Barrel Muzzle Threads | ½ x 28 RH |
| Overall Length | 15.25 Inches |
| Width | 1.75 Inches |
| Height | 7.3 Inches |
| Weight (Unloaded) | 3 Pounds |
| Frame | 7075 Aluminum |
| Handguard | 6061 Aluminum |
| MSRP | $1,352.00 |
Pros & Cons
Pros
AR-15 part compatible

Lightweight and compact

Threaded barrel 

Reliable 

Adjustable gas blocks

Plenty of rail space and M-LOK slots

Extremely low recoil
Cons
Doesn't come with any sights

Difficult to disassemble and reassemble

Charging handle feels small and somewhat chintzy
First Impressions and Desert Shooting
Overall Feel
Coming in at only 3 pounds unloaded, probably still under 5 pounds with all of the accessories and only 1.75 inches wide, it almost feels like an airsoft gun.
This is a great thing if you're going to use the DBX57 as a backpack gun. The recoil is extremely light, so you don't have to worry about the weight to help balance it. It's surprisingly well balanced, at least when using the brace.
One-handed shooting is no problem with or without the brace.
Reliability
Granted, I didn't have all the time in the world with this gun, but all of the mags I put through it and corresponding ammo went through it flawlessly. I didn't happen to notice anyone else having issues either, and from a simple Google search, it sounds like others have had similar experiences.
Accuracy
With an appropriate optic or sights, this thing is a tack driver. I want to say the bay we were shooting in was roughly 40-yards, and there was not one safe steel target out that could hide from the DBX57.
Transitioning quickly between the various gongs and silhouettes down range was no issue, and given a longer range and a scope, I'm confident 100+ yards would be no issue either.
Features
SB 1913 Folding Brace
The models that were at the range for us to enjoy happened to have folding braces, but don't expect your DBX57 to come with one.
You'll have to buy one separately, but I highly suggest that you do (refer to the disclaimer above).
This particular brace is from SB Tactical (model FS1913) and runs about $200. It's such a simple design, but it works great. It's a minimalistic, low-profile brace that folds to the left and locks open or folded. It made for a world of difference when shooting.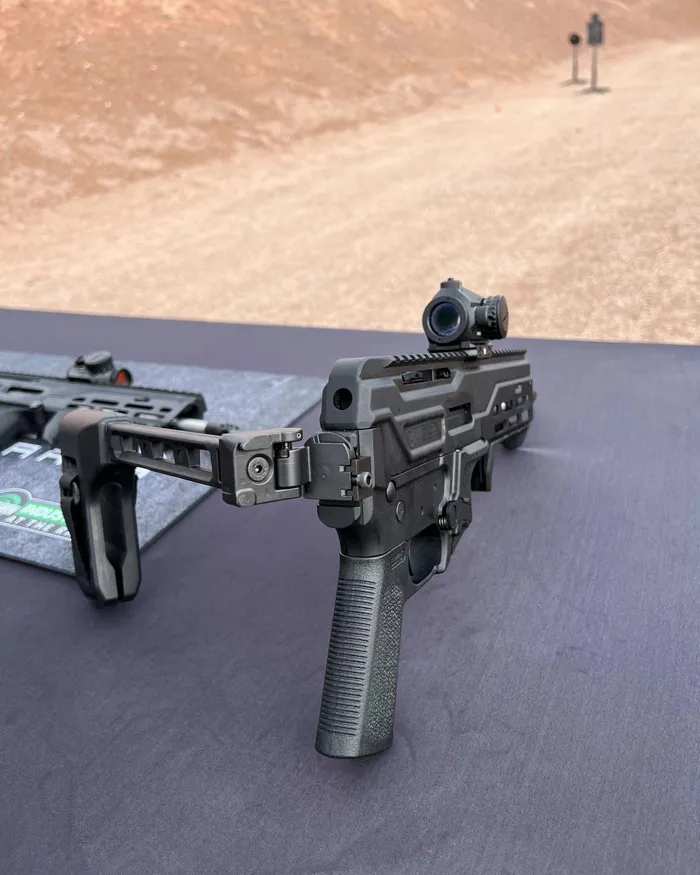 Picatinny Rail & M-LOK Slots
A Picatinny rail up top runs the entire length of the gun, giving you plenty of room to mount an optic/sights, and there is a rear Picatinny rail to mount your preferred brace or stock. The gun doesn't come with any sights, so it's another expense you'll have to think about.
Up front on the handguard, you'll find some M-LOK slots. I'd highly recommend a handstop of some sort since the gun is so short. Gotta protect those hands and fingers!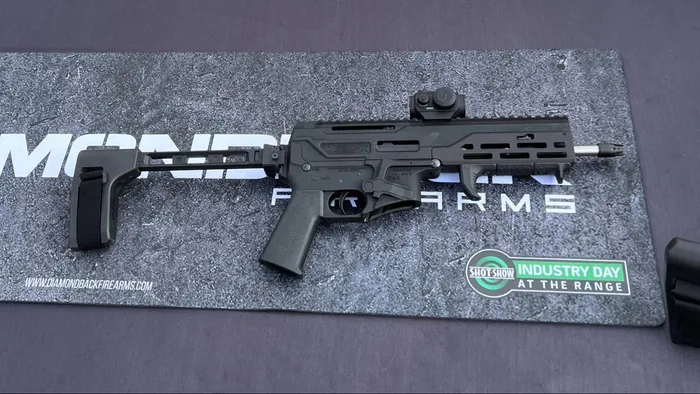 Adjustable Gas Block
To maximize performance based on the specific ammo you're running or if you choose to run a suppressor, the DBX57 has an adjustable dual-pistol gas system.
All you need is a simple screwdriver. No special tools are required to adjust it. Make sure to have both piston caps on the same setting for proper functionality.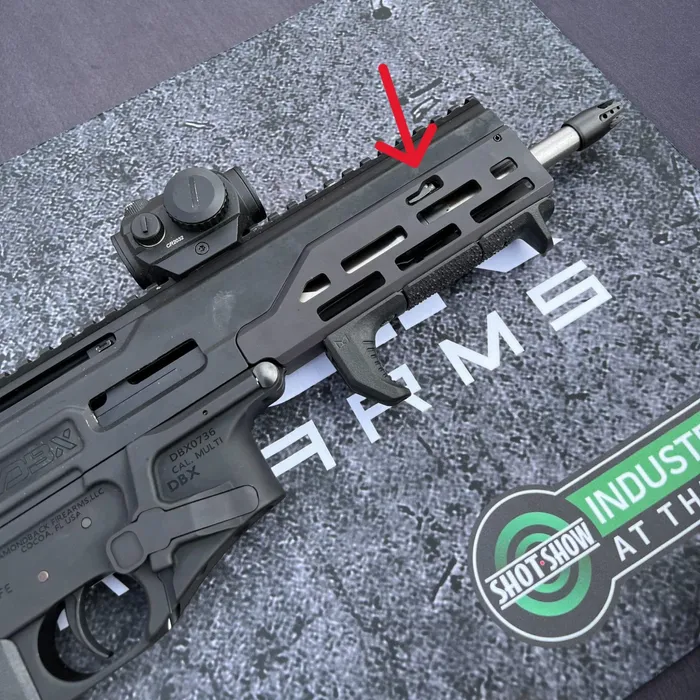 20-Round Magazine
With the DBX57, you get one lonely 20-round ProMag. Thankfully, you can also use standard FN Five-seveN magazines and other aftermarket magazines, which give you the option to run 10 and 30-round magazines.
I'm not sure if it was because the magazines were being loaded non-stop all day long, but they were very easy to load, which I always appreciate!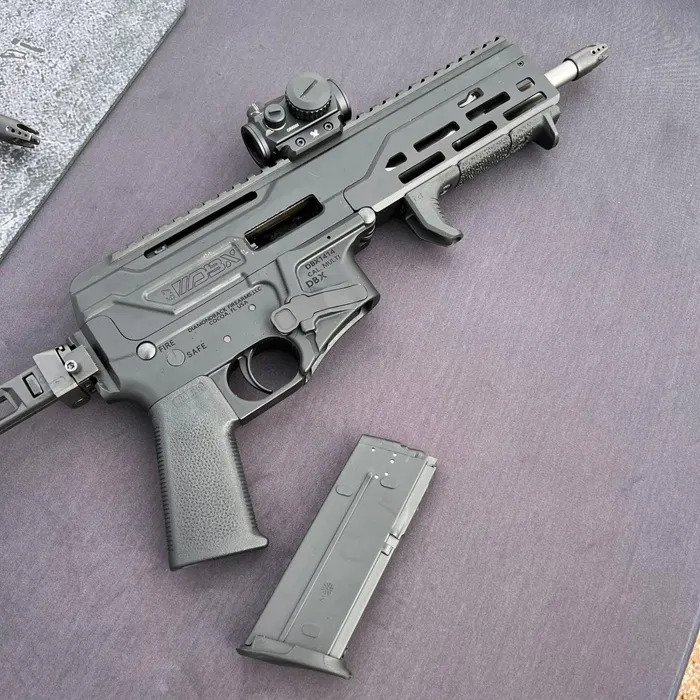 How We Tested
Ammo Used
As I mentioned, ammo was graciously supplied by sponsors and exhibitors, so I shot whatever was ready and available. T
he majority of the ammo I put through the DBX57 was 40-grain Federal American Eagle FMJ rounds, along with a small amount of 40-grain FNH V-Max polymer tips (blue-tip).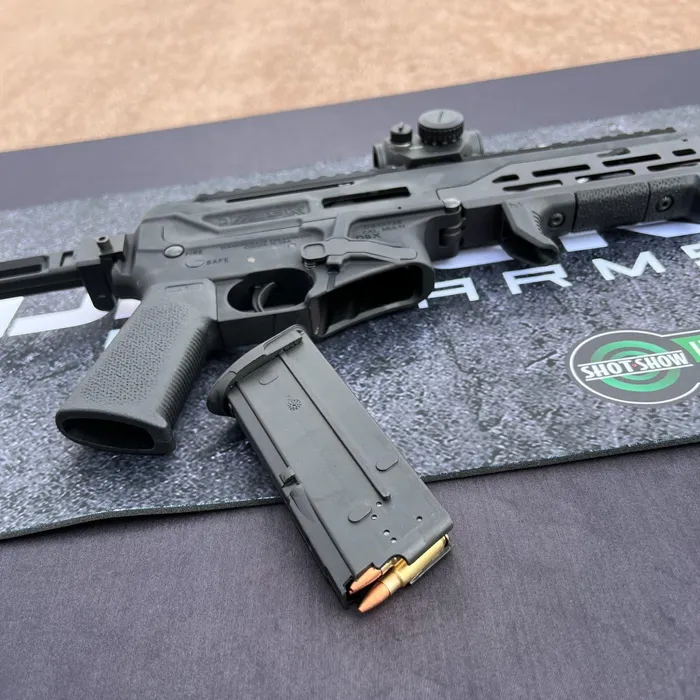 Score Card
Reliability (10/10)  
No jams, failures, issues or whatever term you want to use.
Ergonomics (8/10)
Add text here.
Customization (9/10)
Many of your AR-15 accessories will be compatible.
Appearance (7/10)
Looks blocky and lopsided, especially without a brace.
Value (8/10)
While the DBX57 isn't too expensive compared to the competition, it doesn't come with any sights or a brace. In addition, only one magazine is included.
Accessories
Thanks to the Picatinny rail and M-LOK slots, you have plenty of accessory options.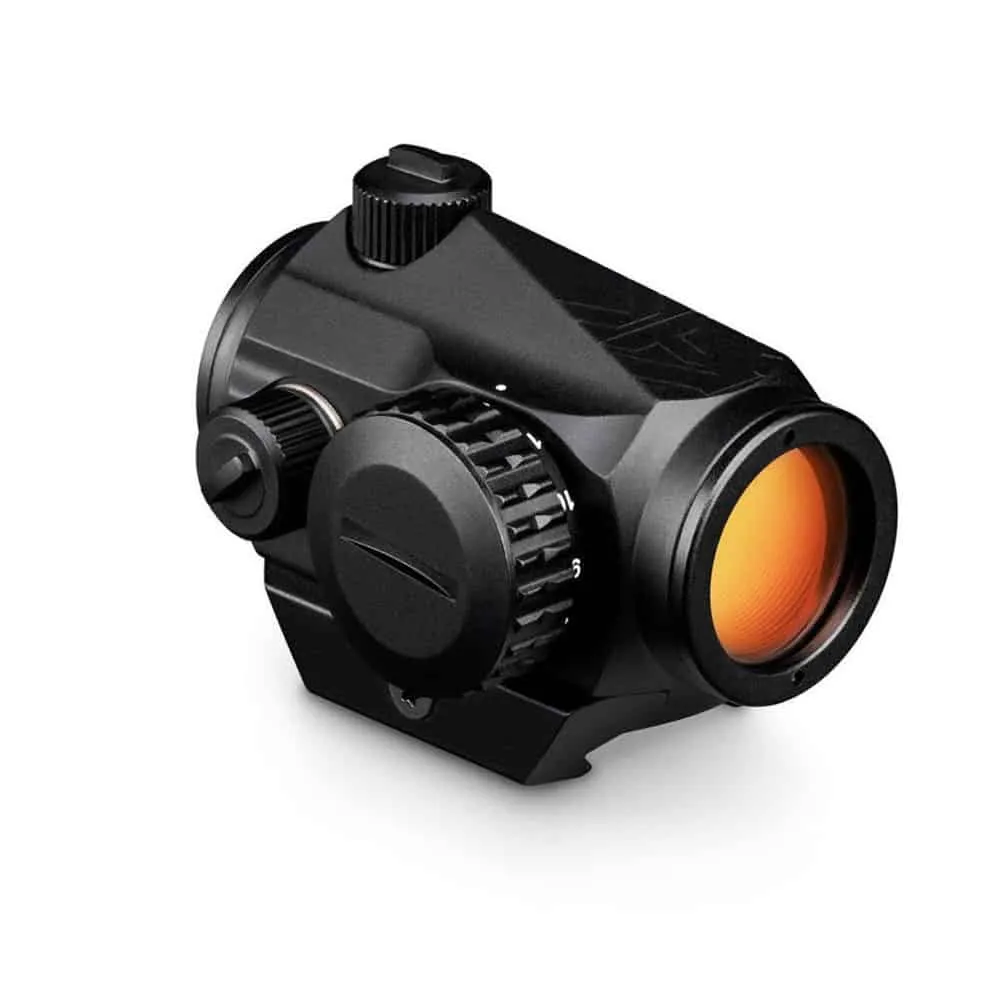 The Vortex Crossfire is an affordable and reliable 2 MOA red dot that worked great on the DBX57 that I was shooting.
The smaller dot allows you to hone in your accuracy at both short and long ranges but is still quick to acquire. It features two night vision compatible brightness settings, a 50,000 hour battery life, and is backed by Vortex's lifetime warranty.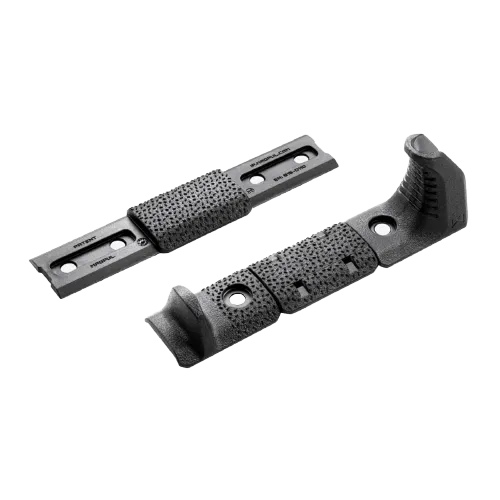 I'm a huge fan of hand stops over foregrips, especially lately. The Magpul M-LOK hand-stop kit includes the actual hand stop, a rail cover, and an index panel. It'll help prevent your hand from reaching the muzzle and improve your overall control of your weapon.
It's lightweight, affordable, and even comes in a few different color options, such as flat dark earth, stealth gray and olive drab green, in addition to black.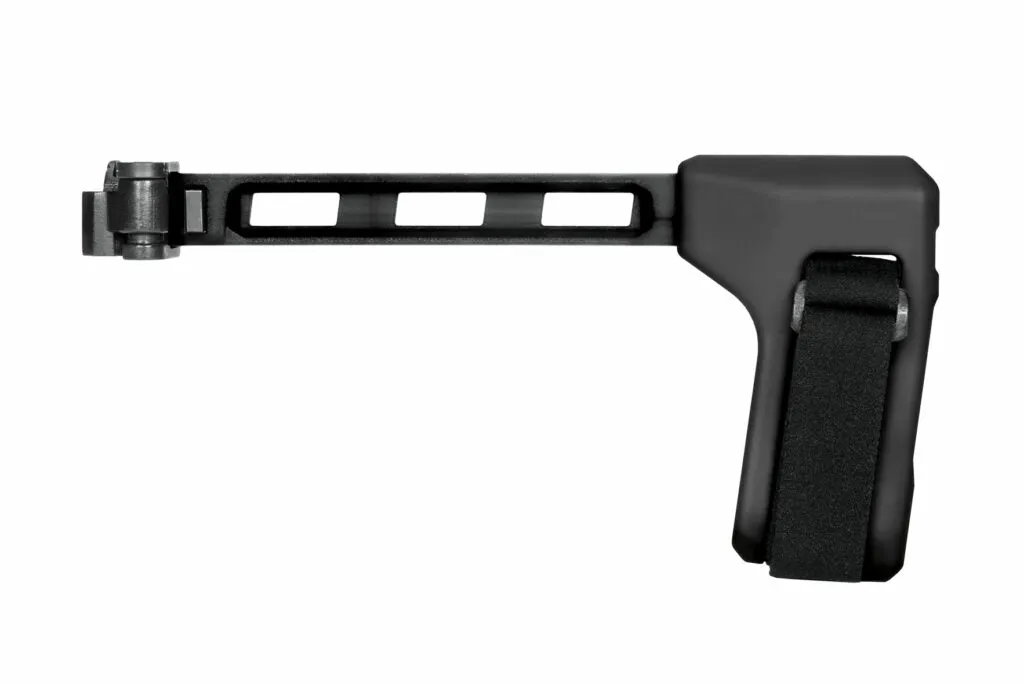 This is the exact brace that was in the pictures above. It's low-profile, left side-folding, and was very sturdy once extended. It locks up nicely when it's both folded or extended, so you don't have to worry about it flapping around in the wind.
A positive note to add is that it's US veteran designed and made in the USA.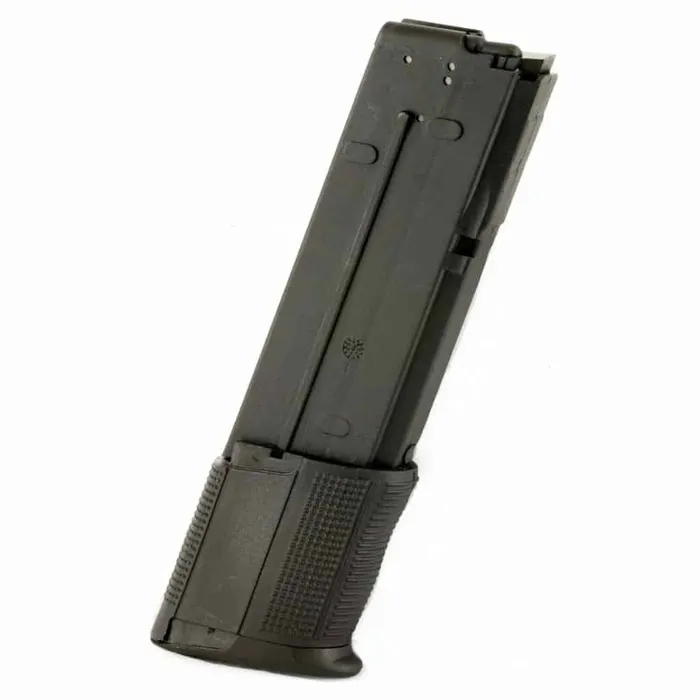 One 20-round magazine is not going to cut it, so do yourself a favor and grab a few 30-round mags and maybe even a 55-round drum. The more ammo, the better, right?
Alternatives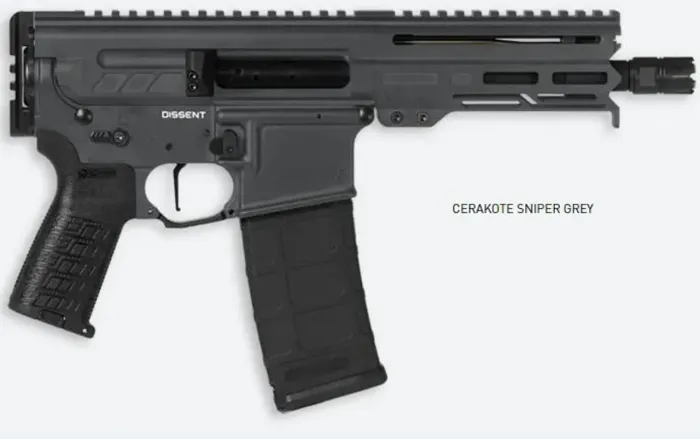 The Dissent MK4 is a compact action-radial delayed blowback pistol that features a 6.5-inch barrel with a 1:9 twist.
It has an upgraded Trigger Tech AR-D 2-stage trigger that was specifically developed for the DISSENT line. Of course, you'll find a Picatinny rail on the top of the gun and at the rear, along with an M-LOK handguard.
You also get to choose from several really cool Cerakote options and it's backed by CMMG's lifetime quality guarantee.
Check out our MK4 pistol review in 5.56 for more information.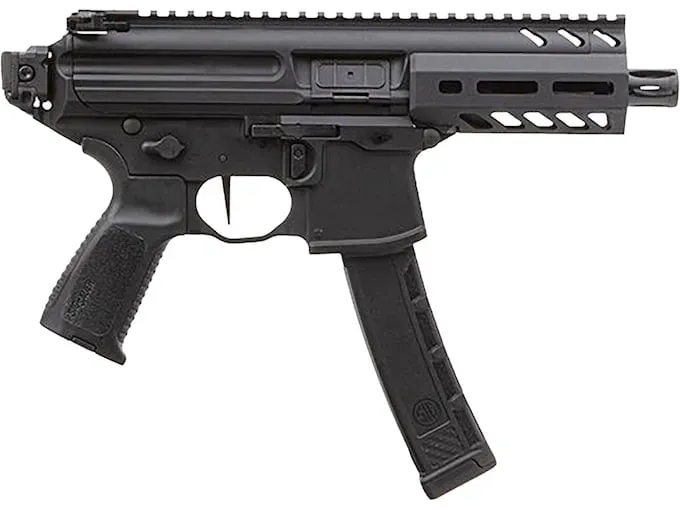 Not sold on the 5.7x28mm but want a compact PDW?
The Sig MPX K is chambered in 9mm and has a 4.5-inch barrel with a 1:10 twist. It features an upgraded Timney trigger, an M-LOK handguard, and ambidextrous controls. A small bonus, but an appreciated one, is it comes with a sizable 35-round magazine because who wants less ammo?
Conclusion
The Diamondback DBX57 is a ton of fun to shoot at the range, but I don't think that's all it's good for.
It has the characteristics I would look for in a PDW, that would serve well as a truck gun or home defense gun. It's reliable, compact, and with the right magazine, offers ample rounds to defend yourself.
If you're looking for a well-rounded PDW and fun addition to hitting the range with, I suggest trying out a DBX57 for yourself.
Explore more