5 of the Best Bullpup Shotguns On the Market [2023]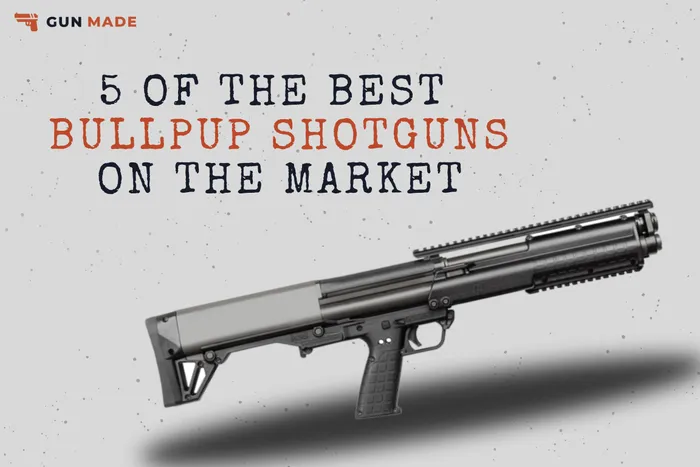 5 of the Best Bullpup Shotguns On the Market [2023]
It's not a bull nor a pup, but its sales have gone up.
If you check the Steyr AUG that the Austrian military used in the 1970s, you'll come to realize that it's one of the first bullpup rifles to enter widespread use, and it's still kicking hard after 40 years.
The defining characteristic of a Bullpup is that the firearm's action is placed behind the trigger. This odd design saves space and goes truly tactical while still rocking a full-length barrel. It's insane, but it works brilliantly.
Much like other odd firearms, like pistol-caliber carbines, bullpup designs have gone through many improvements over these past decades. They have better triggers, more ambidextrous features, and easier operations.
Today, the bullpup market has skyrocketed in popularity somehow. We're talking bullpup shotguns here.
Sure, bullpup shotguns look too tactical and fancy for the civilian market, but rest assured you can get one of these high-quality machines and have a field day at the ranges.
I rounded up the best bullpup shotguns that shoot well and offer great value for your money.
I've rarely had the chance to shoot bullpups besides the Kel-Tec KSG and the UTS-15, but I based my criteria on careful consideration and research as well as a pinch of personal opinion. I also tried to steer clear of competition shooters that can ruin you financially.
So, without further ado…
Top 5 Bullpup Shotguns

Pros
Quality build for a great price
Ambidextrous, downward-ejecting ports
High-capacity models available
Lots of aftermarket options
Smooth cycling and reloading
Cons
Requires NFA approval to cut down the barrel length
Specifications and Details:
| | |
| --- | --- |
| Gauge and Action | 12-gauge pump-action |
| Magazine Capacity | 12+1 rounds (8+1; 14+1 also available) |
| Magazine Type | Dual magazine; Select feed |
| Barrel Length | 18.5 inches |
| Overall Length | 26.1 inches |
| Finish | Black |
| Stock | Black polymer |
| Weight | ~7 pounds |
Introduced in 2011 by the same manufacturer that gave us the high-performance Kel-Tec RDB rifle, the Kel-Tec KSG (stands for Kel Tec Shotgun) is the gold standard of bullpup shotguns.
It's smaller than a 12-gauge, but it's a lot more powerful. It basically has dual-magazine capacity that comes in the form of 6+6+1 rounds or 7+7+1 rounds, depending on the shells.
The Kel-Tec KSG has a slide release on the trigger, and if you're left-handed, the ambidextrous downward cartridge ejection won't make you eat ejected shells. Take notes, shotgun manufacturers.
The KSG has the accuracy of a standard bullpup of 20 yards tops. Stick some holographic sights of your choice on the Picatinny rails, install some Carlson's 12-gauge chokes, and your pattern shrinks into precision.
Be mindful of your state's laws, though. You need an NFA approval for that 18.5-inch barrel.
Compared to most heavy bullpups, this one is a 7-pound puppy that barks and bites. It might as well be one of the best bullpup shotguns for home defense and corner maneuvering.
I'm convinced that anyone will find their shooting style with the Kel-Tec.

Specifications and Details:
| | |
| --- | --- |
| Gauge and Action | 12-gauge pump-action |
| Magazine Capacity | 14+1 |
| Magazine Type | Twin tubular magazines |
| Barrel Length | 19.5 inches |
| Overall Length | 28.3 inches |
| Finish | Black; Cerakote Tungsten |
| Stock | Synthetic |
| Weight | 7.7 pounds |
Pros
High-quality machinery
Accurate up to 25 yards
Comfortable, fiber-reinforced butt plate and quality recoil pad
Cons
Bulkier than the Kel-Tec KSG (7.7 pounds)
Not enough guard towards the muzzle
With "UTAS UTS-15" being a bit of a mouthful, the name gives you the impression that it's a hefty space gun, and by golly, it is.
First off, this Turkish bullpup offers you 15 rounds of pure bullpup action.
Second, it similarly feeds from two different barrels, and you can change this via the selector switch. This allows you to use different shells, and you don't see that feature on regular pump-action shotguns.
The difference between the UTS-15 and the Kel-Tec KSG is that the Turk's twin tubular magazines sit atop the barrel instead of below it. This allows you a quick and easy reload.
Third, high-quality materials and a well-constructed frame keep the beast caged. The fiber-reinforced external parts and 4140 steel barrel threaded muzzle explains the price. The Beretta-style barrel threading allows you to stick Beretta choke tubes.
The downsides are that the grips are a bit slippery, so it's not for rainy days. Also, there's not enough guard when you pump it, as your hand goes in front of the muzzle, and this is a real hazard.
However, the UTAS UTS-15 provides real bullpup versatility in a compact package that's made for on-the-fly operation. Think of all the practice drills you can score with 15 rounds.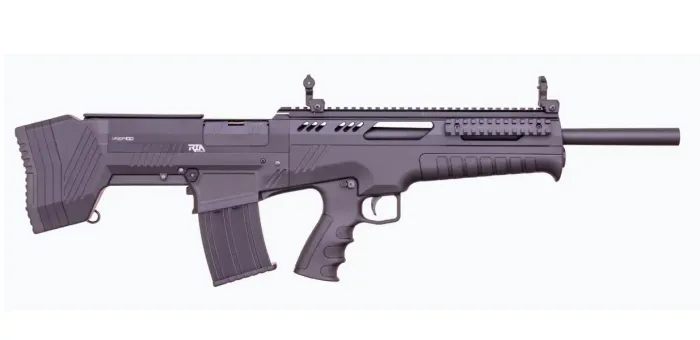 Specifications and Details:
| | |
| --- | --- |
| Gauge and Action | 12-gauge semi-automatic |
| Magazine Capacity | 5+1 capacity |
| Magazine Type | Armscor VR Series |
| Barrel Length | 20 inches |
| Overall Length | 32 inches |
| Finish | Batte black |
| Stock | Synthetic |
| Weight | 8 pounds |
Pros
Adjustable length of pull
Comfortable cheek riser for a better fit
Convenient build and durable construction
Removable side rail
Has a dust cover
Non-reciprocating charging handle
Cons
20-inch barrel
Low capacity
Rock Island Armory is well-known for affordable 1911-style pistols. But they've been experimenting with shotguns that look like AR-15s too. That being said, check out their bullpup, the VRBP-100.
For a change, this 12-gauge is a semi-auto bullpup with a stout, durable build and has one of the best prices you can find on the market. It really shoots and can take a beating.
The Rock Island AR-style design aside, the VRBP-100 has an adjustable stock, non-reciprocating charging handle with a rubber cap, accepts mobile chokes, and has a dust cover. The charging handle isn't reversible, but it's pretty intuitive.
You only get five rounds, but it takes 2.75-inch shells, not just 3-inch ones. If you can find 9 or 19-round detachable box magazines, you're in the clear. The reloading is slow, and the mag well takes a bit until you get used to it.
The VRBP-100 is a lot of things, but it sure isn't tactical with its 20-inch barrel. At least you get extra capacity and muzzle rise mitigation with it, so you can say that it acts as a competition shooter.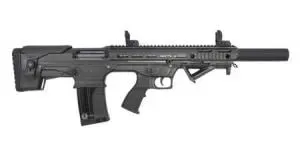 Specifications and Details:
| | |
| --- | --- |
| Gauge and Action | 12-gauge semi-automatic; Gas-operated; Magazine-fed |
| Magazine Capacity | 5+1 capacity |
| Magazine Type | Removable |
| Barrel Length | 20 inches |
| Overall Length | 30 inches |
| Finish | Desert tan |
| Stock | Polymer |
| Weight | 9 pounds |
Pros
Sturdy construction with reliable gas system
Completely ambidextrous
Comfy recoil pad, and removable foregrip
Adjustable cheek weld
Full-length top and side rails
Comes with a cleaning kit and two mags
Cons
Non-threaded barrel, so it doesn't accept chokes 
Picky eater with 3-inch 00 buckshot rounds
The Panzer Arms BP-12 is a big and heavy semi-auto bullpup with magazine-fed action. It's very fun to shoot, and it's one of the most adjustable and moddable options you can find on the market.
The gas-operated system is its prized feature, which allows you to execute quick drills and smooth follow-up shots without much recoil and muzzle flip. Top that with some sights, and you have a brilliant package.
The full Picatinny rail opens up a plethora of sights, lights, and options you can adjust around the 3, 6, and 9 o'clock angles. However, the barrel isn't threaded, so you can't install chokes.
Expect smooth shooting, but only after breaking in some 100 rounds. Be mindful of 00 buckshot; I've heard that the BP-12 is prone to misfires with this round.
The adjustable cheek weld and recoil pad add a lot to the overall ergonomics.
If you want a very moddable and tactical package, and you don't mind the extra weight of 9 pounds, the Panzer Arms BP-12 Gen 2 offers a smooth ride with its self-adjusting gas system.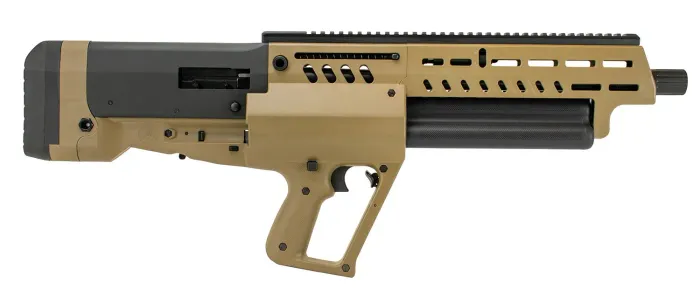 Specifications and Details:
| | |
| --- | --- |
| Gauge and Action | 12-gauge semi-automatic |
| Magazine Capacity | 5+1 capacity; 4+1 also available |
| Magazine Type | 3 tubular magazines |
| Barrel Length | 18.5 inches |
| Overall Length | 28.25 inches |
| Finish | Black |
| Stock | Fixed bullpup; Synthetic stock |
| Weight | 8.8 pounds |
Pros
Durable construction
High-quality internal parts and reliable cycling
Smooth loading
15+1 round capacity
Full-length Picatinny rail
Ambidextrous
The IWI Tavor TS12 is a heavy, pricey, semi-automatic bullpup shotgun built to be the last firearm on the planet when the apocalypse besets us.
The IWI Tavor TS12 is big, but the barrel is short. It's a compact, gas-regulated mammoth with an ambidextrous system that can be set up as a left or right-side configuration. Let me explain.
The unique feature automatically loads subsequent rounds when you rotate the tube into position, including both left and right sides. Push a button to unload the spent cartridges on a tray. Simply put, a brilliant bullpup design.
The threaded barrel, M-LOK forend, and Picatinny rail allow you to install Benelli or Beretta chokes and all kinds of sights. There are also 4 QD points for swivels.
The polymer chassis is durable enough, and expect a rather civil recoil with its gas operation.
Since it's a "space gun," you might think that it's difficult to take down and clean, but you'd be wrong. You can easily disassemble the TS12 from the weapon's rear and won't have to use any tools either.
It's an expensive IWI Tavor, but what you get is an innovative, Israeli-made firearm that can spew fire. Despite the heft, no other bullpup can top this performance.
Bullpup Shotguns – A Buyer's Guide
Though it might seem that there's nothing much to consider when a bullpup shotgun is in question, there are some very important criteria points to look at if you truly want a suitable bullpup that commits to your own ergonomic preference.
Size, Weight, and Balance
The bullpup's odd design allows a more compact, maneuverable shotgun with a full-length barrel that promises accuracy without sacrificing its overall length and velocity a shorter barrel offers.
When compared, bullpups are around two-thirds the size of an AR-15 rifle, so it's a great home defense option that offers solid target acquisition.
However, it's important to choose a size that caters to your shooting style. I suggest going for 20 or 30-inch bullpups, but you can go even shorter if you feel the recoil isn't too much for you.
Keeping the bullpup close to your body doesn't exhaust you as much. This and the additional 12, 14, or 15+1 rounds are the main reasons it's practically built for long hours at the ranges.
Since bullpups have their action behind the firing grip and trigger, it really needs some practice if you truly want to experience this unique platform.
Additionally, you need to hold the bullpup and see if you can get a feel of the gun. Shooting is an entirely different thing, but it's more important to figure out if it really suits your shooting style.
Cycling Action
I'm certain that some gas-operated bullpups like the IWI Tavor TS12 work like a charm. You don't have to consider the cycling action much—most bullpup shotguns feed, cycle, and shoot shells with no problem.
If it's a pump-action bullpup, make sure you pump it firmly if you don't want jams.
However, there's still the question of left or right side cycling.
If you're a leftie, make sure you always pick the ambidextrous models unless you want hot casings in your face.
Kel-Tec figured out a way to solve this problem with the KSG, and they just went with downward-ejecting cycling. However, this might be a hindrance because some customers complained that the ejected rounds tend to hit their wrists, so be mindful.
All that's left now is the ultimate question.
Semi-Automatic vs. Pump-Action Bullpups
This argument isn't limited to bullpups—it's a universal shotgun question.
And the answer is always the same: it all comes down to what you prefer.
If you're a gallery frenzy shooter who's looking for the fastest follow-up shots at the ranges, the semi-auto shotgun is for you. It's also a good home defense option too.
If there's a method to your madness and you want to keep it classy, the "chk-chk" of the pump action is what you want. Pump-action shotguns are generally regarded as more reliable than semi-autos, but this, of course, depends on a lot of factors.
Considering Conversion Kits
One final thing.
There's something called a bullpup conversion kit, which is exactly what it sounds like. It's a bullpup DIY kit that allows you to turn a Mossberg 500 or a CZ Scorpion into a bullpup platform. Hobbyists rejoice.
If you have a Ruger 10/22, you can convert it into a tactical bullpup with the High Tower Armory Conversion Kit. There's a dummy suppressor, new lower receiver, buttplate, cheek rest, and an ambidextrous, attachable shell deflector in the kit for lefties. There's also an optional optics riser included.
The installation takes about half an hour if you absolutely have no idea what you're doing, so it's pretty easy. Considering this Ruger 10/22 is a .22 LR rifle, you get to shoot the cheapest ammo.
For legal reasons, make sure the barrel is 18 inches or longer. Otherwise, it's compatible with any 10/22 rifles with a standard 0.5-inch diameter barrel and even a .920 bull barrel.
As for the CZ Scorpion EVO pistol-caliber carbine, check out the Manticore Arms conversion kit.
FAQs
Here are some frequently asked questions about bullpup shotguns.
Do Bullpups Have More Recoil?
The recoil and muzzle rise depend on the stock, size, and weight of the shotgun.
Since bullpup shotguns are compact, you can expect a decently low recoil and muzzle rise.
Are Bullpups Accurate?
The reduced length of a bullpup, combined with a standard 18 to 20-inch barrel means that the bullpup shotgun is just as accurate as a standard one.
Conclusion
Most shooters disregard bullpup shotguns as a new and still-in-the-works concept of a firearm just because they look like space marine blasters. This can't be farther from the truth.
Bullpups go way back with their designs, and the Springfield 1903 bolt-action rifle might be one of the first which went through this new configuration.
It's not just shotguns. You got the almighty IWI Tavor X95 or the Desert Tech MDRx bullpup rifles in the 5.56 NATO cartridge that bravely set trends and pave the way for new firearms designs.
All I'm saying is give bullpups a chance.
Though the bullpup design requires a firm hand and practice, bullpup shotguns give you a full-barrel length accuracy with a unique convenience. They're more than viable for home defense, competition shooting, and pure fun.
With a magwell behind the trigger setup that focuses on a tactical approach, bullpup shotguns like the UTS-15 and Kel-Tec KSG are as close to the full package as they can be.
Or, if you're absolutely serious about owning a bullpup shotgun, pick the IWI Tavor TS12 and never look back.
Stay safe, shoot straight.
Explore more