The 5 Best Compact .45s: Big Trouble in a Small Package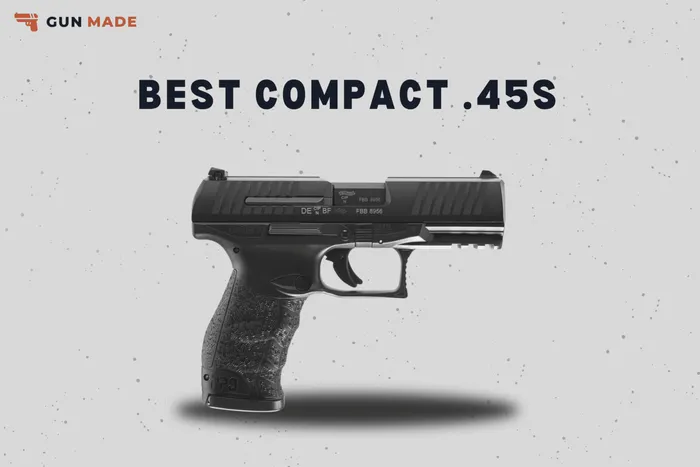 The 5 Best Compact .45s: Big Trouble in a Small Package
Introduction
Looking for the best compact .45 to add to your concealed carry rotation? If so, then you're in the right spot. Usually, I don't prefer compact guns since my pinky never has a place to rest, leaving it dangling off the pistol grip.
After some digging, I found some compact .45s that I can fit on my hand just fine, and if you're a feller with big hands, I feel your pain. Let's sit around the campfire and sing kumbaya.
Don't worry. I have a few for those with smaller mitts too.
In this article, we'll be going over compact guns that work with hands, both big and small, and the ones we thought were the best.
It's not always easy to do so since the big names in firearms are always trying to one-up each other by making something even better, but that's one reason that I jump out of bed in the morning.
Now, after five pots of coffee and much deliberation amongst myself and some life-long shooters, let's get into it.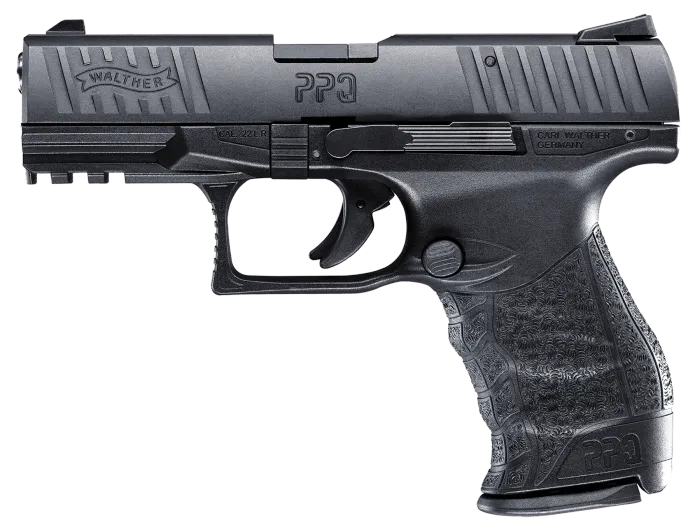 Specifications
| | |
| --- | --- |
| Caliber | .45 |
| Magazine Capacity | 12+1 |
| Weight (Dry) | 24.5 Ounces |
| Overall Length | 7.1 Inches |
Pros & Cons
Pros
Highest magazine capacity on the list

Tridium front sight helps with quick target acquisition

Best trigger I've ever seen on a stock gun.
Cons
Not optics cut from the factory. 

Extra mags can be hard to find

Does not have the paddle release lever, but that may be a pro.
I'm a firm believer that the PPQ M2 is one of the finest .45s out of the factory. The trigger is amazing, it hits where you aim it, and the feel of the grip in your hand will have you wondering why you didn't buy it sooner.
The PPQ M2 is worthy of all the praise and then some. You couldn't miss with this pistol if you tried. Don't try, though.
One of the downsides I found with the PPQ M2 is that it isn't optic cut from the factory. I know that you may not need it, but it is better not to need it and have it than the other way around.
Walther does offer milling services through their partners at C&H Precision, where you'll also get suppressor height sights. But, with most big-name pistol manufacturers offering optic cuts from the factory, it would be nice to have it on the PPQ M2.
The Tridium front sights are a big help for target acquisition, so you shouldn't have any issues as long as you get some range time in.
When you hold the PPQ in your hand, the grip is like nothing you have ever felt before. It just feels right. It allows you to get a really good natural point of aim and isn't extremely bulky like grips on some other .45 caliber pistols.
Aside from not being optic cut, I could not find anything I disliked in the PPQ. If you want the best compact .45 on the market, this is it.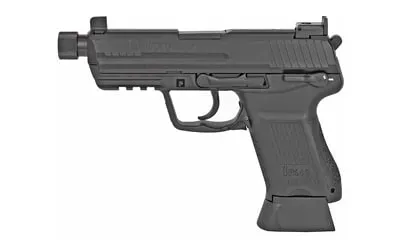 Specifications
| | |
| --- | --- |
| Caliber | .45 |
| Capacity | 8 rounds |
| Weight (Dry) | 1.7 Pounds |
| Length | 7.24 Inches |
Pros & Cons
Pros
Adjustable backstraps 

Recoil is not overbearing

Double Action/Single Action
Cons
Spare magazines are pricey

Trigger pull on double action is heavy (11 Pounds)

Spacing in the sights may make it hard to use
Heckler and Koch have given us some of the best firearms that have ever hit the market, and the HK45c is no exception. The USP and HK45 are two of the best .45 pistols I've ever had the pleasure of shooting, so I was excited to see what the compact variants could do.
The HK45c is the spiritual successor to the USP45 Compact, but the 45c is a bit bigger in certain areas, more specifically in the weight and length areas. The magazine capacity remains the same, but the lever magazine release is bigger on the 45c.
The lever may throw some shooters off, but with a bit of practice, you'll find that it is largely more ergonomic than the button magazine releases on the grip of most firearms you see on the market.
One of the most intriguing features of the 45c is the polygonal barrel. While other pistols have conventional barrels that allow gas to escape around the bullet while rotating in the barrel, the polygonal barrel of the 45c keeps the gases. Which is beneficial for a few reasons.
One, it allows for more velocity behind the bullet. Which increases accuracy and how fast the round is moving before it hits the target. Fortunately, it also cuts back on carbon deposit, which lowers how much cleaning is needed after a day at the range.
As for the feel of the gun in hand, the pitch is similar to what you will feel on the 1911. Great news for those who are making a switch from the world war champion. In fact, when you are switching over, you will notice that there is little difference between the two.
The reason I chose the 45c for individuals with bigger hands is how much real estate you get on the grip alone, but the magazines come with an "elephant foot" bottom which allows for a comfortable place for the pinky.
No one wants a hanging pinky.
Best For Smaller Hands – Glock 30SF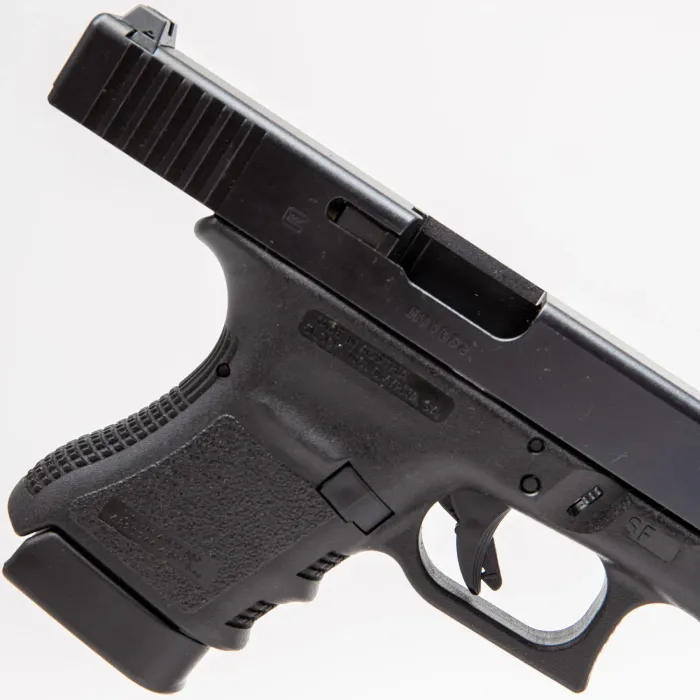 Specifications
| | |
| --- | --- |
| Caliber | .45 |
| Capacity | 10+1 |
| Weight (Dry) | 1.6 Pounds |
| Length | 6.97 Inches |
Pros & Cons
Pros
Has a 13+1 magazine option. 

High capacity in a small gun

Even for how small it is, the recoil is not overbearing
Cons
Slide is still pretty wide

No external safety

Grip definitely needs stippling
Back in 1997, when the Glock 30 came out, shooters fell head over heels for the blocky Glock. Everyone was carrying it, looking at them in the stores, and adding them to the concealed carry rotation quicker than Glock could get them out of the factory.
Everyone loved the amount of stopping power in a gun that is all too easy to conceal carry. On top of that, you get a 10+1 round magazine capacity. All in a small package.
In all honesty, though, it was extremely blocky. Many consumers didn't like this, so the sales slowed down. What else could the consumer want?
Go smaller, they said. And that is exactly what Glock did. The Glock 30SF features a shorter frame and thinner slide, perfect for those with smaller hands that still want to pump .45 down range.
This is the reason why I picked the Glock 30SF as the best compact .45 for people whose hands are on the smaller side. With a magazine capacity, that just doesn't make sense for a gun its size, especially in .45, I could not think of a better option.
It also works perfectly for anyone who wants a compact .45 that is easy to conceal. Where this pistol excels for people with small hands, it also does well in the summertime when the layers can't be too thick.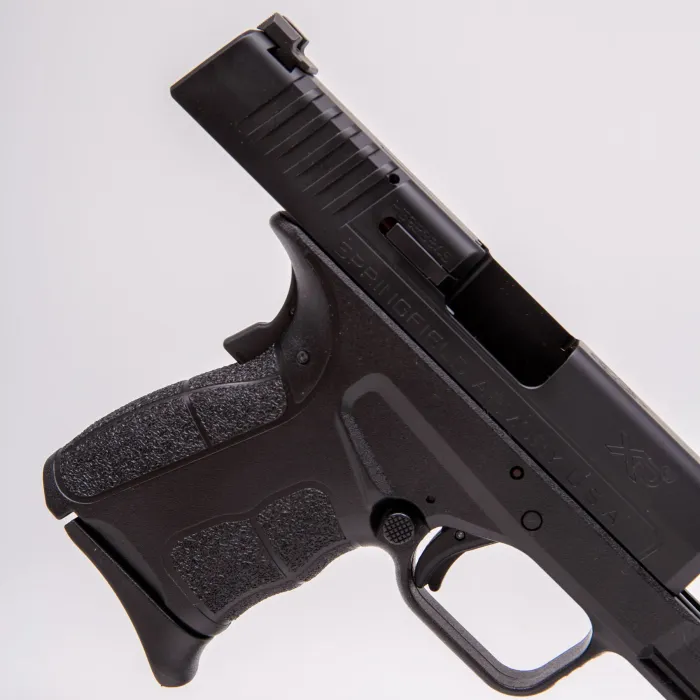 Specifications
| | |
| --- | --- |
| Caliber | .45 |
| Capacity | 5+1 (flush mag) and 6+1 (ext. mag) |
| Weight | 1.5 Pounds |
| Length | 6.5 Inches |
Pros & Cons
Pros
Optic cut

Recoil isn't overbearing

Won't print in the summer
Cons
Low magazine capacity

Bites on the middle of the palm when shooting (bigger hands)

Would like a different footprint for the optic cut
Springfield has really been doing it lately. Their pistols have been hitting the mark every single time. Usually, I'm a big fan of German firearms. But when I shot the XD-S Mod 2 for the first time, I was utterly in shock.
"There's no way," I thought. Which I rarely do, might I add. Lo and behold, the Mod 2 showed me just how great Springfield could really do.
Sure, the magazine count is definitely nowhere near what Glock, Walther, or H&K have on their compact .45s, but it does make up for it in another area. It's cut for a Springfield Micro, which I'm not the biggest fan of, and I would much rather have a Holosun, but it works well.
This is the only optic-cut pistol on the list. All the other ones have to have extra work done to them if you want to mount an optic. With the added ability of a red dot, I can live with losing a few rounds.
The grip works well for me, it does well with hands both big and small, and the 6+1 magazine helps me with not having my pinky hanging off the bottom. A big deal breaker for me.
It's a .45, and you need to get as much real estate on this gun as possible.
It is pretty accurate out of the box. It took me a few magazines to get used to since I usually shoot 9mm, but once I got it right, my groupings were pretty close. I didn't have any gripe with the Mod 2 once I got good with it.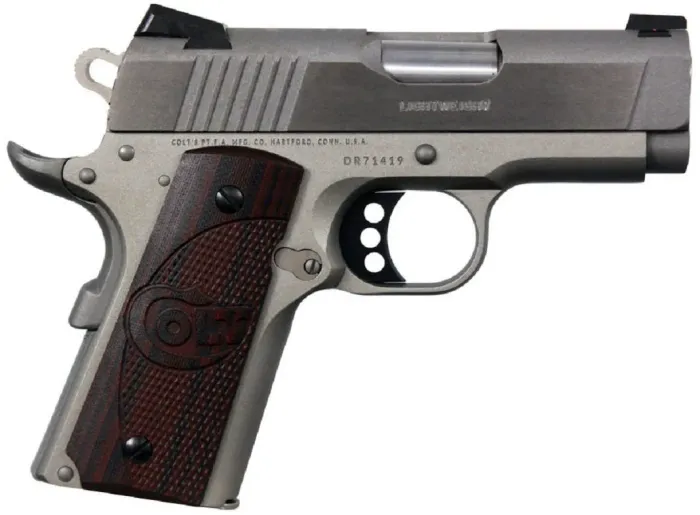 Pros
High magazine capacity

Novak sights for easy acquisition

Great for all hand sizes
Cons
No optic cut

No flashlight mount

Bites a bit on the palm when firing
Specifications
| | |
| --- | --- |
| Caliber | .45 |
| Capacity | 7+1 |
| Weight | 1.5 Pounds |
| Length | 6.75 Inches |
When you think of the .45 caliber pistol, one firearm comes to mind. The 1911. John Browning had a way of making firearms, which is why he is considered one of the best armorers of all time.
There's a reason why his design is still in use. 112 years later. My great-grandmother wasn't alive when the 1911 was rocking the battlefield. To bring the proven 1911 into the concealed carry world, Colt came up with the lightweight Defender SS.
Of course, there have been many upgrades to make the Defender SS a go-to for anyone who loves the 1911. The Defender comes with Novak sights that allow for faster target acquisition, even in low-light conditions.
The Defender works in both small and big hands, but I would recommend replacing the grip with something with more stippling so you can get a better grip when firing. I felt it was slipping out of my hand, which tells me I needed something more aggressive on the grip.
Or, that I need to hit the gym.
If you're looking for a compact .45 1911, there is no better option than the Colt Defender. Although there is no optic cut or room for a light, those who are used to the look and feel of the 1911 will feel right at home with the Defender.
How We Chose our Top Picks
When we chose our top picks, we wanted pistols that held a good amount of rounds. As the saying goes, when you want firepower, you have to sacrifice capacity. I didn't want to abide by that sentiment, so I set out to find pistols with a high magazine capacity but still fell into the compact category.
I looked for pistols that had great sights or were cut out for optics. With that said, all the pistols on the list have sights that will allow you to quickly acquire your targets. With or without an optic.
I also wanted to find pistols that didn't remind you that you were shooting a .45 every time you squeezed the trigger. In a situation where you need it, the last thing you want is a pistol that kicks like a mule.
Handguns are already a compromise, no need to make it worse.
Buyer's Guide
There are a few things you should consider before buying a compact .45. If you are new to carrying, the last thing you want is to buy a .45 for concealed carry and end up not carrying at all. They can be big; they can be bulky.
If you've checked all the boxes and want to seal the deal, here are some other things to consider.
Hand Size
It took me a few pistols to find which one felt the most comfortable in my hands.
If you have smaller or larger hands, you may want to vet out a few pistols to see which one feels the best. When you interface with a pistol, how it feels in your hands plays a huge factor in how effective you'll be.
I tried to shoot a Hellcat one time. I didn't do well.
The last thing you want is a pinky with no place to sit or a pistol that doesn't allow you a good grip. When you're shooting a .45, you have to be able to mitigate a bit more recoil than you would with other calibers.
Test out a few different pistols to make sure you like how it feels in your hands.
If you don't train with it, you'll never be good with it. Get yourself some ammo, and have a range day.
If you don't like how it feels, it's not the one.
Is It Optic Cut?
I'm going to assume you want a compact .45 to add to the concealed carry rotation.
Now, while you may not need an optic to be effective with your pistol, it does help with acquiring your target quicker and more accurately. So long as you keep it zeroed and train with it.
Shoutout to Elisjsha Dickens, who adios'd a would-be mass shooter from 40 yards with a stock Glock. A testament to not needing an optic for precision.
While Mr. Dickens might just be a total chad with the night-night stick, many concealed carriers are opting for a red dot on their concealed carry.
There are many manufacturers that offer an optic cut from the factory, and if you don't like any of those, almost any slide can be milled. So you're in luck. But if you don't want to have the extra hassle of sending your slide out to be milled, find one that has a cut from the factory.
If You're Switching From 9mm
There's going to be a bit of an adjustment period when you switch over from 9mm to 45 ACP. Pistols chambered in .45 are typically thicker all around to accommodate the heavier round.
On top of the extra recoil behind a .45, you have it in a compact package, and smaller barrels are notorious for producing more kickback on any weapon platform. This is something that may be a bit uncomfortable for those accustomed to shooting 9mm.
Your magazine capacity will also be smaller since the .45 is a bigger round compared to 9mm. A lot of manufacturers have found a great balance though. Like the 12+1 magazine capacity on the Walther PPQ M2.
Oh heck yeah, I definitely wouldn't want to be on the receiving end of it. .45 is great for concealed carry.
FAQs
Is .45 good for concealed carry?
Oh heck yeah, I definitely wouldn't want to be on the receiving end of it. .45 is great for concealed carry.
Is 9mm or .45 better for concealed carry?
Depending on what you're comfortable with is what is best for you. If you want to move up from a 9mm to a .45, I would recommend you train with a .45 first while still carrying your 9mm until you feel comfortable.
But .45 has more stopping power, so I would say .45.
What compact .45 has the highest magazine capacity?
From what I've seen, the Walther PPQ M2 .45 is where it's at with a 12+1 magazine capacity.
Conclusion
Did any of these compact .45s catch your eye, like the Walther PPQ M2 .45?
Maybe it's time for you to head over to the range and see if you can rent one of these pistols to get a feel for yourself. If you have any experience with these pistols, please leave a comment below and let me know how you like them. I always appreciate it when you share your experiences with me.
.45 Ammo is a bit expensive, and the pistols generally cost more than your typical compact 9mm.
Still, these pistols take some getting used to if you're a 9 milly shooter like me. Make sure you can adequately train with your pistol. I also recommend getting yourself an extra magazine, just in case.
Hey, you never know.
Thank you for your time, happy shooting!
Explore more