Best 1911 Pistols In 2023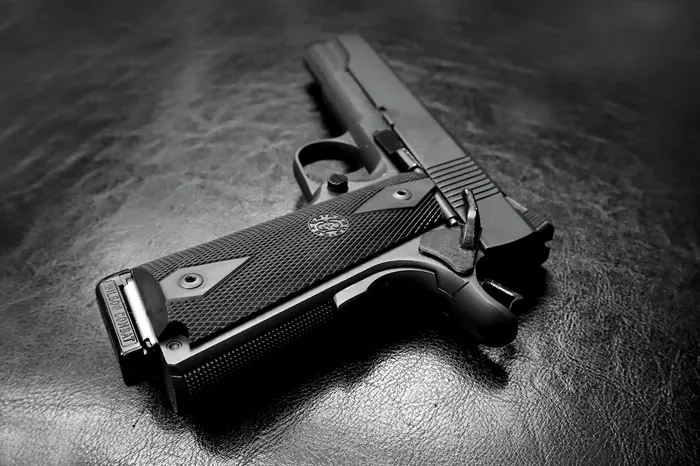 Best 1911 Pistols In 2023
Introduction
When many think about guns, the first that comes to mind is typically a 1911. It's one of the traditional, most recognizable models in the world.
Wrapped in a rich history, it has captivated gun lovers for over a century. In this review, we'll expand on why this is one of the most reliable guns around and help you find the best 1911 pistol and review some of the best options out there.
Best 1911 Pistols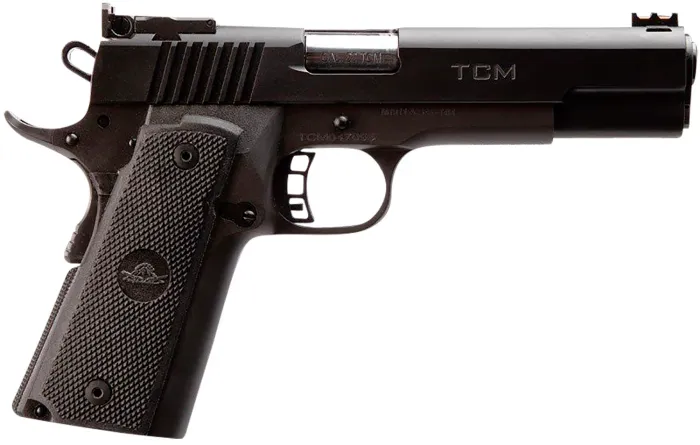 This gun is the definition of solid, and you can expect nothing less from the RIA, a manufacturer notable for their affordable yet effective pieces.
The M1911-A2 is a modern take on its Second World War ancestor. It's a standard government issue with a 5" barrel and a size that's both respectable yet convenient for concealment.
I like the black matte coating that adds an elegant touch to the design. The sighting is a standard "dovetail" which I wasn't particularly fond of. However, I've quickly realized that you can switch them up depending on your preferences. A nice detail!
As with most 1911s, the sliding trigger pressure is smooth and easy. Something that both novice shooters and seasoned gunmen will appreciate.
In fact, I'd say that the trigger works better than some more expensive models of other guns and that's a big deal. When you combine it with a fairly light recoil, you could say that this gun passed my test.
I'm not used to the dovetail sighting, so it didn't really contribute to my testing. I eventually switched it up and adjusted the rear sights slightly and the results were night-and-day. However, it sits pretty well in the hand thanks to the rough polymer grip.
Overall, it's a good gun for any type of defense while being light enough that you can carry it. If your budget is in the range of $500-1,000, this may be the perfect 1911 for you. If you're for sure set on this budget, check our guide on the best 1911s under $1,000.
Pros
Effective aesthetical simplicity
Smooth trigger pressure
Customizable and adjustable
Solid price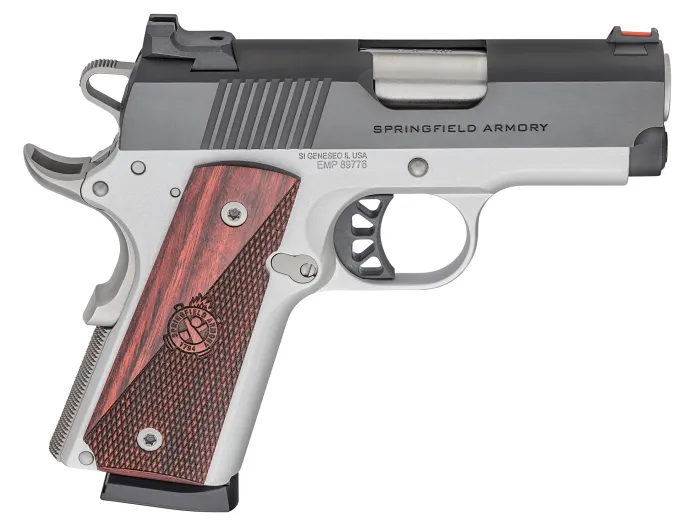 You know what I think? When people say, "size doesn't matter," they might just be referring to the Springfield Armory 1911 EMP.
This petite gun has a barrel length of only 3" so you shouldn't worry about concealing it. You should worry about losing it along the way. Yes, it's lightweight, tiny, and convenient to carry.
The design is absolutely impeccable, too. It combines the dark-brown, carved wooden grip with a metallic frame. Therefore, you can really mistake it for a small work of art.
However, the grip isn't only there for show. It anchors to hand extremely well and doesn't slip. There's only one issue here. I reckon I have "medium-sized" hands and I was on the edge with this gun. If your hands have a bit more "substance" this could be a small problem (no pun intended!).
I was confused with one feature, though. The safety lock is ambidextrous, while the magazine release isn't. Why's that? Who knows?
On the other hand, I was impressed by the shooting performance of the gun. Usually with small guns you get a bigger drawback as they're lighter and can't handle the blast so well.
However, the EMP is extremely stable which consequently makes it a tad more accurate. Although you can't really expect a scope-like performance from an "officer" 1911.
All things considered; this is a nice, compact gun that works best as a mobile self-defense tool. However, are you ready to pay up to $1,200 for a piece? Because that's the asking price.
Pros
Extra portable
Above-average shooting and accuracy (for a compact gun)
Phenomenal design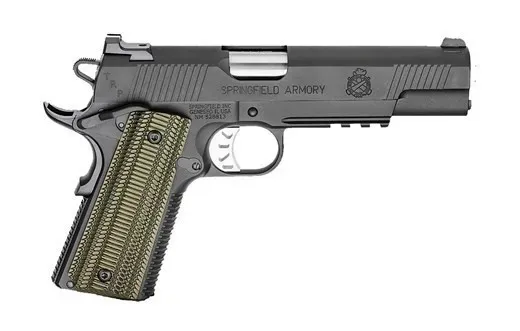 Meet Springfield's elite gun.
The Tactical Response Pistol (TRP) is one of the most well-made pistols from this manufacturer's assembly. I've talked to people who aren't really fond of 1911 handguns. Most of them agree that this one would always make the cut.
Of course, the TRP is usually reserved for more seasoned gunmen. It has a 6" barrel and falls into the rare "Long Slide" category. Therefore, it's suitable for personal use, home defense, and even hunting game.
As you would imagine, this model is one of the heavier models in this group. Thus, I would personally avoid using it as a concealed gun or a duty gun. Unless you're packing a perfect holster and a strong belt.
I particularly love the grip on this model. It's rough, sandpapery texture will keep the gun steady in your hand in all unfavorable conditions.
And we come to the best part: the ballistic potential. It's a large, sturdy gun that's unlike most 1911s. I felt the power as soon as I lifted it for the first time. The gun is meant for a heavier load and explosive rounds and it shows.
On the other hand, there's barely any recoil during extensive shooting. The trigger pressure stays true to the 1911s roots and allows for smooth and enjoyable shootout. Even if you run out of bullets, just flip the gun around and you can turn it into a cold weapon!
The price is a bit off-putting. As I said, it's potentially a bear-killing powerhouse and it reflects on the price.
Pros
A ballistic beast
Stable and accurate
Loveable trigger
Cons
Not budget-friendly
Big and robust (not really portable)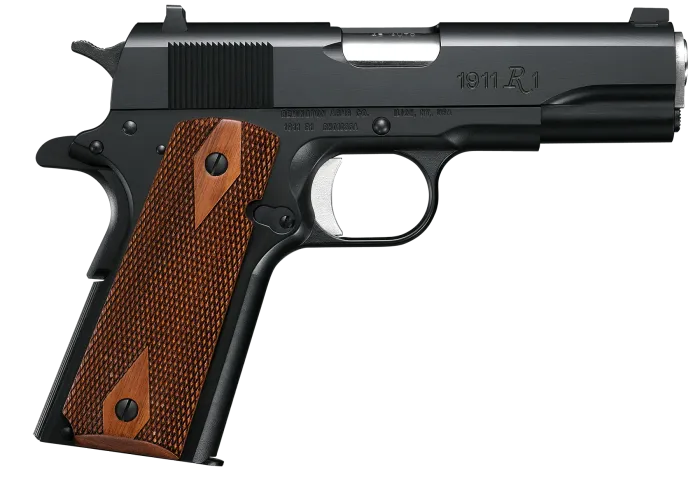 The R1 is a budget-friendly 1911 that does a pretty good job. It's a standard G1 model that faithfully replicates its 5"-barrel historical counterparts. Albeit it has a touch of unique personality as well.
Fun fact: Remington actively manufactured 1911s during the First World War, too.
There's nothing bad to say about the gun from the visual perspective. Its frame is made out of parkerized blue steel and wood that seems fairly durable. The walnut grip consists of diamond texture that blends well with the rest of the piece.
Like most classic 1911s you can find both the grip safety and the thumb safety on the gun. Thus, even a beginner can walk around with the peace of mind knowing it won't accidentally fire away.
For a budget-friendly and feature-scarce pistol it's fairly powerful and accurate as well. However, I must say that the trigger disappointed me. I was surprised by the pressure I had to invest to fire away. For a gun model that prides itself on smooth and lightweight triggers, I'd say they failed a bit here.
But overall, it's a decent gun. For a price cheaper than most on the market you get a decent representation of 1911's G1 in all its might.
Pros
Nice design and tight grip
Safe
Good accuracy
Great price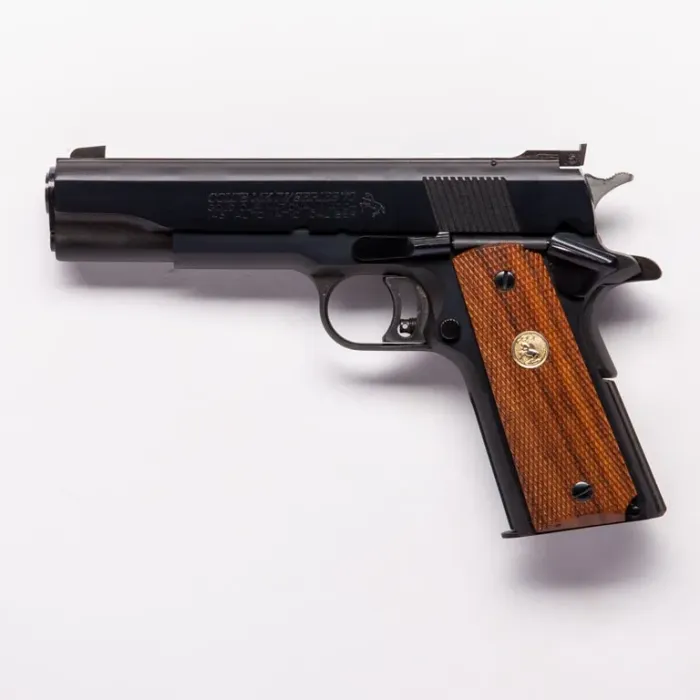 The Colt Gold Cup has an interesting history behind it.
It started out as a replica Colt GI pistol meant for shooting blanks. However, after some modifications and participation of multiple manufacturers, we got the gun we have today. A decent G1 barrel at 5" long. 
Overall, I'd use this gun in a shooting range only. It's a fun practice gun that can sometimes cause severe damage. But you wouldn't rely on it to solve a "big" problem.
On the bright side, it's highly customizable so with a few adjustments, you can make a serious threat out of it. It's also pretty accurate with a slight recoil so a good shooter could have a lot of fun with it.
It's not the best 1911 pistol around, but it's a great weapon to introduce you to the amazing world of guns.
Pros
One of the cheapest guns
Good for practice and entry-level shooters
Accurate
Customizable
About 1911 Pistols
You can probably guess the origin of the gun's name. That's right. It made its way to the Armed Force's arsenal for the first time in 1911.
A famous firearms designer, John Moses Browning, patented and presented the gun to the US Military. It was a close call, though. The competition at the time was tough, including other heavyweights like Smith & Wesson and Luger.
However, this version came out on top.
Colt started mass producing the gun shortly afterward and the gun underwent extensive tests. It endured being dipped in acid, shot thousands of bullets, and various other tryouts.
It was the beginning of a gun that will play a part in shaping the entire 20th century. Afterward, Colt's 1911 underwent various adjustments.
The first model had a 5" barrel with a seven-round magazine. The Colt 1911 with .45 cartridge (better known as 45 ACP) is one of the most famous automatic pistols ever released. Then came smaller, more compact versions of the gun, with a barrel extending to barely 3".
In 1924, the M1911 underwent some changes that would pass on to all the modern models. Thus, I like to say – no 1911 handgun is equal.
Various models of the 1911 played a role in both World Wars, the Vietnam War, the Gulf War, and all subsequent military interventions. Some military units still carry this pistol but now it's widely accepted as a personal, self-defense piece.
What to Expect from 1911?
With the 1911 you're buying a design that's barely changed in more than a century. But I'm not saying that in a negative way. It's evergreen, reliable, and effective at all times.
However, it does have certain design flaws that modern handguns have addressed better.
For instance, it contains a grip safety at the back-rear end of the pistol that you need to lower to shoot. For a century this has been a problem for people with hand wounds. Still, nobody ever solved it.
But this gun can definitely grow on you over time, especially when you realize that it's not going to disappear from the market anytime soon.
One of the main traits of this handgun is its single-action-only setting. Although it sounds bad, it has a major upside compared to its double-action counterparts.
Whenever I do an easy activity, I compare it to the 1911's trigger pull. Unlike modern triggers that often need plenty of pressure to fire, the old-school 1911 does it quickly and smoothly. This allows you to shoot it with precision and velocity at all times.
It also has a slightly different trigger to the rest, as it literally "slides" into the frame instead of acting more like a lever. Believe me, it feels brilliant.
Size
As I said, the modern 1911 can vary in size. However, if you ask for a "small-sized" 1911, gun aficionados might well laugh you off. That's because there's a different terminology.
Officer: The smallest gun of them all. The barrel ranges from 3-3.5" and has a particularly small frame. It's popular among ladies that like to feel extra safe and carry it around in the purse. However, its petite frame makes it convenient among anyone who prefers to conceal the gun.
Commander: A slightly bigger model with a 4" barrel. It has a short frame, albeit a bit longer than the Officer. It's an equivalent of a "compact" size gun
Government (GI): The first manufactured version of the 1911. It contains the long 5" barrel and was common in US military service
Long Slide: Long slide is less common than the other three. It has a 6" long barrel with an extensive frame. You can mostly find them in shooting tournaments or some old-school action movies
Pricing
Pricing can tell you a lot about different 1911 brands. However, it doesn't have to be the deciding factor. I like to separate these guns in four different price ranges.
$500-$600: These guns aren't state of the art but will still do the trick. If you can't afford a pricier model but you're set on owning a 1911, you may settle for one of these.
$700-900: The more widespread models fall into this range. Most of them are high-quality, customizable, and require only simple maintenance. However, you'll have to know what to look for.
Up to $1400: If you can pay for a gun from this price range, you're usually getting a weapon for a lifetime. You'll immediately notice that the manufacturer invested a lot in the design and the performance of these pieces.
Over $1500: Believe it or not, there's an abundance of 1911s that go north of $1,500. Right now, you can find hand-crafted and custom-made guns that look and perform impeccably. Moreover, you can catch a fully working relic from one of the great historical battles in this category.
Conclusion 
The top rated 1911 pistol is hard to choose. However, if you want the best bang for the buck, I'd definitely opt for Rock Island Armory M1911.
Why? It has it all while not costing a fortune. It's a staple 1911 in any gunman's arsenal and the one that you can always rely on.
If you're interested in paying more or want a powerhouse, you can always choose one of the Springfields. On the other hand, Colt and Remington provide budget-friendly versions of this legendary piece.
Explore more