4 Best DA/SA Pistols [2023]: Get the Best of Both Worlds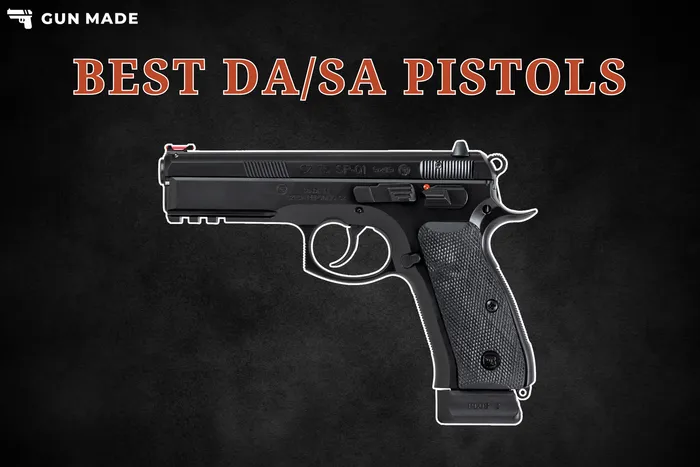 4 Best DA/SA Pistols [2023]: Get the Best of Both Worlds
Introduction
Are you ready to embark on a journey through the thrilling world of DA/SA pistols? Well, we're about to dive deep into the exhilarating realm of double-action/single-action firearms.
Whether you're a seasoned shooter looking to upgrade your arsenal or a rookie ready to take your first shot at the world of handguns, you're in the right place.
In this article, we'll be your sherpa guides through the mountainous terrain of DA/SA pistols, and we're here to lead you to the peak of performance, one trigger pull at a time.
As a lifelong gun owner and a professional in the firearm industry with more trigger time than you can shake a stick at, I've meticulously examined and fired some of the finest DA/SA pistols the market has to offer.
So strap in because we're about to fire away into the fascinating world of DA/SA pistols.
Best DA/SA Pistols & Recommendations
Specifications
Pros & Cons
My top overall recommendation, the CZ 75 SP-01, is a standout semi-automatic pistol that has a strong reputation among firearm enthusiasts, competitive shooters, and law enforcement agencies around the world.
One of my favorite features of the CZ 75 SP-01 is its magazine capacity. Chambered in 9mm, this pistol boasts a substantial 19-round magazine, ensuring ample firepower for various applications, including self-defense, competitive shooting, and range training.
Additionally, the CZ 75 SP-01 features all-steel construction. While this adds to the pistol's weight, it also significantly reduces felt recoil, contributing to its overall stability and accuracy.
The steel frame and slide enhance the pistol's durability and longevity, ensuring it can withstand years of use and abuse without compromising its functionality.
Specifications
Pros & Cons
The Beretta PX4 Storm Full is a semi-automatic pistol that brings together a blend of traditional and modern features, making it an intriguing choice for a wide range of users.
At its core, the PX4 Storm Full boasts an innovative rotating barrel system, setting it apart from many other handguns on the market. This rotating barrel design is a standout feature, effectively mitigating recoil and muzzle rise. As a result, shooters experience reduced felt recoil, enhanced accuracy, and improved control during rapid firing sequences.
Ergonomics have been a key focus in the design of the PX4 Storm Full. The pistol has interchangeable backstraps to cater to different hand sizes, ensuring a comfortable and secure grip for all users.
Ambidextrous controls, including the slide stop and reversible magazine release, accommodate left- and right-handed shooters.
Specifications
Pros & Cons
The Heckler & Koch USP (Universal Self-loading Pistol) is a stalwart in the world of handguns, known for its robust construction and reliable performance.
This German-made firearm has been in service for decades, serving the needs of law enforcement and civilians alike. The HK USP has become a go-to choice for those seeking a durable and versatile semi-automatic pistol.
One of the standout features of the HK USP is its modular design. This pistol is available in various calibers, including 9mm, .40 S&W,  and.45 ACP, making it adaptable to a wide range of applications.
Whether you prefer a compact model for concealed carry or a full-sized version for duty use, the USP has you covered.
The recoil reduction system in the HK USP enhances its accuracy and control. The patented recoil reduction mechanism, which utilizes a buffer system, minimizes felt recoil, allowing for faster follow-up shots and improved overall accuracy.
Specifications
Pros & Cons
The Sig Sauer P226 Legion is an elite member of the renowned P226 series, and it lives up to its name with an exceptional blend of performance, ergonomics, and precision. As a part of Sig Sauer's Legion series, this pistol is designed for discerning shooters who demand the utmost quality and reliability.
One of the most noticeable features of the P226 Legion is its superior build quality. The Legion series goes through an enhanced custom shop treatment, resulting in a visually stunning and durable handgun.
The X-Ray Day/Night Sights provide rapid target acquisition in various lighting conditions, making it an ideal choice for self-defense and competitive shooting.
The beavertail frame design offers added control and comfort while reducing recoil. It also allows for a higher grip position, ensuring superior recoil management and quicker follow-up shots.
How We Chose Our Top Picks
My selection of the top DA/SA pistols resulted from extensive research and evaluation. I began by scouring various reputable sources, including firearms forums, expert reviews, and user feedback, to identify the most prominent models on the market.
We then considered key features such as capacity, reliability, size, ergonomics, and versatility. And, of course, I considered my own experience with each of these guns alongside my lifelong experience with firearms.
Capacity was a significant factor, and I chose pistols with a range of magazine sizes to accommodate different needs. Reliability, a cornerstone of any firearm, also played a pivotal role in my firearm selection, and each of the chosen pistols has a stellar record of dependable performance.
Finally, I looked at the suitability of the pistols for concealed carry, home defense, or range use to choose versatile options.
Buyer's Guide
Purpose
The first step in choosing a SA/DA pistol is identifying your intended purpose. Are you looking for a concealed carry firearm, a home defense tool, a competition pistol, or a range toy?
If you're going to be carrying the pistol, you'll likely want to focus on its overall size, ensuring it's compact enough to conceal easily. Capacity will also be a factor to prioritize with a concealed carry pistol, where more rounds can mean the difference between life and death.  
But, the overall size of the pistol will not be as much of a determining factor if you're going to utilize it for home defense or competition. In those cases, you'll still likely prioritize capacity but don't need to worry about minimizing the pistol's footprint.
Those are just a couple of examples, but as you can see, each purpose will dictate the features and specifications you should prioritize.
Caliber Options
Selecting the right caliber is essential. Common calibers for SA/DA pistols include 9mm, .40 S&W, and .45 ACP.
9mm is popular for its manageable recoil and affordability. Since the round itself is a bit smaller than the .40 S&W and .45 ACP, you'll also often see higher magazine capacities in similar-sized pistols over its larger caliber counterparts.  
.40 S&W offers a good balance between power and capacity. Many people prefer .40 S&W for defensive pistols, since it packs more of a punch than 9mm but still allows for a slightly larger magazine capacity than .45 ACP.
.45 ACP provides excellent stopping power but may have more recoil and won't allow you to carry as many rounds. However, over-penetration is less of a concern, so it can be inherently safer for innocent bystanders.
Again, your choice should align with your purpose and personal preferences.
Size and Concealability
As mentioned above, if you plan to carry the pistol, size matters. Compact and subcompact models are easier to conceal, making them ideal for concealed carry. However, full-sized pistols are generally more comfortable to shoot due to their larger frames.
Choose a size that balances concealability with comfort.
Magazine Capacity
Just like we discussed above, consider the magazine capacity of the pistol. Higher capacity magazines are advantageous, but they may result in a taller grip, which can affect concealability. Take into account your personal comfort and any legal restrictions when choosing magazine capacity.
Safety Features
Safety is paramount in firearm selection. Look for pistols with safety features like:
Manual Safety: Some pistols have a manual safety lever that you can engage or disengage.
Decocker: A decocking lever allows you to safely lower the hammer without firing the gun.
Firing Pin Block: Prevents the firing pin from moving forward until the trigger is pulled.
Loaded Chamber Indicator: An indicator that shows whether a round is in the chamber.
Ergonomics and Comfort
You should pay attention to the ergonomics of the pistol. Consider grip size, texture, and the shape of the frame. Many SA/DA pistols offer interchangeable backstraps to customize the grip to your hand size. A comfortable grip can significantly impact your shooting experience.
Quality and Reliability
Opt for a SA/DA pistol from a reputable manufacturer. Reading reviews, consulting experienced shooters, and considering the manufacturer's warranty and customer support can help you make an informed decision. Reliability is critical for both safety and performance.
Price Range
SA/DA pistols come in a wide price range. While budget options may be tempting, investing in a quality pistol is advisable for long-term value and performance. Consider both the initial cost and the potential long-term savings and benefits of owning a reliable firearm.
Accessories and Aftermarket Support
Check for the availability of accessories and aftermarket upgrades for the pistol you're considering. This includes holsters, magazines, sights, and grips. The ability to personalize and enhance your firearm can be a significant advantage and allow you to tailor the pistol to your specific needs.
Single Action Vs. Double Action
Single-action, double-action, and DA/SA (Double Action/Single Action) are three distinct types of trigger mechanisms commonly found in firearms, each with unique characteristics:
Single Action (SA): In a single-action mechanism, the trigger performs only one action: releasing the hammer or striker to fire the gun. This means that the hammer or striker must be manually cocked before the first shot can be fired. Single-action triggers are often lighter and shorter, making them preferred in precision shooting. Common examples are found in many classic revolvers and semi-automatic pistols like the Colt Single Action Army and the M1911.
Double Action (DA): A double-action trigger mechanism performs two actions: cocking and then releasing the hammer or striker. This allows a firearm to be fired without manually cocking the hammer first. The trigger pull in a double-action firearm is usually heavier and longer, which can affect accuracy but increases safety as it reduces the chance of accidental discharge. Double-action is often found in modern revolvers and some semi-automatic pistols.
Double Action/Single Action (DA/SA): DA/SA firearms combine elements of both single and double action. The first trigger pull is double-action, cocking and releasing the hammer or striker. Subsequent shots are fired in single-action mode, where the recoil or cycling of the gun cocks the hammer or striker, resulting in a lighter and shorter trigger pull. This system is seen as a balance between the readiness of double-action and the precision of single-action. Examples include the Beretta 92 and SIG Sauer P226.
Each of these mechanisms caters to different preferences regarding trigger pull, readiness to fire, and safety features.
Check out our full guide on the different action types for more information.
FAQs
Is single-action or double-action better for concealed carry?
The choice between single-action (SA) and double-action (DA) for concealed carry depends on personal preference. SA offers a lighter trigger but may require a manual safety. DA has a heavier trigger and often lacks a manual safety. The heavier trigger pull is sometimes preferred as a safety in itself.
Are double-action pistols safer than single-action?
Double-action (DA) pistols are often considered safer due to their longer, heavier trigger pull, reducing the risk of accidental discharges. However, proper firearm safety and handling are essential, regardless of the action type.
Why would you want a double-action pistol?
A double-action (DA) pistol is chosen for its inherent safety features, with a longer and heavier trigger pull, reducing the risk of accidental discharges. This can be preferred in self-defense situations where safety is a top priority.
Conclusion
We've explored the exhilarating world of DA/SA pistols and unraveled their charm and functionality. These firearms offer the perfect blend of precision, versatility, and reliability, making them a top choice for shooters of all levels. After meticulous testing and evaluation, one pistol emerged as the shining star among the contenders.
The CZ 75 SP-01, with its exceptional performance, reliable design, and user-friendly features, stands head and shoulders above the rest. It's a versatile firearm that can cater to the needs of both seasoned marksmen and those new to the world of handguns.
We'd love to hear your thoughts and experiences with DA/SA pistols. Leave a comment below and share your insights on your favorite choice or any questions you may have.
Explore more