6 Best Left-Handed Pistols [2023]: Guide For Southpaws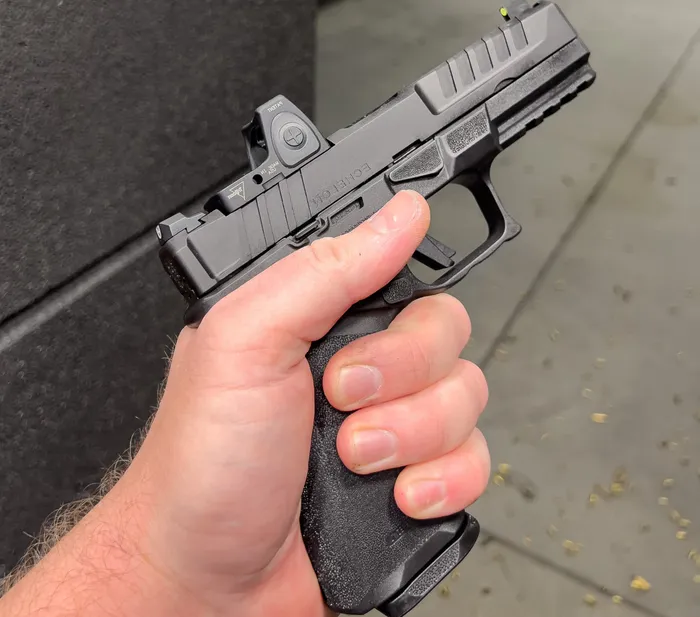 6 Best Left-Handed Pistols [2023]: Guide For Southpaws
Left-handed shooters, it's time to find your perfect match! We're zeroing in on the best left-handed handguns, tackling the challenge of finding models that truly suit your southpaw style.
It's amazing to me how firearms manufacturers started to take ambidextrous handgun design seriously only recently.
Sure, left-handed folk take up between 10-12% of the world's population, but that's no excuse for the lack of southpaw controls we see on handguns.
Over the years, I've met some left-handed sharpshooters who really rack up accurate follow-up shots by using right-hand firearms. However, this got me thinking about how much time they spent painstakingly practicing their non-dominant hand to handle all those right-handed controls just to avoid hot brass in their face.
Imagine those struggles.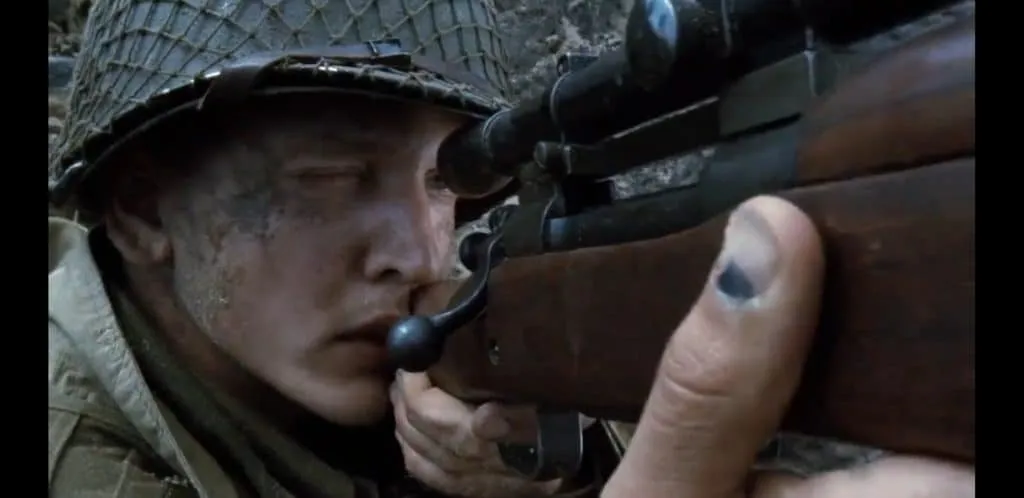 Well, not anymore. It's the 21st century, and now, more than ever, there are lots of great handguns with fully ambidextrous controls that dominate the left-handed firearms market.
I rounded up the best left-handed handguns, and I tried to make them as diverse as possible.
I created this list of left-handed pistols with reliability and lefty-friendly relevance in mind. While we've yet to see southpaw pistols that eject casings on the left, all of these southpaw pistols offer outstanding shootability, convenience, and aftermarket galore.
6 Best Left-Handed Handguns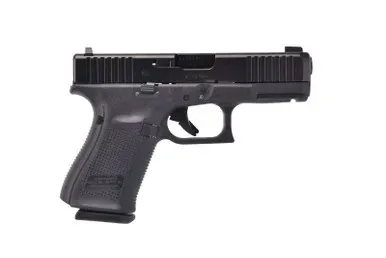 Specifications
| | |
| --- | --- |
| Magazine Capacity | 15+1 |
| Barrel Length | 4.02 inches |
| Overall Length | 7.28 inches |
| Height | 5.04 inches |
| Weight | 23.63 ounces (empty) |
| Finish | Black polymer nDLC |
| Grips | Polymer |
| Sights | Fixed |
| Safeties | Reversible mag release; Intuitive slide release; Ambidextrous feeding |
Pros & Cons
Pros
Excellent trigger action
Durable polymer
Aftermarket abundance
High mag capacity for a gun this size
Good for concealed carry
Cons
A bit expensive
Factory sights are lousy
Let's start with the people's favorite.
The Glock G19 is one of the most popular 9mm handguns on the planet.
The reason why it's popular among the left-handed is that it has convenient ambidextrous controls. There's no manual safety, but it's easy to get used to the reversible magazine release and intuitive slide release.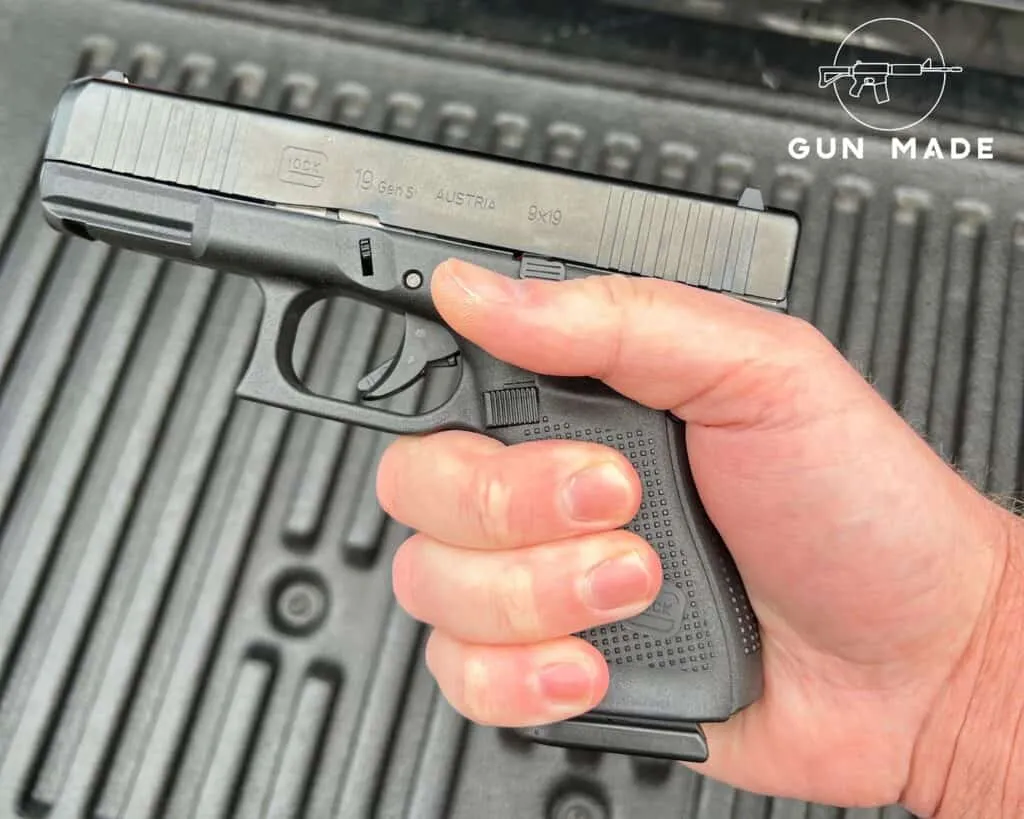 Unlike the previous models, the G19 has an ambidextrous slide-stop lever. The flared (half-moon shape) magwell offers intuitive, ambidextrous feeding, and it also has a drop-safe trigger to prevent accidental discharge.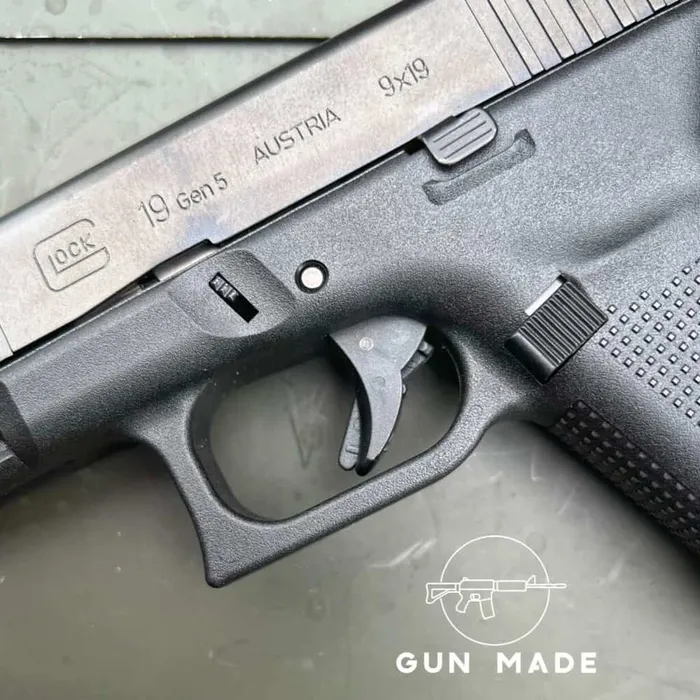 What's more, it accepts Glock 17 magazines, and you can find all kinds of extended mags, holsters, grips, and internal parts for it. You better start with the sights and optics because the factory sights can use more work.
Here's a list of the best Glock sights for more info.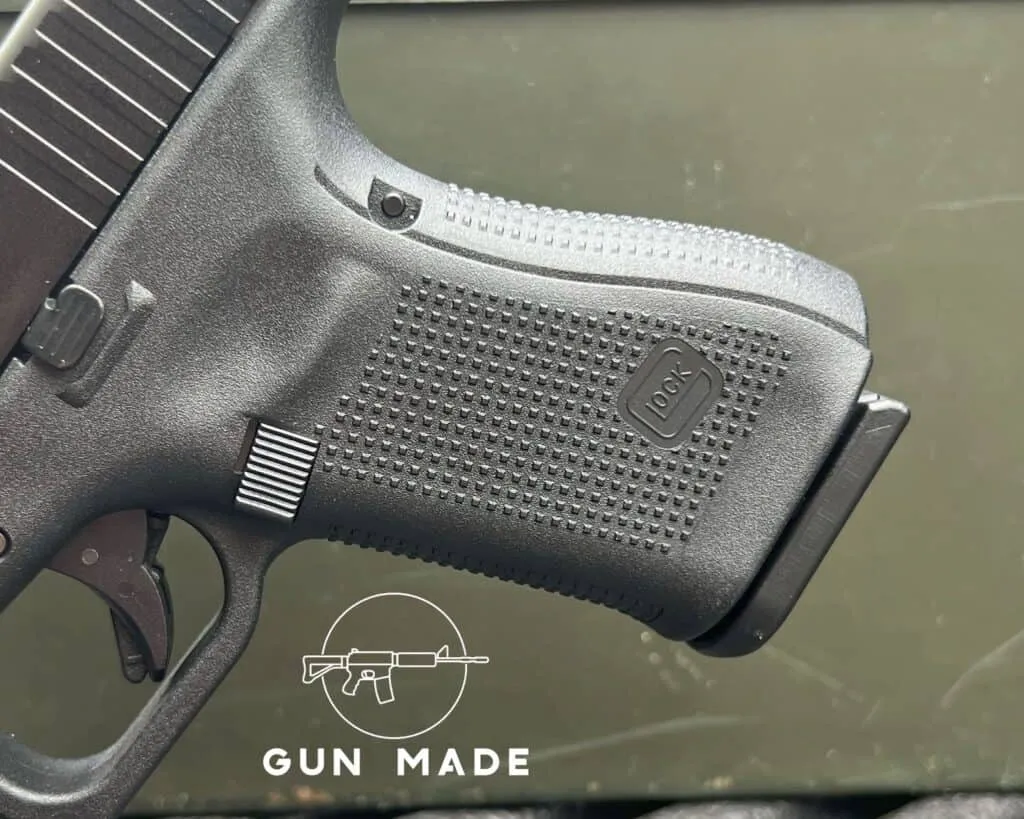 This Austrian piece of machinery will serve us for a long time. It's lightweight, ergonomic, and the trigger has a slight creep before the rolling break. The lack of decockers or safety levers makes it a fantastic snag-free CCW option. No wonder it's the lefties' go-to handgun.
Check out our Glock 19 Gen 5 review for more info.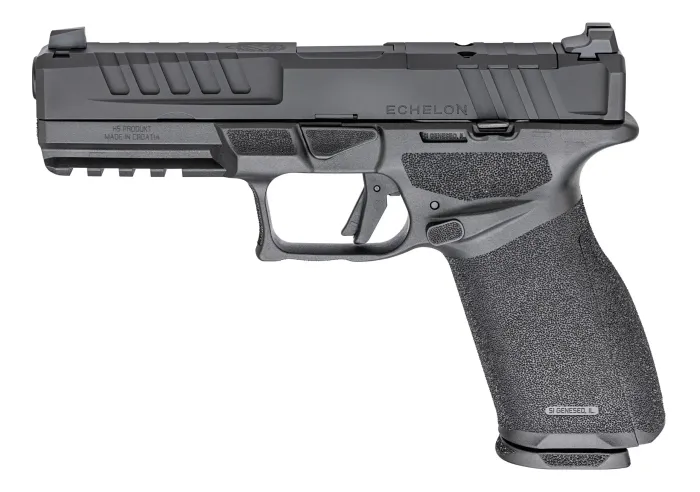 Specifications
| | |
| --- | --- |
| Caliber | 9mm |
| Capacity | 20+1, 17+1 |
| Barrel Length | 4.5 inches |
| Overall Length | 8 inches |
| Width | 1.2 inches |
| Height | 5.5 inches w/ flush mag, 6.5 inches w/ extended mag |
| Weight | 23.9 ounces w/ flush mag, 24.3 ounces w/ extended mag |
| Slide | Billet machined, Melonite finish, optics ready |
| Barrel | Hammer forged steel, Melonite finish, 1:10 |
| Sights | Tactical rack U-notch rear with a tritium/luminescent front |
Pros & Cons
Pros
Customizable thanks to Central Operating Group (COG)
High capacity with 17 and 20-round mags included
Direct mounting for over 30 optics with VIS
Reliable performance across various ammo types
Tritium front sight with luminescent ring for visibility
Cons
Slide stop lever feels undersized
Sights could be taller for easier alignment
The Springfield Armory Echelon, named for its innovative military formation, breaks the mold with its design. It is a handgun that goes beyond the cosmetic tweaks of successive "generations" and brings fresh and functional features to the table, especially catering to the needs of left-handed shooters.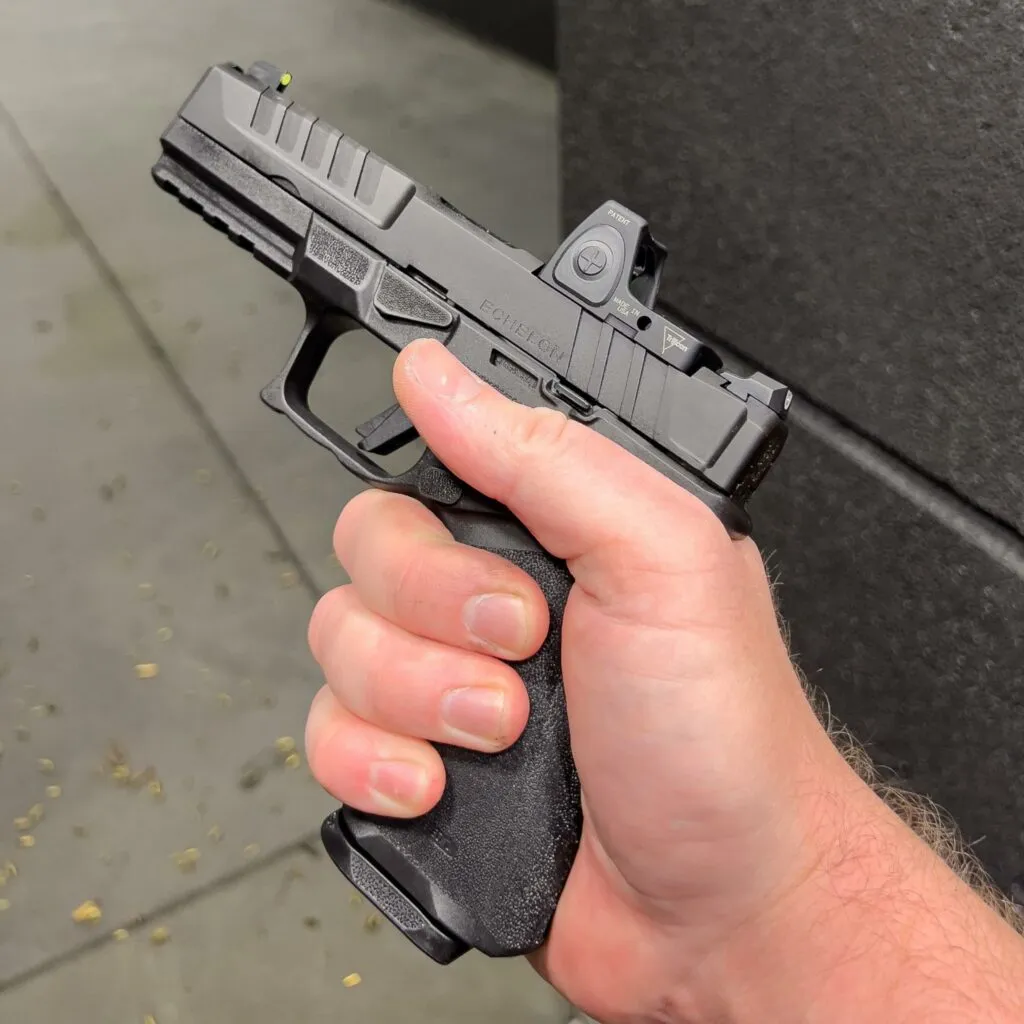 The Echelon is a modular 9mm pistol with patent-pending features that set it apart from the rest. With customizable elements thanks to the Central Operating Group (COG), adjustable capacity, and a Variable Interface System (VIS) for direct mounting of over 30 optics, the Echelon is ready for any situation.
The Echelon's standout feature, and what makes it particularly attractive to left-handed shooters, are its ambidextrous controls. The gun comes standard with an ambidextrous slide stop and magazine release. Unlike many other guns, the magazine release is truly ambidextrous rather than merely reversible.
This design feature provides an intuitive and seamless experience for left-handed users, eliminating the need to hunt for aftermarket modifications or struggle with awkward right-handed control placements. The Echelon ensures that southpaws feel as catered to as their right-handed counterparts.
Apart from being lefty-friendly, the Echelon also boasts of a myriad of user-friendly features. It's reliable, accurate, and comes with a Tritium front sight with a luminescent ring for improved visibility. The adaptive grip texture is hailed as one of the best on the market, providing a secure hold without the discomfort of overly aggressive texturing. The slide design incorporates deep serrations, a flare on the rear, and a trench cut upfront, enhancing usability.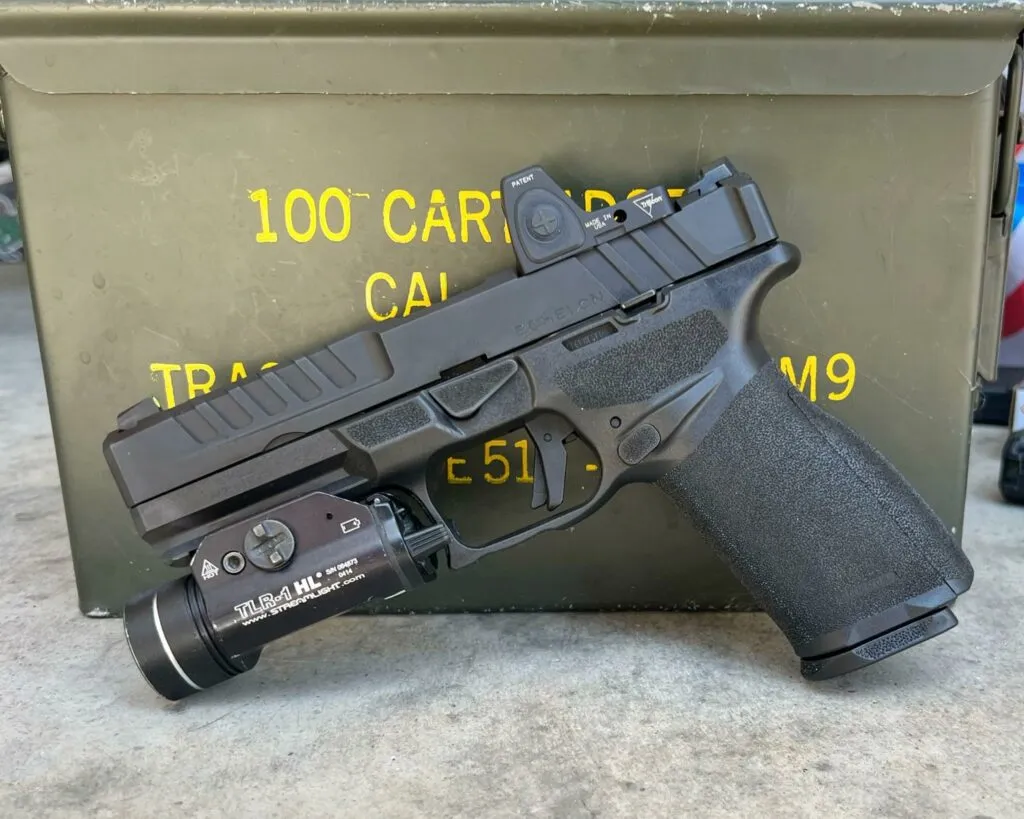 Lastly, with its toolless field stripping, maintaining the Echelon is as convenient as using it. Ultimately, the Echelon isn't just a pretty face; it's a thoughtful handgun designed with every shooter's needs in mind.
Check out our Echelon review for the full. scoop.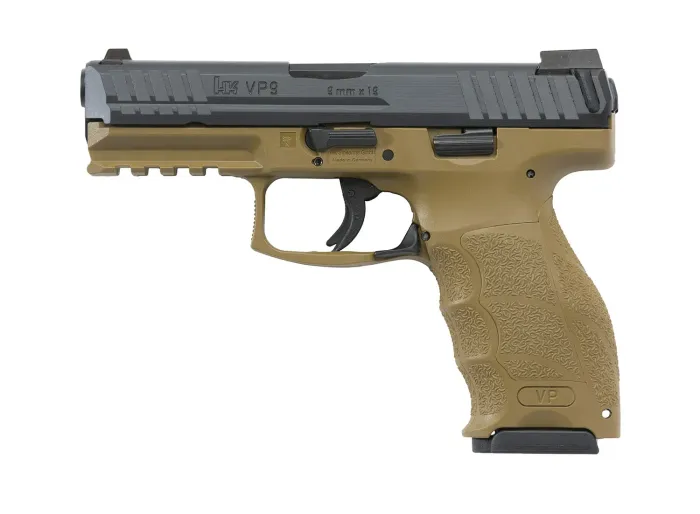 Specifications
| | |
| --- | --- |
| Magazine Capacity | 15+1 |
| Barrel Length | 4.09 inches |
| Overall Length | 7.34 inches |
| Height | 5.41 inches |
| Weight | 25.26 ounces |
| Finish | Black; Burnt Bronze Cerakote |
| Grips | Black polymer; Interchangeable backstraps and lateral plates |
| Sights | 3-Dot |
| Safeties | Magazine release; Slide release; Loaded chamber indicator |
Pros & Cons
Pros
Highly accurate 9mm
Light trigger pull
Compatible with TruGlo sights
Lightweight and compact for concealed carry
Fully customizable grips for southpaw users
Easy trigger action and feel
Compact and lightweight design
Cons
Paddle magazine release is a bit tricky
Difficult to find a good holster for it
First the Germans, then the Austrians. Heckler & Koch has a couple of southpaw pistols in store, but there's no beating the Heckler & Koch VP9.
Introduced in 2014, the Volkspistole (People's Pistol) began winning the hearts of many left-handed shooters with its ergonomic design, enhanced H&K trigger pull, and unique, fully ambidextrous controls.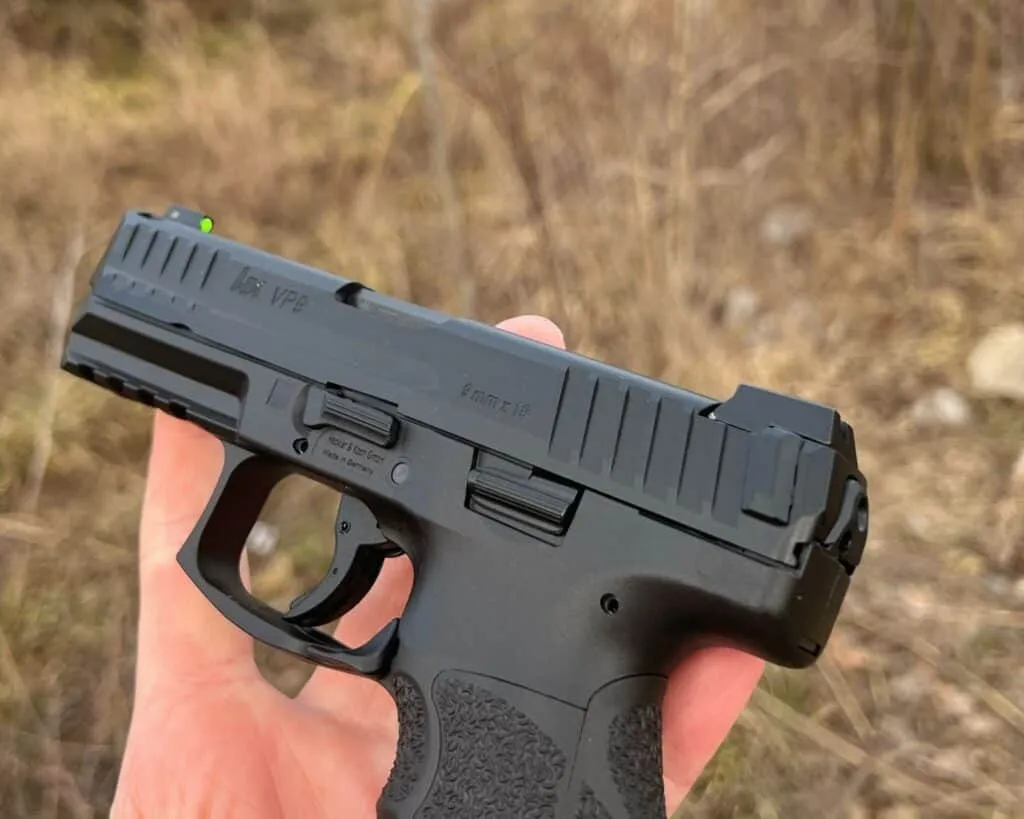 Both hand sides feel just right with the ambidextrous slide release and magazine release just below the trigger guard. It also has a loaded chamber indicator.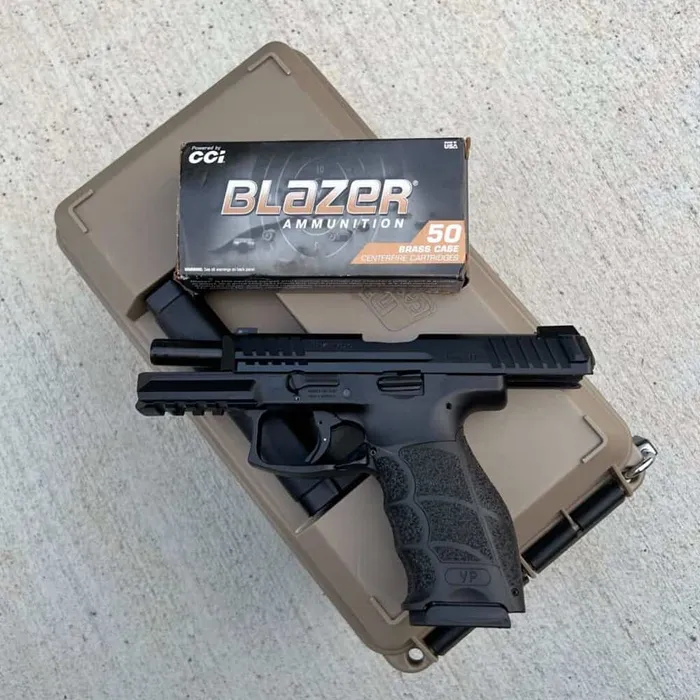 The second slide stop is on the right side of your left thumb, and the magazine catch paddle slides horizontally, so you need some practice with your index finger or thumb to get used to it.
The Picatinny rail for mounting accessories is molded into the polymer frame and has three interchangeable backstraps and six side panels for grip customizations. It fits any hand size due to the molded finger grooves.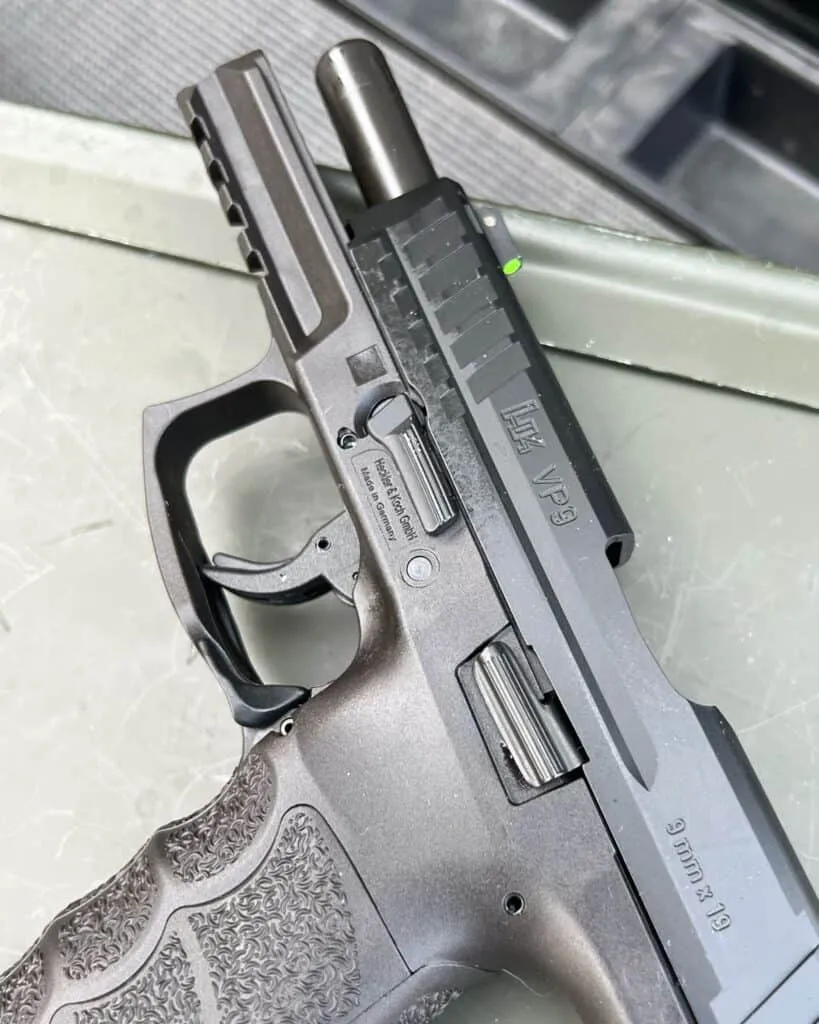 Overall, it's a great gun for lefties who want a good trigger with superb trigger pre-travel. Check out our full HK VP9 review for more info.
Best Left-Handed DA/SA Handgun – CZ P-07 9mm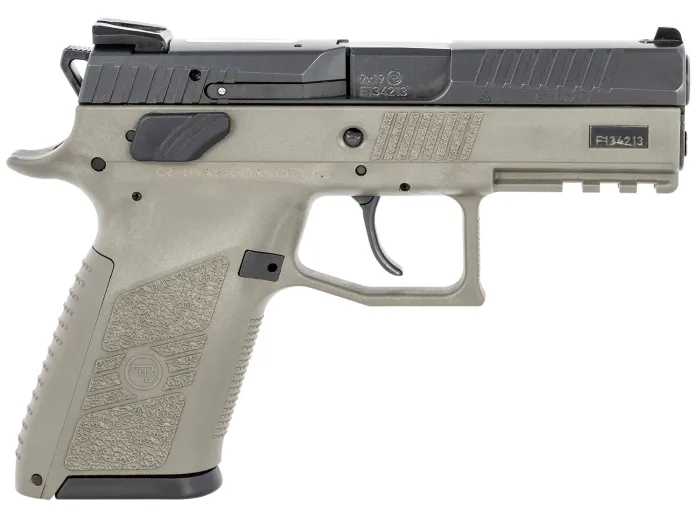 Specifications
| | |
| --- | --- |
| Magazine Capacity | 15+1 |
| Barrel Length | 3.8 inches |
| Overall Length | 7.2 inches |
| Height | 5.3 inches |
| Weight | 27.2 ounces |
| Finish | Polymer |
| Grips | Black polymer; Interchangeable backstraps |
| Sights | Fixed 3-Dot |
| Safeties | Interchangeable, ambidextrous safety; Decocker/Manual safety |
Pros & Cons
Pros
Viable concealed carry option
Some models have night sights
Cold hammer-forged steel barrel
Swappable magazine release and backstraps
Very convenient Omega trigger system
Cons
DA/SA takes some getting used to
Mounting a red dot sight needs a gunsmith
Heavy for a 9mm pistol
The CZ P-07 9mm handgun might be Česká Zbrojovka's best ambidextrous handgun addition to the already scarce ambidextrous handgun pool. It has a cold hammer-forged steel barrel, forward cocking serrations, snug grips, and interchangeable backstraps for your convenience.
It screams lefty-friendly handgun with its convertible decocking safeties, ambidextrous safety lever, and swappable magazine release.
Sadly, the slide stop isn't ambidextrous like on the G19 or the HK VP9. You have to practice using your left index finger to release the slide or slide it back with your right hand.
Otherwise, the CZ patented Omega trigger system allows you to install a manual safety or use a decocking lever.
You can carry the handgun with the hammer down for a DA (double-action) first shot or carry it "cocked and locked," much like a standard 1911. This is what makes it stand out from other handguns—especially since lefties don't see many ambidextrous 1911-style handguns or hammer-fired DA/SA anyway.
One more thing: if you're lucky to find a discontinued CZ 85C (Combat), this fully-ambidextrous, steel-framed handgun might be a better option for you. There's also the HK P2000 if you want an ambidextrous plinker by Heckler.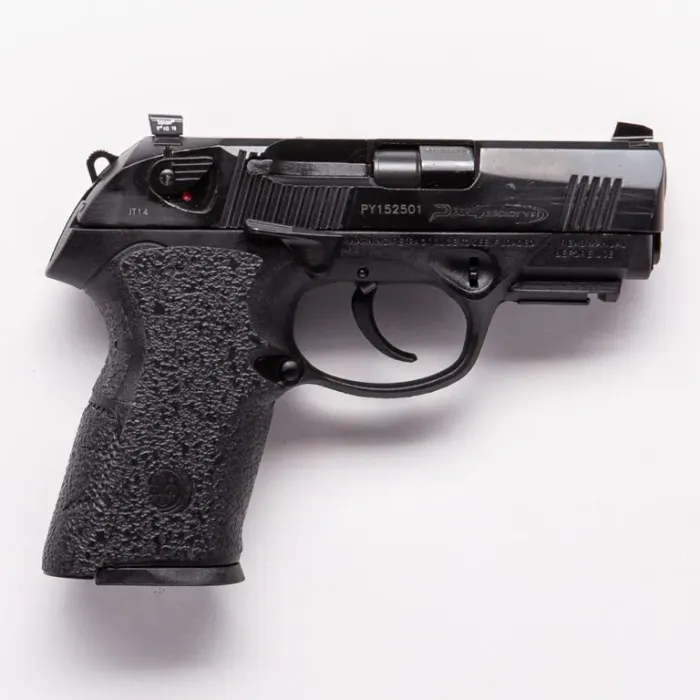 Specifications
| | |
| --- | --- |
| Magazine Capacity | 15+1 |
| Barrel Length | 3.27 inches |
| Overall Length | 6.8 inches |
| Height | 5 inches |
| Weight | 27 ounces (unloaded) |
| Finish | Black |
| Grips | Black polymer with interchangeable backstraps; Talon grips |
| Sights | 3-Dot; High-viz tritium front/U-notch rear |
| Safeties | Slide-mounted decocker; Swappable magazine release; Ambidextrous slide lock |
Pros & Cons
Pros
Beretta reliability
Lightweight, snag-free, and perfect for concealed carry
Solid sights, easily adjustable for windage and elevation
Snag-free feature for a faster draw
Cons
Expensive
Barely textured grip, but there's a Talon grips model available
The subcompact Beretta PX4 Storm is a fantastic, lightweight concealed carry option for lefties.
It has the almighty, enhanced Beretta classic operating system with a hammer-fired DA/SA trigger. The takedown is similar to a Glock, and disassembly is easy for lefties.
There's a slide-mounted decocker safety, convenient accessory rail, interchangeable mag release, and a rotating barrel for reduced recoil.
The mag releases are also swappable, and the decocking safety can be tweaked with either hand. As for the slide release, it takes a bit of getting used to and getting your index finger working instead of your thumb.
Besides the convenient ambidextrous controls, the double-action trigger is the star of the show, and it's perfect for that old-school trigger system feel. The 3-dot fixed sights work well, and there's a .40 S&W caliber model as well.
Additionally, you can also check out the bulkier but cheaper Beretta APX Centurion with an ambidextrous slide catch and reversible magazine release.
Here's a list of the best single-stack 9mm pistols for more info.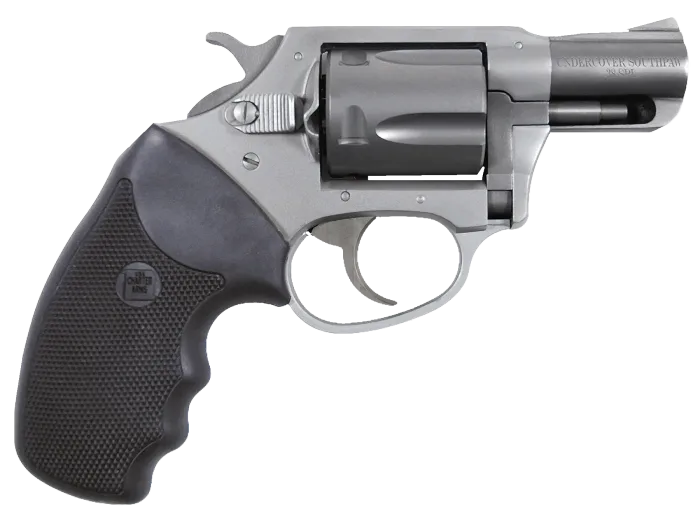 Specifications
| | |
| --- | --- |
| Magazine Capacity | 5 rounds |
| Barrel Length | 2 inches |
| Overall Length | 3.75 inches |
| Height | 5 inches |
| Weight | 12 ounces |
| Finish | Aircraft-grade 7075 aluminum; Stainless steel |
| Grips | Black rubber |
| Sights | Fixed iron sights |
| Safeties | Cylinder release on the right  |
Pros & Cons
Pros
Undoubtedly one of the best left-handed revolvers
Great for CCW
Lots of models available
Durable stainless steel and aluminum alloy construction
Excellent DA/SA trigger system with a balanced trigger pull
Revolvers are already the first option for left-handed shooters because they give you the convenience of NOT spewing hot brass in your face. Well, here's a one-up for you.
As the name suggests, Charter Arms specifically designed the Southpaw with the Undercover Lite model blueprint in mind, only it's a reverse-engineered model—the cylinder opens to the right!
Experience the cowboy's swinging cylinder of the snub-nosed Southpaw with a DA/SA trigger, hot .38 Special caliber rounds, and highly durable stainless steel and aluminum alloy construction. It's also +P-rated, so you can shoot those high-pressure bullets if you like.
There are only five rounds, but hey, it's a convenient little ambidextrous revolver for CCW. You can unlock the cylinder from the frame with your left thumb.
The 12-ounce weight makes it a great concealed carry option, and the black synthetic grips feel great.
Overall, the Southpaw .38 Special is a great left-handed revolver if you want to know what it's like to swing the revolver's cylinder on the right.
Buyer's Guide for the Best Left-Handed Handguns
Shooting with both hands is alright, but why bother when you can pick an ambidextrous option and call it a day?
I remember the S100 Southpaw by Cabotguns. A now discontinued 1911-style handgun with an ejection port on the left. I'll give you three guesses why it got discontinued—leftie-focused, low demand.
While we've yet to see viable handguns with ejection ports on the left instead of right, here are some important factors to consider before picking left-handed handguns.
It's not just ambidextrous control consideration but also the prospect of ergonomics, concealed carry viability, aftermarket parts, and overall shootability to keep in mind.
Ergonomics
Being confident and comfortable with your dominant left hand while using handguns is paramount.
Sure, it's alluring to see handguns that are made explicitly for lefties. But no one can be absolutely sure if the gun they're eyeing on the web could be perfect for their hands or purposes, especially if you're looking for a small, snag-free design for concealed carry.
Choose a handgun that has interchangeable backstraps and grips, or if it suits you, grooved grips also work well, but you'll need to shoot a few rounds before you decide that.
For example, the Beretta PX4 Storm Compact has regular black grips. For a few dollars more, there's the standard Beretta PX4 Storm model with Talon grips that really make a difference.
Before you do anything, I suggest you try shooting it at the ranges before considering your purchase. Finding a feel for the gun is necessary, then comes shootability.
Size, Weight, and Design
Leftie revolvers are a thing. You have the Charter Arms Southpaw that finally gives left-handed folk some joy in using revolvers with right-side swinging cylinders.
However, the 2-inch barrel might not be something most people would look for, especially when accuracy is in question.
The overall design, construction, weight, and size are very important for your purposes, whether self-defense, CCW, home defense, or just plain fun at the ranges.
While the overall size depends on your feel, look for compacts or compacts with at least 3-inch barrels.
Ambidextrous Categorization
When ambidextrous controls are in question, we categorize handguns like:
Non-Ambidextrous or Convertible
These handguns have no reversed controls and are made for smug, right-handed folk. We don't want their kind 'round here.
Semi-Ambidextrous or Convertible
Semi-Ambi handguns have reversible basic controls like the magazine catcher or safety. They can be either fully ambidextrous or reversible—for example, a handgun with a reversible mag catch but a right-handed safety lever.
Fully Ambidextrous
These handguns have controls that both hands can access, and they can have a fully ambidextrous slide stop, thumb safety, or mag release. The fully ambidextrous H&K VP9 is one such example.
Conclusion
All of the six pistols I highlighted are just perfect, well-rounded options for lefties, and I recommend you try any of them.
There's no clear winner; it depends on the price and ergonomic design you prefer.
Additionally, I found a handy alternative list of pistols on Reddit with fully ambidextrous controls and ejection ports on the left. Still, most of them are hard to find or discontinued.
What you need to know is first to gain an overall feel of the handgun and its shootability. This is very important, and I suggest you try some out at the ranges before buying them.
The struggle of forcing yourself to learn to shoot with your right hand is pure frustration, and it takes a lot of time.
If you're a leftie and you're dinging bullseyes with right-handed handguns, all I can say is hats off to you.
And if you're also looking to add to your arsenal with a left-handed rifle, we've got a guide for that, too.
Stay safe, shoot straight.
Explore more