Springfield Armory Echelon Review: Hands-On With The Modular and Market-Disrupting 9mm Pistol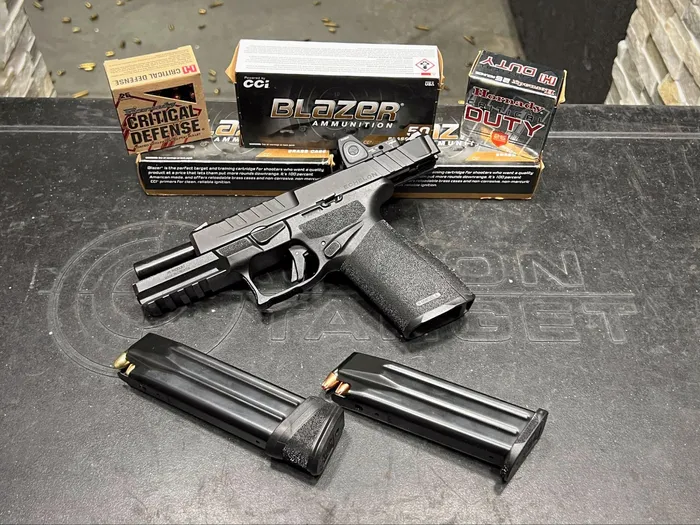 Springfield Armory Echelon Review: Hands-On With The Modular and Market-Disrupting 9mm Pistol
Introduction
Don't you just hate it when you get excited about a new gun release, only to find out it's just a new "generation" of the current model with only a few minor changes made?
If you do, too, don't worry…the Springfield Armory Echelon is not one of those guns.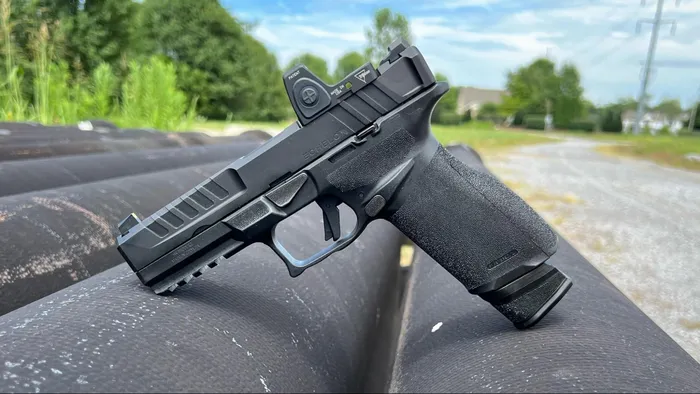 The Echelon, named after the innovative military formation that staggered troops diagonally for the first time back in 371 BC, also provides an innovative take on the modular 9mm pistol. With patent-pending features that help it to stand out from its competition, the Echelon is extremely adaptable and ready for whatever you can throw at it.
While I've only had it for a couple of weeks now, I've managed to make it to the range a few different times and put a few hundred rounds through it. I won't spoil the entire review, but I'll give you a hint…I'm impressed.
To see what I liked, didn't like, or felt indifferent about, keep on reading. Don't be a quitter. 
Springfield Echelon Review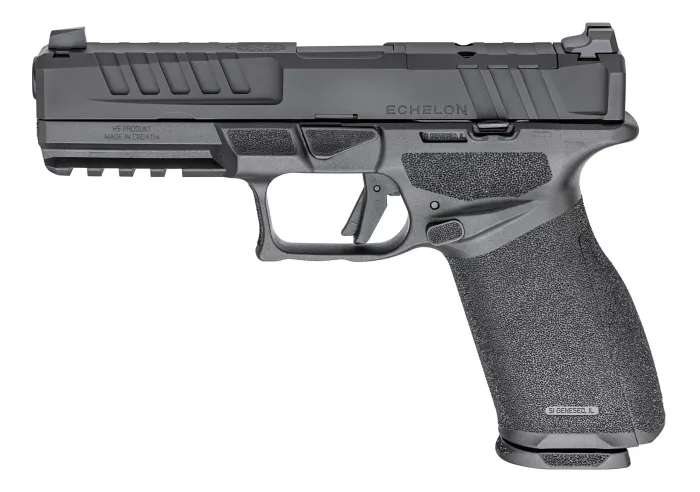 Specifications
| | |
| --- | --- |
| Caliber | 9mm |
| Capacity | 20+1, 17+1 |
| Barrel Length | 4.5 inches |
| Overall Length | 8 inches |
| Width | 1.2 inches |
| Height | 5.5 inches w/ flush mag, 6.5 inches w/ extended mag |
| Weight | 23.9 ounces w/ flush mag, 24.3 ounces w/ extended mag |
| Slide | Billet machined, Melonite finish, optics ready |
| Barrel | Hammer forged steel, Melonite finish, 1:10 |
| Sights | Tactical rack U-notch rear with a tritium/luminescent front |
Gun Made Youtube Review
Pros & Cons
Pros
Modular and customizable to fit individual needs thanks to the Central Operating Group (COG)

Configurable capacity – ships with a 17 and 20-round mag

Variable Interface System (VIS) – allows direct mounting of over 30 optics

Reliable and accurate

Tritium front sight with luminescent ring

Adaptive grip texture is one of the best on the market (in my opinion)

Oversized and undercut trigger guard

Tactical slide – flared in the rear and deep serrations 

Tool less field stripping
Cons
Slide stop lever seems undersized

Would have liked to see taller sights

It's not free!
Initial Impressions & Range Report
Overall Feel
Also having a Hellcat Pro, I've become very fond of the adaptive grip texture, so the Echelon is already starting on the right foot…for my hand. Sorry, bad joke, I know.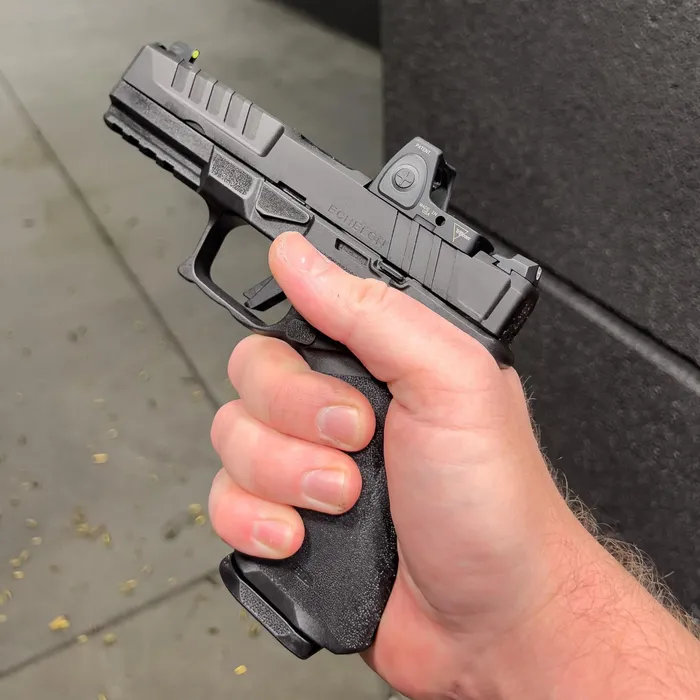 The Echelon comes with the medium grip module, which is probably the one I'd go with anyways. It's very well-balanced overall and fits great in hand.
The feel of the slide is much better than the average, thanks to the deep serrations, flare on the rear, and trench cut upfront. It's very easy to press check and rack.
Reliability
Now remember, I have not had the Echelon for all that long. In the small amount of time I have, though, I've put 350 rounds through it. All 350 rounds went down range without skipping a beat. No failures of any kind.
From cheap range ammo to expensive defensive rounds, the Echelon ate them all like candy. Whether I was rapid-firing or taking my time dialing in the optic, it cycled flawlessly.
Accuracy
I feel like I used a cheat code because my Echelon came fitted with a Trijicon RMR Type 2. It took less than one magazine to get it on point, and then it was smooth sailing.
I couldn't make it to the outdoor range since I've only had the gun for a short time, but I had no issues within the 25 yards the indoor range allowed for.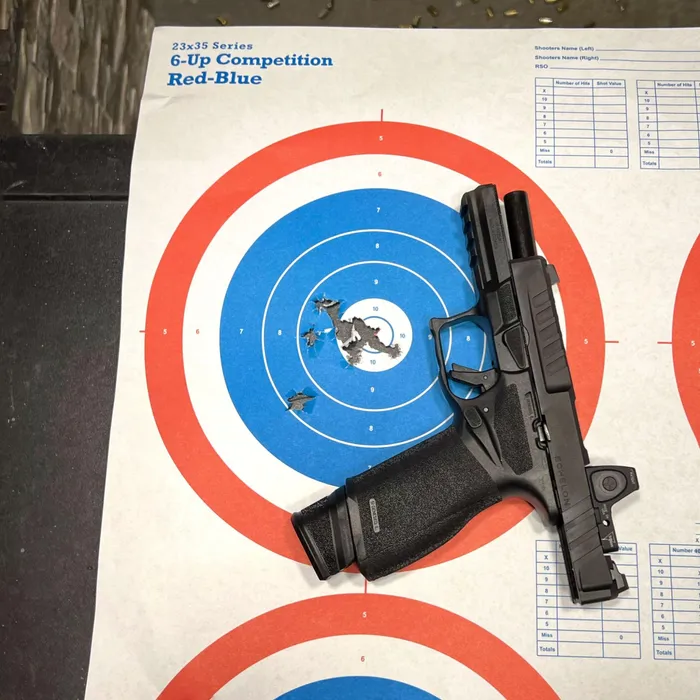 Features
Central Operating Group (COG)
Right at the heart of the Echelon, you'll find the patent-pending Central Operating Group (COG).
It's entirely self-contained, and since it's serialized, you can swap it between different grip modules. The Echelon comes with a medium grip module, but there is a small and large one that can be purchased separately.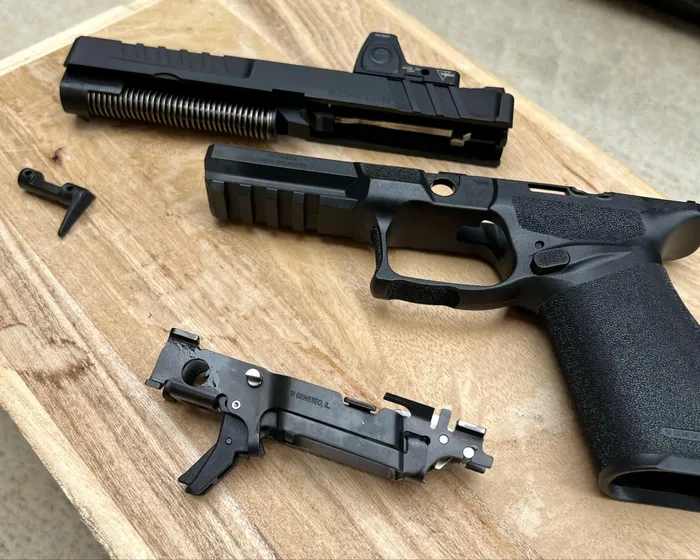 Being able to have different-sized pistol setups ready to go, with only a quick swap of the COG needed, is a valuable feature, to say the least.
As an added safety feature in case the pistol is dropped, the COG has a second sear design to help reduce the chance of an unintentional discharge.
Variable Interface System (VIS)
I don't know about you, but I hate having to run an optic mounting plate. I'll always prefer to have my optics mounted directly to the slide.
Springfield's Variable Interface System uses a set of self-locking pins to configure the mounting footprint to your desired optic. It allows for the direct mounting of over 30 different optics.
This means your optics will sit lower, giving you an improved sight picture.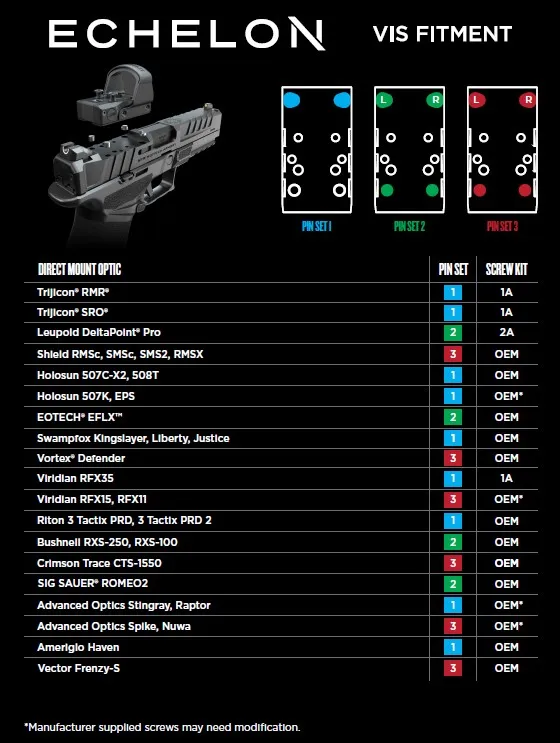 Aggressive & Tactical Slide
The level of detail given to the slide makes it one of my favorite features.
In addition to being optics-ready via the VIS as mentioned above, it also has aggressive serrations, a forward trench cut, and a flared slide.
The serrations are deep and aggressive but not too sharp to where they bother your hands from repeated use. If you press check often like I do, the forward trench cut makes it super easy.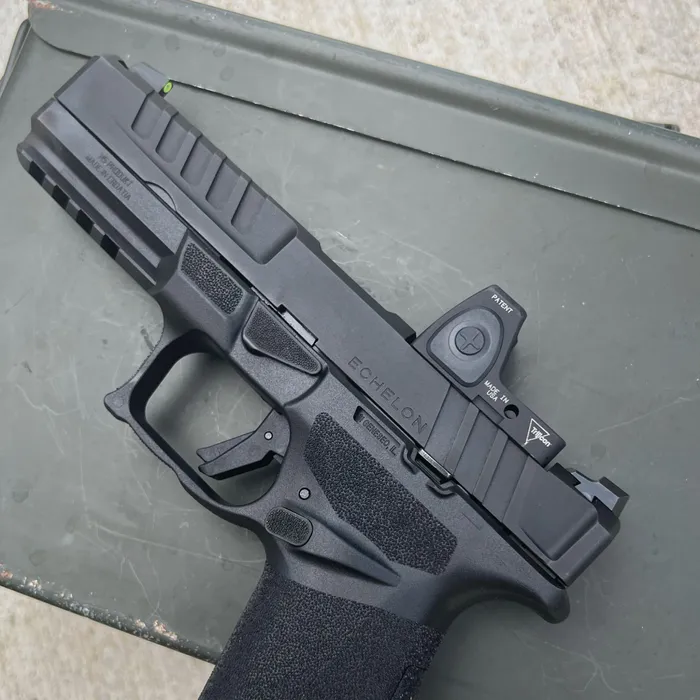 Lastly, to touch on that flared slide, take a look at the rear of the slide. That small flare actually helps quite a bit with racking the slide and is something I didn't even realize I would want.
This slide is checking all of the boxes for me.
Ambidextrous Controls
If you're wrong-handed (lefty), there will be no need to find an aftermarket magazine release or slide stop. The Echelon comes standard with an ambidextrous slide stop and magazine release.
The magazine release is truly ambidextrous, not just reversible like many others.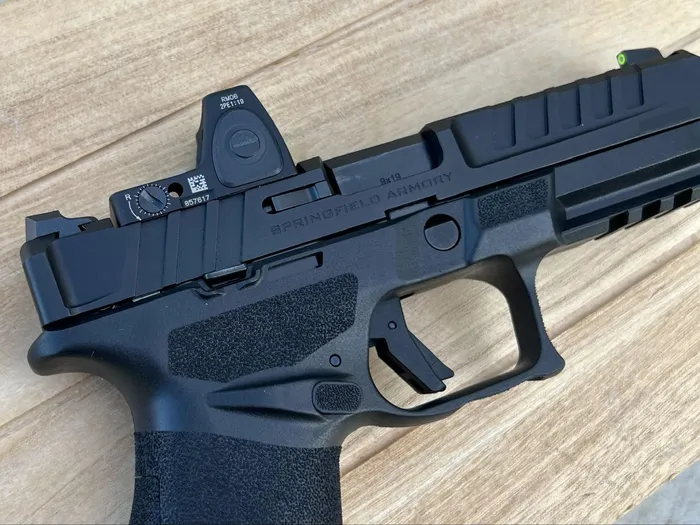 My only gripe regarding the controls is that the slide stop feels undersized. For the first several magazines and reloads, I really had to focus on manipulating it. It got easier with practice, but I would have liked to see it be a little larger.
Tritium Sights
I wasn't a huge fan of U-notch rear sights until I got my Hellcat Pro, but I've grown to really like them now. The Echelon comes with a tactical rack U-notch rear sight and front tritium sight, OR a tritium 3-dot configuration, depending on the model.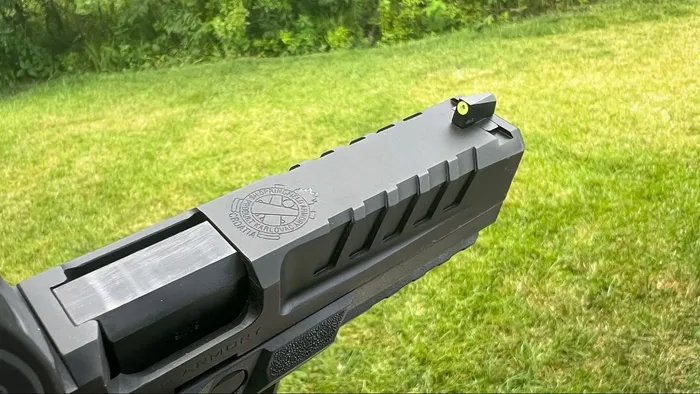 I do wish the model I have came with suppressor height sights, though. With the Trijicon RMR Type 2 mounted, you can just barely get your iron sights aligned. You can make it work, but the taller iron sights would have been appreciated.
Adaptive Grip Texture
I've said it before, and I'll say it again, Springfield's Adaptive Grip Texture is one of my favorite on the market. If you concealed carry, it's especially beneficial since it's smooth to the touch until you apply pressure.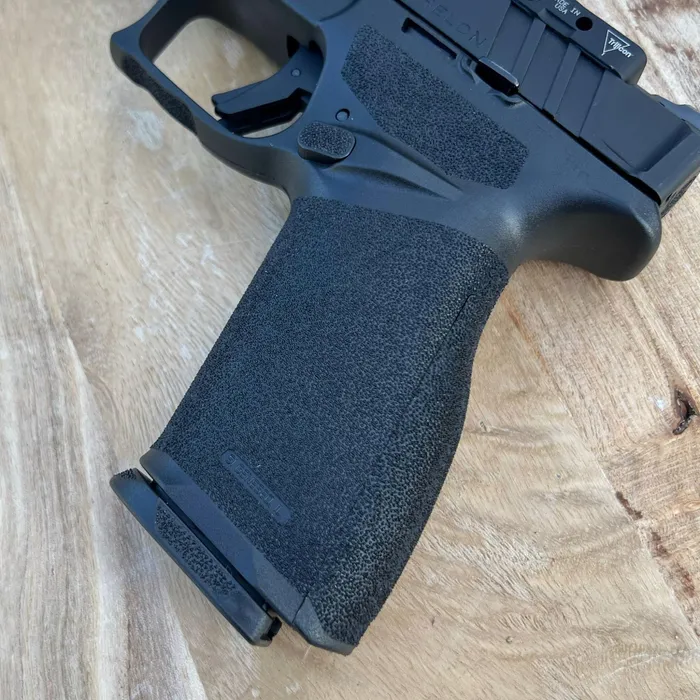 That means you have a lower chance of snagging your clothes while carrying, but you can still achieve a more aggressive grip when shooting. It's not overly aggressive either, so you don't have to worry about any additional hand irritation after an extended-range trip.
Flush & Extended Mags
Capacity won't be a concern you'll have with the Echelon. It comes standard with a 17-round flush magazine and a 20-round extended magazine…or 10-round mags if you live in "one of those states."
The mags are completely blacked out and have several witness holes. The baseplates even have some nice texturing to help with reloads.
How We Tested
I wasted no time hitting the range with the Echelon. Not once, not twice, but three times so far. I don't have as much time as I used to now that I have these rugrats running around, so I usually have to break up my range time into short trips.
Anyways, the Echelon performed wonderfully through whatever I put it through or put through it. Make sense? From shooting drills like the Failure to Stop or the 3-2-1, to reload drills such as the 1-reload-2, the Echelon proved to be a valuable partner.
Ammo Used
Especially with brand new guns, I always try to put several different types of ammo through it to make sure it's not picky. I ran all of the following loads, with zero issues: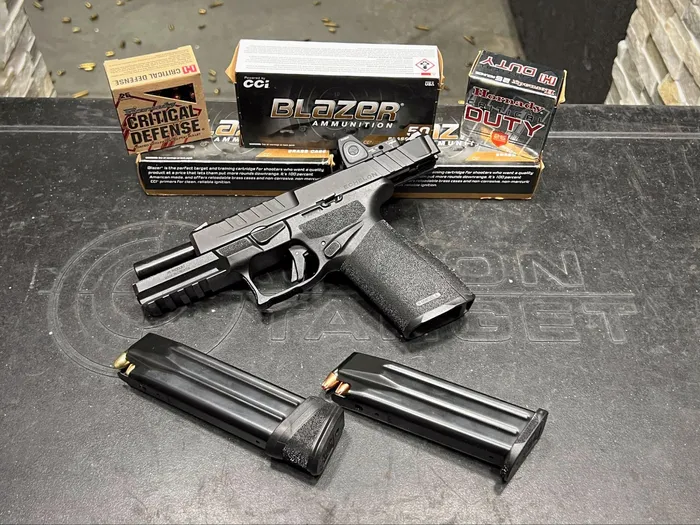 I never shoot remanufactured or hand loads, call me crazy, but I'm assuming the Echelon would not have a hard time with them either.
Score Card
Reliability (10/10)  
So far so good. With a total of 400 rounds through the Echelon, I've experienced a total of zero malfunctions.
Ergonomics (9/10)
The grip size and texture is great. Controls are laid out nicely, and it comes with three interchangeable backstraps. It's a well-balanced gun overall.
Customization (9.5/10)
The only reason the Echelon didn't get a 10/10 is it will take some time for aftermarket support to be established. Based solely on the gun itself, it gets a 10/10.
Appearance (10/10)
It's tactical without being overly aggressive. I'll call it…subtlely tactical. I like how the markings/names are all small and discreet too.
Value (9/10)
Given the modularity and all of the upgraded features the Echelon has, it delivers a huge bang for your buck.
Accessories
Don't get me wrong, the Echelon comes ready to shoot directly out of the box. At the same time, though, who doesn't need a good accessory?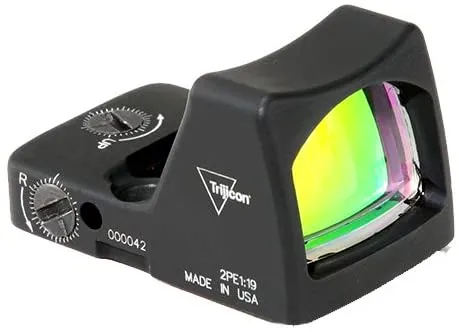 Considered the "gold standard" of red dots by many, the RMR Type 2 comes in a 1 MOA, 3.25 MOA, or 6.5 MOA dot. We loved it enough to do a full review for those interested in more details.
I'd recommend the 3.25 MOA dot as it's the most versatile, meant to provide a balance of precision at long distances but large enough to quickly acquire your target in close quarters.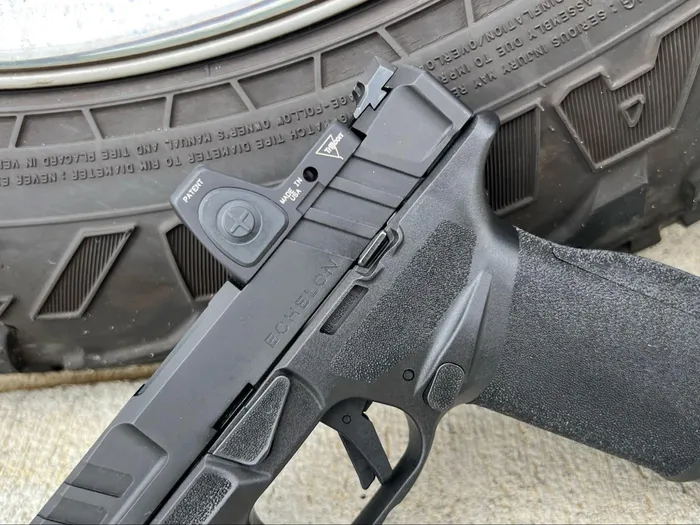 It offers eight brightness settings, which can be manually adjusted or set to automatically adjust. On brightness setting four, you can expect over four years of battery life.
If you're looking for outstanding durability, this is one sight you need to consider. It has a patented housing shape that diverts impact away from the lens, is waterproof to 66 feet, and has been extensively tested for everything from vibrations to extreme temperatures.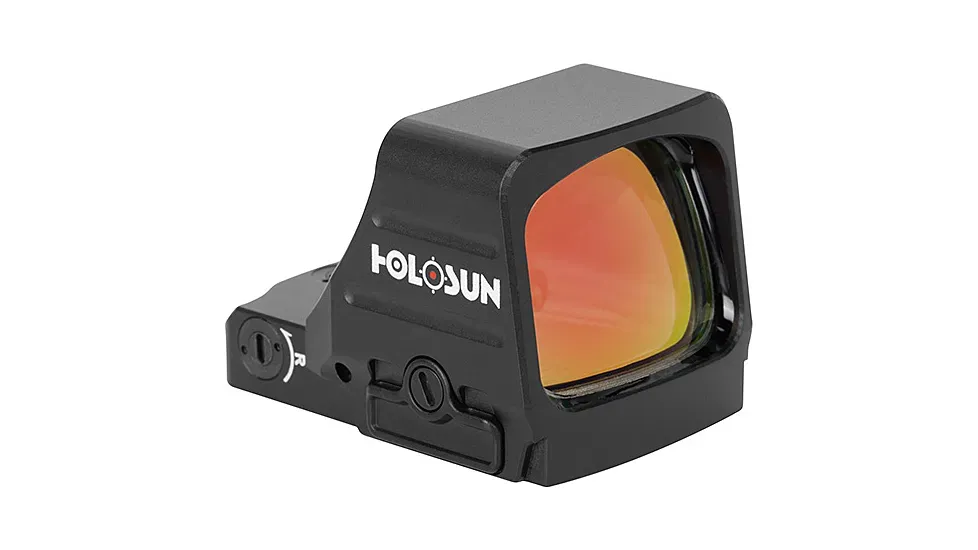 It's one of the newest optics on the market but is quickly becoming one of my favorites.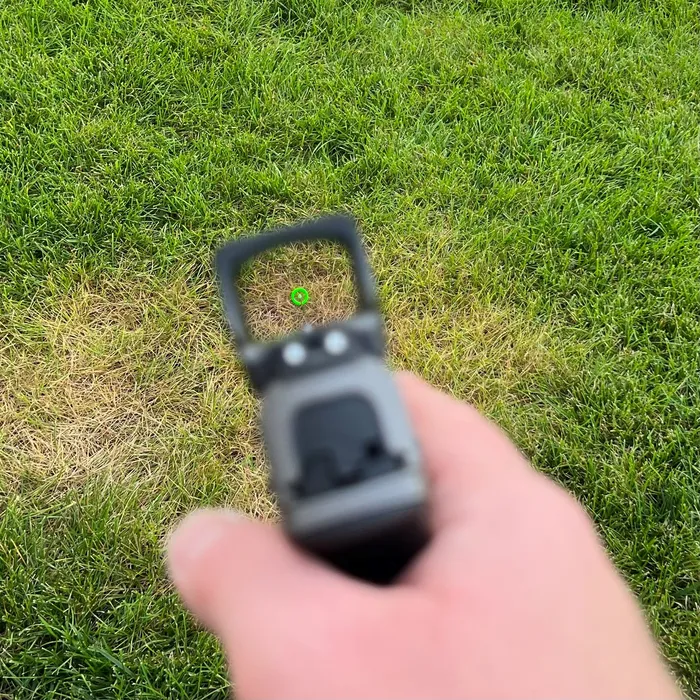 My favorite feature is its Competition Reticle System (CRS) which lets you choose between multiple reticle options. You can choose between a 2 MOA dot, 8 MOA dot, 20 MOA circle, and a 32 MOA circle, or a combination of dot and circle.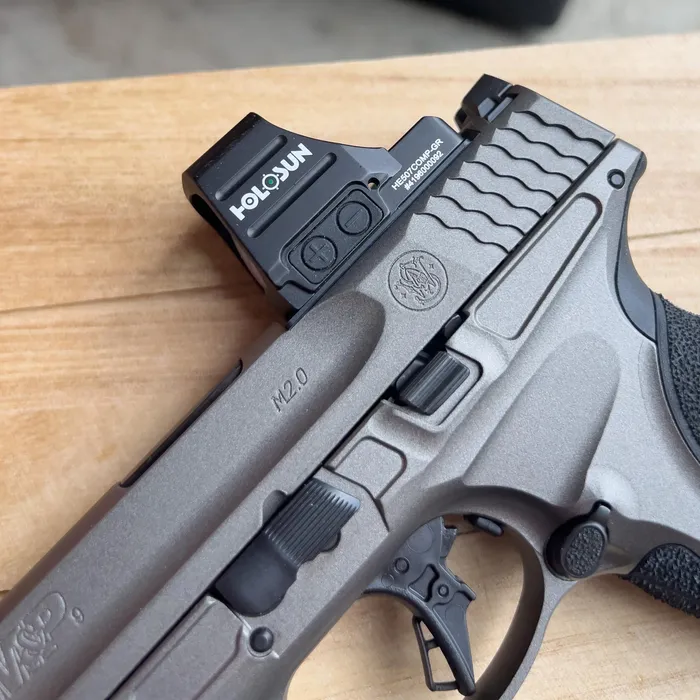 It also has Shake Awake technology to conserve battery life, giving you up to a 50,000-hour battery life. You can choose between a green or red reticle with eight daylight settings and two-night vision settings.
Check out my Holosun 507Comp review if you want more information.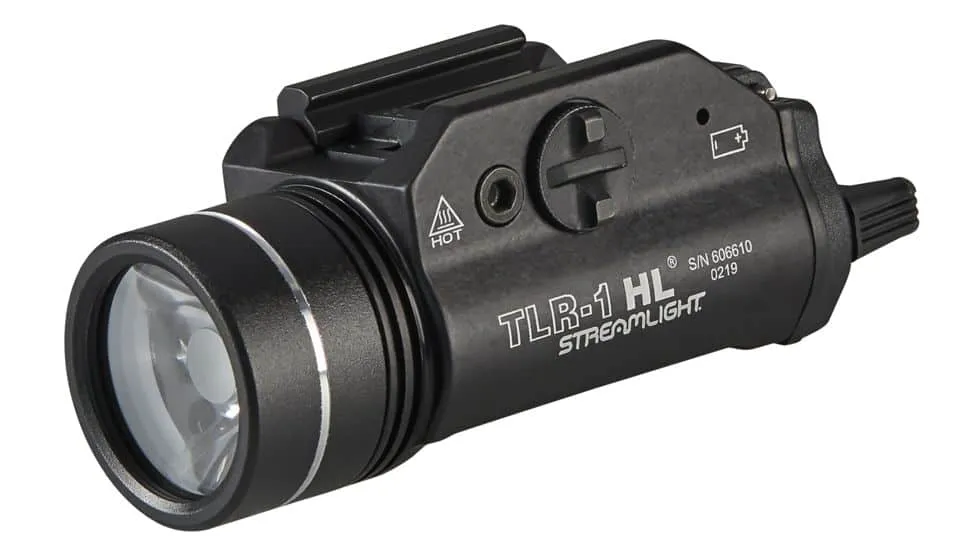 The TLR-1 HL gets recommended by me often but for a good reason. It puts out 1,000 lumens for up to an hour and a half, running on two CR123A batteries.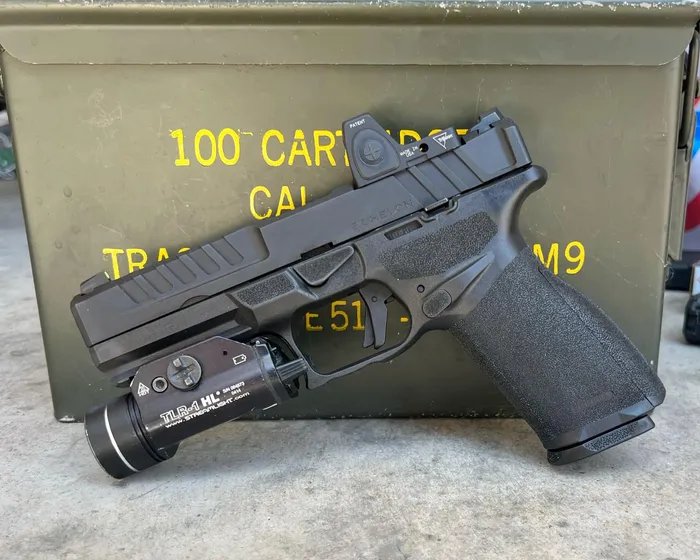 It features an ambidextrous momentary/constant operation, a user-programmable strobe, and is IPX7-rated. It's available in multiple colors, comes with a limited lifetime warranty, and is assembled in the USA.
Over the years, I've found myself appendix carrying more and more. The struggle with appendix carry, though, is finding the exact right position for it to be comfortable.
The DualPoint holster from BlackPoint features adjustable retention, cant, and ride height, to help you achieve that perfect position. If you decide you want to carry OWB all of a sudden, you can, since the holster comes with all of the necessary hardware to do so.
BlackPoint offers plenty of attachment options, extras such as the magazine pouch you see, and has a couple dozen Kydex colors/patterns to choose from.
Alternatives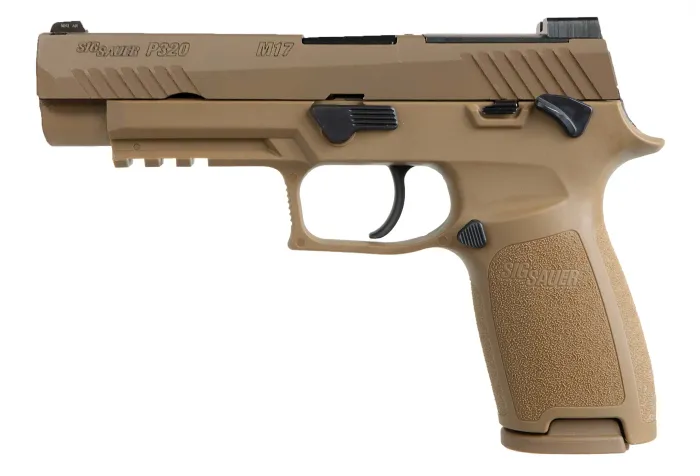 The Sig P320 needs little to no introduction, given it was awarded the U.S. Army's Modular Handgun System contract. Just like the Echelon, the P320 is extremely modular since it has a removal fire control unit (FCU).
This allows you to be able to run different frames, slides, and barrels without having to buy another complete pistol. You can essentially have a few different pistols ready to go that only need to have the FCU dropped in.
You'll get a 21+1 capacity, SIGLITE night sights, and an optics-ready slide. Owning a pistol that the U.S. military uses gives it that cool factor to top it off.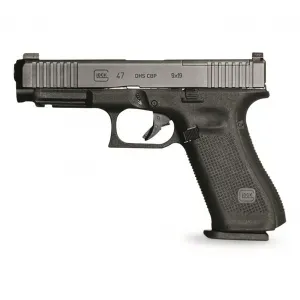 If modularity is what you're looking for, this is the Glock for you. The G47 MOS was released earlier this year to the commercial market after being developed for the United States Customs and Border Protection in 2019.
It features a shortened dust cover, which provides part compatibility with the G17 Gen5 MOS, Glock 45 MOS, and G19 Gen5 MOS. It's like having your cake and eating it too.
In addition to being optics-ready, it has other Gen5 upgrades, such as the forward slide serrations and the removal of the finger grooves from the grip. If I had to choose one Glock, it would be this one. I even reviewed the Glock 47 MOS if you want my full opinion.
Ideally, I would also have a G19 Gen5 MOS to have multiple configurations at my fingertips.
Conclusion
If you've made it this far, I'm assuming you're still intrigued by the Echelon. I don't blame you!
Even though I don't think you'd be disappointed by just ordering one right off the bat, I always suggest testing a gun for yourself first. Check out your local range and see if they have an Echelon to rent or borrow a friend's if they have one already.  
Whether you're in need of a duty, home defense, or competition pistol, the Echelon should have you covered. As always, feel free to drop any questions in the comment section below, and I'll do my best to answer them!
Explore more