Best Single Stack 9mm Pistols [2023]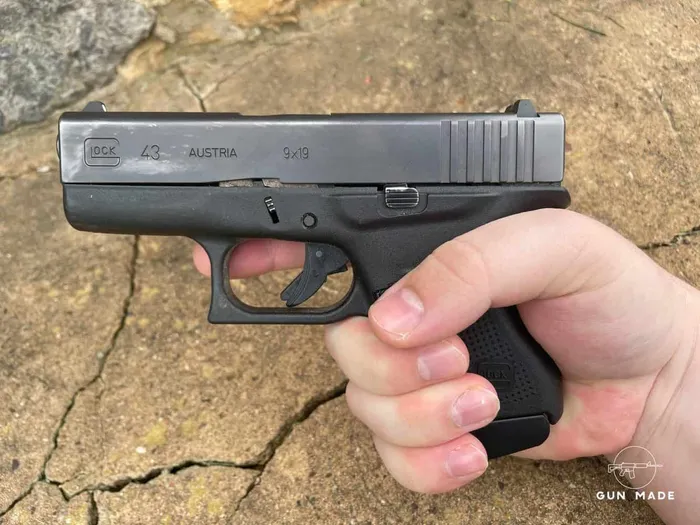 Best Single Stack 9mm Pistols [2023]
There's nothing like a 9mm bullet in a concealed carry handgun.
To me, it's fascinating how the 9mm Luger still dominates the calibers, especially when it comes to self-defense. It's affordable, abundant, and Austrian-engineered for perfect stopping power.
And that's the thing here—9mm bullets have the perfect dimensions, suitable for concealed carry guns with a single-stack magazine.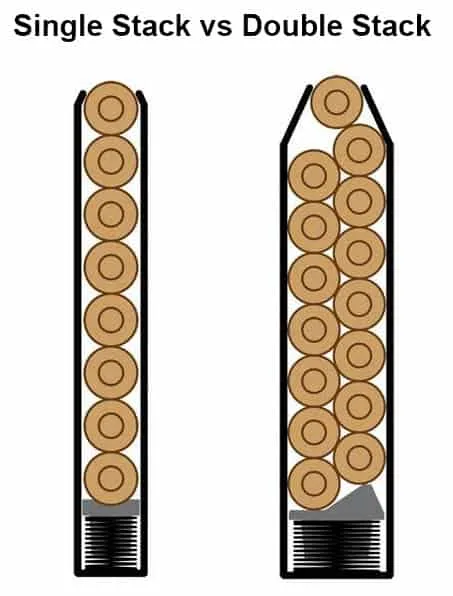 This single-stack magazine design fulfills the standard of a lightweight and concealable pistol, as opposed to its bulkier counterpart, the double-stack pistol.
Single-stack 9mm pistols are so popular, they're in an entirely unique category of their own when compared to the full size, compact, and subcompact category, or pocket pistols.
Everybody has one that perfectly sits in the palm of the hand, and if you don't, here's my honest take on the best single stack 9mm pistol for concealed carry.
In this guide, I rounded up the best single-stack 9mm pistols that anyone can use and tried to make the list as diverse as possible. I own some of them and have had the chance to shoot the others.
5 Best Single Stack 9mm Pistols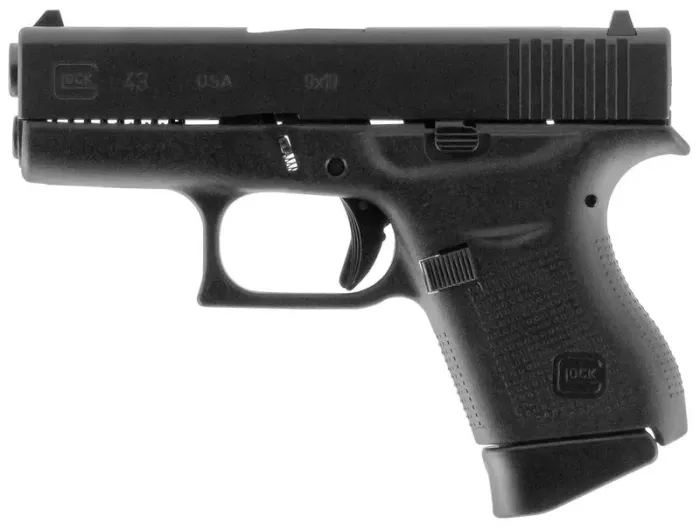 Pros
Famous Glock reliability
Excellent trigger and smooth operation
Lots of aftermarket accessories and upgrades
One of the smallest Glocks you can find
Perfect size for most hands
Covered by almost every holster brand
Cons
Limited capacity (6+1 round capacity)
The Glock G43 is a synonym for the single-stack design.
Although it was unveiled a bit later to the single-stack party, it's an absolute staple of Austrian craftsmanship. It's one of the smallest Glocks in their arsenal, so it carries the "Baby Glock" moniker well.
The G43 is the smaller, 1-inch wide cousin of the full-size Glock 17. Additionally, it's similar to the Glock 26 in ergonomics, but it has a longer, more convenient grip.
The felt recoil is manageable, and the trigger has a crisp and clean break. But, the Safe Action safety mechanism is what makes the Glock 43 so fun to shoot. You don't have to release the trigger, as it practically resets by itself, allowing quick follow-up shots.
One of the overlooked reasons why the Glock boasts that famous reliability is its angled ramp. Other single-stack guns like the Kahr CM9 have steep feed ramps that lead to more stovepipe malfunctions.
The only thing I don't like about the Glock 43 is the 6+1 round capacity. Everything else runs like butter.
You can always go for the Glock 43X with a 10-round capacity if you want more ammo.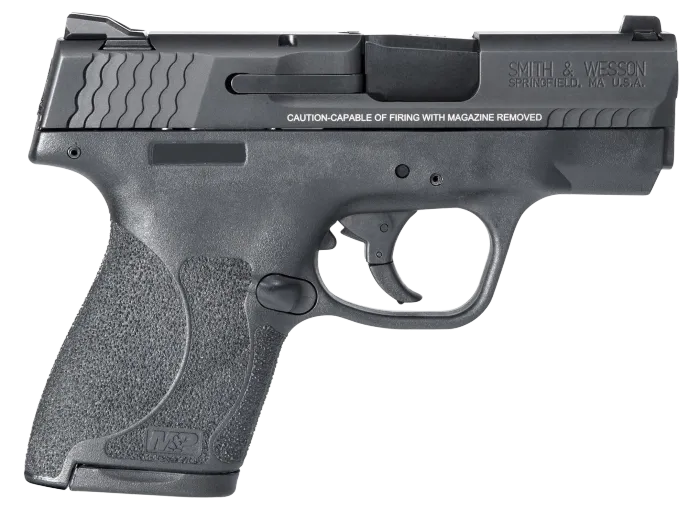 Pros
Professional-grade with easy operation
Multitude of aftermarket options and holsters
Improved ergonomics and trigger
Easy to disassemble
S&W's straightforward single stack stick
Cons
Not a fan of the safety (you can choose a 'no thumb safety' model)
The improved Smith & Wesson M&P Shield 2.0 caused massive waves on the market when it first came out in 2019. I recommend it if you're tired of Glocks and SIG Sauers as well.
It's less than 1 inch wide, weighs 18 ounces, and sports a 3.1-inch barrel. It comes with two 7+1 and extended 8+1 magazines, and you can bet you'll find a holster for the Smith & Wesson Shield 2.0.
This Shield 2.0 model has a smoother slide, different grip stippling, and most importantly, an improved trigger from the first version, which didn't sit well with many.
Additionally, you can check out the Smith & Wesson Shield EZ with an even easier slide rack. One potential downside is that the Shield has too many safeties, which many people complained about.
Operating the S&W Shield 2.0 is a breeze, and there are loads of aftermarket lights, sights, grips, mags, and internals on the market.
It has three-dot white sights, an easy slide rack, a 6.5-pound trigger, and there's the optional "no thumb safety" model.
Overall, a fantastic piece that's easy to handle, easy to take down, and offers the essentials for a great single-stack pistol.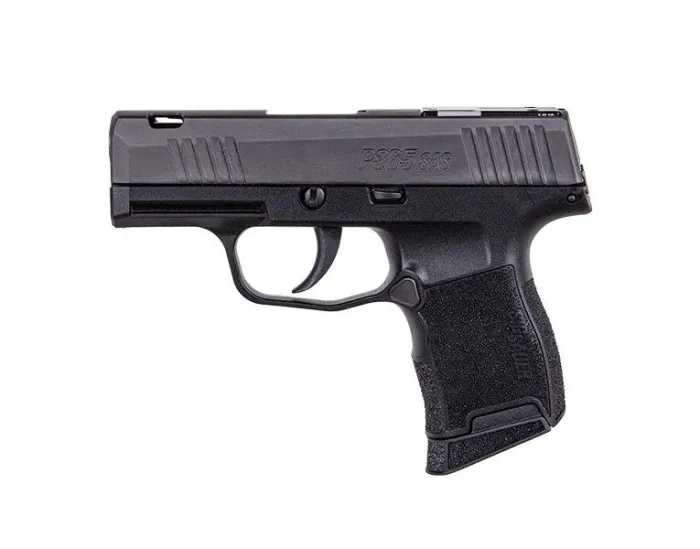 Pros
10+1 round capacity and still easy to conceal
High-quality striker-fired mechanism
Comes with two 10-round flush-fit mags
Solid operation and takedown
Great accuracy
Loads of aftermarket options
Cons
Expensive
Not exactly a single-stack (slightly bulkier than other pistols)
I know, I know. The SIG Sauer P365 SAS (SIG Anti Snag) is a double-stack pistol, but it really feels like a single stack.
With an 18-ounce weight, 1-inch width, and 4.3-inch height, Sig somehow defied physics and made it as thin as the single stack pistols on this list.
You got two 10-round flush-fit mags that are compatible with 12-round extended magazines.
Additionally, there's a 15-round flush-fit magazine available, and if you have a standard P365, you won't need to buy a new holster for the SAS model.
Sig took off the standard sights for a snag-free design and replaced them with Meprolight F.T. Bullseye fiber-optic sights into the slide with front and rear serrations. Combine that with a low bore axis and a 3.1-inch barrel, and you have yourself a sharpshooter.
The only drawback of this high-quality P365 model is the price, but this might be the only gun you'll ever need. All of its features will ensure that you won't have to spend money on aftermarket parts.
Overall, it accepts all kinds of aftermarket parts, shoots like a breeze with reduced recoil and muzzle rise, and hides well within your clothes.
What else do you expect from America's #1 best-selling pistol since 2018?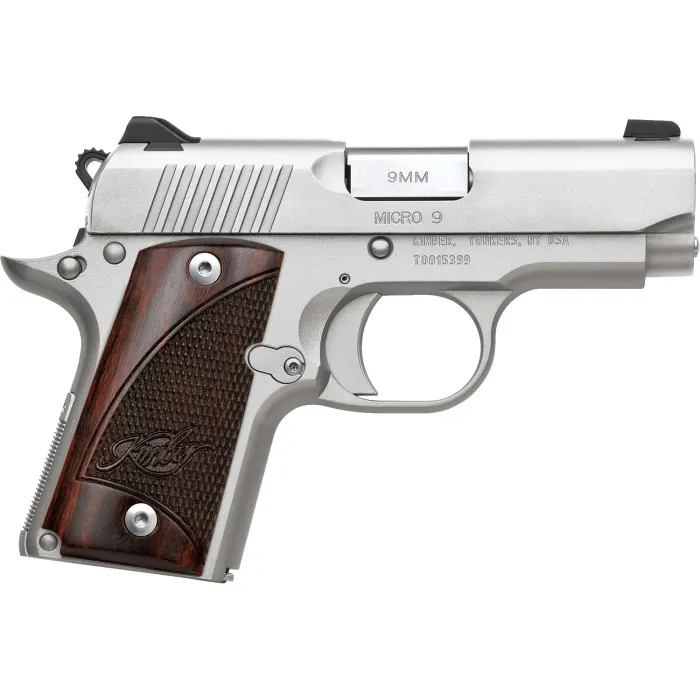 Pros
High-quality build and performance
Lightweight
Smooth trigger
Durable stainless steel barrel and aluminum frame
Manageable recoil
Flush fitting magazine
Convenient finger grip extension
Kimber are known for their classy pistols, and the Kimber Micro 9 can attest to this as one of their single-stack models.
Although tiny, the Micro 9 offers a 1911-style feel with a 3.15-inch stainless steel barrel and an aluminum frame. It weighs around 17.5 ounces, and it's one of the more lightweight options.
This model has the comfy Hogue Wraparound grips, but for a higher price, there's the Crimson Trace Laser Grips model as well.
It has a 7+1 round capacity with a flush-fit magazine, and the finger grip extension is convenient for larger hands.
In terms of operation, this gun offers rock-solid performance with moderate felt recoil.
The trigger is smooth, and it operates in a similar fashion to a 1911 handgun with its slide lock, safety lever, and hammer. It features a green fiber optic front sight and a white dot rear sight.
Its crowning feature is the high-quality recoil spring that ensures smooth cycling with no issues.
The only downside is the price. It's one of the fanciest on this list, but personally, I'd still use it as an everyday carry gun.
This model includes a Desantis Holster, Hogue grip extender, and two 7-round magazines, so don't be too shocked by the price tag.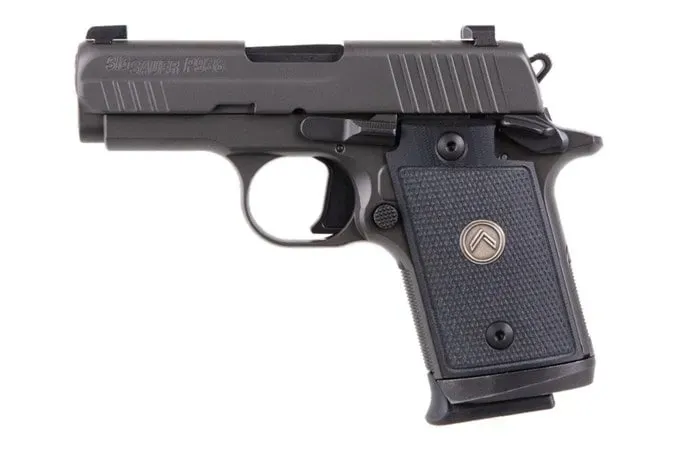 Pros
Superb reliability, performance, and control
1911-style build
Surprisingly low recoil
Lightweight design
Great accuracy
Cons
Expensive and hard to find
Awkward thumb safety is hard to engage
The SIG Sauer P938 might just be the ultimate premium single-stack pistol. Though the P365 model is a CCW standard, the Sig P938 adds diversity, versatility, and impeccable performance to this list.
It's practically a Colt Mustang clone with a Browning design that's scaled up for a 9mm single-stack while also having an anodized alloy beavertail style frame and an exact 3-inch barrel.
The sear and trigger return spring are improved for maximum reliability, preventing feed failures and spring overrides. The stainless steel slide has the classic SIG Sauer rear serrations.
It comes with 6+1 and 7+1 flush-fit extended magazines, and there are standard factory P938 magazines you can find on the market for a good price.
With a classic 1911-style feel and a hammer-fired design, the single-action only trigger runs like clockwork and is very easy to handle. It comes with SigLight Tritium 3-Dot that glows in the dark and ensures impeccable accuracy.
While the Sig P938 has a standard premium action for its price, I really don't like how the thumb safety is placed, and you can't exactly engage it from a shooting position.
Some models sport a finish that adds $200 to the price, so be careful when choosing the models. 
Honorable Mentions
Don't think for a second that these single-stack pistols didn't make the cut. We're talking about Beretta and Walther.
It sounds like a romantic sitcom if you think about it.
Best Budget Option (Great For Lefties Too!) – Beretta APX Carry 9mm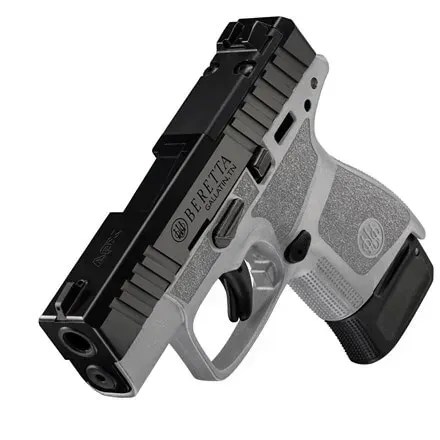 Pros
Reversible magazine release
Concealable and lightweight
Superb Beretta trigger and cycling
Ergonomic grip
Cons
Can be too small for someone's taste
Heavy
Moderate recoil
One of the reasons why I chose to do this single-stack round-up is because I wanted to vouch for the criminally underrated Beretta APX Carry. This budget Beretta is rarely seen on any 'best of' lists.
The Beretta APX Carry is the 9mm single-stack model of the APX series. It's 1.2 pounds heavy, but it's small, less than an inch thick, and snag-free. Additionally, the 8+1 round capacity variant gives you a longer grip.
I personally am a fan of the aggressive grip texture. You'll need all the control you can get because of the snappy felt recoil. It's suitable for lefties with an ambidextrous slide stop and reversible magazine release.
It has the Beretta slide serrations for easy operation, a typical 6.5 pound-trigger break, and the chassis is easy to replace with the grip frame housings of your choice.
The striker-fired DAO-style trigger has a short trigger pull and an audible, tactile reset that's not too delicate.
This small Beretta offers an edge in smooth control and ergonomics, which are necessary for a good CCW single-stack pistol. It's a very affordable concealed carry option, and it even comes with three magazines and as many base plates for your aftermarket ideas.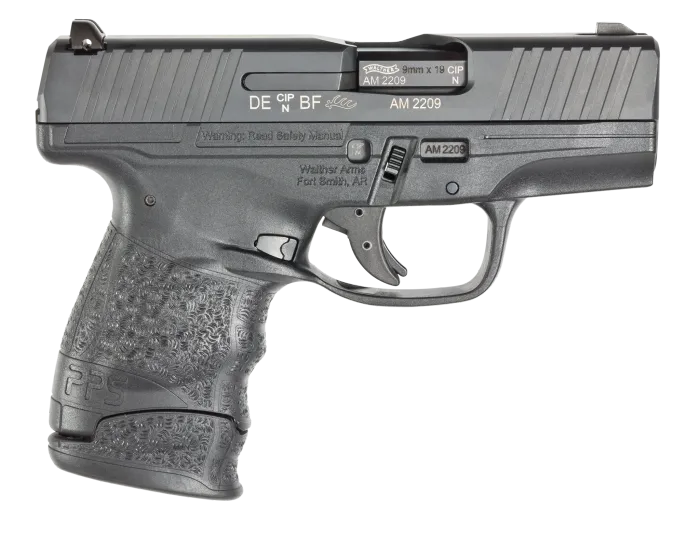 Pros
High aftermarket availability
Ergonomic and comfortable for larger hands
Accurate around the 10-15 yard range
Easy to disassemble and customiz
Popularized by James Bond, tried and tested by the people. Here's the highly moddable Walther PPS M2, the second generation of the PPS.
This single-stack gun is a modder's heaven.
The design of the PPS M2 is focused on comfort and ergonomics to maximize your shooting experience. The textured grip and wide finger grooves feel nice, but you can easily replace them with some really cool Talon grips.
It's available in 6 and 7+1 flush-fit magazine capacity and 8+1 round capacity with an extended base plate.
The slide has a Tenifer finish that protects against rust, and it has front and rear slide serrations for smooth operation and easy disassembly. It can fit all kinds of sights, grips, and mag extensions. I recommend you replace the low-profile 3-dot sights with Meprolight Walther Tru-Dot Night Sights.
Expect superb accuracy with its internal steel chassis, 3.18-inch barrel, and polygonal barrel rifling. The controls and mag release are smooth for quick practice and drills.
Though the recoil is a bit snappy, and its 21-ounce weight is pretty hefty, it's an inch wide and 4.4 inches high and a great CCW option for an appendix carry.
Best Single-Stack 9mm Pistols – A Buyer's Guide
How can you choose your own CCW?
You can go about this in a lot of ways, but I forged this nifty little buyer's guide with a focus on concealability and ease of operation, so you'll know exactly what to look for in a suitable single-stack pistol.
As for the compact and subcompact categorization, a good rule of thumb is the Glock 19 as an exemplary compact pistol.
The word "compact" means they're small enough to be IWB or OWB concealed while having a longer barrel for accessories, and they usually have around 12-round mag capacity.
Subcompacts are even smaller, have fewer rounds, and should be just big enough for your palm like the Glock 26 we didn't mention in this list.
Obviously, 90% of subcompact pistols are designed with a single stack mag column for better concealment.
Micro compact pistols are a conversation for another time.
While you can tune the trigger, safeties, and aftermarket availability to your preference, the first thing you should be on the lookout for is the size.
Size, Ergonomics, and Concealability
Depending on how you dress, a good concealed carry pistol shouldn't cause you discomfort or sloppy, snaggy draws when the situation arises.
Before you decide on a pistol, take a good look at the trigger and other external features that may snag on your clothing. There are great IWB holster options for your single-stack pistol.
The pistol's weight plays an important role in balance, and there's a trade-off between weight and recoil control.
You need to look for pistols that are an inch or less wide and have a barrel length of around 3 or 4 inches. Speaking of which…
Accuracy and Barrel Length
Quality sights and a long barrel equals sharp accuracy.
Always check the length and barrel rifling to see if it makes any difference shooting groups at the ranges.
If your pistol can take it, feel free to browse our round-up of the best red dot sights for your pistol.
Most single-stack pistols lack the length for optics rails, so if that's out of the question, make sure the front and rear sights are to your liking.
Magazine Capacity
More ammo doesn't mean more security. I recommend you stick to the 7, 8, or 9+1 round single-stack capacity standard. You can always turn to magazine extensions for more ammo and a better grip.
While standard single-stack pistols have a 6 to 10-round ammo capacity, it's not possible to rack those numbers up.
These past years, there has been upheaval on the handgun market of new handguns like the Smith & Wesson Shield Plus and Canik TP9 Elite SC.
These new "Wonder Nines" are technically double-stack, but their innovative magazine well has similar dimensions to a single-stack.
What you get is more ammo while the pistol itself retains its thin, subcompact profile. How cool is that?
Check out our Smith & Wesson Shield Plus review if you want to know more about these "more ammo/less mass" pistols.
Conclusion
While I compiled this list with value and reliability in mind, you must first take your pistol for a test drive at the ranges.
Find one that's comfortable in your hands. You'll need the convenience and muscle memory for practicing fast operation.
If you ask a couple of experts to name you 5 of the best single-stack 9mm pistols, all of them will give you different answers. Don't be too sure of somebody else's opinion.
The whole point of a subcompact single-stack pistol is concealability, speed, and snag-free operation, and we all have different preferences in safeties, triggers, and mag capacity.
While the S&W Shield and the Springfield Hellcat XD-S came early to the single-stack party, the Glock 43 represents the best of the best in single-stack design.
Not only does the Glock shoot, but it's also a popular breed with aftermarket and holster abundance, and any gunsmith can work their way around it if it ever happens to malfunction at some point this century.
The reason why I recommend Glocks all the time is because self-defense is in question. It's not a beauty pageant. These CCW pistols are designed to be concealed in your clothes anyway.
Stay safe, shoot straight.
Explore more