Canik METE MC9 9mm Pistol Review: A Versatile Micro-Compact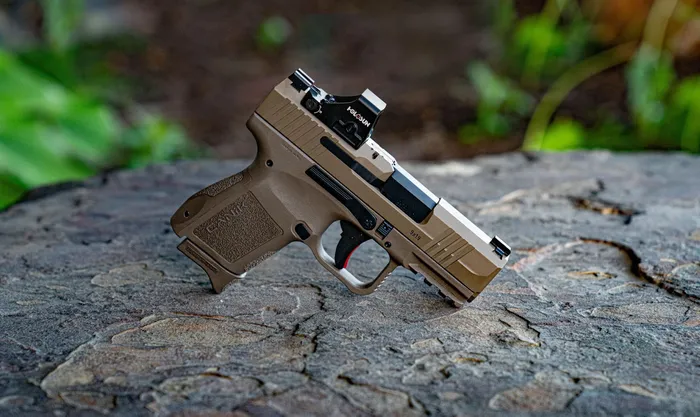 Canik METE MC9 9mm Pistol Review: A Versatile Micro-Compact
Introduction
Canik has been knocking out one new model after another for the last few years; the polymer-framed striker-fired pistols have been received enthusiastically by the American shooting public.
Today we are looking at a new pistol from Canik, part of their METE lineup. The Canik METE MC9 is a micro-compact striker-fired pistol with an eye on the concealed carry market.
The MC9 uses many of the same stylings and features of Canik's popular TP9 series of pistols. The micro-compact pistol promises to bring Canik's performance and affordable quality to the average CCW enthusiast.
With both a twelve and fifteen-round magazine included and many other little extras that come with Canik pistols, it is very likely to be a big hit with consumers.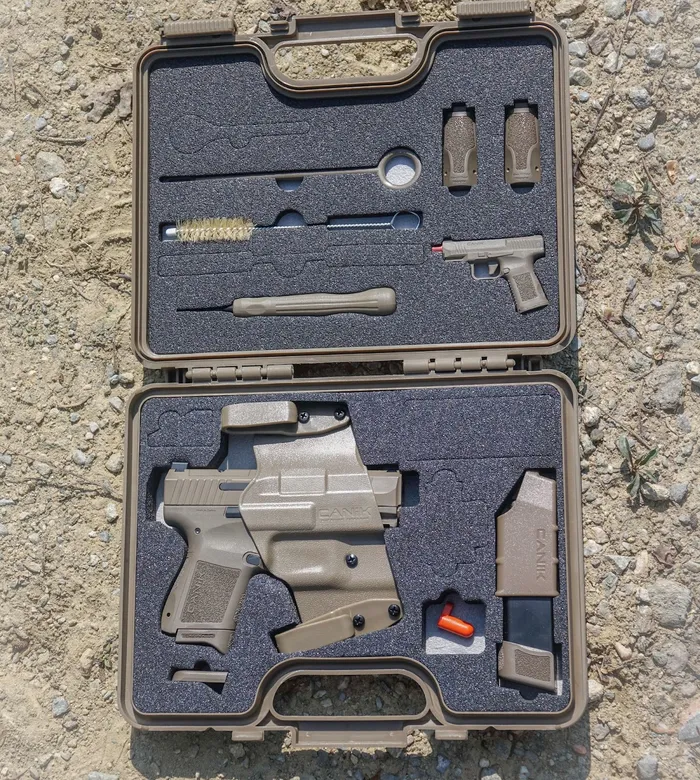 Canik MC9 Review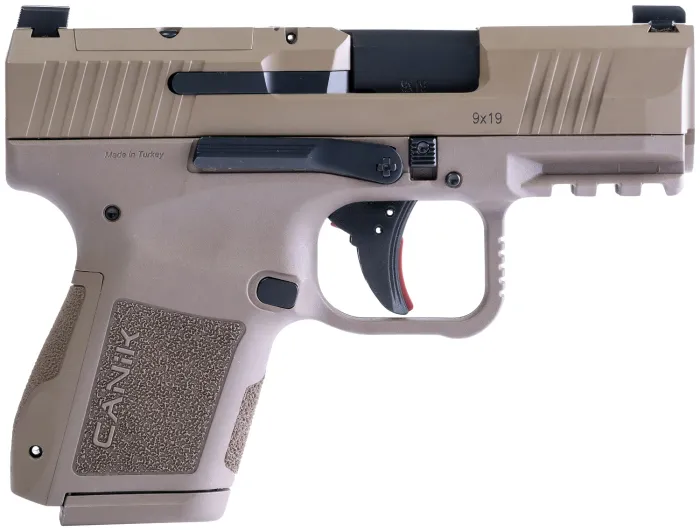 As a frequent carrier of pistols, and a Canik owner, I was eager to see how this MC9 stacked up to other pistols I have used in the past. As a micro-compact pistol, I was immediately concerned about capacity, but with as many as fifteen+1 rounds in the gun, those concerns quickly dissolved.
Canik pistols are frequently less expensive than their competitors, and when I saw the MSRP was only $439.99, I was even more interested in the pistol. This aggressive price definitely makes the gun more appealing to those with HK taste but a Glock budget. That wasn't a direct comparison for you HK guys out there, so calm down and store your pitchforks…
The Turkish made Caniks are imported and sold as an outstanding value, giving a great deal of value-added features like coming optics ready.
They also typically include a great deal of accessories, cleaning tools, holsters, and other extras that really make you feel like you got something.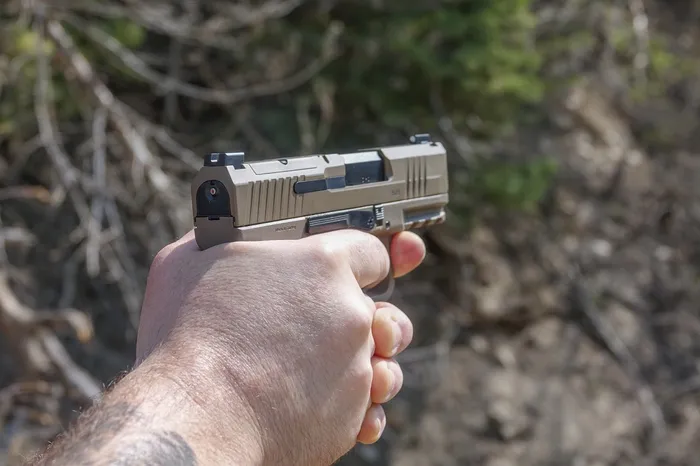 Specifications
| | |
| --- | --- |
| Caliber | 9mm |
| Capacity | 15+1 rounds (comes with 12 rnd also) |
| Weight | 21.27 ounces |
| Sights | Rear notch, front white dot |
| Barrel Length | 3.18 inches |
| Overall Length | 6.1 inches |
| Height | 4.52 inches |
| Width | 1.12 inches |
| Color Options | Black, FDE, two-tone combination |
Pros & Cons
Pros
Economically priced

Compact size

Good trigger

15+1 capacity

Optics ready

Picatinny accessory rail

Interchangeable backstrap

Loaded chamber indicator

Flush magazine floorplate included

IWB holster included
Cons
Holster is kinda "meh"

I need one in each color

I couldn't find any other downsides to the pistol
On The Range with the Canik MC9
Of course I couldn't wait very long to try out this handsome little pistol, so literally the day after meeting it I ventured into the mountains to give it a good wringing.
I'd brought along a bunch of 124-grain reloaded ammunition that I'd produced on my brother's Dillon 550. And I'd also brought along a couple of boxes of S&B 124 FMJ ammunition to try as well.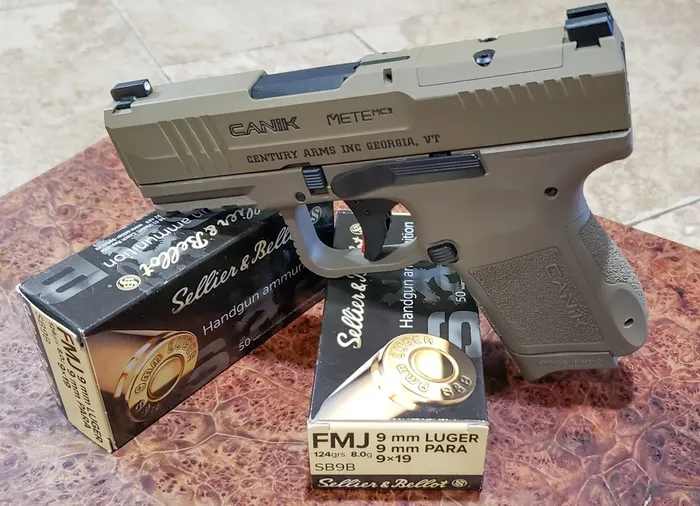 After familiarizing myself with everything I could, it was time to load up a few magazines. As is typical with Canik pistols, the magazines are quite nice, and have indication holes cut in the back to show capacity.
The twelve round magazine comes with an extension for the pinky. I found it to be a perfect fit for my hand.
Though if you are a really big-handed person you will probably prefer the fifteen-round magazine. Both of them loaded up nicely, and I snapped one into place securely as I stepped to the firing line.
The recoil of 9mm cartridges is not particularly significant, but I have found that with smaller pistols like this, they can frequently snap back a little more than expected. The first few shots through the MC9 were actually even more pleasant than I'd expected. Enough, in fact, that it didn't even feel like a compact pistol.
I lined up the sights on my target and started stacking up the holes.
I can't wait to get a red dot on this pistol, as I have quickly become a red dot guy. Not that there's anything wrong with traditional sights, I have just grown to prefer them.
The white dot on the front sight must have slipped past QC, as they'd missed a little spot. But that didn't stop me from hitting things with it. The pistol pointed nicely, and lined up with my natural aim, making the hit even easier to make.
We spent a few hours shooting, burning through the two boxes of ammo and about as many of my reloads. I would have loved to double or triple the amount of ammo we shot, as the little MC9 ran perfectly and proved to be very fun to shoot.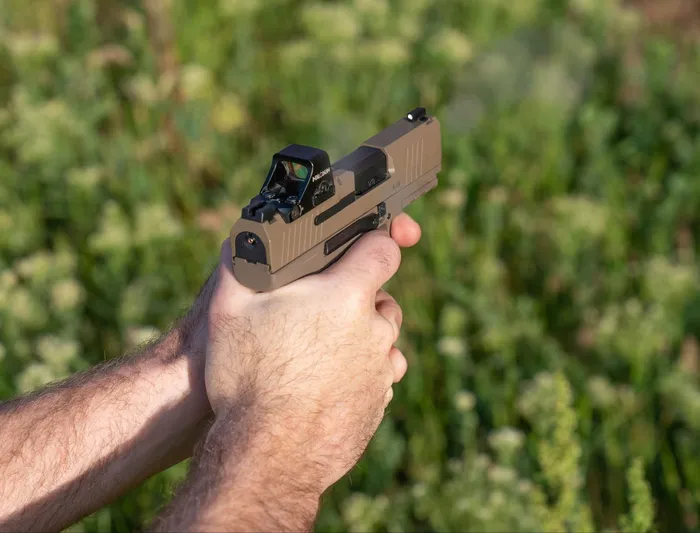 My second trip to the range with the MC9 included a Holosun 407K, which added another layer of ability to the pistol. The optics plate was a very tight fit, I needed to almost pry it off of the slide. I don't think it was a big deal, but it gives me even more reason to leave the 407 in place because I don't want to go through that again.
That said, the 407K is an absolutely perfect fit for the little Canik, literally like they were made for each other. The pins cut into the slide mated perfectly to the bottom, and there was no wiggle room for it to move even without tightening the screws.
Once installed, I didn't even have to zero the red dot, as it lined up perfectly. Making my shooting even more fun. Using the red dot allowed me to focus purely on the target, and I didn't even need to focus on the sights of the pistol. Just put the dot in place and squeeze.
Reliability
The MC9 ran flawlessly for the most part. There were a couple of minor failures, but I am very confident the blame can be squarely placed on my reloading QC, I'm embarrassed to say. The feeding and function of the pistol were fantastic; the quality magazines fed perfectly.
Little things like the chamber-loaded indicator were a nice visual and tactile indication of a hot chamber.
Accuracy
The short barrels of compact pistols aren't particularly well known for great accuracy, but I had no problems hitting what I was aiming at. The adjustable backstrap ensured the pistol fit my hand well, which helped me shoot it better.
Despite its short 3.1-inch length, the barrel did seem pretty robust in its construction. Which probably helps keep bullets headed in the right direction.
The trigger in the little MC9 also felt great, which also aided in shooting the pistol well. The rounded and textured shoe of the trigger gave great purchase and control.
Overall Feel
Like most Caniks I've shot, the MC9 felt great.
It was surprisingly light, and it filled my hand appropriately which is something I often complain about with compacts. The controls all felt smooth and easy to operate, and with a reversible mag release, it can work just as well for a left-handed shooter.
The ambidextrous slide release is just the right length to hit with my thumb without having to stretch.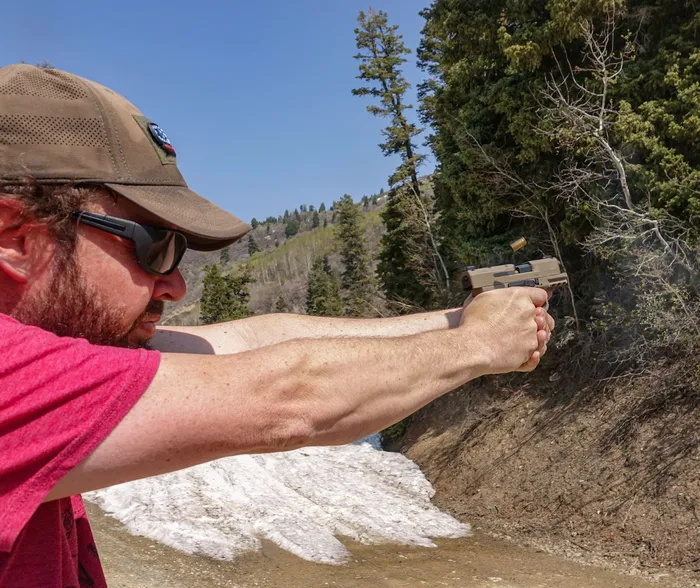 The two magazines give you good options for avoiding the dreaded print of a CCW. The fifteen-round magazine is easily concealed if you're a big person. While if you are a little more light in the frame, you may find the twelve-round magazine less obtrusive.
I am torn on the holster that came with the pistol. I understand that manufacturers like to offer accessories like these for added value. The problem is that holsters are subjective, and you either offer an inexpensive one that won't break the bank, but many people won't like or use.
Or conversely you have to research and see what most people want or like, and make the investment hoping it doesn't go to waste. Either way, you run the risk of the holster being a dud.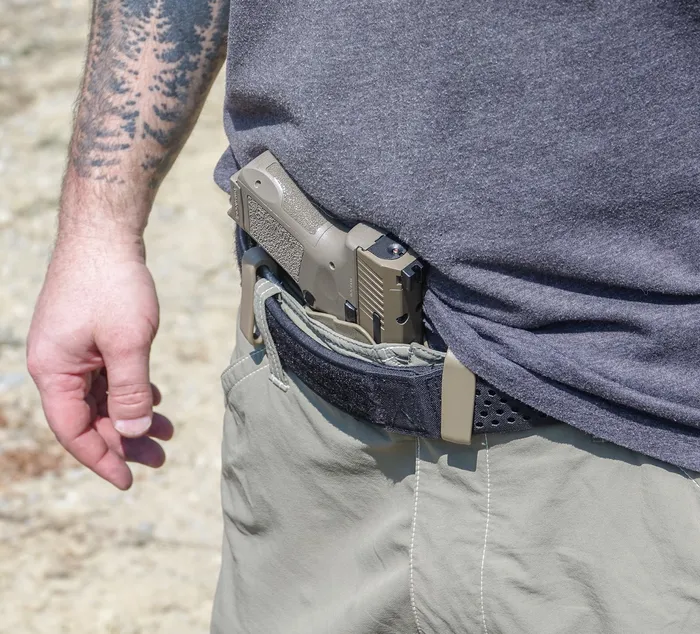 The included holster will certainly work, though I would probably replace it with something better like the Black Arch Entrada.
Features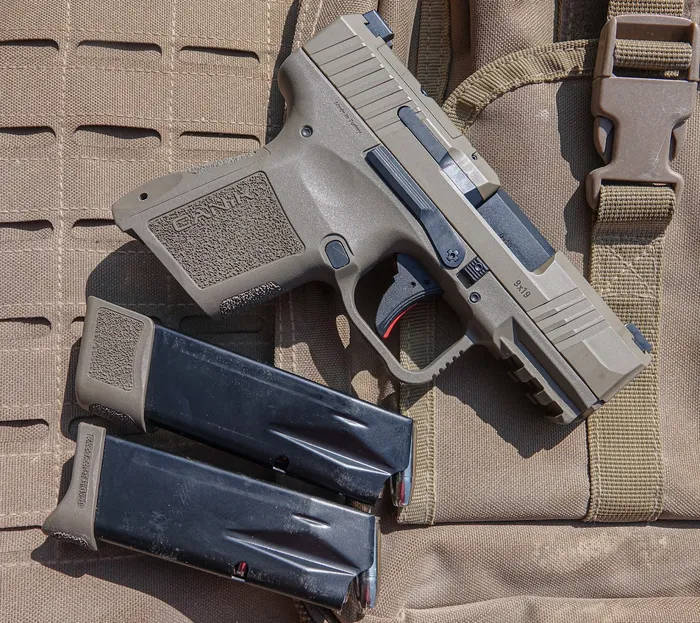 Magazines
The twelve and fifteen-round magazines give you the option for various concealment scenarios. And the included flat-base floor plate gives you yet another option
Sights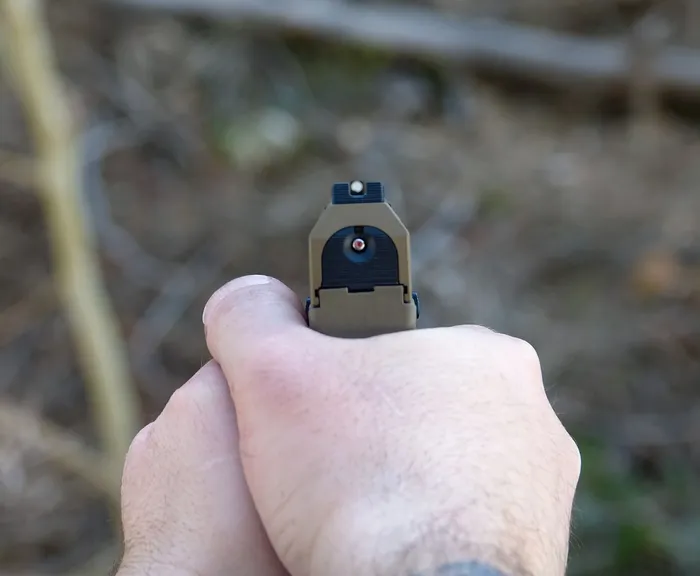 The included sights are perfectly serviceable, but it's also very nice to have optics mounting solutions included in the box. Mounting up the Holosun 407k was easy, and made a great upgrade.
Ambidextrous Controls
With no safety, an ambidextrous slide release, and the ability to reverse the magazine release button, the MC9 can easily be configured to shoot right or left-handed.
Adjustable Backstrap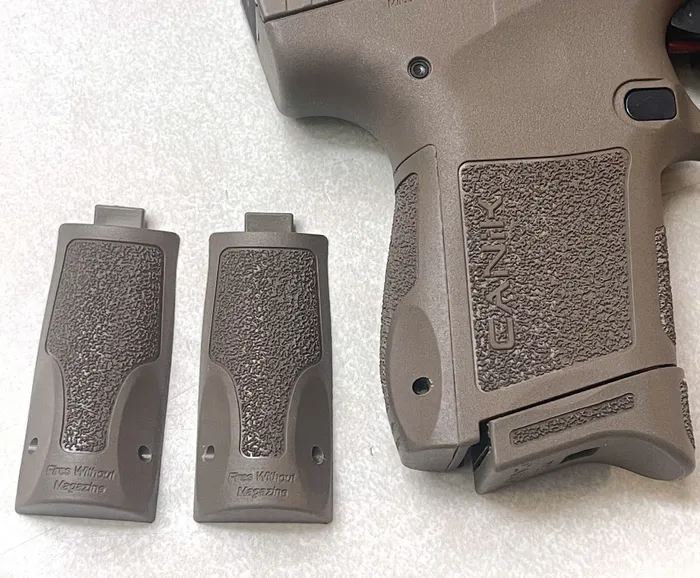 The various back straps that can be swapped out allow you to further customize the gun to fit your hand. This is becoming more and more common, and it is certainly a welcome change.
Accessory Rail
The accessory rail under the front of the pistol is a perfect place to add a compact weapon light.
How We Tested
The duration of my testing with the Canik MC9 was mostly range shooting. We tried a bit of drawing and firing, as well as some reloading drills.
There is a stark difference between the full-size pistols with big flared magwells and such, and a small micro compact frame. It's not as easy to stab the magazine perfectly out the gate. I expect it will take some practice to get good at it, like anything else.
Using the included iron sights, I found the pistol to be very useful and easy to hit targets at typical CCW anticipated ranges. The MC9 might be useful at further ranges, but I didn't find that as relevant to the subject.
With the red dot installed on the slide, I found it to be even more fun to shoot. Making transitions from one target to another without having to shift focus.
Using the included holster, we also tucked in the pistol to see how it felt to draw from concealment. While I personally didn't find the holster to be particularly great, it certainly worked as intended. And it sure beats not having one.
After the several hundred rounds fired between several trips to the range, I was quite happy with the performance of the MC9. And felt I had gotten a proper understanding of its strong points and the few issues I encountered.
Ammo Used
Apart from my 124-grain FMJ reloads, I also shot several boxes of S&B 124 FMJ Ball ammunition. Everything we shot through the MC9 worked perfectly except for a couple of malfunctions that were reload issues.
Score Card
Reliability (10/10)  
The only malfunctions were due to improperly seated bullets, which has nothing to do with the little Canik's reliability. Other than that, it ran flawlessly.
Ergonomics (9/10)
Micro compacts tend to be a bit small for my hands. I wouldn't mind having a bit more grasp. The adjustable backstrap and magazine floorplates are great for accommodating, however.
Customization (8/10)
With an accessory rail, and an optics platform milled into the slide, the MC9 offers some great options to customize it. No doubt there will be other barrel options and such if there aren't already.
Appearance (9/10)
I've always been a fan of Canik's styling. The METE MC9 is another good example of a handsome pistol. The finish and surfaces all look outstanding.
Value (10/10)
For the MSRP of $439.00, I think this pistol is an excellent value.
Accessories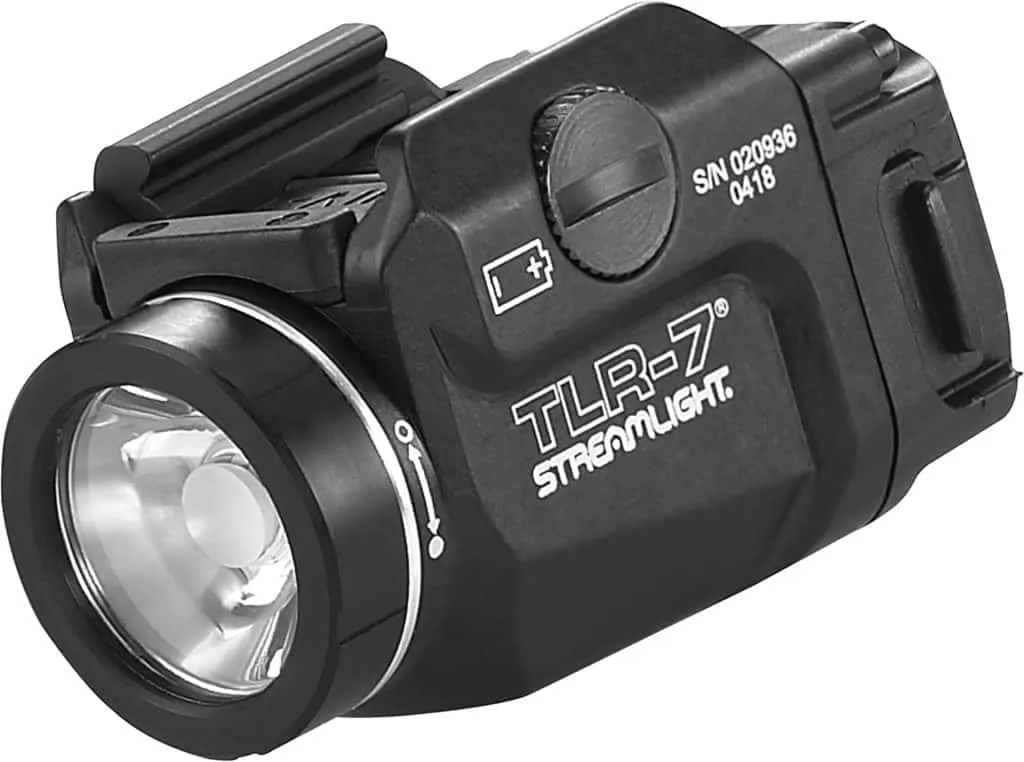 A good CCW is only improved by adding a good weapon light like the Streamlight TLR-7.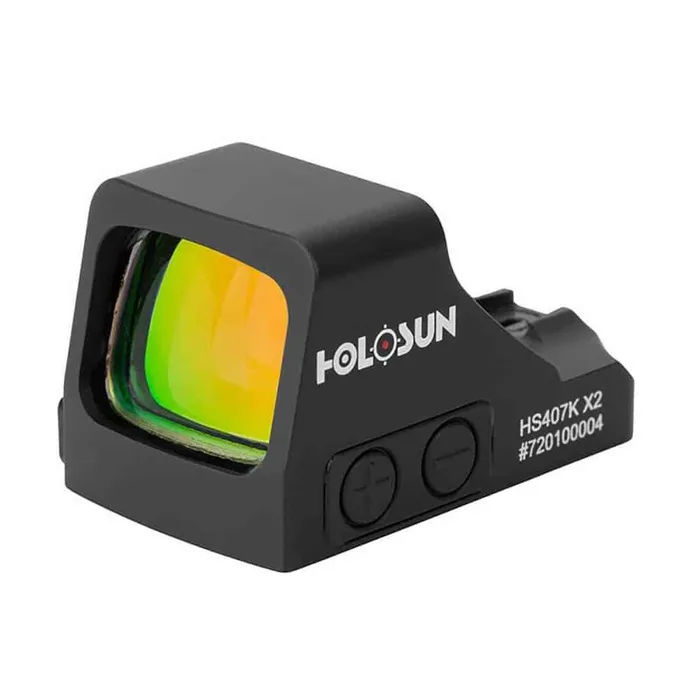 I love using red dots on my pistols, and this gun deserves a great little red dot. Apart from the Holosun 407k I used, another good option, like the new Vortex Defender would be a great addition.
Alternatives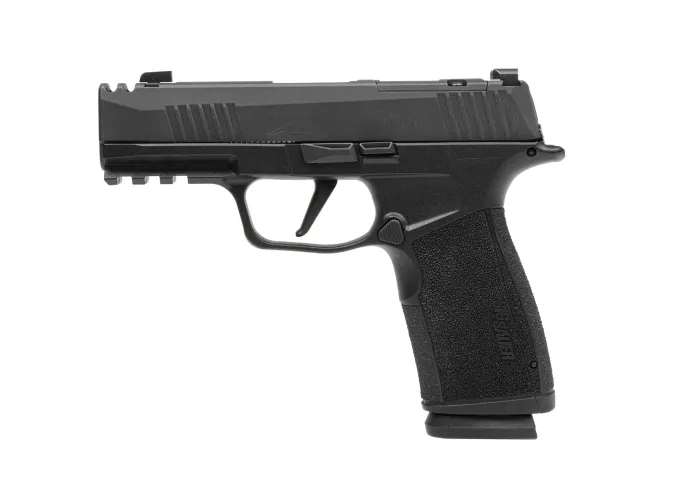 The Sig Sauer P365 X-Macro is another great CCW pistol that is compact and full of firepower. Though it will cost significantly more than the Canik, it holds even more capacity.
Check out the P365 X-Macro review here.
If you are looking for a concealed carry handgun that offers impressive capacity and performance, you might want to consider the Hellcat.
The Hellcat is a micro-compact 9mm pistol that can hold up to 13+1 rounds with the included extended magazine. That's more than most pistols of its size and class.
The Hellcat also features a 3-inch Melonite-finished hammer-forged steel barrel, a high-visibility tritium and luminescent front sight, and an Adaptive Grip Texture that provides a secure and comfortable grip. The Hellcat is designed to be reliable, accurate, and easy to operate in any situation. It is a great alternative option to the Canik MC9 Mete, which has a similar size and capacity, but a slightly longer barrel and a different trigger system.
Check out our Springfield Hellcat review here.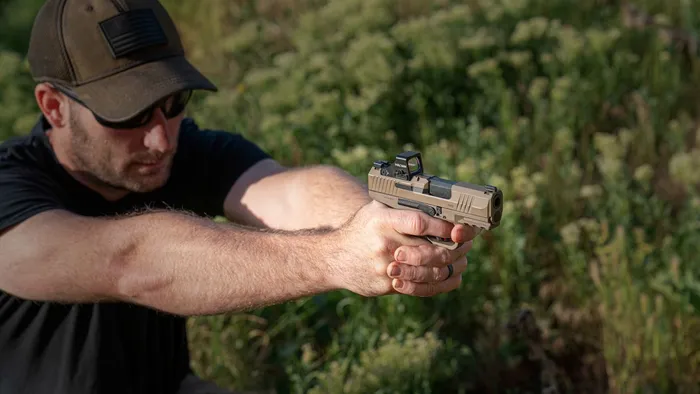 Conclusion
After my time with the Canik METE MC9, I was not surprised by how much I liked the little pistol. Much like the last few Canik pistols I have been through, this one met every need I had in a pistol, and it looked good and functioned great. And to top it off, the price is outstanding.
The MC9 provides a solid CCW pistol with better than most capacity while still being small enough to carry around every day. With minimal accessories and some practice, you could find yourself being quite proficient, which is everything in a concealed carry pistol.
Let us know what you think of the Canik METE MC9 below, and what you're looking for in this pistol.
Explore more