Sig P365 X-Macro Review: A Huge Change in The Carry Game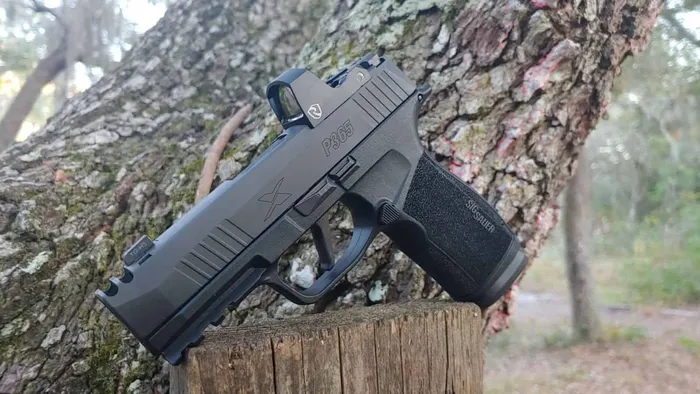 Sig P365 X-Macro Review: A Huge Change in The Carry Game
The SIG P365 series has grown to dominate the concealed carry handgun market. What started as a fairly small gun has grown rapidly, and the SIG P365 X-Macro is the largest of them all. The P365 swung in like a wrecking ball and immediately made the subcompact and single stack 9mm obsolescent.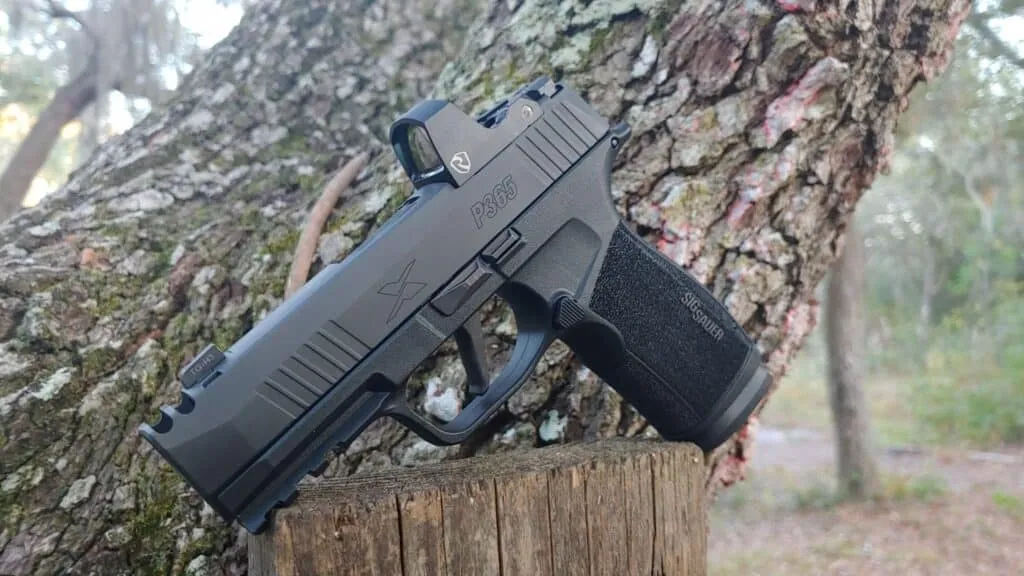 SIG's latest entry, the X-Macro, takes aim at the compact series of firearms. Guns like the P10C, the Glock 19, and FN 509 Compact are hereby put on notice. The X-Macro breaks out of the micro-compact market like the Hulk shreds shirts.
It's bigger, better, and designed with all the latest and great features to make it a very capable carry gun. The X-Macro defies expectations and certainly sits by itself in the P365 catalog.
I'm a big fan of the P365, and I've carried one since launch and grabbed the P365XL as well. I've attended SIG's own range days and tried out the SAS model, the P365-380, and P365X. I'm more than a fan. I bet my life on the P365 and its family daily.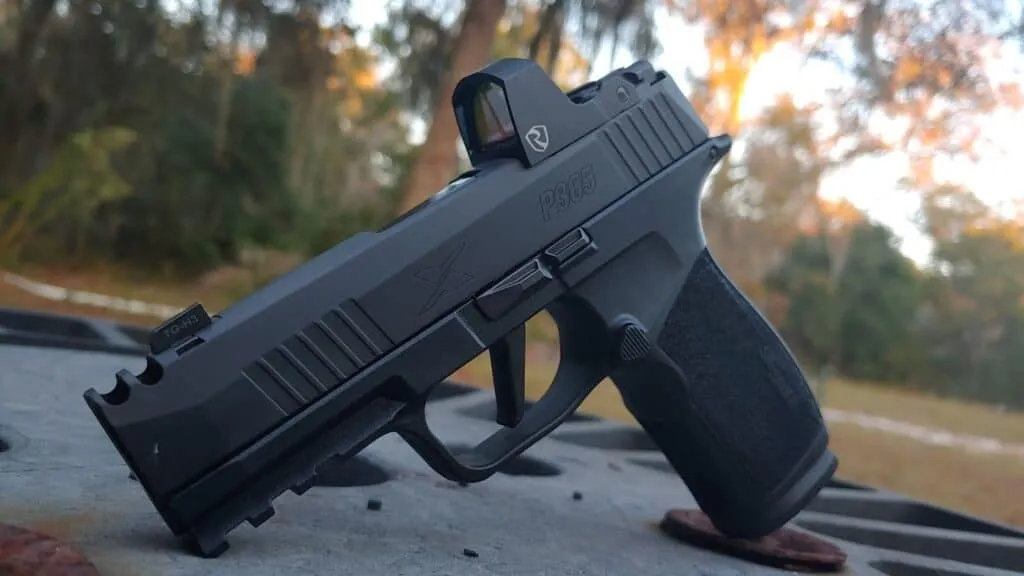 Today we are diving in headfirst with the X-Macro and seeing if it's a worthwhile replacement for your favorite carry gun. I've found it to be an outstandingly efficient firearm with some awesome features that might make or break the gun for you.
P365 X-Macro Review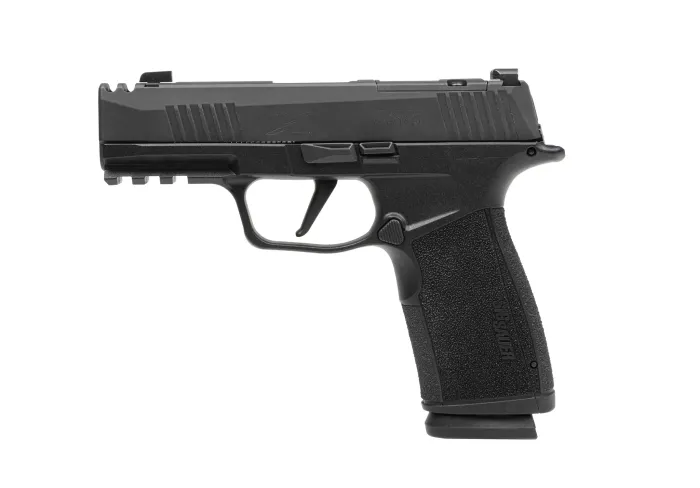 Specifications
| | |
| --- | --- |
| Caliber | 9mm |
| Capacity | 17 rounds |
| Barrel Length |  3.1 inches |
| Overall Length | 6.6 inches |
| Width | 1.1 inches |
| Height | 5.2 inches |
| Weight   | 21.5 ounces |
| Slide Finish | Nitron |
| Action | Striker Fired Semi-Auto |
| Frame Material | Polymer |
| Slide Material | Stainless Steel |
Pros & Cons
Pros
Incredibly Efficient Size
Modern Design
Easy To Shoot
Accurate
Great Trigger
Cons
Slide Lock Placement is Terrible
Sights Do Not Co-witness With Optic
Currently Tough to Find Holsters
Taking the SIG P365 X-Macro Out For a Ride
You'll first notice that this gun is much too thin to hold 17 rounds. The grip is only 1.1 inches wide and feels glorious in your hand. It's just long enough to fill your hand. Most of the time, guns that hold this many rounds are often 1.25 to 1.35 inches wide. A thin gun is not only easier to conceal but easier to keep a handle on.
From there, the ergonomics can evolve to fit your hand. The gun comes with replaceable backstraps, which is a nice touch and new to the P365 family. The controls and their placement will be familiar to anyone who has used a P365. The magazine release is easily reversible, and the slide lock is small and works, but it has issues.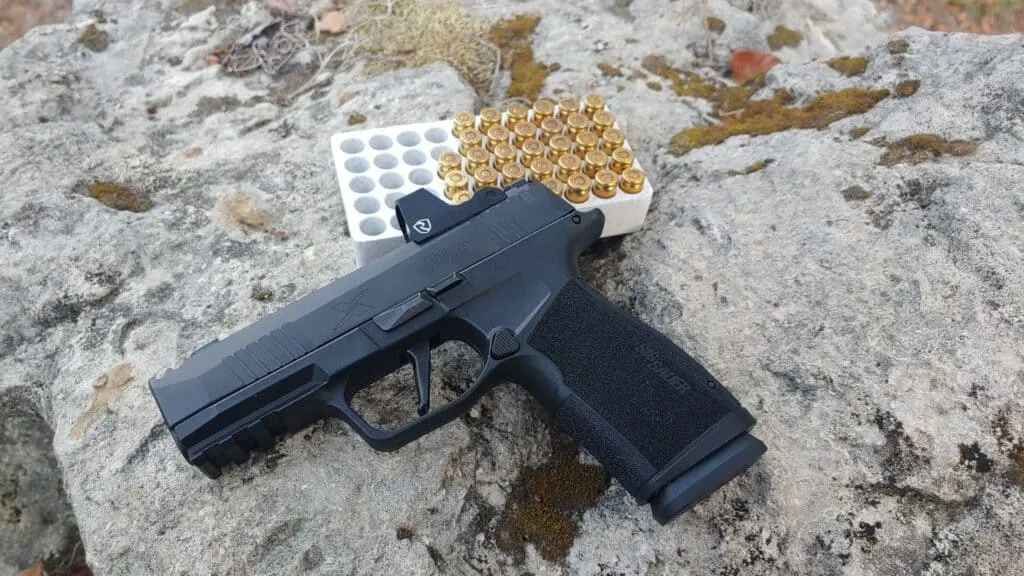 My biggest complaint about the gun's ergonomics is the slide lock. It's placed fairly rearward and is pinned down by my thumbs-forward grip. Most of the time, it doesn't lock the slide to the rear when I fire the last round.
Other than that, the ergonomics are fantastic. You can get your hand nice and nice on the P365 X-Macro. The controls are easy to reach and intuitive to operate. The magazine well is slightly beveled for a faster reload, and the grip texture expands 360 degrees around the grip.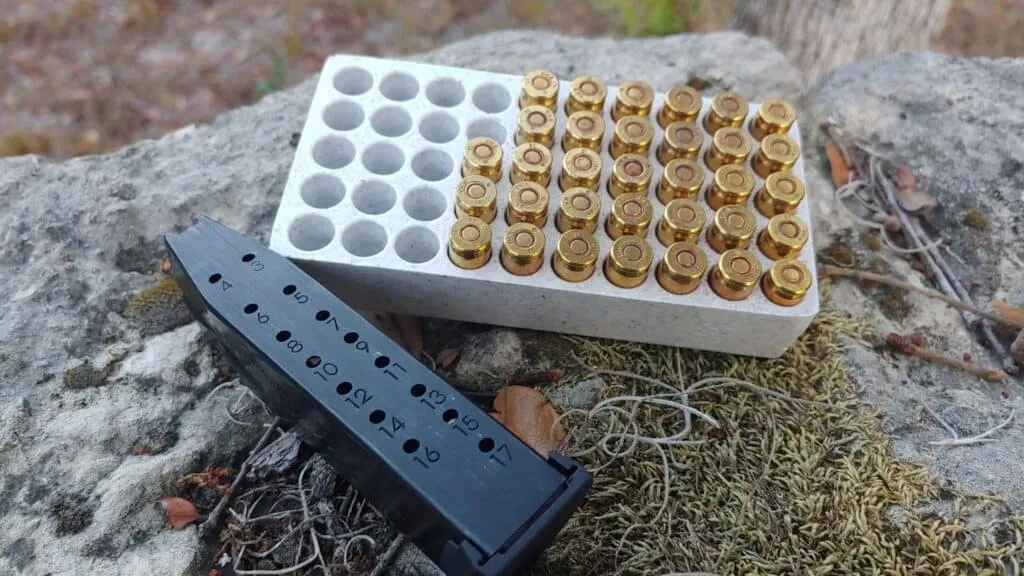 Tamed Recoil and Muzzle Rise
At the end of the slide sits a unique feature, a built-in compensator. It's part of the slide, and the barrel ends where the compensator begins. Compensators redirect the gas created by burning gunpowder. It directs the gas upward, which has the effect of pushing the gun downward. This reduces muzzle rise and makes the weapon very controllable and easy to handle.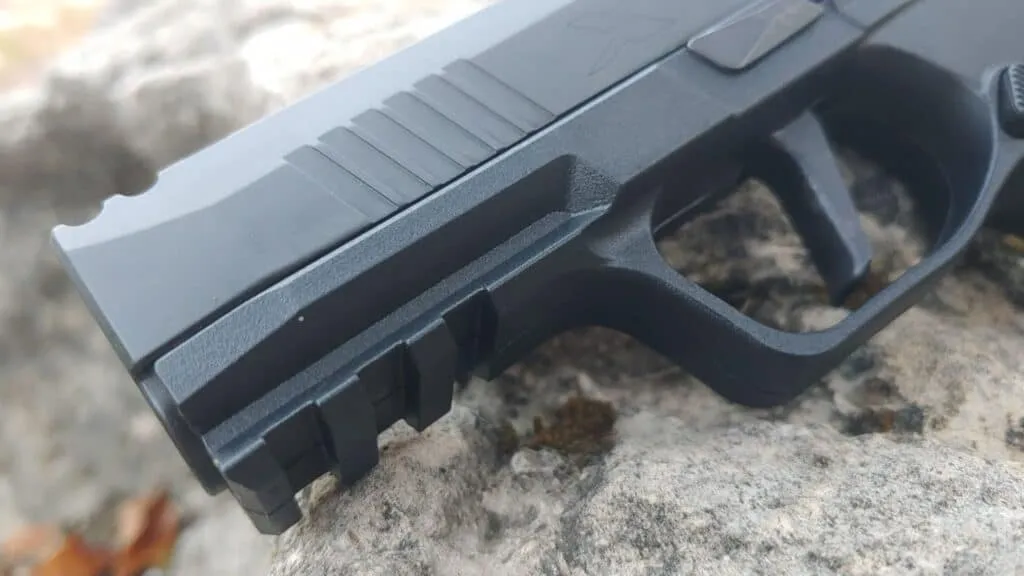 Add the compensator in with the nice high, hand-filling grip, and you get a weapon that's very easy to control and to keep on target. Accuracy is nice, but fast and accurate follow-up shots are an exceptionally nice touch. You get that with the P365 X-Macro. It's soft shooting and very easy to control. 9mm recoil isn't exactly fierce either, so the end product is a very controllable pistol.
Muscle memory is an interesting thing. You build muscle memory for dealing with muzzle rise, and part of your brain is programmed to deal with the delay recoil and muzzle rise cause. I explain all this because the P365 X-Macro's muzzle rise completely surprised me. I would pause unnecessarily long because I'm so used to dealing with the traditional muzzle rise of a handgun.
The X-Macro eats that muzzle rises up and keeps the gun low and on target between shots. This gives you faster follow-up shots and makes the weapon much easier to control. It's most noticeable when engaging with a single hand.
Hitting Targets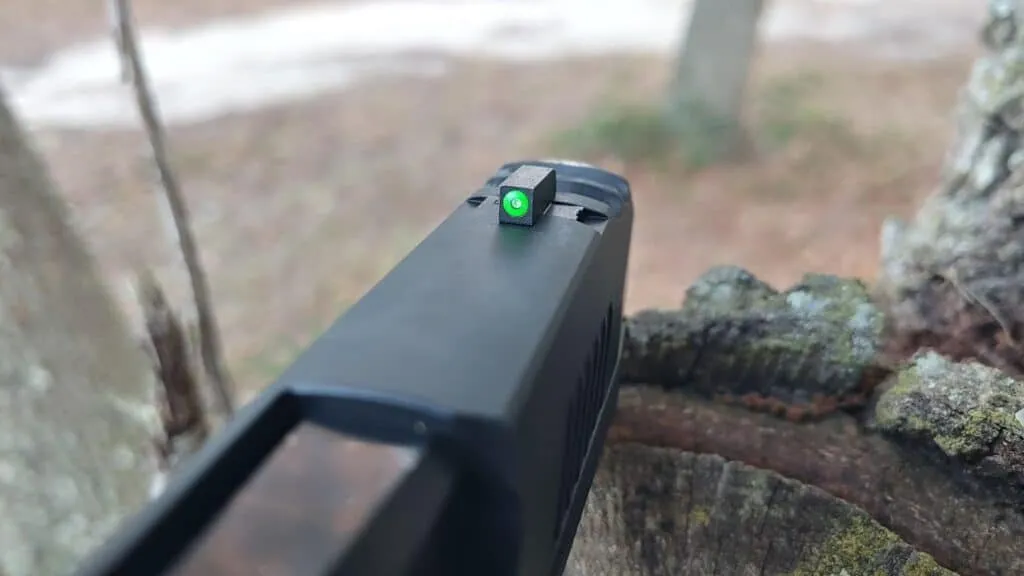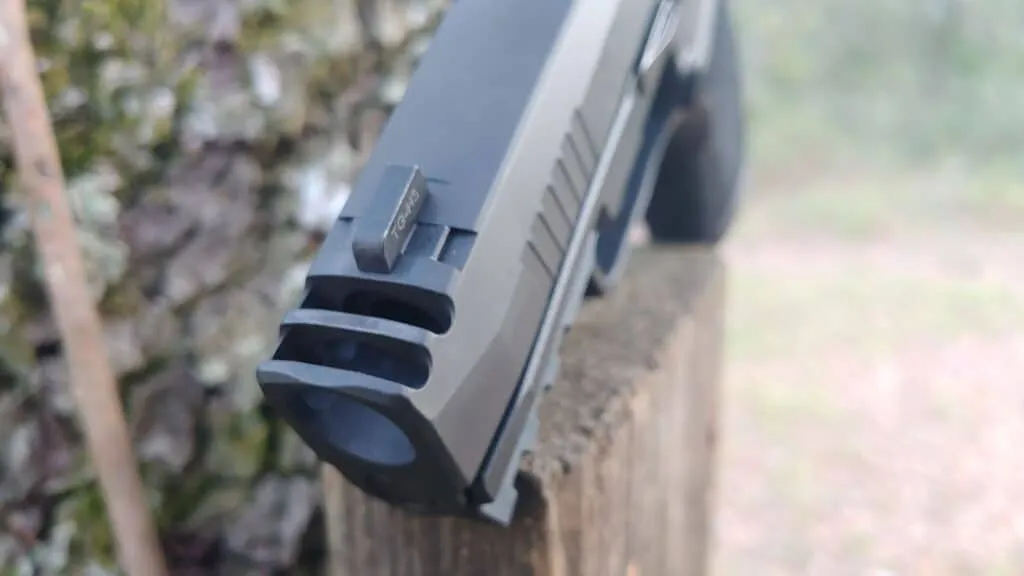 The big front sights are clear and easy to see. The front sight features a high visibility insert that is easy to focus on and get on the target. Combine that with a solid and crisp striker-fired trigger, and we have a winning combination for accuracy. The trigger has a good bit of takeup before the wall and a fairly soft brake.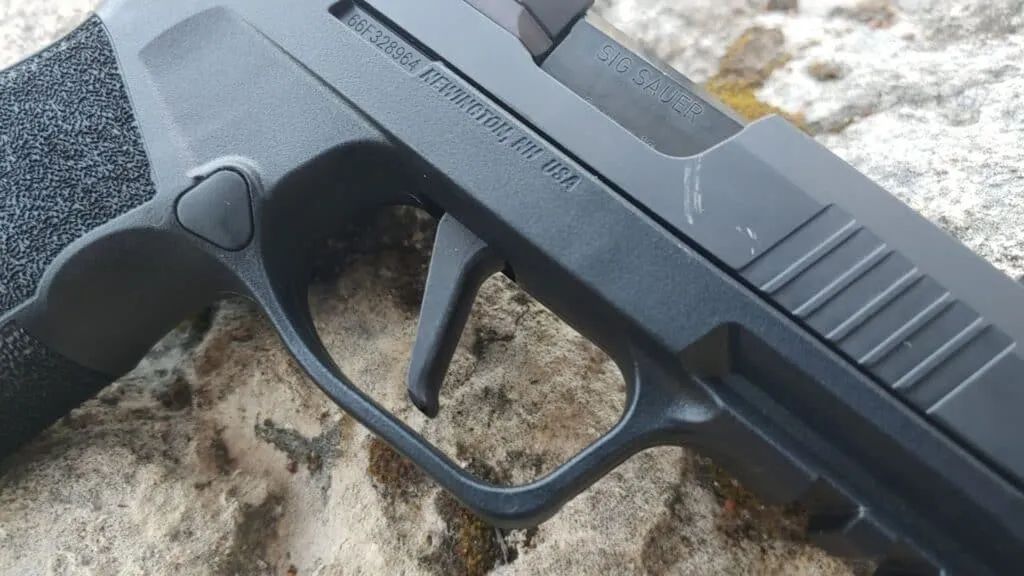 Within standard accuracy ranges, you get some impressive results. I shot a 10-10-10 drill with the P365 X-Macro, and I dropped every shot in the black on my first try and did so in right around seven seconds. The gun shoots straight and allows you to shoot fast. The compensator makes a big difference when things get practical.
When we back up and go slow, we see some impressive results. At 25 yards, I can keep a gong swinging with ease. After I added a red dot to the design, my accuracy increased even more. At 50 yards, I passed the Dickens drill with ten rounds on target in less than 15 seconds. That's great accuracy from a carry gun.
Reliability
Reliability wasn't my concern with a P365 design, but reliability was a concern due to the compensator. Compensators can reduce reliability with some ammunition. That's typically the weaker 115-grain loads. I made sure I grabbed a few different types, including JHPs, brass-cased FMJs, and steel-cased FMJs.
Regardless of the ammo, the gun never failed to fire, cycle, or function. I used primarily 115-grain with no issue, but 124-grain NATO loads and 147-grain subsonic rounds were just as reliable. In a total of 400 rounds, I had no malfunctions with the P365 X-Macro. Not even an ammo malfunction which is rare these days.
Features
The Compensator – The Elephant In the Room
The most talked about feature of the X-Macro is the integrated compensator. Since the design is integrated into the slide, there is no additional cost, need for a thread barrel loc-site, or any chance it becomes loose and rotates in the wrong direction.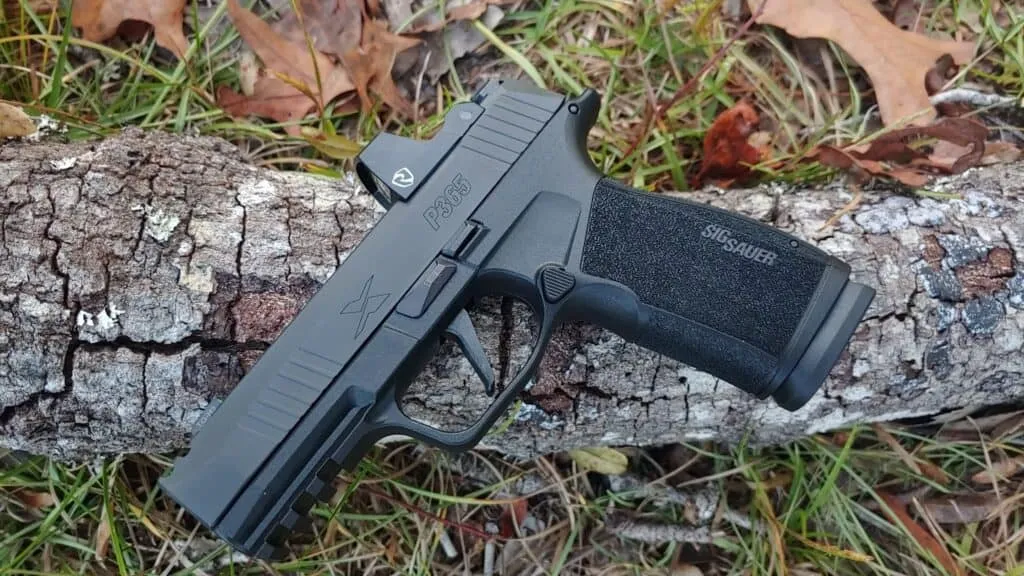 This two-port compensator gives you a seamless addition to your carry gun. In recent years compensators have grown in popularity, even on carry guns. This is the first factory-integrated option I've ever seen. I understand some shooters won't like it, but I can't help but adore it.
It's very effective and keeps the muzzle rising down nice and low.
A Real Rail
This is the first SIG P365 pistol to utilize a standard Picatinny rail. Previous SIG P365s used a proprietary rail that limited your accessory use. The addition of a Picatinny rail allows you to use a ton of different accessories and opens up your ability to use all manner of lights and lasers.
Optics Ready
Optics-ready handguns are all the rage, and P365 X-Macro comes optics-ready with a Shield RMSc footprint. Optics make a huge difference on handguns and allow you to shoot faster, further, and more accurately. Adding an optic isn't tough, and it's an immediate benefit.
The little X-Macro benefits substantially from an optic and make it easy to extend your effective range. An optic combined with a full grip and compensator makes this thing handle like a much larger gun, and that's a good thing.
How We Tested The P365 X-Macro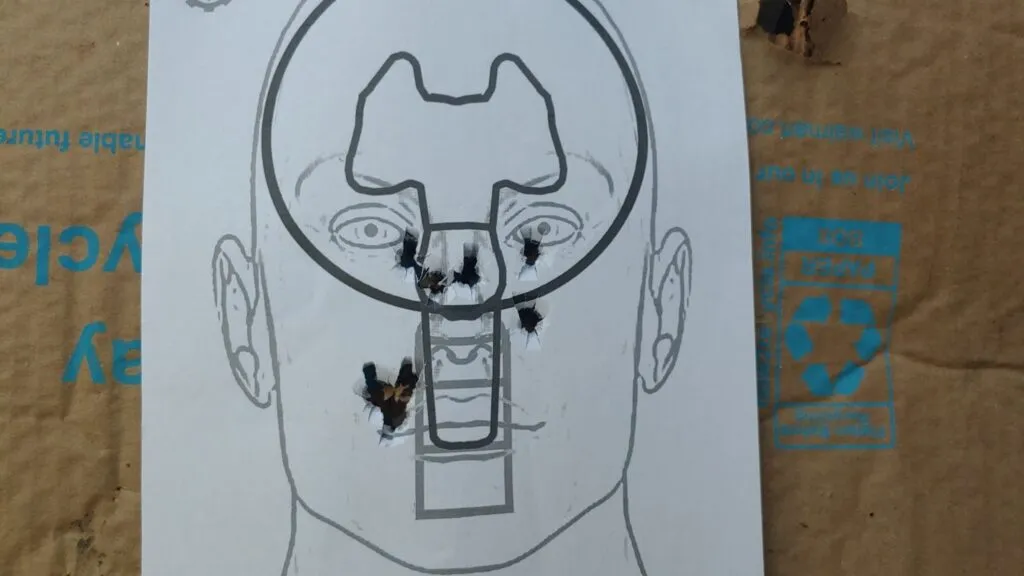 Range day after range day allowed us to see where the P365 X-Macro shines. We started with basic slow fire, zeroing the red dot and generally warming up with the handgun. Once we figured out how it worked, we began running various drills that tested its accuracy and handling characteristics.
Drills like the 10-10-10, Dot Torture, failure drills, and box drills allow us to evaluate the weapon as a combative pistol. Make no mistake. It's designed to defend lives and be efficient for everyday carry. It's not a competition pistol and doesn't handle like one.
SIG P365 X-Macro Ammo
To make sure the compensator didn't challenge reliability, we tested the gun with your basic 115-grain loads, especially steel-cased loads with their lower velocities. On top of those lower-powered, lower-recoiling rounds, we ran some spicier NATO loads and +P defensive ammo to see just how the compensator worked.
Accessories
A little gun needs a little light, but that doesn't mean you have to suffer through a weak beam. The TLR 7 Sub shrinks the TLR 7 design but keeps the power ratcheted up to 500 lumens backed by 5,000 candelas.
It's a bright beam that fills a room with light. The standard Picatinny rail model will fit the P365 X-Macro and give you a handy and capable light for concealed carry.
The Shield RMSc footprint is the standard for subcompact optics, and it's become the norm for red dots until a better model comes along. The 507K from Holosun currently rules the roost. The glass lens and aluminum body form a tough and dependable optic for concealed carry. On top of that, Holosun uses a multi-reticle system, a side-loading battery, and a dual-button design for controls.
Alternatives to the P365 X-Macro  
If the P365 X-Macro isn't right for you, or you want to know what the market looks like, we've got a few alternatives for you.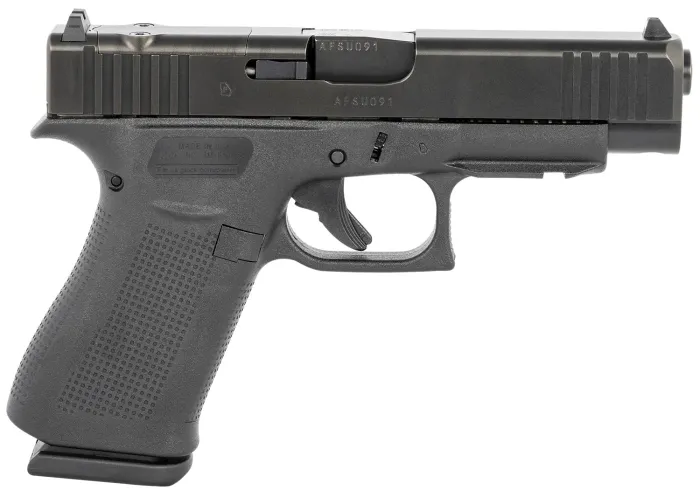 The Glock 48 is another competitor in the not-quite-compact design. It's a thoroughly modern option, and the MOS variant comes optics-ready with a rail for modern attachments. The Glock 48 comes with that unbeatable Glock reliability. This gun fills the hand and provides a barrel length of 4.17 inches. The main downside is the ten-round magazines, which are substantially lower in capacity than the X-Macro 's 17-round magazines.
Check out our Glock 48 review for more info.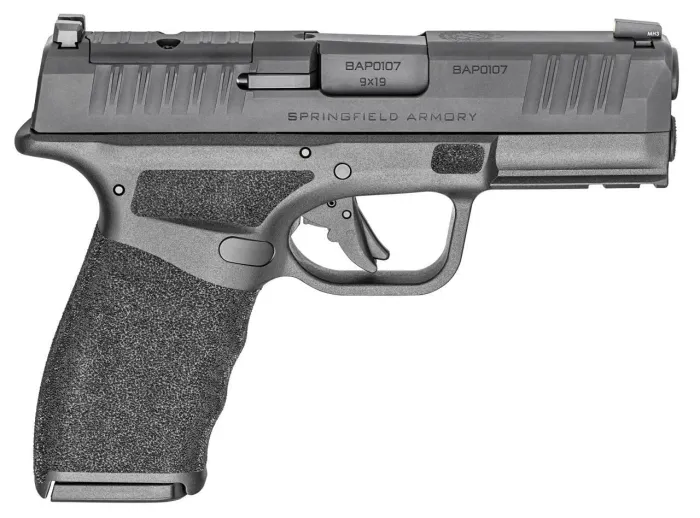 The Hellcat Pro came out right before the X-Macro and offered you a not-quite-compact design with a slightly different configuration. Like the X-Macro, you get an optics-ready weapon and a rail for accessories. The Hellcat Pro might be a newer kid on the block, but it's proving itself to be a capable option. With 15-round magazines, the Hellcat keeps pace with the X-Macro.
FAQs
What optics fit the P365 X-Macro?
Anything with a Shield RMSc footprint. Optics from SIG, Holosun, Shield, Riton, and many more fit the weapon.
How much is the SIG P365 X-Macro?
The Sig P365 X-Macro retails for 799.99.
When did the SIG P365 X-Macro get released?
This brand-new handgun was released in the summer of 2022.
The P365 Family Grows
The SIG P365 X-Macro is the biggest P365 to date. It doesn't fall into the micro-compact world, but it's not trying to either. I expect the X-Macro series will have the same effect on compact firearms as the standard P365 did on subcompact and single-stack 9s.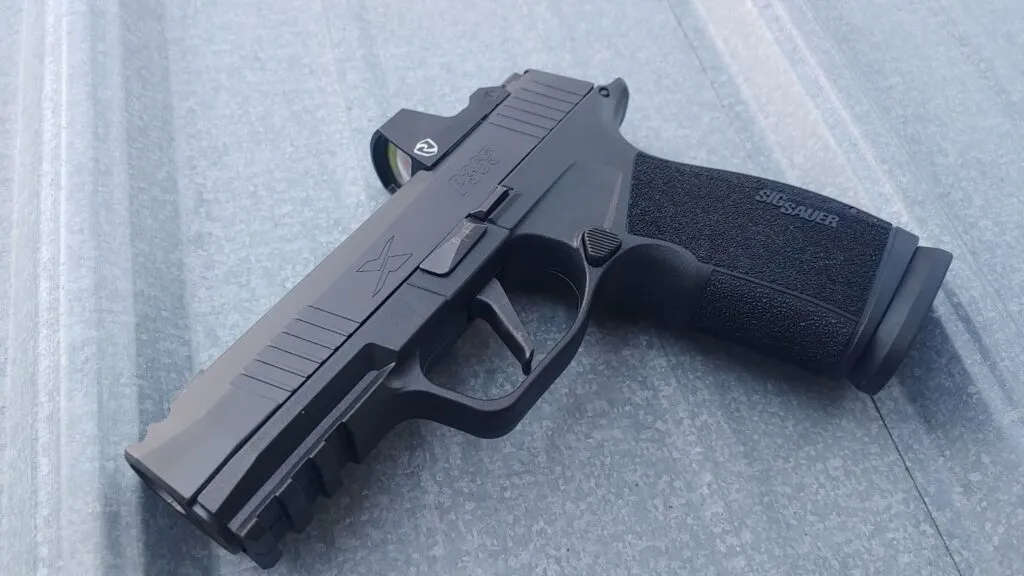 The P365 X-Macro combines a number of very modern features to produce a modular pistol for any role or environment. Seventeen rounds of 9mm is a lot of ammo for such a small gun. Add in the rail, compensator, and optics-ready design, and you get a very capable firearm.
The X-Macro is controllable, accurate, and reliable. It's designed from the ground up for concealed carry and excels in that role. It's the biggest P365 and seemingly the most expensive, but it's a darn fine pistol. The P365 X-Macro has become my favorite of the P365 series.
Explore more