CZ 457 Review: Perfect Understudy for Your Long-Range Rifle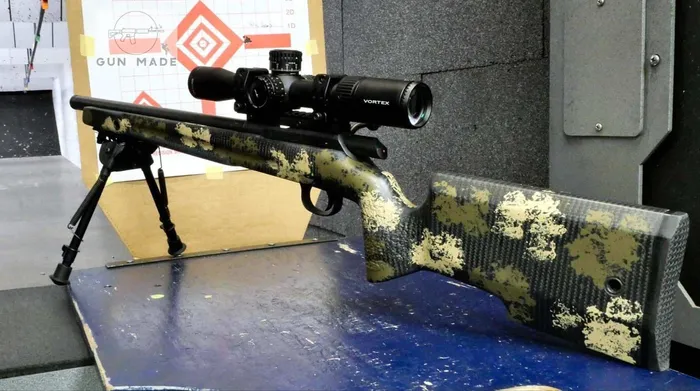 CZ 457 Review: Perfect Understudy for Your Long-Range Rifle
Introduction
'Česká zbrojovka' is quite a mouthful. It simply translates to Czech Armory and, for our purposes, CZ. For many, CZ may not be a common household name, but for those shooters in the know, CZ means quality and accuracy.
CZ has been producing military and civilian arms since 1937, and they know a thing or two about building quality rifles, handguns, and shotguns.
The CZ 457 rimfire line was launched in 2019 and brought some significant improvements to the already great CZ 455 rimfires. A better, user-adjustable trigger, 'forward to fire safety, and a 3-lug bolt combine to make the CZ 457 a wonderfully accurate and fun .22 LR.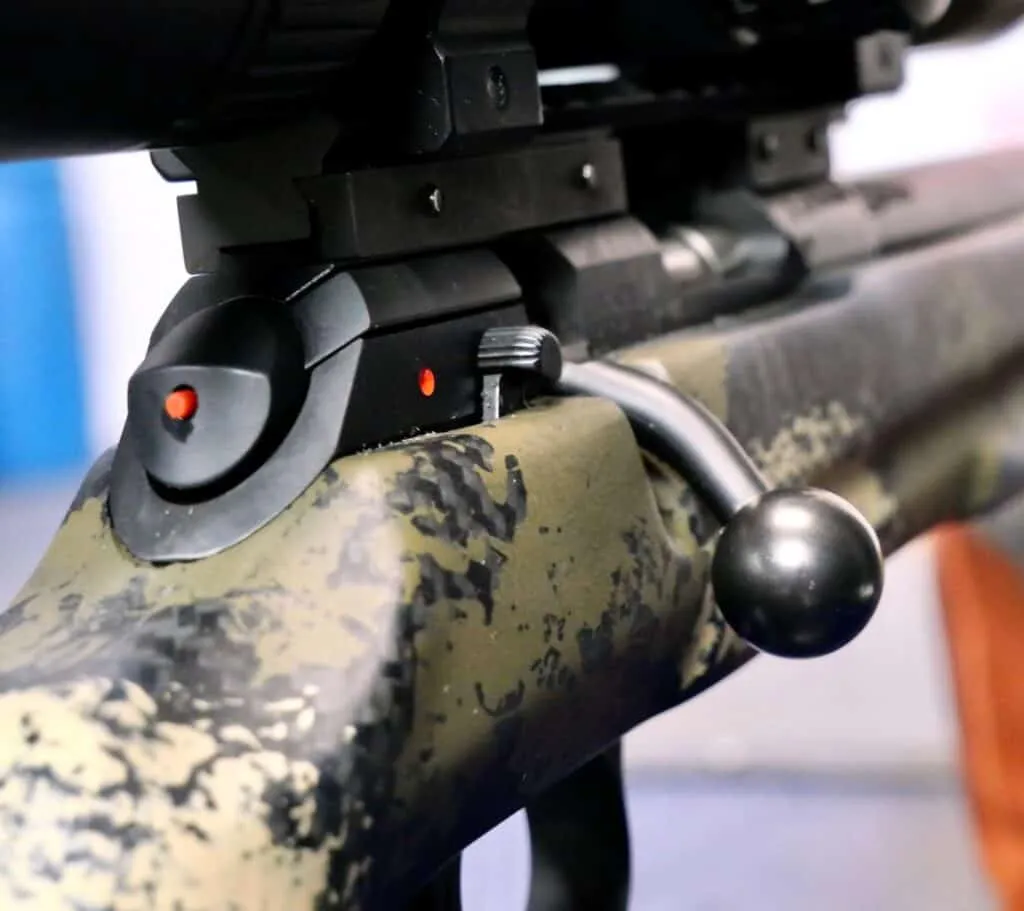 We'll take a deeper dive into the Varmint Precision Trainer and see how it performs with several different ammo selections and what you can expect should you choose to add a CZ 457 to your rifle stable.
The gun used in this review is from the rental fleet at The Range LLC in Yakima, WA, and has had thousands of rounds through it over the last couple of years. Currently, it is set up for the Itty Bitty Target Challenge. If the shooter does their part, the CZ 457 can get them into the winner's circle for a nice cash prize at the end of the contest.
Let's jump in and see why the CZ 457 deserves a special place in your collection.
CZ 457 Varmint Precision Trainer Review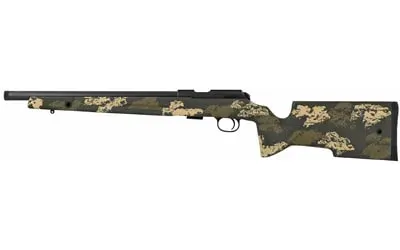 Specifications
| | |
| --- | --- |
| Caliber | .22 Long Rifle Rimfire |
| Capacity | 5 Round Magazine |
| Barrel | 16.5"; Cold Hammer Forged |
| Suppressor Ready | ½ x 28 threads with thread protector |
| Trigger | Fully Adjustable for Weight of Pull, Overtravel, & Sear Engagement |
| Length of Pull | 14" |
| Overall Length | 34" |
| Overall Weight | 7.1 Pounds |
| Sights | None; Integral 11mm Dovetail |
| Stock | Manners Composite |
Pros & Cons
Pros
Currently, 18 variations to fit every taste & requirement
Accurate
Reasonable Price Point
Cons
Does not ship with scope rings
Ships with only one magazine
On the Range with the CZ 457 Varmint Precision Rimfire
As Colonel Whelan famously quipped, "only accurate rifles are interesting," and this rifle is definitely interesting.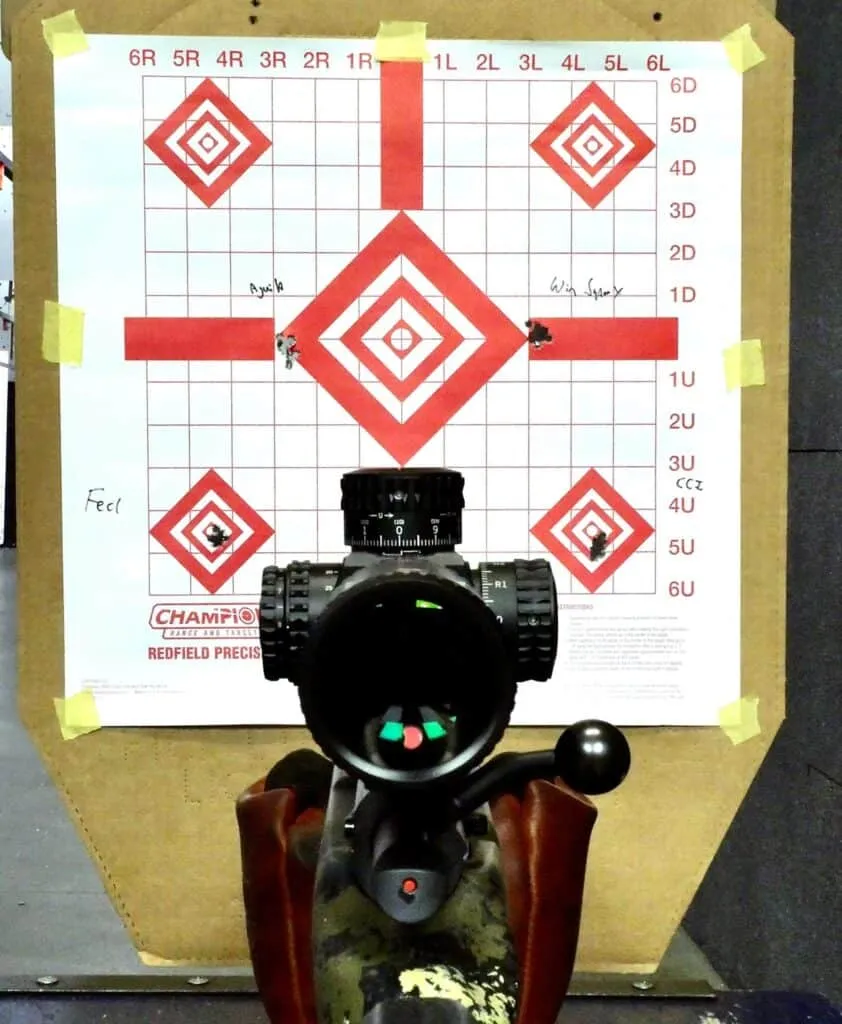 It's always fun to see only one hole in a target getting just a little bigger with each squeeze of the trigger. With a heavy .22 LR resting on a bench, you can see that first bullet hole, then just watch the ragged edges get torn out a little more with each successive shot.
I had the opportunity to shoot about 200 rounds through the rifle for this evaluation. I did not use any high-end match or target ammo; rather, I opted for ammo the average shooter is likely to find at their local range or sporting goods store.
All rounds fired for groups were at 33 yards. Rather than three or five-shot groups, I shot 10-round groups to see how the accuracy would hold up as the barrel heated up.
Suffice it to say, the rifle is accurate and, with match-grade ammo, would be absolutely ready for competition or sniping away at prairie dogs or distant steel plates.
The rifle I shot had a Harris bipod on the sling swivel stud, and the Manners composite stock is built for a rear sandbag to ride smoothly during recoil. I especially like the near-vertical pistol grip that allows a comfortable grip and allows you to run your thumb on the side of the rifle rather than tightly wrapped around the grip.
Being right-handed, I could easily manipulate the safety with my thumb and quickly work the bolt to the rear and push it forward on the reload. All this without moving my cheek off the stock or my eye away from the scope.
Features
Trigger
The trigger on the CZ 457 is great! It is fully adjustable for weight of pull, overtravel, and sear engagement. Some reports indicate the trigger can be adjusted as light as 1 pound 10 ounces. That may be okay for bench work, but I don't know that I would be comfortable with a trigger that light in the field.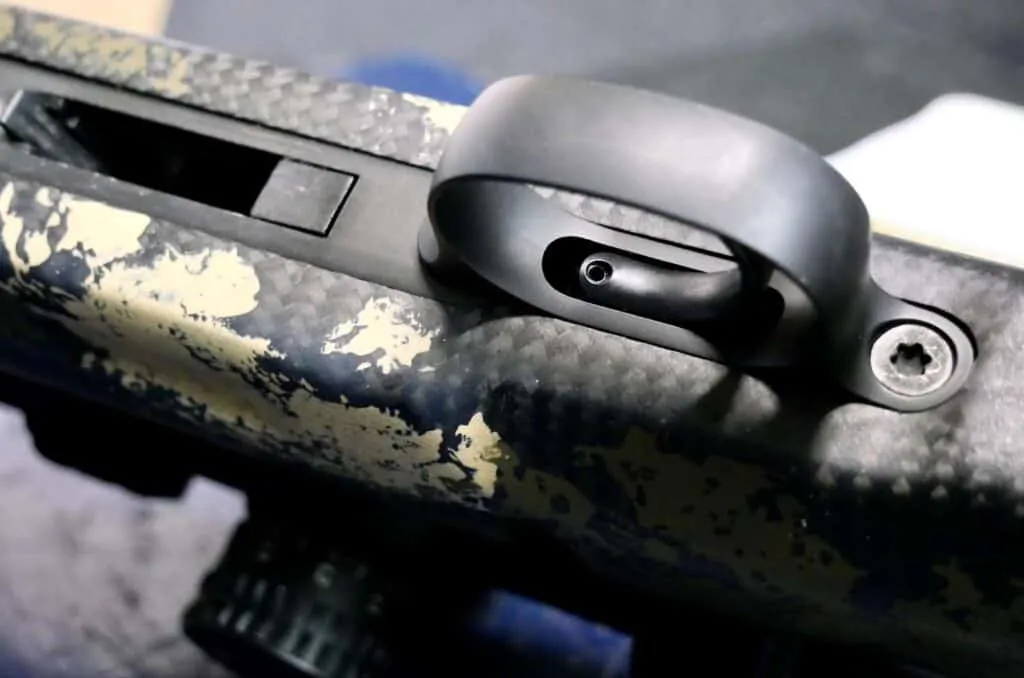 The gun I shot had a very smooth trigger and averaged 2 pounds 1.7 ounces for ten trigger pulls with my Lyman Trigger Pull scale. I noticed no overtravel and a clean break on every press of the trigger.
Bolt Throw
One of the complaints on the earlier model CZ 455 was the 90-degree bolt throw. In some cases, those with a larger scope mounted had very little clearance between the ocular bell and the bolt handle.
CZ solved the bolt issue by redesigning the 457 bolt with three locking lugs rather than two and reducing the bolt throw to a short 60 degrees. This gives plenty of clearance for the largest of optics and provides for fast bolt cycling.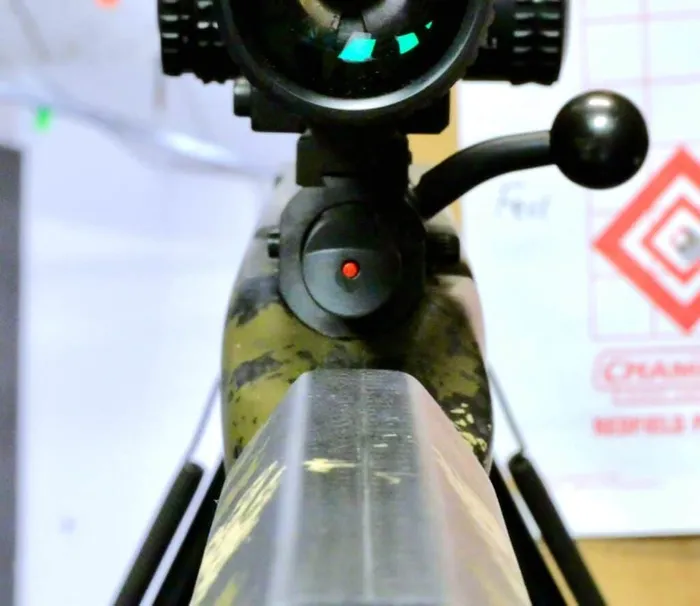 Manners Stock
The CZ 457 Varmint Precision Rimfire features a Manners carbon fiber composite stock. For those in the know, Manners has been building state-of-the-art stocks and chassis for hunters, competitors, and tactical applications for many years.
The Varmint Precision stock is based on Manners PRS1 stock and is scaled to fit the rimfire action and barrel. It consists of a nicely stippled grip section that is nearly vertical and allows for easy trigger manipulation and bolt operation without moving your cheek off the stock.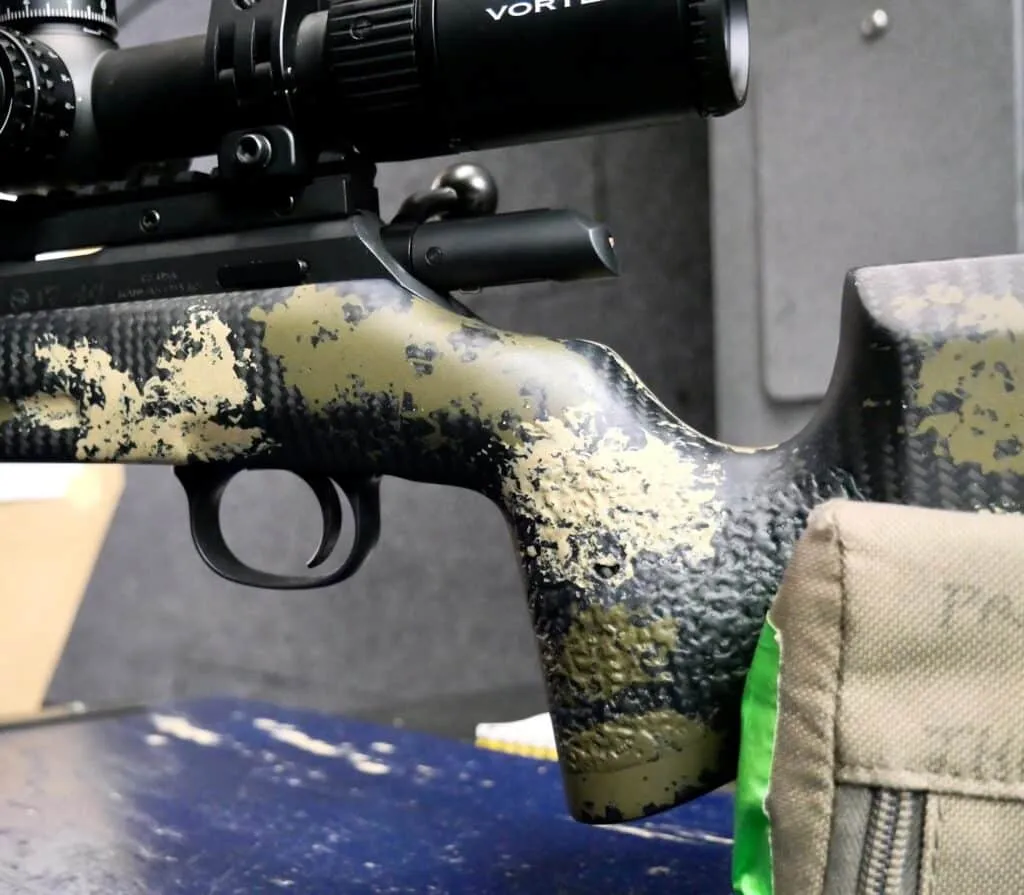 There is a single sling stud for attaching a sling or, in the case of the review gun, a Harris bipod.
The stock features a high, straight comb for consistent eye alignment with even the largest optics. The bottom, or toe of the stock, is configured to ride a rear sandbag smoothly and allows the gun to recoil in a naturally straight direction.
Barrel
The barrels on all CZ rifles are cold hammer forged. This means the barrels are literally pounded into shape around a mandrel that 'engraves' the rifling into the bore and aligns the molecular grain of the steel giving the barrel increased rigidity and strength.
The bottom line, it means CZ barrels are accurate. The CZ 457 Varmint Precision barrel is 16.5" long, has a 1:16 twist rate, and sports a threaded muzzle ready for your favorite suppressor or muzzle brake.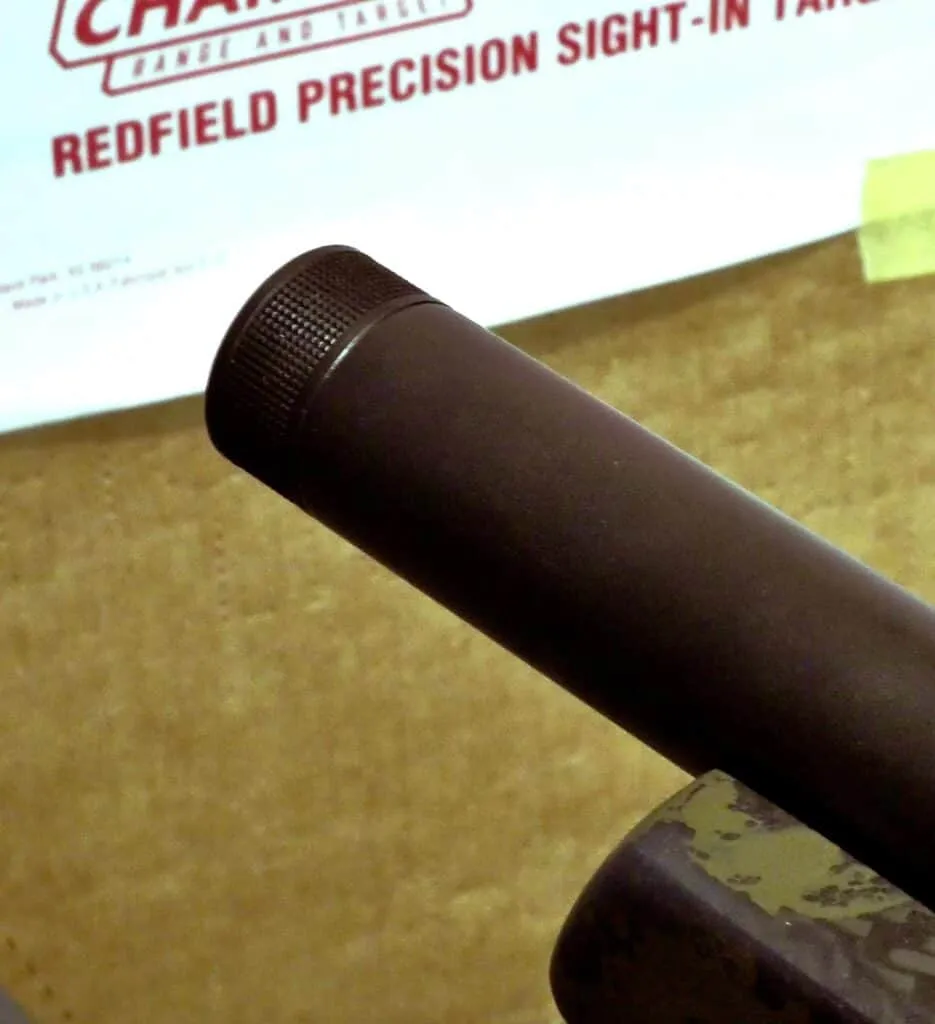 Shooting Evaluation
Ammo Used
To see how the 457 performed, I chose four different brands and types of ammunition that should be readily available at most gun shops or sporting goods stores.
Accuracy
Each load was fired at 10 to 20 yards to see how it performed and to get a feel for accuracy potential. There were no failures of any kind due to ammunition or the function of the rifle.
For accuracy testing with each load, the target was moved out to 33 yards, and 10 round groups were fired from a bench using the attached Harris bipod and rear sandbag.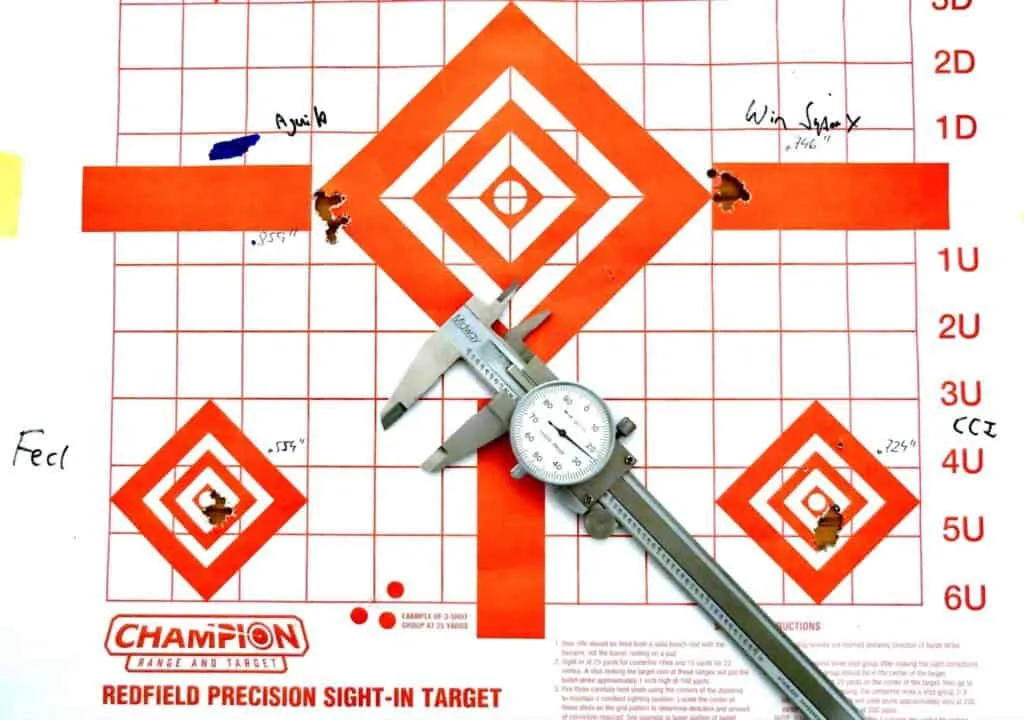 The rifle seemed to prefer the 40 grain Federal ammo over the others. Granted, no groups had more than one ragged hole with any of the ammo tested. The Federal turned in a nice group measuring .554". The worst group I managed to shoot was with the Aguila, and it was still only .859".
I guess that with some judicial testing with match-grade ammo, this rifle is capable of 0.5" groups at 50 yards with no problem and will likely produce good hits on targets at extreme ranges for a .22 Long Rifle.
It should be mentioned that this rifle had a Vortex Viper PST 2-10×32 mounted up. I shot all groups on 10x.
Accessories
This gun and all CZ 457 variants have the accuracy potential that begs for a quality optic. Certainly, the Vortex Viper PST is a great choice. This scope is highly regarded in the world of NRL (National Rifle League) .22 match shooting. You might consider going to the 3-15×44 just to give you a little more magnification at the smaller targets at long range.
Harris bipods have been a staple in the industry since the early '70s. True, there are more expensive options, and there are cheap knock-offs, but Harris continues to deliver quality products that will give you years of service.
I would most definitely opt for one of the 6-9" models for use off the bench or for some stages in an NRL match. The Harris bipod provides bench-like stability for wringing every bit of accuracy out of the CZ 457 in the field.
The CZ rifles typically only ship with one magazine. You'd do well to buy a few extras to have pre-loaded in the field or for use at the range or matches. The magazines are available from CZ, although at the time of this writing, all 457 magazines are out of stock in the CZ online store. five-round magazines are available in steel or polymer, and ten-round polymer magazines are also available.
Good .22 Long Rifle Alternatives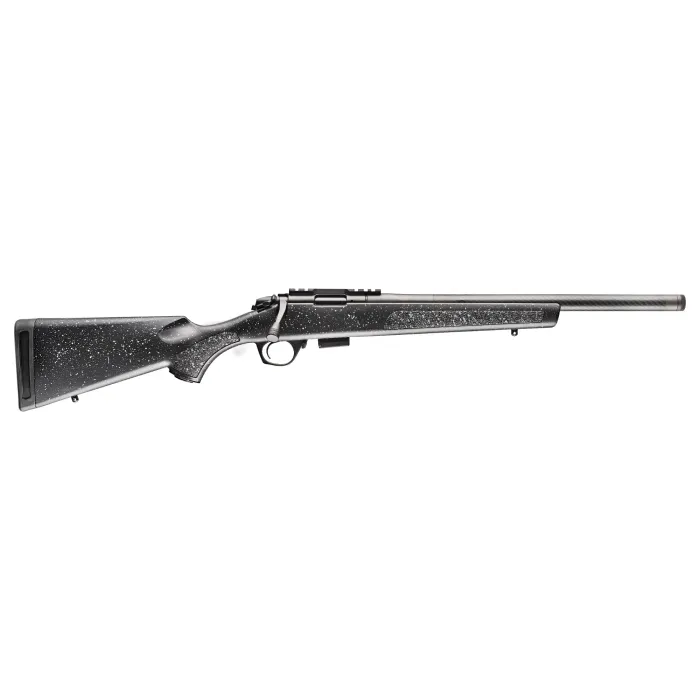 Bergara is known for making fine barrels and producing incredible accuracy. The BMR allows you to train for PRS with a similar platform to your centerfire rifle. The BMR has a match chamber, ships with five and ten-round magazines, and a 30-MOA rail, so those long shots become a bit easier.
It is available with steel or carbon barrels that are threaded and ready for a muzzle brake or suppressor.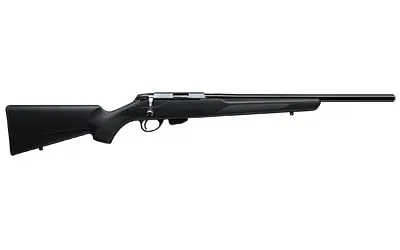 Like Bergara and CZ, Tikka has a well-deserved reputation for accuracy. The T1x is built specifically to mimic the feel and size of Tikka's centerfire rifles so you can hone your skills without emptying your wallet on centerfire ammo.
The T1x has a hammer-forged barrel and adjustable trigger, ships with a standard 10-round magazine, and has a nifty pistol grip that can be swapped out to change the profile to your liking.
The T1x is ready for field or match and offers a lot of guns for a suggested MSRP of about $500.
FAQs
Did CZ discontinue the 457?
The CZ 457 Training Rifle was discontinued in 2022. However, there are still 18 current variations to choose from.
Where are 457 rifles made?
The CZ 457 rifle is manufactured in the Czech Republic and imported by CZ-USA.
What caliber is the CZ 457?
The CZ 457 is available in .22 Long Rifle, .22 Winchester Magnum Rimfire, and .17 HMR. Note, not all variations are available in every caliber.
Wrapping Up
Shooting the CZ 457 Varmint Precision Trainer was fun!
Having a consistently accurate rifle that shoots a variety of off-the-shelf ammo well makes for an enjoyable day at the range. Not to mention you don't get knocked around with recoil, and there's still a little cash left over for coffee on the way home.
Whenever I shoot a new gun, it opens my eyes to new possibilities and opportunities in the field and perhaps in the competitive realm. The 457 series of rifles would allow new or beginning shooter to dip their toes into the world of precision rifle shooting without breaking the bank. Or they can take that same rifle and quietly stalk the squirrel woods to make that elusive headshot on a cagey game animal.
Regardless of where your interests lie, the CZ 457 is a rifle that will provide a lifetime of shooting fun on the range, in the field, and on the line at a match.
I'm a sucker for classic blued steel and nice walnut, so I'm a bit torn… Do I go with the classic lines of the American or the wood-stocked, heavy-barreled Varmint MTR? Time will tell, but I can guarantee that a CZ 457 is going to find a home in my gun safe.
Explore more