FN 509 Tactical Review: A Tactical "Do It All" 9mm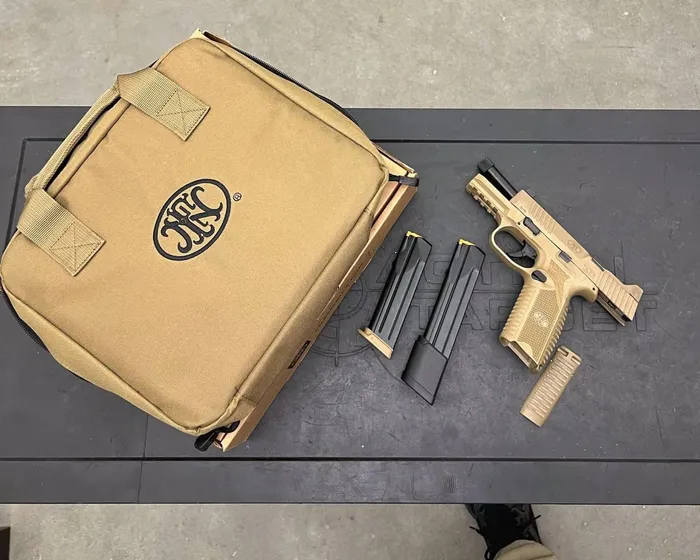 FN 509 Tactical Review: A Tactical "Do It All" 9mm
Introduction
FN released the 509 back in 2017 and has since delivered several variants, with my favorite being the 509 Tactical. I look at it as somewhat of a dolled up and fancy version of a Glock 45, which is not a bad thing!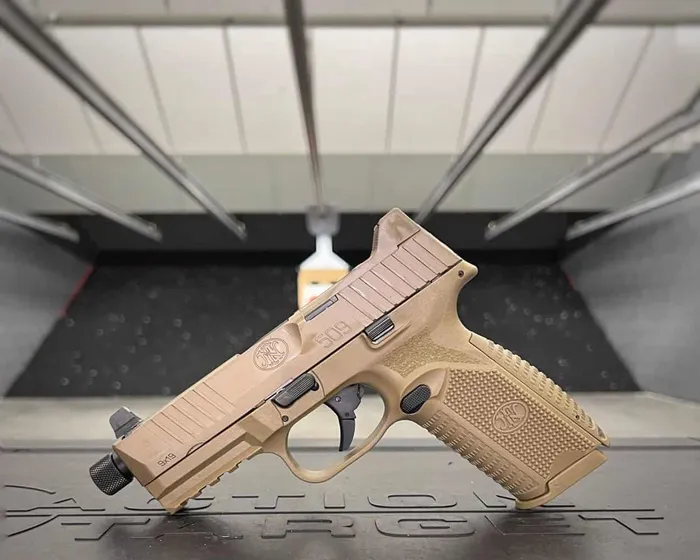 The 509 started out as FN's run for the military's Modular Handgun System contract but ultimately was not chosen. However, it then transformed into this awesome civilian platform that we have in front of us today.
In addition to us regular folks enjoying it, numerous law-enforcement and security agencies have chosen the 509 as their duty pistol. Most notably, the LAPD chose the FN 509 MRD-LE for its roughly 10,000 uniformed officers.
If the 509 made the cut for the LAPD, there must be many reasons for it. Let's take a closer look at the FN 509 Tactical to see how it stacks up.
FN 509 Tactical Review
FN 509 Tactical For Sale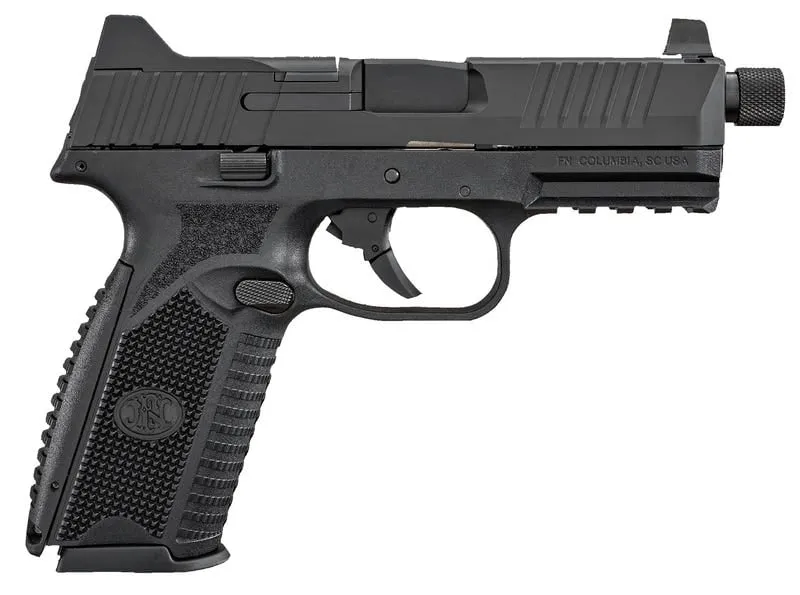 Specifications
| | |
| --- | --- |
| Caliber | 9mm |
| Capacity | 24+1 |
| Barrel Length | 4.5 Inches |
| Overall Length | 7.9 Inches |
| Width | 1.35 Inches |
| Height | 5.75 Inches |
| Weight | 27.9 Ounces |
| Trigger Pull | 5.5 – 7.7 Pounds |
Pros & Cons
Pros
Fantastic ergonomics and grip

High capacity – ships with a 17 and 24 round mag!

Ambidextrous controls

Reliable and accurate

Suppressor ready – threaded barrel and suppressor-height sights
Cons
Pricey – get that checkbook ready

Heavier trigger (but smooth and consistent)
In the Box & Shooting Report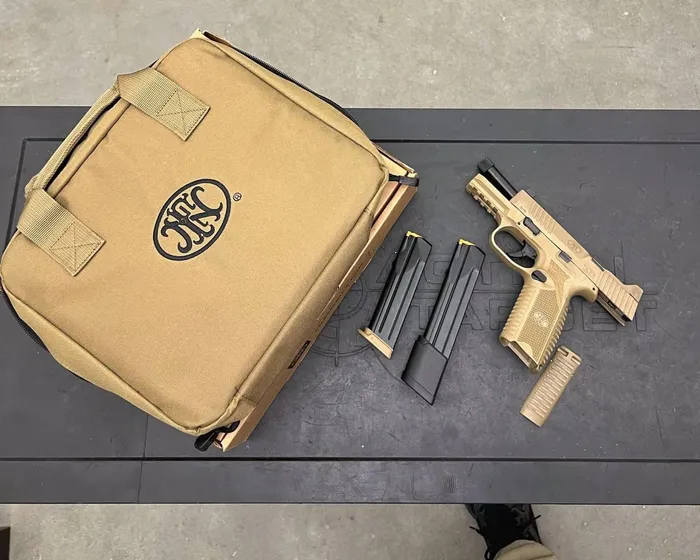 Reliability
I've heard nothing but positive things about the reliability of the 509.
My experience with it was no different. I put 175 rounds through it with zero malfunctions. It didn't matter what ammo I used, how quickly I shot it, or if the mags were loaded to capacity.
I'm confident that with more rounds, I would have similar results. There is always the possibility of a one-off malfunction with any gun, but I wouldn't expect any more than that with this particular pistol.
Accuracy
The 509 Tactical is a very well-balanced gun. The result is a flat shooter that's easy to control.
Out to 25 yards, I had no issue maintaining tight headshot groupings on some zombie targets. That was without an optic mounted, so the groupings would likely only get better if I did mount one.
Overall Feel
Simply put, this gun feels great in hand.
The grip height, the grip angle, and the grip width are all winners in my book. With the 24-round magazine loaded, there is a heft to the gun that makes you feel like if the gun was to ever completely jam, you could throw it at someone and knock them out.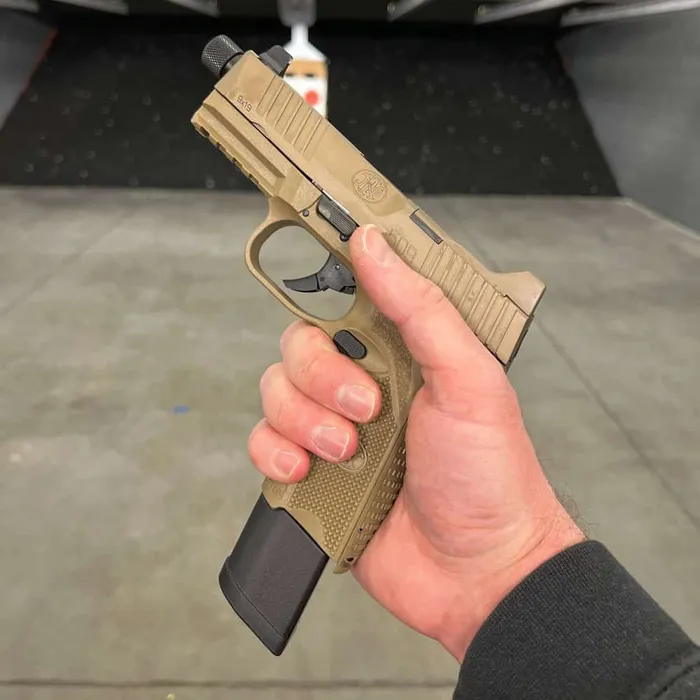 Features
Optics Ready Slide
These days, optics are the talk of the town. FN made sure to give the people what they want with its patented Low-Profile Optics Mounting System. It enables the gun to accept more than ten different optics that co-witness with the suppressor-height sights.
If you decide to not mount an optic right away, the slide cap/cover plate fits flush and provides extra protection for the iron sights with its raised wings.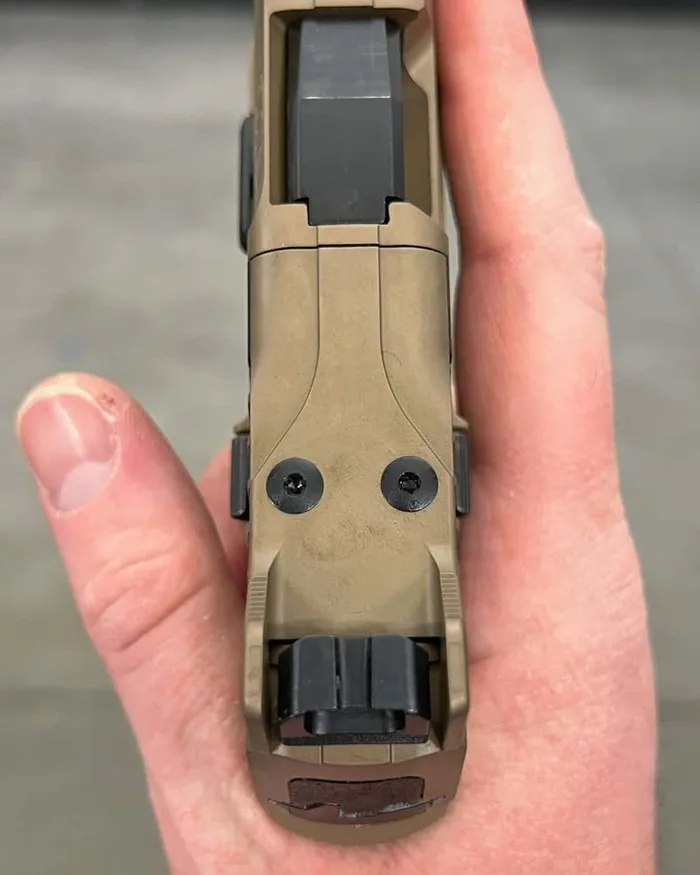 Suppressor-height Night Sights
One thing I never understood is when a company markets its pistol as "optics-ready" and then ships that pistol with standard low-profile iron sights. Here is another instance where FN is giving us what we want by throwing on suppressor-height sights.
I'd like to add – not just standard suppressor-height sights either. FN went with Trijicon tritium night sights…kudos to whoever made that call!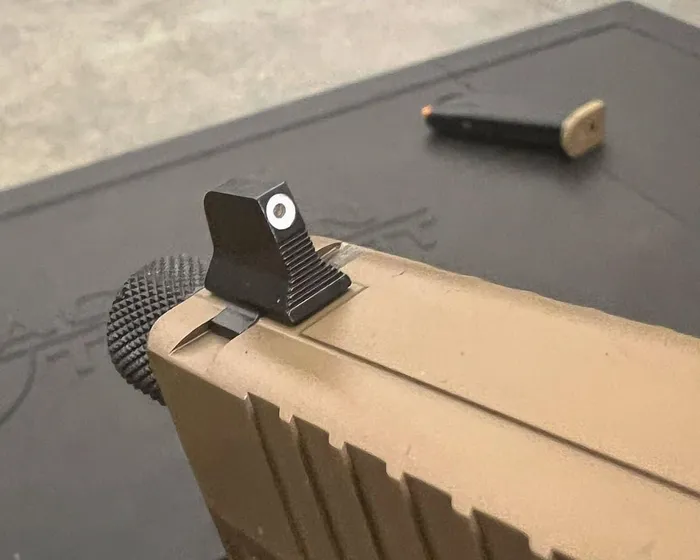 Ambidextrous Controls
Not only is the slide stop lever ambidextrous, but the magazine release is too. Often, the mag release is reversible and not truly ambidextrous.
While I didn't have any accidental mag drops, I actually think I may prefer a reversible mag release instead, just in case. But, to each their own.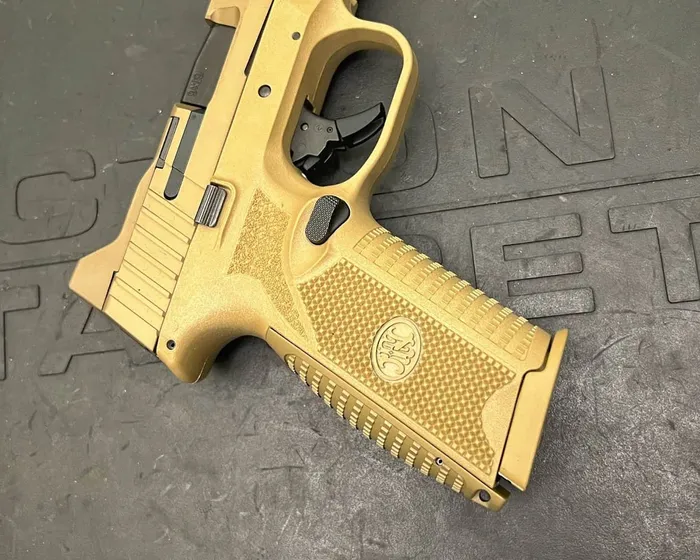 Threaded Barrel
The 4.5-inch barrel features ½" x 28 threads to accept most of the 9mm suppressors.
It also comes with an integrated O-ring within the cap to prevent it from loosening. If only I had a suppressor to run it with…maybe soon?!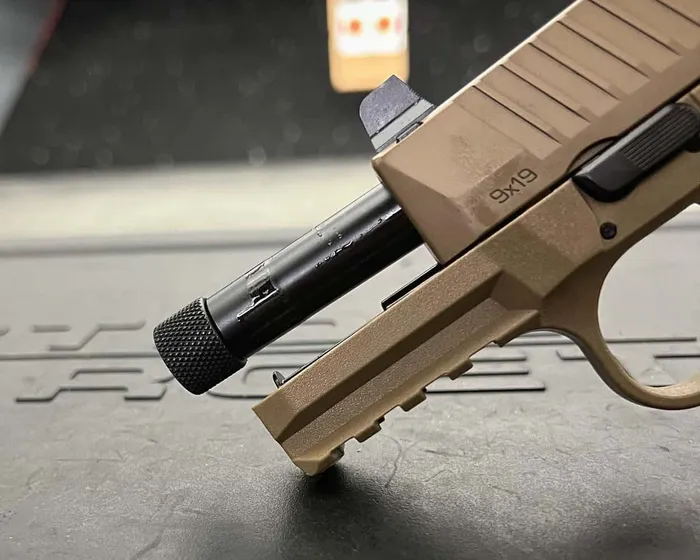 How We Tested
I shot strictly indoors during all three range sessions.
I focused my shooting around the 15-20 yard mark, but the distances did range between 5 and 25 yards. With a mix of rapid-fire, reloads, and accuracy drills, I was able to get a solid feel for how the gun performs.
Ammo Used
Not too long ago, I got an order of 115-grain Blazer Brass FMJs in, so I've been working my way through them.
For 150 out of the 175 rounds, I shot the Blazer. For the other 25, I loaded up some 124-grain Federal Punch JHP to see how the gun handled defensive rounds. Both rounds performed well.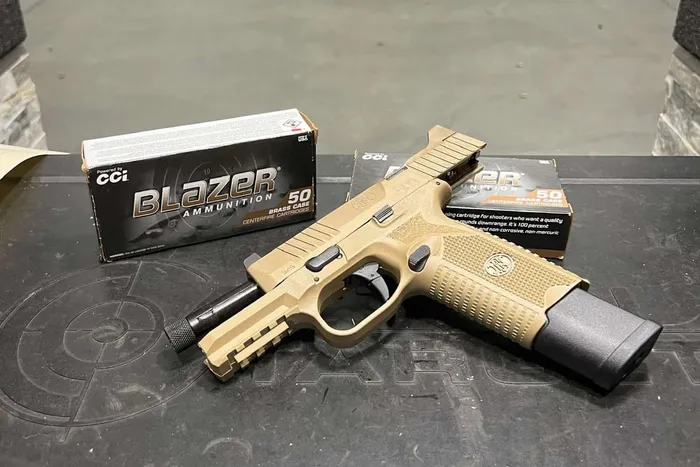 Score Card
Reliability (10/10)  
No malfunctions, and haven't heard any horror stories from others.
Ergonomics (9/10)
For me, this gun felt amazing in hand and was very easy to control.
Customization (9/10)
With the accessory rail, optic cut slide, and a ton of aftermarket parts available, you can customize it as you wish.
Appearance (8/10)
The grip looks rather "plasticky" (yes, I'm aware that's not a real word), and I'm not a fan of the sight side caps from an aesthetic perspective.
Value (8.5/10)
Solid and reliable, but overpriced in my opinion.
Accessories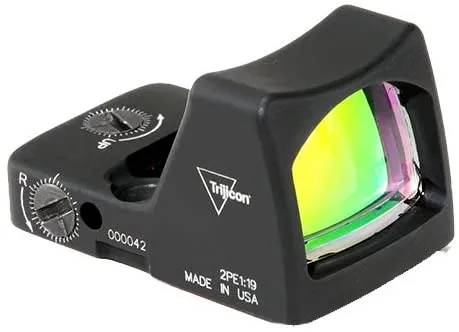 Depending on your preference, you can choose between a 1 MOA, 3.25 MOA, or 6.5 MOA dot.
It's a pricey optic, but you get outstanding durability, high-quality glass and electronics, plus a limited lifetime warranty. For a tactical and potential duty gun like the 509 Tactical, the RMR Type 2 will complement it extremely well.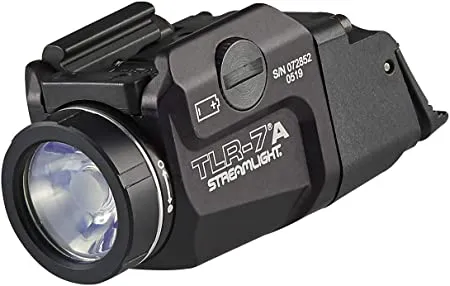 Depending on your preference, a TLR-1 HL would work great too.
The 7A is not as long as the TLR-1, so it sits closer to flush with the end of the barrel and slide. It puts out 500 lumens for an hour and a half and is very durable. You can't go wrong with Streamlight, especially for the price.
Alternatives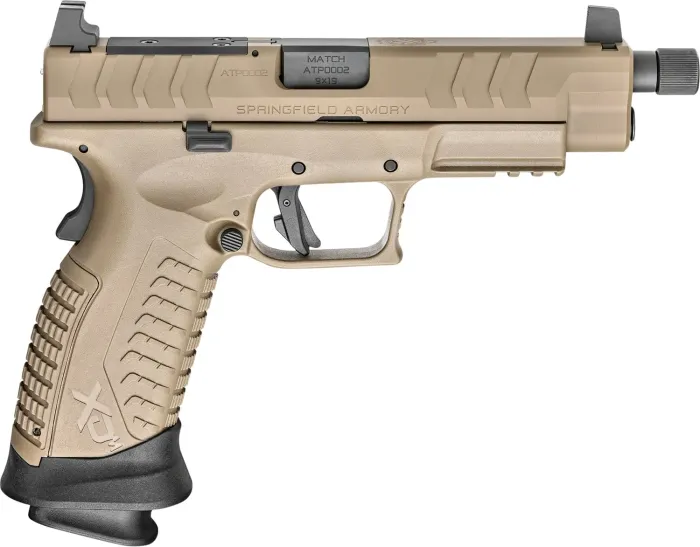 The XD-M elite, from a quick glance, can look very similar.
It has suppressor-height sights, a threaded barrel, and ambidextrous controls. The slide is optics-ready, and you get an accessory rail to mount your favorite lights. Capacity is no issue with it either, as it comes with two 22-round magazines.
Plus, the MSRP is almost $400 less than the 509 Tactical!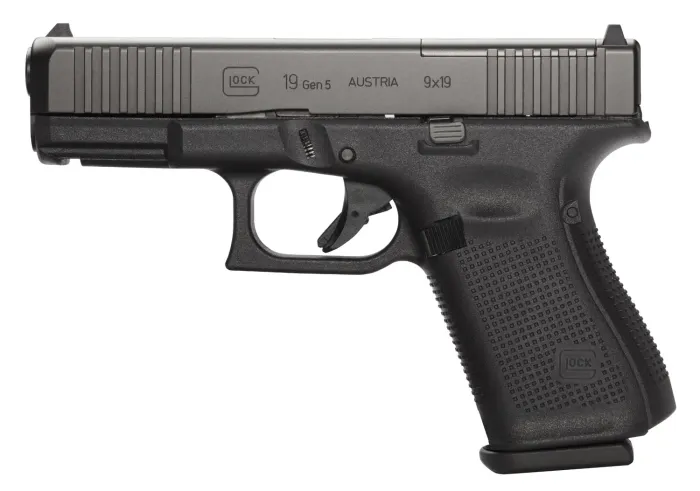 You'll see a lot of comparisons on Google between the Glock 19 and the FN 509.
The Glock 19 does have a 15+1 standard capacity, but you can also use Glock 17 magazines which are 17-rounds. The Gen5 MOS model is optics-ready, plus the grip and trigger have been improved upon from previous generations.
There are more accessories on the market than you'll know what to do with too.
Conclusion
The 509 Tactical delivers everything that you'd expect from an FN firearm.
It's reliable, accurate, and well-configured, but pricey. I would not be mad at owning a 509 Tactical, if I got it for a better price than I've seen lately. While you can get them for below MSRP almost any day, there are more affordable 9mm pistols out there with similar features.
With that being said, if you have the opportunity to pick up a 509 Tactical at a good price, I would recommend jumping on it!
Explore more