The Cheapest 9mm Pistols [2023]: Better Than Your $2000 Pistol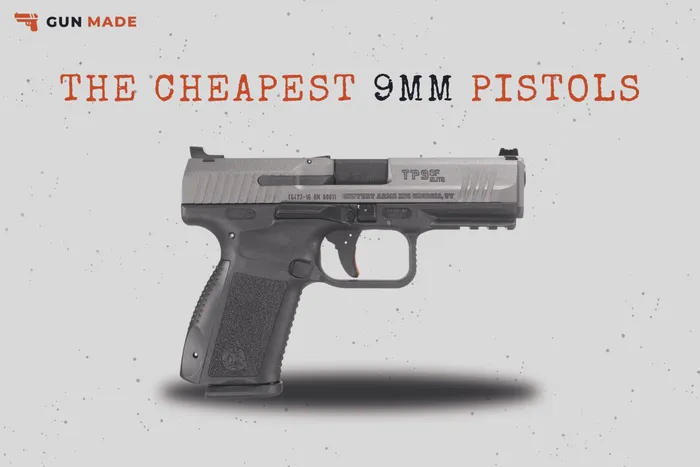 The Cheapest 9mm Pistols [2023]: Better Than Your $2000 Pistol
Introduction
Finding the cheapest 9mm pistols can be a bit of a task. With the growing demand for firearms, manufacturers are pumping sub $500 guns out at light speed. Which can leave a new shooter wondering where to start.
I know it took me a bunch of time, money, and energy to find out which one was the best for me. So I feel your pain, fine shooter.
But we'll try and make this search a bit easier for you. I've concocted an article on all the best budget pistols I can find. I had a bit of help from some long-time shooters, so it's not just me talking here.
While we are focusing on cheap 9mm pistols, we won't sacrifice function over price. I don't want you to be upset with me at the grocery store because I told you to buy a Hi-Point because it's cheap.
Just so you know.
Let's get into it.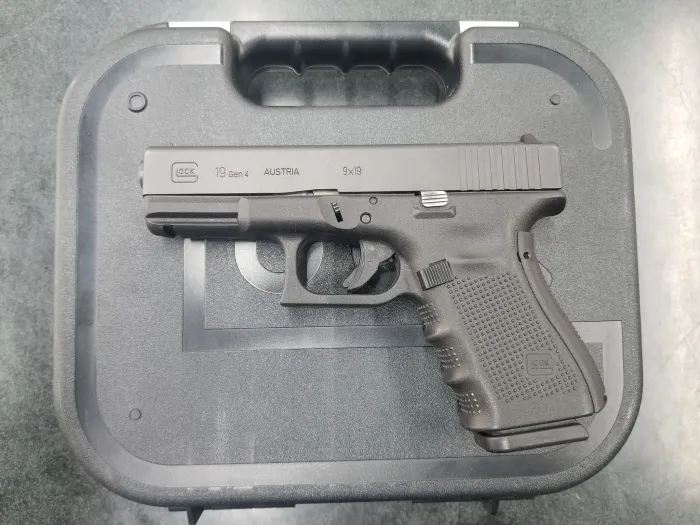 Specifications
| | |
| --- | --- |
| Caliber | 9x19mm |
| Capacity | 15 |
| Weight | 1.4 Pounds |
| Barrel Length | 4.02 |
| Overall Size | 7.28 Inches |
Pros & Cons
Pros
Will go pew every time you pull the trigger

Interchangeable magazines with other Glocks

Absurd amount of aftermarket parts
Cons
Needs aftermarket parts, like rear iron sights.

Speaking of rear iron sights, the rear iron sights

Can be a bit hard to find under $499
I know what you're going to say,
Brian. Glocks aren't cheap.
But they are. How cheap are you trying to get? I would say anything under $500 bucks is cheap. And you can find a Glock 19 Gen 4 for under $500 if you look. Some of them may be more expensive, but it's possible.
Finding the gem under $500 bucks is not as hard as you think.
But what can I say that you don't already know about Glock? They sell one of the most sought-after pistols on the market.
Hint: We're talking about it.
Yes, that's right. The Glock 19 is the most sought-after pistol by all sorts of shooters. From those about to shoot for the first time to those who have fired more rounds than Hornady made in 2022.
And the reason is that the pistol just works. That's it. It's a no-frills, boxy piece of stainless steel and nylon-based polymer that will go bang every time.
But you knew that already. And so do the millions of civilians, military, and law enforcement agencies who use it daily.
So, you can only imagine the Glock 19 Gen 4 deserving of the top spot. Finding one under 500 bucks is not super hard. And if it is, just comment below, and we'll find you one. I love you.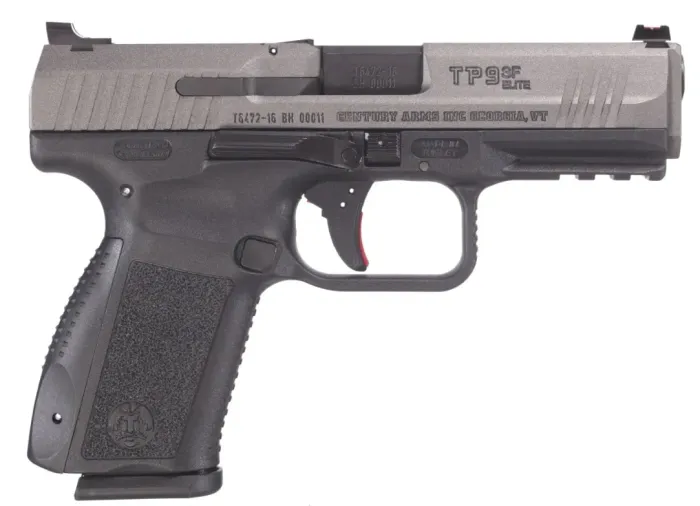 Specifications
| | |
| --- | --- |
| Caliber | 9x19mm |
| Capacity | 15 Rounds |
| Weight | 1.7 Pounds |
| Barrel Length | 4.19 Inches |
| Overall Length | 7.28 Inches |
Pros & Cons
Pros
Amazing trigger. Very definable. 

Soft recoil. The heaviness helps. 

Better than most "expensive" 9mm pistols.
Cons
Heavier than a Glock (could be a good thing)

Bore position takes some getting used to 

Doesn't have as much of an aftermarket following as Glock
Canik has set out to make a pistol in their TP9 series for the needs of any and all shooters. And the price spans pretty far.
But, unlike the Glock 19 Gen 4, the Canik TP9 is, in fact, way easier to find under $500 bananas.
And you will often see some memes on social media about Canik being a better gun than a Glock.
Like this meme here.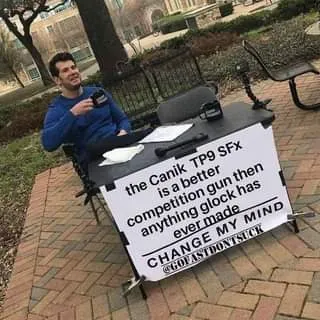 Now, do I agree with this sentiment? I'll never say while the sun is up. But I will say that the Canik TP9 is one damn good pistol that can beat out some high-dollar 9mm pistols. Seriously.
And it is a very beautiful firearm. There is no point in being tactical if you can't look cool while you do it, and you'll definitely like looking at a Canik TP9SF Elite on your nightstand more than a lot of other pistols on the market.
You know how great Canik can be if you've ever fired one. It can take some getting used to, but the recoil is soft like a roll of Charmin, and it is one hell of an experience when you get that gorgeous trigger break. What a beautiful trigger.
I don't think you can find a better 9mm for the price you get with the Canik TP9 Elite. I'll stop talking now, go and fire one for yourself and tell me what you think.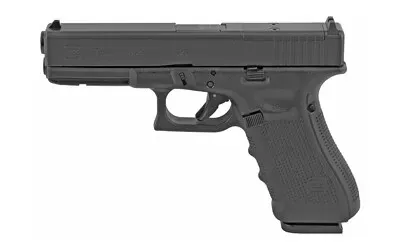 Specifications
| | |
| --- | --- |
| Caliber | 9x19mm |
| Capacity | 17+1 |
| Weight | 1.5 Lbs |
| Barrel Length | 4.4 Inches |
| Overall Length | 7.95 Inches |
Pros & Cons
Pros
Glock Reliability

Accurate (If you train with it, like any firearm)

The Aftermarket department is vast
Cons
Glock rear sights

No Optic cut

No manual safety
Back to the Glock. And yes, you can definitely find a Glock 17 Gen 4 for under $500 bucks. We like this budget gun so much that we did a Glock 17 Gen 4 review for you.
What can I say about the Glock 17? It's the second most purchased pistol in the world.
Behind the Glock 19, of course. What can I say? People love that thing.
And a Glock 17 is everything you love (or don't love) about the Glock 19, but in a full-sized package. The 17 is employed with hundreds of law enforcement agencies across America and in most other countries.
Of course, these agencies don't believe in simultaneously looking cool and being tactical because the Glock is a box. But, it's a box of reliability. You probably have a better chance of a Toyota Hilux breaking down than a Glock failing on you.
It's no wonder why shooters favor the Glock 17 all over the world. It works. And it will work for you too, fine shooter.
Can you beat the Glock 17 Gen 4 for any pistol under $500 beans? Probably. And still, I must say that it isn't the easiest pistol to find for that price.
But it isn't impossible. I believe in you.
And with all of that, you get a box truck of a gun that is more reliable than an Isuzu. You won't turn any heads or stand out from the crowd, but you won't have to worry about your blaster not working when the time comes.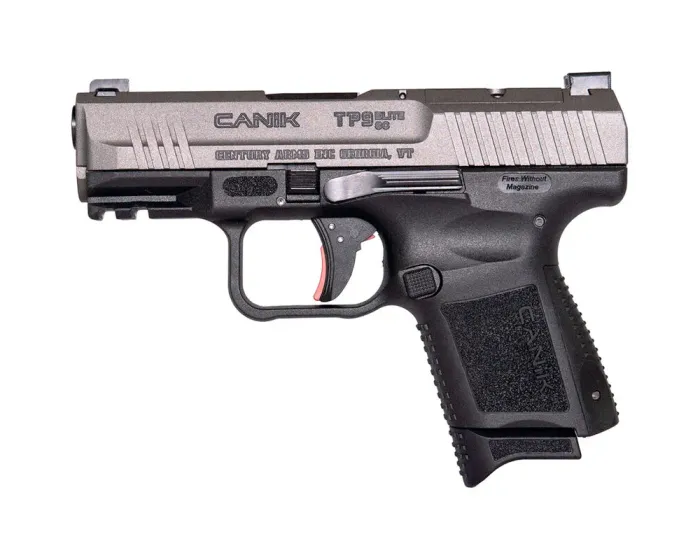 Specifications
| | |
| --- | --- |
| Caliber | 9x19mm |
| Capacity | 12/15+1 |
| Weight | 1.5 Pounds |
| Barrel Length | 3.6 Inches |
| Overall Length | 6.7 Inches |
Pros & Cons
Pros
Amazing trigger

Cut for a pistol red dot 

High capacity in a small(ish) package
Cons
May be geared towards larger hands 

Toes the line between sub-compact and compact

Noticably heavier than Glock 19
I know what you're thinking.
Another Canik, Brian?
Yes, fine shooter, another Canik. What do you want from me? A Hi-Point? Canik just so happens to make the best 9mm pistols that anyone could afford.
In my opinion.
Anyhow, take everything you love about the TP9SF Elite and cut it down to a smaller pistol. And that is what you get with the TP9 Elite SC.
But this time, in a concealed carry package.
"But Brian, it's kinda big!"
Sigh. I've never heard that before.
Anyhow, it is a bit heavy compared to the Glock 19. About an ounce heavier, which may not seem like a big deal to shooters with a medium to a larger frame, but smaller shooters may feel this difference a little bit more.
Now is that necessarily a bad thing? After all, weight does help with shootability and recoil control. The Canik TP9SC recoils like a dream. A good dream. One that has clouds and the Charmin bear giving you a back rub.
Not to mention the trigger, which is probably the best trigger I've seen on a pistol under $1,500.
Yeah, that good.
It's just not possible to find a pistol that offers you as much for the price. And I think you'll agree when you pick it up and shoot it.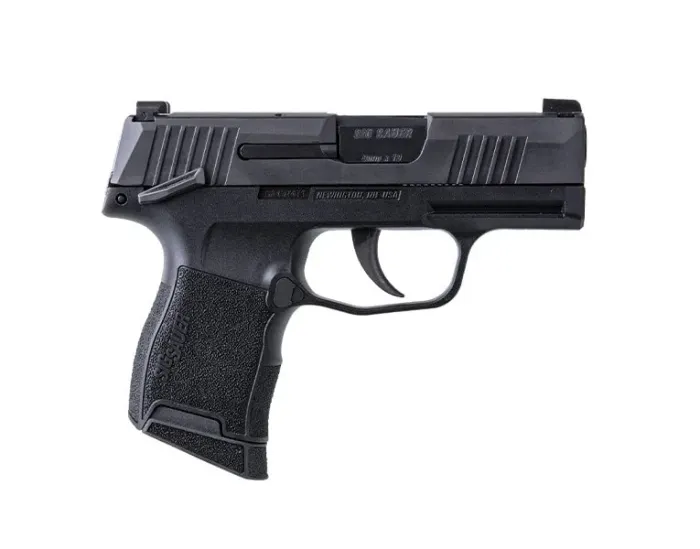 Specifications
| | |
| --- | --- |
| Caliber | 9x19mm |
| Capacity | 10+1 |
| Weight | 1.1 Lbs |
| Barrel Length | 3.1 Inches |
| Overall Length | 5.8 Inches |
Pros & Cons
Pros
Easily concealable

Best magazine capacity for a micro-compact pistol

Trigger is pretty good
Cons
Not suitable for those with bigger hands

No optics cut

Hard-to-manage recoil
Oh my, a Sig Sauer. That's a first on the list.
Can a Sig Sauer actually be on a list of the cheapest 9mm pistols?
You bet your sweet bippy it can.
But here's the thing.
In all of the Sig Sauer P365's glory, I find the P365 and almost all other micro-compact pistols to be a bit too small for most shooters. My girlfriend is 5'0 and 100 pounds, and she had the same issue.
The recoil impulse on the P365, being that it is such a small firearm, can be a bit much.
Especially if you have a stinky pinky hanging off of the bottom by the magazine well. No one likes that. The more meat you can get on the gun when shooting, the better.
But, still, the P365 is a great pistol for those who find themselves in situations where they have to wear suits, tight clothing, or any other situation that may call for a small shooter.
But still want the ability to take care of business if the time comes, and you fancy yourself a poor man's James Bond or John McClane (It is a Christmas movie, you know).
No one will ever know that you're carrying, but you will have the reliability of a Sig Sauer to back you up. The 10+1 round magazine capacity should hold you down, but I recommend carrying a spare mag.
With that being said, if you like Micro Compact pistols, the P365 is a great addition to your ankle carry collection.
How We Chose our Top Picks
Well, there's one thing for sure. They had to be cheap. I mean, this is an article about the cheapest 9mm pistols on the market today.
But that doesn't mean they can be poorly made. The craftsmanship could not reflect the price of the pistol. The last thing you need is a pistol that doesn't want to pistol.
And they had to be 9mm. But a reliable 9mm. These pistols were handpicked by a panel of guys who have been shooting since the good guy was in office. And me. We were pretty critical about which pistols were allowed on this list.
As usual.
The Cheap 9mm Buyer's Guide
Cheap vs. Expensive 9mm Pistols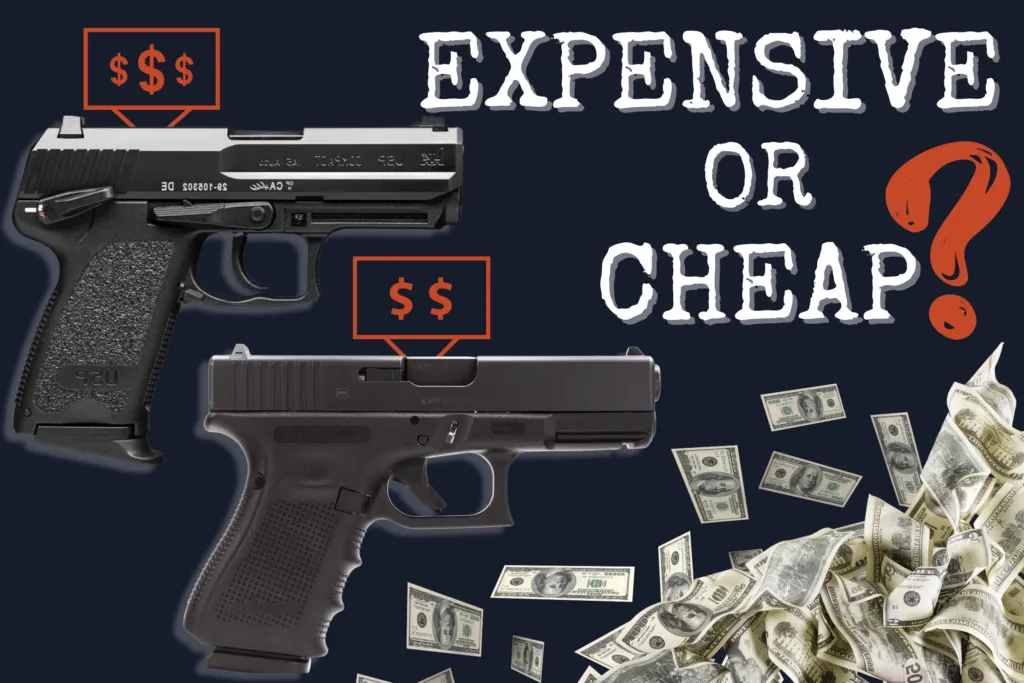 Who ever said pistols had to be expensive to be good?
The answer is many people have, but that doesn't mean they were telling you the truth.
Some "cheap" 9mm pistols are actually better than most of the higher-end pistols on the market. I mean, look at the Canik TP9SF Elite. It is undoubtedly one of the finest pistols I have ever shot, and I've shot everything from a Hi-Point to a Staccato.
I just want to clear the air here and say that cheap 9mm pistols are, at the end of the day, better than higher-end variants. Except for Staccato. Those things are something different.
But, when you think of the amount of stuff you can afford on top of your pistol, like ammo, range days, and the most important thing that matters most when shooting. Training.
I don't care if you own a $3000 pistol and the other guy has a Hi-Point. If he's been training with his Hi-Point and you haven't been training with your $3000 pistol, it's lights out for you, cowboy.
No matter how much you spend on a pistol, if you don't have good ammunition and someone with experience to tell you how to perform, then what is the point? You'll just be giving the guy with the Hi-Point an expensive loot drop.
Thanks for the Staccato, skippy.
Finding the Right Pistol
As for any conversation where we make a list of pistols, finding the right one for you is more important than anything else.
Why?
Well, of course, you want to make sure that your pistol isn't too much or too little gun for you.
Imagine putting a Springfield Hellcat in the hands of a man that stands 6'4 and 252 Lbs. It just won't work, and that pistol will not allow that fine shooter to take care of business to the best of his ability.
The same goes for a smaller lady. Do you really want to carry a full-size Glock 17? Probably not. But I won't underestimate the senoritas out there. My lady friend shoots better than me sometimes.
But, a few things to consider are yourself, what you intend to use that pistol for, and how you plan to carry it. Or if you plan on carrying it at all.
If you plan on carrying the firearm, consider your body size. For example, I'm 6'0 and 185 Lbs of wet spaghetti noodles and tapioca pudding. My hands are fairly big. Do you think it would be wise for me to conceal carry a Hellcat?
No, it's too small. Sigh.
Pro Tip: Go down to the range and hold a few different pistols. Make a list of the ones you found to be worthy of your hip, and then rent and shoot those who made the cut and see which one feels the best.
Why Cheap Guns Are Awesome
Aside from the extra cheddar you'll save when buying something like the Canik TP9SF Elite, you will also be able to afford the stuff that makes you a better shooter.
Like a pistol red-dot. Range time. Proper protective equipment. And maybe, just maybe, eventually, a good rifle.
Or maybe a "budget" rifle.
More importantly, you'll be able to afford training. And ammo for training.
If you've ever bought a gun, but didn't have enough money for ammo, raise your hand.
Because I know I have. Just the other day. And it was the most expensive paperweight that I've ever swiped my card for.
All in all, "cheap" guns are definitely the way. Especially if you want to become a better shooter. Now I don't suggest you go buy a Hi-Point, but I do suggest you go with something that will allow you to hone your skills and work your way up to an expensive piece.
FAQs
What is the cheapest and most effective 9mm you can get?
The Canik TP9SF Elite is the cheapest and most effective 9mm you can get. And it'll look good while providing you thousands of boom boom time.
What is the most reliable 9mm on the market?
I'll give you a hint: It was made by Gaston Glock in 1963. Glocks are the most reliable 9mm's on the market.
What is the smallest 9mm carry pistol?
From what I've seen, the Kel-Tec PS9 is the smallest 9mm pistol that could be carried adequately.
Conclusion
You may have come here in search of an affordable 9mm. And you may have heard the horror stories that come with mentioning any pistol under $500. Which ones have you heard?
You may be getting into guns for the first time and don't want to break the bank. In that case, welcome. Check out our favorite on the list, the Glock 19 Gen 4.
Shoot us an email or leave us a comment if you need us. 
But, after reading this, I hope it has shown you that great pistols, and terrible ones, come at all price points. And some "cheaper" pistols are better than the ones you have to sell the dog for.
What matters most is buying what is best for you and taking it to the range. I've seen guys and gals with $300 pistols shoot better than those with custom $2000 pistols. It all comes down to the training. There is no way around it.
See you on the range, fine shooter.
Explore more