IWI Masada Slim Review: Will It Climb The Ranks Of Most Popular CCWs?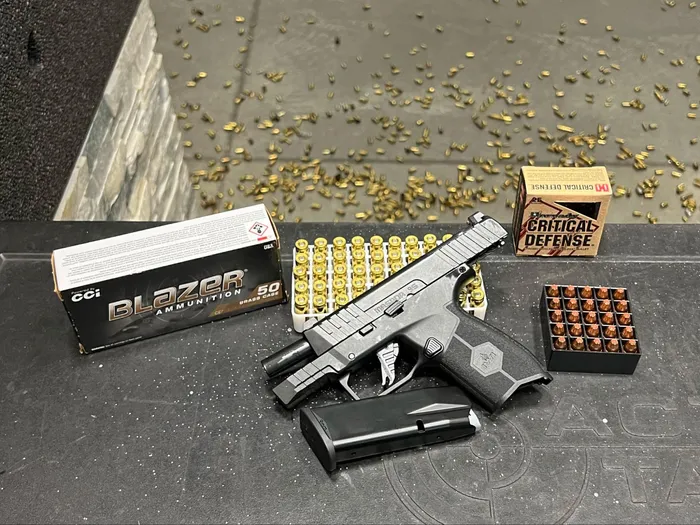 IWI Masada Slim Review: Will It Climb The Ranks Of Most Popular CCWs?
Introduction
I've heard many positive things about the full-sized IWI Masada, but I've admittedly never shot one. It's not that I didn't want to, I just don't have any shooting buddies that have one, and I never went to the length of searching for one.
But once IWI released the Masada Slim in 2022, it piqued my interest much more than its full-sized sibling. Being interested in all things concealed carry, I'm always excited to try a new CCW contender.
So when I heard that IWI was sending us this Masada Slim to test and evaluate, I threw my hand up and volunteered to "put in the hours." I put that in quotes because we get to shoot guns for a living, so those hours don't really feel like work!
Anyways, without further ado, here is our IWI Masada Slim review.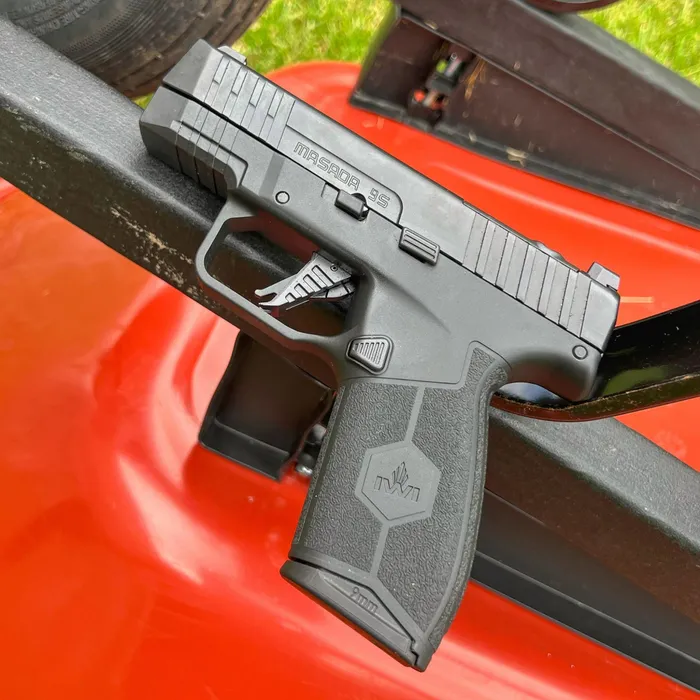 IWI Masada Slim Review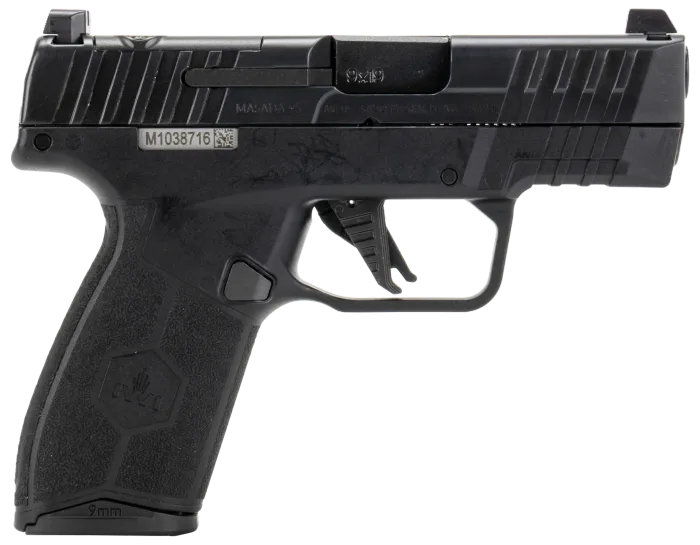 Specifications
| | |
| --- | --- |
| Caliber | 9mm |
| Capacity | 13+1 |
| Barrel Length | 3.4 inches |
| Overall Length | 6.3 inches |
| Width | 1.14 inches |
| Height | 4.9 inches |
| Weight | 1.27 pounds (w/out mag), 1.4 pounds (w/ mag) |
| Sights | Three Dot |
Pros & Cons
Pros
Optic cut slide 

Consistent flat-face trigger

Affordable even at MSRP

13+1 capacity 

Reliable with a variety of ammo
Cons
No ambidextrous controls

No accessory rail

Minimal aftermarket support

Not fun to take apart
First Impression & Range Report
I was pleasantly surprised to find a custom-cut foam insert within the cardboard box that the Masada Slim came in. As you can see below, nestled within the foam were two 13-round magazines: the pistol and the standard lock and literature.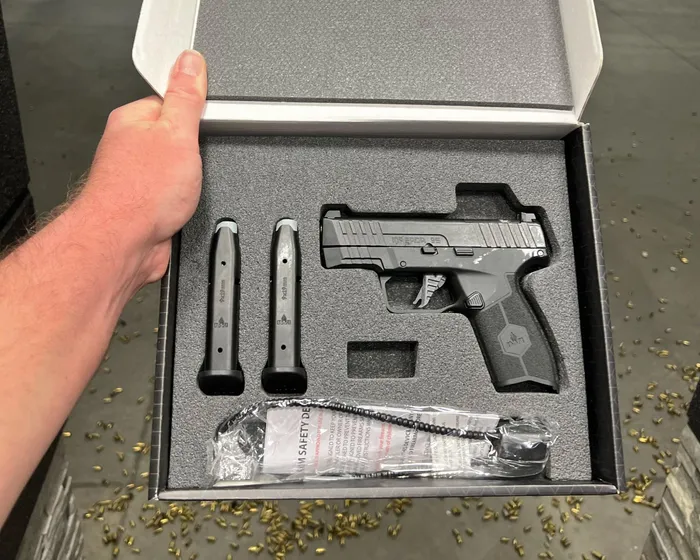 Picking it up out of the box instantly reminded me of an M&P Shield Plus. That's not a bad thing to note, either. It's a great size to carry while not being too small, making it challenging to maintain a solid grip and consistent accuracy.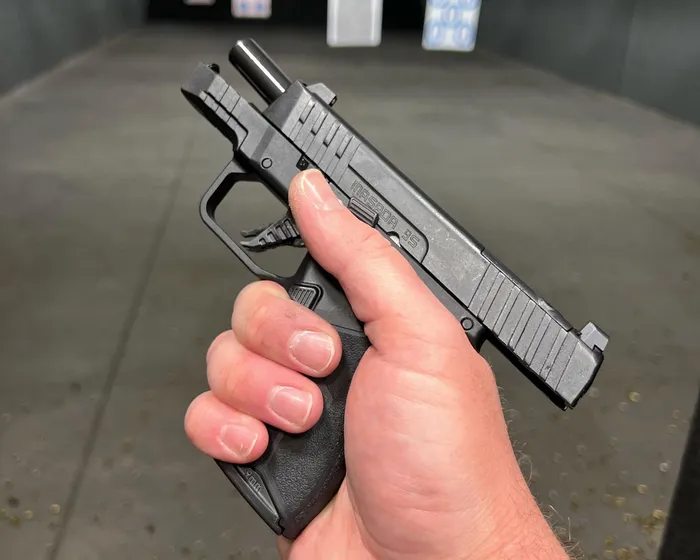 Reliability
I would up putting 250 rounds through the Masada Slim with zero malfunctions. 20% of that ammo was defensive rounds, while the other 80% was your basic FMJs.
It didn't matter what ammo I was shooting or how fast I was shooting; the gun didn't miss a beat.
Accuracy
Mainly shooting between 7 and 15 yards, it was evident that this was a solid gun at defensive distances. That's not to say that it wouldn't be suitable at farther distances, but within 7 and 15 yards, the groupings were tight and repeatable, and I became confident with it after only a couple of magazines.
Through the first couple of magazines, I had some outliers on target, but I'll take the blame for them. Those outliers diminished once I slowed down and focused on my grip and trigger finger placement.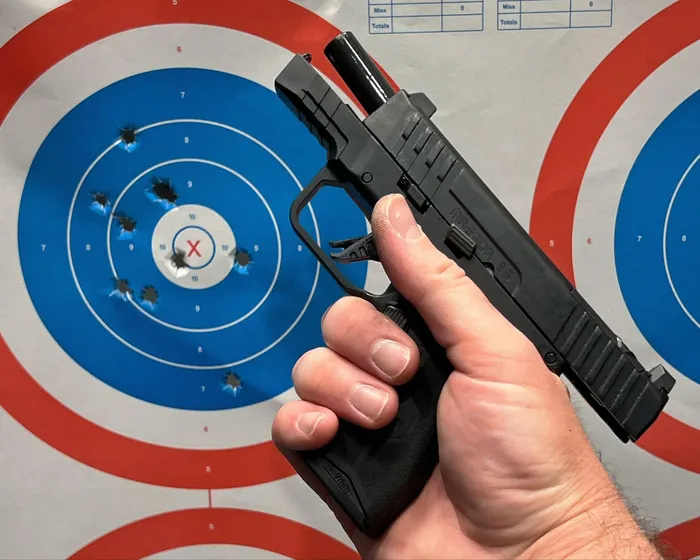 Features
Optic-Ready Slide
On the slide, there is a standard white dot front sight and blacked-out serrated rear sight. The slide is also factory-cut with a RMS Shield footprint. For example, many of your popular sights, from Sig Sauer, Holosun, and Swampfox, are compatible.  
Of course, if you choose not to run an optic, the included optic cover plate gives the slide a nice finished look.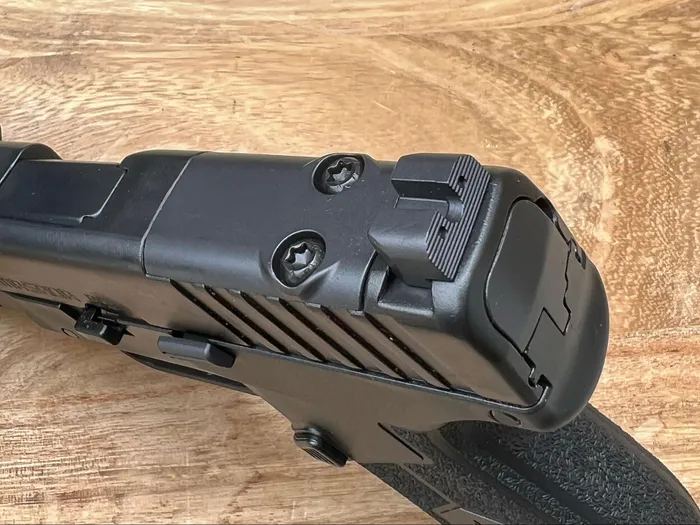 Flat Face Trigger
The trigger on this gun surprised me in a positive way. It's light, smooth, and has a crisp break. I found it easy to be consistent with my follow-up shots.
On the other hand, I could barely feel the reset which is my only complaint about the trigger. It didn't cause any issues, but I typically like to be able to pinpoint the reset much easier.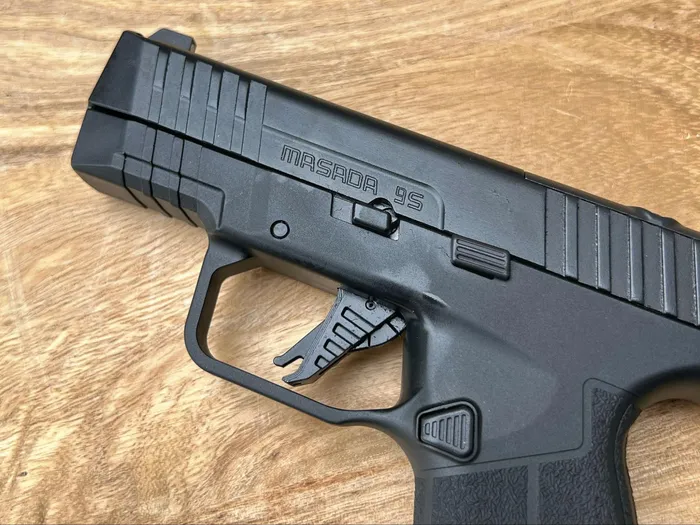 13-Round Magazines
I love the fact that these small subcompact and micro-compact-sized pistols come with capacities in the "teens." The Masada Slim comes with two 13-round magazines, so you'll have 14 rounds (13+1) at your disposal if you should need them.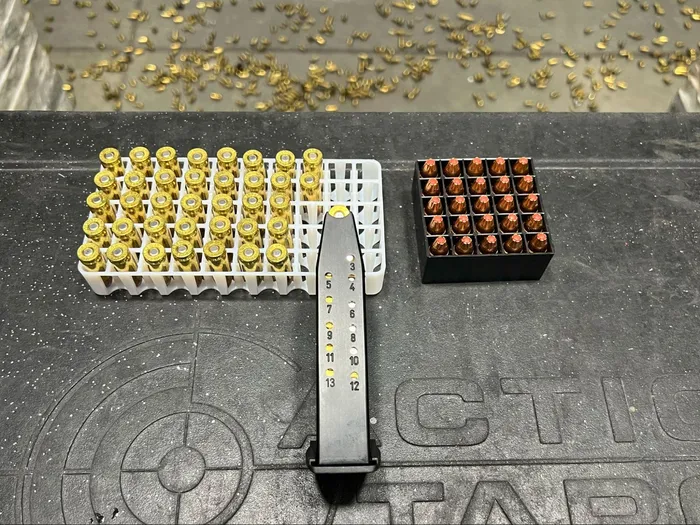 Basic Controls
You won't find any ambidextrous controls on the Masada Slim, but there is at least a reversible mag release. The mag release and slide stop lever are well-placed and sized appropriately. I found them both very easy to find and manipulate quickly during reloads.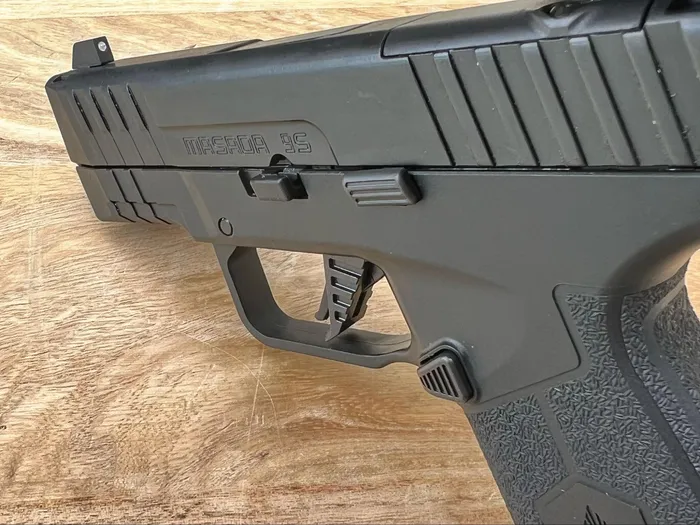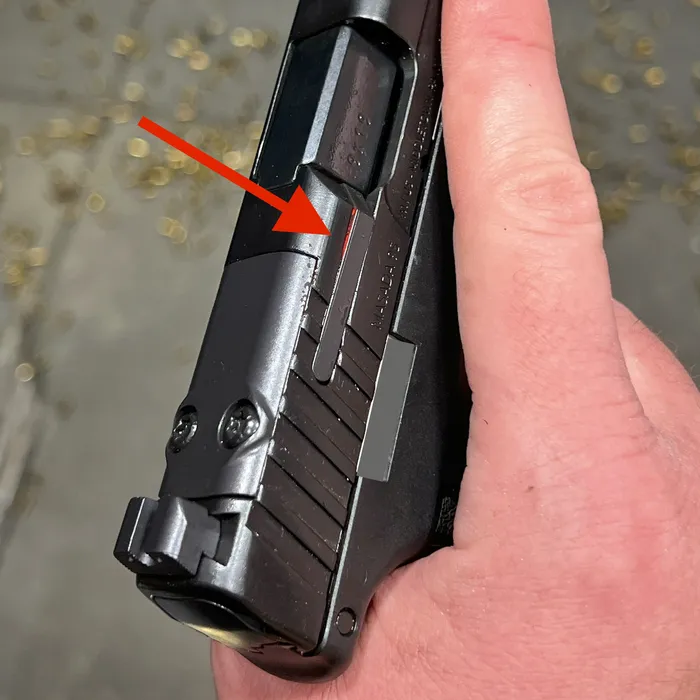 How We Tested
The indoor range was my venue of choice since I wasn't planning on shooting the Masada Slim at 100+ yards. I mean, that would be fun, but I decided to keep it within 25 yards.
Ammo Used
During my range time with the Masada Slim, I used two different types of ammunition. I put 200 rounds of 124-grain Blazer Brass FMJs and 50 rounds of 115-grain Hornady Critical Defense FTXs.
Both types of ammo cycled flawlessly, and I had zero malfunctions.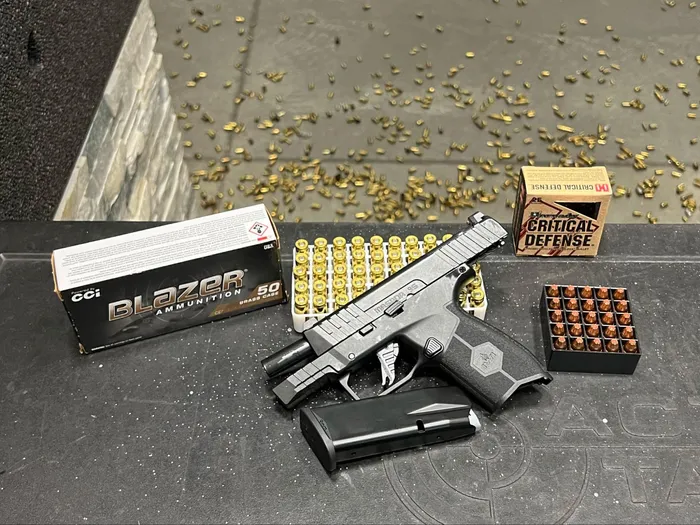 Score Card
Reliability (10/10)  
It went bang every time I pulled the trigger.
Ergonomics (9/10)
The grip angle and texture are good, the controls are well laid out, and it's well-balanced overall.
Customization (6/10)
With no accessory rail and limited aftermarket support, it's not a highly customizable gun compared to the competition.
Appearance (7/10)
It has clean lines and nice serrations, but there aren't really any standout aesthetic features.
Value (8/10)
With an MSRP of only $450 and the likely chance you'll find it a bit lower online, it won't break the bank.
Accessories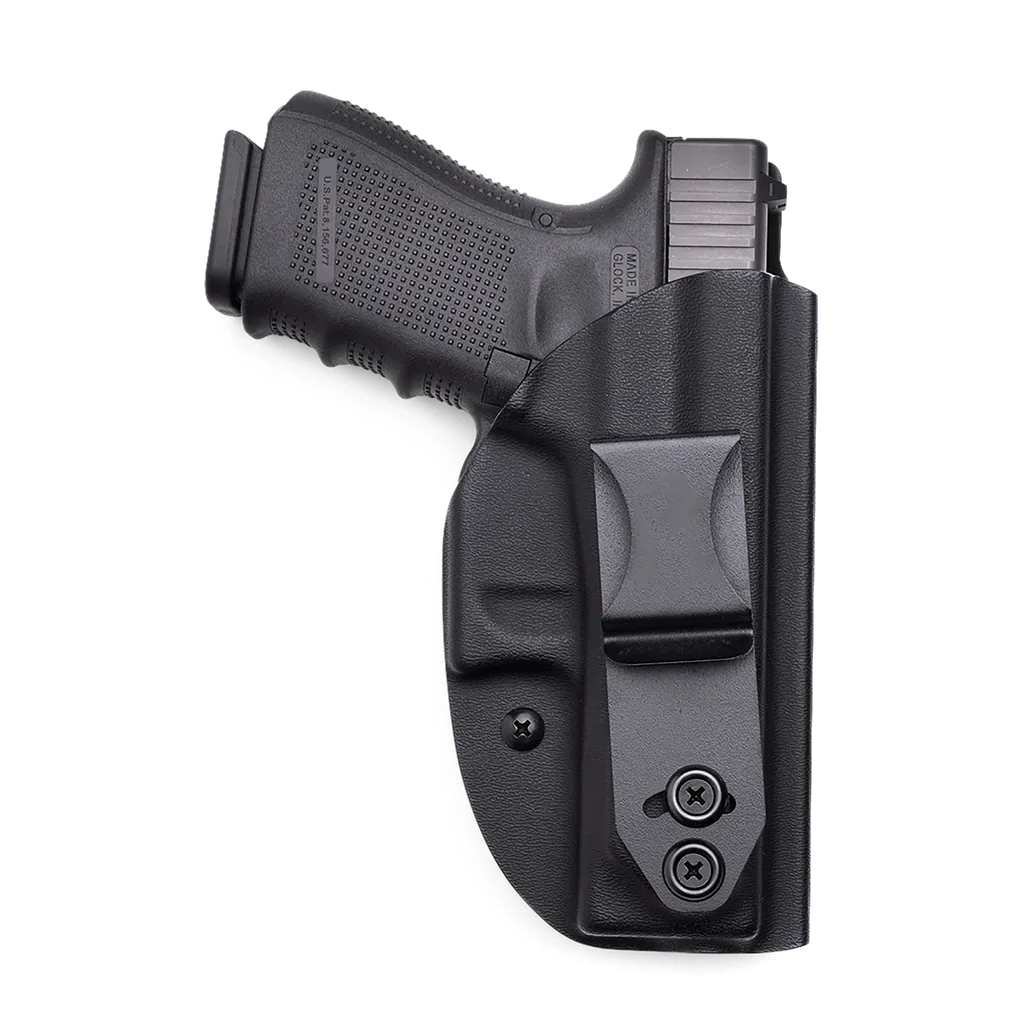 The Masada Slim's size makes it ideal for concealed carry. If you decide to carry it, you'll need a quality holster.
The LightTuck from Vedder Holsters is a Kydex IWB holster with a minimal profile. It has adjustable cant, ride height, and retention, so you can find the most comfortable position to fit your style.
I suggest adding the claw attachment if you decide to pick one up since it helps push the gun/holster closer to your body to mitigate printing. With plenty of Kydex colors and prints to choose from, you can also make the holster reflect your personality.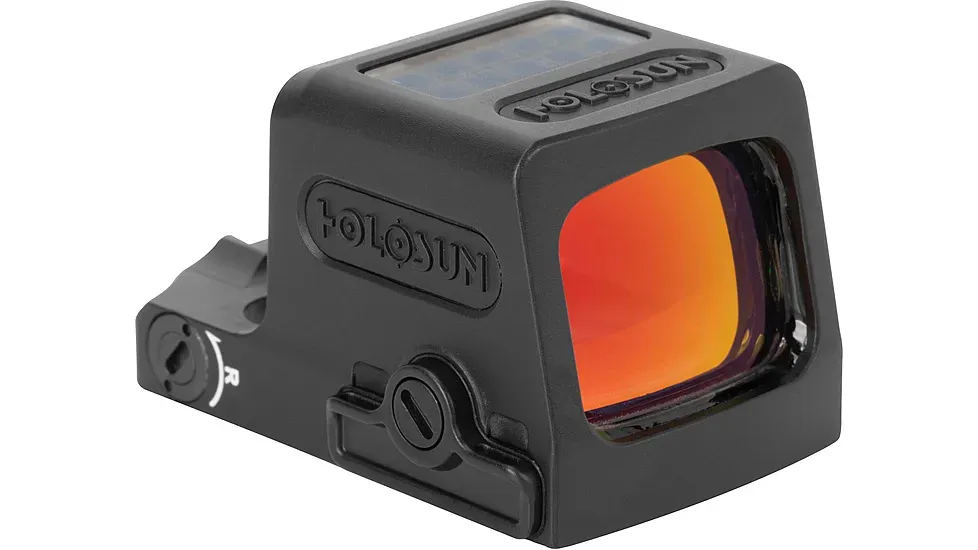 It's hard to beat Holosun's feature-packed optics, especially for the price. The EPS Carry MRS (Multi-Reticle System) is one of its newer offerings and has everything you'd want in a carry optic.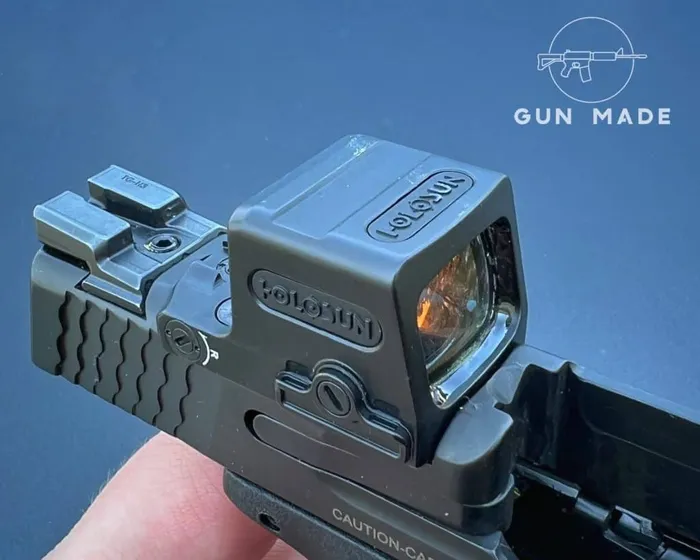 If you have a hard time deciding what type of reticle you want, you're in luck. This optic features Holosun's Multi-Reticle System, which allows you to switch between a 2 MOA dot and a 32 MOA circle or use them together (my preference).
It also features Holosun's Solar Failsafe and Shake Awake technology to keep your battery running looooong time.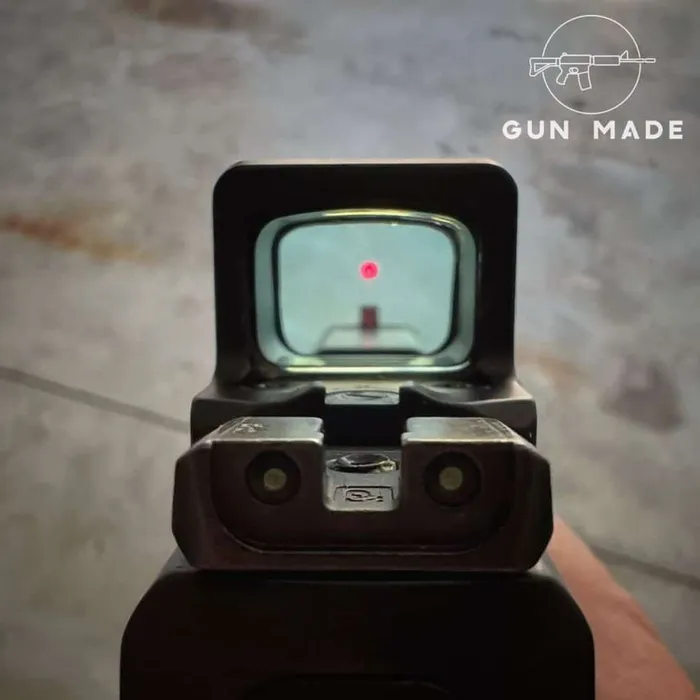 Check out our EPS Carry review for more information.
Alternatives
Not sure the Masada Slim is for you? You're in luck; plenty of other comparable options are out there!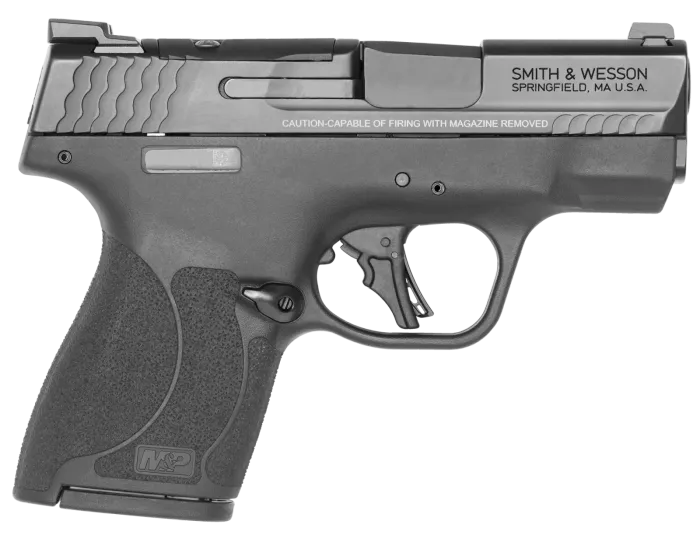 The M&P Shield Plus is another smaller but very capable concealed-carry pistol.
It has a 13+1 capacity, a flat face trigger, and comes optics-ready. The grip angle is an optimal 18-degrees for a natural point of aim and has an enhanced texture to help mitigate recoil.
It's reliable, accurate, and backed by Smith & Wesson's lifetime service policy. You probably won't have to use it, though. My own Shield Plus has performed great, and I've had no significant issues to note after the 1,000+ rounds I have through it so far.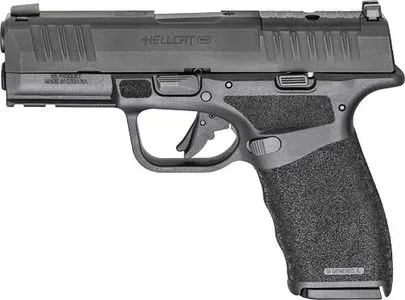 Another one of my favorite carry pistols is the Hellcat Pro from Springfield Armory (see our Hellcat Pro review here).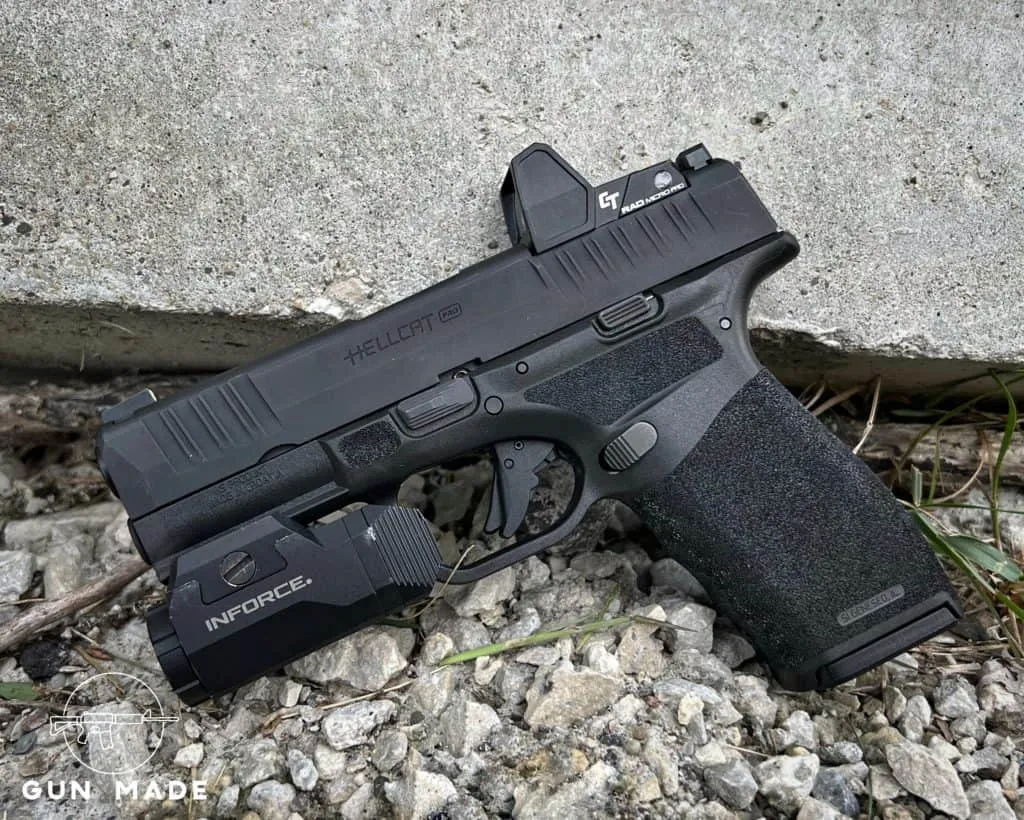 Even with a flush-fitting magazine, you get a 15+1 capacity. It also has one of the nicest grip textures (Springfield's adaptive grip texture) I've felt. The slide comes optics-ready, with aggressive serrations and a quality set of U-Dot sights.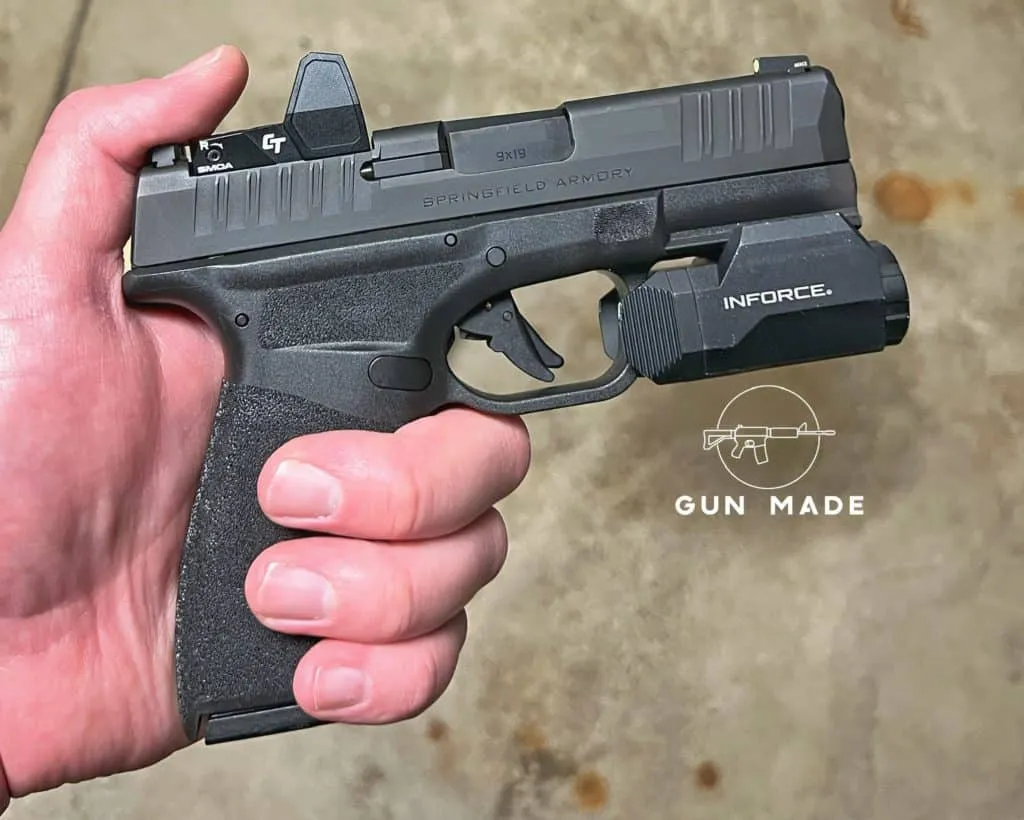 Unlike the Shield Plus and Masada Slim, it has an accessory rail to mount some of your favorite lights or lasers.
Conclusion
There is a lot to like about the Masada Slim, especially for the price point. Without putting at least a few hundred more rounds through it, it's hard to speak to the long-term reliability personally, but I wouldn't foresee any out-of-the-ordinary issues arising.
If you don't mind the limited aftermarket support and want an affordable and accurate 9mm that's a good size for concealed carry, consider checking out the IWI Masada Slim.
Additional Resources
Maintaining Your Masada Slim
To keep a pistol working well, it needs cleaning and care often. But first, you need to know how to take it apart. Check out this video from IWI for more help:
Resources From IWI
In addition, here are some helpful links from IWI about the Masada Slim –
Finding the Best Price for the Masada Slim
Gun Made's gun deal search engine is an invaluable tool when looking for the most affordable prices for the Masada Slim online.
It scours the internet, collating information from various sellers to help you find the most competitive prices available. By simply entering your desired product, in this case, the Masada Slim, the search engine quickly presents a list of options from various retailers. This allows you to compare prices and find the best deal for your budget.
Using Gun Made's gun deal search engine saves you money and time by bringing all the best deals into one easy-to-navigate platform.
Explore more