S&W M&P9 M2.0 Compact Review: 1,200 Rounds Shot & Reviewed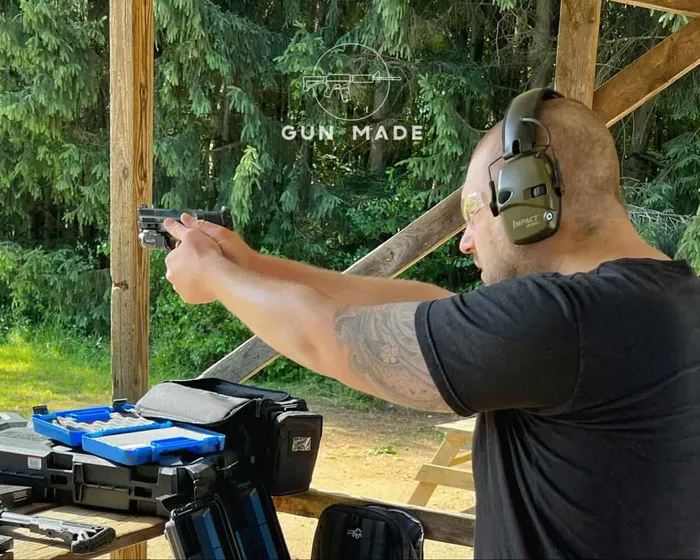 S&W M&P9 M2.0 Compact Review: 1,200 Rounds Shot & Reviewed
If you've read many of my other gun reviews, you probably have picked up on the fact that I'm a huge Smith and Wesson fan. My first gun ever was a Smith and Wesson SD9VE, and while I don't have it anymore, I have plenty of others to make up for it. 
So, when Smith and Wesson told me they would send out the new M2.0 Compact Optics Ready for me to test out and review, I was ecstatic. I've been shooting this gun non-stop since I got it, and I'm very excited to share my experience with it.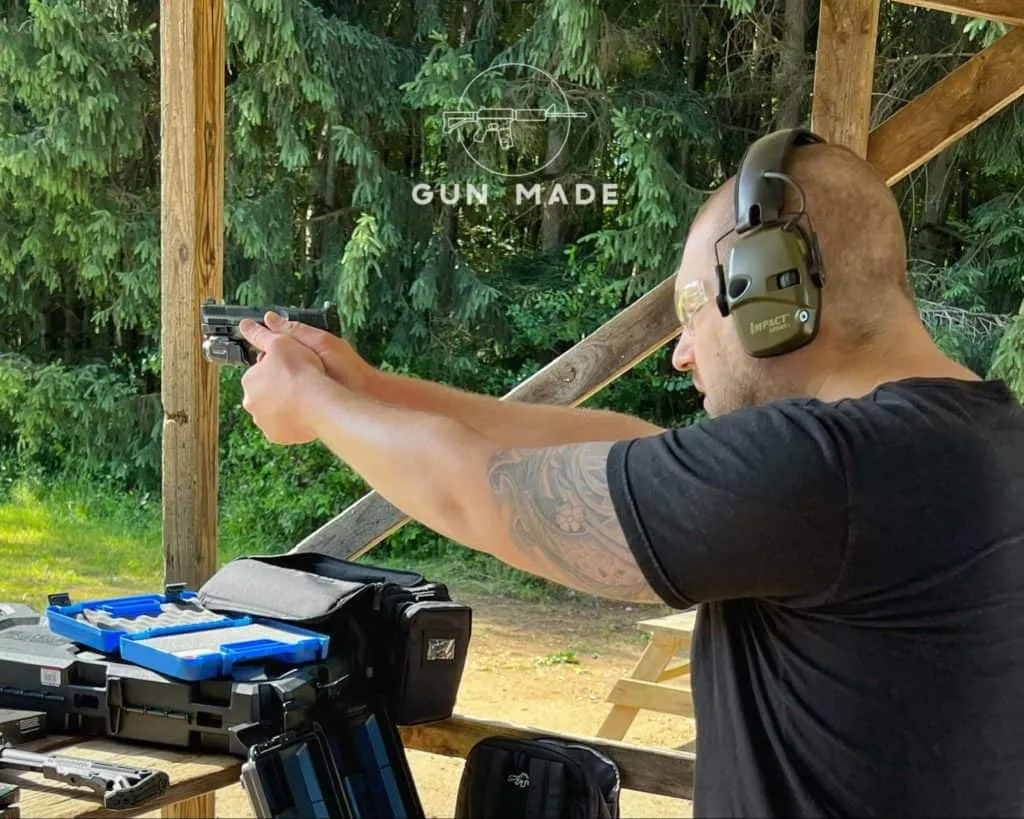 M&P9 M2.0 Compact Review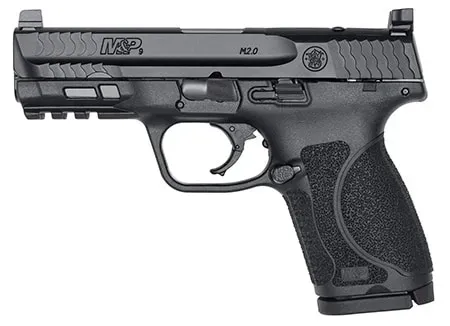 Specifications
| | |
| --- | --- |
| Caliber | 9mm |
| Capacity | 15+1 Rounds |
| Length | 7.25 Inches |
| Width | 1.16 Inches |
| Height | 5.0 Inches |
| Barrel Length | 4 Inches |
| Weight | 25.8 Ounces |
| Slide | Stainless Steel with Armornite Finish, Optics Ready |
| Sights | Tall White Dot Sights |
| Frame | Polymer Frame |
In the Box
Aside from the gun itself, you'll find two 15-round magazines, seven optic-mounting plates, four interchangeable backstraps, and two magazine sleeves. The magazine sleeves close the gap between the grip and magazine base, if you choose to run 17-round magazines. Not much else you need, except maybe some ammo. A guy can wish, right?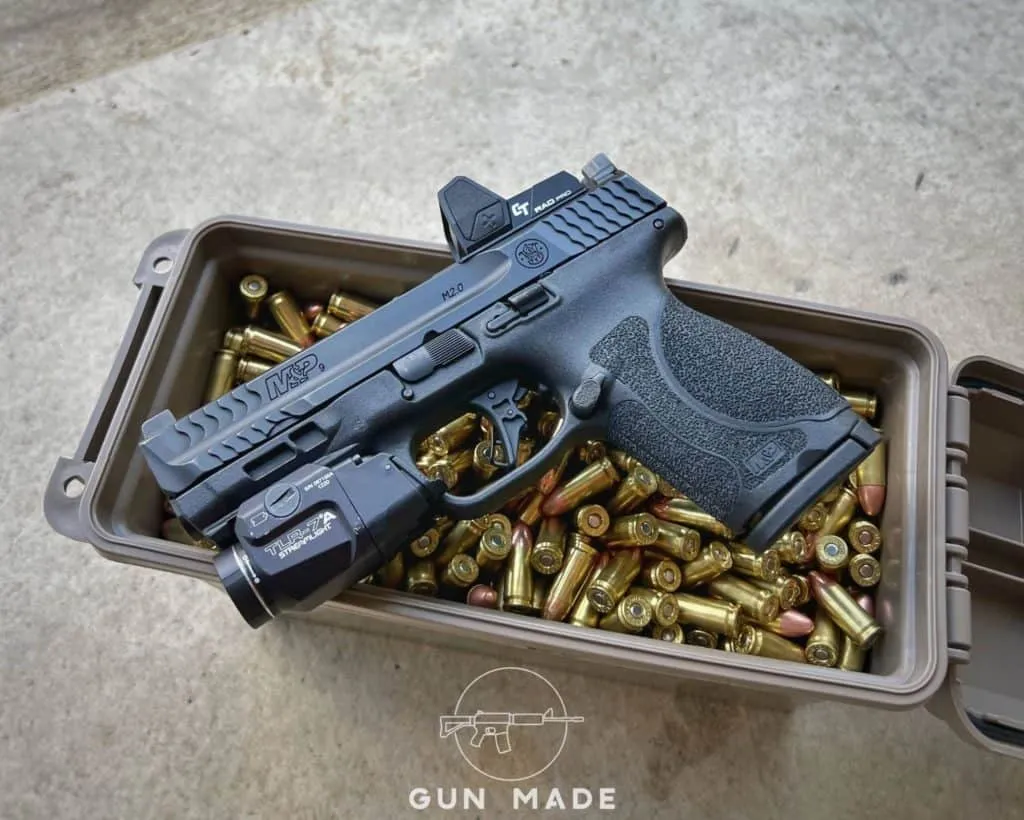 Features
S&W does a great job listening to consumers and continuously implementing upgrades to newer models. This M2.0 Compact is no exception. 
It features a new flat face trigger, a huge improvement over the previous OEM trigger, an optics-ready slide, and tall white dot sights. Those are the newest improvements to the M2.0 line, but there are plenty of other features I'd like to discuss as well. I'll go over all of the features, specifications, and my personal experience with the M2.0 since I've had it.
Sights
A huge frustration point for me with certain guns occurs when they are optic ready but have standard height sights. Then, when you go and mount an optic, you can't use the iron sights if you need to, or you have to throw on a set of taller aftermarket sights. With the tall white dot sights on the M2.0, that's usually not an issue you'll have. They allow you to continue practicing with your backup sights or co-witness them with your optic. I do wish they were night sights though, but the white dots are sufficient. 
I just started running the Crimson Trace RAD Pro on this pistol, and as you can see, the base is a bit higher than some others. Even with the tall white dot sights, the RAD Pro's base blocks a proper sight alignment by sitting almost flush with the top of the rear sight. I have to say though, I've been enjoying the RAD Pro and am looking forward to spending more time shooting with it.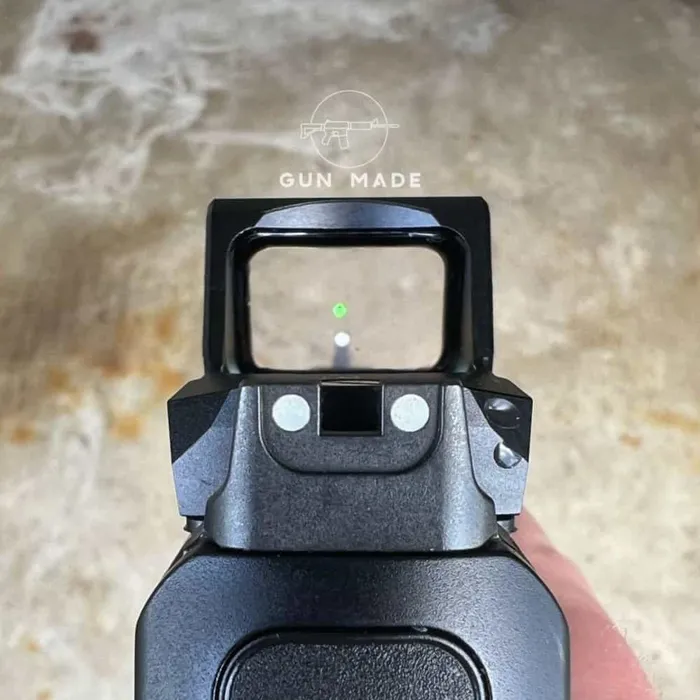 Trigger
The new flat face trigger is probably one of the most welcomed changes to the M2.0. Many shooters have voiced their complaints about the previous OEM trigger and chose to replace it with an aftermarket trigger, like the infamous Apex trigger. I have an Apex trigger on one of my older M&Ps and can attest to how nicely it shoots. However, I won't be looking at buying any aftermarket triggers for this new M2.0, as I love this new trigger that S&W rolled out, and I shoot very well with it. 
I've found the trigger to have a smooth uptake and a clean, crisp break and reset. The trigger pull also seems to be lighter than its predecessor, and I get consistent trigger pulls with it. Circulating online are a few complaints about a certain level of "grittiness" with the new trigger, but I haven't noticed it myself.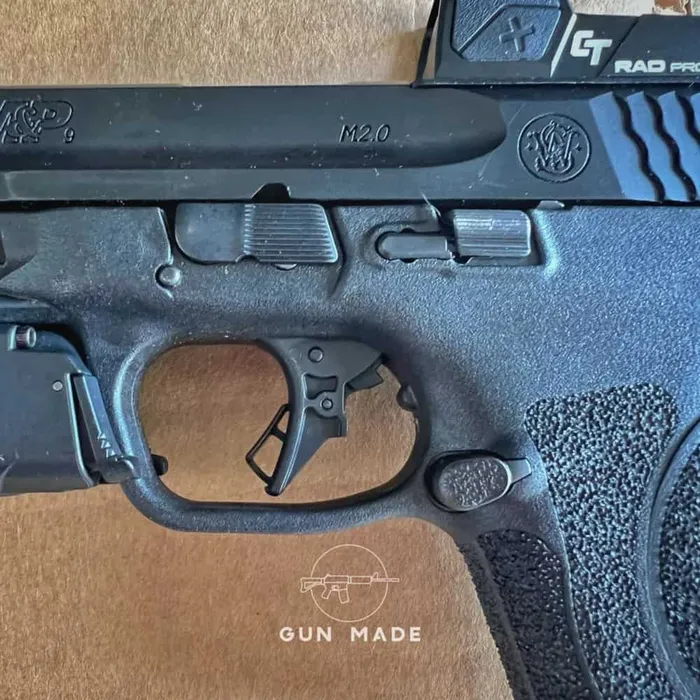 Controls and Safeties
The controls are pretty standard on the M2.0. It has a reversible magazine release and an ambidextrous slide stop that are both easy to manipulate. The one non-standard control, though, is its patented takedown lever and sear deactivation system, which allows you to disassemble the gun without having to pull the trigger. It's a nice feature that adds to the overall safety of the gun. 
While you can order an M2.0 with a thumb safety, I chose to forgo it, as I do with any gun I plan to carry. Even though it doesn't have a thumb safety, you still have the built-in trigger safety to reduce the chance of an accidental discharge. You'll also find a loaded chamber indicator, or more so an opening at the rear of the barrel hood to see if there is a round in the chamber.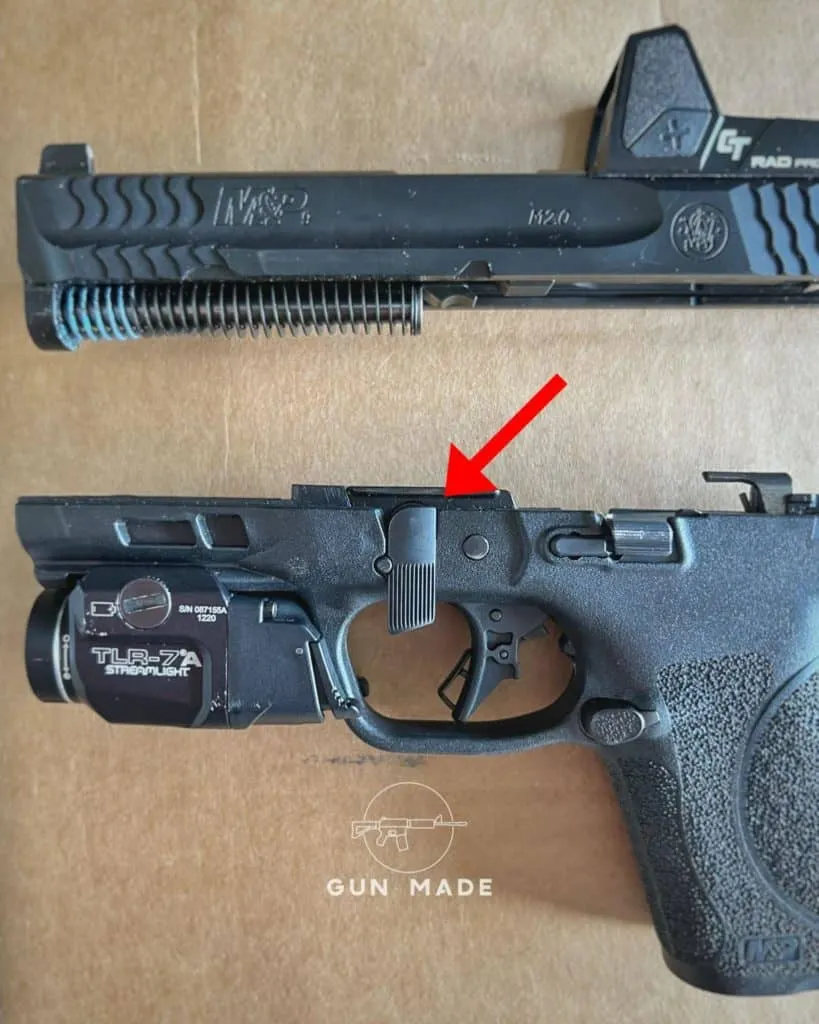 Grip
Having very large hands makes it difficult for me to get a secure grip on many compact handguns. With the M2.0, I can get my pinky secured on the grip, almost like a full-size handgun. While I've heard some complaints about the grip texture being too rough, I disagree. The grip texture is one of my favorites, as I find it to be aggressive but not irritating. I've shot it in the rain, sleet, and snow, and it was always safe and secure in my hand!
The slide serrations also help to maintain a solid grip when handling the gun. The M2.0 has unique styled cocking serrations on the front and rear of the slide. I really like how Smith and Wesson made the serrations aesthetically unique and didn't just use straight vertical serrations.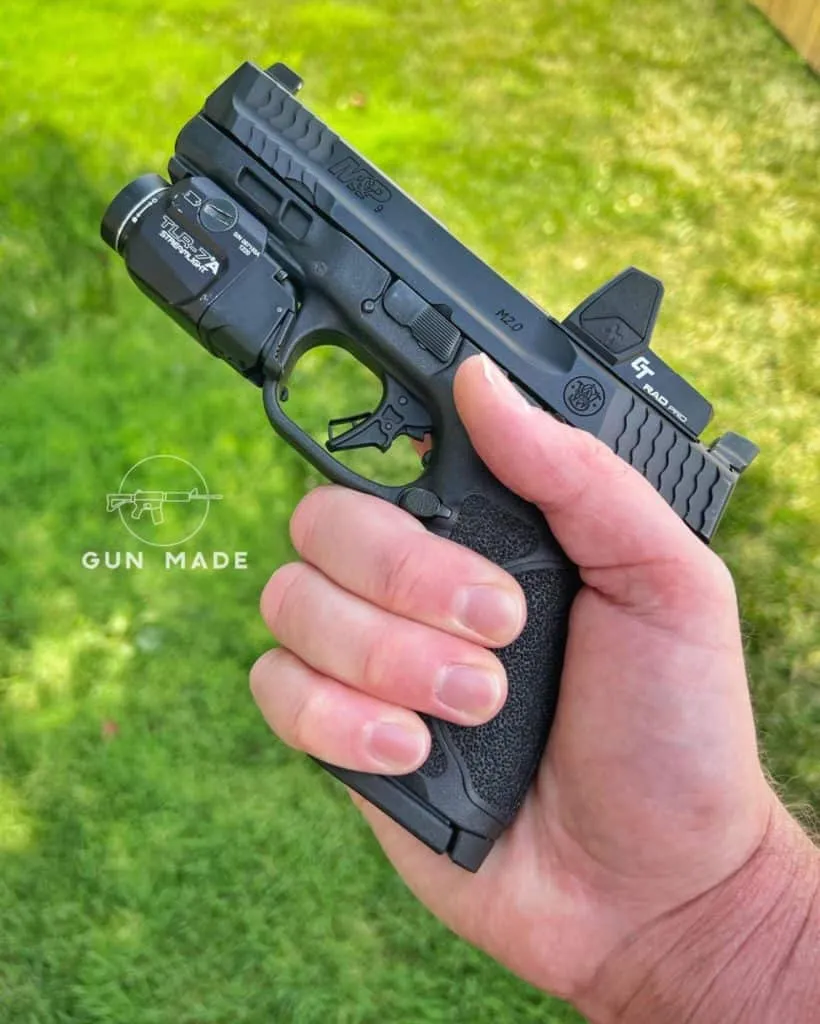 Magazine
Both 15-round magazines are made of steel, including the feed lips. While I'm a fan of polymer magazines, there is something about steel that makes them feel more "high quality". I've ran these magazines through a ton of reload drills, dropping them on the grass, dirt, and even cement, and they keep on performing without issues. 
Accuracy and Reliability
I'm just shy of 1,200 rounds through my M2.0, and the round count keeps increasing. It's one of my favorite guns to shoot currently, and has been promoted to one of my most carried guns. Out of those 1,200 rounds, I'm guessing that I've seen around a dozen malfunctions. That is a percentage I'm definitely O.K. with. It's such a smooth gun to shoot too, that it seems like I run through ammo faster than I even realize. 
It's proven to be extremely accurate for me too, with or without an optic mounted. Believe it or not, I am actually just as accurate with the white dot sights as I am with an optic. The main difference though, is my target acquisition speed, which is drastically increased with an optic. Either way, I am consistently maintaining four inch groupings out to 10-15 yards when shooting indoors, and ringing 8" gongs out to 25-30 yards when shooting outdoors. The best part is the consistency. While plenty of people have better accuracy than I do, I'm happy with my given accuracy and the consistency in which I can achieve it with this gun.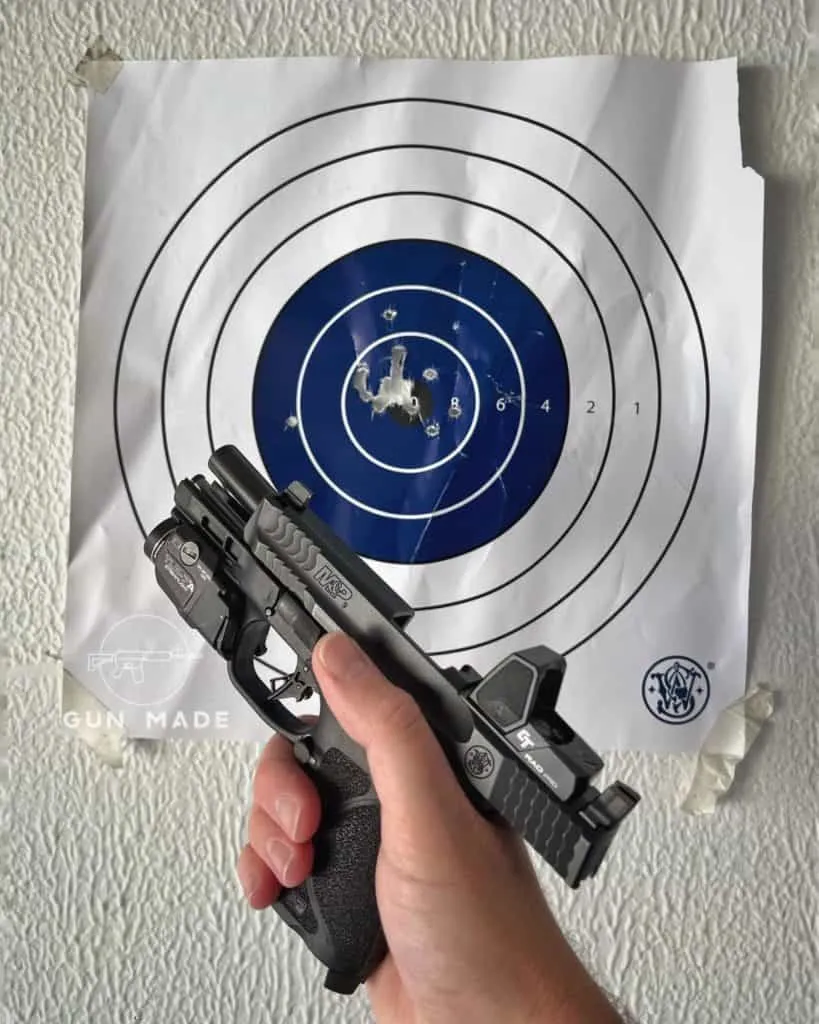 M2.0 Compact Pros and Cons
Pros
Optic Ready
New Flat Face Trigger
18-Degree Grip Angle
Accurate and Reliable
Cons
Complaints of Grip texture
Accessories
There is no shortage of accessories that you can get for your M2.0 Compact. A quality holster is among the most important if you plan to carry. Luckily, most holster companies will have options for M&Ps, so regardless of what setup you decide on and what material you prefer, you should be set. 
In addition to holsters, an optic and light would be great ideas to look into. Here are a few to consider adding to your firearm.
Optics
There are so many quality optics available, it's extremely hard to recommend just one or two. With that being said, as I mentioned earlier, I'm currently running a Crimson Trace RAD Pro and am really enjoying it. Others that I have used quite a bit and still may use on this gun are the Holoson 509T and Riton Optics 3 Taxtix PRD 2. I suggest determining your budget, making a list of "wants" and going from there. 
Weapon Lights
Whether you plan to use your gun for home defense, carrying or even just range fun, a weapon light is never a bad idea. It's better to have it and not need it, than the opposite. Two that I highly recommend for the M2.0 are the Streamlight TLR-7A and the INFORCE WILD1. Both have great light output and sit almost flush with the end of the barrel/slide for ease of carrying. I don't think you can go wrong with either.
Alternatives
There are plenty of awesome alternatives on the market, but below are a couple of my favorites. Both should give you solid capacity, reliability, and accuracy.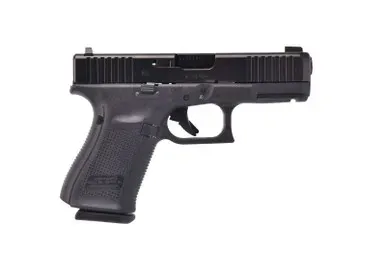 At this point, we've all talked about the Glock 19 so much that it doesn't really need any introduction. If you run the Glock platform already, the 19 is a great alternative to the M2.0 Compact. It's more compact than the Glock 17, but you still get a 15+1 capacity with the option to use higher capacity magazines all the way up to 33 rounds. It's one of the most carried and reliable 9mm handguns out there, so it frequently makes my list of alternatives.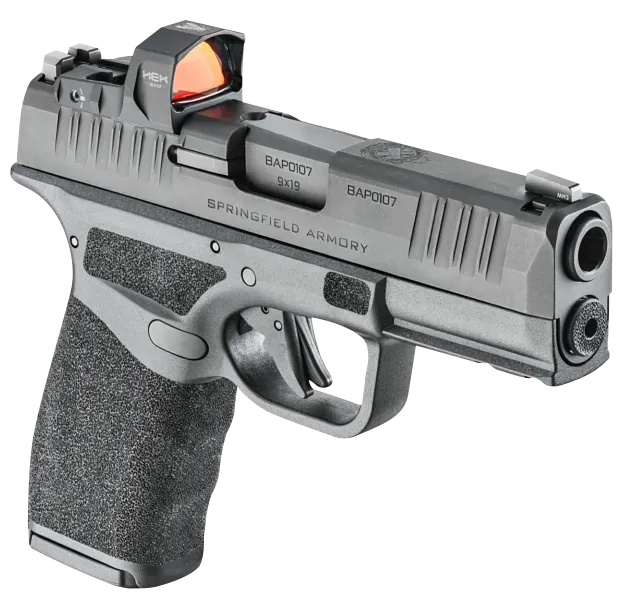 The Hellcat Pro may be a newer model, but it delivers the same great features of the Hellcat, plus more. Same 15+1 capacity as the others in this article, with an advanced adaptive grip texture and awesome tritium u-dot sights. It has a solid stock trigger (some may disagree, but I like it) and an optic-ready slide, so you're good to go out of the box. 
Final Thoughts
If you're in the market for a new pistol, I highly suggest checking out the new Smith and Wesson M2.0 Compact. It's versatile, affordable and most important of all, reliable. The new features such as the optic ready slide and flat face trigger, even make it worth upgrading from the previous M2.0, in my opinion.
Explore more