Palmetto State Armory Sabre Review: A Top Contender For Best AR-15 Under $1,000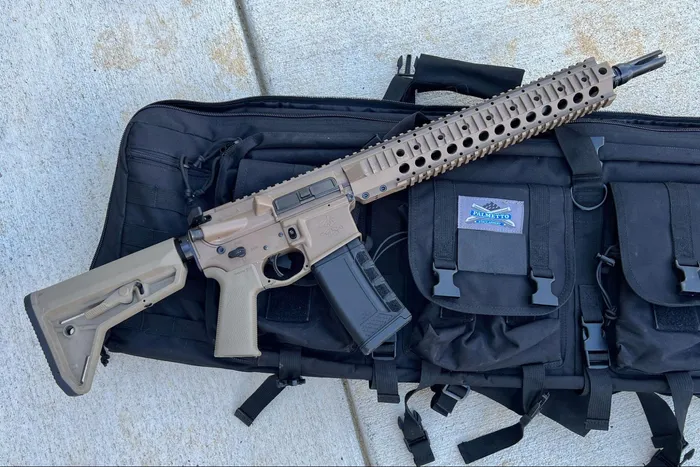 Palmetto State Armory Sabre Review: A Top Contender For Best AR-15 Under $1,000
Introduction
With a mission to sell as many guns to as many law-abiding Americans as possible, there is a reason Palmetto State Armory (PSA) is essentially a household name in the firearms industry. To accomplish this, PSA is known for delivering quality firearms at an affordable price.
The new Sabre line of AR-15s and AR-10s builds upon PSA's own components and features parts from some of the top brands in the industry. Despite being a premium line for PSA, you can find many full build options under $1,000.
There are forged and billet options, both of which offer several variants. Today we'll be looking at the Forged 13.7-inch Sabre AR-15 chambered in 5.56 NATO, with components from names such as Radian, Battle Arms Development, and Magpul, to name a few.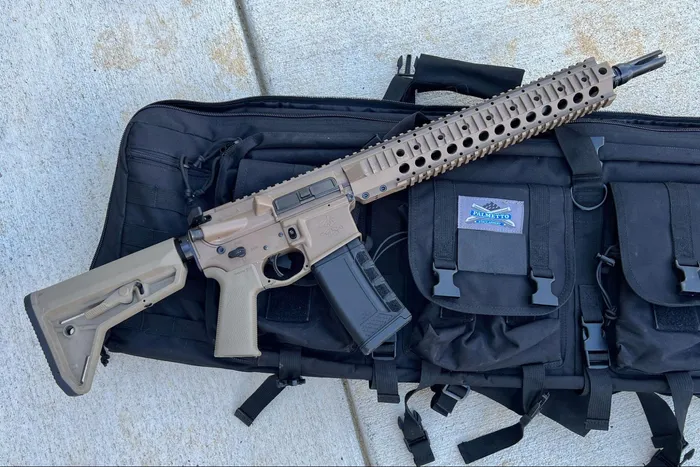 After seeing all of the impressive features on this build, I think you'll be surprised to be able to find this under $1,000.
Let's take a closer look at this new PSA Sabre!
PSA Sabre Review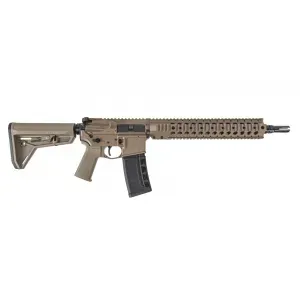 Specifications
| | |
| --- | --- |
| Caliber | 5.56 NATO |
| Gas System | Mid-Length |
| Capacity | 30+1 |
| Barrel Length | 13.7 inches |
| Twist | 1:7 |
| Barrel Steel | 4150V |
| Receiver Material | Forged 7075 T6 |
| Muzzle Thread | ½-28 |
Pros & Cons
Pros
Clean and crisp Hiperfire RBT trigger

Radian Raptor LT charging handle and a Radian Talon safety (both ambidextrous)

Upgraded Magpul furniture

Accurate and reliable 

Plethora of upgraded internal components

You won't go broke buying it with an MSRP of $999.99
Cons
Doesn't come with iron/back-up sights

Quad-rail seemed to have too sharp of edges (not uncommon from quad-rails in general)

A little heavier than what I typically would prefer
First Impressions
From simply reading over the spec sheet and seeing all of the upgrades, I could tell I would likely be impressed.
Picking it up out of the box, the Sabre felt as if it was built to withstand getting hit by a meteor. It feels solid but is a bit heavier than I would prefer. I'll always take a little bit of extra weight if it translates into a well-built finished product.
Overall Feel
After playing around with the controls, checking out the trigger, and adjusting the stock to fit me better, I am happy to report that I was still impressed. The upgraded Magpul pistol grip offers more comfort than your standard A2-style pistol grip, and overall, the Sabre is ergonomic.
Range Time With The Sabre – How We Tested
We still have further testing (with a complete YouTube review coming), but we couldn't wait to hit the range with the Sabre.
So far, we've been mag dumping, reloading, and mag dumping some more to see if the rifle is picky with what you feed it (see next section for the answer) and thoroughly function-checking every aspect of the rifle.
With plenty of range time to come and some behind us, we'll surely put the Sabre through all its paces.
Reliability
I put 260 rounds through down range without experiencing a single malfunction. It didn't matter to the Sabre whether I was shooting slow, fast, or anything in between. I put a few different loads through it to see if it was picky with anything in particular…it wasn't.
Ammo Used
I had a nice mix of ammo for the review that included:
While the Sabre didn't have issues with any of the ammo, it did seem to slightly favor the Hornady Match ammo, which would make sense given its 1:7 twist rate.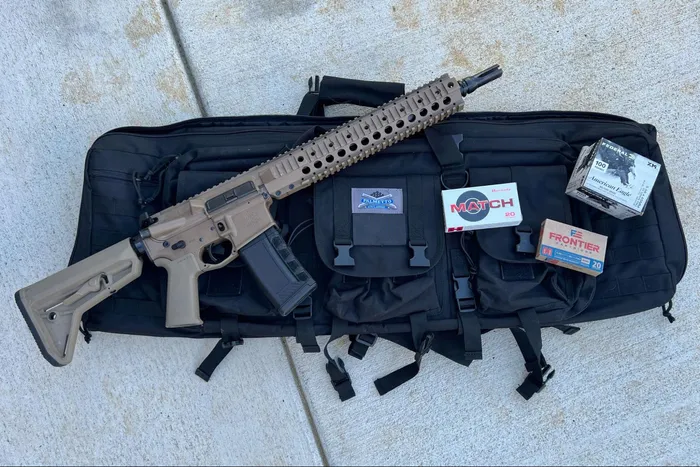 Accuracy
With my Primary Arms prism scope mounted up top, I easily hit all my targets and maintained tight groupings within 25 yards. I stepped up to 100 yards, and while my groupings obviously expanded, the distance was still no issue to land shots on target.
If you run a dedicated scope or an optic/magnifier combo, you shouldn't have any problem pushing the range out much further.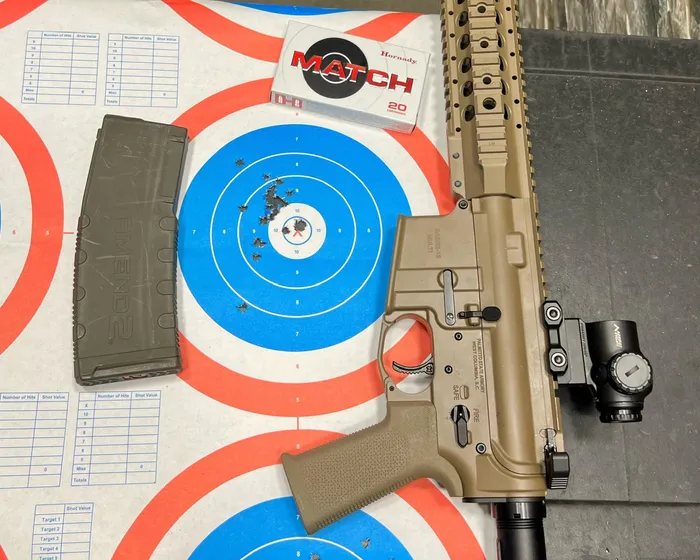 Features
Hiperfire RBT Trigger
I was pleasantly surprised to find something other than the typical mil-spec trigger that comes in many sub-$1,000 rifles. It comes with a Hiperfire RBT (Rifle Builders Trigger) trigger that's also used in a couple of other popular rifles around this price point.
Even though I much prefer a flat trigger, the RBT was still very nice to shoot with. It has a light pull, a super crisp break, and a quick and defined reset.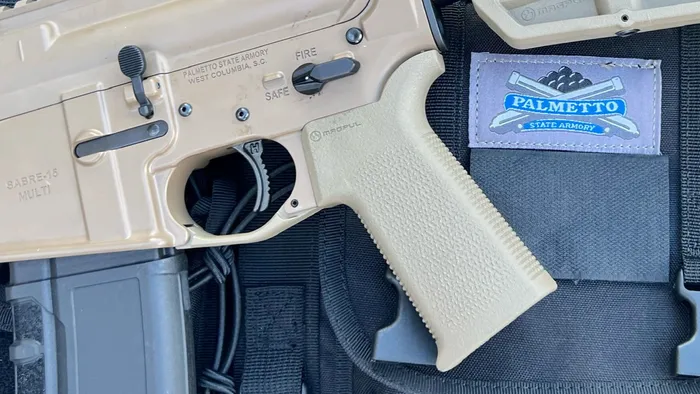 PSA 13" Quad-Rail
I used to almost exclusively run quad-rails, so it felt almost nostalgic shooting the Sabre. With the quad-rail running almost the entire barrel length, you'll have plenty of space to mount your favorite grips, lights, sights, or whatever else tickles your fancy.
I recommend getting some rubber rail covers, though, as I found the edges to be sharper than ideal. Running a foregrip of some sort would also help.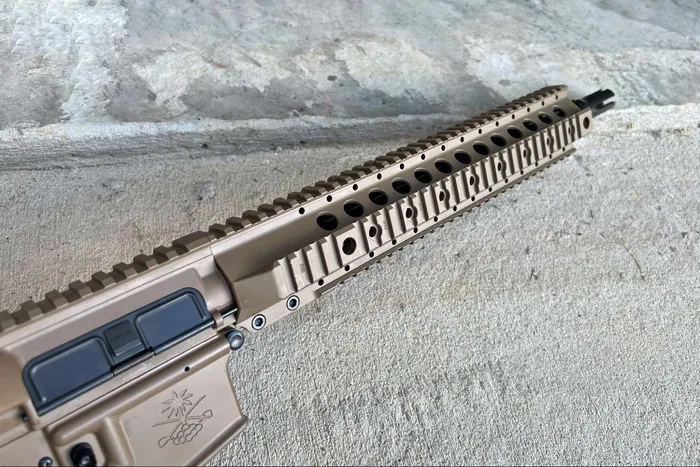 Radian Raptor LT Charging Handle
Radian charging handles are arguably the most popular on the market today. The Radian Raptor LT is a lightweight ambidextrous handle machined from 7075 aluminum.
The handle is well-sized for quick manipulation without being "oversized" to the point it gets snagged on clothing or gear. It comes in flat dark earth, grey and black, which are all designed to match standard Magpul colors.
The Sabre also has an ambidextrous Radian Talon safety to go along with the charging handle.
JMAC GFHC-E Muzzle Device
In order to "stay compliant" and not trigger any SBR confusion, the JMAC GFHC-E is permanently pinned and welded, putting you safely over the 16-inch mark.
The GFHC-E is made out of 17-4ph stainless steel with a black nitride finish. It's KeyMo and KeyMicro suppressor compatible.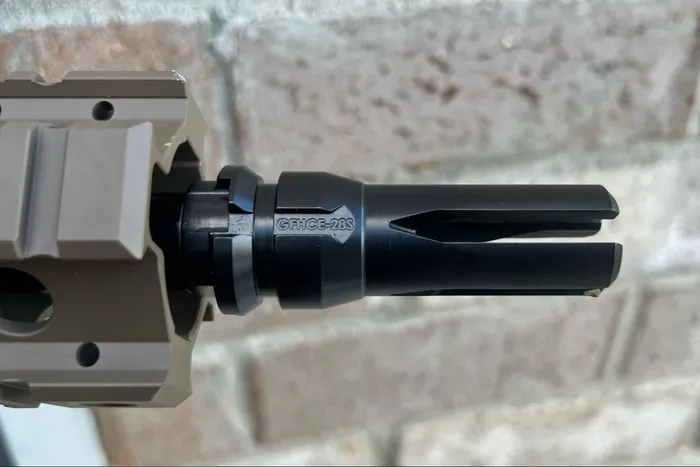 Magpul Furniture
With all the other upgrades on the Sabre, PSA made sure not to forget about paying attention to the furniture too. You'll find a Mapgul MOE SL stock and grip that comes in place of the standard mil-spec stock and A2 style pistol grip.
The stock has a comfortable angled rubber butt-pad, multiple sling attachment points, and an internal anti-rattle feature to minimize wobble on the receiver extension tube. The grip has solid ergonomics with a decent texture, but I wish it had a cap for internal storage options.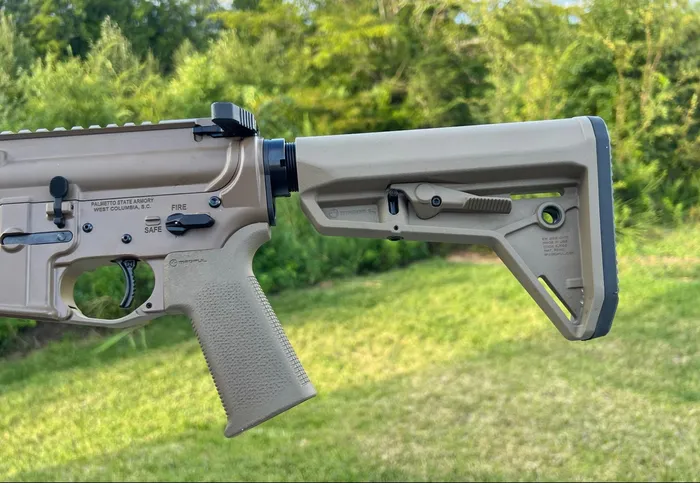 Custom 30 Round Thril/PSA Magazine
The magazine surprised me because I didn't recognize it at all. I'd never heard of Thril until I saw this magazine and wanted to see who made it.
It's your standard 30 round polymer magazine with PSA's logo engraved on it instead of Thril's. I used it for about half of my shooting with no issues.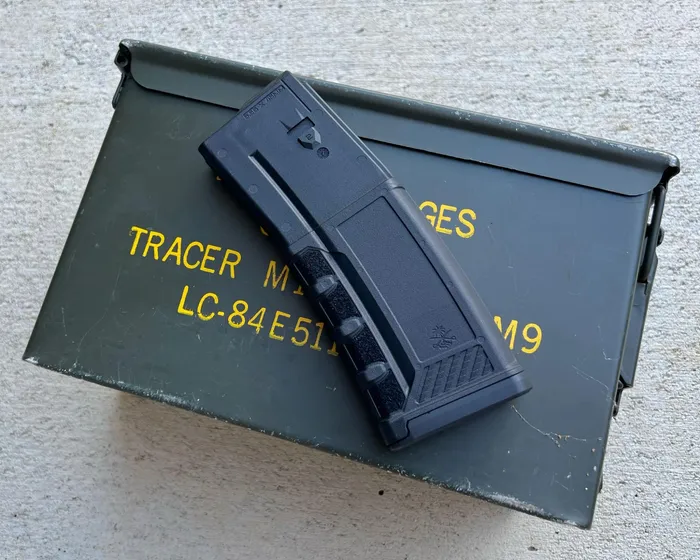 Other Notable Features & Components
In addition to some of the more noticeable features mentioned above, many others shouldn't go unnoticed. Here are a few examples, in no particular order:
Battle Arms Development takedown/pivot pins
Father's of Freedom BCG by MicroBest
Sprinco White buffer spring
It's pretty evident that PSA put a lot of thought into this rifle.
Score Card
Reliability (10/10)  
There were no malfunctions to be found during my testing.
Ergonomics (8/10)
With the adjustable stop, well-placed and sized controls, and plenty of room to mount your favorite foregrip or hand stop, ergonomics should not be a problem.
Customization (9/10)
As with most AR-15s, more accessories and aftermarket parts are available than you'll ever know what to do with. The quad-rail and Picatinny rail up top give you plenty of room for all of your accessory desires.
Appearance (8/10)
The FDE finish and the aggressive look of the quad-rail provide for a good-looking rifle. Something about the look of the muzzle device doesn't do it for me, though.
Value (9/10)
Coming in at an MSRP of $999.99, it's hard to argue that the value isn't there. With all of the upgraded features and components, the fact that this rifle is under $1,000 is surprising.
Accessories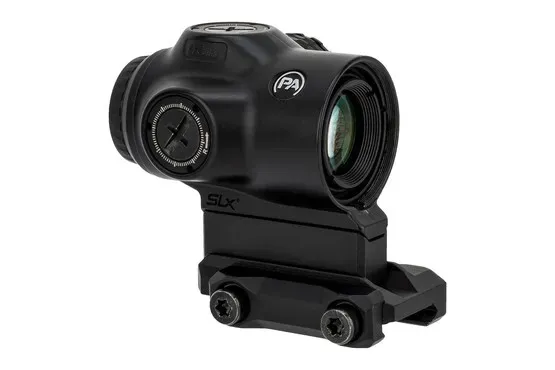 With an etched reticle, you never have to worry about your batteries dying. As long as the batteries are working, you'll have 13 illumination settings, three of which are night-vision compatible. On a medium setting, there is a 29,000 hour battery life.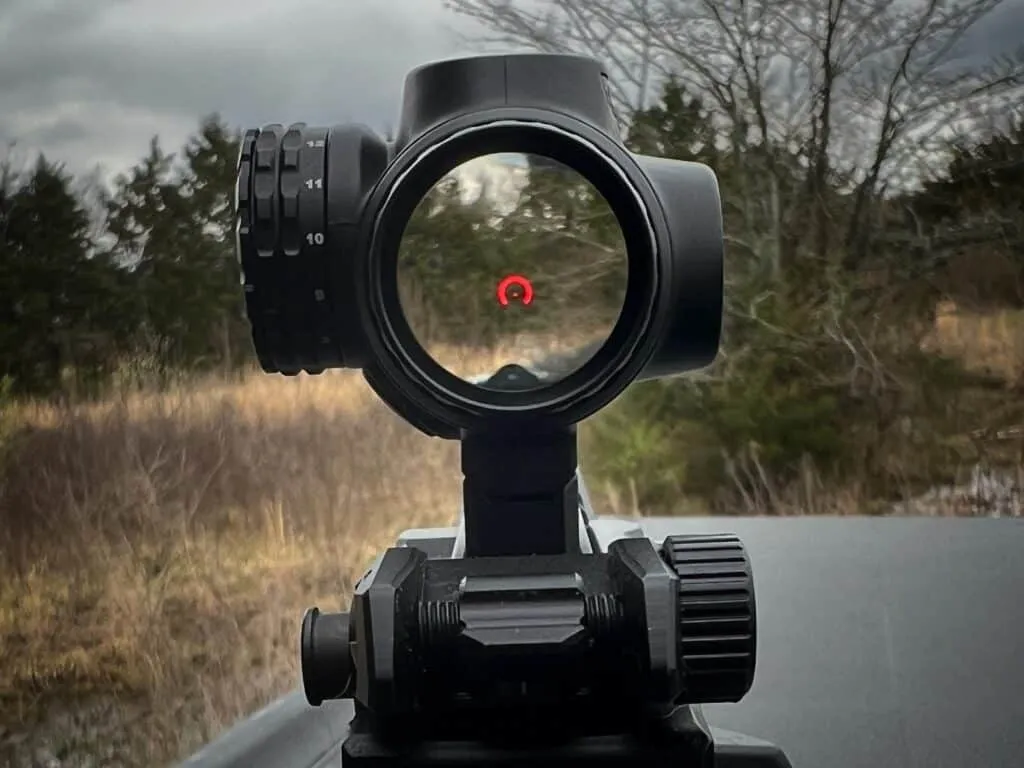 It also features motion-sensing on/off technology, has an IP67 waterproof rating, and is fog resistant and dust-proof. To top it off, it comes with lens covers and is backed by Primary Arms Lifetime Warranty.
Check out our Primary Arms SLx 1x review for more information.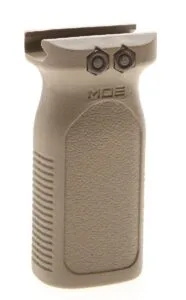 The Magpul RVG would be a great addition to the quad-rail on the Sabre. It's lightweight, ergonomic, and helps control your rifle without spending much money.
You can get it in FDE if you'd like to color match your Sabre, or it also comes in black, olive drab green, and stealth gray. It includes the mounting hardware, and it's made in the USA.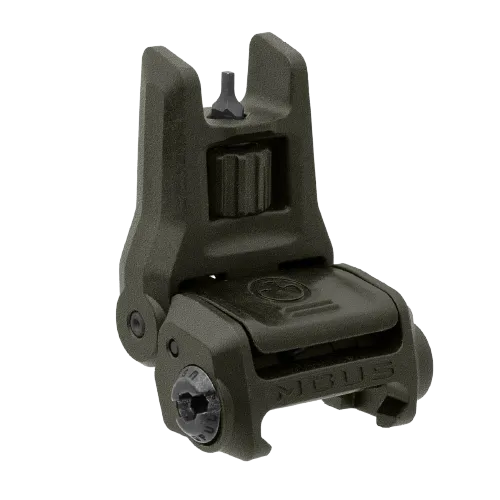 I always recommend having a set of back-up sights on your ARs, in addition to any other optic(s) you may have mounted. Magpul MBUS (Magpul Back-Up Sight) line has been one of the most popular for quite some time, and for good reason.
The sights are lightweight, durable, and spring-loaded to deploy quickly and easily. They feature tool-less elevation and windage adjustment and also come in FDE, olive drab green, and black, in case you want to continue the color-matching.
Alternatives
Stag-15 Tactical 16" Rifle
While you may not beat the price tag of the Sabre, the Stag 15 Tactical is still darn close in price. You can typically find them floating just over the $1,000 mark, which is a great deal for them.
The Stag 15 Tactical also features a Hiperfire RBT trigger, ambidextrous controls, and upgraded Magpul furniture. Notable differences, though would be a 16" barrel and a slimline M-LOK handguard.
It's a solid rifle at a great price.
Springfield Armory Saint Victor 
One of my often recommended AR-15s around the $1,000 mark is the Springfield Saint Victor. It's a great intermediate AR that won't leave you needing to dump money into it anytime soon.
It features a nickel boron coated single-stage flat trigger, a 15" M-LOK handguard, Springfield muzzle brake, and it even comes with Springfield's spring-loaded flip-up sights.
There is a lot of bang for your buck with this rifle.
Conclusion
The fact that this particular Sabre comes in under $1,000 makes me hopeful that more and more citizens will take the proper steps to arm and protect themselves and their families. The world is a crazy place, especially lately, so having a company like Palmetto State Armory keeping its prices so reasonable is so much appreciated.
The Sabre delivers more than I would have expected for the price, and I think it's definitely worth checking out if you are in the market for a new AR-15 in this price range.
Have you had the chance to shoot a Sabre yet? If so, what do you think? Would you buy it or pass on it?
Finding the Best Price for the PSA Sabre
Gun Made's gun deal search engine is an invaluable tool when looking for the most affordable prices for the PSA Sabre online.
It scours the internet, collating information from various sellers to help you find the most competitive prices. By simply entering your desired product, in this case, the PSA Sabre, the search engine quickly presents a list of options from various retailers. This allows you to compare prices and find the best deal for your budget.
Using Gun Made's gun deal search engine saves you money and time by bringing all the best deals into one easy-to-navigate platform.
Explore more