Ruger GP100 Review: A Revolver To Last For Generations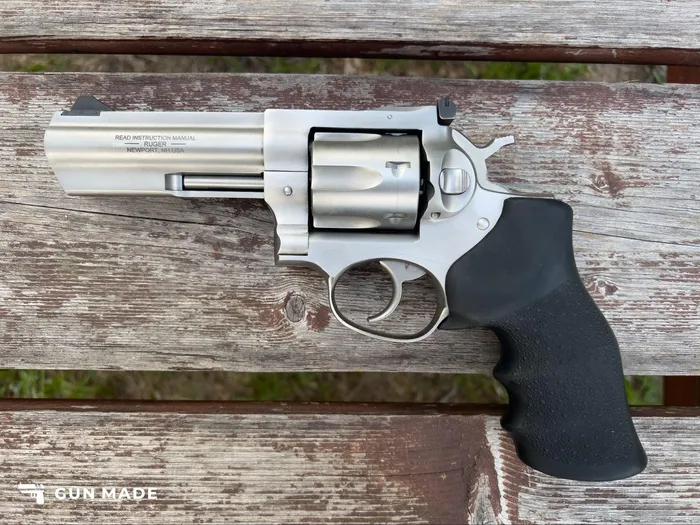 Ruger GP100 Review: A Revolver To Last For Generations
Introduction
Revolvers, while not the latest and greatest in firearms technology, have a sweet spot in the hearts of many firearms enthusiasts. Ever since I was a teenager and first watched Dirty Harry with my dad, I wanted a big American-made revolver. Unlike Dirty Harry, though, I didn't want a .44 Magnum revolver; I wanted a revolver in .357 Magnum.
More specifically, I'm talking about a classic Colt Python. I wanted one, but as a relatively broke 20-something, a classic Colt Python was out of my price range. However, that didn't mean I was going to settle for low quality.
Enter the Ruger GP100.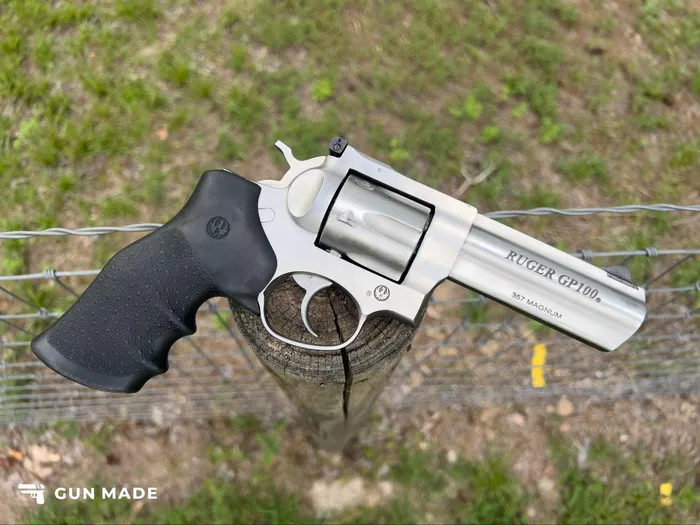 The GP100 replaces Ruger's classic Security Six, Service Six, and Speed Six revolvers. It's a heavy-duty revolver designed for the serious use of the .357 Magnum cartridge and directly competes with Smith and Wesson's Model 686 revolver.
Is it in the same league as the S&W 686 and Colt Python, or does it belong in the second tier of revolvers? Keep reading to see what we thought about the Ruger GP100.
Ruger GP100 Review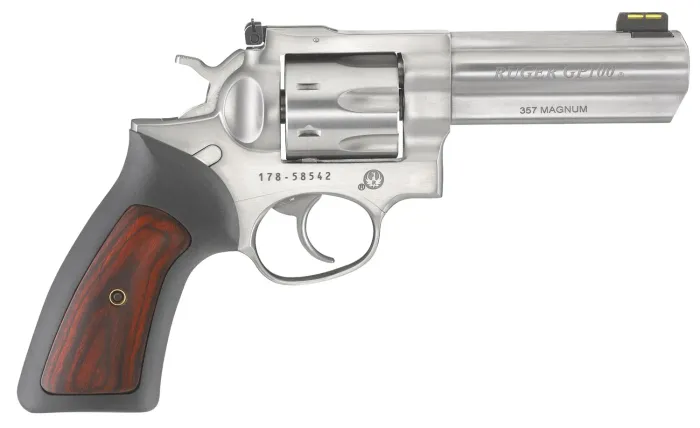 Specifications
| | |
| --- | --- |
| Caliber | .357 Magnum |
| Capacity | 6 rounds |
| Barrel Length | 4.2 inches |
| Overall Length | 9.50 inches |
| Height | 5.7 inches |
| Width | 1.56 inches |
| Weight | 40 ounces |
| Grips | Hogue® Monogrip® |
| Sights | Ramp front & adjustable rear |
| Material | Stainless Steel |
Pros & Cons
Pros
Made of high-quality stainless steel

Hogue® Monogrip® tames recoil

Accurate, especially when shooting single action

Smooth action

Capable of shooting both .357 Magnum and .38 Special
Cons
Heavy when compared to modern polymer firearms

Double action trigger is long and heavy
Impressions & Range Report
Aesthetics
The Ruger GP100 is a gorgeous revolver. It is available in two flavors, looks-wise. You can find it with an alloy steel frame and a blue finish or a stainless steel frame and a satin stainless finish.
You will not mistake this gun for a modern, polymer firearm.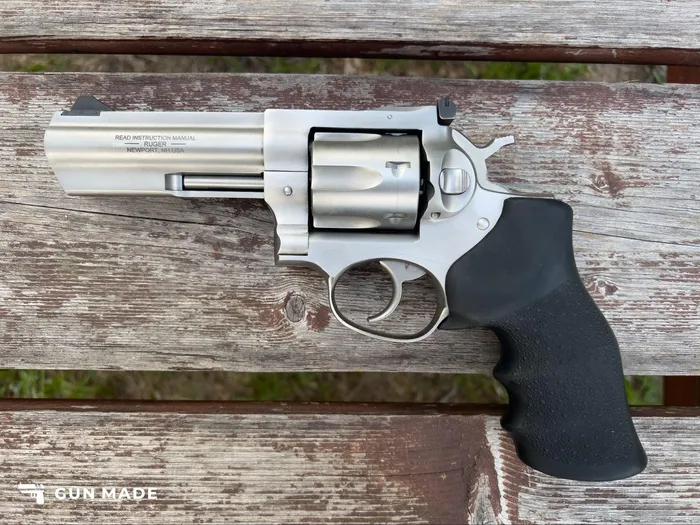 As soon as I saw the stainless steel version with the satin stainless finish, I knew I had to have it.
Reliability
I have owned the GP100 for almost ten years. During this time, I never had any reliability issues. There weren't any timing issues with the cylinder or issues getting cartridges to eject. The gun locks up tight and shoots as well as the day I got it.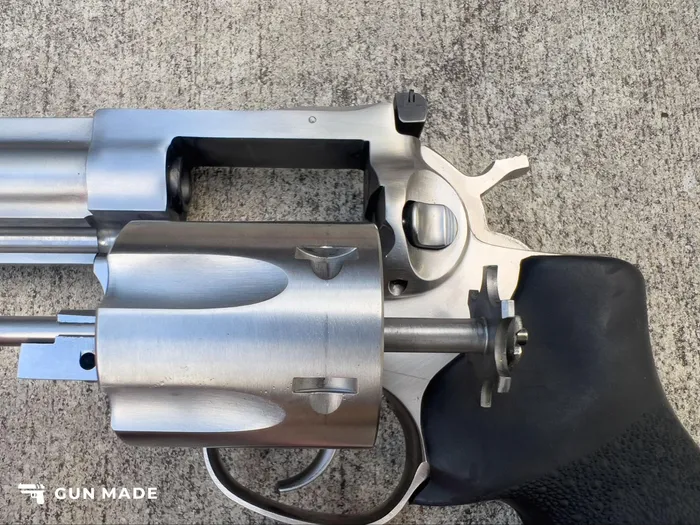 Accuracy
I have always shot the GP100 well, especially in single action. In single action, the GP100 has a light, crisp trigger that breaks clean and enables the shooter to punch holes in paper.
The Hogue Monogrip helps to mitigate the recoil when shooting .357 Magnum, making shooting tight groups much easier. The revolver handles .38 Special so well that I barely notice the recoil.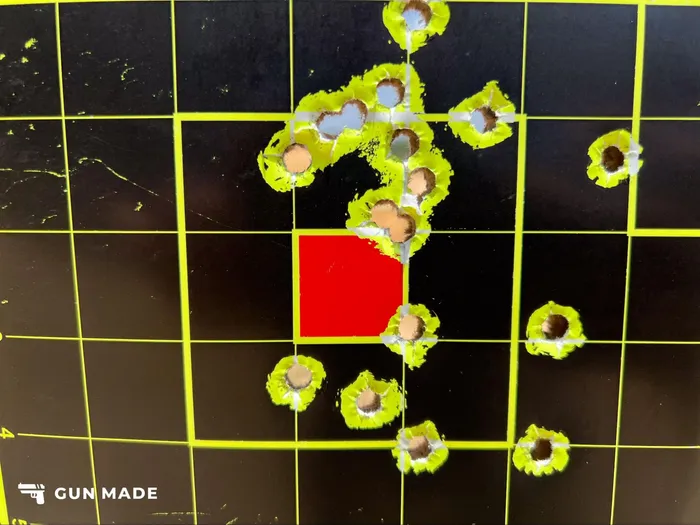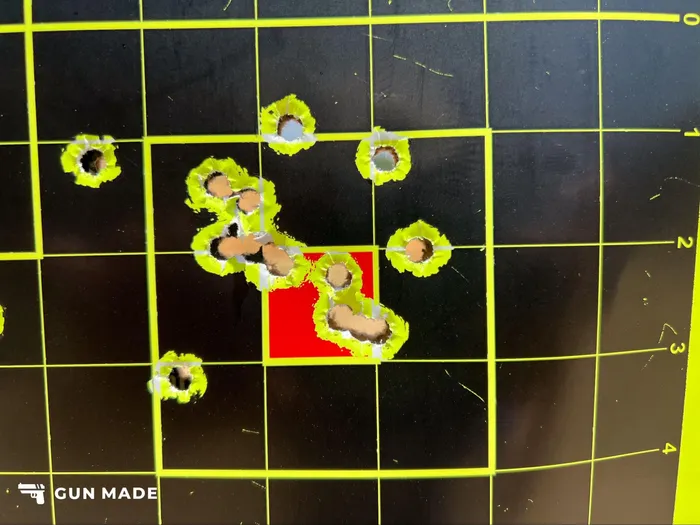 The long, heavy trigger pull in double action requires you to focus on using proper shooting mechanics. Accuracy is possible in double action, but you have to practice.
I have never shot the revolver as accurately in double action as in single action. However, I also haven't shot the GP100 often enough in double action to overcome my incompetencies through training.
Overall Feel
The GP100 feels excellent in your hand. Holding the GP100 inspires confidence in the firearm and your ability to shoot it well. It exudes the quality of a well-made firearm and handles as you would expect of a high-quality revolver.
Features
Hogue Monogrip
The Hogue Monogrip is one of the best features of the Ruger GP100. On my most recent range trip, I shot the GP100 back to back-with a 1970s-era Colt Python. Both firearms are chambered in .357 Magnum, and the experience of shooting the GP100 was heads and tails more enjoyable than the classic Python.
Sure, the Python was gorgeous, with wood grips that stood out from an aesthetic perspective. The reality of shooting the Python, though, is the whole force of the shot went into my hand and wrist.
The GP100, conversely, has the advantage of modern grip technology with the Hogue Monogrip. The reduction in felt recoil was very noticeable, and the guys I was at the range with who also shot both revolvers noticed the marked difference in shooting experience.
I would love to own a classic Colt Python, but I am not sure I would often shoot it in .357 Magnum when I can shoot my GP100 with the Hogue Monogrip.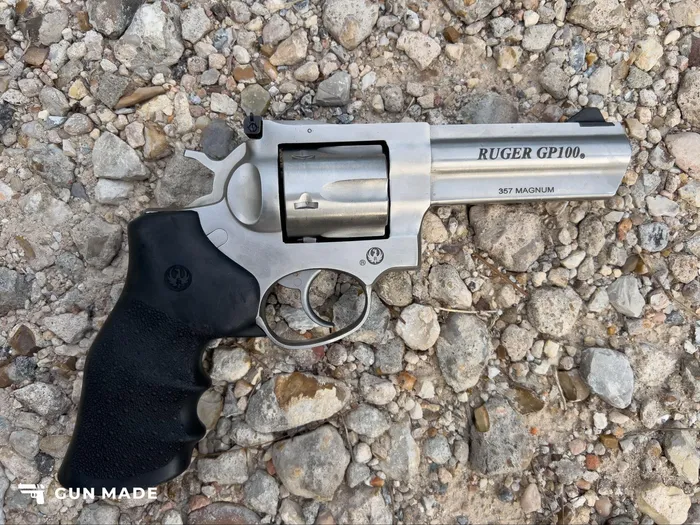 Sights
The sights on the GP100 are solid. They are adjustable for both windage and elevation. When shooting with quality light, the sights are more than adequate and will allow you to shoot to the maximum of your skill level.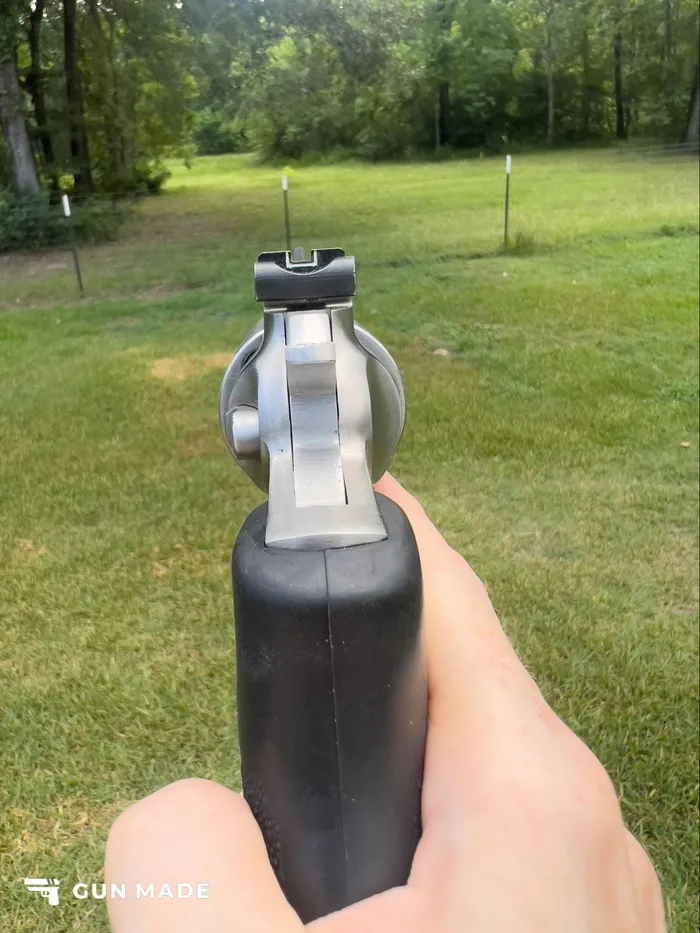 The sights are also upgradeable, with existing options to put night sights or fiber optic sights on the front and rear of the revolver. An excellent example of an upgrade option is the Hunter Sight Set.
High Build Quality
Where the Ruger GP100 shines is the revolver's build quality. My GP100 will, barring a catastrophic event like a boating accident, outlive me.
The stainless steel frame is as solid as you can find in a firearm, and the satin finish holds up very well to wear. After almost ten years of light to moderate use, my GP100 still looks good as new.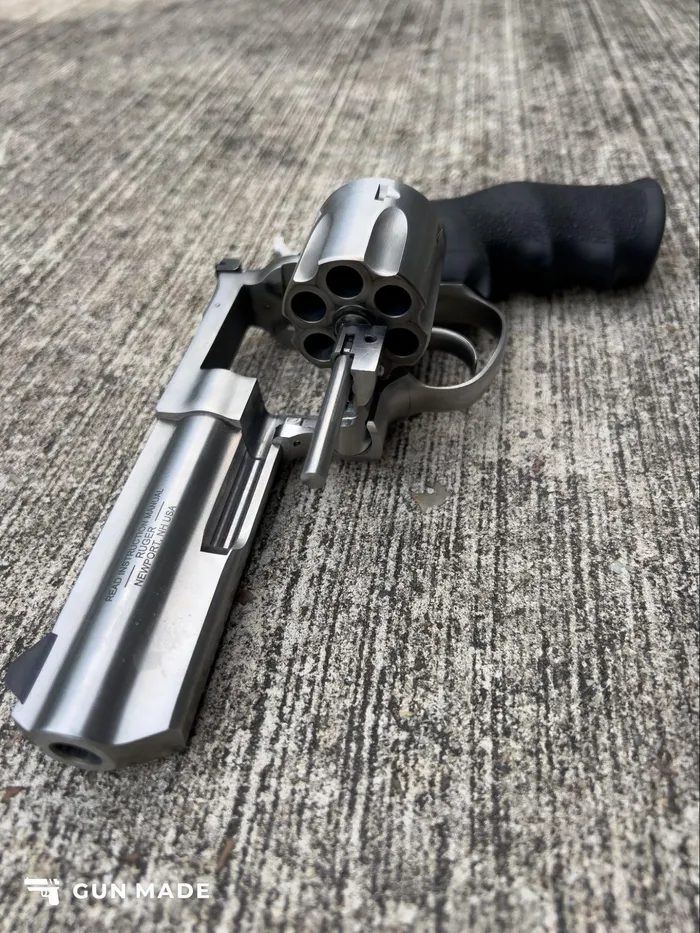 How We Tested
As I mentioned earlier, I have owned the Ruger GP100 for approaching ten years. During this time, I have shot it at both indoor and outdoor ranges and used it on my farm. At the range, the GP100 is a great shooter. It rings steel and punches holes in paper with the best of them.
On my farm, it has provided excellent service as well. The GP100 is not a light gun, and I do not try to use it for concealed purposes, but putting it on a gun belt and carrying it around the property works excellently.
I have never had cause to use it against a predator of the two or four-leg variety, but I have used it against venomous snakes when out on the land and didn't have a shovel handy.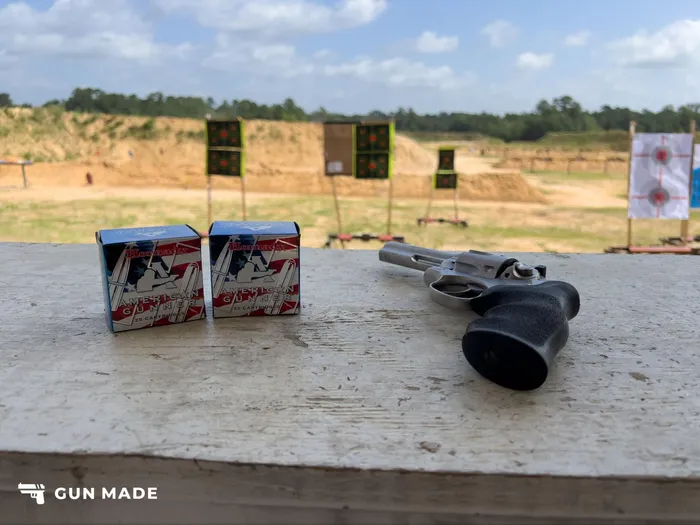 I am unsure of my total round count out of the GP100; my best guess is close to 1,000 rounds. The only reason I haven't shot it more is the price of .357 Magnum vs. 9MM and other calibers I shoot.
Ammo Used
A special thanks go to AmmoMan and Hornady for providing the ammunition for this review. AmmoMan provided Federal 158-grain jacketed soft points in .357 Magnum and Winchester 130-grain FMJ in .38 Special; the GP100 ate both ammunition types like a champ.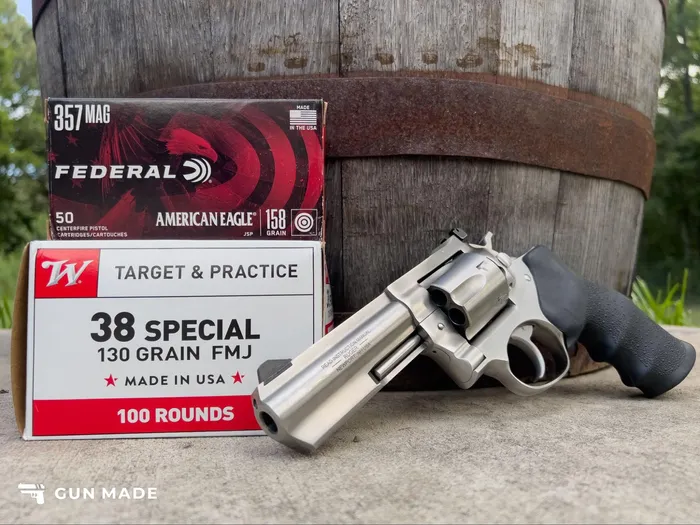 Hornady provided 125-grain XTP American Gunner ammunition in .38 Special. I am a fan of using .38 Special as a defense cartridge in the GP100 due to the lighter recoil. You do lose the benefits of the .357 Magnum's stopping power but also have to worry less about over-penetration.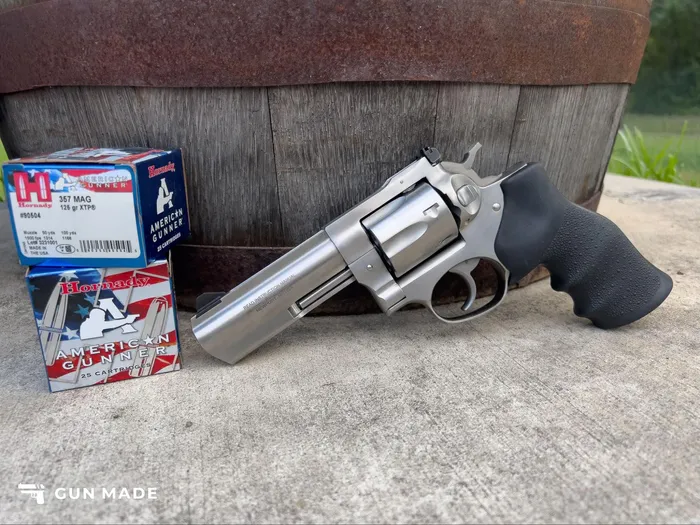 In addition to using the above loadings in my GP100, I have used Hornady American Gunner in .357 Magnum, Blazer Brass .357 Magnum, Remington Golden Sabre in .38 Special, and many others. The revolver has eaten them all without fail.
Score Card
Reliability (10/10)
When a gun shoots without fail every time you pull the trigger and extracts just as well, what else could you ask for?
Ergonomics (10/10)
I like the GP100's ergonomics. The revolver points well, shoots well, and fits my hand perfectly.
Customization (8/10)
It is a revolver. Revolvers are not designed to have the same level of customization as a modern polymer-framed pistol. That being said, there are ways to customize your pistol if you choose to do so.
Appearance (10/10)
The Ruger GP100 is drop-dead sexy. My wife, who is not a gun person, commented on how good the GP100 looked when I was working on this review. She has fantastic taste, if I do say so myself.
Value (8/10)
Compared to Chiappa, Smith & Wesson, and Colt offerings, the Ruger GP100 is competitively priced. If you do your research on GunMade and search for the best prices, you should be able to find a great deal on a GP100.
Accessories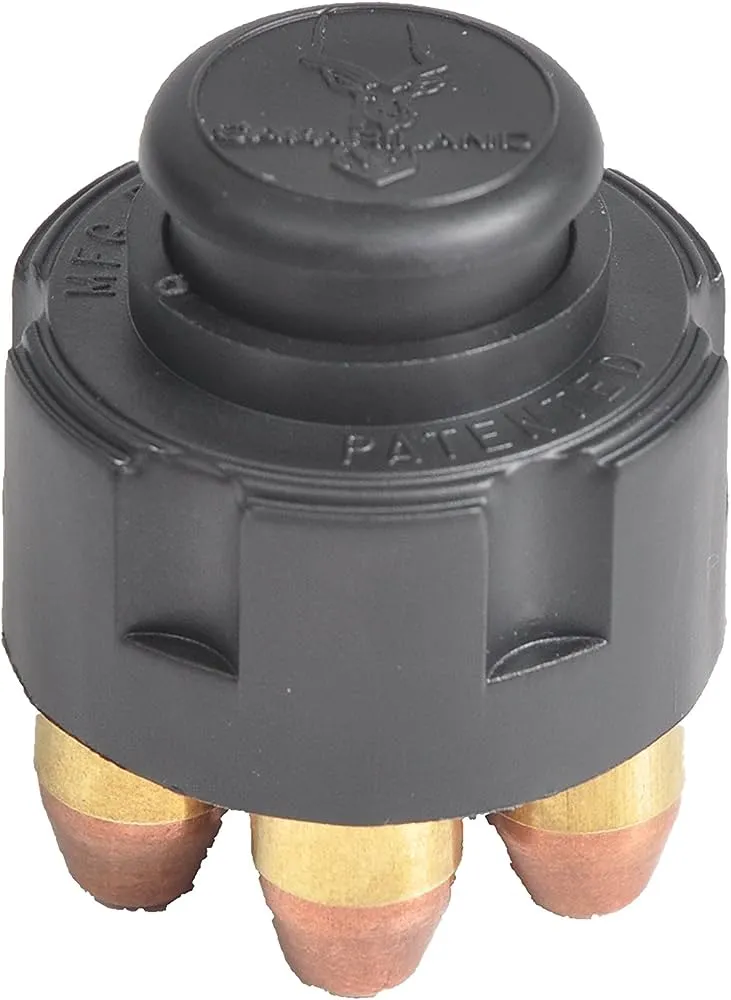 A speed loader is necessary for any revolver you use for self-defense or competition. I use two different speed loaders with my GP100. The faster of the two is the Safariland Bianchi Comp II Speedloader. It is slightly more complicated to load up, but it isn't that complicated if you spend time using it. The Safariland is incredibly fast for six rounds into your GP100.
The second speed loader I use with my GP100 is the HKS 586-A Speedloader. This speedloader is slightly easier to get loaded up than the Safariland speedloader, but I am also slightly slower using it for reloading than the Safariland. If you spend time training with the reloader, the differences between the two speedloaders are negligible; which you choose to use comes down to personal preference.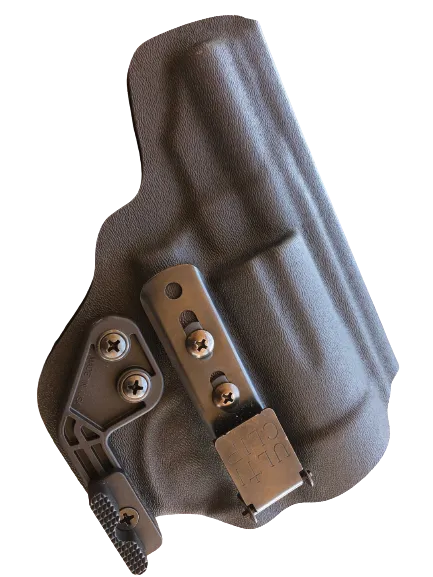 A quality holster is a vital accessory for carrying your firearm. The weight of the GP100 means you need a good holster to keep the GP100 where you put it.
DME's Kydex GP100 holster is available in several configurations, including IWB, AIWB, and OWB. Make sure you check them out if you are planning to carry your GP100.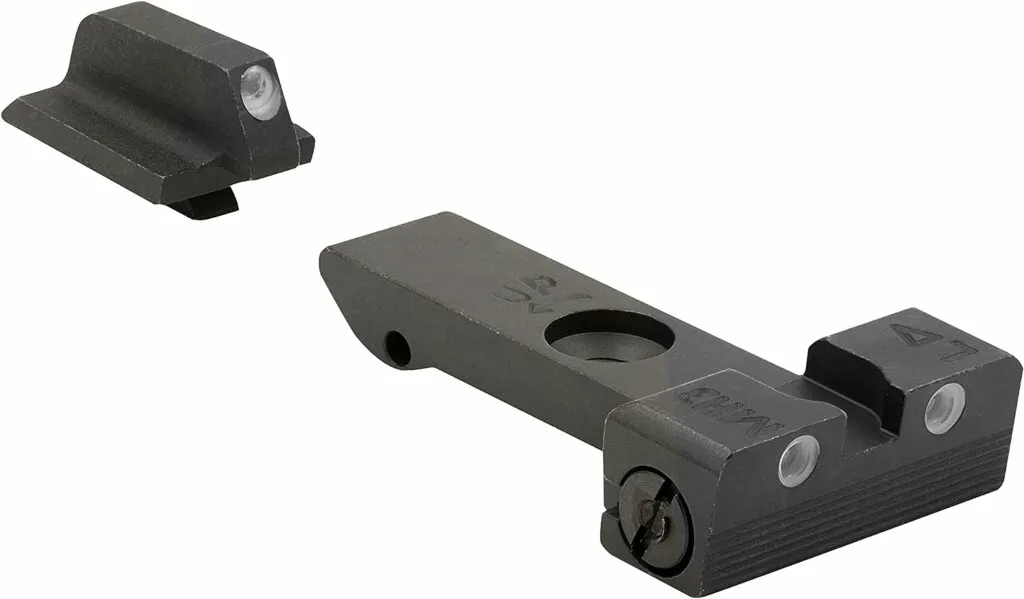 The Ruger GP100 comes with quality sights out of the box. However, they are not fiber optic sights or night sights. As I get older, I have begun to notice that regular sights can give me trouble in low-light conditions. As a result, I am always looking for night sights for firearms I acquire. MEPRO Tru-Dot Adjustable Tritium Night Sights fit the bill.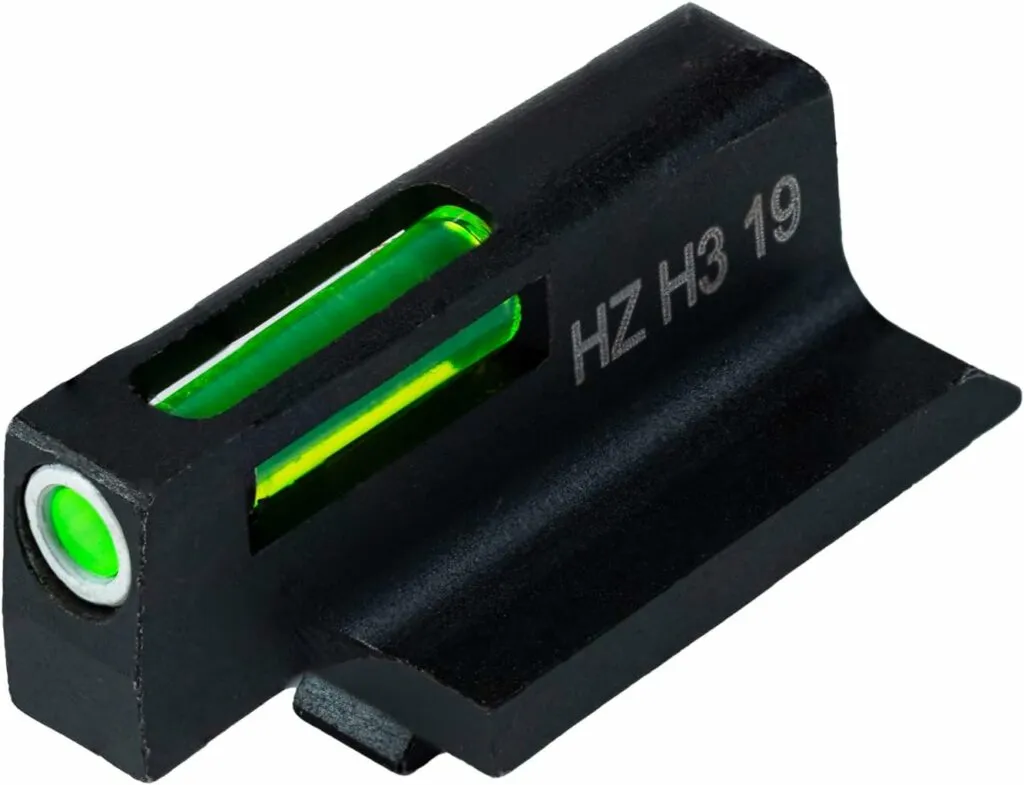 HiViz also makes several front sight posts for the GP100 that are quality improvements to the Ruger GP100's stock sights with the Litewave H3® Tritium/Litepipe GP100 Front Sight & the Ruger GP100 LiteWave® Front Sight.
Alternatives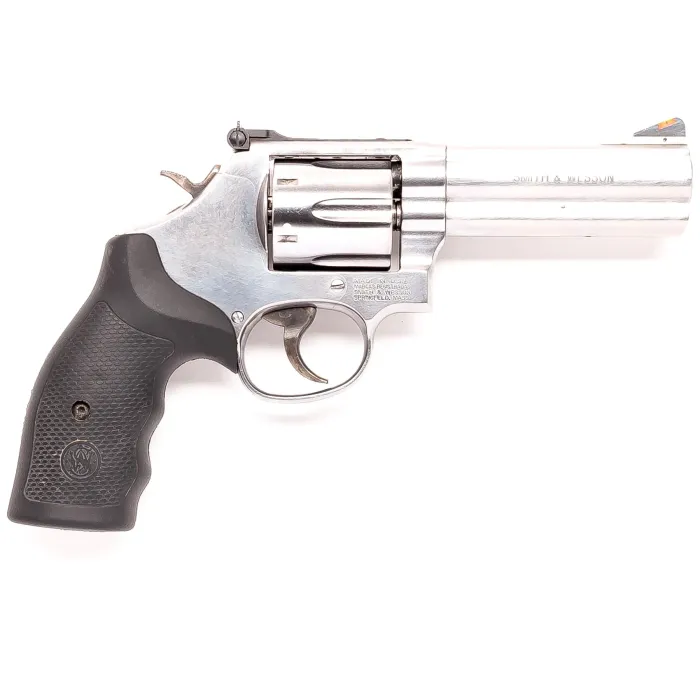 Smith & Wesson is one of the largest and most well-known manufacturers of quality revolvers for the American firearms market. The Smith & Wesson 686 is a high-quality double-action/single-action revolver that directly competes with the Ruger GP100.
Chambered in .357 Magnum, the 686 is considered one of the top revolvers available. Similar in size and weight to the Ruger GP100, if you are looking for a revolver, check out the Smith & Wesson 686.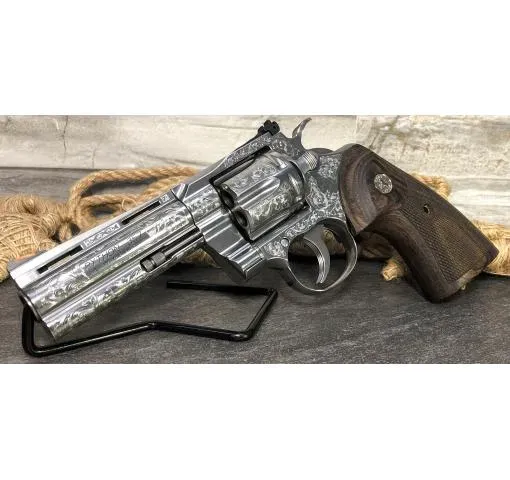 The Colt Python is one of the most well-known and sought-after revolvers available. The original Colt Python was produced by Colt from 1955 to 2005. After Colt stopped producing the Python in 2005, the cost of Pythons shot up, and getting your hands on one of the early produced Pythons became a bucket list item for many firearms collectors.
In 2020, Colt began producing the Python again, and once again, those looking to get a quality American-made revolver could buy newly made Pythons.
The modern Colt Python has the same timeless design and high quality as its older sibling. The price for newly made Pythons is more than the GP100, so you will need to decide if the Colt Python name and looks are worth the premium price.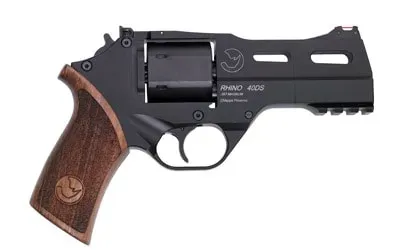 The Chiappa Rhino is a genuinely unique revolver. Designed with the barrel set low in the pistol's frame, the Rhino has a low bore axis design which sets it apart from the Ruger GP100, Smith and Wesson 686, and Colt Python.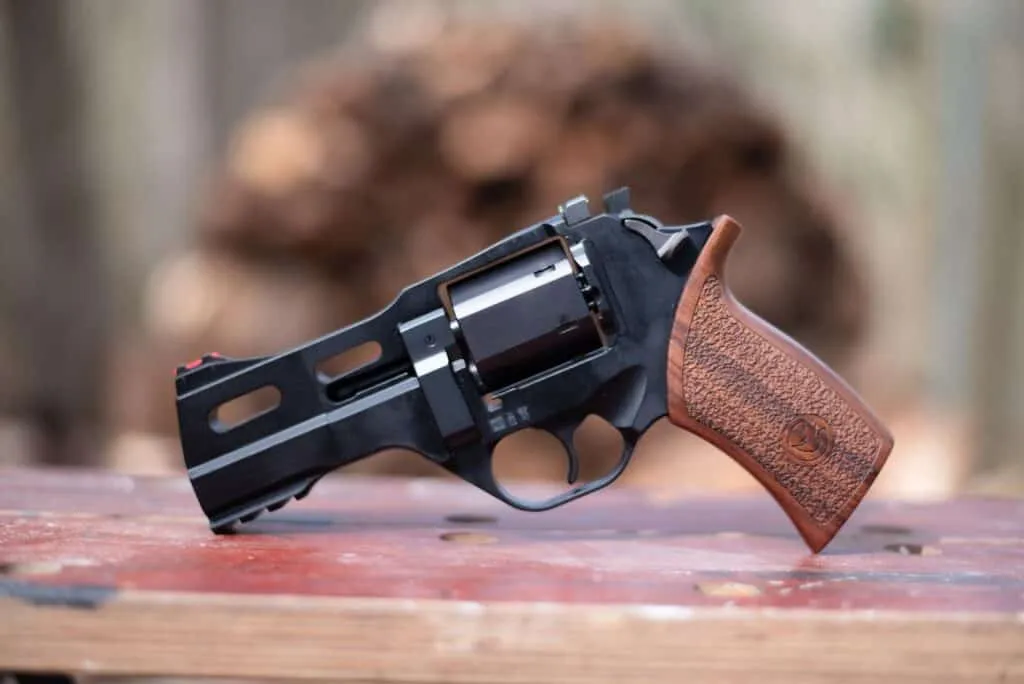 We shot the Rhino for a review earlier this year and found it to be a cool experience. The low bore axis changes the recoil impulse and helps the Rhino have less felt recoil than you would expect from such a lightweight revolver.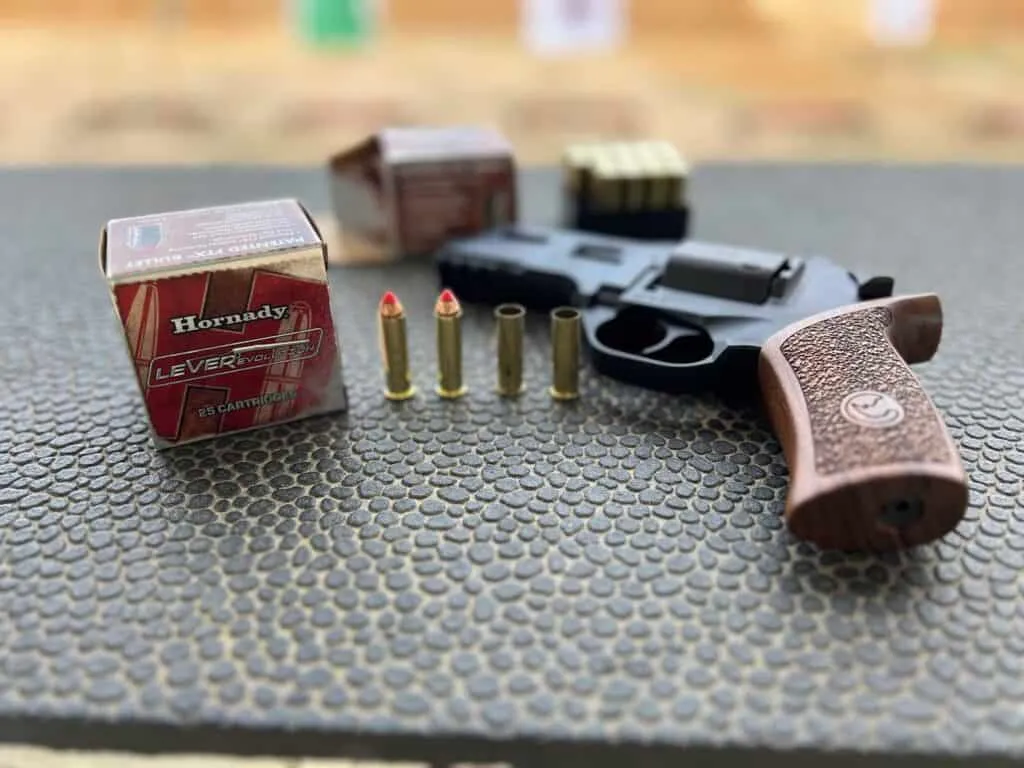 If you want something different in a revolver, check out the Chiappa Rhino 40DS. It turns heads at the range and offers a different experience than the other guns listed here.
Conclusion
The Ruger GP100 is an outstanding revolver. It looks great, and the finish is high enough quality to maintain those looks over long years of use. The GP100 is not just looks, though.
It has sufficient build quality and weight to handle shooting .357 Magnum frequently and in quantity. The Hogue Monogrip is outstanding and helps the revolver tame .357 Magnum's stout recoil and mitigates .38 Special's light recoil even further.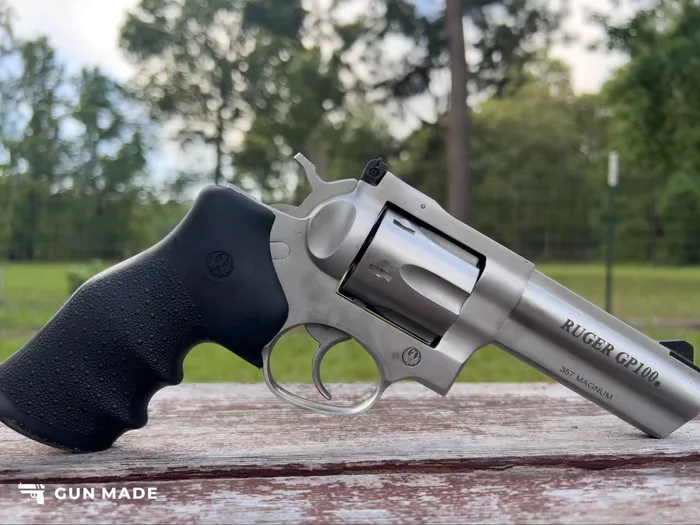 The trigger, cylinder, and hammer are smooth, offer quality lockup, and are well-timed. Not to mention, it's still affordable compared to the competition.
If you want a .357 Magnum revolver that is beautiful enough to be a safe queen and well-built enough to handle hard use, grab a Ruger GP100.
Have some thoughts or any questions about the Ruger GP100? Leave a comment below or find us on your favorite social media platform.
Explore more