Shadow Systems MR920 Review: Not Just Another Glock 19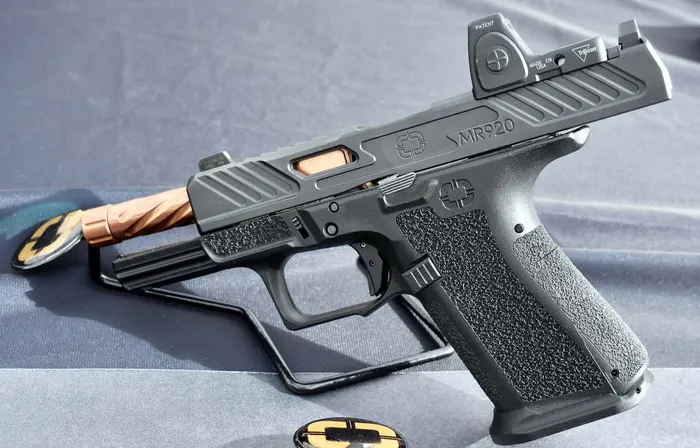 Shadow Systems MR920 Review: Not Just Another Glock 19
Introduction
My first experience with the Shadow Systems MR920 was at SHOT Show 2023 Range Day. My initial impression, another cooled-up Glock 19. However, after sending a few rounds downrange, my second thought was this gun is no Glock, and it shoots incredibly flat.
Shadow Systems started designing and manufacturing firearms in Plano, Texas, in 2016. Their philosophy is to provide the "most uncompromising everyday use firearm, for any mission requirement, and for all people, at a price point that changes everything".
The MR920 is billed as the most controllable compact pistol on the market. And, while the MR920 is fully compatible with Glock 19 holsters, magazines, and other gear, that is where the two platforms part ways.
While the Glock 19 may be the most common combat handgun on the planet, it's not for everyone. For me, Glocks do not fit my hand very well, and as a result, I don't shoot them as well as some other platforms.
However, I had no issues with the MR920, shooting it fast, and keeping my shots center mass.
With that in mind, let's take a deep dive into the MR920 and why it's different than a Glock.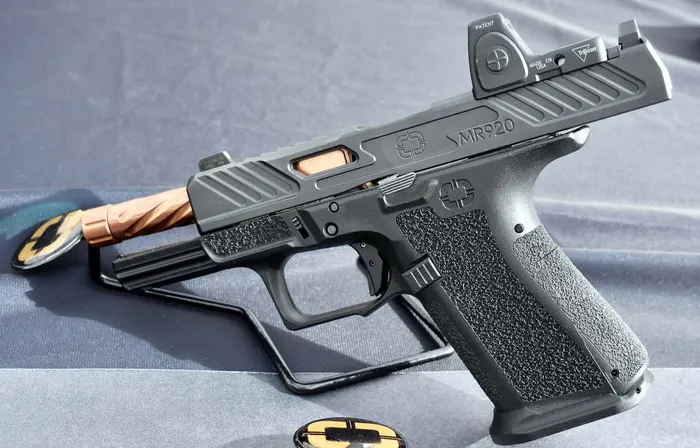 Shadow Systems MR920 Review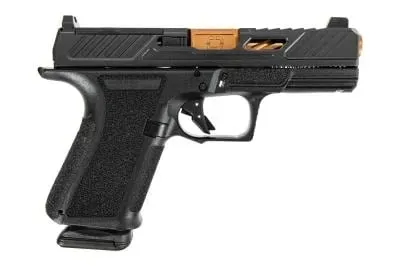 As with any firearm acquisition, you need to ask yourself what role the new gun will play in your collection. The MR920 will fill any role you ask of it. In fact, MR stands for Multi Role. However, it is clearly built to be an easily carried self-defense handgun.
With the mind-boggling array of excellent polymer-framed handguns to choose from, why consider the MR920?
For starters, it is made in America by dedicated combat veterans, former law enforcement officers, and competitive shooters. In other words, folks who know what is needed in an absolutely reliable semi-automatic handgun.
Anyone looking to purchase a self-defense handgun would do well to consider the MR920.
The shooter who wants the reliability of a Glock but wants a few extra features would be the ideal customer.
In my experience, the first thing a Glock needs is new sights, then a trigger upgrade. The MR920 comes with high-visibility combat sights and a very good factory trigger. Add those two upgrades to the base price of a Glock, and you are very close to the price point of the MR920.
Those looking strictly to save money and wanting the very basics in their carry gun probably don't need the features of the MR920.
Specifications
| | |
| --- | --- |
| Caliber | 9mm |
| Magazines | Ships with 2 15-round Magpul Magazines |
| Sights | Front: Green Tritium. Rear: Black Serrated |
| Barrel | 4" Spiral Fluted (Unthreaded) 4.5" (Threaded) |
| Grip/Frame | Textured Polymer with 3 extra backstraps |
| Slide | Black Nitride. Aggressive forward, rear, and top serrations. Cut and ready for Red Dot Optics |
| Trigger | Safe-Action Type. 4.5-5.0 pound pull |
| Action | Striker Fired |
| Weight | 22 ounces |
| Overall Length | 7 1/8" Long |
Pros and Cons
Pros
Lightweight

Multi-Footprint Optic Cut

Glock 19 Equipment Compatible

Feature Rich Grip/Frame
Lightweight
The MR920 only weighs 20.9 ounces, yet the recoil impulse is not sharp or uncomfortable. The light weight of the gun would encourage daily carry.
Multi-Footprint Optic Cut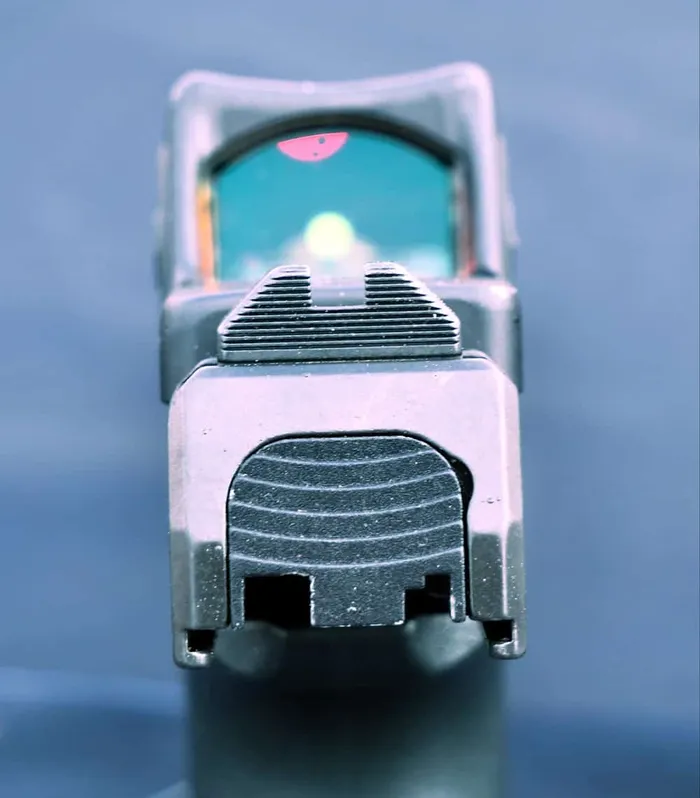 Choose your red dot and mount directly to the slide. No need to order an adapter plate. And the dot will sit low enough to provide a lower 1/3 co-witness with the factory sights.
Glock 19 Equipment Compatible
Though the MR920 seems like 'just another Glock', it is not. However, you can easily source  holsters, lights, magazines, and other accessories for the Glock 19 platform to utilize with your MR920.
Feature Rich Grip/Frame 
The grip is nicely stippled to provide a great non-slip grip without being overly aggressive or uncomfortable.
The gun ships with additional backstraps so it can be tailored specifically to your hand and provide a Natural Point of Aim.
The magwell also has an integral mag funnel to make reloads fast and easy.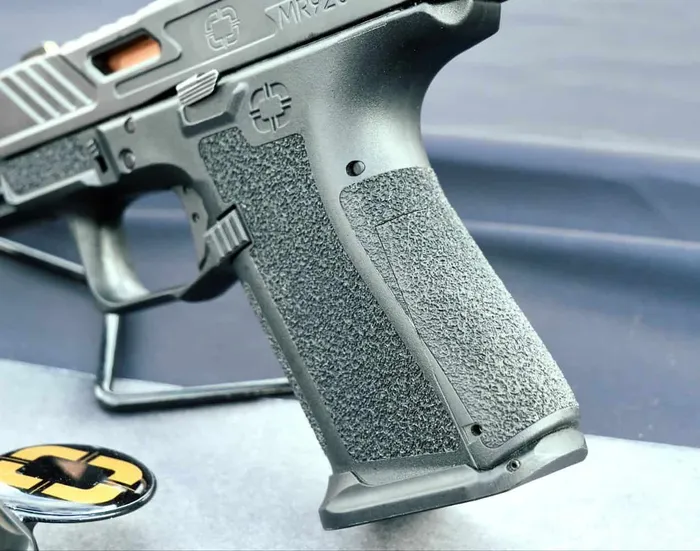 Price
For some, the price may be a little high if the MR920 is perceived as another Glock wannabe. However, if you look at the trigger, the sights, the adjustable grip, and the multi-footprint optic slide, you are money ahead.
On The Range
As I mentioned earlier, I am not a 'Glock guy.' Nothing against Glocks. They just aren't a gun or platform I am drawn to. That said, I recommend Glock compact models and the Glock 44 regularly to newer shooters in the Basic Handgun classes I teach at The Range LLC.
When I first saw the MR920, I figured it would be much like a tricked-out Glock or a ZEV. I was mistaken on both accounts. The aggressively cut slide with the weight-optimizing window cut immediately caught my eye – very cool looking and functional. Racking the slide was easy, as was a quick press check using the front serrations.
The top of the slide serrations are a nice touch and also look cool.
The range gun I had the opportunity to shoot had a fairly flat backstrap mounted, and it fit my hand very well and allowed me to pick up the dot in the Trijicon RMR instantly.
The trigger was much better than most standard factory triggers. Take-up was very smooth, the press through the wall was hardly noticed, and the break was clean. The reset was also very short and, although light, was detectable even when shooting at a brisk pace.
I've shot a lot of factory Glocks, some ZEV's and some dolled-up Glocks, and the MR920 trigger was better than all of them.
After shooting the gun the first time, my first reaction was, 'man does this gun shoot flat!' The dot barely moved during recoil, and the recoil impulse was very soft. My next thought was, 'this gun will be easy to shoot fast,' and it was.
I put a few more mags through the gun and had no trouble keeping all shots centered on the target. Part of the controllability of this gun is the grip angle. Part is the high undercut under the trigger guard, allowing you to get a very high grip on the gun, and part is the extended beavertail that also contributes to a higher grip on the gun.
Again, because time is so short at Range Day, I did not have a chance to really shoot groups and test accuracy. But from a purely defensive point of view, the MR920 is more than accurate enough for an EDC gun for civilians and law enforcement.
I experienced perfect functioning of the gun I shot. The magazine release button was easy to hit, and the Magpul magazines dropped free easily.
Overall Thoughts
Though time is limited and lots of folks want to get their hands on the guns at Range Day, the biggest takeaway for me with the MR920 was how flat it shoots. For a compact gun, there is very little felt recoil, and the short reset made follow-up shots extremely fast, smooth, and easy.
None of my personal guns wear red dots at this time. That said, the NPOA frame allowed me to find and keep the dot centered on the target regardless of how fast I was shooting—something I have not experienced, even with full-size, heavy-match guns.
The slide lock and magazine release are easy to reach and run. The magazines dropped free with no issue, and the magazine well made loading quick and intuitive.
Features
Grip/Frame
The NPOA (Natural Point Of Aim) design of the MR920 frame does make the gun point easier, in my opinion.
The fact that the shooter can fine-tune the grip angle with the included backstraps means this gun will likely fit a broader range of shooters than a standard Glock frame.
The aggressive texture, high undercut trigger guard, and high beavertail all combine to make this a very controllable and comfortable gun to shoot.
Trigger
The flat-face trigger, as mentioned earlier, was very smooth and light.
With an advertised average pull weight of 4.5-5 pounds, accurate shooting is very easy with this gun. The really noticeable thing about the trigger was the short, light reset.
By only going back to the reset, the gun was really easy to shoot fast.
Barrel
The match-grade barrel is machined from 416 stainless steel and features a spiral-cut flute which helps reduce weight. The barrel is available in standard-length, non-threaded models and threaded models to accept compensators or suppressors.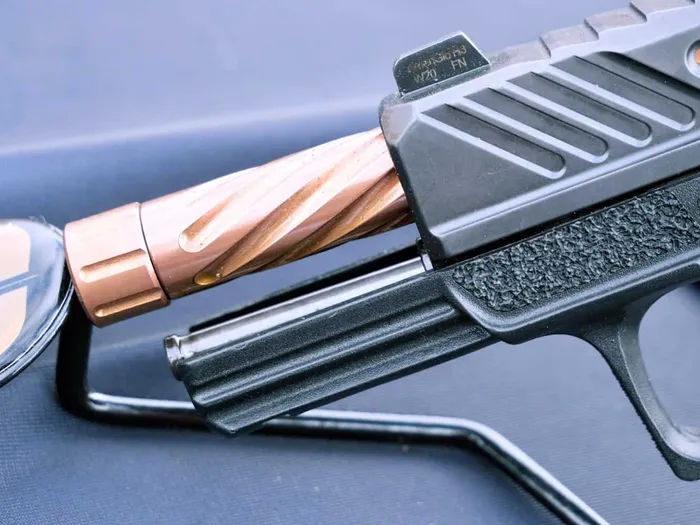 Slide
The slide is very attractive and utilitarian.
With deep cut serrations front and rear, gripping the slide to manipulate the gun is very easy.
Additionally, the Elite models feature serrations on top of the slide and the weight-optimizing window cut on the sides. The aggressive cuts are very striking and give the gun an all-business look.
Accessories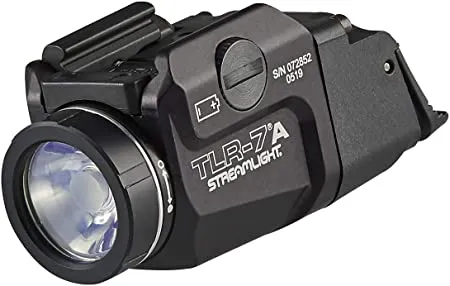 The MR920 has a rail and one slot to make mounting a light simple.
For a dedicated carry/defensive gun, the Streamlight TLR7A would make a lot of sense. With 500 lumens, you can easily identify threats in less-than-optimal lighting. The TLR7A mounts to the rail and won't extend beyond the muzzle.
You will have to purchase a holster specific to the light you choose for proper fit and retention.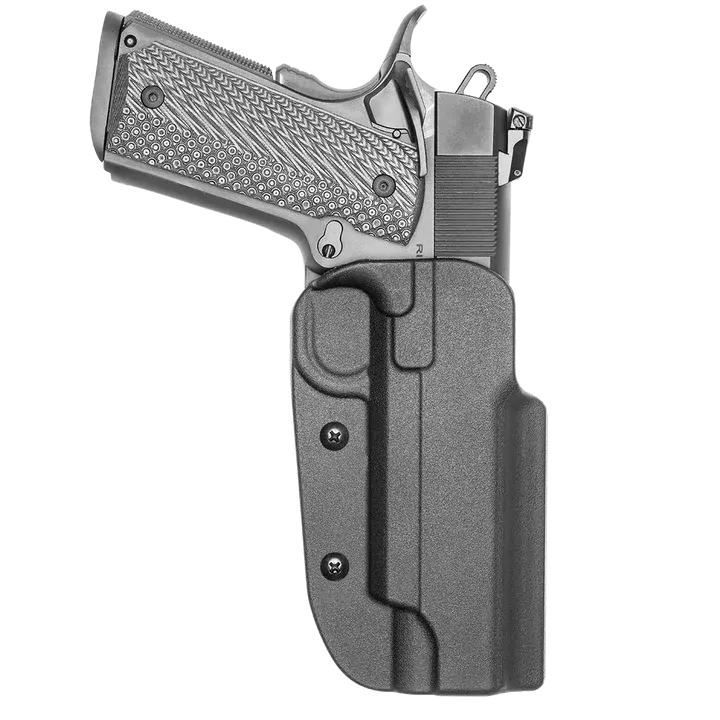 Many gun owners have a bin full of holsters they thought they'd like.
Finding the right holster for your preferred style of carry is difficult. Take a look at BladeTech for some options that won't break the bank and will provide secure, comfortable carry for many situations.
The Signature OWB holster is a solid place to start your search.
The new Comp-Tac EV2 Max holster is a viable option for inside the waistband appendix carry if that is more your style.
Keep in mind the MR920 is compatible with most Glock 19 holsters, so you have a wide range of options available.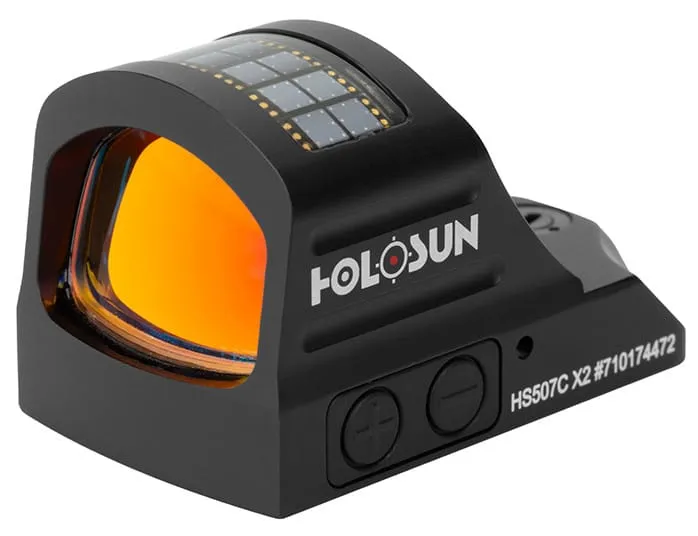 Because the Shadow Systems slides are cut to fit a wide variety of optics, you don't need to worry about finding adapter plates to mount the optic of your choice.
There are Holosun optics on literally every gun my wife owns, so I have a fair amount of experience with the brand. The 507C X2 is a compact sight with the option for multiple reticles and can be ordered with green or red reticles depending on your use and preference.
Alternatives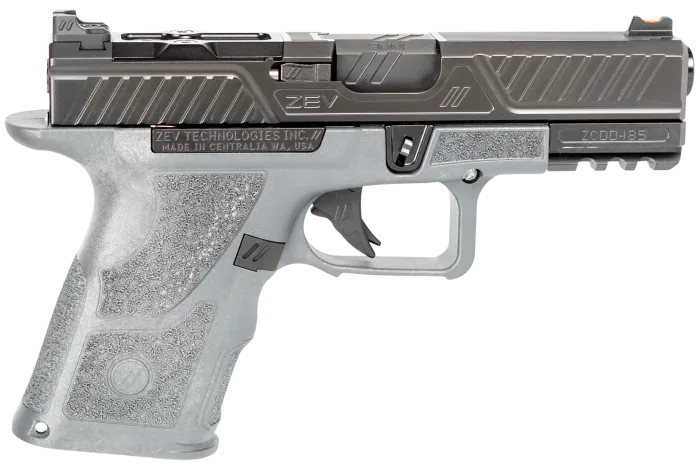 ZEV pistols are built in my home state of Washington, and they are definitely a cut above when you look at the features and upgrades included on these guns.
The OZ9C incorporates a full-size grip with a magwell, excellent stippling, a compact receiver, and slide, and it comes with an optic-ready cut for the RMR footprint. The slides have aggressive cuts for ease of manipulation, and sturdy, combat sights.
Glock pattern magazines are readily available for the OZ9C. For those looking for a very shootable personal defense firearm with a host of custom options, the ZEV models are worth a serious look.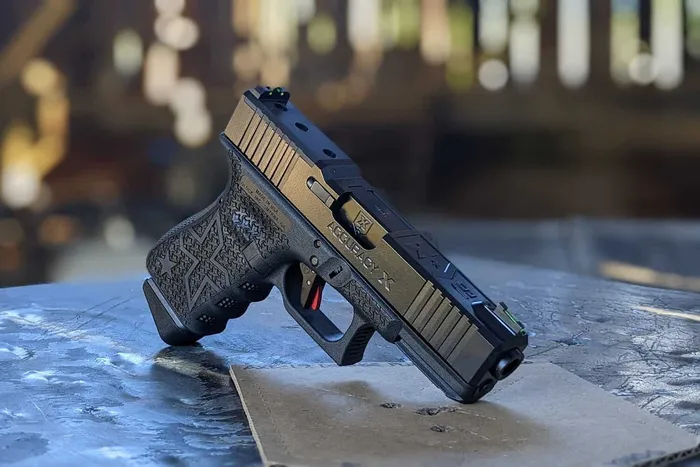 The Axe-19 from AXI is a custom Glock 19 ready for your daily carry or defensive handgun needs.
The custom Multi-Sight/SLOT Sight System allows you to easily change your iron sights as well as many popular red dot sights to optimize your sights to your shooting conditions.
The grip is designed for a high grip to allow for better control and follow-up shots, and the serrated slide gives the shooter a positive purchase when manipulating the slide.
The guns ship with two magazines and a logo-ed hard case. The MSRP may be steep for some, but it is a fully customized gun.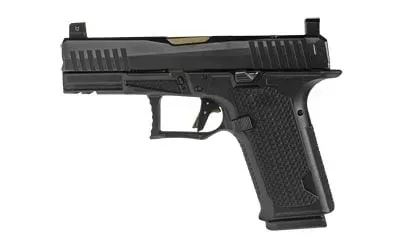 The DUSK 19, a fresh release from Lone Wolf Arms, and the Shadow Systems MR920 are both esteemed Glock 19 clones, presenting gun aficionados with high-quality alternatives to the mainstream model.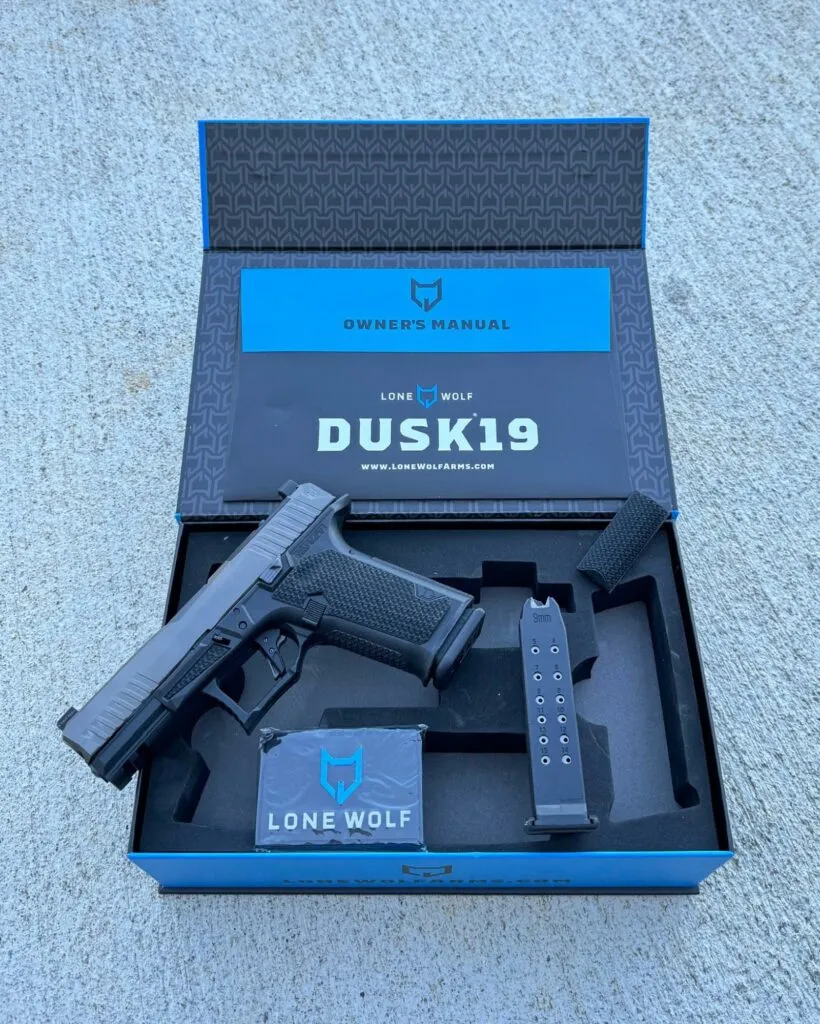 While the DUSK 19 is notable for its array of aftermarket enhancements, including a specialized slide design for optic compatibility and the innovative Lone Wolf Ultimate Adjustable Trigger, the Shadow Systems MR920 has been recognized for its robust build, ergonomic grip design, and improved control features.
Both pistols provide a blend of the reliable Glock 19 platform with their unique improvements. Deciding between the two would hinge on individual preferences for specific features and brand loyalty.
Check out our Lone Wolf Dusk 19 review for more information!
FAQs
Is the MR920 a Glock 19?
Hopefully, we've answered this question in the paragraphs above. The short answer is NO.
The Shadow Systems guns are similar to a Glock 19 in some respects, such as overall appearance, size, and compatibility of some components, such as holsters and magazines.
Shadow Systems is a designer and builder of premium firearms. And, while they do manufacture custom Glock parts, their handguns are built on their designs, parts, and tooling.
What is the Difference Between the MR920 and MR920L?
The MR920 is built on a compact frame with barrels of 4" and 4.5" for threaded models.
The MR920L retains the compact frame but has 4.5" and 5" barrels for threaded models. So those preferring a bit longer barrel with a compact frame for ease of carry may want to consider the 920L.
What Generation of Glock is the MR920 Based On?
The MR920 is based roughly on the Glock 19 Gen 3 models.
Although the Shadow Systems guns are built from the ground up as stand-alone designs, some parts are compatible with Gen 3 Glock parts, and, as mentioned earlier, holsters and magazines are readily interchangeable.
Wrapping Up
For those who like and appreciate the Glock 19 platform, you owe it to yourself to get your hands on a Shadow Systems gun and burn a little powder.
Glocks are great guns, but many need to tinker and add custom parts to bring the gun up to their personal standard.
The MR920 really solves all your problems by providing the optic cut ready for many of today's most popular red dots sights. Interchangeable backstraps enhance your natural point of aim.
The slide is serrated to give you the most control and optimized to reduce felt recoil and provide fast follow-up shots. And the trigger is as good out of the box as many custom aftermarket triggers.
It may be time to treat yourself to a custom gun for your EDC for defensive needs.
If you've had the chance to shoot or own a Shadow Systems firearm, tell us about your experience and what you love about your gun.
Explore more