Lone Wolf Dusk 19 Review: A True Glock Replacement or Just Another Clone?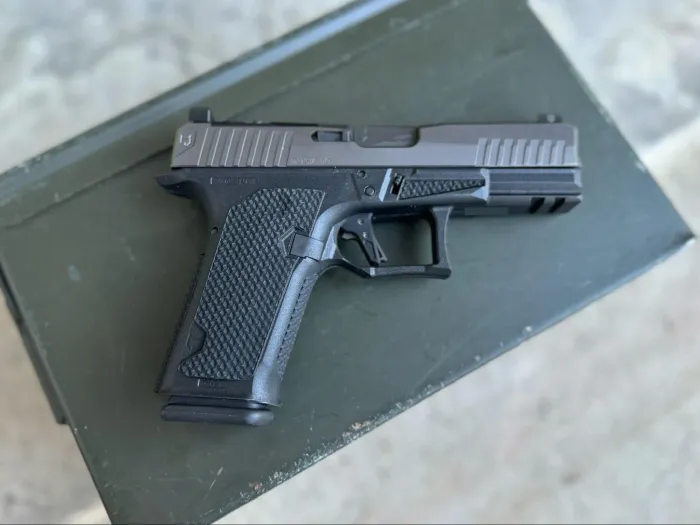 Lone Wolf Dusk 19 Review: A True Glock Replacement or Just Another Clone?
If you're a Glock fan, there is a high probability that you are familiar with Lone Wolf Arms. Lone Wolf has been one of the largest and most popular Glock aftermarket part manufacturers/suppliers for years.
It wasn't until just a couple of years ago that Lone Wolf brought to market its first complete handgun utilizing its components. Today, we will look at its most recent complete pistol offering, the Dusk 19.
The main question we look to answer is: is the Dusk 19 just another Glock clone or a possible Glock replacement? Keep reading to decide for yourself!
Lone Wolf did send us this Dusk 19 to review, but don't you worry; we keep it real and honest 100% of the time.
Lone Wolf Dusk 19 Review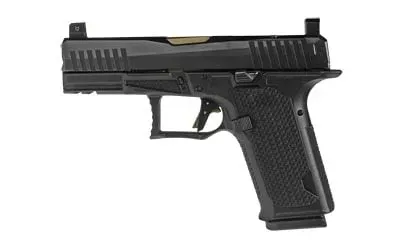 Specifications
| | |
| --- | --- |
| Caliber | 9mm |
| Capacity | 15+1 |
| Barrel Length | 3.9 Inches |
| Overall Length | 6.95 Inches |
| Height (w/out sights) | 4.61 Inches |
| Upper Width | 1 Inch |
| Lower Width | 1.14 Inches |
| Magwell Width | 1.23 Inches |
| Weight (w/out mag) | 19.8 Ounces |
Pros & Cons
Pros
Upgraded slide (optic cut, front & rear serrations)

PVD coated barrel 

Suppressor height night sights

Flat face trigger & enlarged trigger guard with undercut

Integrated flared magwell 

Reliable and accurate

Accepts a wide variety of mags (Glock compatible)
Cons
Lack of ambidextrous controls

Grip texture is too aggressive (for my taste)

More expensive than a Glock
First Impressions & Unboxing
The box that the Dusk 19 comes neatly packed in is much nicer than your standard manufacturer's cardboard box. A custom-cut foam insert contains a spare 15-round magazine, an interchangeable backstrap, and a PVC patch (I always love a good patch). Of course, the gun is in the box, too, with the second 15-round magazine inside.
My first impressions were positive, as the attention to detail is evident with most parts of the gun. It's a smidge smaller and lighter than a Glock 19 and has much more aggressive grip texturing. So much that I'd prefer it toned down a bit.
A few quick dry fires revealed a super clean and crisp trigger, so I was excited to hit the range with it.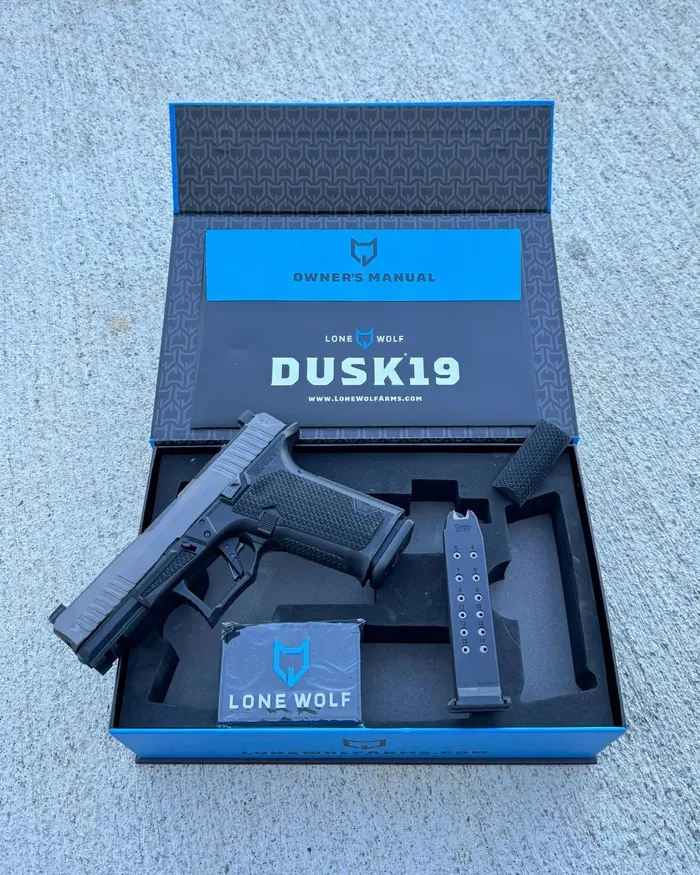 How We Tested
Reliability
Only more time will tell, but after 200 flawless rounds of varying weights and bullet types, I wouldn't expect to see anything out of the ordinary arise. The following section will detail the ammo I used to test the Dusk 19.
Ammo Used
The Dusk 19 had no issues with the ammo that I put through it. I shot 150 rounds of 124-grain Blazer Brass FMJs, 25 rounds of 115-grain Hornady Critical Defense FTXs, and 25 rounds of 135-grain Hornady Critical Duty Flex Lock.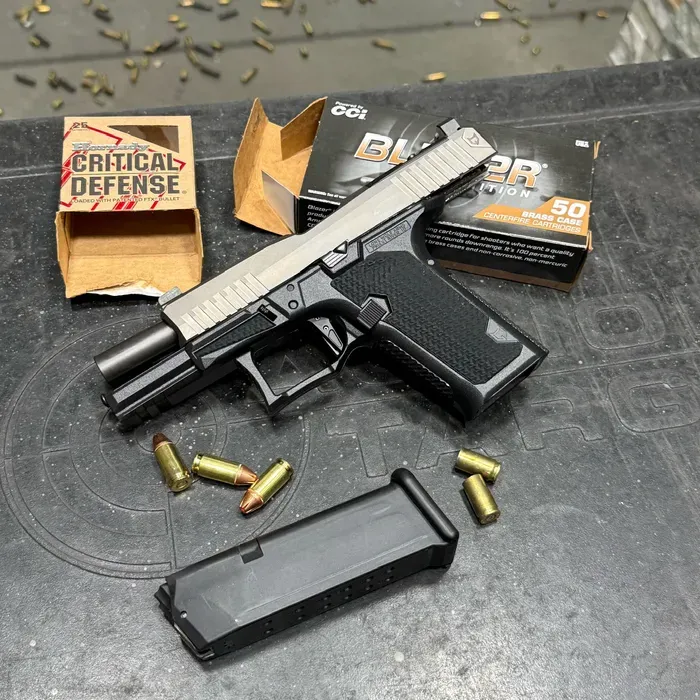 Accuracy
I've been shooting Glocks for many, many years. Still, when I pick up a "new" Glock, it takes me a few mags to find my groove.
With the Dusk 19, I found that groove with just a single magazine. I kept to indoors shooting during my time with it, but any target between five and 25 yards didn't stand a chance.
Now, I'm not saying that all 15 rounds of each magazine resulted in only one hole at 25 yards or any distance for that matter, but as far as any defensive distances are concerned, I would be more than confident with the Dusk 19.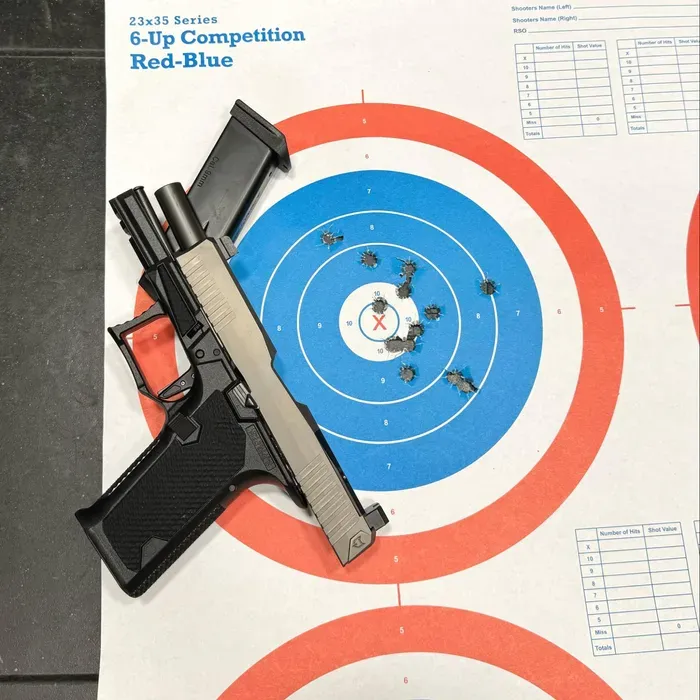 Features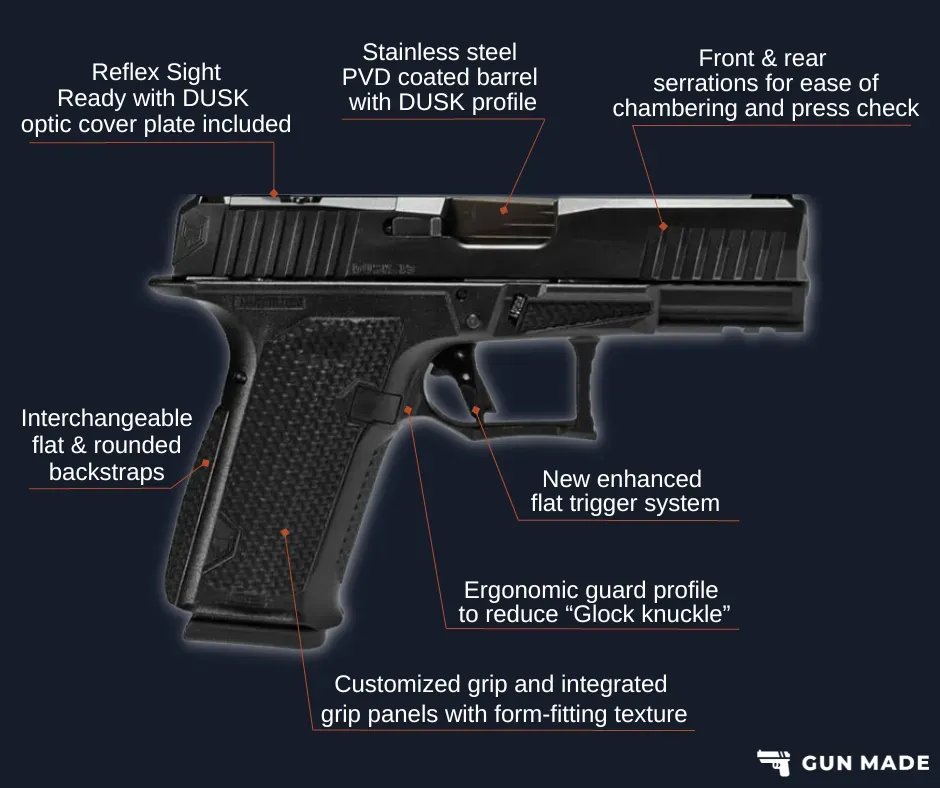 Optics Ready Slide w/ Suppressor Height Night Sights
The slide is my favorite aspect of the Dusk 19. It has almost everything you'd want, minus some porting.
The rear slide serrations are deep enough to actually assist with racking the slide, the front slide serrations help with press checking, and it comes optic ready with a custom optic cut cover plate.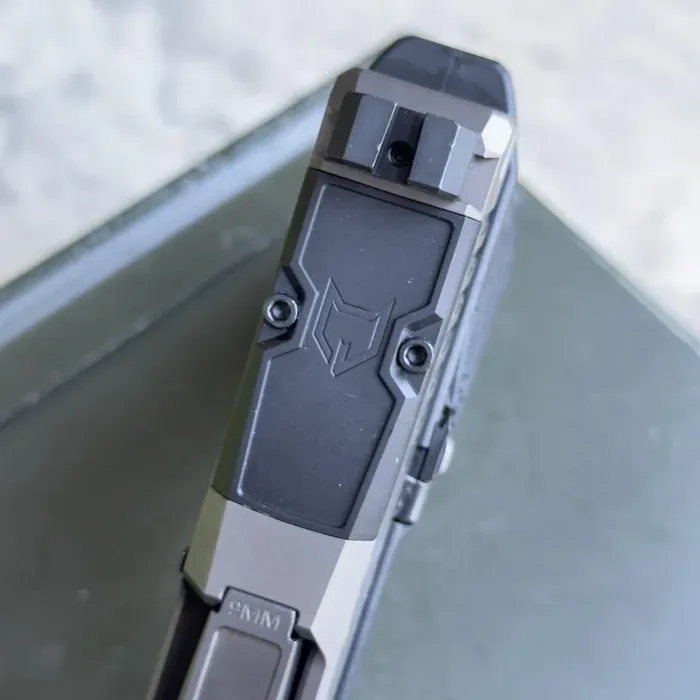 On top of all that, Lone Wolf threw some suppressor-height Night Fision night sights on! I can't tell you how frustrating it is when a manufacturer doesn't include taller sights, and then they are rendered useless depending on which optic you decide to run.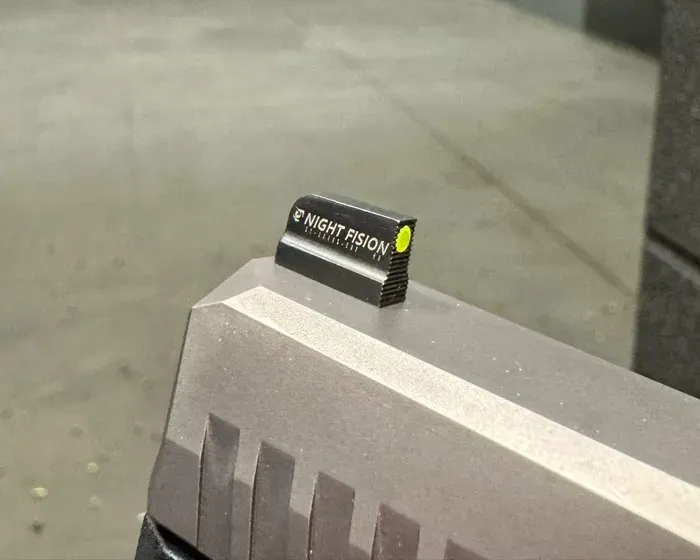 Night Fision has some of the brightest tritium sights on the market and excellent customer service. These are a pair of sights that I would actually have on my list of possibilities if I were choosing them myself.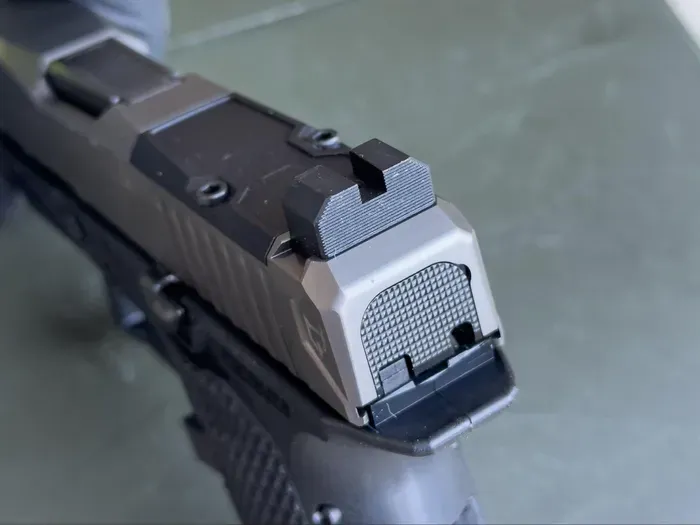 Enhanced Grip
Alright, so I'll be honest, I'm very torn on the grip. Size-wise, it's great. The interchangeable backstraps are appreciated. The beavertail is comfortable. The flared magwell is a nice touch.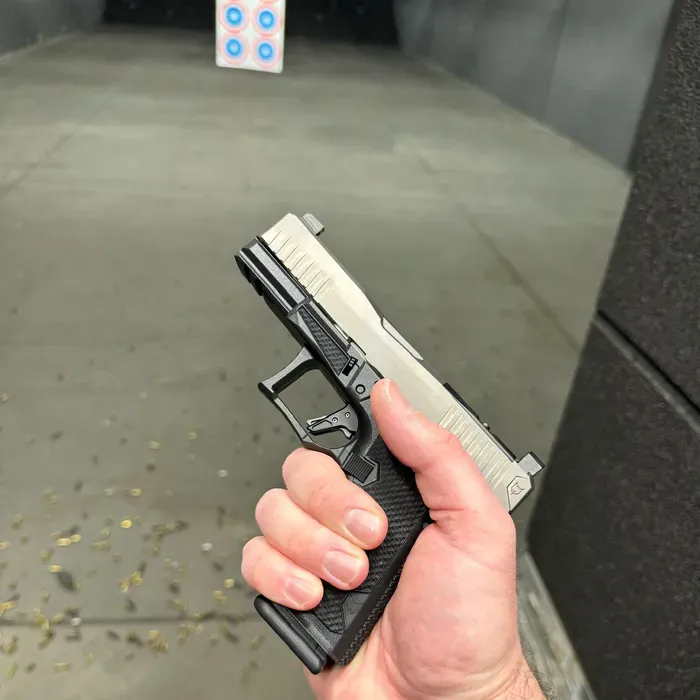 BUT…call me a baby if you want; the grip texturing is too darn aggressive. I broke up my shooting over a couple of range trips simply due to time, but I'm glad I did because shooting many rounds through this at once would likely have irritated my hand.
Especially when it comes to drawing and running drills, maybe not so much if just standing still and slowly putting rounds down range.
Even from a first feel, picking the gun up out of the box, I was surprised at how aggressive it was.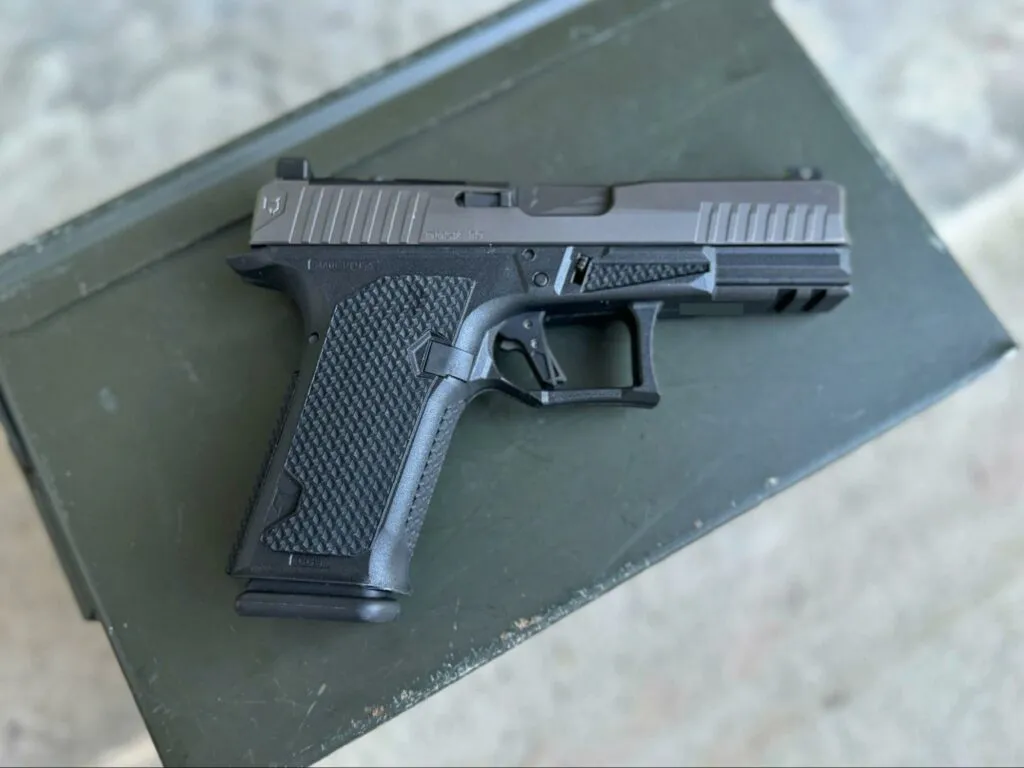 Flat Face Trigger System
I didn't have the opportunity to shoot the Dusk 19 with anyone else to hear their feedback on the trigger, but I can tell you mine…I love it. The break is crispy, the reset is quick and defined, and the pull is slightly lighter than a stock Glock but not too light. It's very consistent and repeatable, allowing follow-up shots to stay tight.
The trigger guard has a deep undercut to allow for a high grip, but I wish the trigger guard's interior had more room. It may be tough to shoot with any sort of gloves on.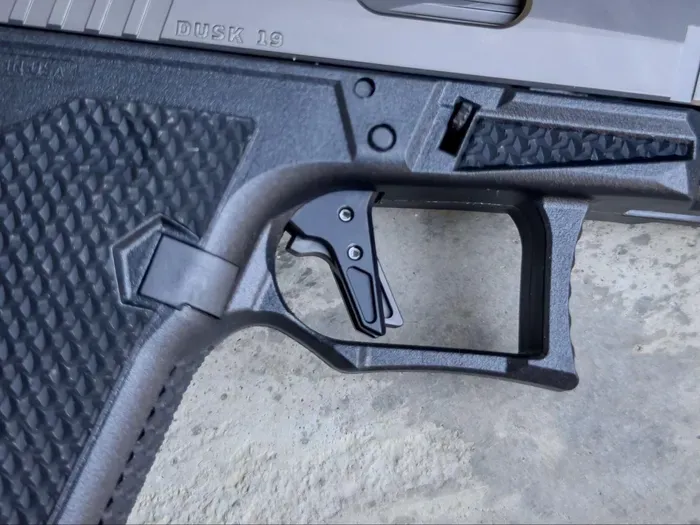 Overall, though, the trigger itself is fantastic. There would be no need to upgrade or swap it for a different one.
Score Card
Reliability (10/10)  
It was all smooth sailing during my time with the Dusk 19. I didn't experience any malfunctions.
Ergonomics (8/10)
The pointability is nice, but I wish it had ambidextrous controls and less aggressive grip texturing.
Customization (10/10)
The whole gun is custom and still allows you to add accessories such as optics, lights, and more.
Appearance (8/10)
It looks better than a Glock, but the grip looks like it narrows towards the magwell and looks strange to me.
Value (8/10)
It's too early to tell where the Dusk 19s will land regarding a "street value," but the MSRP of $699.95 seems steep.  
Accessories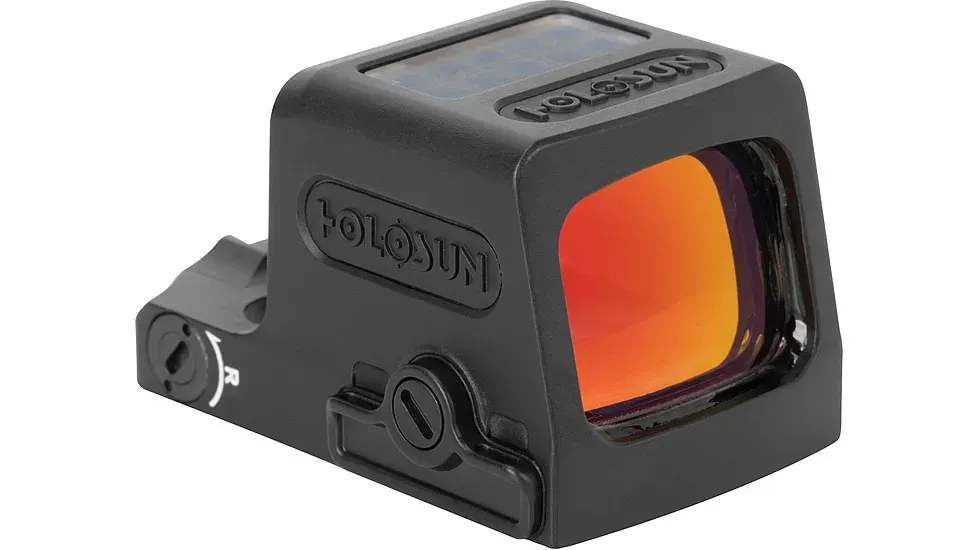 The Holosun EPS MRS delivers a ton of value with its innovative features. It has a built-in solar panel, shake-awake technology, and multiple reticles to choose from. It's also durable, reliable, and available with a red or green reticle.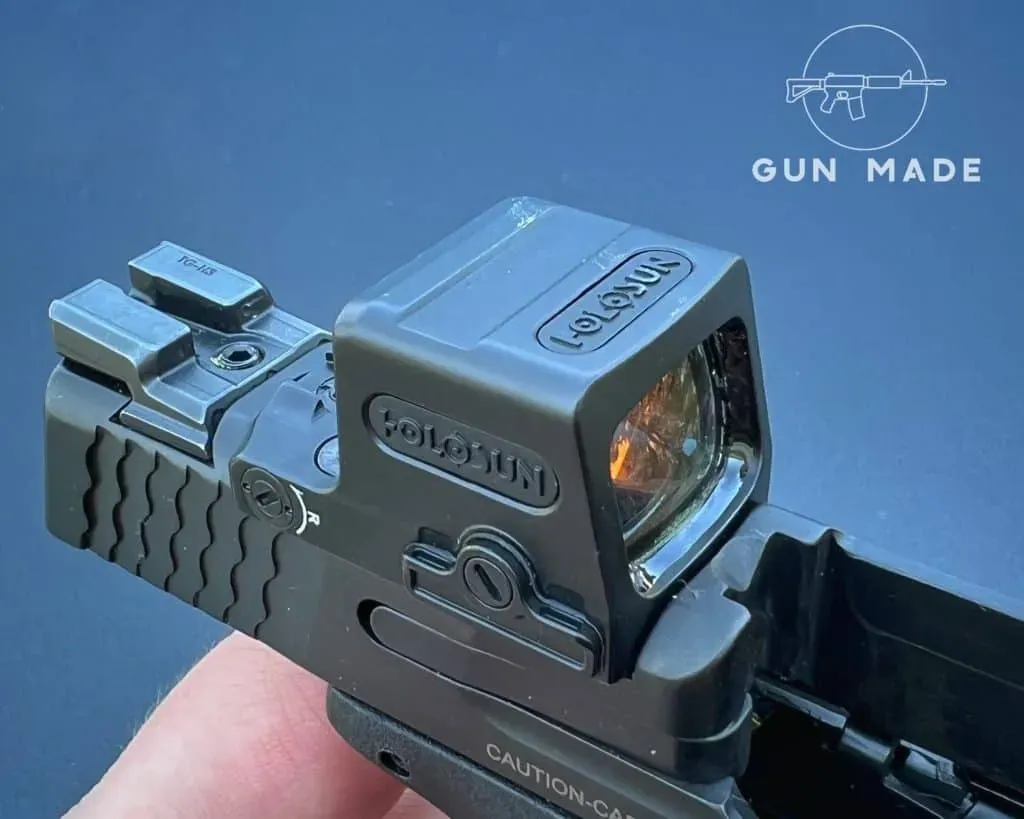 Overall, you get a ton of bang for the buck.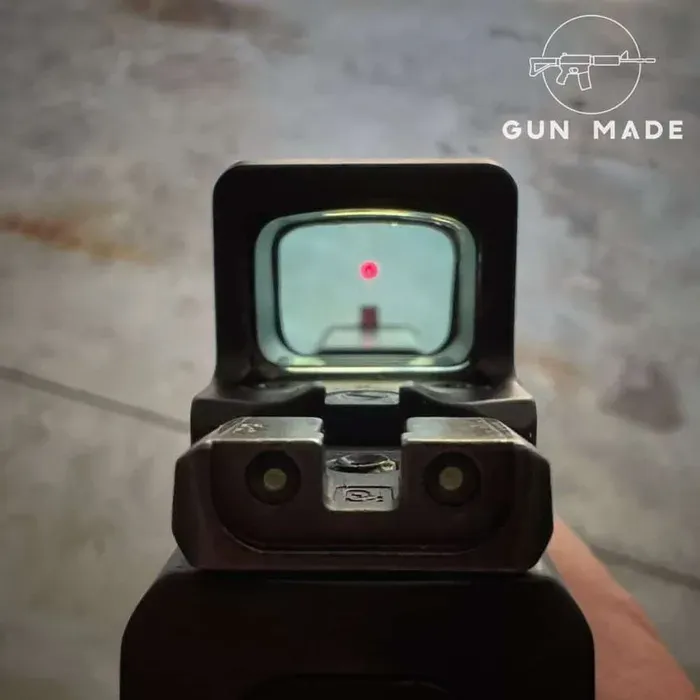 Check out our Holosun EPS review for more photos and information!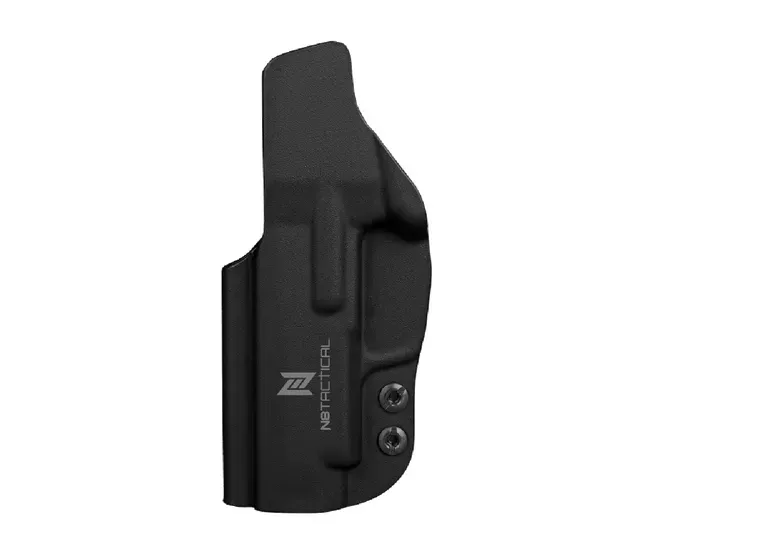 There is no shortage of IWB holster companies out there. You can basically find any style, pattern, and configuration you want, with few exceptions, of course. Many holster manufacturers offer very high-quality products; it sometimes comes down to just finding the configuration and pattern you really want.
N8 Tactical was nice enough to send this holster out to pair with our Dusk 19 for the review, so a big shoutout goes out to them. This was my first experience with N8 Tactical, but I'm always down to try new holsters!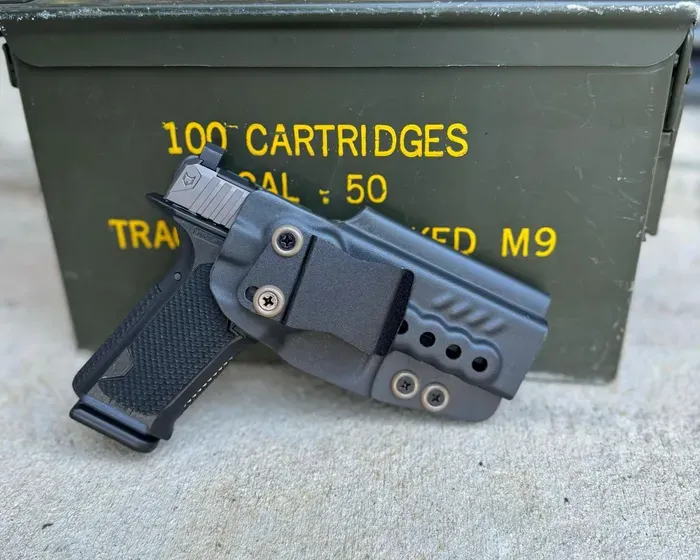 The Kydex is molded and finished nicely, the hardware is secure and sturdy, and the holster is cut to accept a variety of optics. My only complaint is that I don't get that audible "click" notifying me that my gun is securely in the holster all the way. Other than that, I've got no complaints.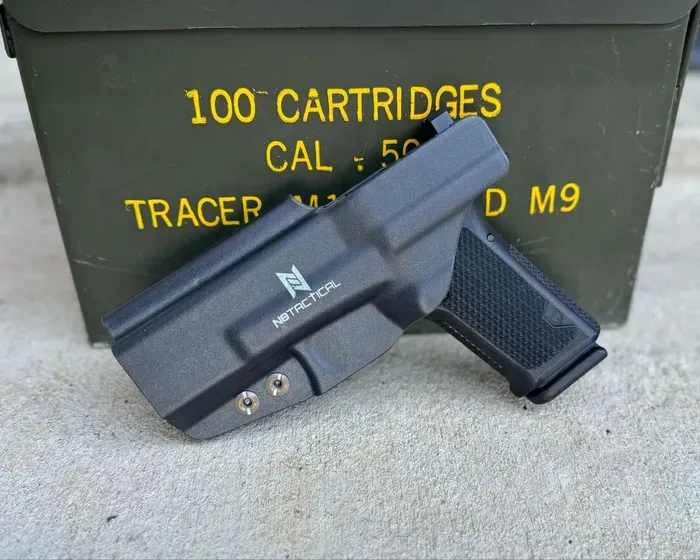 Alternatives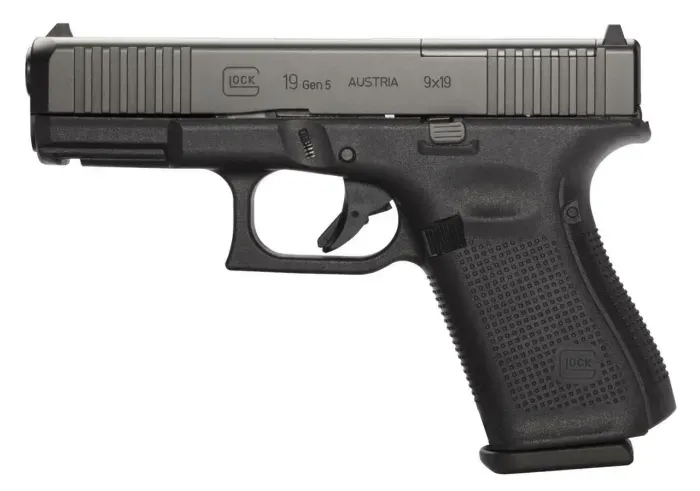 There is a reason there are so many Glock "clones" out there…
I couldn't give a couple of alternatives without including the OG. I would say go for the Gen5 MOS model, though, so you have the optic ready slide, improved trigger, forward slide serrations, and the finger grooves removed from the grip.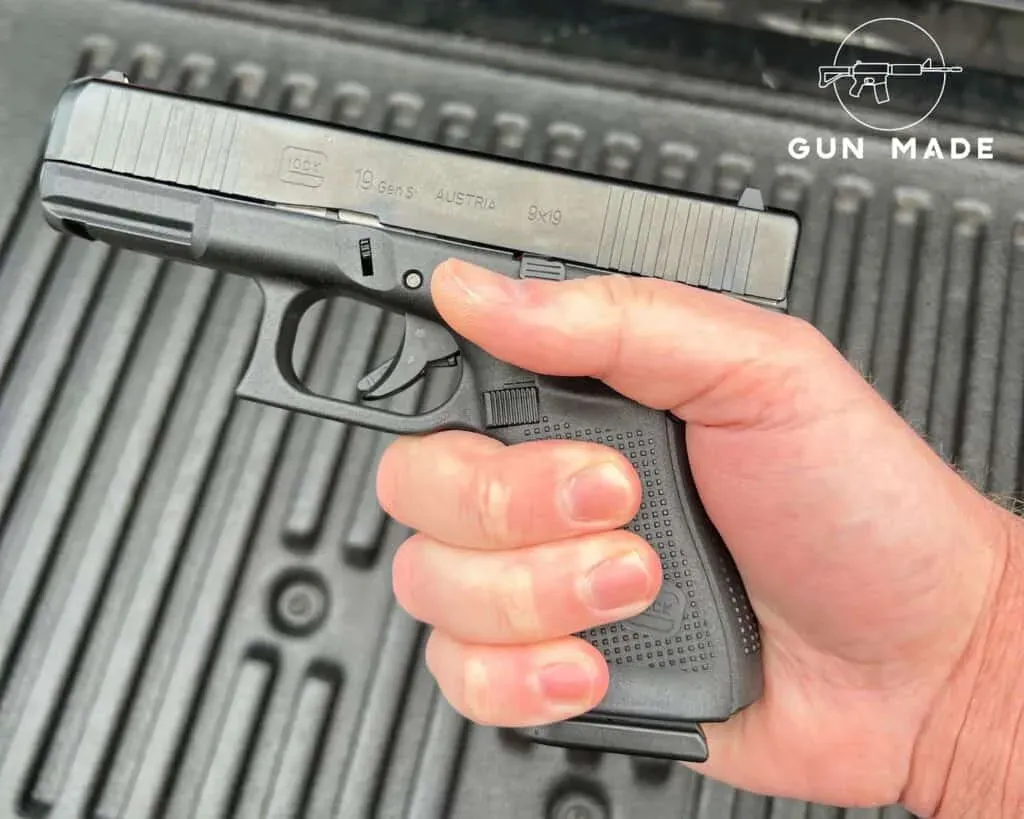 It's reliable, has a solid 15+1 capacity, and has more aftermarket support than probably any other platform. You'll also save some money if you don't plan to upgrade or change anything afterward.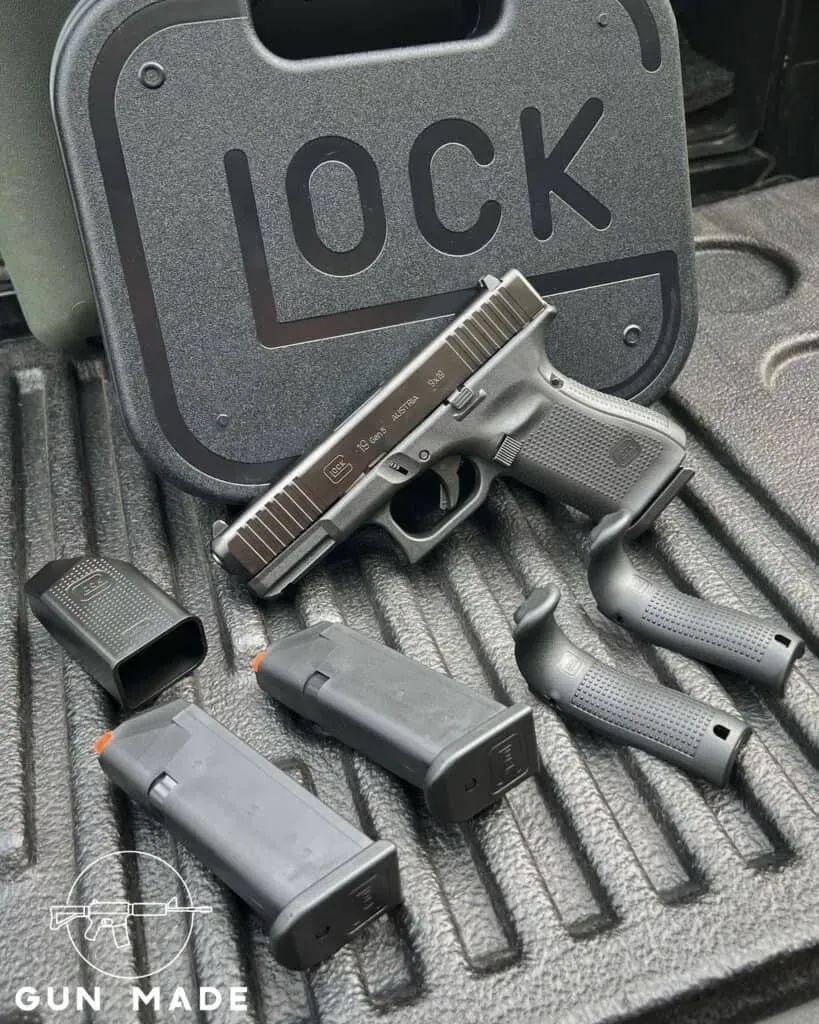 Check out our Glock 19 Gen 5 review for some additional information.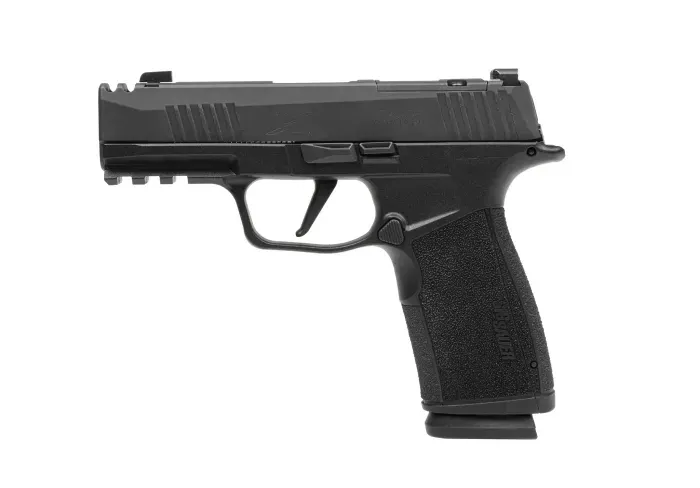 The Sig P365-XMACRO packs a ton of awesome features into a concealable package.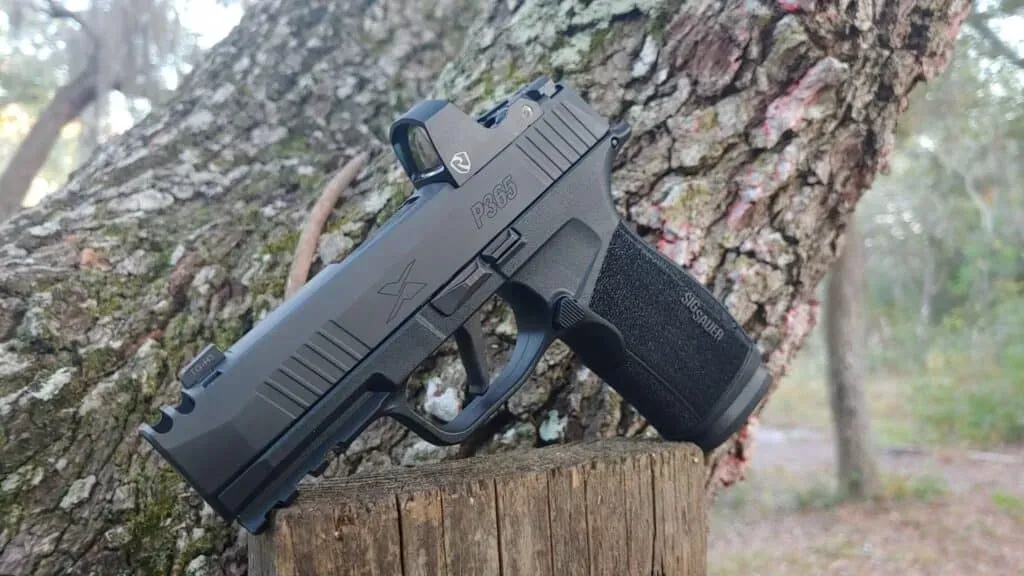 It comes with an optic ready slide, XRAY3 day/night sights, forward slide serrations, and a 17+1 capacity! Additionally, it has an undercut trigger guard, interchangeable backstraps, and beavertail to help maximize ergonomics.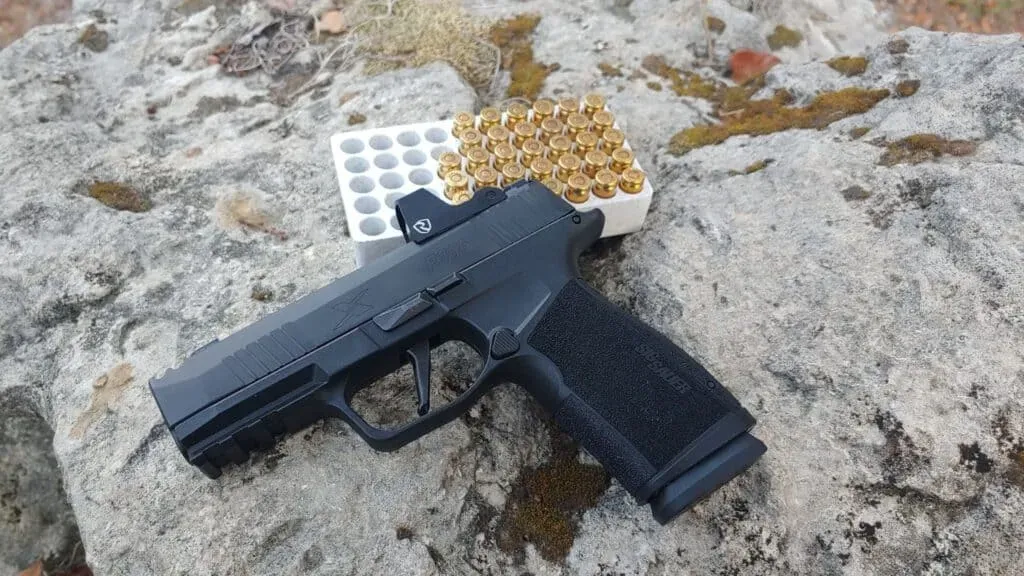 Oh yeah, and it also has a good amount of aftermarket support, so you can customize it until your wallet is empty.
Read our P365 X-Macro review for more info!
Final Thoughts
By now, I think we've established that the Dusk 19 is not just another simple Glock clone with a few minor upgrades. Lone Wolf paid attention to all the small details as if using a magnifying glass.
Is it reliable and accurate? You bet. Is it jampacked with upgraded components? Yes, sir, it is. Would I replace my Glock 19 with it? Probably not.
That's not because I believe the Dusk 19 is not a worthy sidearm or has any glaring issues, but because it doesn't have that extensive proven track record (yet) as Glock does.
However, if you're looking for a Glock-style pistol with many extra bells and whistles, it's worth checking out the Dusk 19 for yourself. Can you really ever have too many guns?
Have you upgraded any of your Glocks with Lone Wolf components? Have you had the opportunity to shoot any of Lone Wolf's complete builds? If you answered yes to either of those questions, drop your experience(s) down in the comments!
As always, stay safe, train hard, and have fun.
Additional Resources
Video Review
Unboxing & Disassembly
Explore more