Glock 48 Review: A Review Of The New Addition To Glock's Slimline Series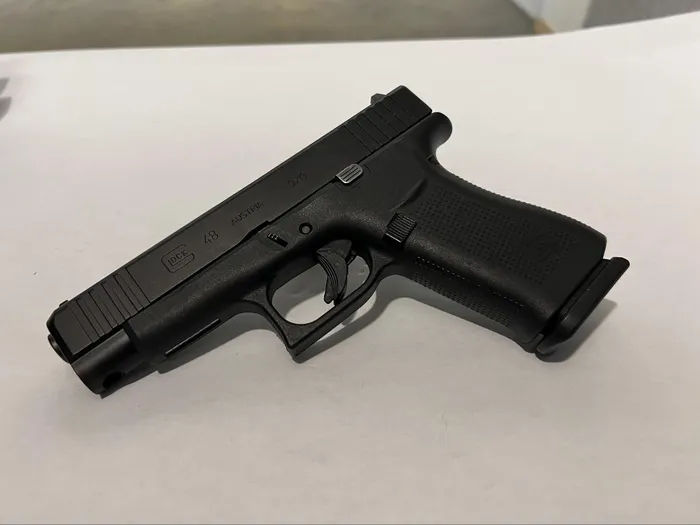 Glock 48 Review: A Review Of The New Addition To Glock's Slimline Series
Introduction
Good day, fine shooter. If you're a fan of Glock, then I have something interesting to talk to you about.
You and I are going to talk about the Glock 48. A new addition to the dedicated carry line of Glock pistols known as Slimline.
Before you ask, Slimline is basically a single-stack magazine and dimension cuts made by Glock to make the weapon as concealable as possible. Usually, the magazines are capped at 10 rounds.
Which is great for those of you who live in a state with unconstitutional magazine capacity laws like myself. Damn, Washington State.
So I went on down to my local range and tested the Glock 48 for a few hours to see if this pistol on a diet could be worth anything in the real world.
Luckily, I'm tight with the owner, so he let me break the one-round-per-second rule to stretch the legs on the Glock 48 in a concealed sense.
But we'll get into that more in a second. Let's jump into the review.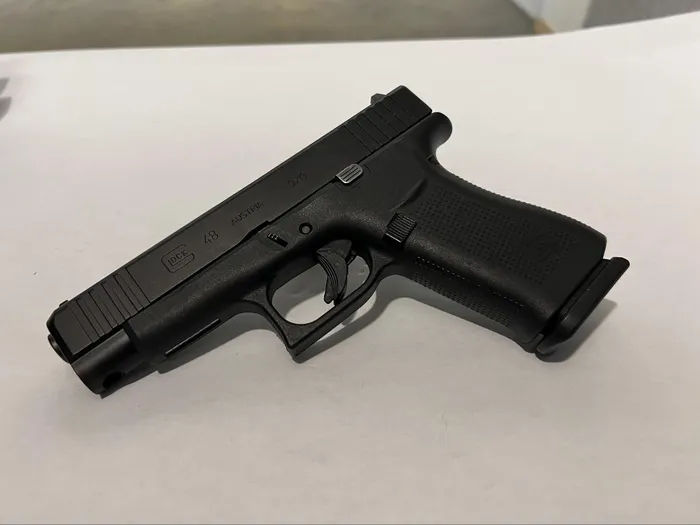 Glock 48 Review
The Glock 48 is meant to bridge the gap between a pistol that's easy to conceal but also easy to deploy and put rounds on target if the situation ever arises.
Usually, pistols that are used for concealed carry leave little room for the hands. And the grip is essential when shooting, especially where innocent lives may be inches away, and your placement matters.
The Glock 48 cuts down on size as much as possible while still leaving room for what's important.
But, the Glock 48 leaves out two crucial aspects of carrying. One of those is an optics cut, and the other is a Picatinny rail for mounting lights. And I'll explain why you need those in a bit.
Now, if you're willing to forego optics and lights and only want something easy to conceal but leaves room for your glorious mitts, then you may want to learn more about the Glock 48.
Specifications
| | |
| --- | --- |
| Caliber | 9mm |
| Magazine Capacity | 10 rounds |
| Overall Length   | 7.28 Inches |
| Barrel Length | 4.17 Inches |
| Weight | 1.15 Pounds |
| Action | Double   |
| Sights | Factory sights |
| Safety | Glock SafeAction Trigger Safety |
| Ambidextrous | No |
Pros & Cons
Pros
Easy to control

Good sight radius 

Extremely simple to use (it's a Glock)

Enough room for big mitts

Felt recoil is low
Cons
No optics cut

No rail for mounting a light

10 round magazine capacity

Weird opening where the recoil spring should rest

Nothing exciting, it's a Glock.
Testing the Glock 48 On The Range
Taking a Glock out on the range is an underwhelming feeling.
You already know you'll get a reliable, functional, no-frills block of polymer and steel that no one gets excited about on the range. But it will have your back when you need it.
It's like the linebacker friend of the pretty girl at the bar when you try and get her number. Not happening.
The Glock 48 was no different. But still, I was excited to get it on the range because it's the first Slimline Glock I've ever fired. And I wanted to see what that meant.
Loading 10 rounds into a Glock this size almost felt wrong. And I pushed down on the 10th round to see if it was a joke because there's no way that a Glock with the size of the 48 should only house 10 rounds.
Nope, not a joke.
But the grip is slimmer than the other Glocks. I guess that helps with printing. Still, I feel like there should be more than 10 rounds in there.
When you put 250 rounds through a pistol with a magazine capacity that low, reloading can become tiresome.
Since this Glock is made for concealed carry, I took it over to the private range so I could draw from the appendix and put it through the grinder with your typical Mozambique drill. You know, two to the chest and one to the head?
Yeah, those. And it ran through the drills perfectly. Even as I mag dumped into the target. No failures. Not even a glimpse of one.
Anyway, it's just as accurate as any other Glock. Reliability is the same. Admittingly, I was a bit off at first with my shot placement. But that's because of my trigger control. Once I got that under wraps, the 48 was right on every time.
All in all, it was a typical Glock on the range. Nothing special, and everything you need it to be.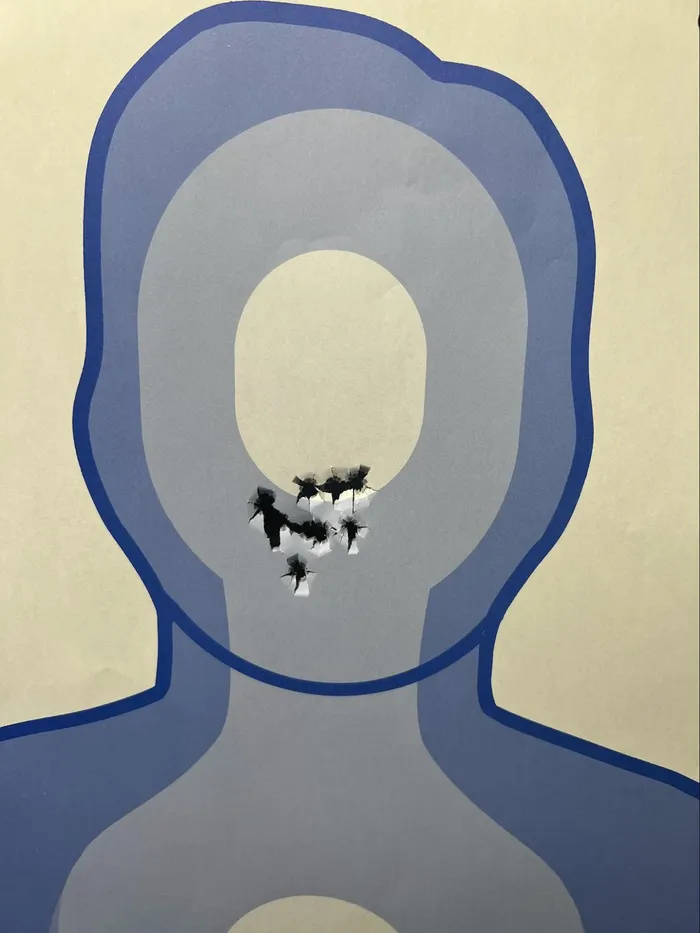 Reliability
I suffered no failures with the Glock 48. It ran through Mozambique drills and mag dumps without a hiccup.
Accuracy
Any firearm is only as accurate as you are. At first, my control was off, and so were my shot placements. But when I got comfortable with the Glock 48, I was on like Donkey Kong.
Overall Feel
The slimmer profile of the Glock 48 didn't take away from the grip surface or anything else.
And it felt right at home in the hand, like giving an American an M16. It's familiar. And it felt great.
Features
Glock SafeAction Trigger
Glock triggers are hit or miss, but they always get better with time. So it's almost a must to do a review on a Glock after the first 200 rounds. And since this one was rented, we were in business.
It's smooth, with a nice reset, and perfectly compliments a good trigger finger. I'm a fan.
Glock Factory Sights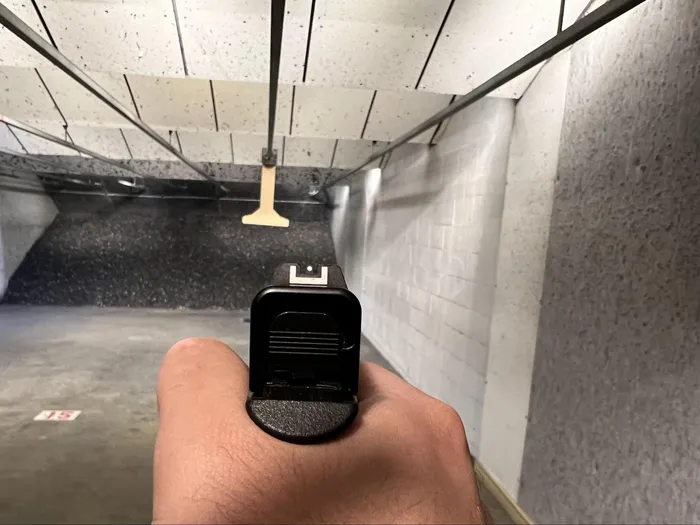 Nothing fancy with the Glock factory sights. They work as well as you need them to, even though many shooters will replace them after a while since they're so blocky.
But they are easy to get on target and are right on point.
Ten-Round Magazine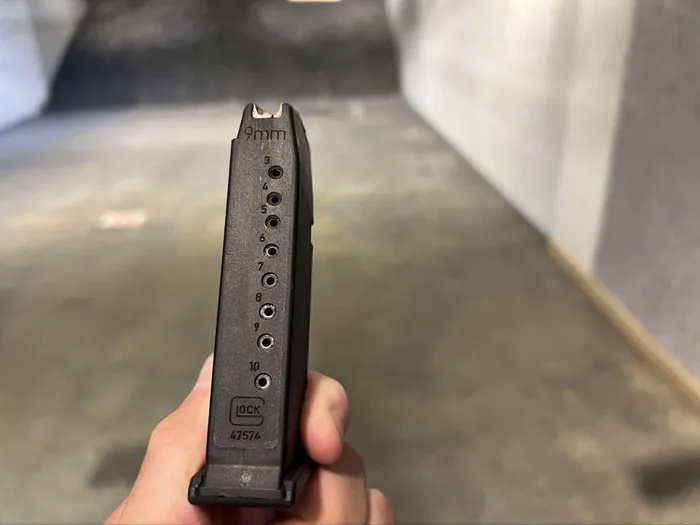 Most Slimline Glocks come with a 10-round magazine, which is single-stacked. It has the normal Glock trademarks and shouldn't be a feature, but with a standard Glock, there's nothing more to it.
How We Tested
As I mentioned before, the Glock 48 is meant for concealed carry. So I wanted to put the pistol through multiple defensive drills and a few mag dumps to test the firearm's reliability and ease of use before making that judgment for myself.
Mozambique drills are the two-to-the-chest and one-to-the-head drills that are used in a failure to stop. Or, if you're walking through the streets of Seattle and get a friendly local from the alley who specializes in testing chemicals in his veins.
Two to the chest when someone is hopped up on drugs, and they might keep coming. Put one on their melon, and that'll do the trick.
But sometimes, it's best to just hammer on the torso until they drop. So I conducted some mag dumps to the torso as well.
The Glock 48 held up its end of the bargain.
Ammo Used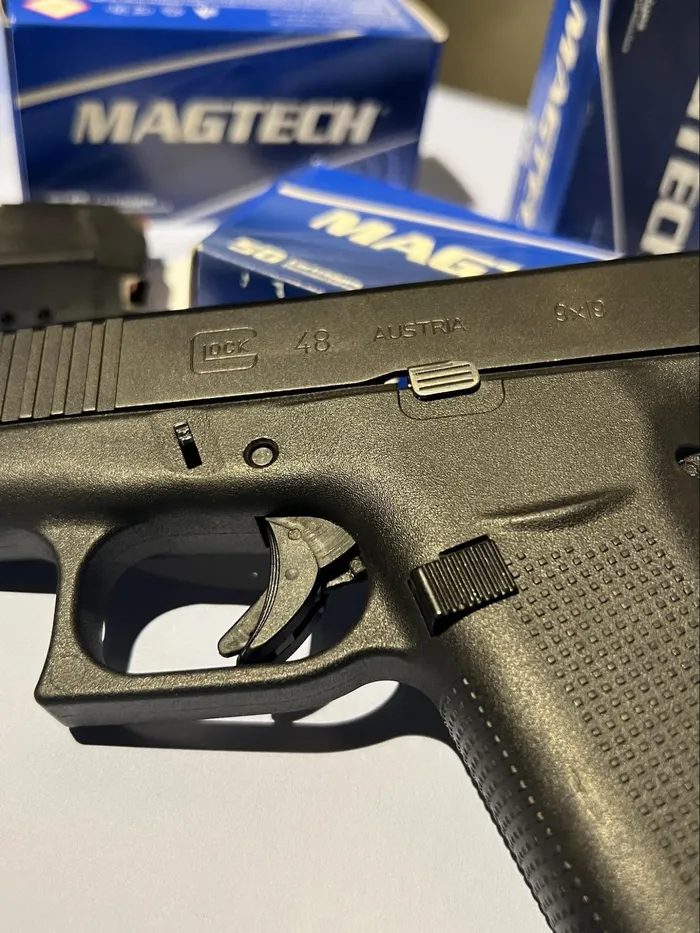 The kind folks over at Natchez Outdoors were kind enough to send me out a few boxes of Magtech 115 Grain 9mm for this review.
Magtech is your typical run-of-the-mill range ammo that can be found relatively cheap in most places. But it gets the job done, and since I'm not shooting any matches here, then Magtech will do just fine.
I find that it's consistent, loaded well, and doesn't give me issues with reliability whatsoever. And when I'm trying to focus on the firearm, I can't ask for much more than that.
Score Card
Reliability (10/10)  
The Glock 48 performed flawlessly through all 250 rounds.
Ergonomics (10/10)
There was enough room for me to get my mitts on, and the low bore axis made handling recoil easy.
Customization (5/10)
No optic cut or rail for lights, but the aftermarket for Glock is huge.
Appearance (5/10)
It's a block of polymer and steel: no curves or anything. And I didn't like the open area by the recoil spring.
Value (10/10)
You can find the Glock 48 relatively cheap. And it's a great piece, especially in the MOS variant.
Accessories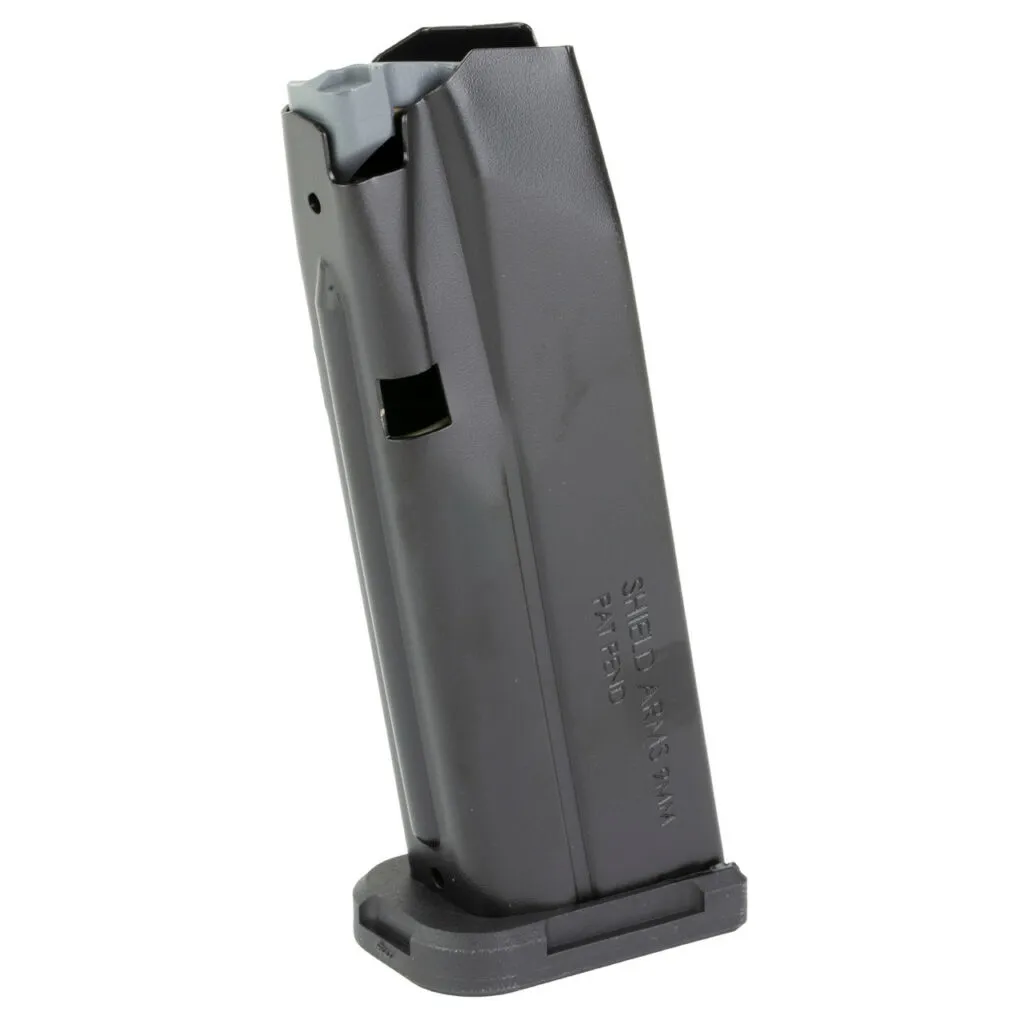 I know, 10 rounds is perfectly fine for concealed carry and blah blah blah… I don't care. Appreciate the input, but you can never have too much.
You can have 10 rounds and have two threats, or you can have 15 for one threat. No matter how you spin it, having more is optimal.
The Shield Arms S15 magazine keeps the size dimensions of the 10-round magazine that you get with the Glock 48, but the S15 is a double-stack magazine, whereas the stock mag is single-stack.
So you keep the concealability and add five more rounds. Can't beat that.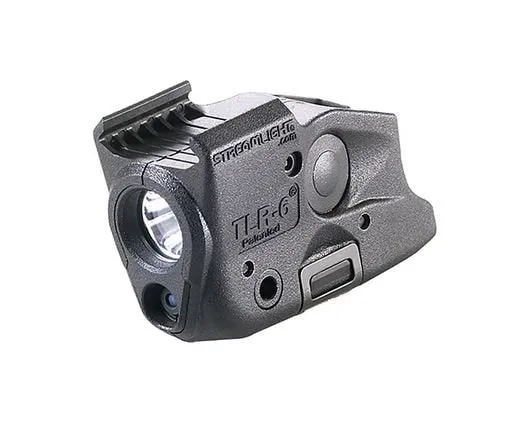 Since the Glock 48 doesn't come with a rail for mounting a light, like many other firearms in the concealed carry category, we had to find a solution that would work under those circumstances.
Enter the TLR-6 Light/Laser combo. You can opt for just the light, but the laser helps if you don't have an optic mounted to the top.
Just aim the laser, and squeeze the trigger.
Alternatives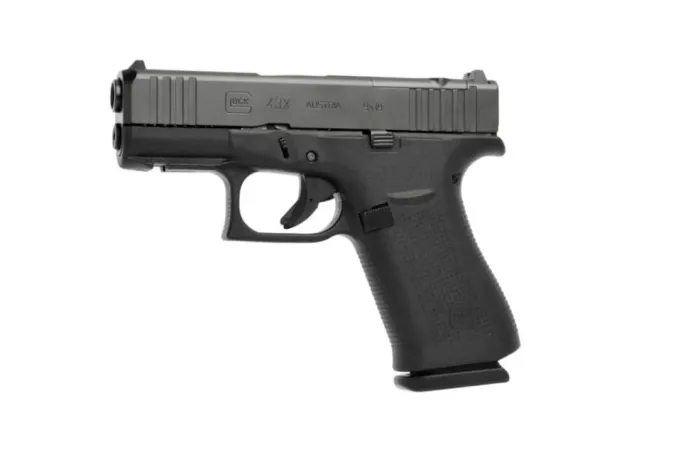 The Glock 43x MOS (see full review here) has the same grip module as the 48 but has a smaller slide for those of you who don't like being poked in the no-no square when you're carrying. It also features two important parts that I consider paramount for any concealed-carry pistol.
An optics cut and a rail for mounting a light or laser/light combo.
It also takes the Shield Arms magazines that up the ante from 10 to 15 rounds and fits comfortably in even the biggest mitts.
Here is a review of the Glock 43. (And why I'd opt for the 43x MOS)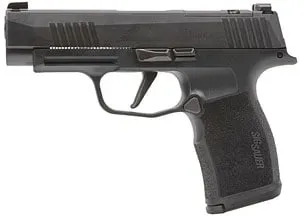 The P365 XL from Sig Sauer is a favorite among those who conceal carry. The 12+1 magazine capacity that you get from the factory with an optional 15+1 magazine blows the competition out of the water.
It comes with an optics cut for mounting a red dot and a rail for any lights, lasers, or pistol-mounted grenade launchers that your heart may desire.
It's also extremely modular. Like the P320, the fire control unit is serialized. So you can change up the whole pistol by simply buying new parts. And you don't have to worry about checking in with the Fed Boi before doing so.
See our P365XL review here.
Conclusion
I think the Glock 48 is a fine firearm for concealed carry purposes, but I would opt for the Glock 48 MOS if I were looking to seal the deal on one of these myself.
Don't get me wrong, the iron sights will get you on target, but if you're at Target and you just so happen to be the hero of the day, a red dot is more precise.
And light is a necessity. It can deter a criminal with brightness alone.
But the Glock 48 itself is fun and small, which is more than I can say for myself.
Anyway, what do you think about the Glock 48? Are you in the market for one? Let me know in the comments. And if you have any questions, you can also let me know down there.
See you on the range, fine shooter.
Explore more